More

Life Style
Life Style
Details

Written by

Pamela Hickman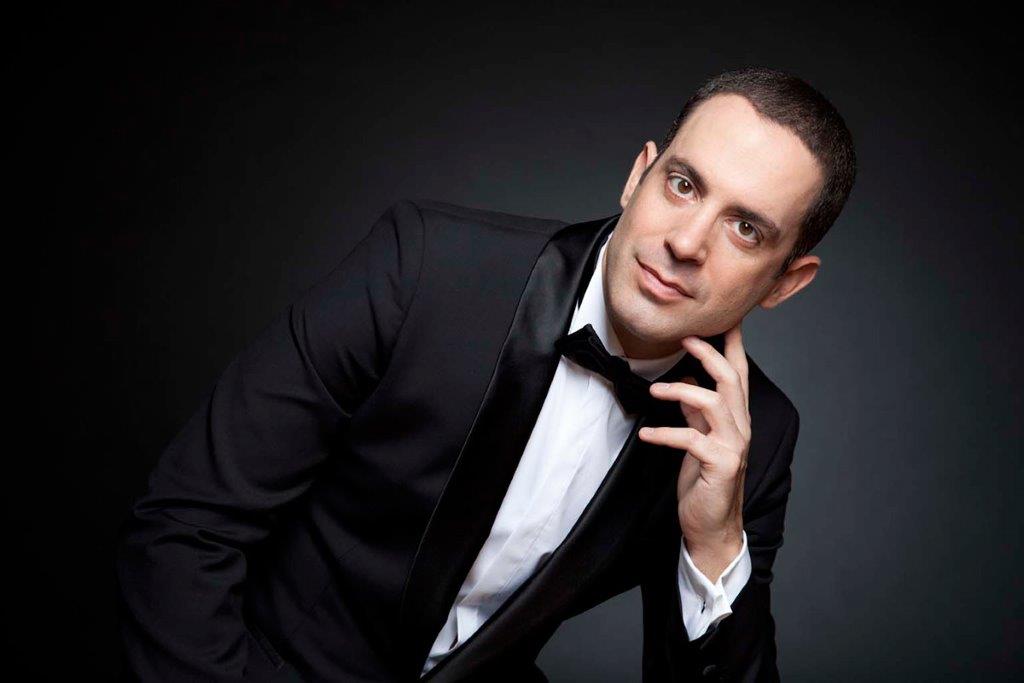 Of late, Israeli pianist Amir Katz has been immersed in the musical world and piano works of Franz Liszt. On April 14th, 2018 he gave an all-Liszt recital as part of the Piano Recital Series of the Israel Conservatory of Music, Tel Aviv. Born in Ramat Gan, Israel, Amir Katz today resides in Berlin.
Katz chose to gently lure his listeners into the rich and complex world of Liszt and his piano music via Consolation No.3 in D-flat major S.172, taking time to spell out each melodic gesture and each turn of harmony of rare beauty and Chopinesque delicacy in silky, glittering subtlety with just a hint of nostalgia. He then embarked on the S.144 and 145 Concert Études. The three concert etudes S144 are virtuosic essays from Liszt's early creative period. "Un sospiro", with its drama and reminiscences, displays Katz ' skillful handling of the lush arpeggios that never overshadow the melody, however light, followed by both the full tutti alongside the eloquence and freshness of his gossamer touch in "La leggierezza". Then, following a grand introduction, to the pianist's intensely personal reading of "Il lamento", as he invites the score, with its alien harmonies and interesting passagework, to take him and the listener into its range of emotions.The Zwei Konzertetüden S.145 opened with the sparkling "Waldesrauschen" (Forest Murmurs), its sixteenth-note movement descriptive of forest movement, calm, floating and graceful, at times, swirling and agitated at others with its streams of cascading figures. Katz' unwavering and crisp rendition of "Gnomenreigen" (Dance of the Gnomes) presented the humorous, feisty, good-natured and somewhat devilish character of this piece. Published in 1862, Mephisto Waltz No.1, S.514, a demonic, whirling dance, displaying Franz Liszt's dazzling mastery of energy, takes its inspiration from Lenau's version of the Faust story; its music effectively portrays the evil temptations generated by Mephisto. It also refers to Liszt's own virtuosic career and to sociocultural concerns of the time, including the widespread fascination with the virtuoso musician as a demonic agent! I think, in Amir Katz' case, we can rule out the latter. Between the frenetic, fully "orchestrated" outer sections of Mephisto Waltz No.1, Katz gave tender expression and nostalgic whimsy to gestures of the middle section.
Following the intermission, Amir Katz performed the Piano Sonata in B-minor S.178 (1853), a work dedicated to Robert Schumann that represents the pinnacle of Liszt's compositional achievements. Katz' articulate reading of the mammoth opus and his perspective of its cyclical structure guided the listener through the transformations of its themes, its sweeping energy and play of textures and tempi, his virtuosic skill and stamina (devoid of all dense, over-muscular display) serving him splendidly in the piece's full-on, (indeed, mephistophelian) moments. Making for ravishing contrasts were some moments of exquisite refinement and fragility. Katz' strategic timing made the work all the more palpable.
Of Franz Liszt's very many (mostly) solo piano settings of works of other composers, we heard the pianist in superb arrangements of two Schubert Lieder. Katz' playing of Schubert's "Ständchen" (Serenade) - the much-loved love-song coloured with just a hint of grey cloud - was all flowing charm, beauty and songfulness and as lush as the song's nature description. Katz' rendition of the "Erlkönig" (Erlking) made for an astounding end to the evening, as he engaged his consummate technique to recreating the ballad's drama, mystery and urgency, appropriating separate timbres to each of the three characters, playing them out against the dark, wild night and relentless sound of the galloping horse's hooves, in a performance of rare involvement, sensitivity and depth.
Photo: Robert Recker
http://pamelahickmansblog.blogspot.com
http://pamelahickmansmusicinterviews.blogspot.com
Details

Written by

Talma Gotteiner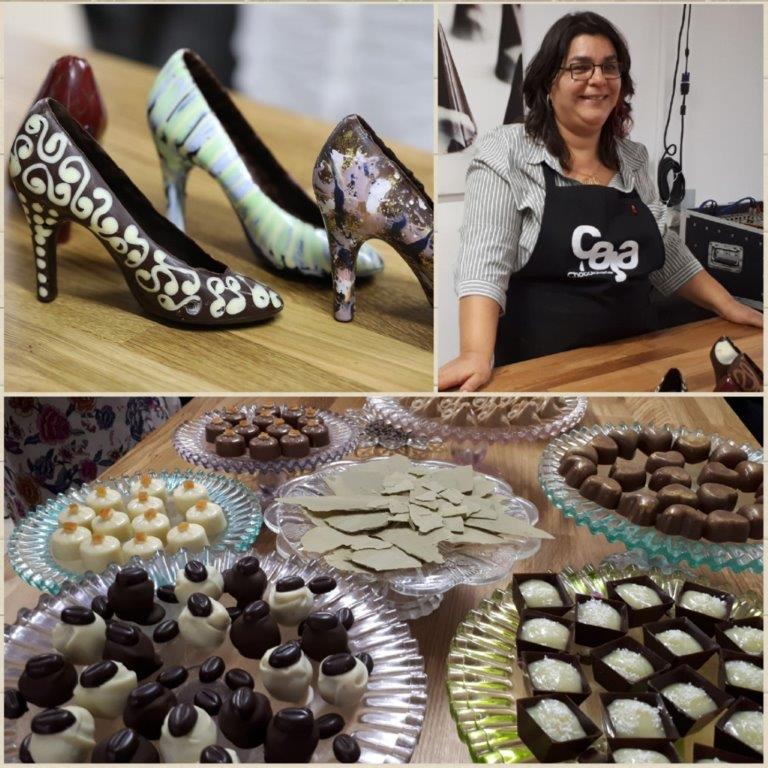 Dear friends,
Best,
Matte Yehuda is the name of the region lying just west of Jerusalem, within a 40 min drive from Tel-Aviv. Every spring for the past 18 years, the region has held a food festival celebrating the wonderful produce and beauty of the season. What makes it even better, is the assortment of local participants who add their cultural background to the experience in various ways making it a celebration of folklore as well as cuisine. I thank the Matte Yehuda office of the Ministry of Tourism for inviting me to take part in an introductory tour of some of the participants this year.
Mark your calendar! The festival will take place for four whole weekends, the last of which is the Shavuot (Pentecost) holiday weekend, between April 27

th

to May 20

th

, 2018.
Trip Agenda Options
In Luzit: The world music and vegetarian food 'Kabbalat Shabbat' option

Srigim Brewery: A boutique brewery & beer garden

Srigim 'Shuninis': A chef's take on traditional Kurdish food

'Saba's Gallery' and 'Caja Chocolaterie' in Tzafririm: A grandfather's gallery of sculptures and daughter's chocolaterie

In Yish'i: The traditional Yemenite musical 'Kabbalat Shabbat' feast option
Trip Anchors
For those who require it, 'Kabbalat Shabbat' literally means 'welcoming the Sabbath'. Traditionally, there are songs in the prayer book that each family would sing at the dinner table on the first meal of the Sabbath on Friday night. Each congregation had and has their own tunes and additional songs that are sung making it a multi-cultural experience.
In Luzit: The World Music and Vegetarian Food 'Kabbalat Shabbat'
The experience I had at Ilia Magnes and Sigal Geva's house was no less than stunning. She is a hardcore trekking travel guide who spent a year alone in Australia and has guided some of the Israeli 'Desert Queen' treks, although you wouldn't guess it. She looks like such a gentle and refined lady. He is a streetwise, self-taught musician and painter who plays dozens of instruments. His life story is a unique twisted plot encompassing the world from the USA through Israel, Denmark and Ibiza to name a few. Lastly, they both live in a house made up of containers, an architectural feat that they accomplished themselves.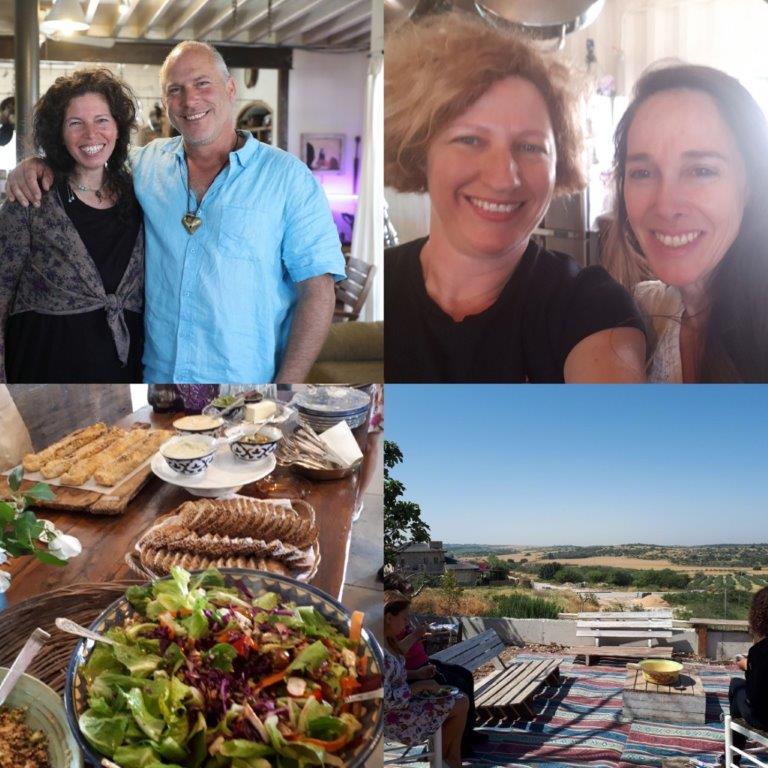 During the festival, they will be hosting two 'Kabbalat Shabbats' on Friday afternoon and especially for the festival, they have invited a singer friend called Niri Damsky who has added vocals to the live performance. The visit will include a bit of all the above: their life stories, a tour of the house, a lovely buffet meal (mostly gluten-free), which you can have in their blooming garden and a magnificent musical performance. During the festival, I'm sure they will be speaking in Hebrew, but you can contact them and arrange for an English-speaking visit on a separate occasion.
I'm attaching two videos that give you both a taste of Ilia's world music capabilities of the beautiful 'Kabbalat Shabbat' that he and Niri have prepared.
https://www.youtube.com/watch?v=MUAVw-8dbnc&t=9s
https://www.youtube.com/watch?v=1rf74e-vvio
Phone: Sigal 052-8895906 or Ilia 052-6943332
Email: This email address is being protected from spambots. You need JavaScript enabled to view it.
Srigim Brewery: The boutique brewery & beer garden
Owners Ofer Ronen and Ohad Eylon left their successful high-tech careers to open the brewery about seven years ago, following their passions to a championship in a multitude of beer boutique competitions and development of 7 boutique beers.
They will be hosting visitors in the beer garden every Friday and Saturday including the Shavuot (Pentecost) holiday pairing it with plenty of appropriate edibles such as soup in a bread bowl, fries, excellent sausages (the unanimous opinion), schnitzel and pizza.
You can also reserve a tour that includes some more background on their stories, a visit to the brewery, an explanation about the beer making process and beer tasting.
Phone: 073-2725313
Email: This email address is being protected from spambots. You need JavaScript enabled to view it.
Srigim 'Shuninis': A Chef's Take on Traditional Kurdish Food
Sarah and Tal Sharvit have added on to their existing catering service, management of a local restaurant that serves street-food till 19:00 and full-service dinners from then on. Regardless of the level of service, you get to taste Chef Tal's modern version of his traditional childhood Kurdish food. Luckily, most of what was served was gluten-free, so I can testify to its deliciousness. I'll let them explain the names of the dishes. For the festival, he has added a special 'Malabi' pudding desert based on his home recipe.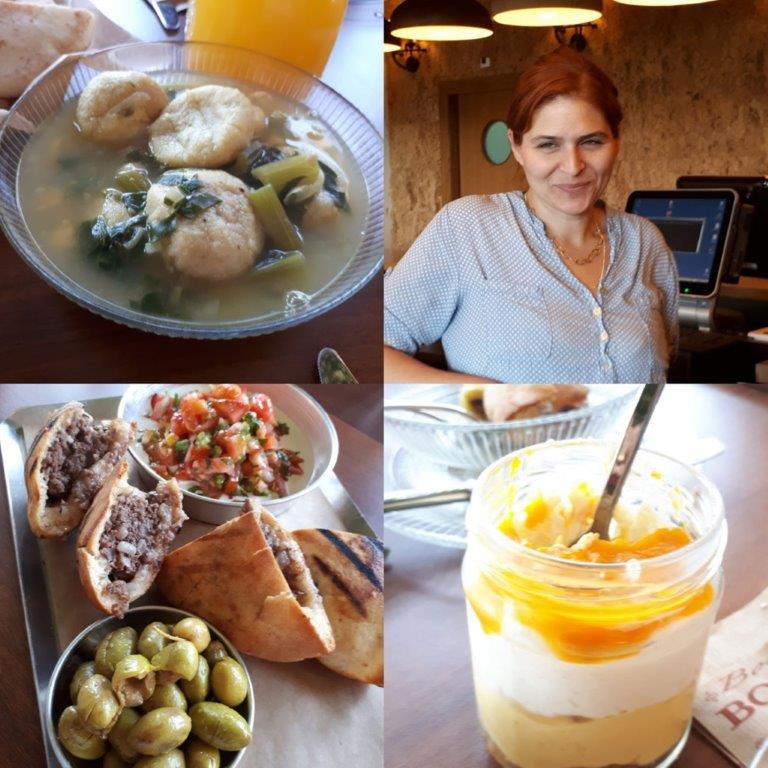 'Saba's Gallery' and 'Caja Chocolaterie' in Tzafririm: A grandfather's gallery of sculptures and daughter's chocolaterie
It is such a nice thing to see a family that can balance working together with independent freedom, each doing his own thing, but supporting one another. Nissim Levi is nearing 80 by now. His story is incredible in that he started his artistic sculpting only at the age of 60 because when he grew up it was considered a waste of valuable time and material to produce art. Anyway, once he got started he couldn't stop and now his home is a gallery of over a thousand sculptures made from whatever he can lay his hands on. Several are made of iron because he was sent to train as a locksmith at the age of 14. The gallery also has a display of a miniature Kurdish village and a heritage room dedicated to family collectibles which is related to his story of his life's story. There is also a film about his great-grandfather who had to leave Jerusalem in 1948.
His daughter Galia, on the other hand, is a sweet chocolatier. She studied with Estella M. Belfer, one of the judges at 'Bake Off Israel' and carried on from her home in Tzafririm. We were invited to taste some delectable chocolates and since they were all unique, I tasted them all. Have you ever tasted matcha chocolate or pralines filled with sachlav ganache? Also, if you're thinking of proposing to your very own Cinderella, she has the most adorable hand painted chocolate shoes ever! (just a thought).
The visit can include a tour of the gallery with or without a meeting with Nissim who tells his story and demonstrates the sculpting process. It can also include a visit to the chocolaterie either for a tasting session (no minimal limit) or for a chocolate making workshop (for groups only of 15 or above) or just for purchasing.
In order to run things smoothly, two visits will be scheduled on Fridays as follows:
10:00 / 13:00 independent view of the gallery and heritage room and respectively
11:00 / 14:00 chocolate tasting
Meetings with Nissim and workshops need to be reserved in advance. Several of the activities can be instructed in English. You should contact them directly for further clarification.
Phone:

052-3404536
In Yish'i: The traditional Yemenite musical 'Kabbalat Shabbat' feast option
Last, but definitely not least, we visited the home of the famous singer 'Gila Bashari'. This Philharmonic performer is actively contributing to preservation of the Yemenite tradition by teaching interested younger generation singers the traditional tunes. Among other things she holds 'Kabbalat Shabbat' events once every other month at her home where she has built an inviting room for her visitors surrounded by a blooming rose garden. The evening begins with a concert including several anecdotes and explanations, followed by a traditional Yemenite meal.
During the festival, she will be holding such an occasion on the weekend before Shavuot (May 11th), where she will be singing verses from the Ruth Megillah according to the traditional Yemenite tunes.
I have verified that you can reserve such an event in English on a separate occasion if you contact her directly.
Phone: 02-9914321 or 052-3226001
The Yemenite performance was a magical end to an exceptional day.
https://www.youtube.com/watch?v=_7Ykv1JAXfI&t=6s
Additional Options
There are several additional locations to visit in the festival. The region itself contains around 40 wineries as well as other homes and cuisines. Please refer to the festival website for additional options.
http://www.tour-yehuda.org.il/
In addition, there are two related posts of mine that you may be interested in.
The brewery is located very near an excavation point called 'Tel Azekah', where ancient beer jugs were found. Those same beer jugs are located in 'The Corinne Maman Museum of Phillistine Culture' that I visited in Ashdod. You can read about it here.
https://www.israel-best-trips.com/single-post/2017/11/16/Who-Knew-that-Ashdod-was-a-City-of-Parks
Although I have been posting on a weekly basis religiously for about 7 months now, I have only visited the region once when I went slightly north of where the food festival is taking place, but also part of Matte Yehuda. You can read about it here.
https://www.israel-best-trips.com/single-post/2017/12/21/The-Greater-Area-of-Modi%E2%80%99in-Hanukkah-Lemonade
Food
This post is all-inclusive.
Accommodation
You can search for B&Bs on my 'Best B&B' page.



My timeline
This trip took a day. I placed Tel-Aviv and Jerusalem at both ends of the map so that you can get a feel for where the region is located.
I can't wait for next year!
Best,
Talma
Special Credit: To photographer Eldad Maestro who has let me combine some of his stills photos with mine.
Details

Written by

Jonathan Danilowitz
What makes one art gallery stand out as special and different from all the others that, interesting as they may be, seem to be so run of the mill? Of course, the artists and their works, but every gallery worth that designation offers us a view of artistic talent that can make our jaws drop. So is it the location? The theme? The setting? All of the above?
Yes, yes and yes. And Chabba Gallery has it all. Nathalie Mamoun captured the essence at an art center ("gallery" is almost too mundane a word for the setting) at her delightful home in Herzlia Pituach.
An at-home art gallery? Don't knock it till you see it and until you understand the whys and wherefores. Firstly, the large house is the perfect setting for an art gallery, with a spacious lower ground floor just begging to be utilized. And as Madame Mamoun explains in her delightful French accent: "How often hasn't it happened that you see a work of art (painting, sculpture, a collage, a photograph or even a mobile) that you know you want, but when you get it home and see it on the dining room wall, or standing in the entrance hall, or hanging from the ceiling in the family room, or wherever, you know it just doesn't fit your style, the surroundings, your home. It looked great in the gallery, but at home? Ugh!"The solution is to see art in real-life settings, just as you see it at Chabba Gallery: on the terrace, or next to the television, or above the lounge suite, or on the wall in the dining room. Will it match? Only you can tell, but at least you know how it might appear in your home (or office).
The gallery opened about one year ago and in general the works are available for viewing by appointment only (see details below). This past week was special, with a week-long exhibit (entitled "Four Corners") of international artists in an exclusive exhibition. (Special exhibitions, when the gallery is open at set hours without appointments, take place from time to time. Check the website for updates). The current exhibition continues for another month. We were privileged to view the entire exhibition and to meet two of the artists.
Rasa Flay was born and raised in Lithuania and has lived in several countries (her husband is a diplomat), including Vietnam. She says that her inner self knew early on that art was her lifeblood, but at her parents' insistence, she studied Business Administration. Later, when she lived in Moscow, she took art courses and began to express herself artistically. She trained further in Hanoi in the skills of lacquer painting. The details in her beautifully executed depictions set us on a trail of discovery as to the materials she uses, besides the lacquer; seeing her work on the walls of the Mamoun home is an exhilarating experience. She also has a feature of five photographs of – rocks! Says Rasa: "Art takes many forms, defined by the artist and left to the observer to contemplate, explore and discover the secrets". The voyage of discovery was thrilling.
From Lithuania and Vietnam we 'travelled' to Nairobi, Kenya, seeing art through eyes of Fred Abuga, a young man with a brilliant art future ahead of him. He began his creative journey already as a child, building toys from scraps. His teachers discovered his unique sense of creativity and art and often asked him to portray their teaching aids on the blackboard. Later on he was roped in to paint the backdrops for the school's drama productions. Educated in strict Catholic schools, he was eventually commissioned to paint a portrait of the Bishop of Kenya – an honor indeed for a budding young artist and a major stepping stone to a career that blossomed after his Fine Arts studies at college. The Kenyan French Cultural Center recognized his skills by their award: "Most promising Male Student". Fred Abuga has lived up to that promise.
Other artists exhibiting in "Four Corners" this month include the self-taught Moroccan painter Liliane Danino, who has had solo and group exhibitions around the world, including in Morocco, Canada, France, Israel and the USA. Also Josiane Dias, an art photographer formerly of Brazil, currently based in Israel. She has lived in Geneva, Tokyo and New York City and these varying cultures have clearly influenced her photography on differing levels. Expect the unexpected in her splendid works. And last but certainly not least is Itzhaq Mevorah, Israeli-born and trained and with his own studio specializing in a combination of pop art, ready-made and expressionism with innovative technological tools, in Tel Aviv's Florentine quarter. Revel in some of Mevorah's video art at the Chabba exhibition.
"Art speaks when words are unable to explain" is Nathalie Mamoun's guiding principle. We asked her to explain the choice of "Chabba" as the gallery's name: "The word connotes harmony, happiness, repose, joy, serenity – and is also my grandmother's name".
Need we say more?
Chabba Art Gallery.
44 Keren Hayesod Street,
This email address is being protected from spambots. You need JavaScript enabled to view it.
www. chabbagallery.com
Tel: Maria +972 (0) 54 832-1915
Nathalie +972 (0) 54 468-4545
Viewing by appointment only
Photos Silvia G. Golan
Details

Written by

GPO
Passover marks the exodus of the Jewish people from Egypt, from slavery to freedom. Jews are commanded to tell the story of Passover as if it had happened to them personally and not as a mere historical event, to emphasize the importance of our freedom.
Passover will take place in Israel this year between sunset on Friday 30 March, and sunset on Friday 6 April. The first and last days of Passover – Saturday 31 March and Friday 6 April – are legal holidays in Israel. Passover marks the exodus of the Jewish people from Egypt, from slavery to freedom. Jews are commanded to tell the story as if it had happened to them personally and not as a mere historical event, in order to emphasize the importance of our hard-won and precious freedom.

The MFA will be closed throughout Passover, (from Friday 30 March through Saturday 7 April, inclusive). While we will continue to keep you informed of any major events, regular service will resume on Sunday, April 8.

Preparations for Passover

The period preceding Passover is marked by extensive preparations and several special ceremonies. The most important of these concerns the removal of hametz, i.e. any food product that contains leavened wheat, oat, barley, rye, or spelt products. In keeping with the Biblical command in Exodus 12:19 and 13:7, Jews will, before Passover, thoroughly clean their homes to remove any crumbs or bits of food, etc. that may be hametz. This cleaning culminates in a ritual candlelight search for hametz in one's home, accompanied by a special blessing and the renunciation of formal ownership over any remaining hametz. The hametz collected during the search is then burned on the morning before Passover. It is also customary to sell one's hametz to a non-Jew – usually by authorizing a rabbi to act as an agent for the sale – as a supplementary measure. While certain types of dishes and utensils can be made kosher for Passover, many Jews will have separate sets of dishes and utensils solely for use during Passover.

In the absence of leaven, Jews will eat specially prepared unleavened bread, or matzah, on Passover. Many Jews will also eat products made with matzah "flour" – unleavened bread that has been finely ground. Matzah dates back to the Exodus, where the Jews, not having had time to wait for dough to rise before leaving Egypt, journeyed into the desert with unleavened bread.

First-born males over 13 are required to fast on the day before Passover – in commemoration of the fact that first-born Jewish males were spared when first-born Egyptian males were killed during the tenth plague – but may be released of this obligation by participating in a special festive meal, such as accompanies the conclusion of study of a tractate of the Talmud or a circumcision, on the morning before Passover.

The Sabbath before Passover – 24 March this year – is known as "the Great Sabbath," and is marked by a special reading from Malachi 3:4-24. In the afternoon, it is traditional for rabbis to give special sermons, usually on the laws associated with Passover.

The Seder and the First Day of Passover

On the evening of Friday 30 March, after festive evening prayers, families will eat a special ceremonial meal known as the seder, which commemorates the Exodus from Egypt. The guide for the seder is detailed in a book known as the Haggadah, literally "narration," which relates the story of the Exodus from Egypt. A plate placed on the seder table contains several special foods: a roasted egg, symbolizing the special sacrifices which were brought in the Temple; a roasted shank bone, recalling the special Passover lamb offered and eaten in Temple times; a mixture of chopped apples, nuts, wine and cinnamon known as haroset, symbolizing the mortar that the Hebrew slaves in Egypt used to make bricks; sprigs of parsley and lettuce, symbolizing spring; a bitter herb symbolizing the bitterness of slavery; and salt water, recalling the tears shed by the Hebrew slaves in Egypt. Three sheets of matzah – marking the division of the Jewish people into priests, Levites and the general population – are also placed on the table.

During the course of the seder, the Ten Plagues are recalled. When each of the Plagues is mentioned, each participant dips a finger into his/her cup of wine and removes a drop; even though the Jews were oppressed in Egypt, we are reminded that we must not rejoice over the Egyptians' suffering. Our cups of wine cannot thus be full.

One of the more popular seder customs for children concerns the afikoman, a special piece of matzah that is the last food eaten during the seder. The head of the household customarily hides the afikoman somewhere in the house, and the children then search for it. Once found, the afikoman is "ransomed," since the seder cannot continue until the afikoman is eaten. This helps to keep the children focused on the seder and to pique their curiosity regarding the entire Passover epic.

On the morning of Saturday 31 March, festive prayers (including a prayer for abundant dew during the spring and summer) and special readings, including the Song of Songs, will figure prominently in synagogue services.

Saturday, 31 March is a full public holiday, i.e. there is no public transportation or newspapers, and shops will be closed.

The Intermediate Days of Passover

While the intermediate days of Passover (this year from sunset on Saturday 31 March until sunset on Thursday 5 April) are not full public holidays, special prayers and readings are recited in the synagogue. Schools will remain closed, as will many businesses. Post offices and banks will be open, but will have reduced hours. Newspapers will be published.

Jewish tradition maintains that the parting of the Red Sea and the destruction of the Egyptian army occurred on the seventh day of Passover, but even though Passover celebrates the Exodus from Egypt, Jews nevertheless do not rejoice over the death of the Egyptians in the sea and only an abridged version of Hallel (Psalms 113-118) – a holiday prayer – is recited after the first day of Passover.

From the evening of Saturday 31 March, Jews will keep a nightly count of the 49 days (seven weeks), until the evening of Friday 18 May, one day before the holiday of Shavuot. This count commemorates the Temple offering of the omer, or sheaf of new grain, in keeping with the Biblical injunction of Leviticus23:15-16.


The Seventh Day of Passover

The celebration of the seventh day of Passover as a full holiday is specified in Exodus 12:16 and Leviticus 23:8. This year, the seventh day begins at sunset on Thursday 5 April and lasts until sunset on Friday 6 April. On Friday morning, there will be festive services and readings in synagogues; special memorial prayers for the departed will also be said.

Friday 6 April is a full public holiday, i.e. there is no public transportation or newspapers, and shops will be closed.


Maimouna

Maimouna – an informal, yet widely celebrated holiday which originated among the Jews of North Africa, particularly those from Morocco – is celebrated the day after Passover or the second day after Passover if the last day of Passover falls on a Friday as it does this year. Accordingly, Maimouna will be celebrated this year beginning at sunset on Saturday 7 April and lasting until sunset on Monday, 8 April. According to custom, families prepare elaborate tables with various sweets and baked goods, and host friends and family members. Whole neighborhoods often close as celebrations spill out into the streets and parks.

Passover in Film
Following are clips from six films (courtesy of the Steven Spielberg Jewish Film Archive) that depict the various ways in which Passover has been celebrated:
Ideal Travel Talks 1934 – Travelogue shot in Eretz Yisrael in 1934. The film includes rare scenes of Samaritans celebrating Passover on Mt. Gerizim and their high priests sacrificing the paschal lamb in the presence of the British High Commissioner of Palestine, Arthur Wauchope (from 30:55 min). (Note: The Samaritan community will celebrate Passover this year beginning on Sunday evening 29 April.)
Road to Liberty 1946 – Film about the Jewish Brigade which fought in World War II as a unit of the British Army. Includes scenes of Jewish solders celebrating the seder in Europe (from 8:03 min.)
To Save One Life 1952 – Docudrama about two sisters who immigrated to Israel from Yemen through Youth Aliyah. Includes scenes of Pesach cleaning, preparations and seder in a youth village. (from 39:55 min.)
Seder De Pesach 1980s – A Jerusalem family from North African conduct a model Sephardic seder. The film is interspersed with stories and animations depicting the Exodus from Egypt. (French)
Operation Exodus Honors American Troops At A Special Seder In Israel 1991 – American soldiers stationed in Israel participate in a special seder with new immigrants from the CIS and Ethiopia, shortly after the Gulf War.
Our Way: Sarajevo 1993 – The JDC and Jewish leaders in Sarajevo, Bosnia hold a special seder during the civil war in the presence of Moslem and Christian clerics. (from 3:28 min.)

Photo Stella Szpira
Details

Written by

Talma Gotteiner
Tourism in Sderot is a fairly new concept and is largely due to its growing student population. These have infused the city with a very sociable lifestyle that has generated several recreational and social activities, that tourists can enjoy as well. In no other post have I suggested so many activities that enable you to meet the people.
I was privileged to join a tour, courtesy of the Ministry of Tourism and Municipality of Sderot, that has enabled me to bring forward these offerings to your attention. Mayor Alon Davidi came especially to welcome us and tell us about the abundant projects that the city is working on with respect to tourism. They are all currently in progress so you have a lot to look forward to. Hopefully, if you come to Sderot to one of the major events you'll meet him too. He certainly extends his welcome to you.
Trip Agenda Options
Café Guté – a social café
A Historic Tour of the City
'Rokmot' - The local Ethiopian embroidery club
The Ultimate Lunch Stop

Pub Sderot
Dhaba
Meital Healthy Kitchen (in Hebrew 'Meital Mitbach Bari')
Pasta and That's It (in Hebrew 'Pasta Vezehu').

The Students' Village
Sderot Adama Movement and Dance Center
Upcoming events and attractions
Trip Anchors
A Historic Tour of the City
What better way to get to know a city than to walk through it while hearing authentic stories from its residents! Our tour started from the site of the initial transit camp in 1951, throughout the initial permanent neighborhoods, the largest swimming pool in the south, the Yeshiva with its incredible rooftop view and all the way to what is currently known as 'Kobi's hill'. On the way we met Gilad, one of the first inhabitants, a male nurse sent by his employers to the wild wild south to help the first settlers and of course Kobi, the city's famous security officer who can tell a bit more about 'Operation Cast Lead' that ended in 2009.
Trip Reservation Phone: 08-6612739
'Rokmot' - The Local Ethiopian Embroidery Club
The local club in Sderot brings together 16 Ethiopian women who specialize in the authentic embroidery techniques and patterns used in Ethiopia as well as 2 experienced basket weavers. Together they enjoy a social interaction that allows them to both preserve their ethnic traditions while providing a decent livelihood for their families and contributing back to the community.
The club is open every Sunday between 9:00-12:00 and is open to visitors.
To reserve a visit: Gili 052-3968706 or Ester 054-7608773.
I bought something too. It says "Shalom"!
Sderot Adama Movement and Dance Center
When I saw Nir Ben Gal enter the room I thought to myself that Sderot was indeed becoming a cultural hot spot. Nir Ben Gal and Liat Dror are two famous choreographers who have performed in leading dance groups over the years and have won several international prizes for their compositions. In 2000 they opened their Adama movement and dance center in Mitzpe Ramon and have recently relocated it to Sderot where they teach and perform dance and film projects.
The center is currently planning their début festival in Sderot where they will be offering a full program for visitors that includes workshops, meals prepared by the local mamas and performances. It is located within 6 min walking distance from the train station and will be easy to reach.
For more information on the festival, click here.
https://adama.org.il/en/the-festival/
I'm linking a short piece of a dance routine that was presented to us for your benefit. Enjoy!
And…I got my selfie with Nir Ben Gal 😊.
Additional Options
Café Guté – A Social Café
'Café Guté is the result of a social project led by the Gvanim organization that is focused on integrating youth at risk or youth with physical limitations into society. Café Guté is one of their achievements. Currently it employs ~ 15 such youngsters, who are empowered by their ability to work in a normal environment. The skills that they gain during their employement help them take control over their lives.
From your perspective, Café Guté is a kosher dairy restaurant (type of kosher: 'mehadrin') located within the cinematheque complex that you may reach during several of the planned events. It's an interesting stopover that can be enhanced either by a movie or by inclusion in a tour arranged by the Gvanim organization that will allow you to meet some of the youngsters in their program.
My photo depicts Tal, who works at Café Gute:
Gvanim Contact for Social Tours: Shoshi 054-5501514 or Adi 052-8875175
Café Guté Phone: 08-6515761 or 054-9773604
Café Guté Address: 4 Hadegel St., Sderot
The Students' Village
The students' village is another social project led by the Ayalim Association in Sderot in which students live together and volunteer in the city in various ways. Most of the students study at the Sapir Academic College near Sderot. Others at the University of Beer Sheva and additional institutions in the south. One of the volunteer efforts is in a care center for children that uses animals and is located right across the village complex.
A visit to the village includes a tour of about 1-1.5 hrs with a short film and refreshments in which the students explain about their lifestyle, and the program. We met Rinat. The tour should be reserved in advance.
Phone: 08-6550850
The Ultimate Lunch Stop
You're already familiar with these restaurants since I wrote about them in my post entitled "Darom Adom Festival Preview – What it is and Where to go". Like I wrote before, these your restaurateurs are eager to accommodate visitors so I was lucky to get second helpings and meet my friends from Pub Sderot, Dhaba,
Meital Healthy Kitchen (in Hebrew 'Meital Mitbach Bari')
10 HaHistadrut St.
Phone: 050-9001510
and Pasta and That's It (in Hebrew 'Pasta Vezehu').
12 HaHistadrut St.
Phone: 08-6333789
Upcoming Events
The Annual South Cinema Festival, 3-7 June 2018
The festival is held every year at the initiative of the School of Sound and Screen Arts at Sapir Academic College and takes place mostly in various halls in Sderot from the morning till late at night. The festival hosts dance directors and artists from Israel who screen their films at a premiere on a national level. We met Benny Cohen, the Director of the Cinematheque at Sderot who will be hosting several of the events.
The First Accessible Blues and Beer Festival in Sderot, 25-26 July 2018
The city of Sderot has issued several beloved Israeli musicians such as Kobi Oz (Tipex), Haim Oliel (Sfatayim) and other.
The Blues Festival in Sderot will combine international and local jazz concerts, blues ensembles and veteran Israeli and international bands ranging from the Mississippi to Sderot.
The festival will include musical films, lectures, sketches, master classes, dances and children's events alongside a drink fair and stands. There will be open shows, a central stage, bar performances, special restaurant menus, a film screening under the stars, a blues film show at the cinematheque, a music workshop and a children's dance workshop with musicians from Sderot and the surrounding area. Entrance to all shows will be FREE OF CHARGE.
Moreover, the festival will be the first accessible festival in Israel for visually impaired and blind people, hearing impaired and deaf people and people with physical disabilities. Accessibility will be implemented by the following features:
Inclusion of blind musicians in the performances.
Accompanying people who are blind or have visual impairments from the train station or from home to the festival area and during the festival.
Sign language translation for lectures for deaf people or people with hearing impairments.
An accessible website with a recorded program, a Braille program and more.
Food
See above. This post is all inclusive.
Accomodation
A hotel within Sderot is under the planned activities. Currently, nearby accommodation is based on B&Bs. You are welcome to refer to my page 'Best B&B'.
My timeline
I spent a day. I only put in three locations because not all the locations are marked on google maps, but since most of the tours are guided anyway it shouldn't be a problem. Moreover, most of these locations are around the ones that I marked. Café Gute and the Ethiopian Club are near the Cinematheque. The other restaurants are near the municipality of Sderot.
This is what it looks like on the map:
I don't think any of my previous posts can compare with respect to the level of social interaction that you can achieve while visiting. A trip to Sderot is all about the people, which needless to say is amazing.
Photos Talma Gotteiner