Life Style
Details

Written by

Talma Gotteiner
Dear friends, I am happy to share a post, written by my friend Talma Gotteiner from https://www.israel-best-trips.com/. Best, Silvia
Hi there!
I am happy to share with you my impressions from a new sports center called 'New Star', that was opened in the new C-Center complex in Caesarea by Trimax.
Trimax, is a well-known company that has been training sports teams for 'Triathlon' and 'Iron Man' competitions over the past 8 years. The new sports center 'New Star', that has recently been opened, was established in addition to the online store that already operates and offers innovative equipment in the areas of running, swimming and cycling - for professionals and enthusiasts.
Meet the Team
From left to right: Orna Shahaf owner, her sister, Trimax Manager, Meir Kaner - CEO Hoka Israel, Erika Greenspan - Miss Fitness Israel 2015. In the next photo I am standing with owner Maxim Shahaf.
The owners of Trimax, Maxim and Orna Shahaf, have committed themselves to ensuring personalization for each customer in terms of sports equipment. "As professionals and professional athletes, we have learned a great deal about the different types of equipment, what worked for us and what less, what the advantages and disadvantages of each product are, who it is suitable for and how important it is to learn from trial. The personal touch also takes into consideration the trainee's present and foreseen future needs."
The highlight of the products in the new sports center is the French 'Hoka' brand - one of the world's leading professional running shoes.
'Hoka shoes are suitable for all types of runners and running courses - from a light run in the park to a full-length marathon. As Meir explained, the shoe is lightweight, relieves muscle tension and is also suitable for runners who are recovering from injuries.
Also, in the 'New Star' center, you can find unique brands that are not sold in the major chains. For example: LUPOP - a young Israeli brand of quality running pants and SILKY FIT - an Israeli brand specializing in modest swimwear for various uses, such as swimming, rowing and various beach activities.
Maxim and Orna explained: "Our love for innovation and emerging technologies as well as the importance of functionality, materials and style - has made us connect people to the right equipment. We share out love of sports and aim to keep the trainee safe by finding the right equipment for him/her." During my visit, Erika Greenspan, demonstrated how a person is examined during walking and running in order to determine the shoe requirements.
The location of the store was the perfect choice. The concept store in Caesarea provides a response to all athletes. Almost all who live in the region are involved in sports as a hobby. Tourists, who are attracted by the sea-sports in the area can complete their equipment on the way to the beach and due to their ongoing involvement in competitions, professional athletes who are involved in the world of running and triathlon can find a solution to their needs.
THE END
Address: New Star – Sport & More, 1 Ha'Rakiya St., C-Center, Cesarea
Open: Sun-Thurs 10:00-20:00, Fri 9:00-15:00
Best,
Talma
Details

Written by

Buzzy Gordon
The Israel chapter of the Italian Academy of Cuisine (l'Accademia Italiana della Cucina) congregated at the Hod Hasharon restaurant Nono for dinner on May 9, 2018. The evening's symposiarchs were Delegate Cinzia Klein, Vice Delegate Sabrina Fadlun, and Francesca Torrini.
Nono is a large Italian restaurant whose centerpiece is a wood-fired oven imported from Italy. The popular family-owned restaurant has a pleasant rear garden al fresco area, where Nono hosted the Accademia.
The special menu prepared for the evening comprised four traditional courses, beginning with focaccia and no fewer than three antipasti: sea fish carpaccio with grilled artichokes, and two vegetable salads, insalata cuscinetto and insalata del contadino. Also accompanying the antipasti was Nono's signature white pizza, with mushrooms and a hint of truffle.
There were three pasta dishes served as primi: spinach gnocchi in a Gorgonzola sauce; a vegetarian cannelloni roll; and linguine napoletane. The latter two dishes were both served in tomato sauce.
For secondi, diners had a choice of one of three main courses: a whole sea bass; slow-cooked shoulder of beef; or baked chicken. All three were accompanied by baked potato.
The dessert course featured a particular specialty of Nono: a reverse cassata, consisting of mascarpone gelato, tuile, and butterscotch biscotto. In addition, the restaurant served an assortment of four flavors of gelato and two of sorbetti, all handcrafted on the premises.
Unusually for an Accademia function, the red and white wines accompanying the meal were not imported from Italy; rather, they were from the winery of the restaurant owners' family: Lewinsohn, with the private label Garage de Papa.
At the conclusion of the meal, the Tel Aviv chapter of the Accademia presented with the owner of the restaurant with the gift of a book on the role of cheese in traditional Italian cuisine. It also awarded Nono a score of three stars, which ties the establishment for the highest rating it has awarded any Israeli restaurant.
Among the distinguished guests attending the event were H.E. Mr. Gianluigi Benedetti, the ambassador of Italy to Israel and his wife Sabina, along with other embassy officials, including First Counsellor and Deputy Head of Mission Mr. Gianmarco Macchia; First Secretary for Press and Political Affairs Mr. Francesco De Angelis; First Secretary for Political and Consular Affairs Mr. Niccolò Maniello and his wife Elmina Vincenti; and Mr. Francesco Meucci, chief of the Bureau of Economic and Commercial Affairs.
Other notable guests included H.E. Mr. Oded Ben-Hur, former ambassador to the Holy See, Lithuania, Latvia and Estonia and his wife Edna; Mr. Ottavio Viglione, branch manager, Edison Israel; Judge Emeritus Uri Goren and Mrs. Orna Galazane Goren, Esq.
Photos by Silvia Golan
Details

Written by

Talma Gotteiner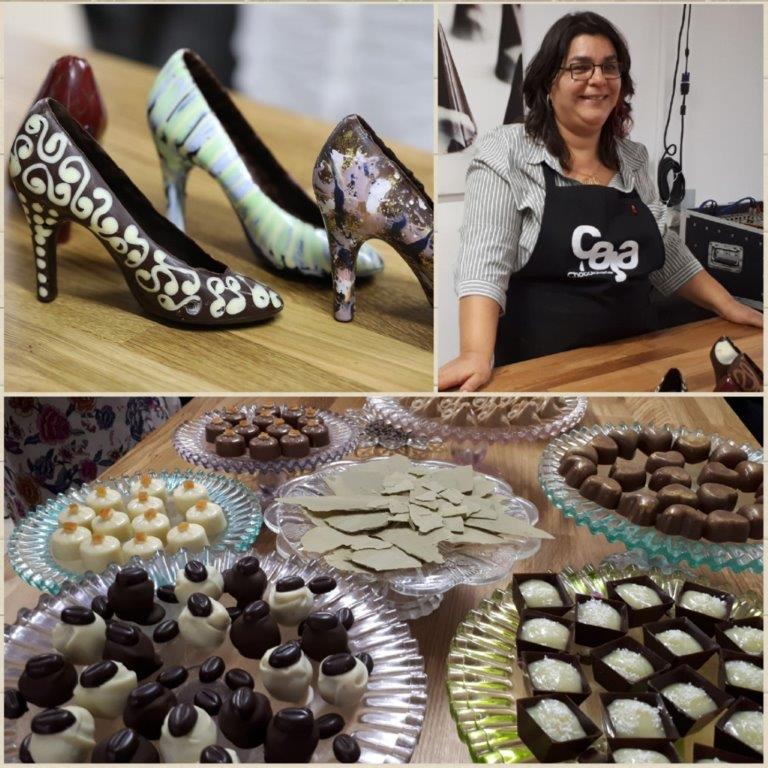 Dear friends,
Best,
Matte Yehuda is the name of the region lying just west of Jerusalem, within a 40 min drive from Tel-Aviv. Every spring for the past 18 years, the region has held a food festival celebrating the wonderful produce and beauty of the season. What makes it even better, is the assortment of local participants who add their cultural background to the experience in various ways making it a celebration of folklore as well as cuisine. I thank the Matte Yehuda office of the Ministry of Tourism for inviting me to take part in an introductory tour of some of the participants this year.
Mark your calendar! The festival will take place for four whole weekends, the last of which is the Shavuot (Pentecost) holiday weekend, between April 27

th

to May 20

th

, 2018.
Trip Agenda Options
In Luzit: The world music and vegetarian food 'Kabbalat Shabbat' option

Srigim Brewery: A boutique brewery & beer garden

Srigim 'Shuninis': A chef's take on traditional Kurdish food

'Saba's Gallery' and 'Caja Chocolaterie' in Tzafririm: A grandfather's gallery of sculptures and daughter's chocolaterie

In Yish'i: The traditional Yemenite musical 'Kabbalat Shabbat' feast option
Trip Anchors
For those who require it, 'Kabbalat Shabbat' literally means 'welcoming the Sabbath'. Traditionally, there are songs in the prayer book that each family would sing at the dinner table on the first meal of the Sabbath on Friday night. Each congregation had and has their own tunes and additional songs that are sung making it a multi-cultural experience.
In Luzit: The World Music and Vegetarian Food 'Kabbalat Shabbat'
The experience I had at Ilia Magnes and Sigal Geva's house was no less than stunning. She is a hardcore trekking travel guide who spent a year alone in Australia and has guided some of the Israeli 'Desert Queen' treks, although you wouldn't guess it. She looks like such a gentle and refined lady. He is a streetwise, self-taught musician and painter who plays dozens of instruments. His life story is a unique twisted plot encompassing the world from the USA through Israel, Denmark and Ibiza to name a few. Lastly, they both live in a house made up of containers, an architectural feat that they accomplished themselves.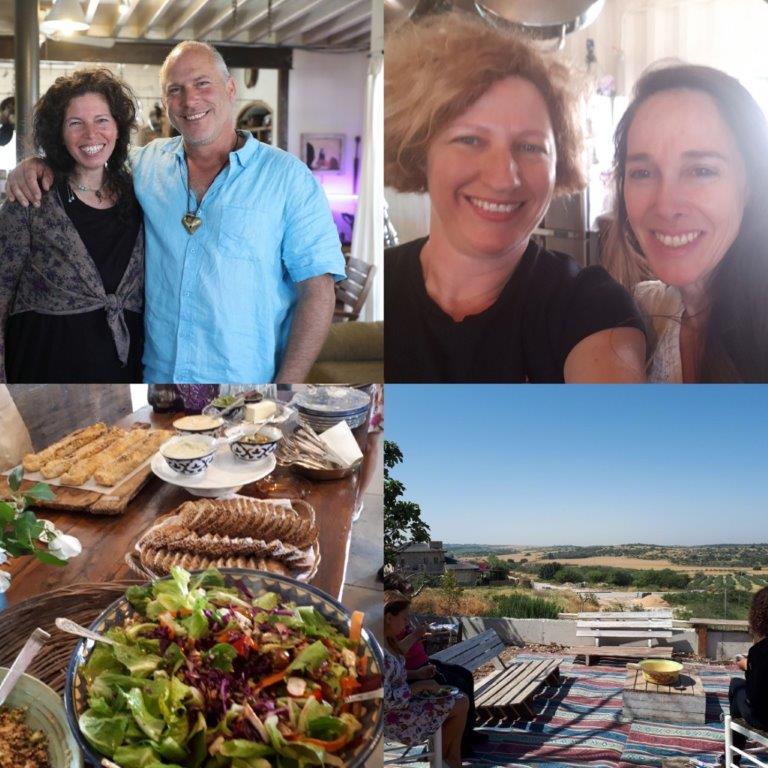 During the festival, they will be hosting two 'Kabbalat Shabbats' on Friday afternoon and especially for the festival, they have invited a singer friend called Niri Damsky who has added vocals to the live performance. The visit will include a bit of all the above: their life stories, a tour of the house, a lovely buffet meal (mostly gluten-free), which you can have in their blooming garden and a magnificent musical performance. During the festival, I'm sure they will be speaking in Hebrew, but you can contact them and arrange for an English-speaking visit on a separate occasion.
I'm attaching two videos that give you both a taste of Ilia's world music capabilities of the beautiful 'Kabbalat Shabbat' that he and Niri have prepared.
https://www.youtube.com/watch?v=MUAVw-8dbnc&t=9s
https://www.youtube.com/watch?v=1rf74e-vvio
Phone: Sigal 052-8895906 or Ilia 052-6943332
Email: This email address is being protected from spambots. You need JavaScript enabled to view it.
Srigim Brewery: The boutique brewery & beer garden
Owners Ofer Ronen and Ohad Eylon left their successful high-tech careers to open the brewery about seven years ago, following their passions to a championship in a multitude of beer boutique competitions and development of 7 boutique beers.
They will be hosting visitors in the beer garden every Friday and Saturday including the Shavuot (Pentecost) holiday pairing it with plenty of appropriate edibles such as soup in a bread bowl, fries, excellent sausages (the unanimous opinion), schnitzel and pizza.
You can also reserve a tour that includes some more background on their stories, a visit to the brewery, an explanation about the beer making process and beer tasting.
Phone: 073-2725313
Email: This email address is being protected from spambots. You need JavaScript enabled to view it.
Srigim 'Shuninis': A Chef's Take on Traditional Kurdish Food
Sarah and Tal Sharvit have added on to their existing catering service, management of a local restaurant that serves street-food till 19:00 and full-service dinners from then on. Regardless of the level of service, you get to taste Chef Tal's modern version of his traditional childhood Kurdish food. Luckily, most of what was served was gluten-free, so I can testify to its deliciousness. I'll let them explain the names of the dishes. For the festival, he has added a special 'Malabi' pudding desert based on his home recipe.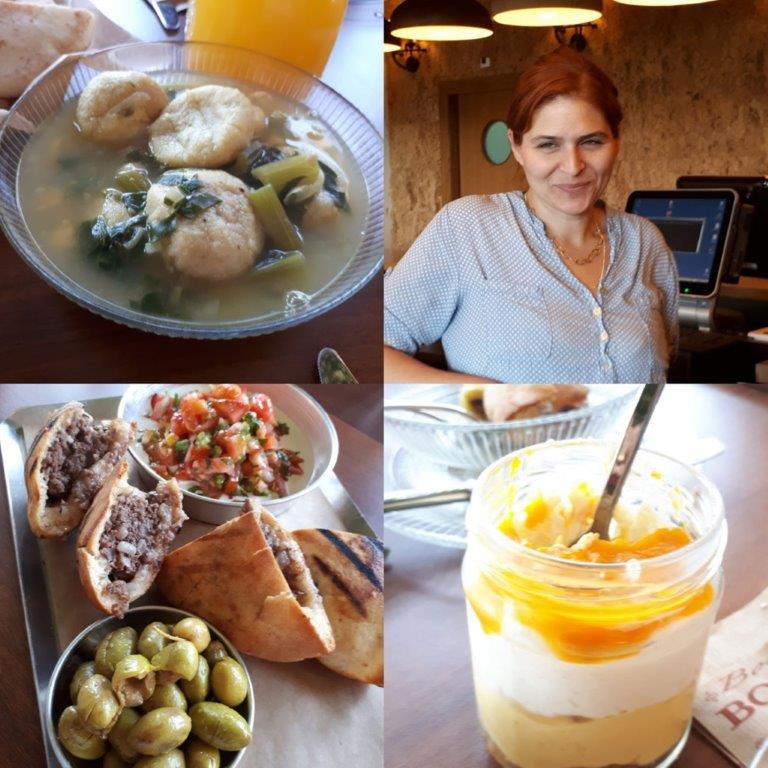 'Saba's Gallery' and 'Caja Chocolaterie' in Tzafririm: A grandfather's gallery of sculptures and daughter's chocolaterie
It is such a nice thing to see a family that can balance working together with independent freedom, each doing his own thing, but supporting one another. Nissim Levi is nearing 80 by now. His story is incredible in that he started his artistic sculpting only at the age of 60 because when he grew up it was considered a waste of valuable time and material to produce art. Anyway, once he got started he couldn't stop and now his home is a gallery of over a thousand sculptures made from whatever he can lay his hands on. Several are made of iron because he was sent to train as a locksmith at the age of 14. The gallery also has a display of a miniature Kurdish village and a heritage room dedicated to family collectibles which is related to his story of his life's story. There is also a film about his great-grandfather who had to leave Jerusalem in 1948.
His daughter Galia, on the other hand, is a sweet chocolatier. She studied with Estella M. Belfer, one of the judges at 'Bake Off Israel' and carried on from her home in Tzafririm. We were invited to taste some delectable chocolates and since they were all unique, I tasted them all. Have you ever tasted matcha chocolate or pralines filled with sachlav ganache? Also, if you're thinking of proposing to your very own Cinderella, she has the most adorable hand painted chocolate shoes ever! (just a thought).
The visit can include a tour of the gallery with or without a meeting with Nissim who tells his story and demonstrates the sculpting process. It can also include a visit to the chocolaterie either for a tasting session (no minimal limit) or for a chocolate making workshop (for groups only of 15 or above) or just for purchasing.
In order to run things smoothly, two visits will be scheduled on Fridays as follows:
10:00 / 13:00 independent view of the gallery and heritage room and respectively
11:00 / 14:00 chocolate tasting
Meetings with Nissim and workshops need to be reserved in advance. Several of the activities can be instructed in English. You should contact them directly for further clarification.
Phone:

052-3404536
In Yish'i: The traditional Yemenite musical 'Kabbalat Shabbat' feast option
Last, but definitely not least, we visited the home of the famous singer 'Gila Bashari'. This Philharmonic performer is actively contributing to preservation of the Yemenite tradition by teaching interested younger generation singers the traditional tunes. Among other things she holds 'Kabbalat Shabbat' events once every other month at her home where she has built an inviting room for her visitors surrounded by a blooming rose garden. The evening begins with a concert including several anecdotes and explanations, followed by a traditional Yemenite meal.
During the festival, she will be holding such an occasion on the weekend before Shavuot (May 11th), where she will be singing verses from the Ruth Megillah according to the traditional Yemenite tunes.
I have verified that you can reserve such an event in English on a separate occasion if you contact her directly.
Phone: 02-9914321 or 052-3226001
The Yemenite performance was a magical end to an exceptional day.
https://www.youtube.com/watch?v=_7Ykv1JAXfI&t=6s
Additional Options
There are several additional locations to visit in the festival. The region itself contains around 40 wineries as well as other homes and cuisines. Please refer to the festival website for additional options.
http://www.tour-yehuda.org.il/
In addition, there are two related posts of mine that you may be interested in.
The brewery is located very near an excavation point called 'Tel Azekah', where ancient beer jugs were found. Those same beer jugs are located in 'The Corinne Maman Museum of Phillistine Culture' that I visited in Ashdod. You can read about it here.
https://www.israel-best-trips.com/single-post/2017/11/16/Who-Knew-that-Ashdod-was-a-City-of-Parks
Although I have been posting on a weekly basis religiously for about 7 months now, I have only visited the region once when I went slightly north of where the food festival is taking place, but also part of Matte Yehuda. You can read about it here.
https://www.israel-best-trips.com/single-post/2017/12/21/The-Greater-Area-of-Modi%E2%80%99in-Hanukkah-Lemonade
Food
This post is all-inclusive.
Accommodation
You can search for B&Bs on my 'Best B&B' page.



My timeline
This trip took a day. I placed Tel-Aviv and Jerusalem at both ends of the map so that you can get a feel for where the region is located.
I can't wait for next year!
Best,
Talma
Special Credit: To photographer Eldad Maestro who has let me combine some of his stills photos with mine.
Details

Written by

Talma Gotteiner
Dear friends,
Best,
---------------------
Hi there!
I love the north of Israel so when I was offered to join a two-day trip of goodness, courtesy of Azoulay PR & More, I jumped at it. The locations in this trip are all considered major attractions in Israel and are well equipped for tourists year-round.
Trip Agenda Options
Extreme Sports
Manara Cliff extreme sports and night activities
Kfar Blum Kayaks, Top Rope Adventure Park and more
Cuisine
De Karina Chocolatiere Workshop
'Dag Al Hadan' Restaurant Tour and Workshop
Manara Lodge Chef Workshop
Kfar Blum culinary services
Extreme and Cuisine
Manara Cliff Extreme Sports and Night Activities
When I visited Manara in Passover, little did I know that I would be coming back shortly afterward. But, I'm glad I did because it gave me an opportunity to try some additional activities. In Passover, my family and I rode the Manara Cliff Cable Car and Mountain Slides. You can read about them here.
The extreme sports activities are located at the middle stop of the cable car. These include rappelling down 40 meters of the cliff face, archery, and a climbing wall. I hadn't rappelled in over 20 years and it was a bit scary to begin with, but it was like riding a bicycle. Once I leaned back into position, it all came back to me and I was able to jump my way down. The archery was fun too.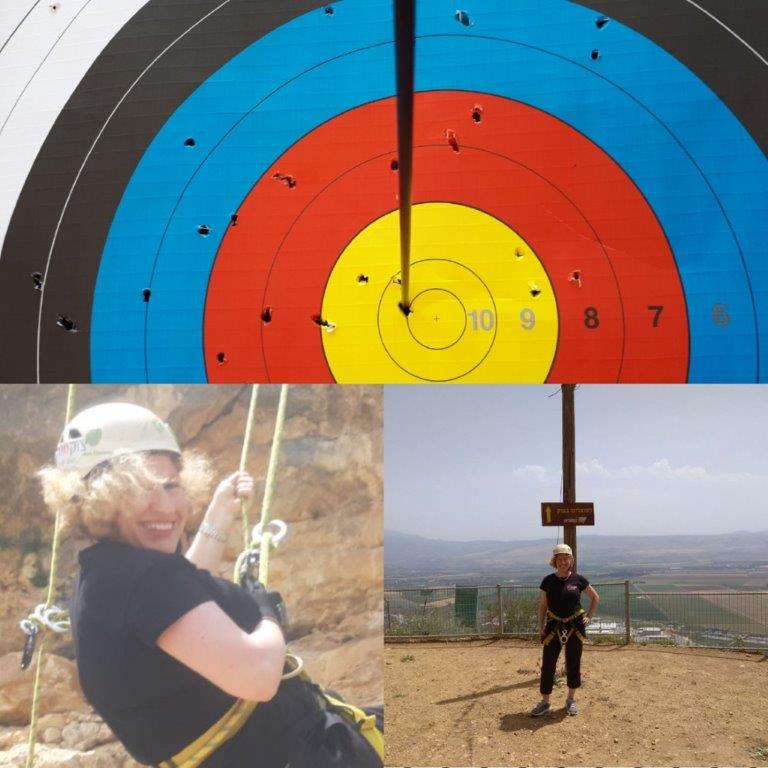 Aside from the extreme sports, we enjoyed the heritage tractor tour at the top of the cliff and a cooking workshop led by Chef Raef in which we learned how to make stuffed vine leaves while gleaning other essential cooking tips related to homemade hummus.
Nighttime activities include an assortment of the daytime activities: tours, cable or mountain rides, and meals. Our nighttime activity included a cable ride and a bonfire, which was when we got to bond and discuss the new campaign.
It so happens that 2018 is a historic year. It's the 70th anniversary of Israel and the 20th anniversary of the Manara Cliff tourism site. In Israel, there is a big campaign to visit the cliff and hashtag your photo with #manara and #youmustbehere. The photo below depicts the CEO of Manara Cliff, Doron Medina and CEO Assistant of Azoulay PR & More, Raaya Balhasan holding the slogan sign. You are more than welcome to join the celebration.
Kfar Blum Kayaks, Top Rope Adventure Park, and More
Kfar Blum offers three different kayak tours passing through the Hasbani and Yarden rivers. The first is a family route of 4 km that lasts ~1.5 hrs, the second is a challenge route of 8 km that lasts ~2.5 hrs and goes through more rapid waters and a VIP tour.
For those who want to enjoy a simulation of the experience, there is a new 3D rafting film that gives you a taste of sailing without actually entering the river. It was filmed in New Zealand especially for the Kfar Blum park and is suitable for ages 4 and up. Adi Cohen, the H.R. manager came to extend her welcome to you.
The 'Top Rope' park is the adventure park next to the kayak station. It includes a rope course, archery station, 12-meter climbing wall and a 90-meter zip line going straight from the top of the climbing wall into the water. If in the kayaks you mainly wet your pants, in the zip line you get wet from head to toe. However, there are cloakrooms in the park for showering and changing and all you have to do is prepare for it in advance.
Kfar Blum also offers a variety of food vendors and services. As a group, we enjoyed a meal of freshly baked pizzas and salads. However, they have several other offerings for groups. The one that caught my eye in their pamphlet was the 'floating market' in which the alcoholic breezes and refreshments are served while you're on the river in the kayaks. Group events can include several combinations of activities and foods, day and night. They also have a camping ground on site with all the facilities.
De Karina Chocolatiere Workshop
Karina is the 3rd generation of a family of chocolatiers from Argentina. Luckily, she has chosen to make her home in Israel, where she has established a wonderful chocolaterie in the Golan Heights that both preserves the traditional handmade methods while developing new flavors and products reflecting the Israeli agriculture and palate.
A visit to De Karina includes a half hour guided tour in the visitors' center starting with a film and followed by a tour of the factory and a tasting session. To enhance the visit, Karina has developed different workshops for adults and children as well as a VIP workshop that teaches each participant how to make gourmet chocolates. The advantage of the VIP workshop aside from Karina's personal oversight is that it is conducted as a team-building activity and not just as a personal experience. Regardless of which workshop you choose, at the end you will receive a personalized box with chocolates from the workshop.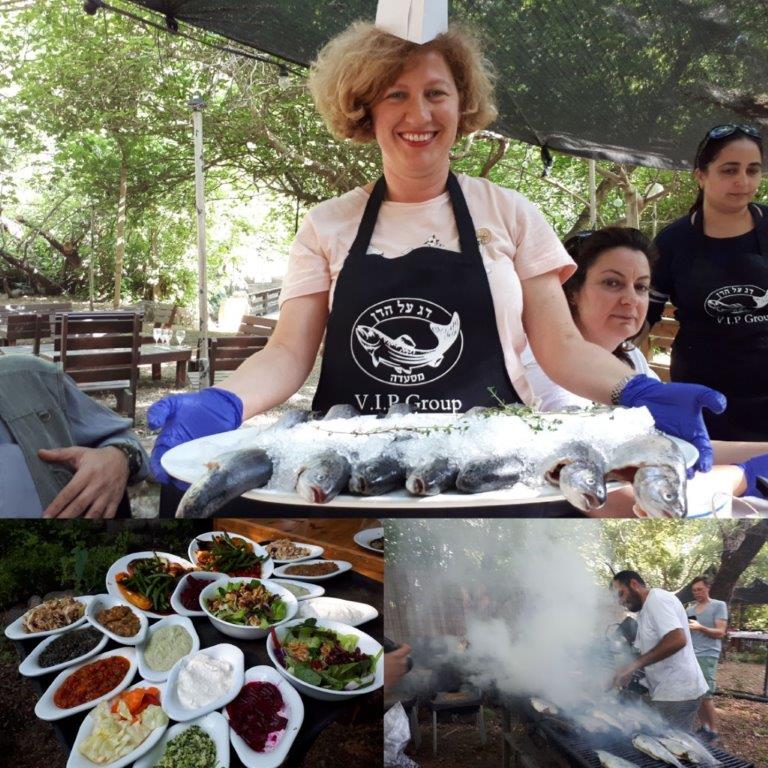 'Dag Al Hadan' Restaurant Tour and Workshop
'Dag Al Hadan' is another famous Israeli institution. It started with the restaurant that was opened in 1978 on the banks of the Dan River. Today, it is run by the son, Enam and includes also a campsite and kayak station of its own. However, our visit was limited to the culinary aspect. As expected, the restaurant specializes in cooking fresh fish and is the largest of its kind in Israel seating ~700 people. In order to maintain the supply of fish to the restaurant, the owners have created fish tanks in which the local trout as well as a few other species, are grown especially for the customers. Among others, they also grow sturgeon for extraction of caviar such as the one Enam was holding below.
The father started with a tradition of planting trees within the complex, which Enam is carrying on. Several of them are mulberry trees that are now in season and in addition, they have added a platform with tanks of the Garra Rufa fish used for spa pedicures. The overall effect, on top of the flowing water is quite serene.
Our visit to the restaurant included a guided tour and a fish cooking workshop led by Enam and his team culminating in a delicious meal.
Food
This post is all inclusive, but this is where I will add a photo from Manara Lodge's sumptuous breakfast.
Accomodation
We slept at Manara lodge. An important point that I'd like to add is that visitors at the lodge gain free entrance to all the extreme attractions from check-in to check-out so keep that in mind and check-in early! (pssst. you can check in even before the rooms are ready).
My timeline
The trip took two days. I've placed the locations on the map for your convenience.
This is what it looks like on the map:
I hope you find this review helpful and that it will enable you to fit at least some of these attractions into your itinerary next time you visit the north of Israel.
Best,
Talma
Details

Written by

GPO
Passover marks the exodus of the Jewish people from Egypt, from slavery to freedom. Jews are commanded to tell the story of Passover as if it had happened to them personally and not as a mere historical event, to emphasize the importance of our freedom.
Passover will take place in Israel this year between sunset on Friday 30 March, and sunset on Friday 6 April. The first and last days of Passover – Saturday 31 March and Friday 6 April – are legal holidays in Israel. Passover marks the exodus of the Jewish people from Egypt, from slavery to freedom. Jews are commanded to tell the story as if it had happened to them personally and not as a mere historical event, in order to emphasize the importance of our hard-won and precious freedom.

The MFA will be closed throughout Passover, (from Friday 30 March through Saturday 7 April, inclusive). While we will continue to keep you informed of any major events, regular service will resume on Sunday, April 8.

Preparations for Passover

The period preceding Passover is marked by extensive preparations and several special ceremonies. The most important of these concerns the removal of hametz, i.e. any food product that contains leavened wheat, oat, barley, rye, or spelt products. In keeping with the Biblical command in Exodus 12:19 and 13:7, Jews will, before Passover, thoroughly clean their homes to remove any crumbs or bits of food, etc. that may be hametz. This cleaning culminates in a ritual candlelight search for hametz in one's home, accompanied by a special blessing and the renunciation of formal ownership over any remaining hametz. The hametz collected during the search is then burned on the morning before Passover. It is also customary to sell one's hametz to a non-Jew – usually by authorizing a rabbi to act as an agent for the sale – as a supplementary measure. While certain types of dishes and utensils can be made kosher for Passover, many Jews will have separate sets of dishes and utensils solely for use during Passover.

In the absence of leaven, Jews will eat specially prepared unleavened bread, or matzah, on Passover. Many Jews will also eat products made with matzah "flour" – unleavened bread that has been finely ground. Matzah dates back to the Exodus, where the Jews, not having had time to wait for dough to rise before leaving Egypt, journeyed into the desert with unleavened bread.

First-born males over 13 are required to fast on the day before Passover – in commemoration of the fact that first-born Jewish males were spared when first-born Egyptian males were killed during the tenth plague – but may be released of this obligation by participating in a special festive meal, such as accompanies the conclusion of study of a tractate of the Talmud or a circumcision, on the morning before Passover.

The Sabbath before Passover – 24 March this year – is known as "the Great Sabbath," and is marked by a special reading from Malachi 3:4-24. In the afternoon, it is traditional for rabbis to give special sermons, usually on the laws associated with Passover.

The Seder and the First Day of Passover

On the evening of Friday 30 March, after festive evening prayers, families will eat a special ceremonial meal known as the seder, which commemorates the Exodus from Egypt. The guide for the seder is detailed in a book known as the Haggadah, literally "narration," which relates the story of the Exodus from Egypt. A plate placed on the seder table contains several special foods: a roasted egg, symbolizing the special sacrifices which were brought in the Temple; a roasted shank bone, recalling the special Passover lamb offered and eaten in Temple times; a mixture of chopped apples, nuts, wine and cinnamon known as haroset, symbolizing the mortar that the Hebrew slaves in Egypt used to make bricks; sprigs of parsley and lettuce, symbolizing spring; a bitter herb symbolizing the bitterness of slavery; and salt water, recalling the tears shed by the Hebrew slaves in Egypt. Three sheets of matzah – marking the division of the Jewish people into priests, Levites and the general population – are also placed on the table.

During the course of the seder, the Ten Plagues are recalled. When each of the Plagues is mentioned, each participant dips a finger into his/her cup of wine and removes a drop; even though the Jews were oppressed in Egypt, we are reminded that we must not rejoice over the Egyptians' suffering. Our cups of wine cannot thus be full.

One of the more popular seder customs for children concerns the afikoman, a special piece of matzah that is the last food eaten during the seder. The head of the household customarily hides the afikoman somewhere in the house, and the children then search for it. Once found, the afikoman is "ransomed," since the seder cannot continue until the afikoman is eaten. This helps to keep the children focused on the seder and to pique their curiosity regarding the entire Passover epic.

On the morning of Saturday 31 March, festive prayers (including a prayer for abundant dew during the spring and summer) and special readings, including the Song of Songs, will figure prominently in synagogue services.

Saturday, 31 March is a full public holiday, i.e. there is no public transportation or newspapers, and shops will be closed.

The Intermediate Days of Passover

While the intermediate days of Passover (this year from sunset on Saturday 31 March until sunset on Thursday 5 April) are not full public holidays, special prayers and readings are recited in the synagogue. Schools will remain closed, as will many businesses. Post offices and banks will be open, but will have reduced hours. Newspapers will be published.

Jewish tradition maintains that the parting of the Red Sea and the destruction of the Egyptian army occurred on the seventh day of Passover, but even though Passover celebrates the Exodus from Egypt, Jews nevertheless do not rejoice over the death of the Egyptians in the sea and only an abridged version of Hallel (Psalms 113-118) – a holiday prayer – is recited after the first day of Passover.

From the evening of Saturday 31 March, Jews will keep a nightly count of the 49 days (seven weeks), until the evening of Friday 18 May, one day before the holiday of Shavuot. This count commemorates the Temple offering of the omer, or sheaf of new grain, in keeping with the Biblical injunction of Leviticus23:15-16.


The Seventh Day of Passover

The celebration of the seventh day of Passover as a full holiday is specified in Exodus 12:16 and Leviticus 23:8. This year, the seventh day begins at sunset on Thursday 5 April and lasts until sunset on Friday 6 April. On Friday morning, there will be festive services and readings in synagogues; special memorial prayers for the departed will also be said.

Friday 6 April is a full public holiday, i.e. there is no public transportation or newspapers, and shops will be closed.


Maimouna

Maimouna – an informal, yet widely celebrated holiday which originated among the Jews of North Africa, particularly those from Morocco – is celebrated the day after Passover or the second day after Passover if the last day of Passover falls on a Friday as it does this year. Accordingly, Maimouna will be celebrated this year beginning at sunset on Saturday 7 April and lasting until sunset on Monday, 8 April. According to custom, families prepare elaborate tables with various sweets and baked goods, and host friends and family members. Whole neighborhoods often close as celebrations spill out into the streets and parks.

Passover in Film
Following are clips from six films (courtesy of the Steven Spielberg Jewish Film Archive) that depict the various ways in which Passover has been celebrated:
Ideal Travel Talks 1934 – Travelogue shot in Eretz Yisrael in 1934. The film includes rare scenes of Samaritans celebrating Passover on Mt. Gerizim and their high priests sacrificing the paschal lamb in the presence of the British High Commissioner of Palestine, Arthur Wauchope (from 30:55 min). (Note: The Samaritan community will celebrate Passover this year beginning on Sunday evening 29 April.)
Road to Liberty 1946 – Film about the Jewish Brigade which fought in World War II as a unit of the British Army. Includes scenes of Jewish solders celebrating the seder in Europe (from 8:03 min.)
To Save One Life 1952 – Docudrama about two sisters who immigrated to Israel from Yemen through Youth Aliyah. Includes scenes of Pesach cleaning, preparations and seder in a youth village. (from 39:55 min.)
Seder De Pesach 1980s – A Jerusalem family from North African conduct a model Sephardic seder. The film is interspersed with stories and animations depicting the Exodus from Egypt. (French)
Operation Exodus Honors American Troops At A Special Seder In Israel 1991 – American soldiers stationed in Israel participate in a special seder with new immigrants from the CIS and Ethiopia, shortly after the Gulf War.
Our Way: Sarajevo 1993 – The JDC and Jewish leaders in Sarajevo, Bosnia hold a special seder during the civil war in the presence of Moslem and Christian clerics. (from 3:28 min.)

Photo Stella Szpira