Life Style
Details

Written by

Talma Gotteiner
Dear friends,
Best,
---------------------
Hi there!
I love the north of Israel so when I was offered to join a two-day trip of goodness, courtesy of Azoulay PR & More, I jumped at it. The locations in this trip are all considered major attractions in Israel and are well equipped for tourists year-round.
Trip Agenda Options
Extreme Sports
Manara Cliff extreme sports and night activities
Kfar Blum Kayaks, Top Rope Adventure Park and more
Cuisine
De Karina Chocolatiere Workshop
'Dag Al Hadan' Restaurant Tour and Workshop
Manara Lodge Chef Workshop
Kfar Blum culinary services
Extreme and Cuisine
Manara Cliff Extreme Sports and Night Activities
When I visited Manara in Passover, little did I know that I would be coming back shortly afterward. But, I'm glad I did because it gave me an opportunity to try some additional activities. In Passover, my family and I rode the Manara Cliff Cable Car and Mountain Slides. You can read about them here.
The extreme sports activities are located at the middle stop of the cable car. These include rappelling down 40 meters of the cliff face, archery, and a climbing wall. I hadn't rappelled in over 20 years and it was a bit scary to begin with, but it was like riding a bicycle. Once I leaned back into position, it all came back to me and I was able to jump my way down. The archery was fun too.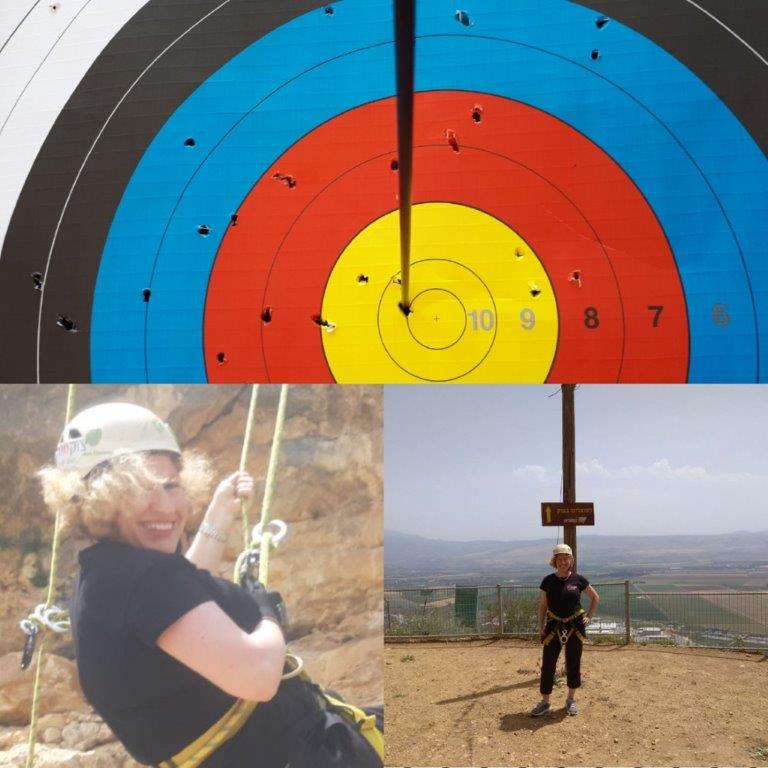 Aside from the extreme sports, we enjoyed the heritage tractor tour at the top of the cliff and a cooking workshop led by Chef Raef in which we learned how to make stuffed vine leaves while gleaning other essential cooking tips related to homemade hummus.
Nighttime activities include an assortment of the daytime activities: tours, cable or mountain rides, and meals. Our nighttime activity included a cable ride and a bonfire, which was when we got to bond and discuss the new campaign.
It so happens that 2018 is a historic year. It's the 70th anniversary of Israel and the 20th anniversary of the Manara Cliff tourism site. In Israel, there is a big campaign to visit the cliff and hashtag your photo with #manara and #youmustbehere. The photo below depicts the CEO of Manara Cliff, Doron Medina and CEO Assistant of Azoulay PR & More, Raaya Balhasan holding the slogan sign. You are more than welcome to join the celebration.
Kfar Blum Kayaks, Top Rope Adventure Park, and More
Kfar Blum offers three different kayak tours passing through the Hasbani and Yarden rivers. The first is a family route of 4 km that lasts ~1.5 hrs, the second is a challenge route of 8 km that lasts ~2.5 hrs and goes through more rapid waters and a VIP tour.
For those who want to enjoy a simulation of the experience, there is a new 3D rafting film that gives you a taste of sailing without actually entering the river. It was filmed in New Zealand especially for the Kfar Blum park and is suitable for ages 4 and up. Adi Cohen, the H.R. manager came to extend her welcome to you.
The 'Top Rope' park is the adventure park next to the kayak station. It includes a rope course, archery station, 12-meter climbing wall and a 90-meter zip line going straight from the top of the climbing wall into the water. If in the kayaks you mainly wet your pants, in the zip line you get wet from head to toe. However, there are cloakrooms in the park for showering and changing and all you have to do is prepare for it in advance.
Kfar Blum also offers a variety of food vendors and services. As a group, we enjoyed a meal of freshly baked pizzas and salads. However, they have several other offerings for groups. The one that caught my eye in their pamphlet was the 'floating market' in which the alcoholic breezes and refreshments are served while you're on the river in the kayaks. Group events can include several combinations of activities and foods, day and night. They also have a camping ground on site with all the facilities.
De Karina Chocolatiere Workshop
Karina is the 3rd generation of a family of chocolatiers from Argentina. Luckily, she has chosen to make her home in Israel, where she has established a wonderful chocolaterie in the Golan Heights that both preserves the traditional handmade methods while developing new flavors and products reflecting the Israeli agriculture and palate.
A visit to De Karina includes a half hour guided tour in the visitors' center starting with a film and followed by a tour of the factory and a tasting session. To enhance the visit, Karina has developed different workshops for adults and children as well as a VIP workshop that teaches each participant how to make gourmet chocolates. The advantage of the VIP workshop aside from Karina's personal oversight is that it is conducted as a team-building activity and not just as a personal experience. Regardless of which workshop you choose, at the end you will receive a personalized box with chocolates from the workshop.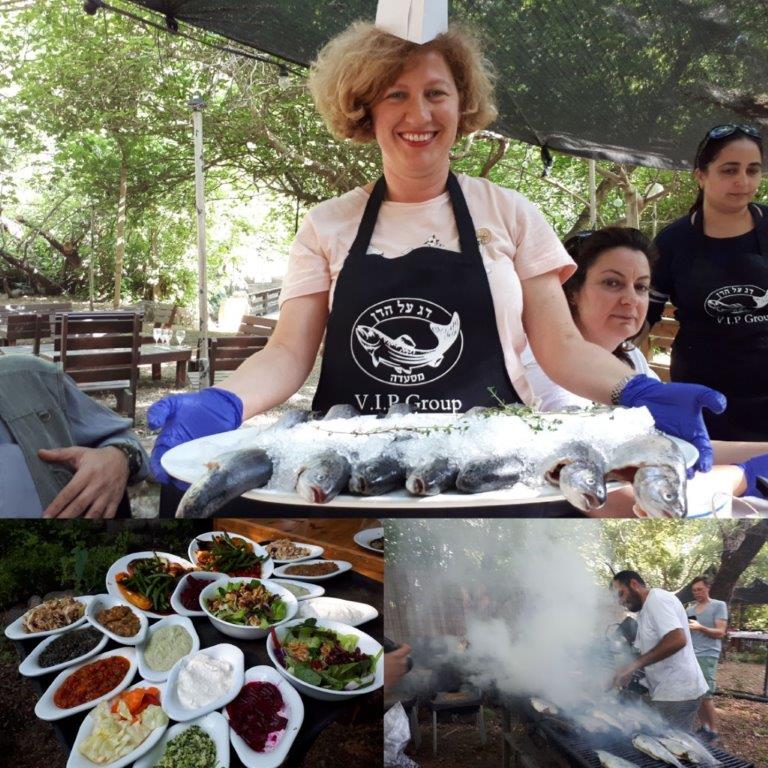 'Dag Al Hadan' Restaurant Tour and Workshop
'Dag Al Hadan' is another famous Israeli institution. It started with the restaurant that was opened in 1978 on the banks of the Dan River. Today, it is run by the son, Enam and includes also a campsite and kayak station of its own. However, our visit was limited to the culinary aspect. As expected, the restaurant specializes in cooking fresh fish and is the largest of its kind in Israel seating ~700 people. In order to maintain the supply of fish to the restaurant, the owners have created fish tanks in which the local trout as well as a few other species, are grown especially for the customers. Among others, they also grow sturgeon for extraction of caviar such as the one Enam was holding below.
The father started with a tradition of planting trees within the complex, which Enam is carrying on. Several of them are mulberry trees that are now in season and in addition, they have added a platform with tanks of the Garra Rufa fish used for spa pedicures. The overall effect, on top of the flowing water is quite serene.
Our visit to the restaurant included a guided tour and a fish cooking workshop led by Enam and his team culminating in a delicious meal.
Food
This post is all inclusive, but this is where I will add a photo from Manara Lodge's sumptuous breakfast.
Accomodation
We slept at Manara lodge. An important point that I'd like to add is that visitors at the lodge gain free entrance to all the extreme attractions from check-in to check-out so keep that in mind and check-in early! (pssst. you can check in even before the rooms are ready).
My timeline
The trip took two days. I've placed the locations on the map for your convenience.
This is what it looks like on the map:
I hope you find this review helpful and that it will enable you to fit at least some of these attractions into your itinerary next time you visit the north of Israel.
Best,
Talma
Details

Written by

Jonathan Danilowitz
What makes one art gallery stand out as special and different from all the others that, interesting as they may be, seem to be so run of the mill? Of course, the artists and their works, but every gallery worth that designation offers us a view of artistic talent that can make our jaws drop. So is it the location? The theme? The setting? All of the above?
Yes, yes and yes. And Chabba Gallery has it all. Nathalie Mamoun captured the essence at an art center ("gallery" is almost too mundane a word for the setting) at her delightful home in Herzlia Pituach.
An at-home art gallery? Don't knock it till you see it and until you understand the whys and wherefores. Firstly, the large house is the perfect setting for an art gallery, with a spacious lower ground floor just begging to be utilized. And as Madame Mamoun explains in her delightful French accent: "How often hasn't it happened that you see a work of art (painting, sculpture, a collage, a photograph or even a mobile) that you know you want, but when you get it home and see it on the dining room wall, or standing in the entrance hall, or hanging from the ceiling in the family room, or wherever, you know it just doesn't fit your style, the surroundings, your home. It looked great in the gallery, but at home? Ugh!"The solution is to see art in real-life settings, just as you see it at Chabba Gallery: on the terrace, or next to the television, or above the lounge suite, or on the wall in the dining room. Will it match? Only you can tell, but at least you know how it might appear in your home (or office).
The gallery opened about one year ago and in general the works are available for viewing by appointment only (see details below). This past week was special, with a week-long exhibit (entitled "Four Corners") of international artists in an exclusive exhibition. (Special exhibitions, when the gallery is open at set hours without appointments, take place from time to time. Check the website for updates). The current exhibition continues for another month. We were privileged to view the entire exhibition and to meet two of the artists.
Rasa Flay was born and raised in Lithuania and has lived in several countries (her husband is a diplomat), including Vietnam. She says that her inner self knew early on that art was her lifeblood, but at her parents' insistence, she studied Business Administration. Later, when she lived in Moscow, she took art courses and began to express herself artistically. She trained further in Hanoi in the skills of lacquer painting. The details in her beautifully executed depictions set us on a trail of discovery as to the materials she uses, besides the lacquer; seeing her work on the walls of the Mamoun home is an exhilarating experience. She also has a feature of five photographs of – rocks! Says Rasa: "Art takes many forms, defined by the artist and left to the observer to contemplate, explore and discover the secrets". The voyage of discovery was thrilling.
From Lithuania and Vietnam we 'travelled' to Nairobi, Kenya, seeing art through eyes of Fred Abuga, a young man with a brilliant art future ahead of him. He began his creative journey already as a child, building toys from scraps. His teachers discovered his unique sense of creativity and art and often asked him to portray their teaching aids on the blackboard. Later on he was roped in to paint the backdrops for the school's drama productions. Educated in strict Catholic schools, he was eventually commissioned to paint a portrait of the Bishop of Kenya – an honor indeed for a budding young artist and a major stepping stone to a career that blossomed after his Fine Arts studies at college. The Kenyan French Cultural Center recognized his skills by their award: "Most promising Male Student". Fred Abuga has lived up to that promise.
Other artists exhibiting in "Four Corners" this month include the self-taught Moroccan painter Liliane Danino, who has had solo and group exhibitions around the world, including in Morocco, Canada, France, Israel and the USA. Also Josiane Dias, an art photographer formerly of Brazil, currently based in Israel. She has lived in Geneva, Tokyo and New York City and these varying cultures have clearly influenced her photography on differing levels. Expect the unexpected in her splendid works. And last but certainly not least is Itzhaq Mevorah, Israeli-born and trained and with his own studio specializing in a combination of pop art, ready-made and expressionism with innovative technological tools, in Tel Aviv's Florentine quarter. Revel in some of Mevorah's video art at the Chabba exhibition.
"Art speaks when words are unable to explain" is Nathalie Mamoun's guiding principle. We asked her to explain the choice of "Chabba" as the gallery's name: "The word connotes harmony, happiness, repose, joy, serenity – and is also my grandmother's name".
Need we say more?
Chabba Art Gallery.
44 Keren Hayesod Street,
This email address is being protected from spambots. You need JavaScript enabled to view it.
www. chabbagallery.com
Tel: Maria +972 (0) 54 832-1915
Nathalie +972 (0) 54 468-4545
Viewing by appointment only
Photos Silvia G. Golan
Details

Written by

Buzzy Gordon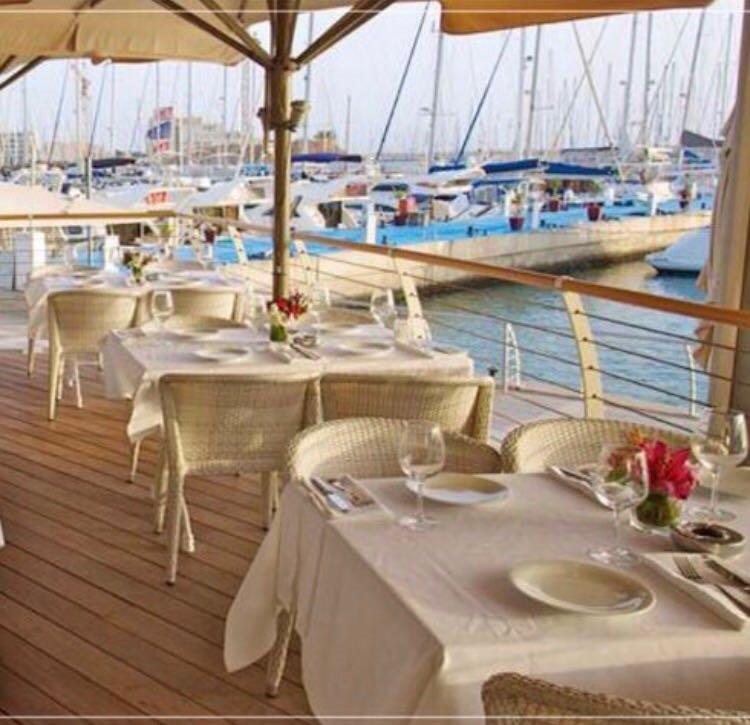 The Japanese-Mediterranean restaurant and sushi bar Nammos occupies one of the prime locations in the Herzliya Marina: the Blue Wave, home of the prestigious Yacht Club. The fine dining restaurant itself extends over several indoor and al fresco areas, in very close proximity to the berths of massive luxury yachts.
Nammos' well-stocked bar offers seven specialty cocktails, in addition to the classics. One of the former creative cocktails is the Apple and Pomegranate: spiced rum, vanilla syrup and lemon, blended with apple and pomegranate juices, resulting in a fruity and refreshing drink. The bartender will also mix a virgin cocktail, sans alcohol.
It is evident from perusing the restaurant's extensive menu that Nammos specializes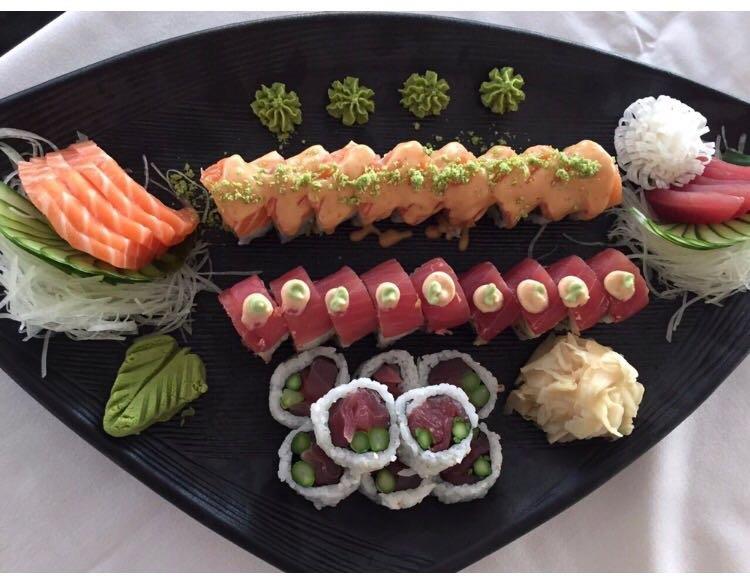 In fish and seafood. The sushi menu highlights 16 special rolls, of which we sampled that evening's chef's recommendations: spider rolls, featuring soft shell crab tempura, avocado, asparagus, tobiko and green onion; lobster rolls with cucumber, avocado, spicy miso and black tobiko; spicy tuna rolls with tempura flakes, avocado, cucumber and spicy mayonnaise; and salmon miso rolls: salmon, cucumber, avocado, takwan, spicy miso and crunchy wasabi peas. All the rolls, prepared with exceedingly fresh fish and seafood, were exceptionally well-balanced.
For our main courses, we were served two of the restaurant's signature pasta dishes.
The lobster ravioli comprised delicate pasta pockets stuffed generously with premium seafood, accompanied by emerald green asparagus. The al dente vegetable and gently cooked ravioli were drenched in a rich, complex saffron cream sauce that we mopped up to the last delicious drop.
The black pasta, meanwhile, was dark linguine studded with a marvelous seafood assortment: lobster, shrimp, calamari and clams. The cream sauce enriched with wine and butter added another exquisite dimension to this outstanding dish, which was greater than the sum of its parts.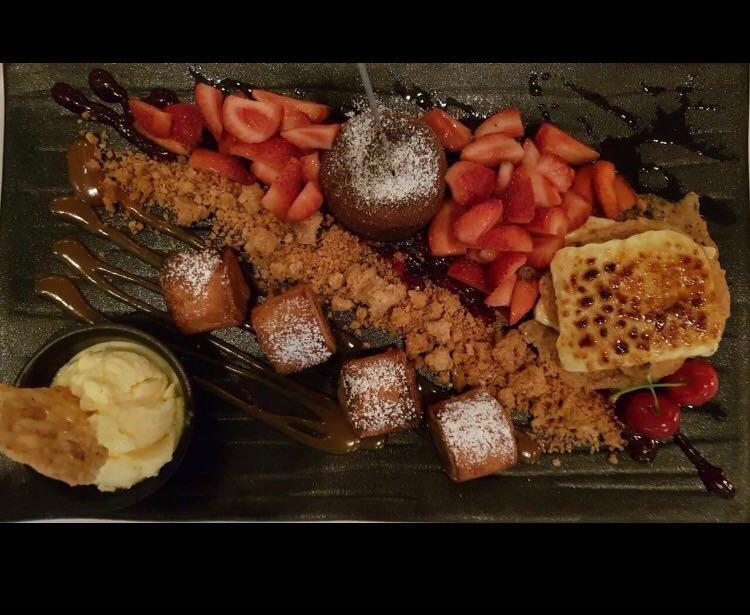 Our two desserts were also chosen by the kitchen. First was the chocolate sphere encasing homemade marshmallow ice, over which our waiter poured chocolate sauce at the table. Together with crunchy, buttery crumble, this dessert was like eating a cool candy bar.
Even sweeter was the crême brulée semifreddo: alternating layers of half-frozen crême brulée with almond tuile, surrounded by dots of toffee sauce. This light dessert of contrasting textures made for a worthy finale to a memorable meal.
Throughout our meal we were treated to friendly and impeccable service, exemplified by the proffering of wet naps from pre-torn packages between each course, along with the constant clearing of the table and resetting with clean plates and cutlery. The excellence of the food, combined with the professional service, are the hallmarks of a first-class restaurant.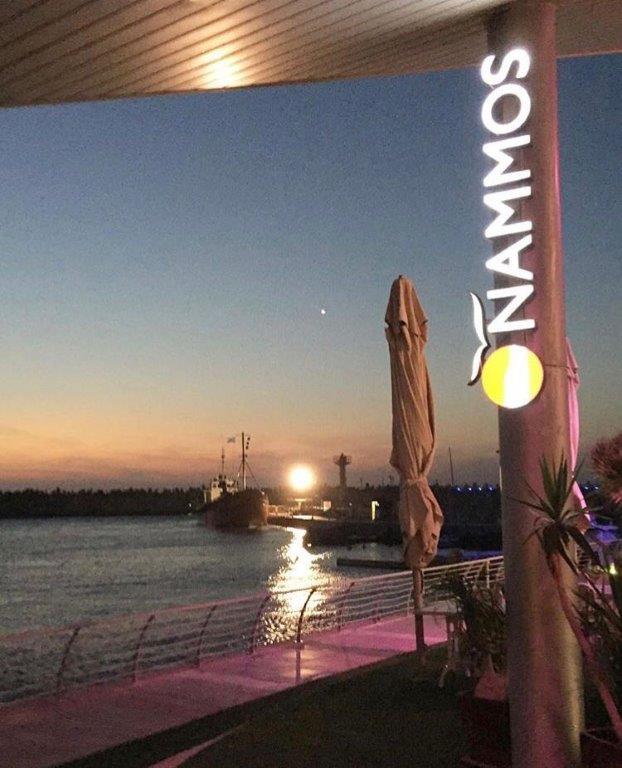 Nammos
Website: http://www.restaurants-in-israel.co.il/restaurant.aspx?id=20403
Chef/Proprietor: Ilan Trigger
Not kosher
Hatzedef 1, Herzliya
Tel. (09) 951-1555
PhotoS Nammos
Details

Written by

GPO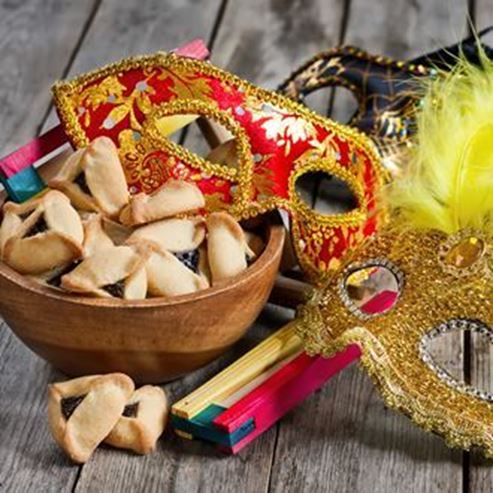 Purim, one of Judaism's more colorful and popular holidays, is celebrated this year between sunset on Wednesday, 28 February, and sunset on Thursday, 1 March, in most of Israel – excluding Jerusalem where Purim will be celebrated from sunset on Thursday, 1 March, until sunset on Friday, 2 March (see below). Purim is not a public holiday in Israel, but many offices, shops, and public institutions (including the GPO) will operate on a reduced basis. Schools will be closed, but public transportation will operate as usual, and newspapers will be published.
Background to Purim
Purim commemorates the events described in the Book of Esther. In Esther 3:8, the anti-Semitic Haman, Grand Vizier of the Persian Empire, tells Persian King Ahasuerus that, "There is a certain people scattered abroad and dispersed among all the peoples... in your kingdom. Their laws are different from those of every people, neither do they keep the king's laws. Therefore, it does the king no profit to suffer them. If it please the king, let it be written that they be destroyed..." Thus, Haman coined one of the most infamous anti-Semitic canards: That the Jews are a clannish and alien people who do not obey the laws of the land. At Haman's contrivance, a decree is then issued for all Jews in the Persian Empire to be massacred. But, as the Book of Esther subsequently relates, Haman's plot was foiled and, "The Jews had light and gladness, and joy and honor...a feast and a good day." (8:16-17)
Throughout the centuries, Purim – which celebrates the miraculous salvation of the Jews and the thwarting of Haman's genocidal plot – has traditionally symbolized the victory of the Jewish people over antisemitic tyranny. As such, Purim is a happy, carnival-like holiday.
The Fast of Esther
The day before Purim (Wednesday, 28 February this year) is a fast day known as the Fast of Esther, commemorating (inter alia) the fact that Queen Esther – the heroine of the Book of Esther – and the entire Persian Jewish community fasted (4:16) in advance of Queen Esther's appeal for King Ahasuerus not to implement Haman's genocidal plot. The fast will extend from before sunrise in the morning until sunset. Special prayers and scriptural readings are inserted into the synagogue service.
When the day before Purim falls on Shabbat, as it did last year, the Fast of Esther is brought forward to the preceding Thursday.
Purim
After sunset on Wednesday evening, 28 February, festive prayers will take place in synagogues, where the Book of Esther will also be read aloud. It is customary for people, especially children, to come to synagogue dressed in costume. During the reading of the Book of Esther, whenever Haman's name is mentioned, congregants traditionally make as much noise as possible in order to drown out his name – a reflection of God's promise (Exodus 17:14) to, "blot out," the Amalekite nation, of which Haman was a descendant; special Purim noisemakers may be used for this purpose. The Book of Esther will be read again during morning prayers on Thursday, 1 March. A special Purim prayer is inserted into the daily prayers and the blessing after meals.
On Purim, Jews are enjoined by the Book of Esther (9:22) to send gifts of food to each other, make special contributions to the poor, and have a festive holiday meal in the afternoon. To this end, the day is also marked by collections for various charities, and by people visiting neighbors and friends to deliver baskets of food, prominent among which are small, three-cornered, fruit-filled pastries known as Oznei Haman in Hebrew (Haman's ears) orHamantaschen in Yiddish (Haman's pockets).
At the festive meal, some maintain the custom of becoming so inebriated that they cannot distinguish between, "Blessed is Mordechai," (Esther's uncle and the hero of the Book of Esther) and, "Cursed is Haman."
Shushan Purim
In Jerusalem, Purim is ordinarily celebrated one day later than it is in the rest of the world; accordingly, all Purim-related observances are postponed by one day. This practice originates from the fact that an extra day was prescribed for the Jews of Shushan (the modern Susa, one of the Persian Empire's four capitals) to defend themselves against their enemies. This second day is known as Shushan Purim. As mentioned in the Book of Esther itself (9:16-19), Jews living in walled cities (later defined by rabbinical authorities to mean walled cities at the time that Joshua entered the Land of Israel) celebrate Purim one day later than Jews living in unwalled cities. There are several other such cities in Israel where Shushan Purim is celebrated. In some cities whose status is in doubt, the Book of Esther will actually be read on both days.
In many places in Israel, Purim is marked by special parades; the most famous of these takes place in Tel Aviv. Many kindergartens, schools, synagogues, and towns will also host special Purim parties and carnivals.
Purim in Film
Following are clips from six films (courtesy of the Steven Spielberg Jewish Film Archive) that depict the various ways in which Purim has been celebrated:
Adloyada 1960 – Color scenes of the colorful procession in Tel Aviv 55 years ago.
Faces of Freedom (1960) – New immigrants are absorbed into Israeli society at the beginning of the 1960s. The film begins with a Purim carnival.
Springtime in Palestine (1928) - Comprehensive survey of the developing country in the 1920s. Includes a Bukharian Purim feast and scenes of the 1928 carnival in which Baruch Agadati appears with Tzipporah Tzabari, the first Purim queen of Tel Aviv (from 11:33 min).
Eretz Yisrael: Building Up the Jewish National Home (1934) – The film begins with scenes of the Adloyada in Tel Aviv. It continues with agricultural scenes in Kibbutz Ein Harod, Deganya A and the women's agricultural school in Nahalal.
Edge of the West (1961) – A color film surveying Jewish life in Morocco in the early 1960s, including Purim celebrations (from 28:35 min.)
Hassidic Music (1994) – From the series "A People and Its Music" which depicts various Jewish music traditions. Includes scenes of Lubavitch Hassidim celebrating Purim (from 23:22 min.)
Purim Events in Jerusalem
https://www.jerusalem.muni.il/en/Visitors/Pages/Default.aspx
Purim Events in Tel Aviv
The Tel Aviv-Yafo Municipality, along with its many cultural institutions and partners, invites the general public to celebrate the Purim holiday throughout the city. A variety of performances, street carnivals and workshops will be held, catering to every possible age and interest.
Tel Aviv-Yafo is known for its vibrant and celebratory Purim atmosphere, and looks forward to creating it again this year for the many thousands of residents and visitors that come to the city to celebrate the holiday.
A curated selection of events is listed below, but a directory including many more can be found on the Municipality website (in Hebrew).
Purim Street Party
Friday, March 2 from 11:00-17:00
Kikar Hamedina, Tel Aviv-Yafo
The Purim Street Party is held annually by the Tel Aviv Yafo Municipality at Kikar Hamedina, in the North of the city. The 2017 event attracted over 100,000 people who came dressed in costumes to enjoy quality electronic music in a happening and positive atmosphere, and a similar turnout is expected this year. Leading DJs in the Tel Aviv music scene will play on a 360 degree stage erected in the center of the square, including performances by Muki and Subliminal.
An urban street show will also be held in the square, featuring a variety of merchandise for purchase. There will be an emphasis on ecologically friendly or recycled products, street culture and urban design.
The event is open to the general public at no charge, and will not be held in the case of rain.
Yafo Purim Carnival
Thursday, March 1 from 15:00-19:00
Davidoff Park, Ed Koch 10, Tel Aviv-Yafo
This Purim carnival held at Davidoff Park will feature a variety of family friendly attractions, including a mini amusement park with inflatable structures, fair stands and games, balloon-making, and circus and juggling workshops.
The event will also feature a bilingual stage show by the Almaina Theatre and performances by singer Adi Beatty and children's performer Roy Boy.
The event is open to the general public at no charge.
Purim at "Hatachana" Tel Aviv's Old Railway Station
Thursday, March 1 and Saturday, March 3, various times
HaTachana - David Remez 4, Tel Aviv-Yafo
A variety of family friendly entertainment will be held at HaTachana (also known as The First Station,) Tel Aviv's old railway station. Festivities begin at 10:30 am and include games, art activities and workshops for all ages. Entertainment will include an interactive magic show by Shai the Magician, a performance by the Neve Tzedek Community Center hip-hop band and "Miri Teshiri", an inspiring musical adventure with a moral message.
The event is open to the general public at no charge.
Purim at the Opera House
Thursday, March 1 - Saturday, March 3, various times
28 Leonardo da Vinci, Tel Aviv-Yafo
The Tel Aviv Opera House will stage several children's shows during the Purim weekend as part of the Yaron festival. "Alice in Wonderland" will be featured, along with "What about the deer?", a musical fantasy based on some of the most beloved Israeli songs of all time.
The shows are appropriate for ages 4 and up, and tickets can be purchased for 65 NIS at the Opera website: http://www.israel-opera.co.il/
70s Disco Party in Givon Square
Saturday, March 3 at 12:00
Givon Square, Tel Aviv-Yafo
A Purim party for parents and children who share a love of dancing. Families are invited to Givon square to let loose and jam to some throwback tunes together.
The event is open to the general public at no charge.
Purim Adventures at the Tel Aviv Museum of Art
February 28 from 10:00-13:00
24 King Shaul Street, Tel Aviv-Yafo
This Purim, the Tel Aviv Museum of Art is hosting a schedule of art workshops for kids. A variety of different mediums will be explored, including self-portrait, landscape painting and mask making. The activities are suggested for ages 7-12.
In addition, entrance to the new "Soft Worlds" exhibition will be free for children up to the age of 18. The exhibition is an tactile exploration of soft material in sculpture, and visitors are invited to touch, squeeze and interact with the pieces on display.
Tickets are available at the museum or by phone: 03-6077020
Purim Salsa Party
February 26 from 20:00-23:00
69 Shlomo Ibn Gabirol, Tel Aviv-Yafo
This free event held at the Tel Aviv Municipality Building is a wonderful opportunity for dancers of every level to meet and celebrate Purim in a unique way. The first hour of the event will feature group salsa lessons led by volunteer organization Media Noche Tel Aviv/Menta. A salsa dance party will start at 21:00, giving participants an opportunity to show off their new skills.
The event is open to the general public at no charge.
https://www.facebook.com/events/555437191485224/
Photo Ministry of Tourism
Details

Written by

Buzzy Gordon
The Israel chapter of the Italian Academy of Cuisine (Accademia Italiana della Cucina) hosted its annual ecumenical dinner and symposium on October 19, 2017, at the Tel Aviv restaurant Pomo. The dinner was organized by Dr. Cinzia Klein, Delegate of the Academy in Israel and Ms. Sabrina G. Fadlun, Vice Delegate of the Academy in Israel, who were joined as the evening's symposiarchs by Ms. Joelle Inowlocki.