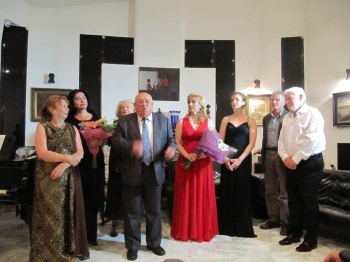 A very special Concert was held from Mr. Samuel Schlesinger, Honorary Consul of The Republic of Croatia at his residence in Savion, on Jun 25th 2013, in a warm atmosphere, on a warm typical Israeli summer evening
The concert, under the title "To Remember with Music" was dedicated to the memory of Jews from Yugoslavia, supported by the host, Mr. Schlesinger and by the Ing.Josef Zamboki - who also produced the concert.
The program included Opera arias by Puccini, Verdi, Rossini, Mascagni, Lehar, Catalani and Bizet, beautifully performed by three Opera Divas: Jasmina Trumbetas , Soprano from Serbia, Jelena Vlahovic , Mezzo soprano also from Serbia , Tijana Grujic , soprano from Germany, from Israel participated the soprano Ruth Zamboki, the singers were accompanied on the piano by Ljubica Grujic from Serbia and Jonathan Kol from Israel.
Among the exited and applauding guests, from Europe and Israel, have been present: Ambassador of Serbia, H.E MR. ZORAN BASARABA, Ambassador of Bosnia, H.E. MR. BRANKO KESIC, Ambassador of Macedonia, H.E. MR. PETER YAVNOVSKI and representing Yad Va Shem , Mrs. Miriam Rainer, who spoke a few words, and Dr. Milan Koljanin, from Belgrad, Historiographer of the Holocaust in Yugoslavia, who gave a short speech on the subject.
Before the beginning of the concert, the host - Mr. Samuel Schlesinger told the present guests, in few words, some his personal history, since his childhood in Yugoslavia, during the Holocaust, his arriving to Israel, up to these days.
His message to the World is: no matter what happened, the Jewish People will always cherish and celebrate Life and Joy, and this concert is about life and joy, remembering the past, but looking forward to the bright future.