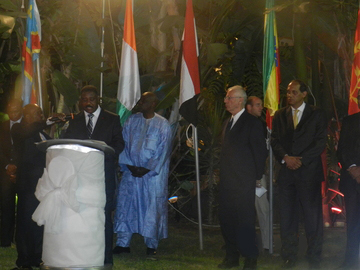 A commemoration of the 49th anniversary of the establishment of the African Union (AU) took place last week at the residence of the
African Ambassador to Israel. The theme for this year's event was "Boosting Inter-African Trade and Investment."
Representatives from various cultural, political, linguistic and religious communities were greeted at the entrance by African dignitaries.
In his address, H.E. Mr. Joao Jose Manuel, Ambassador of the Republic of Angola, stated that the creation of the
Peace and Security Council in July 2002 has been very instrumental in keeping peace and security- the foundations of progress and sustainable development- among the African States.
The Ambassador thanked Mashav, Israel's Agency for International Development Cooperation, for its technical support to Africa in the fields of agriculture, health, education and rural development.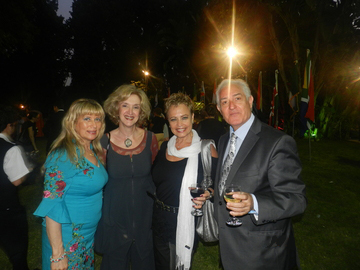 Mr. Manuel also expressed deep regrets and condemnation of the recent unfortunate incidents in the Tel Aviv area, traced to "a few bad eggs among our nationals." The Ambassador solemnly affirmed a collective resolve in ensuring that these incidents do not repeat themselves.
Following the address, a group of African performers dressed in traditional, colorful clothes performed dance and musical pieces for the guests.
A variety of traditional African dishes were also served.