"Sharp sanctions must be enacted against the Iranian central bank and against oil exports."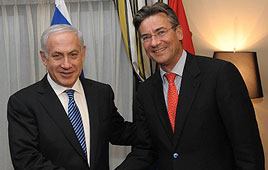 PM Netanyahu with Dutch Deputy PM Maxime Verhagen (Photo: GPO)
Prime Minister Benjamin Netanyahu, who is visiting the Netherlands, met on Wednesday, 18 January 2012, with Dutch Deputy Prime Minister Maxime Verhagen and Foreign Minister Uri Rosenthal. The Prime Minister thanked them for the warm and brave ties between the two countries and for Dutch support of Israel in the international arena.
During his visit to the Portuguese Synagogue in Amsterdam, which was built in 1675 by Spanish and Portuguese exiles, Prime Minister Benjamin Netanyahu said, "A nuclear Iran is a danger to Israel, the region and the world. Iran must not be allowed to develop nuclear weapons. Sharp sanctions must now be enacted against the Iranian central bank and against oil exports."
On the Palestinian issue, the Prime Minister said that, "Israel is committed to peace with the Palestinians. There are no preconditions for the negotiations. The talks cannot be over before they begin. I am ready to meet with Abu Mazen anywhere, anytime; I call on him not to run away from peace and to continue the negotiations. We do not want to repeat the mistakes we made in Lebanon and Gaza. Iran has entered the places we left. Israel needs to insist on genuine security agreements and not just promises. I will not compromise on Israel's security, the security of the only Jewish state." Netanyahu added: "Why do they attack us? Why did they attack us in 1920 and before 1948? There were no refugees then. The refugees are the result of attacks, not the reason for them. The reason is the obdurate refusal to accept Israel as the state of the Jewish people."
Regarding the international court in the Hague, Prime Minister Netanyahu said, "The leaders of Iran, who call for a new Holocaust, and Hizbullah and Hamas terrorists are war criminals. Israel and the Netherlands, the Jewish and the Dutch peoples, must stand together on behalf of the truth."
Netanyahu also visited the nearby Ets Haim library, which is the oldest Jewish library in the world and is home to approximately 500 ancient manuscripts. These include writings by Mainmonedes, the c1695 Amsterdam Haggadah, approximately 20,000 documents and approximately 30,000 volumes, in various languages.