Visits
Details

Written by

the Israel Embassy, Vienna
Foreign Minister Liberman appeared as a keynote speaker at Austria's largest business and convention forum - com.sult 2012.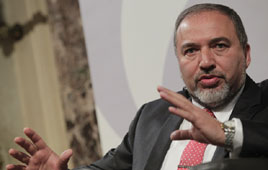 FM Libermann attends news conference during Vienna Congress (Photo: Reuters)
On Monday, 23 January 2012, Deputy Prime Minister and Minister of Foreign Affairs Avigdor Liberman met in Vienna with OSCE Secretary General Lamberto Zannier to discuss Israel's role as an OSCE partner state and concrete areas for cooperation. Zannier said that Israel could contribute expertise in the fight against terrorism and smuggling to effectively combat these transnational threats, of which the OSCE is very aware.
On Tuesday, 24 January, Foreign Minister Liberman appeared as a keynote speaker at Austria's largest business and convention forum - com.sult 2012 - which focused on "Challenges of Leadership in Europe," presenting the case of Israel as one of the countries bordering on Europe which has adopted an economically successful and independent path.
Details

Written by

the Prime Minister's Media Adviser
"Sharp sanctions must be enacted against the Iranian central bank and against oil exports."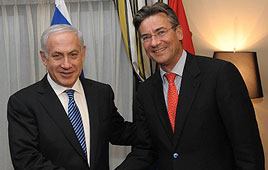 PM Netanyahu with Dutch Deputy PM Maxime Verhagen (Photo: GPO)
Details

Written by

MFA spokesperson
On her first visit to Israel, UNESCO Director-General Bokova met with President Peres and other senior government officials, and discussed joint projects and increased cooperation with Israel
Joint statement, UNESCO and the Ministry of Foreign Affairs of the State of Israel:
On her first official visit to Israel from 29 to 30 May 2011, UNESCO Director-General Irina Bokova met with President Shimon Peres, as well as with other high-level Israeli Government officials such as Daniel Hershkowitz, Minister of Science and Technology, Gideon Sa'ar, Minister of Education, Limor Livnat, Minister of Culture and Sport, Yona Yahav, Mayor of Haifa, and Ambassador Eviatar Manor, Head of the Division for the UN and International Organizations of the Israeli Foreign Ministry.
During the meeting she held with President Peres, the Director-General evoked the longstanding fruitful cooperation between UNESCO and Israel notably in the fields of Holocaust education, bioethics, and water science and gender equality
Ms. Irina Bokova also underscored her strong commitment to support education and training for women and girls during the opening ceremony of the International Women Leaders Conference On SCIENCE, TECHNOLOGY AND INNOVATION: Education and Training for Women and Girls, celebrating of the 50th anniversary of the Golda Meir-Mount Carmel Training Centre under UNESCO's auspices and with the cooperation of MASHAV – Israel's Agency for International Development Cooperation.
In her meeting with the Minister of education, the Director-General congratulated Mr. Gideon Sa'ar, for his ground-breaking reform of the education sector in particular targeting High school in the area of teacher training and also with a view to enhancing technical and vocational education and training. They also discussed joint projects for enhancing the capacities of teachers and teacher training with special emphasis on Africa
Avenues for enhancing UNESCO-Israel cooperation in the field of sciences and technology for Africa were also discussed with Professor Daniel Hershkowitz, Minister of Science and Technology, building on Israel's Research and Development centers already established in sub-Saharan Africa, notably harnessing local research and countering brain-drain.
During her visit, the Director-General also paid a visit to the Yad VaShem Memorial to lay a wreath in memory of the victims of the Holocaust. She emphasized that "the duty of History is to remember, to document, to research, and to educate" and that "the importance of Yad VaShem lies in providing testimony of History and in standing witness for the future. During her meeting with Mr. Avner Shalev, the chairman of the Yad VaShem Directorate of the Holocaust Martyrs' & Heroes' Remembrance Authority, the Director General discussed future possibilities to enhancing the cooperation in the field of Holocaust education with a special focus on curricula development notably foreseeing eventually a cooperation with International Bureau of Education in Geneva.
Details
Tourism Minister Stas Misezhnikov, signed this morning, Thursday, together with French counterpart, Minister of Tourism Frederick Lefevre (Frederic Lefebvre), a new tourism agreement between the countries next to replace the previous agreement of 1989. At the signing ceremony was also attended by Israeli Ambassador to France, Yossi Gal.

The agreement aims to upgrade the bilateral cooperation, including encouraging their mutual tourism, exchanges of experts, creating anchors French investors pull Israeli hotel industry, exchange of knowledge on professional training and development of quality standards of tourism services.
Details

Written by

MFA bureau
The Minister of Foreign Affairs of El Salvador, Hugo Martinez, will be visiting Israel from 28 February to 2 March. This is his first visit in Israel as foreign minister since he took office about 20 months ago.

The visit reflects the special bilateral relations that the two states have enjoyed for many years and is expected to strengthen the diplomatic, economic and MASHAV ties between Israel and El Salvador.
During his visit, FM Martinez will meet with President Peres, Foreign Minister Liberman, and prominent figures in the Israeli economy. He will also speak at a special seminar about El Salvador to be held by Israeli businesspeople.
FM Martinez will visit Yad Vashem and lay a wreath in the Remembrance Hall. He will also participate in the unveiling of the name of a Salvadorian righteous gentile, Jose Arturo Castellanos who, as Consul General of El Salvador in Geneva during World War II, saved the lives of thousands of Jews by granting them Salvadorian identity papers. These papers helped the Jews escape from Nazi-occupied Europe. Castellanos was the first righteous gentile to be recognized from Central America.

More about Jose Arturo Castellanos
(Communicated by Yad Vashem)
Even before the war began, when he was a Consul in Hamburg, Castellanos urged his government to allow German Jews to emigrate to El Salvador. In response, he received written instructions forbidding him from providing visas to Jews. During the war years, Castellanos, as consul in Geneva, along with George Mantello, a Jewish man of Romanian origin who Castellanos appointed first secretary at his Embassy, issued some 10,000 visas and false citizenship papers to more than 20,000 Jews in Nazi-occupied Europe, in particular Hungary. In many cases, the papers issued were good for 2, 3 or 4 people, thus potentially saving the lives of thousands of Jews. Castellanos and Mantello did not take any payment for the papers. In May 2010, Castellanos was recogznied as the first (and thus far only) Righteous Among the Nations from El Salvador.
Thus far, some 23,700 people have been recognized as Righteous Among the Nations.