More

Visits
Visits
Details

Written by

President's Spokesperson
President Rivlin: The Palestinian leadership should condemn these attacks and act against them, but their silence is louder than ever. These attacks will not succeed - the Jewish people will continue to live in the land of Israel without being forced to fear for their lives.
President Reuven Rivlin this afternoon (Tuesday 30 June 2015), held a working meeting with the Italian Foreign Minister Paolo Gentiloni who is visiting Israel.

At the beginning of the meeting, President Rivlin spoke about the recent terrorist attacks against Israelis, and said, "This month of Ramadan is turning into a month of terror before our very eyes.Terror is terror, wherever it strikes in the land of Israel, and across the world."

The President stressed, "Especially during Ramadan, the Palestinian leadership must condemn these attacks and act against them. Their silence is louder than ever. These terrorist attacks will not succeed. The Jewish people will continue to live in the land of Israel without being forced to fear for their lives. I pray for the recovery of the injured and trust the security services will bring those responsible to justice."

Turning to the Italian Foreign Minister, President Rivlin said, "I am delighted to welcome you to Jerusalem. Italy is an important and very good friend of Israel." The President went on to stress that the only way to find a solution to the ongoing conflict with the Palestinians was through returning to direct negotiations, and urged the Italian Foreign Minister to ensure Italy acted to bring the sides to the negotiating table. He said, "Only by talking will be able to make living together possible."

The Italian Foreign Minister thanked the President for his warm welcome and joined in his condemnation of the recent terrorist attacks. He said, "We strongly condemn the terrorist acts, and express solidarity with the families and people of Israel. We always condemn such acts, but especially now in the month of Ramadan which should be a time of respect and understanding."

The Foreign Minister added, "We have strong relations with Israel, and we look forward to strengthening them further with your visit to Italy later in the year."

On the issue of the need for negotiations between Israel and the Palestinians, the Foreign Minister said, "I share your opinion that we need, as soon as possible, in the next weeks or months, to try and restart the negotiations, because in the very dangerous situation in the region, there is the opportunity to restart the talks without preconditions. European and other countries can have an important role, not in replacing the negotiations but in supporting the process and the negotiations."
Copyright: GPO/Mark Neiman
Details

Written by

Prime Minister's Media Adviser
The attacks on the Jews were always preceded by the slander of the Jews. What was done to the Jewish people then is being done to the Jewish state now. We won't accommodate that.
Prime Minister Benjamin Netanyahu, today (Monday, 15 June 2015), met with Polish Foreign Minister Grzegorz Schetyna and told him at the start of their meeting:
"Mr. Minister, yesterday I received our official government report about last year's conflict in Gaza. The report demonstrates unequivocally that our military actions during that conflict were in full accordance with international law, that Israel was exercising its legitimate right of self-defense.
We fulfill our responsibility to protect our people against terrorist who perpetuate and perpetrate a double war crime. Hamas terrorist deliberately target our civilians while deliberately hiding behind their civilians. That's a double war crime. And I think that it under-points the fact that there is a travesty here. Because even though we're fighting, Hamas terrorists who are committing the double war crime of targeting our civilians while hiding behind their civilians, Israel operates in accordance with the highest standards of international law. We take every step to avoid civilian casualties, including on the enemy's sides.
We don't do this because of some UN committee. We do it because this is deeply ingrained in our values. We don't shrink from investigating ourselves when necessary and Israel's mechanisms to investigate our own military are second to none. I say that without any hesitation. There is no country that investigates its military for possible wrongdoings more that Israel. There is no such country in the world. We examine all such allegations professionally, thoroughly, where they're subjected to an independent judicial review by military and civilian courts.
Now I compare this to this committee that we have. The UN Human Rights Committee that has put a so called investigation against Israel. Israel was pronounced guilty before the investigation even began. They appointed a person to head this committee who was being paid by the Palestinian. This committee has more resolutions against Israel than against North Korea, Syria, and Iran combined. This tells you of what we're dealing with. So this campaign, these attacks against Israel, these investigations against Israel have nothing to do with human rights. They have everything to do with politically inspired attacks in a cynical effort to de-legitimize Israel using UN bodies.
Yesterday Palestinian President Abbas called for the labeling and boycotting of Israeli products. This is definitely not the language of peace. We will continue to resist boycotts, defamations, de-legitimization. We'll do that internationally, we'll do that locally if we need to, and our hand will remain stretched out for peace for any partner that wants to have peace with us. And I hope, Mr. Minister, we can discuss how to advance a genuine peace and stop the slandering of Israel.
I say that to the foreign minister of a free proud and independent Poland, on whose soil the defamation of the Jewish people happened when the Nazis controlled Europe. The attacks on the Jews were always preceded by the slander of the Jews. What was done to the Jewish people then is being done to the Jewish state now. We won't accommodate that. In those days we could do nothing. Today we can speak our mind, hold our ground. We're going to do both."
Photo PM Netanyahu meets Polish FM Grzegorz Schetyna

Copyright: GPO webcast
Details

Written by

President's Spokesperson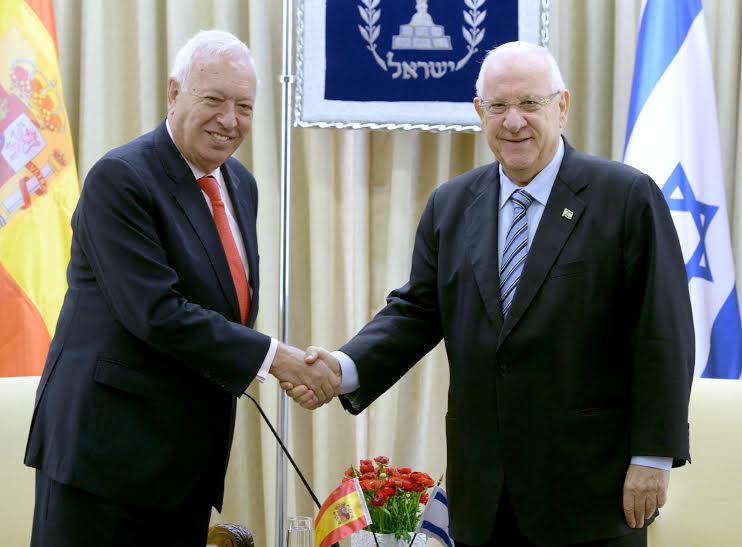 President Reuven Rivlin today (Wednesday) held a working meeting with Spanish Foreign Minister Jose Manuel Garcia-Margallo y Marfil. During the meeting, the Foreign Minister extended an invitation to President Rivlin on behalf of King Felipe VI to make a state visit to Spain.
President Rivlin began by speaking about the good relations between the two states. He said, "We greatly appreciate the efforts of Spain to restart the negotiations between Israel and the Palestinians. Spain is an important friend, and just as between friends, even when there are differences of opinion, our friendship remains."
The President spoke of the importance of rebuilding in Gaza, "The rehabilitation of Gaza is as much an Israeli interest as it is an international interest. Although, we must ensure that the resources are not used by Hamas to rebuild the tunnels and their terrorist infrastructure."
Foreign Minister José Garcia-Mallargo y Marfil spoke of the new role of Spain as members of the UN Security Council. He said, "There is no doubt that the issue of the recognition a Palestinian state will return in the future. We believe that unilateral steps will not lead to an end of the conflict, but that negotiations, with the support of the international community, are the only way forward. We have asked both sides to avoid unilateral steps."
The Foreign Minister also noted the President is known to be a fan of soccer, and said he would be keen to know whether he preferred Real Madrid or Barcelona. The President responded, "My grandchildren are very divided on this. As a soccer fan, I appreciate the way Barcelona play, but I must say, I have been a fan of Real Madrid for many years." Foreign Minister Garcia-Mallargo y Marfil was pleased to hear this and said he was a fan of the club himself.
Photo Mark Neymann GPO
Details

Written by

Embassy of Japan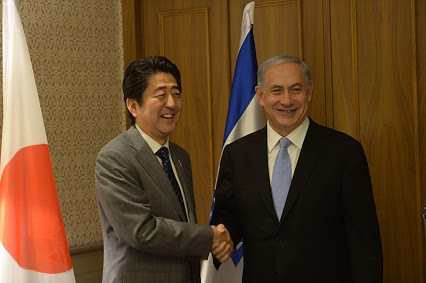 Joint press release (in the order of H.E. Mr. Benjamin Netanyahu, Prime Minister of the State of Israel and Prime Minister Shinzo Abe)
● Firstly, I would like to extend my deepest sympathy to the fact that Jewish people were the victims of the incident at a kosher grocery store in Paris. The international community will have to continue their commitment to working against terrorism.
● The visit to Japan by Prime Minister Netanyahu in May last year became an opportunity to comprehensively upgrade the bilateral relationship between the two countries. I have a genuine feeling that the relationship has been deepening in every field.
● Yesterday, I had a first meeting with Prime Minister Netanyahu, and held a meeting with the economic mission that accompanied me this time. I expect further advancement of the bilateral economic relationship such as more active interaction between the business worlds of both countries to be developed as a result of this visit.
● We value Israel's three-year plan towards the strengthening of the economic relationship as it contributes to the development of the overall bilateral relationship.
● I visited Yad Vashem earlier. This year marks the 70th anniversary of the liberation of Auschwitz, and I express my determination that we will never repeat such a tragedy.
● I have realized the significance of the achievement by Chiune Sugihara, who rescued thousands of Jews through the "Visa for Life." I have reaffirmed the long-standing bond between the Japanese and Jewish people.
● Based on this old bond and a new friendly relationship, Japan, as a friend of Israel, will continue to work on strengthening the relationship between the two countries.
● Whilst Japan understands the severe environment in Israel, it will continue to be actively involved in activities towards the stability of the region such as peace in the Middle East. Tomorrow, I will also visit Palestine, and I intend to continue providing my candid advice to both sides as their true friend.
Photo by Amos Ben Gershon GPO
Details

Written by

Office of the President
President Peres:"The leaders of all religions should stand against the killing of innocents, against terrorism."
The President of the State of Israel, Shimon Peres, met with a delegation of faith leaders from Argentina who are here as part of an interfaith trip to Israel, the Palestinian Authority and Jordan. The delegation includes Muslim, Christian and Jewish leaders who are engaged in interfaith dialogue and they will conclude their visit with a meeting with Pope Francis in the Vatican.
President Peres welcomed the delegation to Israel and said, "I'm very glad to see the faiths working together. These three faiths working together shows religious brotherhood in your country. There are many countries where we have Muslims, Jews and Christians living together and they should work together to support peace as one group. Peace is the uniting message of religions and it has a great influence because nowadays peace is built on trust not force. We have to have peace among people not only governments. I don't see any contradiction between science and religion, they are complimentary. You have a very important role to play because science which is the major economic factor, like religion doesn't have borders and is dependent on the spirit and quality of people. The new pope has shown that spirit and values are more important than possessions; he returned religion into a spirit rather than an organization, a faith more than a church. I hope that your togetherness will spread all over the world."
President Peres addressed the situation in the Middle East and said, "Terror is destroying countries and mainly the Arab countries in this region, there is terrible bloodshed. Some of them are using the name of religion to justify their actions. The leaders of all religions should stand against the killing of innocents, against terrorism. Terrorists kill everybody indiscriminately. We should make a loud and clear call from all religions against killing innocent people. It's against the Koran, the Torah and against the New Testament."
The representatives of the three faiths thanked President Peres for his welcome and said, "This group was created under the auspices of Pope Francis when he served as Archbishop of Buenos Aires. The idea was to create an interfaith dialogue group intended to be a place of discussion and action. Interfaith dialogue is crucial in a global world. This visit has an importance in world politics. Our statement from Jerusalem - the 'Jerusalem Commitment' - contains principles which we believe can be universally accepted by all as a path to peace. We are from civil society with different political ideals but we feel that our religious leadership can contribute to international relations and statesmanship."
Luis Grynwald of the Jewish community in Buenos Aires presented President Peres with a Mate (a symbolic Argentinian cup) on behalf of the delegation and said, "This is an Argentinian symbol. Everyone drinks from the same cup - Jews, Muslims, Christians and all citizens of the country. It's a symbol that we can live in peace, in Argentina, in Israel and all over the world."
Photo Credit: Mark Neiman/GPO