Visits
Details

Written by

Prime Minister's Media Adviser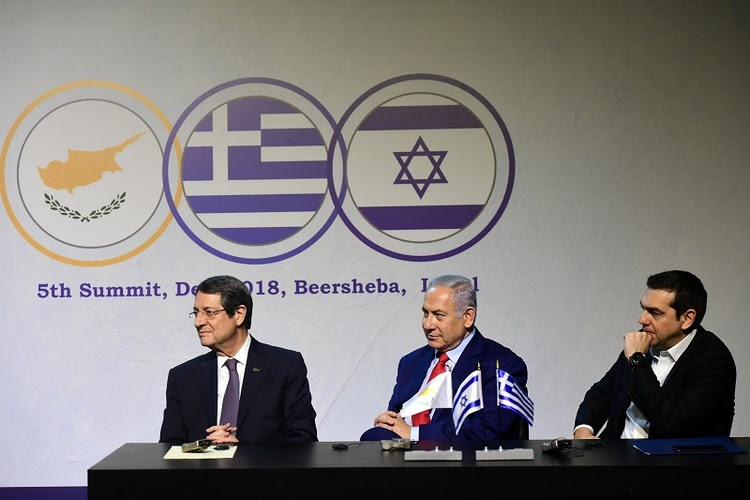 We share deep histories and rich culture. We are all vibrant democracies. We all value pluralism, freedom, and peace. And we are all threatened by forces of terror and religious radicalism.​​
Following is an excerpt of Prime Minister Benjamin Netanyahu's remarks from this afternoon (Thursday, 20 December 2018), at the 5th Israel-Greece-Cyprus Summit, in Beersheba, at the joint statements with Cypriot President Nicos Anastasiades and Greek Prime Minister Alexis Tsipras:
"This is the fifth summit between our three countries. We have been meeting regularly since our first summit in 2016. And as I said, our personal friendships grow stronger as our agreements grow longer and longer and detailed. And these bonds are not merely based on shared interests and geographic proximity—they are based on shared values in a very volatile region, very violent region.
We share deep histories and rich culture. We are all vibrant democracies. We all value pluralism, freedom, and peace. And we are all threatened by forces of terror and religious radicalism. Our alliance is an anchor of stability and prosperity in the Eastern Mediterranean.
But we have today a special guest with us, and the presence of our dear friend, the Ambassador of the
United
States to Israel, David Friedman, at our summit today reflects the US support for our partnership, for our projects and for our values, which the US shares.
Today, we reaffirmed our commitment for the East-Med pipeline, discussed important aspects of the project, and we're going to sign formally, officially this agreement in a few months.
As we seek to build prosperity, a pipeline for prosperity, there are forces in our region that seek to build tunnels for terror. And a few weeks ago, Israel launched a campaign to expose and neutralize cross-border terror tunnels on our northern border with Lebanon. These tunnels were built by Hezbollah with direct support and funding from Iran. This is the Iranian web of aggression in the Middle East, which also terrorizes Europe and the entire world.
Israel continues its operation against the Hamas terror tunnels, and will do so until its completion. As we speak, we're employing means to neutralize these tunnels, and we'll continue to act in Syria to prevent Iran's effort to militarily entrench itself against us. We are not going to reduce our efforts; we're going to increase our efforts.
We have a unique partnership, a program, internship program for young entrepreneurs from Greece and Cyprus to intern at Israeli hi-tech companies. And I hope to see many more young and not-so-young entrepreneurs from both of your countries in Israel in the coming years."
Following the Prime Minister's remarks, Cypriot President Anastasiades, Greek Prime Minister Tsipras and US Ambassador to Israel David Friedman also issued statements.
The leaders then toured a cyber and innovation exhibit at the Carasso Science Park in Beersheba.
Prime Minister Netanyahu, Cypriot President Anastasiades and Greek Prime Minister Tsipras signed a joint trilateral declaration.
Signing the (below) agreements for the Israeli side were Communications Minister Ayoob Kara, Science and technology Minister Ofir Akunis, Israel National Cyber Directorate head Yigal Unna and Israel Meteorological Service Director Nir Stav.
Trilateral agreements:
* MOU on cooperation in preventing cyber attacks
* MOU on exchanges of information on the regulation of smart cities and homes
Israel-Cyprus agreements:
* MOU on mutual assistance in preventing cyber attacks
* MOU on technical cooperation in meteorology and exchanges of information
* Joint declaration on the mutual desire to enter into negotiations on a framework agreement between the governments
Israel-Greece agreement:
* Framework agreement on cooperation in satellites and their applications
PM Netanyahu, Cypriot Pres. Anastasiades & Greek PM Tsipras
Credit: GPO/Kobi Gideon
Details

Written by

President's Spokesperson's Office
President Rivlin:
"I promise you: we will not, and we must not let the Code Red alarm become a routine. Red will remain the color of the wildflowers that grow in the area."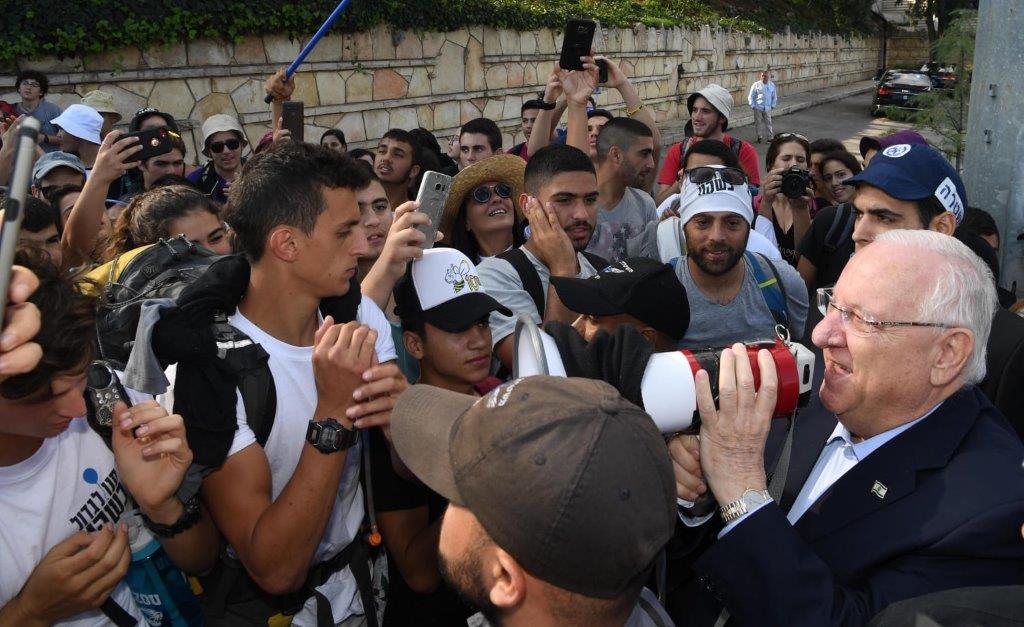 President Reuven (Ruvi) Rivlin today, 8 November / 30 Cheshvan, met the young people marching to Jerusalem from the area around Gaza as they entered the city today.
The President told the group: "I came to march with you on behalf of every citizen of Israel who is following you and is marching with you in spirit."
"Happy is the people whose young people march at its head, and happy are the parents who raised their children with such a feeling of national pride, of the love of the country, of such a meaningful connection to our wonderful country. You are not the young people of the area around Gaza, you are the young people that embrace the whole country. We hear your call and it breaks our hearts. I promise you: we will not, and we must not let the Code Red alarm become a routine. Red will remain the color of the wildflowers that grow in the area."
The president marched with the young people who continued from there towards the Knesset.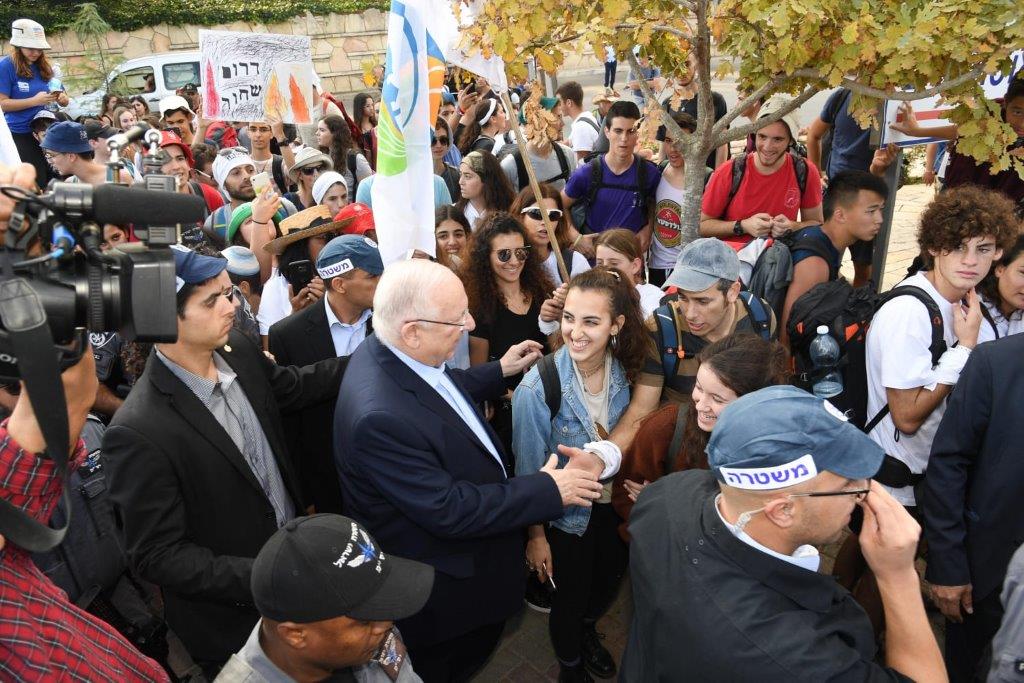 Photos by Haim Zach, GPO
Details

Written by

Silvia G Golan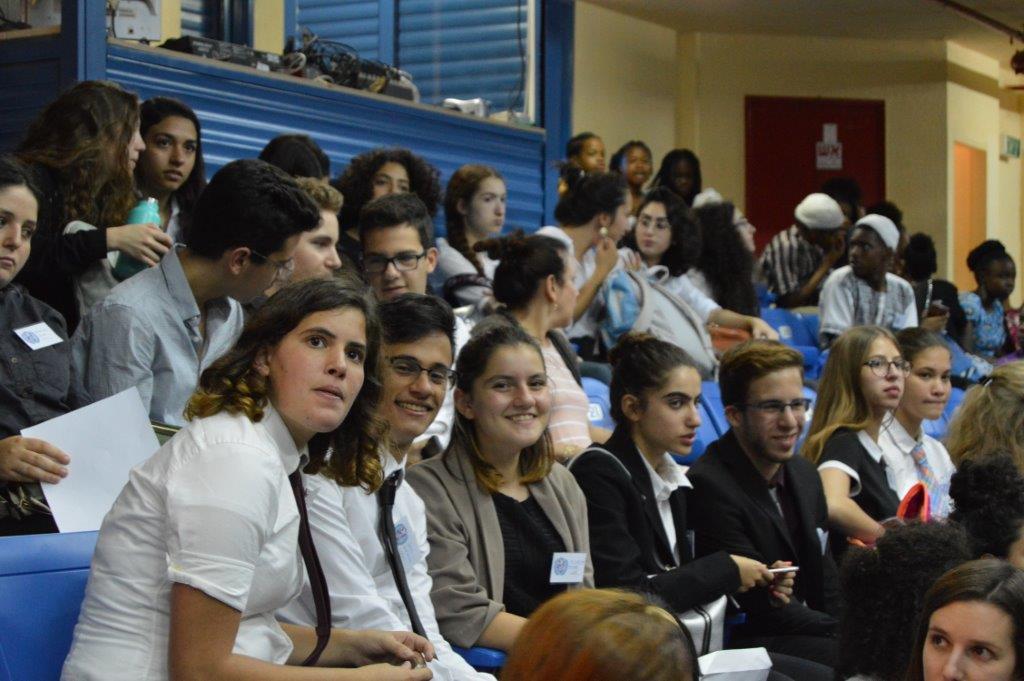 On Wednesday, October 10, the 2018-2019 Israeli Model UN circuit opened with the first HadassimMUN conference. 150 students from two dozen cities and towns around Israel met at the Hadassim school in Even Yehuda to discuss important topics related to the conference theme of Technology: Sports; Unmanned weapons; Education; Outer Space, and Health.
As the first conference of the year, HadassimMUN initiated over 100 students to the concept of Model United Nations. Thanks to the tireless efforts of the hosts, led by MUN coordinator and HadassimMUN Director Robin Flam and her MUN club, the new students were able to quickly adjust, gain confidence, learn, and have fun.
Yonatan Avidor, a Jewish student from Herzliya, was one of those first time MUN participants. He told Diplomacy that "HadassiMUN was probably my best experience of the last year. I felt so good and so confident. They say that it was 7 hours but I don't believe it. It felt like two hours, yet we did so much. We had speeches and debates, I felt like we're managing the world and that what we did had consequences. It was amazing!"
Laila Dabbah, from Deir AlAsad, added that the conference had demonstrated the importance of cooperation, elevated the interest of students in diplomacy, and the level of discourse between high school students. She explained that she has learned "how it is important to know more about the diplomatic aspects and what is going on in Israel and the world and how we can convey our diplomatic opinions to the world through the meetings that we have in MUN."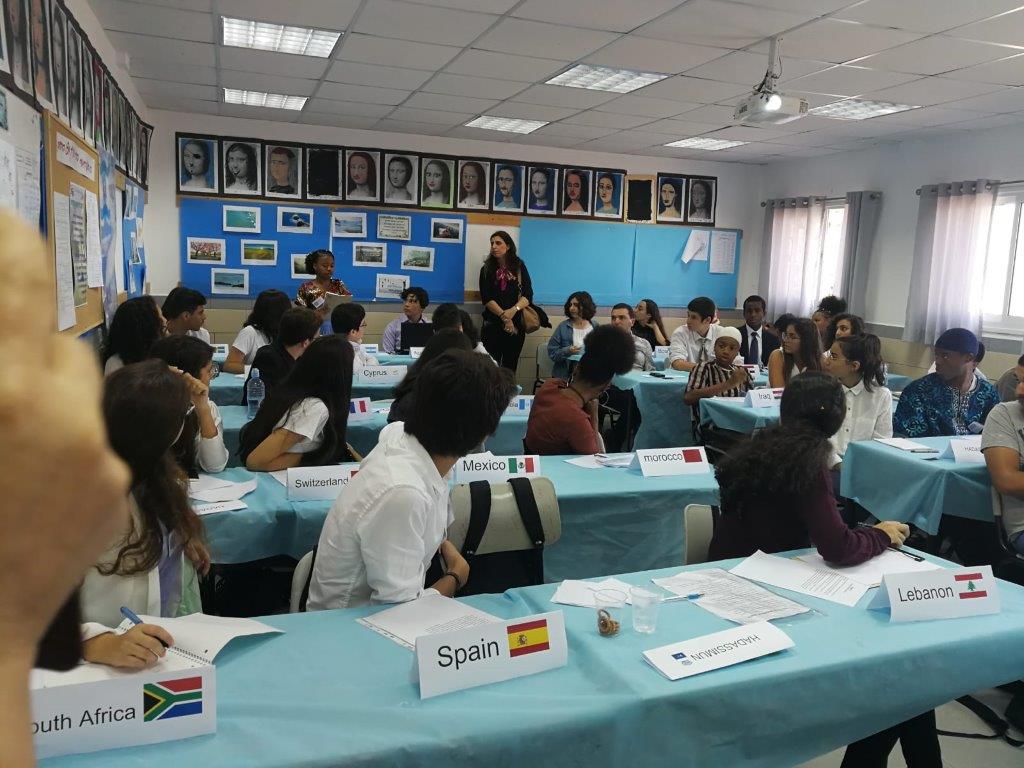 After a full day of debating and negotiating, the delegates voted on their resolutions and had dinner. The committees then joined together in the auditorium for the awards ceremony. Robin Flam opened the ceremony by welcoming all of the students and teachers to the school and expressing her gratitude for those who helped make the conference such a success. Secretary-General Romi Tzur talked about how excited the Hadassim MUN club was to have hosted its first MUN conference.
The conference was organized by Debate for Peace and supported by the US Embassy in Israel. At the awards ceremony, US Embassy Consular Officer Jessica Kuntz spoke to the students about how important their efforts were, to learn more about how the world works. She praised the students for taking this courageous first step and assured them that the skills and experiences they could gain through MUN would be helpful for them in many fields and future opportunities. Two short video clips were then shown one about the founding of the HadassimMUN club, and one with photos and videos from the day's conference.

During the awards part of the ceremony, the top delegates in each committee were called up to the stage to receive their awards. These included Amit Weinstock (Petah Tiqva), Ariel Talmor (Hand in Hand) and Rani Khoury (Hand in Hand) in UNOSDP; Avital Aleph (Modi'in), Yarin Benayoun (Hadassim), and Ron Ben Chail (Modi'in) in DISEC; Adi Kelty (Hadassim), and Ahmad Dweek (Rowad al-Quds) in ECOSOC; Ayala Grossman (Pelech); Hanna Zohn (Hadassim), and Jonathan Levi (Hadassim) in COPUOS, and Maayan Dahan (Hadassim), Yafa Nassar (Bashaer), and Ella Justus Segal (Modi'in) in the WHO Committee.

HadassimMUN 2018 was part of the Debate for Peace MUN series, as an Interfaith Encounter group supported by the U.S. Embassy in Tel Aviv. The next conference will be on November 8th in Sakhnin.

For more information about future events, please see the website here: https://debateforpeace.org/upcoming-events/

Photo credits: Ugur Kaya, Shir Koler
Details

Written by

President's Spokesperson's Office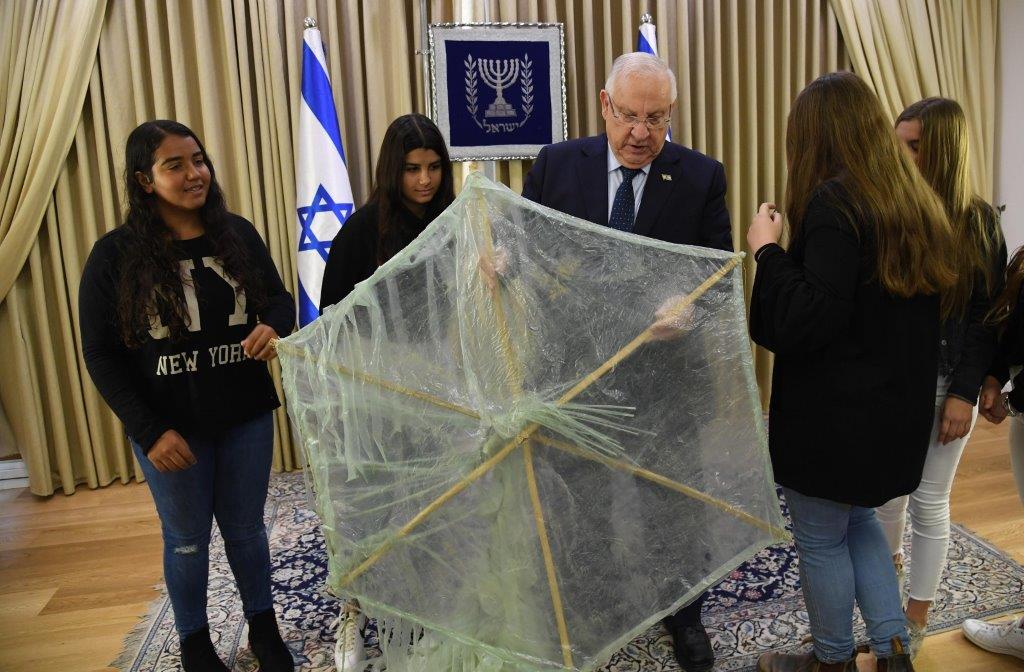 President Reuven (Ruvi) Rivlin today, Tuesday 6 November / 28 Cheshvan, met members of the Otef.gaza Instagram page who live in Israeli communities around the Gaza Strip, at the President's Residence. The page, which opened two weeks ago to give expression to their lives as residents of the area, already has 61,100 followers. The members who came to the President's Residence were May Caspi, Meshi Elmakays, Yam Yefet, Shani Peretz, Lee Cohen and Kim Ovitz who are administrators of the page. The girls were given a tour of the President's Residence by the visitors' center that recently opened to the public, and then met with the president for a conversation.
Meshi Elmakays from Kerem Shalom said, "we opened the page after we went on a hike, and we heard that big changes start with little steps. We thought we would have one hundred followers and that that would be amazing."
The president welcomed the girls to Jerusalem and said, "I am so happy to meet you, the wonderful girls of the Israeli communities around Gaza. You show the world what we have to deal with, and at the same time show that there is someone to take care of us and that we know how to stand tall. Every one of my grandchildren follows you constantly, and that's really great."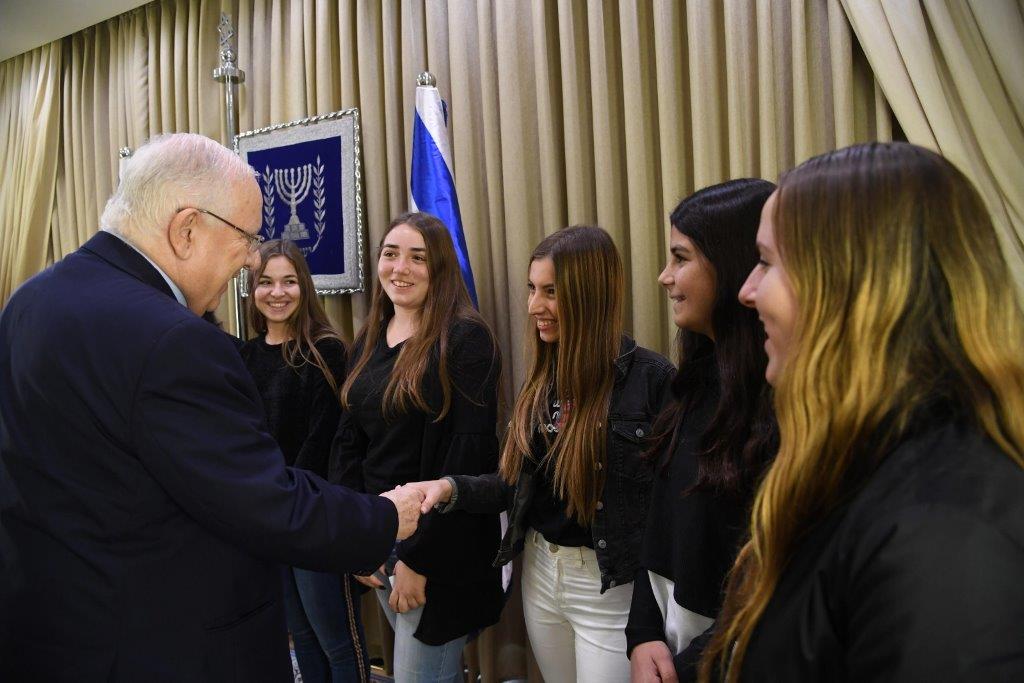 President told the girls about his childhood in Jerusalem, saying "I also grew up under fire. I was a kid when Jerusalem was under siege when the Etzion Bloc fell when Jordanian shells were fired on us and we asked why things like this were happening. At the same time, we understood that our big brothers and our parents were fighting and we knew that they would make sure that we would get to the situation where we could secure our independence."
"I understand that it is hard, very hard, to hear the Code Red alert," said the president, "and that it's very hard to know that you are going to school but don't know if the alarm will go off on the way there, or that a shell or a mortar will fall. I understand you and we are all with you in these difficulties and know that you are the ones who ensure that normal daily life can continue in Israel because of your resilience."
The girls brought one of the terror kites sent from Gaza to the Israeli communities in the area, and the president said, "these kites are supposed to be the dream of every child, playing with them in the breeze. Under Hamas, these toys have become weapons of war. I so hope that weapons go back to being toys soon."
Photo by Haim Zach, GPO
Details

Written by

Silvia G Golan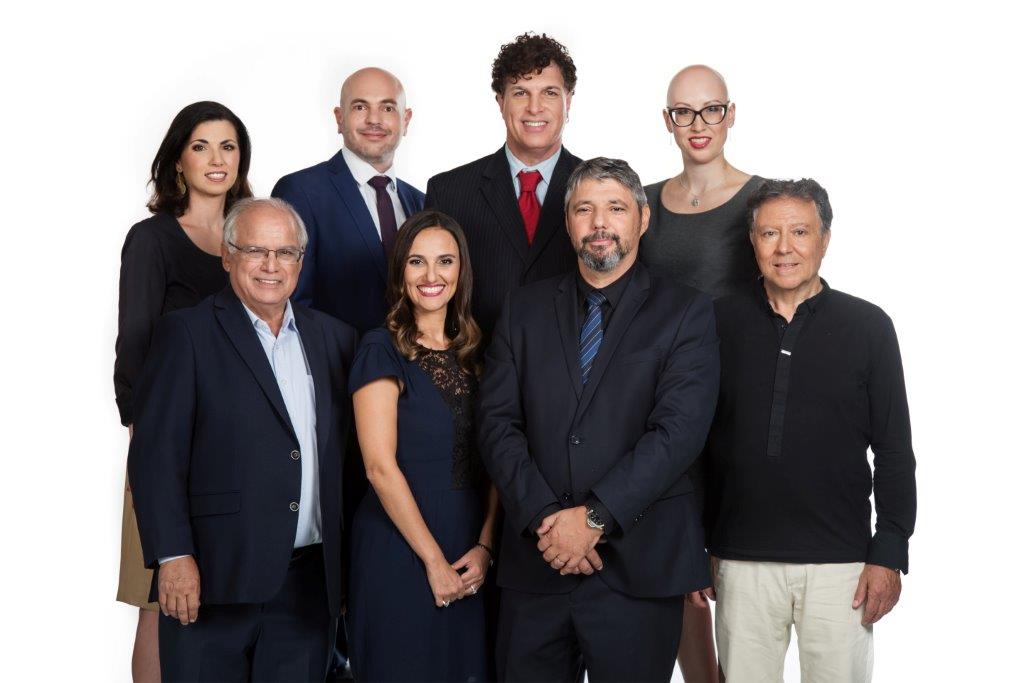 TEL AVIV, October 11th, 2018 - Last night, over 250 olim from France, Russia, United States, Germany and other countries from around the world came together to celebrate the launch of Olim Beyachad, the only municipal party consisting almost entirely of new immigrants and dedicated to serve as their voice. Entrepreneurs, engineers, lawyers, doctors, retirees, artists, musicians and students flooded the venue in support of this new initiative. It was an evening filled with emotion, inspiration, humor and passion.
The party's mission is to bring more municipal services and support to the olim. With thousands of immigrants moving to Tel Aviv on a yearly basis, the party aims to tackle the city's integration system by serving the newcomers from a business, social and individual perspective.
The event featured the 13 party candidates, new and veteran immigrants made up of Anglophones, French, Russians, Germans and others from around the world, including those born to immigrant parents. It has also been attended by locals that came to support the vision of an inclusive Tel Aviv.

Among the speakers was French-born Olivier Rafowicz, head of the list and former colonel of the IDF. "This list is pretty much sums up the history of israel. We are just a few meters from the place where Israel was declared a state. For the first time, Jews of Russian and South American origin, Belgian, Swiss, and Israel come together to build and help the whole community of Tel Aviv. We live in a divided society. With Olim Beyachad, we speak to all the israelis, old and new. We believe there should be a voice...a voice of the Olim. We need to show other olim that we're there for them."
Russian-born, social and political activist and number 2 on the list, Boris Shindler, spoke in Hebrew and in Russian. "I've been dreaming of this moment for 2 years now. It's time to represent us in all the languages and in this city that we all love!"
Vika Kanar, an entrepreneur of German-Russian origin, and number 3 on the list, spoke to the crowd, saying: "When I look at other campaigns, I don't see the faces the that I see here tonight. I don't see families, kids, the elderly. I don't see religious people with non-religious people together. I see lists that divide. We need to get together in teams; we have all come together in order for us to represent you, the Olim, in this city!"
Liami Lawrence, number 4 on the list, originally from Los Angeles, addressed the audience, saying "so many people come here with huge dreams. If we all stick together and stand together, we will succeed at creating programs and services to help each other overcome difficulties associated with immigrating to this country. "
The guest speakers included Avi Pazner, Jessica Katz, Elena Kavurskaya and Rabbi Serror.
Avi Pazner, a retired Israeli diplomat and World Chairman of Keren Hayesod - United Israel Appeal. "We need the new immigrants to have a voice in the municipal council because until now, there isn't a voice for the olim. They have particular needs, such as education, adaptation, cultural integration, and until now - nothing. No one is speaking on their behalf. But today, you the olim have the possibility to have a voice within the municipal council. "

Jessica Katz, an American entertainer and singer/ songwriter that moved to Israel from New York and participated in "The Voice Israel, said, "this (the olim) is a giant community of people, and this (Olim Beyachad) is an important platform for people to come together." Jessica, Steven Spielberg's niece, then shared her story: "when I moved here, it took me 4 years to break in and develop the right connection - 4 years! It would be really great to help the new olim and help them explore their passions."
Elena Kaluzhskaya, a recent Russian immigrant and founder of the popular Russian restaurant Vatrushka, said "I'm very happy to have a party like this. I hope that your party helps us succeed - i'm glad you exist!"
Local elections will be held on October 30th, 2018
About Olim Beyachad:
Founded in 2018, Olim Beyachad is a municipal party committed to provide the immigrants voters in the Tel Aviv metropolitan area with a voice in City Council.
Olim Beyachad has understood the needs of recent immigrants and the complex challenges they experience when settling in Tel Aviv, whether navigating the overly complicated bureaucracy, finding a meaningful job, securing affordable housing, and lacking access to vital information.
Photo Edward Stern