.President Isaac Herzog and the First Lady celebrate the Maccabi World Union's 100th anniversary celebrations at Kfar HaMaccabiah
Today, President Isaac Herzog and First Lady Michal Herzog participated in the Maccabi World Union's centenary celebrations at Kfar HaMaccabiah in Ramat Gan. The event was also attended by Culture and Sports Minister Hili Tropper, MWU chairman Amir Peled, Maccabiah Games CEO Roy Hessing, and Israeli Olympic medalists.
During the event, President Herzog was given a surprise gift: a photograph from the Twelfth Maccabiah Games, featuring his late father Chaim Herzog in his role as President with the WMU's leaders and its then-chairman, the late Yisrael Peled, father of the current chairman, Amir Peled.
President Herzog began his speech by saluting the Maccabi World Union for a century of activity: "Members of Maccabi in Israel and around the world, happy birthday! One hundred years is no trifling matter for any organization, certainly for such a significant Jewish, Zionist, educational movement like the Maccabi World Union. Maccabi represents a wonderful combination. It succeeds in being both a symbol of excellence in sport, of ambition, and of the pursuit of victory; and it is also a Zionist educational movement that reaches young Jews around the world and kindles the spark of Zionism in them. Not everyone knows it, but I was born to a Maccabi member."
President Herzog noted his family's special connection to the movement: "My father, the late Chaim Herzog, was Ireland's bantamweight boxing champion in his youth, and of course an ardent member of the Maccabi club in Dublin. I mention my father's youth not as an old memory, because as everyone knows, being in Maccabi is not something that goes away after a few years. As you see in the photograph on the screen, my father was a Maccabi member and always remained a Maccabi member.
"The movement's most outstanding enterprise, the Maccabiah, has also been with me at every station in life. The Maccabiah Games are not just a sporting enterprise, but a national, Zionist, educational enterprise of historic importance, whose name precedes it. It would be hard to exaggerate the importance of the Maccabiah Games to the Jewish People, to Jewish peoplehood. Its influence on this enterprise, on the most important building blocks of our nation, is evident every day and every hour.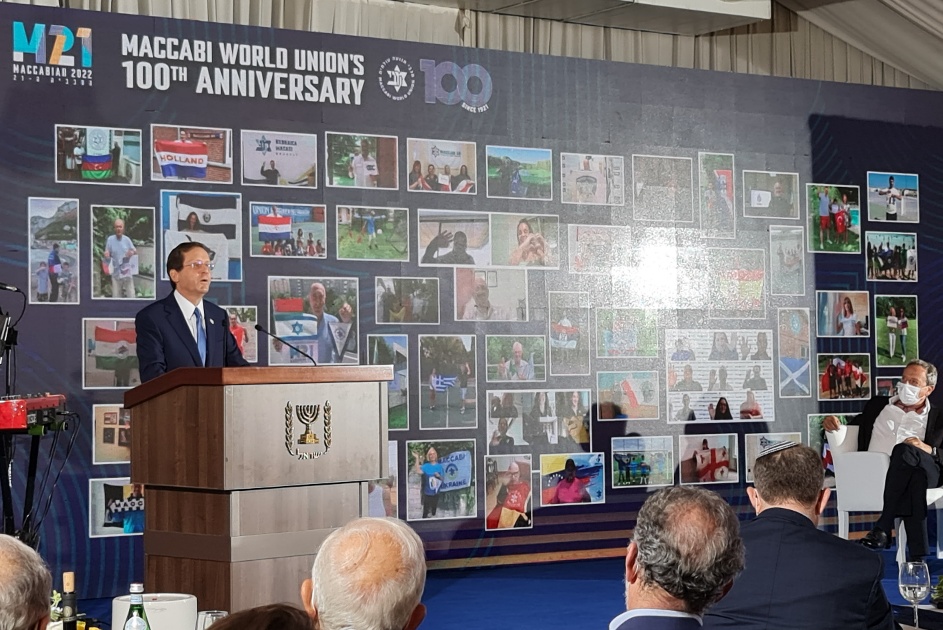 "The Maccabiah has become the second-largest sporting competition in the world after the Olympics. It is also the biggest Jewish-Zionist gathering in the world, and tens of thousands of athletes are expected to come to Israel in a year for a true sporting celebration. There will be athletes here of all ages, from 12 to 90. Among them will be athletes with cognitive and physical disabilities. Thank you to you, the leaders of Maccabi, for wisely opening the gates to everyone. The medals won by Artem, the Maccabi member who brought us a gold medal, and his friends are important and precious, but the participation of people with disabilities warms our collective Jewish and Zionist heart."
In a special message in English to members of the Maccabi World Union all around the world, he added: "The centenary of the phenomenal Maccabi World Union is a celebration of Jewish values and a display of continuous Jewish unity, love of Israel, and passion for sports. Although miles apart, we know that we all belong to the same people, and prolonged social distancing and imposed restrictions cannot diminish the bond we share. I applaud Maccabi members, in every club and continent around the globe, for your fortitude and dedication, and I look forward to greeting each and every one, in Israel, a year from now, at the Maccabiah."
President Herzog ended by saying: "Shana Tova Umetuka to the Maccabi family and all its fans. May we all merit a 'sound mind in a sound body' this year, and may Maccabi continue to flourish for at least another century! Happy birthday!"
Photo credit: Silvia G.Golan
More pics at Facebook Israel Diplo