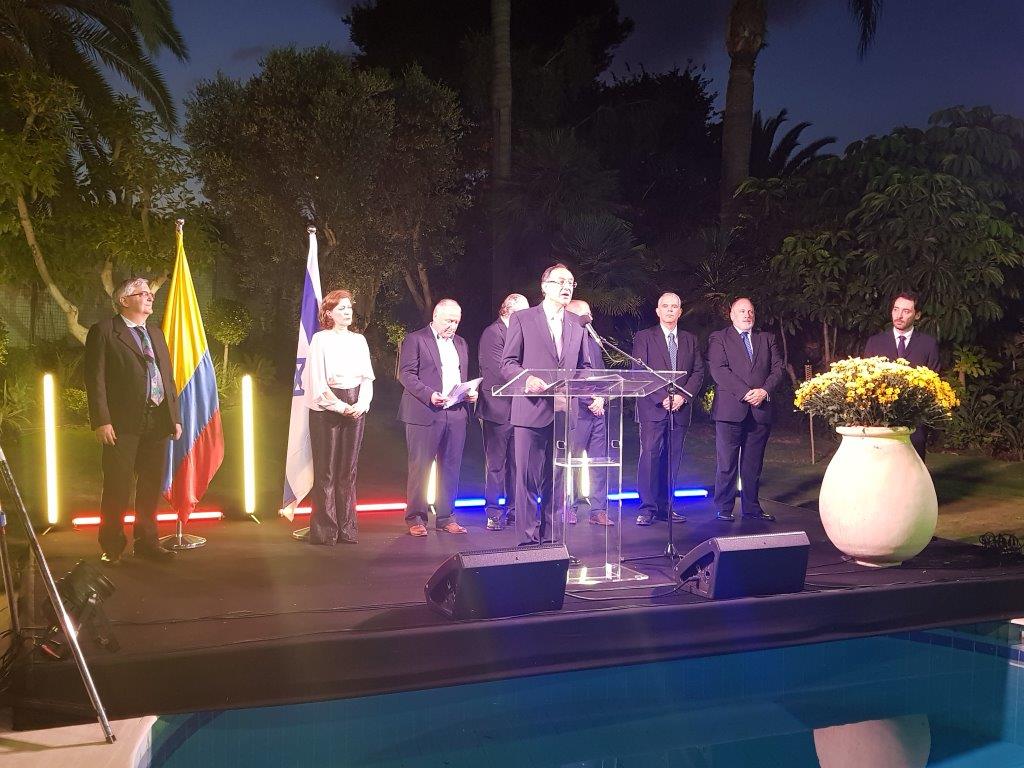 Embassy of Colombia Celebrates 209 Years of Independence with Colombian Performers in Kfar Shmaryahu
The embassy of Colombia celebrated 209 years of independence on Wednesday evening July 17 with a reception and ceremony. H.E. Ambassador Carlos Morales and Mrs. Betty Morales hosted the celebration at the ambassador's residence in Kfar Shmaryahu.
The residence was elegantly decorated with the Colombian flag, and even the Tel Aviv municipality building in Tel Aviv was lit in yellow, blue and red. Guests enjoyed authentic, freshly brewed Colombian coffee, as well as a live musical performance from Alvaro Meza and Omar Lopez, who came especially from Colombia to perform at the celebration.
Following the national anthems of both countries, Ambassador Morales welcomed the guests. The ambassador emphasized Colombia's vibrant democracy, multicultural society, and a strong economy, as part of the Colombia-Israel relationship.
The ambassador noted the coming Mechanism of Political Consultations, and the Free Trade Agreement signed in 2013 as evidence of the close connection between the countries, and opportunities for increased cooperation going forward. Another example is a joint program promoting innovative technologies in the field of Smart Cities. The ambassador also thanked the Mashav agency and director Ambassador Gil Haskel for the cooperation in promoting development.
Ambassador Morales mentioned the well-received efforts to promote Colombian culture through music, dance, and food, as well as Spanish language education together with bodies like the Cervantes Institute. In closing, he announced that he and his family would be leaving Israel in a few months, and thanked his embassy staff for their hard work and assistance.
Israeli Minister of Communications Mr. David Amsalem spoke on behalf of the government and people of Israel. Minister Amsalem noted the shared values and challenges between the two countries and the vibrant cooperation. He mentioned that a visit by the President of Colombia, Mr. Ivan Duque is expected in the near future.
Minister Amsalem thanked Colombia for providing forces in the Multinational Force and Observers mission in the Sinai as part of the Israeli-Egyptian peace accords and wished Colombia success in implementing its own peace agreement with the FARC, and entering the "post-conflict" period.
In closing, the minister congratulated Colombia on a strong performance in America's Cup and called for a toast to the warm relations between the countries and blessings and prosperity for Colombia.
The evening was delighted with a performance that represents the cultural diversity of Colombia.
Álvaro Meza, who performs some pieces of his repertoire of Vallenato music, traditional rhythm from the Caribbean region in Colombia.
Vallenato music has its origins in the farmers who used to travel with their musical instruments to entertain themselves on their journeys. Since then Vallenato became a symbol of Colombian diversity
Among the distinguished guests in attendance were Ambassador Meron Reuben, Chief of State Protocol in the Israeli Foreign Ministry; Jaime Aron, Honorary Consul of Colombia; Mr. David de la Rosa, former ambassador of Colombia to Israel and Mrs. Grace de la Rosa, and Mr. and Mrs. Isaac Gilinski former ambassador of Colombia to Israel
Diplomacy.co.il extends best wishes to Colombia on the occasion of its national day
Photo Silvia G. Golan