Photo: President Rivlin with Ambassador of Korea H.E. Mr. Suh Dong Gu
President Rivlin received diplomatic credentials from the new ambassadors of Korea, India, Slovakia, Costa Rica and Sri Lanka to Israel, as they begin their terms of office in Israel
President Reuven (Ruvi) Rivlin today, Thursday 21 November / 23 Cheshvan, received diplomatic credentials from the new Ambassadors of Korea, India, Slovakia, Costa Rica and Sri Lanka to Israel, as they begin their terms of office in Israel, in an official ceremony at Beit HaNasi. As they arrived, the national anthem of their country was played by the Israel Police Band and then they reviewed an IDF guard of honor. After presenting their letters of credence to the president and an audience in the Jerusalem Room, each ambassador signed the Beit HaNasi visitors' book and 'Hatikva' was played before the end of each ceremony.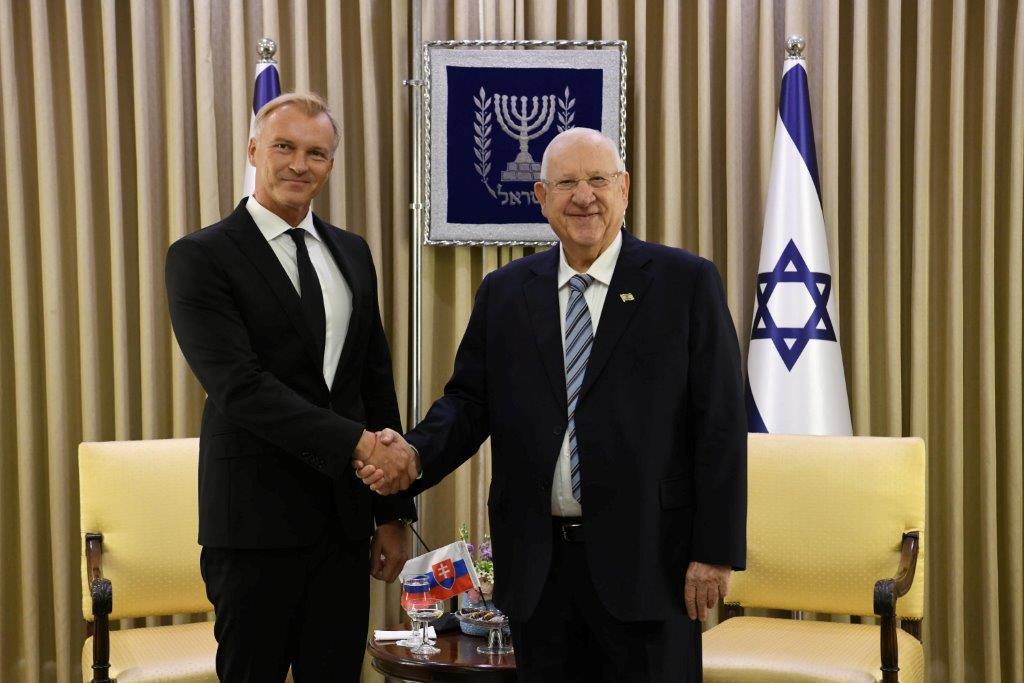 Photo: President Rivlin with Ambassador of Slovakia H.E. Mr. Igor Mauks
The first to present his credentials to the president was Ambassador Igor Mauks of Slovakia. The president welcomed the ambassador to Israel and expressed his appreciation for Slovakia's friendship towards Israel and noted that he was delighted to welcome the former president of Slovakia in Israel two years ago. The president also sent his thanks to the president of Slovakia for confirming her attendance at the central event to mark 75 years since the liberation of Auschwitz-Birkenau, which will take place in Jerusalem in January 2020.
Ambassador Mauks thanked the president for his warm words and invited him to visit Slovakia. He also stressed his country's fight against antisemitism, saying "Slovakia has zero-tolerance for antisemitism."
Photo: President Rivlin with Ambassador of Costa Rica H.E. Mr. Marco V. Vargas Pereira
Next to arrive was Ambassador of Costa Rica Marco Vinicio Vargas Pereira. In their conversation, the president noted the similarities between the two countries, saying, "Israel and Costa Rica gained independence in 1948 as the only democracies in their region. Today, too, we are small countries that invest in human capital, in our young people, and in education." The president also spoke to the ambassador about his hopes that the Costa Rican embassy would return to Jerusalem. "I hope you are able to take meaningful steps to bring the embassy back home to Jerusalem."
The ambassador thanked the president and said that this was his first time in Israel and that he was discovering the beauty of Israel's varied landscape, and that he had seen a desert for the first time. "I am delighted to be representing Costa Rica here in your beautiful country and hope I am able to advance the good relations even further."
Photo: President Rivlin with Ambassador of Sri Lanka H.E. Mr. Saddha Waruna Wilpatha
Ambassador Saddha Waruna Wilpatha of Sri Lanka then presented his credentials. The president conveyed his warmest wishes to the new president of Sri Lanka, wishing him much success. He also expressed his sorrow over the terrorist attack in Sri Lanka in April of this year. "Israel will continue to stand by Sri Lanka in the global struggle against terrorism, which threatens the security of the whole world."
Ambassador Wilpatha thanked the president for his remarks and said that his country would welcome a strengthening of relations between the countries in a range of fields and that he would work to do so during his time here.
The next to arrive at Beit HaNasi was the new Korean ambassador, Suh Dong Gu. The president spoke warmly about his recent visit to Korea last July and thanked President Moon for his warm welcome, inviting him to make a return visit to Israel.
"The free trade agreement is an important achievement for both countries. It is the first time we have signed such an agreement with an East Asian country and I am sure it will help build stronger and deeper relations between us," said the president. "During my visit, I learned that Israel and Korea have much in common: thousands of years of history, few natural resources and security challenges. Israel and Korea became independent states in difficult conditions, but we both overcame challenges." The president spoke about how impressed he was with Korea's advanced technologies, as well as its rich and vibrant culture. He said that his visit strengthened his feeling that there is a strong basis for cooperation between the two countries.
The Korean ambassador thanked the president warmly for his remarks, saying "Your successful visit to Korea gave precious momentum to our bilateral ties. I will use that momentum to advance our relations during my time here." The ambassador also noted the similarities between the two countries, remarking on a shared national character that values family and education. "I was at the opening of the Knesset and thought to myself that Israel is a miracle, just as Korea is a miracle. I think we can bring these miracles together and that technological cooperation between us can help create more miracles."
Photo: President Rivlin with Ambassador of India H.E. Mr. Sanjeev Kumar Singla
The last to present his credentials to the president was the Ambassador of India, Sanjeev Kumar Singla. The president spoke of his particularly warm memories of his visit to India with his late wife Nechama ז"ל. "I had the honor of hosting former president Mukherjee on his historic visit to Israel and we developed a remarkable friendship. Israel and India cooperate in a wide range of fields, civilian and military. We consider our security cooperation as a strategic asset. I hope our cooperation in this field will keep developing. We know that the question of water is at the top of Prime Minister Modi's agenda and it came up in my visit to India and his visit here. I hope we will continue to push forward our cooperation on this. The opening of Air India's flights over the Gulf and Saudi Arabia is an example of how cooperation between Israel and India can advance peace in the Middle East." The president invited the Indian president to visit Israel, saying "I would be so happy to welcome him here to Jerusalem."
The ambassador thanked the president for his welcome and relayed the warm wishes Prime Minister Modi asked to send to the president. He told the president "the three priorities we hope to work on are water, agriculture, and innovation. Your visit to India helped advance the warm relations between our countries and I hope that during my time here they will develop even further." He added, "Mr. President, I am happy to tell you that the sapling you planted during your visit to India is now an 8-foot tall tree."
Photo credit: Amos Ben-Gershom (GPO)