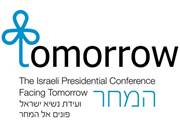 June 20, 2012 – Jerusalem, Israel –Former Mossad Chief Meir Dagan, Dennis Ross, former Senior Advisor to Barack Obama and Bill Clinton and Sherif El-Diwany, the World Economic Forum's leading advisor on Arab Affairs, headlined a panel on the Arab Spring and its significance for Israel at the 2012 Israeli Presidential Conference. The panel also featured leading journalists Mustafa Akyol from Turkey, and Salameh Nematt from Jordan.
The panelists discussed the current state of the Arab spring, focusing on the steps that regional actors could take to help ensure a peaceful transition to democracy.
Dennis Ross, focusing on the role that the U.S. could play, said "we in the West are not the authors of this story, so we won't be the ones to write it. But if we are asked for help, we should offer it, with ground rules – respect religion, minorities and free speech – if they don't follow these rules they shouldn't be entitled to help."
The conversation also focused on the impact of these revolutions on Israel and the prospects for regional peace.
"I think we are in a very unique position that has never been seen before," said Dagan, who recently made headlines for criticizing Netanyahu's hostile posture towards Iran. "The radicals in the Arab League are no longer there and a range of mutual interests that require regional cooperation provide an incredible opportunity for fostering peaceful relations."
When asked for his recommendation for Israel, Sherif el-Diwany said he hopes that Israel can move away from its position of paranoia. "I understand the source and the history behind it, but it is time to find a safer ground. You made the dream of Israel a reality, and the Arab world respects you for it, there needs to be a vision for the neighborhood as well."
Facing Tomorrow 2012, the fourth annual Conference under the auspices of the President of the State of Israel, Mr. Shimon Peres, is taking place in Jerusalem from June 19-21, 2012, and will take place at Jerusalem's International Convention Center. The conference is organized in partnership with Hebrew University.
# # #
About Facing Tomorrow 2012
The Fourth Israel Presidential Conference 'Facing Tomorrow' will be held from June 19-21, 2012. The first presidential conference took place in May 2008, one week after Israel celebrated its 60th year of independence, and on the basis of its success became an annual event. Attended by more than 5,000 people from around the world, and dedicated to designing a better tomorrow, the conference is centered around discussions, panels and plenary sessions aimed at answering one question: how can we foster a better tomorrow for the international community, Israel and the Jewish world. For more information, please visit www.presidentconf.org.il.