Details

Written by

Silvia G. Golan
Technological Revolution of Local Government – the Solution for Living alongside Covid-19
Muni-Expo 2021 gets underway with Israeli and foreign mayors, ministers, leaders of the economy and senior officials in the field of urban innovation expected to attend at the Expo Tel Aviv site
The expo be attended by President Yitzhak Herzog; Prime Minister Naftali Bennet, former Prime Minister and Likud Chairman Benjamin Netanyahu; Minister of Foreign Affairs and Alternate Prime Minister, Yair Lapid; Ministers Ayelet Shaked, Gideon Sa'ar, Orna Barbivai, Merav Michaeli and Pnina Tamanu-Shata; Governor of the Bank of Israel, Amir Yaron; leading heads of local authorities in Israel, and many others.
Living with Covid-19 meets municipal innovation at Muni-Expo 2021, which be held at Expo Tel Aviv for the fifth year. The Expo, which will take place between October 20-21, is a meeting place and fertile ground for collaboration with Israeli local government, for over 8,000 participants annually. This year, the Expo, which will strictly comply with the Green Pass guidelines, will provide an opportunity to examine the new routine in the shadow of Covid-19, its impact on the local and national arena, and the challenges and possibilities facing us in this period.
Haim Bibas, Chairman of the Federation of Local Authorities and Mayor of Modi'in-Maccabim-Re'ut,: "In the last two years, the entire world has experienced a tremendous upheaval due to the outbreak of the Covid-19 pandemic, which has affected the lives of millions of people across the globe. This year, the expo emphasizes the unprecedented resilience of local government to give the country's citizens the security and peace of mind that routine life is being maintained alongside Covid-19. Our objective is to make the lives of the residents better, to bring about a reduction in gaps and improve ongoing services to residents through municipal innovation, and to succeed in bringing technology to more and more local authorities..."
This year more than ever, the heads of local authorities have proven they have the power and capability to manage this complex reality if given the tools to do so. In order to manage differential policy, a strong government leadership is needed that believes in the power of local government as the body that manages the lives of the citizens on a daily basis.
The annual conference will be attended by dozens of speakers from a range of areas related to the core activity of local authorities in Israel: Emergencies, ethics, digital transformation, economics, smart cities, energy, sports and culture, transportation, society, etc. In addition, the annual urban innovation fair will have over 100 exhibitors in all areas of urban management. Among this year's exhibitors are Mobileye, Ariel Medic, Abura, Rolan, IEC, Hyper-Tech Advanced Systems, Deep Seek, Milgam, BSY, Nisko, viisight, Motorola, Matrix, and over a hundred more exhibitors will improve the quality of life of the residents in the coming years in all areas of municipal management as well as innovative cyber protection measure and dealing with emergencies. Startups, the Local Government Economic Services Company, various government ministries and Mifal Hapais will also exhibit at the Expo.
There will be several professional sessions during Muni-Expo 2021 in areas related to the daily life of each and every one of us. The sessions include: Municipal Management in the Pandemic Period and Shaping the New Routine, the Digital Springboard Created by Covid-19, Heavy Traffic and Means of Solving Huge Traffic Jams, Controversies between the Parts of Israeli Society, How the Cultural Industry Deals with the Corona Crisis, Leadership in the Present Israeli Reality, and more.
Furthermore, the Muni World 2021 International Conference of the Muni-Expo Innovation Fair will be held in a hybrid format this year to allow all participants to take part. The following issues will be addressed: What can be learned from the campaigns initiated by Israeli local authorities to deal with Covid-19, how local authorities overcome xenophobia, racism and anti-Semitism, and the 2022 challenges round the corner and how local authorities should prepare for them properly.
MuniTech: Israel's Smart Cities Community will be launched at Muni-Expo 2021 in the presence of the Minister of Economy, Orna Barbivai, the Ministries of Economy and the Interior, Digital Israel and Israel Innovation Authority, and will be run by the Federation of Local Authorities and Bar-Ilan University.
During the launch, a central plenum and sessions of professional committees will deal with connecting the components of the local ecosystem to assist in promoting the field of smart cities with the local authorities. The professional session and meetings will be the opening of activities of the community, which will regularly assist technology companies in the field to promote enabling policy and create a platform for raising resources for the benefit of the community.
The launch will take place on Thursday, October 21, from 09:00 am.
Photo Silvia Golan
Details

Written by

Silvia G. Golan
Headlines from the 10th annual Jerusalem Post Diplomatic Conference today at the Museum of Tolerance in Jerusalem
President Isaac Herzog addresses the Jerusalem Post Annual Conference: "Iran is exploiting the world's inaction, this lack of coordination—a clear threat to international peace and security."
President Herzog spoke of the importance of international dialogue and said: "Over the past year we have seen the good this dialogue can bring. And I want to focus on the Abraham Accords. They are a remarkable breakthrough in the history of our region. A brave, noble choice by Arab nations, with the fine mediation of the United States, to cast aside a failed policy of exclusion, lack of dialogue, lack of tolerance, and instead embrace a future based on inclusion with an Israel that has always outstretched its hand in peace. I hope many more Middle Eastern nations will emulate this path of dialogue and tolerance "I recently visited the king of Jordan in Amman and met King Abdullah II. I have spoken at length with President al-Sisi of Egypt. I had a long call with President Erdogan of Turkey, and a few conversations of courteous nature with Chairman Abbas of the Palestinian Authority" President Herzog condemned Iran's regional aggression as a result of a breakdown of international dialogue and said: "Here, we see the world's failure to act in concert, to settle on a strategy to sever Iran's tentacles in the Middle East, to restrain its ballistic missile program, and to shut down its nuclear program. Iran is exploiting this inaction, this lack of coordination: a clear threat to international peace and security" President Herzog also addressed the climate crisis and called for meaningful action at the COP26 climate summit: "As President, I intend to push forcefully on this issue, of the climate emergency. In November, world leaders will gather in Glasgow, Scotland, for the climate summit in a bid to pull our planet back from the brink. I hope that there too, dialogue, concern for our children's future, and concern for the world that we are blessed to live in together will prevail over short-term interests and impulses"
Prime Minister Naftali Bennett said at the 10th annual Jerusalem Post Diplomatic Conference on Tuesday : World must hold Iran accountable for nuclear violations
"I expect global powers to hold [Iran] accountable, to bring them to the UN Security Council. That would be the peaceful route"

Israel has no need to raise taxes, Finance Minister Avigdor Liberman said at the 10th annual Jerusalem Post Diplomatic Conference on Tuesday"We won't need to increase taxes to reduce the national deficit or finance its infrastructure projects," Liberman told Jerusalem Post Editor in Chief Yaakov Katz in Hebrew at the conference
Justice Minister Gideon Sa'ar said at the 10th annual Jerusalem Post Diplomatic Conference on Tuesday he is willing to cooperate with the Likud if Benjamin Netanyahu is defeated in primaries
Head of Public Health Services Dr. Sharon Alroy-Preis revealed at the 10th annual Jerusalem Post Diplomatic Conference on Tuesday how the procedure to travel to the country will work.
Former US Treasury secretary Steven Mnuchin said at the 10th annual Jerusalem Post Diplomatic Conference Today he predicted an economic boom in the next 18 months.
"The economic boom for the next 18 months is going to be extraordinary"
Interior Minister Ayelet Shaked (Yamina) calls blocking Lapid from Israel's premiership a 'fairy tale'Knesset lawmakers are set to clash on a bill surrounding Palestinian reunification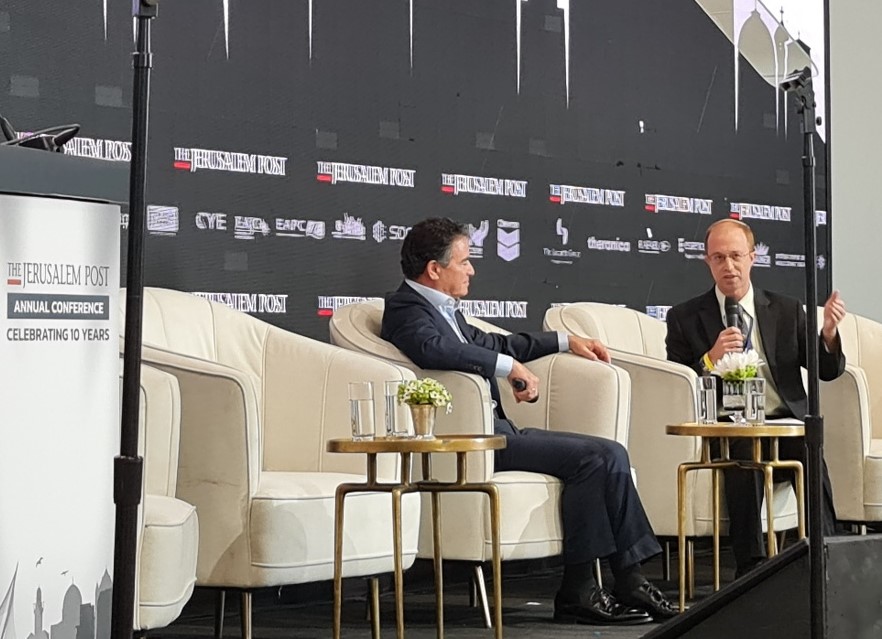 Former Mossad chief Yossi Cohen ( photo) : Iran not close to getting a nuclear bombIf Iran develops a nuclear weapon, lsrael must be able to stop Iran on its own
Pfizer's Bourla defends testing COVID-19 vaccine in Israel Albert Bourla said today : "Pfizer is committed to staying one step ahead of the virus
Defense Minister Benny Gantz at The Jerusalem Post conference: "We are developing both defensive and offensive capabilities against our enemies, constantly stopping attempts to harm Israeli citizens.
We must always remain two steps ahead, combining civilian and military capabilities to maintain Israel's cyber superiority and to stop terrorism. It is a vital need for Israel's security and a common interest with our closest partners, so we are constantly engaged in learning, knowledge sharing and technological development." Minister Gantz also referred to the Iranian threat: "Israel is one of the only countries in the world that is still under constant existential threat– with Iran at the top of our agenda. We have developed technological and operational tools that will guarantee our security against Iran's nuclear ambitions."
Minister Gantz also called on the international community to take action against Iran:
"I call on the international community to take a stand. I am saying it because Iran is first a global challenge, then a regional one and only finally, it is a threat to Israel. The future is now, and a future with a nuclear Iran is a dark one."
More at : https://live.jpost.com/conferences/the-jerusalem-post-10th-annual-conference-the-future-is-now-676413
Photo President Herzog : Kobi Gideon/GPO
Others photos credit Silvia G. Golan
More pics at Facebook Israel Diplo / Diplomacy Israel and Silvia G. Golan
@jerusalempost
Details

Written by

MFA Spokesperson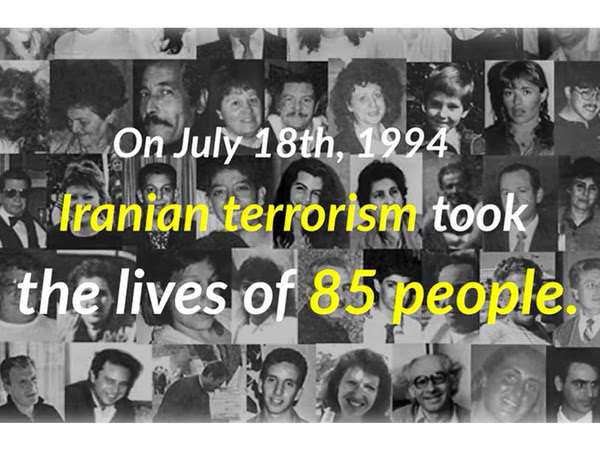 27 years ago, on 18 July 1994 at 9:53 A.M., a huge explosion rocked the city of Buenos Aires - the second murderous attack against Israeli and Jewish targets in Argentina in two years. ​
Today (July 18, 2021) marks the 27th anniversary of the murderous attack carried out against the Jewish community center AMIA (Asociación Mutual Israelita Argentina) in Buenos Aires, on 18 July 1994. It was the second attack against Jewish and Israeli targets on Argentinian soil – the attack on the Israeli embassy took place only two years previously.
Tragically, 85 people lost their lives in the AMIA attack, and hundreds more were injured.
The sorrow and grief caused by this attack is compounded by the fact that those responsible for this horrifying act, as for the one preceding it, have not yet been brought to justice. After years of investigation, the Argentinian magistrate concluded in 2007 that Iran was behind the attack and responsible for dispatching the murderers. The government of Argentina appealed to Interpol to issue arrest warrants for a number of suspects, and this appeal was approved by the Interpol General Assembly. Israel condemns Iran for its responsibility for terrorist attacks around the world and for funding, instructing, training and arming terror organizations and for threatening to wipe Israel off the face of the earth.
At this difficult hour, the people and government of Israel identify with the bereaved families, with the Jewish community in Argentina and with all the people of Argentina. Concurrently, we would like to congratulate the Jewish community, which has managed to recover from the tragic event, to restore the community and maintain firm ties with the State of Israel. Furthermore, we endorse the Argentinian government's efforts to bring the perpetrators to justice.
Details

Written by

Steven Aiello
Diplomatic Institute hosts summer cocktail for diplomats and business leaders in Petah Tiqva
The Diplomatic Institute held a summer cocktail on Tuesday evening at Ninesh in Petah Tiqva, connecting the diplomatic community in Israel with Israeli business leaders. The last year and a half have limited opportunities for diplomats to meet face to face, and the Diplomatic Institute filled that gap by providing a pleasant atmosphere and venue for networking.
Gabriel Hayon, President of the Diplomatic Institute (DiplomaticInstitute.org), explained the motivation behind the evening--having realized the need for diplomats to have access to a balanced representation of Israeli society, as well logistical support for their person and bilateral commercial needs, Mr. Hayon set out to provide just such a platform. The Diplomatic Institute was created to provide services ranging from navigating the legalities and bureaucracies of importing goods to Israel, to how to open a bank account in Israel.
The Diplomatic Institute also organizes regular events for diplomats, such as lectures and discussions with the former head of the Mossad to discuss the Iranian threat, or the deputy Director General of the Ministry of Foreign Affairs. The next meeting will be November 2, with Lt. General Dan Halutz, former Chief of Staff of the IDF.
Deputy Mayor of Petah Tiqva Rafi Dahan and Shmulik Bass from the Ministry of Foreign Affairs were guests in the evening. Mr. Bass expressed his support on behalf of the ministry of foreign affairs, and welcomed all the guests. Mr. Bass then announced the upcoming visit by the president of Colombia to Israel.
Alex Averbuch, Marketing Director of Ashra, explained how Ashra could provide financial guidance and credit assistance to promote Israeli exports to developing countries. Arnon Maoz of Tashtiot and Maoz media talked about the energy revolution that has begun--the transition to solar energy. Mr. Maoz encouraged countries and investors alike to weigh the long-term benefits of transitioning to solar energy sources, and cited a number of examples of countries that have already joined this key revolution.
Mr. Hayon thanked the event sponsors: Ashra, ICL (Israel Cargo Logistics), Ninish, Paskovich, Tashtiot, and Wine and friends (by Dudi Perry).
Following these opening remarks, Mr. Hayon offered a toast to health and success, and the guests continued to enjoy the dinner and wines, and the opportunity to network.
Photos by Silvia Golan
Details

Written by

Spokesperson of the President's Office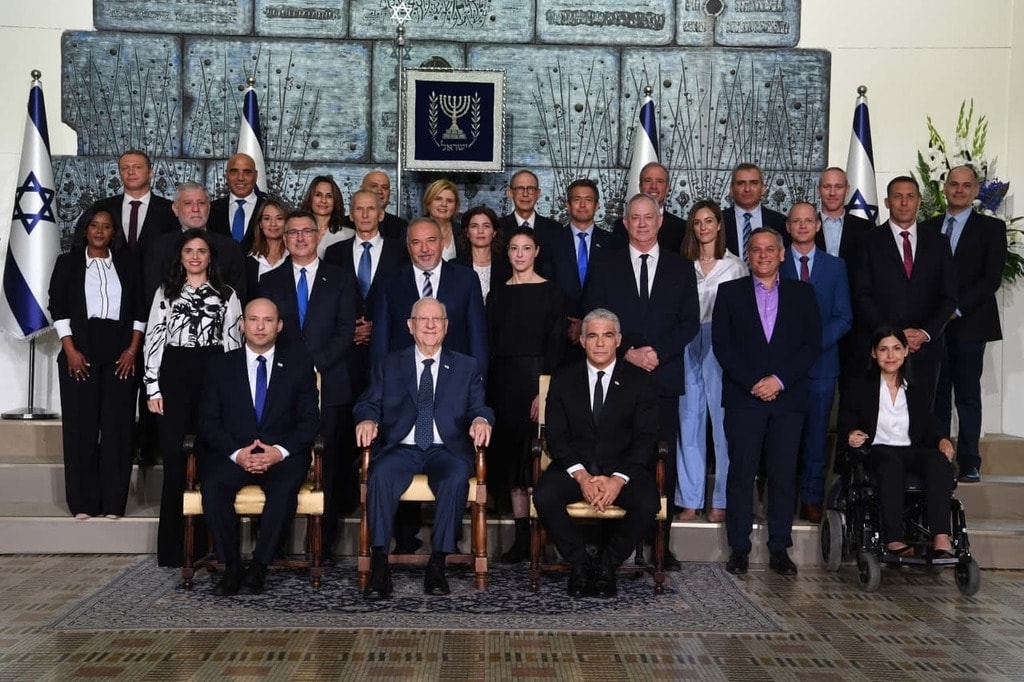 With the formation of Israel's 36th government, the traditional photograph was taken today, Monday 14 June / 4 Tammuz. The group photograph shows President of Israel Reuven (Ruvi) Rivlin, Prime Minister Naftali Bennett, Alternate Prime Minister and Minister of Foreign Affairs Yair Lapid and the ministers of the new government.
The photograph (credit - Avi Ohayon, GPO) shows:

Front row (R to L): Alternate Prime Minister and Minister of Foreign Affairs Yair Lapid; President of Israel Reuven (Ruvi) Rivlin; Prime Minister Naftali Bennett.
First row (R to L): Minister of National Infrastructure, Energy and Water Karin Elharrar; Minister of Health Nitzan Horowitz; Minister of Defense Benny Gantz; Minister of Transportation and Road Safety Merav MIchaeli; Minister of Finance Avigdor Lieberman; Minister of Justice Gidon Sa'ar; Minister of the Interior Ayelet Shaked.
Second row (R to L): Minister of Religious Services Matan Kahana; Minister of Agriculture and Rural Development and Minister for the Development of the Periphery, the Negev, and the Galilee Oded Forer; Minister of Social Equality Merav Cohen; Minister of Communications Yoaz Hendel; Minister of Environmental Protection Tamar Zandberg; Minister of Internal Security Omer Barlev; Minister of Education Yifat Shasha-Biton; Minister of Labor, Social Affairs and Social Welfare Meir Cohen; Minister of Aliyah and Integratione Pnina Tamano-Shata.
Third row (R to L): Acting Cabinet Secretary Lior Natan; Minister of Culture and Sport Chili Tropper; Minister of Housing and Construction and Minister for Jerusalem Affairs and Heritage Ze'ev Elkin; Minister of Intelligence Elazar Stern; Minister of Diaspora Affairs Nachman Shai; Minister of the Economy Orna Barbivay; Minister for Regional Cooperation Esawi Frej; Minister of Science and Technology Orit Farkash-Hacohen; Minister in the Ministry of Finance Hamed Amar; Minister of Tourism Yoel Razvozov.
Credit for photo of Pres. Rivlin, Prime Minister Bennett and Alternate Prime Minister / Foreign Minister Lapid: Haim Zach (GPO)
...