Details

Written by

President's Spokesperson's Office
As Israel began celebrations marking the country's 70th Independence Day, President Rivlin issued the following greeting to Jewish communities and supporters of Israel around the world.
Details

Written by

AJC

"As Israel prepares to celebrate its historic 70th anniversary of independence, the American Jewish Congress welcomes the opening of the National Memorial Hall for Israel's Fallen, honoring the heroes that made the realization of a Jewish State possible and have helped sustain Israel's security during the past 70 years.
Israel was founded in 1948 out of the ashes of the Holocaust. The American Jewish Congress had been instrumental in coordinating relief efforts for Jewish Holocaust survivors. When the enormity of the Holocaust's atrocities became public, the American Jewish Congress was proactive in campaigning for the creation of a Jewish State and played an integral role in winning US recognition and support of Israel.
The fact that Yom Ha'atzmaut, Israel's national Independence Day, is celebrated just one week after the country's official Holocaust commemoration day Yom Hashoah is no accident. Israel was founded as the Jewish State to provide a home for a Jewish demographic, an estimated 80% of which was wiped out in the Holocaust, a fact that left an indelible mark on the nation's identity.
More than any other nation, Israel continues to divide opinion, among individuals, nations and at international institutions, as it is held to higher standards of statehood than other Western countries, not to mention more unsavory regimes around the world. When the international community, organizations and individuals continue to single out the world's only Jewish State for disproportionate criticism, we can only derive one motive from it – antisemitism.
US campuses saw an 89% rise in anti-Semitic incidents in 2017 alone, where the BDS movement is most active. The American Jewish Congress is this week launching a grass roots campaign "BDS is antisemitism – United Against BDS" to confront the stereotypes fuelled by the BDS movement in the hopes of countering anti-Semitism on campuses and creating a secure environment for Jewish students.
The American Jewish Congress believes that BDS is not purely an anti-Israel issue, but a human rights issue. We want to send a clear message that the normalization of hate and anti-Semitism needs to stop. We invite everyone to join us in uniting against BDS in order to put an end to its divisive and hateful messages. We must stand united in promoting truth and peace, and against boycotts."
Jack Rosen, President, American Jewish Congress
https://www.bdsisantisemitism.com/
It's time to stop pretending and to spell it out - BDS is an anti-Semitic movement. This normalization of hate and anti-Semitism needs to stop. We must unite against BDS in order to put an end to its divisive and hateful messages.
Details

Written by

http://www.avivshoa.co.il
The annual march held by Aviv for Holocaust Survivors is aimed at showing solidarity with Holocaust survivors, remember the heroes who survived, lend them a hand, and raise awareness of their rights
The march will begin with a ceremony at Habimah Square featuring Rabbi Shai Piron, Tel Aviv Deputy Mayor Mehereta Baruch-Ron, Holocaust survivor Daniel Shmukler, and singer Shai Gabso.
The march will be broadcast live through youtube
This year, Aviv for Holocaust Survivors will again hold its annual March for the Living (April 11, 5 PM) in Tel Aviv to show solidarity with Holocaust survivors, remember those who survived the inferno and are still living among us, extend to them a helping hand, and assist them in every way. The march will kick off with a ceremony at the Habimah Plaza, which will be led by Master of Ceremonies Uri Gottlieb, the actor who has served as MC five times in the past. Speakers will include Rabbi Shai Piron, Atty. Aviva Silberman, the founder and executive director of the NGO, Tel Aviv Deputy Mayor Mehereta Baruch-Ron, and Holocaust survivor Daniel Shmukler. Singer Shai Gabso will perform two of his songs. At the end of the ceremony, the hundreds of expected participants, young and old, will march along Rothschild Boulevard hand in hand with Holocaust survivors.
The march will be broadcast live through youtube: https://www.youtube.com/watch?v=G-BqIE0w9Ek
Atty. Aviva Silberman, the founder and executive director of the Aviv for Holocaust Survivors: "About 200,000 Holocaust survivors are still with us, heroes who survived the worst the human mind can imagine. On Holocaust Remembrance Day, all of us commune with the memory of those who died in the Shoah, while on the eve of that day Aviv for Holocaust Survivors invites you to march hand in hand with Holocaust survivors in our March for the Living to show solidarity, lend them a helping hand, and assist them in every way possible. This is the time to come to their aid!"
This week, Aviv for Holocaust Survivors launched its campaign "Sourcing Survivors," a unique attempt to identify Holocaust survivors who have not yet realized their rights in conjunction with the crowdfunding site Mimoona. The public is called on to go to the campaign page at mimoona.co.il or google "sourcing Holocaust survivors at Mimoona" and refer survivors to Aviv for free, professional help in realizing their rights and benefits in Israel and from the world.
Aviv for Holocaust Survivors is a nonprofit association that specializes in realizing Holocaust survivors' rights and benefits to which they are legally entitled, absolutely free of charge. These benefits can mean the difference between a life in poverty and a life of dignity and physical wellbeing. Aviv helps Holocaust survivors by providing them with attorneys who specialize in survivors' rights, staffing a hotline 24/7, maintaining Rights Sites – Holocaust survivors' consultation centers – in conjunction with local government, and making help available to survivors in their homes. Aviv also provides professional training to office-holders who come into contact with survivors so that they, too, can help identifying those in need of help. All of the NGO's services are provided free of charge. Over the last ten years, Aviv has helped more than 60,000 survivors realize their benefits and receive pensions worth a total of over NIS 350 million. For assistance or to give a donation, contact Aviv through www.avivshoa.co.il or call 072-242-4404.
Photo Omri Gal
Details

Written by

Pamela Hickman
The St Petersburg Philharmonic Orchestra will be performing two concerts of Russian music in Tel Aviv this coming May. The concerts, under the baton of Yuri Temirkanov, will take place at the Charles Bronfman Cultural Center, 1 Huberman St. (home of the Israel Philharmonic Orchestra) on May 9th and 10th 2018. It was Maestro Temirkanov's wish to accompany the orchestra to Israel to perform in honour of 70 years of the State of Israel. The concerts also coincide with Victory Day (May 9th), a holiday that commemorates the victory of the Soviet Union over Nazi Germany in the Great Patriotic War following the signing of the German Instrument of Surrender late in the evening on 8 May 1945.
Chosen for the program for obvious reasons, the concert of May 9th will feature Dmitri Shostakovich's Symphony No.9, a work originally intended to be a celebration of the Russian victory over Nazi Germany. The concert will be preceded by Israeli pianist/conductor/composer Gil Shohat's talk about the work and the tragic events surrounding it.
The concert of May 10th will feature soloist Nikolai Lugansky, a pianist of extraordinary depth and versatility. He will perform Sergei Rachmaninoff's Concerto No. 3 for piano and orchestra, one of the most technically challenging piano concertos of the standard classical repertoire. The program will also include Nikolai Rimsky Korsakov's dazzling symphonic suite "Scheherazade" Op. 35.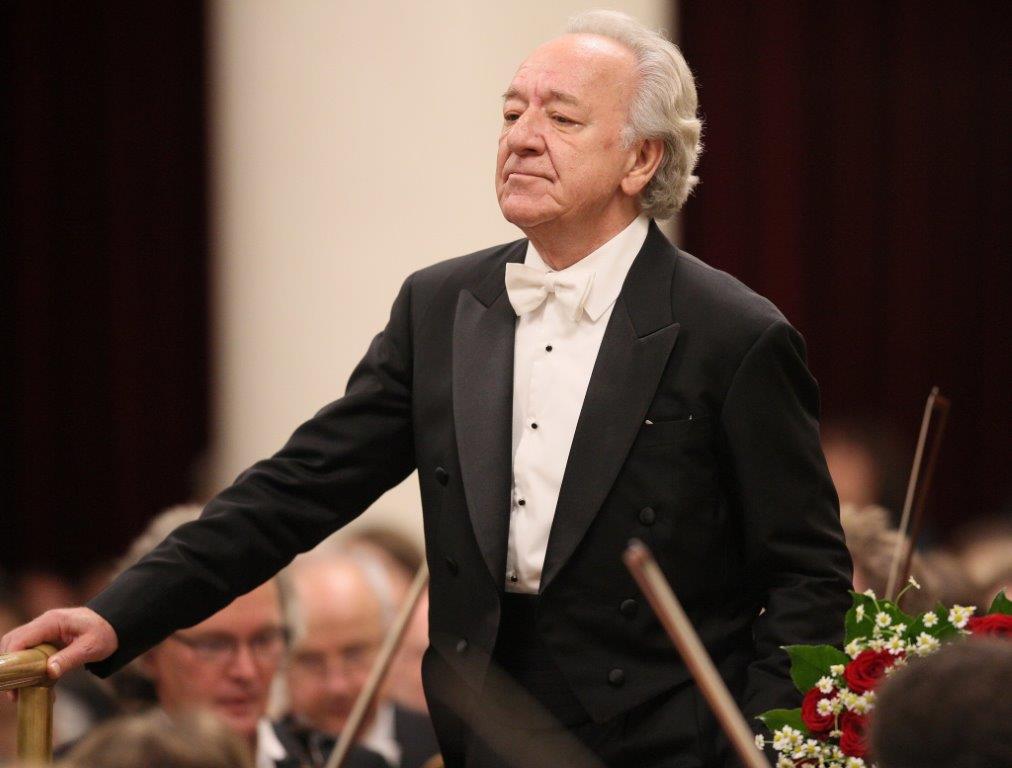 The St. Petersburg Philharmonic Orchestra, the oldest Philharmonia in Russia, has been in existence for more than two hundred years. Its history goes back to 1802, when the St. Petersburg Philharmonic Society, the first in Europe, was created. It organized the world premiere of Beethoven's "Missa Solemnis" in 1824. Since 1988, Yuri Temirkanov, professor of violin at the Tchaikovsky Conservatory, Moscow and one of the world's leading conductors, has served as the orchestra's artistic director and chief conductor.
Tickets, ranging from NIS 186 to NIS 626 can be reserved by contacting www.bravo.org.il *3221 or www.leaan.co.il *8780
Photos: Maestro Yuri Temirkanov and The St. Petersburg Philharmonic Orchestra by (Stas Levshin)
http://pamelahickmansblog.blogspot.com
http://pamelahickmansmusicinterviews.blogspot.com
Details

Written by

MFA
A march on Israel's southern border is being organized and orchestrated by Hamas in a deliberate attempt to provoke a violent confrontation with Israel.
Hamas and other Palestinian terror organizations have begun mobilizing the Palestinian public to participate in a series of ongoing events that will take place over the course of six weeks - starting on March 30 (known as "Land Day" marking events that took place in Israel over 40 years ago), and leading up to May 15 (the anniversary of Israel's establishment, which Palestinians refer to as the "Nakba", or disaster).
Hamas has called for thousands of Gaza residents, particularly women and children, to set up tent camps as close as they can to Israel's southern border. It is from these camps that the march towards the Israeli border fence will be launched.
Hamas is also seeking to extend the scope of the events beyond the Gaza Strip and to promote marches in Lebanon, Syria and Jordan. Hamas is also actively encouraging Israeli Arabs to join the campaign, thus forcing Israel's security forces to deal with multiple, simultaneous challenges on different fronts, including within its own borders.
While the campaign is being presented to the world at large as a peaceful enterprise, there is no doubt that this latest Hamas ploy is aimed at igniting a violent confrontation with Israel.
Contrary to the many declarations that there will be no violence during the events, Isma'il Haniyeh, head of Hamas' political bureau, hinted knowingly, in ways that his own people could clearly understand the intent, that they might, in fact, turn violent. In a sermon he gave on March 9, 2018, he stated that it would be impossible to control the tens of thousands who would march from the north, east and south [Gaza Strip] to protest the "siege" (Twitter accounts of Hamas' department of political affairs and Palinfo, March 9, 2018). [1]
As a result, Israel finds itself on the eve of Passover preparing for an array of scenarios, including a violent, deliberate charge on its borders.
And while Israel hopes and aims to avoid violence it will take all necessary steps to prevent any violation of its sovereignty or any threat to its citizens.
Israel, of course, has the full right to defend its borders, to protect its citizens and to prevent illegal infiltration into its sovereign territory. Responsibility for any clashes that may arise will thus lie solely with Hamas and the other Palestinian organizations who have manufactured this entire campaign.
In orchestrating this confrontation Hamas is seeking, amongst other things, to distract its own people, as well as the international community, from the colossal harm that continued Hamas rule in Gaza is causing the Palestinian people:
Hamas consistently chooses to invest in terror over civilian infrastructure: According to Channel 2 News, Hamas is spending more than $10 million on the confrontation campaign alone, even paying Gazans to participate in the march.
While Gaza's infrastructure is failing, Hamas is using its considerable resources to buy weapons and missiles and to construct terror tunnels, instead of caring for the welfare of the Gaza populationץ
Hamas has ruled the Gaza Strip for eleven years without mercy. In their obsession to destroy Israel, Hamas leaders have forsaken the people of Gaza and created a worrisome humanitarian situation there, using Israel as a scapegoat. Instead of tending to the needs of the people, Hamas oppresses them for the sake of continuing the conflict.
Hamas continues to endanger and exploit the civilian population of Gaza by using them as human shields. The march campaign shows once again how Hamas deliberately sends civilians, including women and children, to the front, while its leaders and fighters hide behind them.
Moreover, as a result of the internal rifts within Palestinian society caused by Hamas, the Palestinian Authority is now imposing sanctions on the Gaza Strip, by suspending payments for salaries and electricity, thus further damaging the welfare of the people.
Contrary to Hamas deliberate misrepresentation of the issues, Israel has no territorial claims on Gaza. Israel left the Gaza Strip in 2005. There is no occupation of Gaza.
Nor is there any siege on Gaza, despite what many anti-Israel campaigners assert. Tons of essential goods enter Gaza from Israel on a daily basis, while Israel also continues to provide for electric power and water, in coordination with international parties, as well as the passage of people via Israel for medical treatment. Restrictions are only placed on materials used for the military build-up of Hamas and other terror groups. Israel would like the Gaza Strip to be a peaceful and prosperous neighbor.
It should be noted that the Palestinian leadership and Israel agreed in 1995 to resolve through negotiation, not by unilateral moves or violence, all permanent status issues such as the settlements, security arrangements and borders, as well as the refugee issue.
The Palestinian representatives, again and again, rejected serious efforts to reach peace agreements, including far-reaching Israeli proposals in the negotiations held in 2000 and in 2008. The Palestinian leaders left the negotiation table once again in 2014.
Gaza is facing a worrying humanitarian situation, brought on by the dismal failure of Hamas and the PA to provide for the welfare of Gaza's population. Instead of taking responsibility, Palestinian leaders are trying to manufacture renewed conflict and confrontation with Israel.
Photo Silvia Golan