Details

Written by

Silvia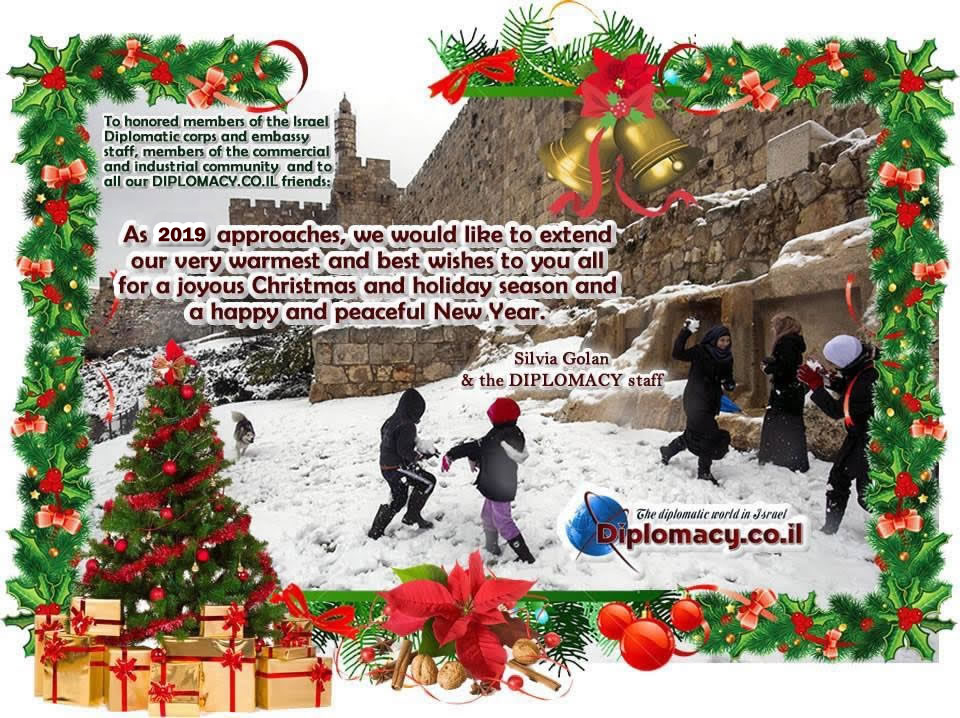 Christmas & New Year greetings from www.diplomacy.co.il
To honored members of the Israel Diplomatic corps and Embassy staff,
members of the Government Offices, Cultural, Commercial
and Industrial community in Israel
and to all our www.diplomacy.co.il friends:
As 2019 approaches, we would like to extend our very warmest and best wishes
to you all for a joyous Christmas and Holiday Season
and a Happy and Peaceful New Year.
Silvia Golan Daniel Schwarz
Jonathan Danilowitz Steven Aiello
Stella Szpira David Altman Talma Gotteiner
Pamela Hickman Buzzy Gordon
& all the staff of www.diplomacy.co.il
Facebook : Diplomacy Israel & Diplomacy Israel Community
Instagram Silviagolan #diplomacyisrael #diplomacyisraelfacebook
Details

Written by

Prime Minister's Media Adviser
Prime Minister Benjamin Netanyahu, yesterday evening (Sunday, 16 December 2018), at the Foreign Ministry in Jerusalem, addressed a conference of Israeli ambassadors to Latin American, Asian and African countries. Following is an excerpt from his remarks:
"A great change has been created here. The Arab world needs technology and innovation. It needs water, electricity, medical care and high-tech. There is a growing connection between Israeli companies and the Arab world.
What is happening at the moment is that we are in a process of normalization with the Arab world without progress in the diplomatic process with the Palestinians.
The expectation was that progress or a breakthrough with the Palestinians would open links for us with the Arab world. This would have been true if it had happened. It seemed as if it was about to happen with the Oslo process but what happened was that the Arab refusal, together with the terrorism of the intifada, cost us almost 2,000 lives and wiped out this hope, which was shelved under Oslo governments.
Today we are going there without the Palestinians being involved and it is much stronger because it does not depend on their caprices. The Arab states are looking for links with the strong. Cultivating strengths gives us diplomatic power.
It is more likely that it will work in reverse. Links with the Arab world will bring normalization and create the conditions for developing links with the Palestinians."
Photo credit: Kobi Gideon (GPO)
Details

Written by

President's Spokesperson's Office
President Rivlin:
"It is crucially important to rebuild and improve the relations between Israeli leadership and the global Jewish community, first and foremost all streams of Jewish life in the United States. They are the 'fifth tribe' of our people."
"The discovery of offensive tunnels shows the depth of Iranian involvement in Lebanon. Only a unified international effort can stop the Iranians."
President Reuven (Ruvi) Rivlin today, Monday 10 December / 2 Tevet, addressed Israeli ambassadors to Europe, North America, the Middle East and international organizations at the MFA annual Heads of Missions Conference fat Beit HaNasi. Director-General of the Ministry of Foreign Affairs Yuval Rotem also spoke to the gathering.
The president opened his remarks by thanking the Israeli foreign service and told the ambassadors "this meeting is an opportunity to thank you all for your efforts and your dedication. No country is an island. The relations you create, your diplomatic efforts, the partnerships, the links with science, arts and culture, the economic bridges you build, make Israel more open and make Israel safer. To a great extent, thanks to you, the State of Israel is known in the world and enjoys recognition and legitimacy. Statesmanship is a profession of crises and opportunities. At its best, I believe, statesmanship plays an even more important role, turning crises into opportunities – and we have a surfeit of both crises and opportunities."
Speaking about the situation in Europe, the president said "Israel wants and must remain, first and foremost, a national home and a safe haven for the Jewish people. It seems like Europe, too, is increasingly looking for the language of nations, and this has both positive and negative implications. The differences between us and some of our European partners on the question of our relations with the Palestinians need not block all cooperation between us. Despite the difficulties and disappointments we have experienced in our relations with Europe, Israel cannot give up on Europe. Europe is geographically and culturally close; our values are close. Europe is our largest trading partner, and we face the fight against terrorism and extremism together. On the other hand, the return of nationalist discourse to Europe has negative aspects. That discourse is often accompanied by anti-Semitism and xenophobia and that poses problems for Jewish communities and the State of Israel. We must not show any tolerance for expressions of anti-Semitism. We reject anti-Semitism, even if it takes on different guises, hiding behind the fig-leaf of supporting and loving the State of Israel."
President Rivlin spoke about relations between Israel and the United States, saying "I want to send my thanks from here to the American administration for its uncompromising support for Israeli security and for the new channels that have begun to develop with countries in the Middle East thanks to American support. We will continue to work with the administration. We will also continue to work to maintain and develop relations with all parts of American society and the political system."
The president added, "Israel must maintain within bipartisan consensus. We must devote more effort and thought to this. And I say this because I think not enough has been done to maintain and develop our relations with the Democratic Party and with liberal voices in America. I also think that it is crucially important to rebuild and improve the relations between Israeli leadership and the global Jewish community, first and foremost all streams of Jewish life in the United States. They are the 'fifth tribe' of our people.
Talking about Operation Northern Shield, the president emphasized that the discovery of offensive tunnels shows the depth of Iranian involvement in Lebanon and added, "Iran funds and directs Hizballah. Iran funds and directs the Shi'ite militias in Syria. Iran supports Hamas and Islamic Jihad across the Middle East. Iran destabilizes the region. And time after time, Israel faces the Iranian threat and challenges Iranian hegemony. Your work in this field, across the world, is critical. We need not fear explaining Israel's position time after time. In particular, we need to work with the Europeans who try to give the Iranians a lifeline to get around the nuclear deal and US sanctions while, all the time, Iran exports terrorism, continues with its missile program and even carries out acts of terrorism in Europe itself. Only a unified international effort can stop the Iranians."
Photo credit: Amos Ben Gershom (GPO)
Details

Written by

Silvia Golan
From December 2-9, the second annual Debate for Peace delegation traveled from Israel to Kosovo to attend the KIMUN conference. This year Debate for Peace joined local hosts iChat as co-organizers of Kosovo's only Model UN conference. In total 13 students, from the Bashaer, Pelech, Kfar Qasem Comprehensive, Oded, Modi'in democratic, Brenner (in Petah Tiqva), and Ironi Hei (Haifa) schools took part in the delegation. In addition to participating in KIMUN, the students also visited Albania and Kosovo and met with local UN and US embassy representatives and religious leaders.
The delegation began its trip in Tirana, where they received a private tour of the BunkArt facility by architect Kreshnik Merxhani. After taking the cable cars up Dajti mountain to enjoy the views, they traveled to the town of Kruje, where they lit candles for the first night of Hanukkah, shopped for crafts, and saw the home of the legendary Albanian national hero Skanderbeg.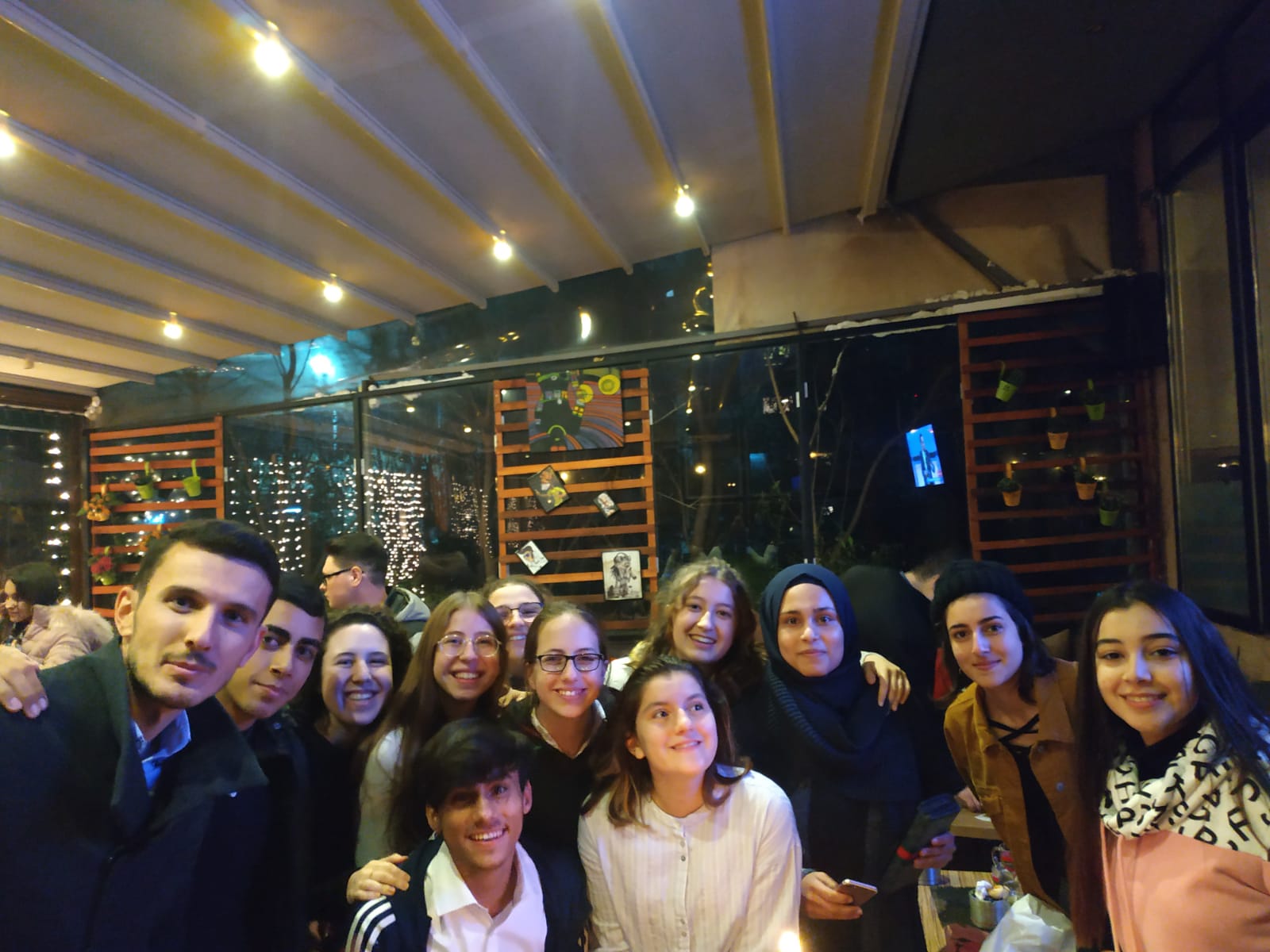 That evening in Tirana the group met with Professor Petrit Zorba, the head of the Albania-Israel friendship association. The meeting was facilitated by the Albanian embassy in Israel. Professor Zorba talked to the students about the connection between Albanians and Jews, including the incredible story of Besa during the Holocaust, and about interfaith relations among Albanians.
On December 3, the group met with the Protik Innovation Center to learn about the startup environment and entrepreneurship in Albania. From there they proceeded to the US Embassy in Tirana, where they learned about some of the bilateral diplomatic and development work in which the embassy is engaged. Later that day the group traveled to Pristina, Kosovo.
The KIMUN conference opened on December 4th, with a panel including the dean of the philosophy department of Pristina university, the minister of sport and culture, and the directors of iChat and Debate for Peace. For the next three days, high school and university students from Albania, Kosovo and Israel grappled with topics including youth unemployment, use of social media to promote tolerance, and expanding trade relations with the European Union. On the final day, the delegates met at the Kosovo Public Administration building to vote on their final draft resolution and receive certificates and awards.
The delegates of Brazil (Layan Rabi), Italy (Ilva Hamzaj), Saudi Arabia (Erna Salihu), and Serbia (Ariella Rose) received Best Position paper awards. In the ECOSOC committee, China (Margalit Bak) and North Korea (Yaari Cohen) were chosen Best Delegates. In the UNGA committee, Iraq (Yonit Vareika) and the United Arab Emirates (Thoma Kristo) were Outstanding Delegates, and Serbia (Ariella Rose) was the Best Delegate. And in the European Council, Italy (Ilva Hamzaj) and the United States (Eliran Ben Yair) were Outstanding Delegates, and the United Kingdom (Ella Justus Segal) was Best Delegate.
On December 6th the delegation also held several meetings. In the morning they visited UNMIK, to learn about how the work of the UN in Kosovo has evolved over time. That afternoon they met with Matt Briggs, Economics officer at the US Embassy in Kosovo. Matt said that he was "impressed by their eagerness and curiosity about a wide range of issues. It was also fascinating to hear their thoughts about Kosovo and to discuss what difficulties face a country that is still working towards increasing its international recognitions."
The delegation concluded by celebrating shabbat and Hanukkah in Prizren, as well as visiting the Sinan Pasha mosque, the Catholic cathedral, and the Halveti Sufi tekke. Votem Demiri, the head of the Kosovo Jewish community told Diplomacy: "The Jewish Community of Kosovo together with other religious communities and friends had the honor to host the delegation from DebateforPeace in Prizren for the celebration of Shabbat and Hanukkah. As the head of the Jewish Community of Kosovo, I would like to thank Steven [Aiello] for choosing Kosovo/Prizren as a visiting place for the second time. Prizren is the historical capital of Kosovo and it is our little Jerusalem as a city that embraces all the existing religions that lives in harmony during centuries."
Agnessa Jashari, one of the KIMUN organizers from iChat, also expressed her appreciation for "the amazing students coming from Debate for Peace, Kosovo students and participants coming from other countries as well. Once again we had an amazing experience during KIMUN 2018. Spending five days of the conference with these young leaders was such a pleasure and an unforgettable experience!"
Alaa Abu Raya was one of the participants from the Bashaer high school in Sakhnin. She said that the delegation was "an amazing experience that I will always remember, the model UN conference allowed us to meet new people from different backgrounds and make some lifetime friendships which I'm grateful for."
Yaari Cohen, a student from Oded high school in Kadima, added that "The delegation in Kosovo has not only brought us closer together, it did more than that, it feels like with every step that we took together, we brought our countries, closer together."
The next Debate for Peace MUN delegations will be to YMUN in Connecticut, USA, and MEDIMUN in Nicosia, Cyprus.
Photos by Debate for Peace
Details

Written by

Prime Minister's Media Adviser
Please convey to your governments what you see here and I think the obvious need to condemn unequivocally this aggression by Hezbollah and Iran and Lebanon that has to be accountable.
Prime Minister Benjamin Netanyahu, this morning (Thursday, 6 December 2018), met with foreign ambassadors in the north, close to the IDF units that are working to expose and neutralize the tunnels (click here). Following are his remarks to the ambassadors:
"Today you can appreciate the effectiveness, the murderous effectiveness of this instrument of terror tunnels, which I want to zoom into in a minute. What we're facing is one big enemy. That enemy is called Iran. Iran is trying to act on two levels. One, to develop a nuclear arsenal. We're dealing with that with other means, including exposing Iran, as we did their secret nuclear archives and their secret nuclear warehouse inside Iran, Tehran, and other means.\
The second thing that Iran is doing is developing conventional weapons against us and have declared war to annihilate Israel. They say so openly, every day. As part of that conventional effort they have two basic things that they do. One is they try to entrench themselves in Syria. We've been effectively fighting that, and I have to say that as a result of our efforts there's been a reduction of dozens of percents, dozens, that means at least 24% in the Iranian forces in Syria, and as a result of American sanctions there's also been a similar reduction in the budgets that go there.
We've been acting against them in Syria, as you know. Against them, against the Iranian-backed militias, and no less important against their attempts to bring sophisticated weapons and systems for precision guidance into Lebanon, either precision guided missiles or the systems to convert statistical missiles into precision guided missiles. We're acting against it. So that's the first thing.
Hezbollah breaks down into two main arms. One, missiles, two, tunnels. On the missiles, the statistical missiles we have our means of dealing but what they're trying to do is develop precision guided weapons and we're acting against that in the various efforts that we've blocked the transfer of these systems, not hermetically. Nasrallah planned to have by now thousands of precision guided missiles, in fact he has a few dozen, and that's a result of the action that we do including the revelations that I revealed at the UN about their sites for conversion. Converting statistical missiles into precision guided missiles and basically knock them out. They're knocked out.
The other effort that they've been doing secretly is building terror tunnels into our territory. These terror tunnels are different from the ones of Hamas. They're similar but different. As you know, Hamas has been trying to do that. We have knocked out close to twenty and we're going to systematically eliminate that weapon there. I believe they have afforded you the opportunity, I think that many of you have already used it to visit one such tunnel, and I'm very glad to see that today the UN General Assembly is going to, I hope, for the first time, condemn Hamas for doing this.
Hezbollah is also doing this, but with a twist. What Hezbollah wants to do is to have broader tunnels. If you look at the Hamas tunnels, they're very narrow, basically for one person. The Hamas tunnels are broad. They enable several people to come at one and also to put motorcycles, I'm pretty sure tractors and so on. In order to bring in many forces, simultaneously, which means several battalions into our territory, with the purpose of cutting off communities here, towns, kibbutzim, and then going into a campaign of murder and kidnapping, which could happen simultaneously.
This is obviously a very powerful instrument in their war plan against Israel which they openly say, we want to destroy. We have found this now for several years and developed the technological and engineering capability to locate these tunnels and to neutralize them. We decided to act now, before this capacity, our capacity to identify and neutralize them matured, and it matured before their capacity, that would mature and they would have the option to do what I just described.
I want to spend time on the diplomatic and international repercussions of this. We asked for an urgent convening of the Security Council. The Secretary General told me that it would happen either at the end of this week or some time at the beginning of next week. We think that Hezbollah should be condemned forcefully and universally on this act of aggression. And again, this is a regime… This is an organization that openly says that their goal is to annihilate the State of Israel. They don't hide it any more than he Iranians do, because of course they're part and parcel of the same effort and the same ideology.
We think that there should be heightened sanctions on Hezbollah. We discussed this with the US Secretary of State Mike Pompeo and I think there will be efforts that will be presented to the international community. We think that Hezbollah should be designated in its entirety as a terror organization, which is what it is, and not make artificial splits between its supposed parts. Lebanon should be put on the list because they're saying nothing about this. They're allowing their territory to be used in an act of aggression against a neighboring state, and they allow their citizens to be used as pawns.
Essentially Hezbollah is putting Lebanon at risk, but Lebanon is saying nothing. They're not even protesting. And they should, and they should be told that they would pay the consequences, that they'll be held accountable for not even whispering a protest. They should be acting in every way possible to stop this. They're not.
These are the elements of the actions that we think should be taken with a view in mind that behind all this is of course Iran. There's no question about it. And Iran has essentially overtaken Lebanon through Hezbollah. It's trying to do the same in Syria. We are resisting it but I think the international community should resist it and condemn these clear acts of aggression.
Please convey to your governments what you see here and I think the obvious need to condemn unequivocally this aggression by Hezbollah and Iran and Lebanon that has to be accountable "
Prime Minister Netanyahu answered the ambassadors' questions.
Regarding the role of UNIFIL, the Prime Minister said:
"UNIFIL should expand its role, because evidently it's not been done. UNIFIL is supposed to monitor, at the very least monitor if not stop, the transfer of weapons into Lebanon, into south Lebanon. And you know there were 15,000 rockets and missiles at the end of the Second Lebanon War. There's about ten times that and we haven't seen a single case, a single filing of a complaint or report by UNIFIL.
The commander of UNIFIL has said that there was no recorded violation. Look at this tunnel. That's a clear act of recorded violation. We think UNIFIL should discharge its responsibility and actually do it with a much tougher approach and with a bigger force."
Regarding whether an escalation should be expected following the demolition of the tunnel, the Prime Minister said:
"We're going to destroy more. My goal was first of all to dismantle these terror tunnels without getting into broad escalation. We passed a clear message of what we're doing and so far I can't tell you that the risk of escalation doesn't exist but I don't think it's quite as… If you pass the first 24 or 48 hours, and we are there, without an escalation, I think the risk is much lower. It exists, we're ready, we're deployed, we're all ready to go if we have to, but I'm not sure that Hezbollah will make the terrible mistake of testing our resolve and our preparedness."
Regarding the stability of the situation in the south, the Prime Minister said:
"It's certainly more stable than it was before, because my goal there was to first get quiet and then see if we can have a longer term arrangement. The quiet was achieved, has been achieved but who knows how sustainable it would be. To achieve this quiet, we had to forcefully stop attempts by Hamas to invade our territory and attack our soldiers and our civilians. We did that. And also to take measures against their rocketing and so on of our towns and villages, communities next to Gaza. To do this we also had to account not only for the security but also how to prevent the humanitarian crisis that was exacerbated by Abu Mazen's decisions to withhold the funds. That created a big hole there. The big hole was first created by Hamas that was taking an enormous part of its budget for the terror tunnels, but what was left was taken by Abu Mazen, so that created a second hole, very deep hole, and somebody had to fill this hole. And in order to fill it from the humanitarian point of view, the sewage is flowing into Ashkelon and so on because no one is treating it, and other things that could break out.
So how to stop that? Somebody had to bring in the funds and given that other countries, that Hamas, that Abu Mazen wasn't going to do it and that other countries weren't going to do it, Qatar agreed to do it, at least momentarily, so we said fine, and we have put some controls that we didn't have under Abu Mazen on the funds. We give the list, of the people. They actually give to Qatar, and Qatar gives, passes on to us fingerprints, pictures, signatures so that the money doesn't just go into anyone. And that's where it is right now. Can we move from there to a long-term arrangement? I don't know.
What a long-term arrangement would deal with is not just a cease-fire and passages and fishing but also having first the return of our soldiers, the bodies of our soldiers, and our civilians, the development of basic facilities, basic infrastructure in Gaza and a possible sea lane monitored by us from Cyprus to Gaza. I don't know if we'll get to that. We'll see if the first part holds. Then we'll see if we can get to the second part."
Regarding relations with the residents of Metula and their concerns about the tunnels, the Prime Minister said:
"We were hearing from communities all alongside the Lebanese border, they're building tunnels, we don't know, they're coming under our homes. Now we're telling them we do know. They must sigh a great sigh of relief because they see that we're handling this matter just as we dismantled it in Gaza. And so we've moved. I think there's one other point. You're going to hear from Hezbollah today that Israel is the aggressive power and so on, and Israel is flying over Lebanon. So the answer is, first of all, we're not the aggressive power, we didn't say that we want to destroy Lebanon and this is not, our life's goal is not to eradicate the people of Lebanon off the face of the earth. But that's the goal of Hezbollah vis-à-vis the Jewish State of Israel. They say the whole thing. The second point is that we have a perfect right of preemptive self-defense to survey and collect intelligence against those who openly declare their goal to destroy us, and we do so. But what they're doing is actually invading our ground, our territory. That's what they're doing and you can't make a false symmetry between these two things."
The following ambassadors were in attendance: Emanele Giaufret – European Union, Anatoly Vikrorov – Russia, David Quarrey – Great Britain, Helene Le Gal – France, Deborah A. Lyons – Canada, Martin Weiss – Austria, Christopher Keith Cannan – Australia, Gianluigi Benedetti – Italy, Tsegay Berhe Hadera – Ethiopia, Paulo Vasconcellos – Brazil, Benko Levente Csongor – Hungary, Vhanga Patrice Koffi – Ivory Coast, Pablo Macedo – Mexico, Peter Hulenyi – Slovakia and Marek Grzegorz Magierowski – Poland.
Photo
Prime Minister Netanyahu at the at the Defense Ministry in Tel Aviv. Photo: GPO/Amos Ben Gershom