Details

Written by

Silvia G Golan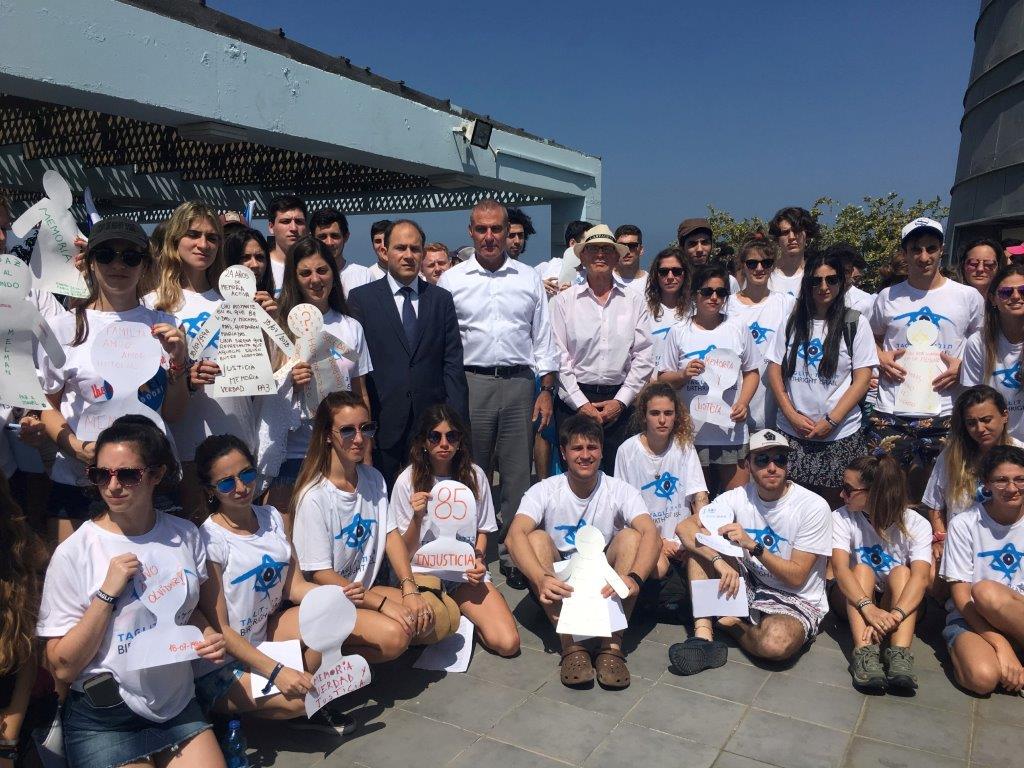 "Let's ask for justice and keep remembering the victims", said Mariano Agustín Caucino, Ambassador of the Argentine Republic, today at the Taglit-Birthright Israel memorial ceremony in Israel.
24 years ago, on July 18, 1994, at 9:53 am, a suicide bomber blew up a car in the heart of Buenos Aires, at the Jewish community building in Argentina - AMIA; (Argentine Israelite Mutual Association). 85 people were murdered and 330 injured.
In solidarity with that terror attack, today at the same date, the same hour, Taglit-Birthright Israel participants from Argentina organized a memorial ceremony in Tel-Aviv. The ceremony was held in the presence of the Ambassador of the Argentine Republic in Israel, Dn. Mariano Agustín Caucino, Taglit-Birthright Israel International CEO, Gidi Mark and Vice President in Latin America, Lic. Jorge Zak.
Dn. Mariano Agustín Caucino, Ambassador of the Argentine Republic in Israel said: "Let's ask for justice and keep remembering the victims! As an ambassador, I learn some important things from this country, how wonderful life is and how important it is to remember the history of Jews around the world. The AMIA bombing was against humanity, the Argentinean people and the Jewish community living within it. Innocent people died, people who worked there, people who were just walked by, we could all have been one of them, too. Remember the horror but also celebrate our lives."
Jorge Zak, VP of Taglit-Birthright Israel in Latin America and an employee of AMIA at that time, who lost many friends in the bombing shared: "We need to talk and remember what happened because this open wound has yet to close. The murderers guilty for this bombing are still free, it has not been solved yet. We need justice for these people that have been cruelly murdered so they can rest in peace".
Gidi Mark, International CEO of Taglit-Birthright Israel said:" The core values of Jewish life are relevant to our event today – first our belief in life. Judaism tells us that we need to celebrate life. I hope that during your time in Israel you will see that people here are always full of life. The second value is our need to always remember because if you are not connected to the past you will never be connected to the future. We need to stop and remember what happened and try to do everything we can in order to prevent such events in the future. These days make us remember that we are all one big family."
The AMIA incident is remembered in the history of Argentina as the most destructive act of terrorism the country ever experienced, and which has united Argentina with Israel in mourning and in constant demand for justice for the victims. To this day, the investigation of the terrorist organizations behind the attack has not yet been completed and no response has been taken. The Jewish community in Argentina is waiting for justice to be served and raise awareness to the topic every year at a demonstration of thousands held on the day of the attack.
Photo PR
Details

Written by

Prime Minister's Media Adviser
Prime Minister Benjamin Netanyahu, this morning (Monday, 16 July 2018), in Sderot, met with local council heads from the area adjacent to the Gaza Strip* and made the following remarks at the end of the meeting:
"I have just finished an excellent meeting with the heads of councils in the area adjacent to the Gaza Strip. I told them that we are in a prolonged struggle.
Just as we are now completing the blocking of the tunnels and as we took action and succeeded in stopping the mass storming of the fences, I have directed the IDF to defeat and stop the terror of incendiary kites and balloons, and we are in the midst of the process.
It is important that Hamas understands that it faces an iron wall and this wall is comprised, first of all, of a determined government, of strong local leadership and Zionist settlement, and that we will continue to strengthen it and – of course – the IDF.
We are proud of them and I am proud of the marvelous local residents who are facing difficult days. But I am convinced of our common strength to rebuff, deter and, in the end, defeat this Gaza-based terror."
From Prime Minister Netanyahu's answers to questions:
"I was just in a kindergarten where I saw small adorable children. We are committed to them and this is a continuous process. I do not want to tell anybody that it is over.
The day before yesterday we took very strong action against Hamas and dealt it the strongest blow it has taken since Operation Protective Edge. It must be understood that whoever asks me these questions needs to be prepared for the continuation of the struggle.
There is an exchange of blows here. It is not over in one go and I cannot comfort those who have taken the most difficult losses. This is very hard to take, but we know that we are in a prolonged Zionist struggle.
For 100 years we have been fighting terror; we fight it forcefully. This place right now is the confrontation line between Islamic terrorism and the state of the Jews and we are determined to win. This entails an exchange of blows which are not yet over."
From Prime Minister Netanyahu's answer to a question about the kites:
"Indeed we have instructed the IDF to stop this. We do not accept, I said this yesterday as clearly as possible and it is worth their while to listen to me, especially on the other side, there is no such thing from our perspective of a ceasefire that makes an exception for incendiary kites and balloons. There is no such thing. From our point-of-view, this does not exist and therefore we are in the midst of a process. I will say this for the seventh time and it will, I hope, get through. But if it will not be understood from my words, it will be understood through the actions of the IDF."
* Attending the meeting were Sderot Mayor Alon Davidi, Shaar Hanegev Regional Council Chairman Alon Shuster, Sdot Negev Regional Council Chairman Tamir Idan, Eshkol Regional Council Chairman Gadi Yarkoni and Hof Ashkelon Regional Council Chairman Yair Ferjon.
Photo credit: Haim Zach (GPO)
Details

Written by

President's Spokesperson's Office
As Israel began celebrations marking the country's 70th Independence Day, President Rivlin issued the following greeting to Jewish communities and supporters of Israel around the world.
Details

Written by

Silvia G Golan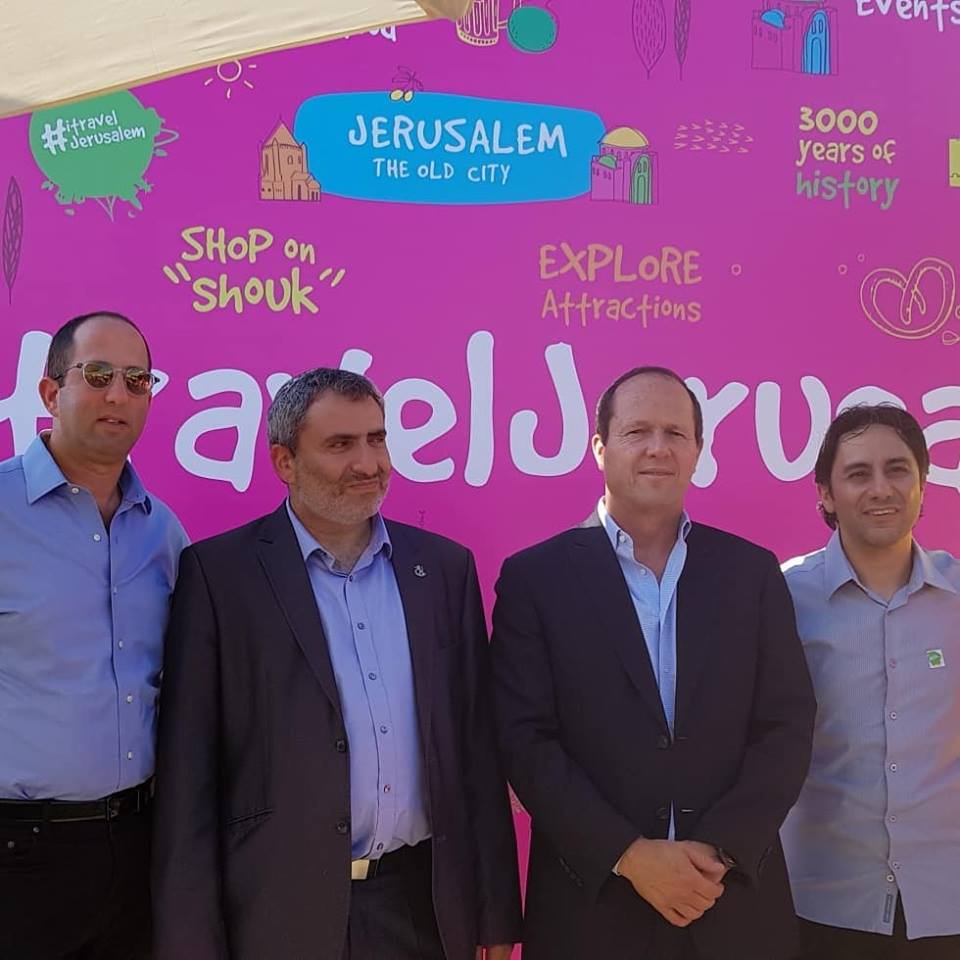 New services by The Jerusalem Development Authority including a new city pass that offers a bus service from the airport to Jerusalem, free inner-city public transportation and discounts at the city's attractions and museums; the JDA placed Colorful information trucks around the city that also offer cell phone recharging and refreshments
The Jerusalem Development Authority (JDA) launches a series of services to make the city more accessible and convenient for tourists. The goal of the new services, which will be available for tourists arriving in the Israeli Capital this summer, is to put Jerusalem in line with other major cities around the world like London, Paris, New York, and others. The JDA puts extra effort into promoting Jerusalem as the next hot destination for tourists, from Europe and lately even started to focus also on the Chinese market. JDA in cooperation with OTIPASS launched the - "Jerusalem City Pass" a ticket purchased before the arrival in Israel, makes landing in Israel easier and more welcoming. The pass is valid for a whole week and may be used to save the time spent on small payments and standing in lines, as well as offering discounts for main attractions in the city. Employees in uniform at the "Itraveljerusalem" stand will greet the tourists arriving in Israel at the airport. They will validate the ticket and supply any information required.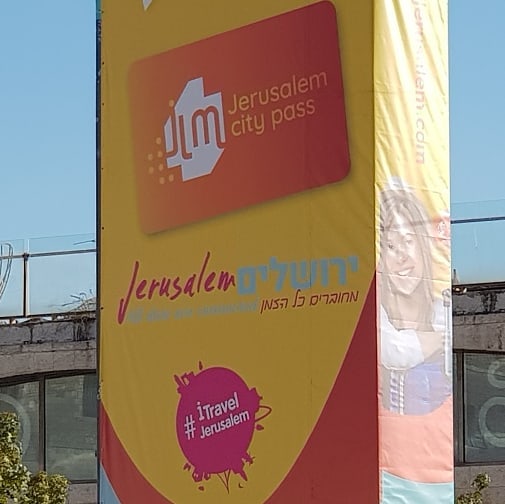 The "Jerusalem City Pass" includes a free bus service from the airport to Jerusalem. The attendants in the "Itraveljerusalem" stand will direct the tourists interested in arriving in Jerusalem to a branded bus with free Wi-Fi that travels directly to Jerusalem, with no extra charge. Before arriving in the city, the travelers on the bus will be able to see the "Itraveljerusalem" webpage and to receive updates on events in the city in the coming days. The "Itraveljerusalem" website is available in six different languages and has more than 5 million visits every year. Furthermore, the inner city public transportation, including buses and the light rail, will be available for a whole week with no surcharge for tourists who have purchased the "Jerusalem City Pass" in advance.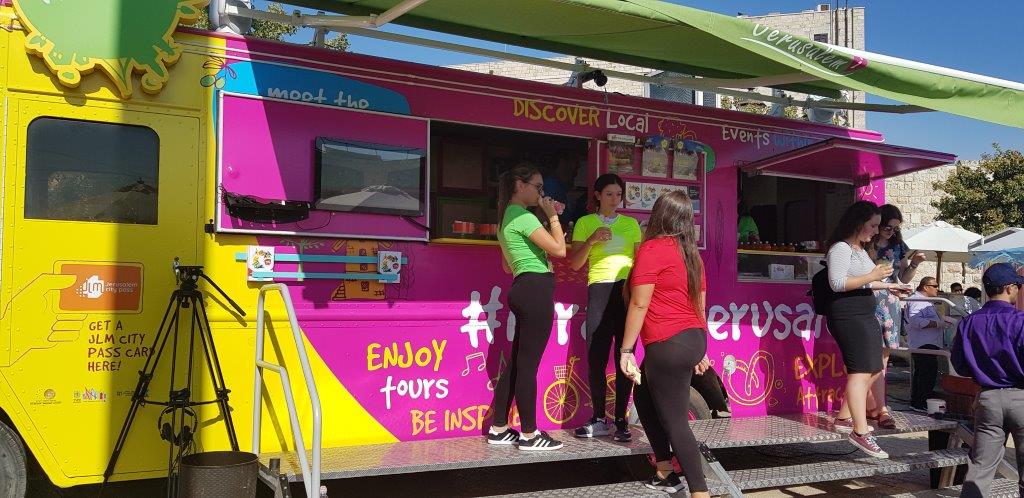 As part of its initiative to make the city more accessible, The Jerusalem Development Authority will station huge colorful trucks in the Jaffa gate and the "Machne Yehuda" market. In the trucks, the visitors will get all the information needed and more on tourist attractions, art, cultural events, the culinary scene and historical sites. The trucks will have free Wi-Fi, an option to recharge cell phones and have a cool and refreshing drink. All this will make Jerusalem the new desirable destination for tourism around the world.
Ilanit Melchior, Tourism Director of The Jerusalem Development Authority: "The city has experienced an immense growth and performed an actual leap into modernity in a way that cannot be ignored. For example, today, there are 20,000 hotel's rooms in Jerusalem including boutique hotels, hostels for millennials and international well-known marks. There has been a 47% percent increase in the number of overnights stays from incoming tourism and the conferences tourism increased times five. These new services will offer great help for tourists and will make 'all dots connect' in Jerusalem. As part of this concept, we also plan on adding a free of charge Wi-Fi service across the city in the near future. All these make the tourist feel comfortable before and during his visit to Jerusalem and not just provide him with a soft landing, but also the feeling that he is being looked after".
Philippe Rousselet chairman and founder of OTIPASS "Otipass is very honored to have to be chosen by Jerusalem and we are very impatient to put our technological solution and our expertise at the service of the promotion of a so wonderful territory".
Photos by Silvia Golan
Details

Written by

http://www.avivshoa.co.il
The annual march held by Aviv for Holocaust Survivors is aimed at showing solidarity with Holocaust survivors, remember the heroes who survived, lend them a hand, and raise awareness of their rights
The march will begin with a ceremony at Habimah Square featuring Rabbi Shai Piron, Tel Aviv Deputy Mayor Mehereta Baruch-Ron, Holocaust survivor Daniel Shmukler, and singer Shai Gabso.
The march will be broadcast live through youtube
This year, Aviv for Holocaust Survivors will again hold its annual March for the Living (April 11, 5 PM) in Tel Aviv to show solidarity with Holocaust survivors, remember those who survived the inferno and are still living among us, extend to them a helping hand, and assist them in every way. The march will kick off with a ceremony at the Habimah Plaza, which will be led by Master of Ceremonies Uri Gottlieb, the actor who has served as MC five times in the past. Speakers will include Rabbi Shai Piron, Atty. Aviva Silberman, the founder and executive director of the NGO, Tel Aviv Deputy Mayor Mehereta Baruch-Ron, and Holocaust survivor Daniel Shmukler. Singer Shai Gabso will perform two of his songs. At the end of the ceremony, the hundreds of expected participants, young and old, will march along Rothschild Boulevard hand in hand with Holocaust survivors.
The march will be broadcast live through youtube: https://www.youtube.com/watch?v=G-BqIE0w9Ek
Atty. Aviva Silberman, the founder and executive director of the Aviv for Holocaust Survivors: "About 200,000 Holocaust survivors are still with us, heroes who survived the worst the human mind can imagine. On Holocaust Remembrance Day, all of us commune with the memory of those who died in the Shoah, while on the eve of that day Aviv for Holocaust Survivors invites you to march hand in hand with Holocaust survivors in our March for the Living to show solidarity, lend them a helping hand, and assist them in every way possible. This is the time to come to their aid!"
This week, Aviv for Holocaust Survivors launched its campaign "Sourcing Survivors," a unique attempt to identify Holocaust survivors who have not yet realized their rights in conjunction with the crowdfunding site Mimoona. The public is called on to go to the campaign page at mimoona.co.il or google "sourcing Holocaust survivors at Mimoona" and refer survivors to Aviv for free, professional help in realizing their rights and benefits in Israel and from the world.
Aviv for Holocaust Survivors is a nonprofit association that specializes in realizing Holocaust survivors' rights and benefits to which they are legally entitled, absolutely free of charge. These benefits can mean the difference between a life in poverty and a life of dignity and physical wellbeing. Aviv helps Holocaust survivors by providing them with attorneys who specialize in survivors' rights, staffing a hotline 24/7, maintaining Rights Sites – Holocaust survivors' consultation centers – in conjunction with local government, and making help available to survivors in their homes. Aviv also provides professional training to office-holders who come into contact with survivors so that they, too, can help identifying those in need of help. All of the NGO's services are provided free of charge. Over the last ten years, Aviv has helped more than 60,000 survivors realize their benefits and receive pensions worth a total of over NIS 350 million. For assistance or to give a donation, contact Aviv through www.avivshoa.co.il or call 072-242-4404.
Photo Omri Gal