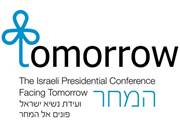 June 20, 2012 – Jerusalem, Israel – Jacob Frankel, Chairman of JP Morgan Chase International led a panel of economic experts including former Peruvian President Alejandro Toledo, President of the Global Markets Institute and Senior Investment Strategist at Goldman Sachs, Abby Joseph-Cohen, Chairman of Bank Hapoalim, Yair Seroussi and Dr. Jacques Attali in analyzing the current state of the world economy.
"We are facing a huge challenge worldwide with enormous potential for growth," said Attali. "Even with the 2008 financial crisis, the world is growing faster now than in any other period of time in history. However, in Europe specifically, we need to move from techno-federalism to a political federalism model like in the U.S., this will avoid collapse of the Euro."
While the panelists predominately focused on the current financial situation in Europe and the U.S., there was significant commentary praising the policies of several developing countries.
"We are living in a new world and while there is broad consensus that the U.S. and Europe are not in good shape financially, there is optimism about the emerging markets in Latin America and Asia," said Frenkel. "Fifteen years ago, Latin America was defined by crisis and corruption, now it's a major engine for change in the financial world."
"Latin America is no longer the problem, it is part of the solution," said Toledo. "Peru has grown between 8-9% in the last 10 years. We have a lot of money but we are not currently using it in the qualitative sense, investing in education, renewable energy, etc. like Israel continues to do. Israelis should feel proud of what they have done in 64 years."
Commenting on Israel's financial state, Chairman of Bank Hapoalim, Yair Seroussi predicted that "we can still grow Israel's economy through budgets without lowering interest rates for a prolonged period like the U.S. has done. Hi-tech will continue to be major force of growth and attract investors in the country."
Facing Tomorrow 2012, the fourth annual Conference under the auspices of the President of the State of Israel, Mr. Shimon Peres, is taking place in Jerusalem from June 19-21, 2012, and will take place at Jerusalem's International Convention Center. The conference is organized in partnership with Hebrew University.
# # #
About Facing Tomorrow 2012
The Fourth Israel Presidential Conference 'Facing Tomorrow' will be held from June 19-21, 2012. The first presidential conference took place in May 2008, one week after Israel celebrated its 60th year of independence, and on the basis of its success became an annual event. Attended by more than 5,000 people from around the world, and dedicated to designing a better tomorrow, the conference is centered around discussions, panels and plenary sessions aimed at answering one question: how can we foster a better tomorrow for the international community, Israel and the Jewish world. For more information, please visit www.presidentconf.org.il.