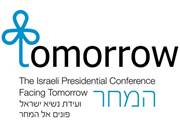 June 20, 2012 – Jerusalem, Israel – Kevin Steinberg, COO and Corporate Secretary of the World Economic Forum, led a panel of experts including James Turley, Chairman and CEO of Ernst & Young, and Pat Gelsinger, President and COO of the EMC Corporation, in which they highlighted challenges today's business leaders face and offered ideas for modern managers to deal with the these global challenges.
"Social, mobile, cloud, and big data technology forces are driving radical change and we are seeing much more emphasis on global teams who are driven by vision and motivation," said Gelsinger. "These changes are causing managers to think differently, to set a clear vision that motivates the global team and to know how to do it based on the environment and culture they are in."
"Teams will be more diverse than ever before and an inclusive leadership culture is vital to tomorrow's manager," said Turley. "Tomorrow's leaders will have to be more attuned to multiple stakeholders, not just shareholders, but also to employees and regulators, as the regulatory economy is only becoming more complicated."
He added that another challenge future managers will face is the need to "always be on", as everything is conducted in real time. Additionally, with the proliferation of social media and the instant visibility it brings, employees and managers feel added pressure to meet expectations.
Dr. Judith Richter, Founder and CEO of Medinol also participated in the panel, stressing the uniqueness of the Israeli business culture and the challenges that arise when businesses expand beyond the local borders, forcing managers to learn and adapt to new business cultures, specifically when it comes to intellectual property and various regulatory issues.
Facing Tomorrow 2012, the fourth annual Conference under the auspices of the President of the State of Israel, Mr. Shimon Peres, is taking place in Jerusalem from June 19-21, 2012, and will take place at Jerusalem's International Convention Center. The conference is organized in partnership with Hebrew University.
# # #
About Facing Tomorrow 2012
The Fourth Israel Presidential Conference 'Facing Tomorrow' will be held from June 19-21, 2012. The first presidential conference took place in May 2008, one week after Israel celebrated its 60th year of independence, and on the basis of its success became an annual event. Attended by more than 5,000 people from around the world, and dedicated to designing a better tomorrow, the conference is centered around discussions, panels and plenary sessions aimed at answering one question: how can we foster a better tomorrow for the international community, Israel and the Jewish world. For more information, please visit www.presidentconf.org.il.