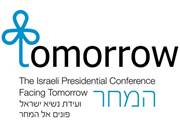 June 20, 2012 – Jerusalem, Israel – Peter Beinart, the former editor of The New Republic, and Abe Foxman, Director of the Anti-Defamation League, headlined a panel at the 2012 Israeli Presidential Conference that discussed the evolving relationship between Israel and World Jewry. They were joined by Pierre Besnainou, Chair of the Israel Diaspora Paradigm Committee, Alana Newhouse, Editor-in-Chief of Tablet Magazine, and Leon Wieseltier, literary editor of The New Republic.
The panel was highlighted by a heated debate over the status of relationship between Israel and World Jewry, and its ability to maintain its previous levels of closeness.
Beinart stated that the relationship is at risk of crisis largely because of a lack of willingness by the leadership of U.S. Jewry to deal openly and honestly with Israel. "What alienates young American Jews is the fact that they see Israelis criticizing Israeli policy, but they don't hear the same candor from American Jews."
Several panelists challenged Beinart's perception of a crisis, with Alana Newhouse warning of the consequences of "crying wolf," and worrying that the talk of an emergency could become "a self-fulfilling prophecy."
"My love and support for Israel is unconditional, it does not depend on the Israeli acceptance of my ideas," said Foxman, who was critical of Beinart's attacks on Israeli policy. "My Zionism is not in crisis because my Zionism is not conditioned on an idealized view of what I'd like Israel to be."
All panelists agreed that the Diaspora community needed to focus more on Jewish education and introducing young Jews to the importance of Israel, with Wieseltier lamenting U.S. Jewry's reliance on Israel for its Jewish identity.
"Israel was not created to relieve U.S. Jewry of the burden of creating its own identity," said Wieseltier. "In so far as the weakening affiliation is real, a moment of truth is arriving for American Jews and we can finally see what kind of Judaism U.S. Jewry is capable of."
Facing Tomorrow 2012, the fourth annual Conference under the auspices of the President of the State of Israel, Mr. Shimon Peres, is taking place in Jerusalem from June 19-21, 2012, and will take place at Jerusalem's International Convention Center. The conference is organized in partnership with Hebrew University.
# # #
About Facing Tomorrow 2012
The Fourth Israel Presidential Conference 'Facing Tomorrow' will be held from June 19-21, 2012. The first presidential conference took place in May 2008, one week after Israel celebrated its 60th year of independence, and on the basis of its success became an annual event. Attended by more than 5,000 people from around the world, and dedicated to designing a better tomorrow, the conference is centered around discussions, panels and plenary sessions aimed at answering one question: how can we foster a better tomorrow for the international community, Israel and the Jewish world. For more information, please visit
www.presidentconf.org.il
.