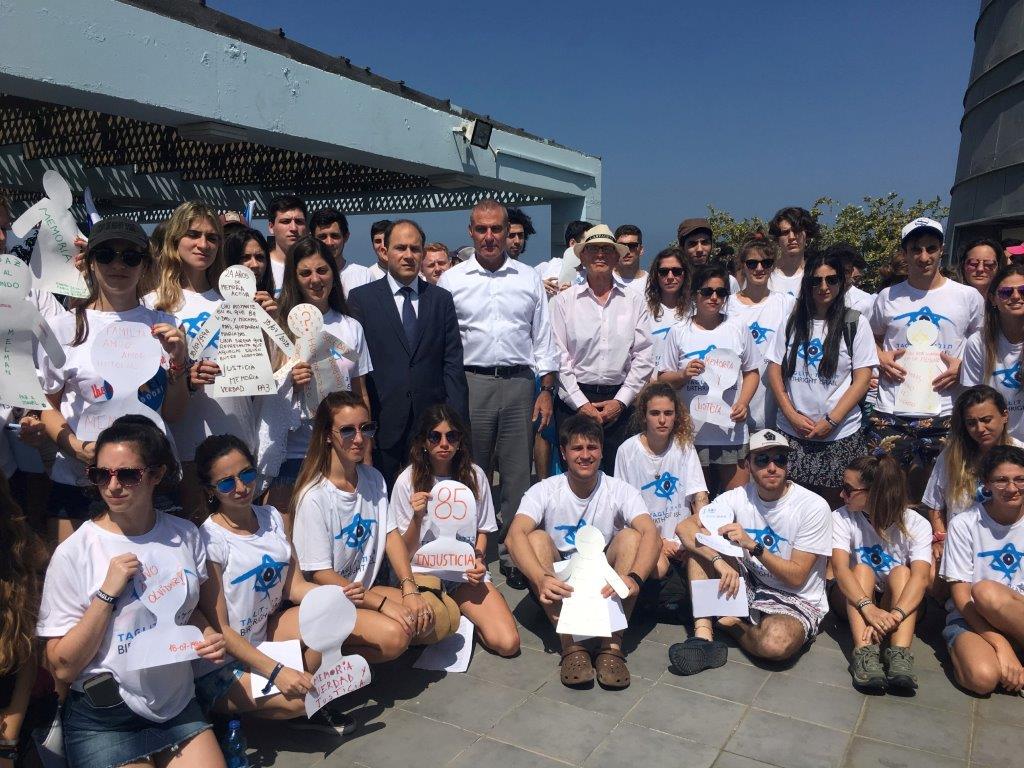 "Let's ask for justice and keep remembering the victims", said Mariano Agustín Caucino, Ambassador of the Argentine Republic, today at the Taglit-Birthright Israel memorial ceremony in Israel.
24 years ago, on July 18, 1994, at 9:53 am, a suicide bomber blew up a car in the heart of Buenos Aires, at the Jewish community building in Argentina - AMIA; (Argentine Israelite Mutual Association). 85 people were murdered and 330 injured.
In solidarity with that terror attack, today at the same date, the same hour, Taglit-Birthright Israel participants from Argentina organized a memorial ceremony in Tel-Aviv. The ceremony was held in the presence of the Ambassador of the Argentine Republic in Israel, Dn. Mariano Agustín Caucino, Taglit-Birthright Israel International CEO, Gidi Mark and Vice President in Latin America, Lic. Jorge Zak.
Dn. Mariano Agustín Caucino, Ambassador of the Argentine Republic in Israel said: "Let's ask for justice and keep remembering the victims! As an ambassador, I learn some important things from this country, how wonderful life is and how important it is to remember the history of Jews around the world. The AMIA bombing was against humanity, the Argentinean people and the Jewish community living within it. Innocent people died, people who worked there, people who were just walked by, we could all have been one of them, too. Remember the horror but also celebrate our lives."
Jorge Zak, VP of Taglit-Birthright Israel in Latin America and an employee of AMIA at that time, who lost many friends in the bombing shared: "We need to talk and remember what happened because this open wound has yet to close. The murderers guilty for this bombing are still free, it has not been solved yet. We need justice for these people that have been cruelly murdered so they can rest in peace".
Gidi Mark, International CEO of Taglit-Birthright Israel said:" The core values of Jewish life are relevant to our event today – first our belief in life. Judaism tells us that we need to celebrate life. I hope that during your time in Israel you will see that people here are always full of life. The second value is our need to always remember because if you are not connected to the past you will never be connected to the future. We need to stop and remember what happened and try to do everything we can in order to prevent such events in the future. These days make us remember that we are all one big family."
The AMIA incident is remembered in the history of Argentina as the most destructive act of terrorism the country ever experienced, and which has united Argentina with Israel in mourning and in constant demand for justice for the victims. To this day, the investigation of the terrorist organizations behind the attack has not yet been completed and no response has been taken. The Jewish community in Argentina is waiting for justice to be served and raise awareness to the topic every year at a demonstration of thousands held on the day of the attack.
Photo PR