An unforgettable concert was held at Enav Cultural Center in Tel Aviv in honour of the Bulgarian Day of the National Leaders.

The event, a Bulgarian holiday usually celebrated on 1st of November, took place in Israel, on Tuesday, 5 November 2019 , under the auspices of the Embassy of the Republic of Bulgaria to the State of Israel, and the Bulgarian Cultural Center in Israel.
This special day in Bulgaria honours the work of Bulgarian leaders who have enlightened and revolutionized Bulgaria's national spirit, her values, and the pursuit of education and literature. These leaders have created and preserved the spiritual values of the nation.
The event also paid tribute to the brave actions of gentile Bulgarian Righteous Among the Nations who risked their lives to save Jews during the Holocaust. An extensive list of clergy and lay Bulgarian citizens was presented, describing their life-saving actions.
The entertainment consisted of a wonderful, mesmerizing concert by The Wladigeroff Trio. All three are members of the Wladigeroff family: Ekaterina on the piano, Alexander on the clarinet and piano, and Konstantin on the trumpet, flugelhorn and hand-percussion, and they all sing as well. They were born in Sofia to the family of the eminent choir-master and composer Alexander P. Wladigeroff.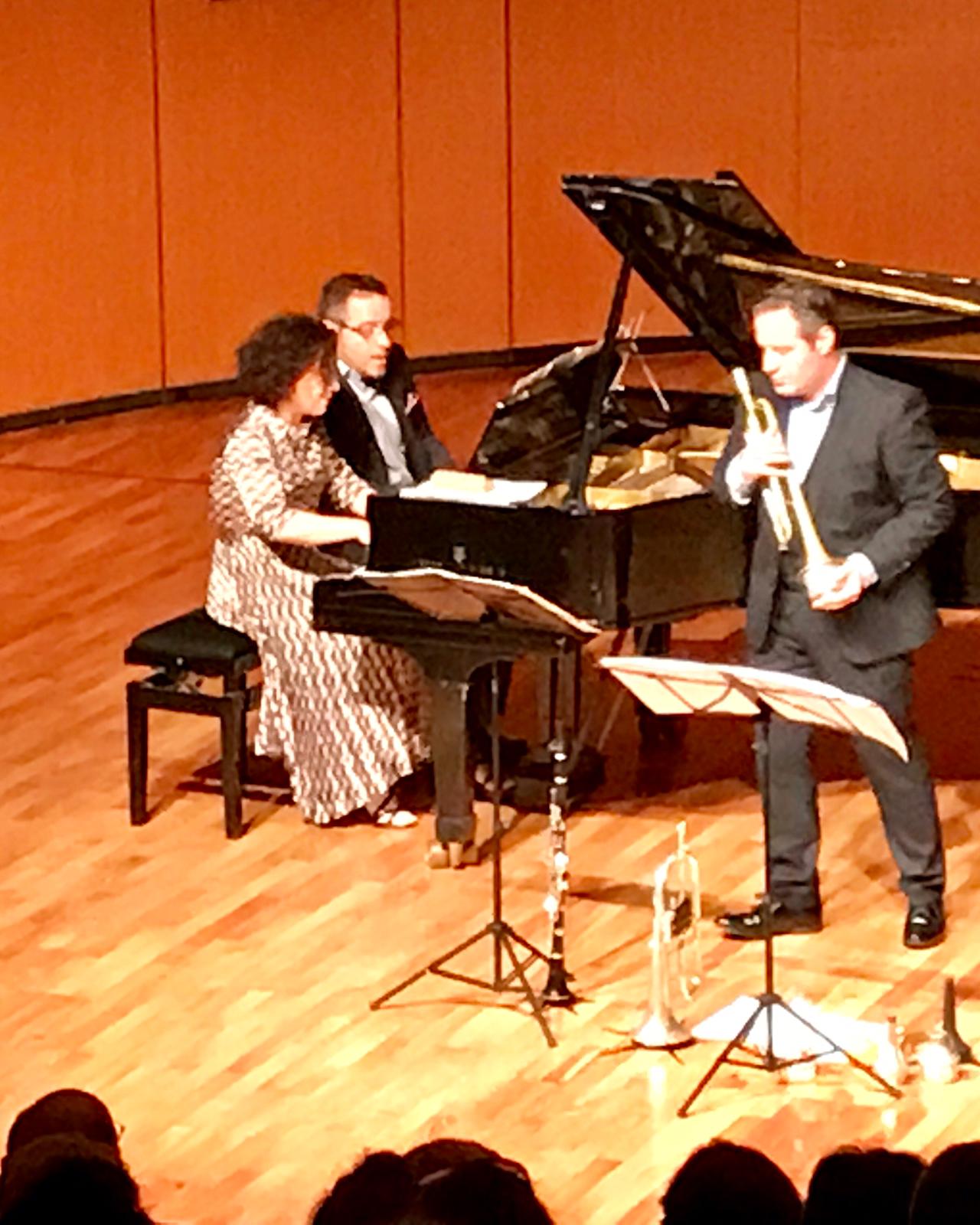 The three have graduated from the National Academy of Music "Pancho Wledigeroff" in Sofia, as well as from the University of Music and Stage Art in Vienna. For over ten years now they have lived and worked in Vienna. Their projects showcase the tradition of music in the Wladigeroff ffamily and its development over three generations. In addition to the classic works written by their genius grandfather, professor Pancho Wladigeroff (1899-1978), their repertoire included works from his Berlin's period, which are considered as some of the first Jazz works in Bulgarian music.
Among the musical pieces that the trio performed were a brilliant foxtrot jazz piece from Berlin, a variations on a Jewish musical theme, a three-movements ("watercolours") work that ended with a melancholy movement and then a contrasting feisty dance. The trio performed also a rare arrangement for the familiar Hora Staccato and then a masterpiece of a medley that included tunes from Beethoven's Ode to Joy from the ninth symphony, and Ravel's Bolero.
The audience went crazy with enthusiastic applause that left no choice for the Trio, but to come back with an encore. They came back on stage with a Klezmer style piece playing intricate variations, with various muffled trumpet sounds, and Konstantin playing both, the trumpet and the flugelhorn simultaneously (!), as Alexander was strumming the piano strings with his fingers.
The audience was swept along with the trio, singing and clapping in a true celebration.

In attendance were Ambassadors , representatives of the Israeli Ministry of Foreign Affairs, as well as all the leaders of the Bulgarian Jews organizations in Israel.
Photos by David Goland and George Prajza