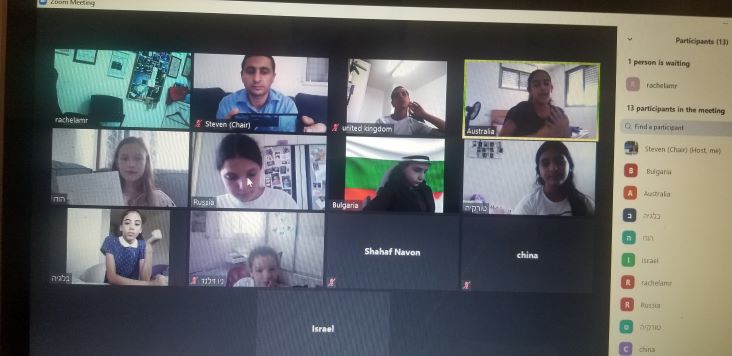 The global reaction to Covid-19 has forced changes in all aspects of life, from diplomacy to education. But every challenge is an opportunity. On June 29, 2020, as the academic year ground to a halt for most elementary school students in Israel, some young leaders were practicing their diplomatic schools in a historic Zoom conference. The Young Ambassadors ZoomMUN, on Monday morning June 29, marked the first ever online MUN conference for elementary school students in Israeli history, featuring 15 intrepid young leaders from the Young Ambassador leadership program in Petah Tiqva.
The conference theme was "Racism: Global and Local Challenges and Solutions". Representing countries such as Australia, China, Israel, New Zealand, and Turkey, the young delegates addressed various forms of racism, xenophobia and discrimination impacting communities around the world, with their socio-economic and personal impacts.
After Mrs. Rachel Amrani, the Director of the Young Ambassadors school gave opening remarks, the delegates began with their own opening statements. Several hours of moderated and unmoderated caucuses followed, until the students had a written text to present which included a number of concrete policy suggestions for how to effectively address the challenges of racism.
After an intense three hours of fruitful debate, the delegates voted on and passed these suggestions as their committee resolution. The final resolution included components calling for educational games for youth, workshops for adults, increased gun control, and stronger deterrence against racism. Koren Polak, representing Belgium, and Liya Roitman, representing India, were chosen Outstanding Delegates, and Rotem Getraide, representing Bulgaria, received the Best Delegate award.
Alma Plot (India), a fifth-grader from Bar Lev elementary school told Diplomacy.co.il that that conference was "very interesting, and I learned many new things", and that she enjoyed interacting with her peers. Yonatan Tavor (United Kingdom) added that he had especially enjoyed the discourse with students with different perspectives.
Director of the School of Young Ambassadors Mrs. Rachel Amani explained that the MUN project is just one pillar of the diverse activities of the Municipality of Petah Tikva for outstanding students. It reflects the aspiration of the Municipality of Petah Tikva for excellence in education, and to offer a global, critical-reasoning focused education paradigm to broaden the horizons of tomorrow's leaders.
During the year the Chen School for Young Ambassadors offers a wide variety of frontal lectures, simulations and workshops for youth leadership and empowerment. In the past few months, many of these programs have been moved online to accommodate Ministry of Health requirements.
This summer the Young Ambassadors school will be offering a special leadership module "diplomatic summer camp" for grades 5-7, including courses in international relations, leadership, civics, and global problem-solving. For more information on this or the other youth empowerment programs, please contact the Young Ambassadors school at: 03-6137554.
Steven Aiello
Founder--DebateforPeace
Photos by Debate for Peace