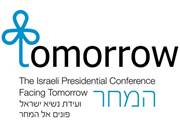 June 21, 2012 – JERUSALEM, Israel – Israeli President Shimon Peres headlined the opening panel of Facing Tomorrow's final day, a session that analyzed the collective ability to improve decision-making by learning from past mistakes. The President was joined by Dr. David Agus, Director of the Center for Applied Molecular Medicine at the University of Southern California, and Nobel Prize Laureate in Economics Daniel Kahneman. The panel also included Harvard Professors James Sebenius and Michael Sandel.
"If everyone in the U.S. over 40 took a baby aspirin a day, we would save over $90 billion a year in healthcare costs," said Agus, who then pointed out that "There is yet to be a study in history showing any benefit to any multivitamin or calcium supplements."
Agus and the other panelists agreed that the key to learning from past mistakes is to take a fresh look. He discussed the novel, platinum-based treatment undergone by Lance Armstrong that ultimately led to curing him of cancer, as an important illustration of the medical community's relative ignorance about treatments in general.
Sandel suggested that we are living in a generation with too high a focus on markets and money, without even knowing the impact of, for example, cash incentives in education.
"A market society is a place where almost everything is up for sale. It's a way of life in which market values invade almost every aspect of life," said Sandel. "In many major US cities, they are trying to lift up the academic achievement from poor backgrounds by offering cash incentives for higher grades."
Sebenios echoed the importance of full understanding in discussing the area of successful negotiation. He said many times, negotiations are about understanding the internal pressures that are being felt by the individual parties, and the impact of not coming to an agreement, which in some cases is the goal of the other side.
"If I look at the nuclear negotiations with Iran," said Sebanios, "(there are) lots and lots of process suggestions, when (with) the hardline regime in Iran, if its objective was nuclear weapons, a no-deal option may be more effective than negotiations."
Facing Tomorrow 2012, the fourth annual Conference under the auspices of the President of the State of Israel, Mr. Shimon Peres, is taking place in Jerusalem from June 19-21, 2012, at Jerusalem's International Convention Center. The conference is organized in partnership with Hebrew University.
# # #
About Facing Tomorrow 2012
The Fourth Israel Presidential Conference 'Facing Tomorrow' is being held from June 19-21, 2012. The first presidential conference took place in May 2008, one week after Israel celebrated its 60th year of independence, and on the basis of its success became an annual event. Attended by more than 5,000 people from around the world, and dedicated to designing a better tomorrow, the conference is centered around discussions, panels and plenary sessions aimed at answering one question: how can we foster a better tomorrow for the international community, Israel and the Jewish world. For more information, please visit www.presidentconf.org.il.