Politics
Details

Written by

British Embassy Israel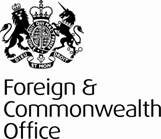 The UK's Foreign Office Minister for the Middle East Alistair Burt kicked off a coexistence football project in Jerusalem today. The Minister was joined by the English FA's Chairman, David Bernstein, the former captain of the Israeli national football team, Avi Nimni, and the British Ambassador to Israel, Matthew Gould.
The event brought together Arab and Jewish Israeli and Palestinian children for a football game in southwest Jerusalem through the Neighbourhood League organisation. The Neighbourhood League is a sporting organisation which aims to improve the quality of life through football and education for children from Jewish, Arab and Palestinian communities.
The Minister joined the children in a football match. For most of the participants, it was a chance to play with children from other backgrounds that they would not ordinarily meet.
Commenting on the event, the Minister said:
"We have ambitious plans to launch a coexistence project in Israel working closely with the FA. We want to use football as a tool to bring together Arab and Jewish Israelis, and Palestinians, closer together. We are determined to give children the skills they need to become better footballers, while fulfilling an educational role and advancing the core values of living in peace and having respect for each other."
David Bernstein, Chairman of The FA said: "The FA fully supports projects such as we have seen today which encourage integration and social inclusion through football.

"We endorse the initiative of the Foreign & Commonwealth Office and its Embassy here in Israel in engaging with football experts and local communities to give children from all backgrounds the opportunity to come together through the shared values of our sport".
Details

Written by

Prime Minister's Media Adviser
Prime Minister Benjamin Netanyahu, today (Thursday, 13 June 2013), made the following remarks at the dedication ceremony for the permanent pavilion at Block 27 at Auschwitz-Birkenau
"The leaders of the Allies knew about the Holocaust in real time. They understood exactly what was happening in the death camps. They were asked to act, they could have acted, and they did not. To we Jews the lesson is clear. We must not be complacent in the face of threats of annihilation. We must not bury our heads in the sand or allow others to do the work for us.
Details

Written by

Prime Minister's Media Adviser
Following are excerpts from Prime Minister Benjamin Netanyahu's remarks today (Wednesday, 12 June 2013), at the inter-governmental consultations in Poland:

"I want peace. To achieve peace, we must negotiate peace. We want to see this American effort succeed. Israel is ready for the resumption of direct negotiations for peace without pre-conditions. I think it is time to stop squabbling over preconditions. I think it's time to stop negotiating about the negotiations. I think we have to start peace talks immediately. My goal is to see a historic compromise that ends the conflict between Israelis and Palestinians once and for all. This will entail a demilitarized Palestinian state that recognizes the Jewish state, with iron clad security arrangements for Israel – recognition, security, demilitarization. I believe that these are the elements for peace. I don't pose them as preconditions for negotiations. I look forward to enter those negotiations without preconditions without delay. I am ready for such a peace. I hope the Palestinians are ready too.
Details

Written by

European Union
Reports have appeared in recent days in the Israeli media suggesting that the European Union took a decision earlier this month not to list Hezbollah as a terrorist organisation.
These reports are not founded on fact. No such decision has been taken. Discussions are continuing between the EU Member States on the issue of listing Hezbollah. Any decision requires the unanimous support of all EU Member States.
Details

Written by

EU Delegation to Israel
Israeli and German environment ministries to work together on preparing new legislation for integrated pollution prevention and control
The ​Ministry of Environmental Protection's goal of drafting a "green licensing law" will receive a significant boost by means of an EU-funded "Twinning" project to be officially launched today in Jaffa Port.