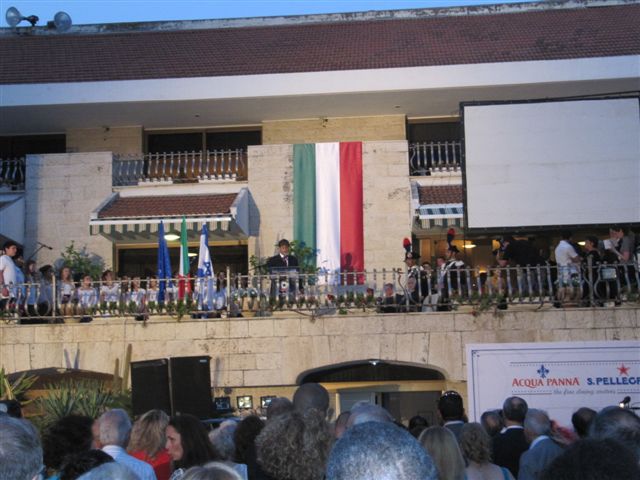 On Sunday evening 2nd June the Italian Ambassador to Israel, His Excellency Francesco M. Taló and his gracious wife Ornella hosted a gala cocktail party at their beautiful Ramat Gan residence in honor of the Italian National Day. The cream of Israeli political, economic and cultural society, together with many Italian residents of Israel mingled on the lawns around the beautiful azure pool.
In true Italian tradition an array of delectable dishes was served to the guests, with the emphasis on Italy: Italian ice creams, snacks, pizza, eggplant lasagna (meatless and delizioso) with chunks of specially imported parmigan cheese, not to mention chilled Italian apperitivi, wines and other beverages to keep the guests cool and happy on the rather hot day.
Italy is known for its creative design and science, and the Ambassador arranged that the guests would have a sense of the "real" Italy, with a number of appropriate displays around the garden. The centerpiece of the evening was Ambassador Taló's speech of welcome to the guests, which was preceded by beautiful renderings of the national anthems of Italy, the EU and Israel by the Ironi Aleph School Choir. The Ambassador opened his speech in Hebrew, and continued in English to welcome and thank the guests, particularly mentioning guests of honor Shimon Peres, President of Israel, MK Silvan Shalom, Minister of Energy & Water and Piero Fasino, Mayor of Turin. The Ambassador stressed the long-standing close ties and friendship enjoyed by Italy and Israel and in particular, the very high regard in which the Italian people hold President Peres. "Invest in the future" was the main theme of the speech, a fitting slogan for the cultural, scientific and economic ties between the two states.
In his response, President Peres congratulated the Ambassador and the Republic of Italy, and expressed his gratitude for the warm and strong ties between Italy and Israel. President Peres spoke of his own love of Italy, its natural beauty, its culture, its architecture and more. In particular he made extensive mention of the Italian-Jewish Nobel Prize laureate Dr. Rita Levi-Montalcini and her contribution to scientific and technological relations – an achievement for all of Italy. "She has poor eyesight, but she never lost her ability to see humanity and the future", said the President. President Peres concluded with: "God bless Italy".
Guests were later entertained to a much-appreciated musical presentation by singer and performer Achinoam Nini, who had represented Israel at the Eurovision Song Contest in 2009.
"Bravissimo! Viva Italia".
photos Silvia G.Golan