The British Embassy in Tel Aviv held on Monday evening 3rd June a reception in honour of Her Majesty's The Queen 87th Birthday. This year, the annual event was held at Weizmann Institute of Science in Rehovot to celebrate and honour scientific relations between the two countries.
The reception was held in the presence of Israeli President Shimon Peres who came to raise a glass and gave toast in honour of her majesty. Among the guests that arrived to celebrate the Queen's birthday were US Ambassador Dan Shapiro, Tel Aviv Chief Rabbi Lau, Pinchas Buchris, Danny Gilerman, Moshe Arens, and Shlomo Ben Zvi.
During the event, Ambassador Matthew Gould announced ten new research fellowships within the BIRAX framework. The fellowships will be given to excelling British-Israeli researchers in the regenerative medicine. The scholarships will enable the recipients to deepen their research in the regenerative medicine field, learn new techniques, strengthen the existing scientific collaborations and establish new ones.

















Young scientists from Israel and the UK presented an exhibition showcasing seven new ground-breaking research collaborations between the UK and Israel in regenerative medicine which were awarded grants through the BIRAX Regenerative Medicine Initiative last year. The exhibition demonstrates the potential of these projects to find cures for diseases by working together.
For one night, Haim Weizmann House transformed into a traditional British garden; the guests also enjoyed traditional British food such as fish and chips, scones, roast beef and coronation chicken and listened to a string quartet.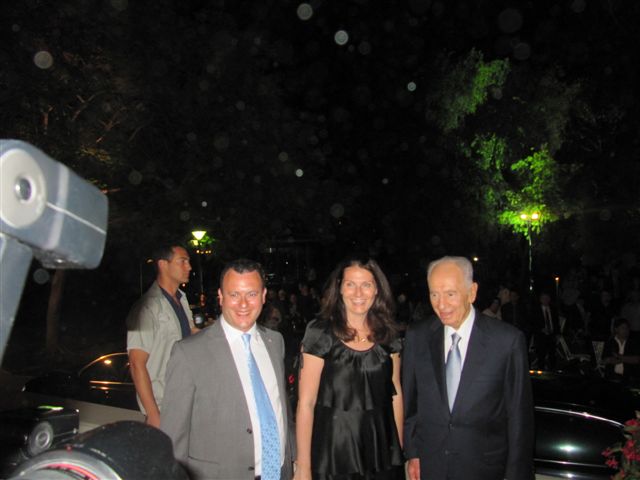 The UK's Ambassador to Israel, Matthew Gould, opened his speech in Hebrew and said:"This year we have chosen to celebrate at the
Weizmann Institute, as a symbol of the great partnership that our countries have developed in science. We can do more together than we can apart. And by working together in science, we can benefit all of humanity." The ambassador continued his speech in English and added "It is appropriate that we are celebrating here. The Weizmann Institute is a powerful symbol of Israel's excellence in science. In the past year we have not made the progress towards peace with the Palestinians that we all would have wanted to see. Britain will do everything it can to support the efforts of Secretary Kerry to turn this around. "


Quote Shimon Peres said: "The Great Britain is an empire, and a partner. We have today our best relationship in the domain of science and technology, and of culture. And it's great to feel that we passed through great challenges, in we are finally on the right way. God bless the Queen."

photos Silvia Golan