Art & Culture
Details

Written by

MFA
The only festival of its kind in the Middle East, the annual Culture of Peace features artists and audiences from across the societal spectrum.



In the midst of Arab uprisings in Israel's neighboring countries, "The Show Must Go On" could well have been the motto for late May's Culture of Peace Festival at Tzavta Hall in Tel Aviv, which since 2001 has been a stage set with a backdrop of peace-making through music, art and theater.
Events producer Eli Grunfeld, founder and director of the annual festival, explains that this year there was no budget to pay the artists. On a pledge of money from ticket sales, a number of dedicated artists agreed to perform anyway. "I was extremely grateful that performers this year were able to take on projects for this important event, even without the promise of revenues," he says. "This year it was the festival of the artists. All agreed to come to the festival and perform and show their interest in peace."


Some of those on the bill were well-known soloists, others up and coming. The biggest excitement came from the women's choir of Jaffa, a group comprised of Israeli Arabs, Muslims, Christians and Jews, Grunfeld relates. Called the Shirana Choir the women presented "Songs to Drive Away the Darkness" and featured guest singers Galit Giat, Nouran Mas'oud and Lubna Salama.
The program also included presentations such as "Prayers of Israel, Melodies of Ishmael" led by the Galilee Andalusian Orchestra and sung by cantor Lior Elmalich. Jewish prayers set to Arabic music, says Grunfeld, open minds and hearts. Jews may not be aware that much of Jewish world music was inspired by rhythms and traditions from the Arab world.


Diverse cultural mosaic
The festival's manifesto is to create a common ground for artists with different religious beliefs and cultures. It includes musical performances, street performances, theater for kids and multicultural, multimedia aspects. In Israel, where cultures remain distinct and separate, the event inspires a peaceful dialogue between those who might not have other opportunities to meet one another.
Grunfeld says he got a particularly good feeling from the atmosphere generated by the audience, who came from the entire rich and diverse cultural mosaic that makes the Israeli community so special.
A feeling of "change is in the air," says Grunfeld, who in March organized an artists' support event for the Egyptians demonstrating at Tahir Square in Cairo. Some of the same artists played in the Culture of Peace Festival. "Individuals now feel they can show their feelings and make a certain change," he notes.

The annual weeklong festival is held every May in Tel Aviv, and sometimes Grunfeld takes the show on the road to cities such as Nazareth, Sachnin, Acre and Haifa.
To meet its basic production needs, the Culture of Peace Festival is supported by theRosa Luxemburg Foundation and the Havatzelet Foundation. It is considered the only festival of its kind in the Middle East.
Details

Written by

Silvia G Golan
The Famous Neo Tango group OTROS AIRES came to Israel.
After 6 years of career, 2 studio albums, 1 live album, a documentary DVD and 16 tours around Europe, North America and South America (including more than 60 cities), Otros Aires releases it's third studio album.
Details

Written by

MFA
Once the winter rains end, Israel's cities come alive with festivals showcasing everything from opera and puppets to beer and kites.


You can find some sort of festival every month of the year in Israel, but May to September, when the sun shines endlessly, and the temperature hots up, is prime festival season, with special events for all ages and interests.
MAY
Taste of Tel Aviv
Every May top Israeli restaurants and wineries offer their best dishes and drinks at discount prices in Hayarkon Park for a three-day event called Ta'am Ha'ir (taste of the city). This year's event will be the 16th annual culinary fair, which attracts about 400,000 visitors every year, making it one of the largest food festivals in the world, competing easily in numbers with similar fairs held in New York, Boston, and Los Angeles.
Docaviv International Documentary Film Festival, May 12-21
Docaviv, now in its 13th year, showcases contemporary Israeli and international documentaries at the Tel Aviv Cinematheque and other Tel Aviv venues. There are student competitions for budding cinematographers; free outdoor screenings; and workshops with filmmakers.
International Spring Festival, May 14-21
Now in its 12th year, this annual festival offers live shows from Israel and countries such as France, Poland and Brazil. Based in the Rishon-LeZion Performing Arts Center, some of the performances take place in the neighboring cities of Ashdod, Herzliya, Kiryat Haim, Modi'in and Petach-Tikva.
Jerusalem Season of Culture, May 18-July 22
An initiative of the Schusterman Foundation-Israel, this ambitious cultural project is modeled on other prominent international cultural festivals, and highlights Jerusalem's flourishing arts scene. Among the scheduled events are performances by the Merce Cunningham Dance Company at the Israel Museum; evening cultural performances and celebrations at the Machane Yehuda Market; the unveiling of a commissioned work by video artist Kutiman; the Jewish Theater of Sweden's production of Different Trains; and a performance by soprano Renee Fleming with the Israel Philharmonic Orchestra and conductor Zubin Mehta.
Israel Festival, May 23-June 18
To mark the 50th anniversary of the Israel Festival, which was founded in the ancient Roman theater in Caesarea and moved to Jerusalem in 1982, 50 outstanding performances in music, dance and theatre will be offered. Some of the performers are the Batsheva Dance Company, Helsinki Baroque Orchestra, Merce Cunningham Dance Company, Ahinoam Nini and the Jerusalem Symphony Orchestra. Also featured will be premieres of Israeli works and tributes to leading Israeli artists; street theater; children's shows; and a nightly jazz club.
Houses from Within, May 20-21
Just some of the 51 sites on this much-anticipated Tel Aviv tour include Haggai Yuden's Music Studio with its 150-year-old white piano; Mosaic House, formerly a private home with mosaics depicting Israeli song stars, politicians and international public figures decorating the floor, walls and ceiling; the Root Research Laboratory at Tel Aviv University's Botanical Gardens; the roof of 20 Alfassi Street, made of recycled raw materials; designer Gal Florsheim's childhood home near the Habima Theater; the Tel Aviv-Jaffa Firehouse; and the private residence of David and Paula Ben Gurion.
JUNE
White Wine Festival, June 1-2
Taking place at the Herzliya Marina, this festival promotes white wine culture in Israel with Israeli and international white wine for tasting and for sale, as well as wine accessories, books, cheese, olive oil and more.
The Israeli Opera Festival, June 1-9
The Israeli Opera will be accompanied by the Jerusalem Symphony Orchestra for Verdi's Jerusalem at Sultan's Pool and by Italy's Arena di Verona Orchestra for Verdi's Messa da Requiem at Masada; and by the Rishon LeZion Symphony Orchestra for Aida featuring Italian tenor Andrea Bocelli at Masada. Other venues will include Jerusalem's Tower of David Museum and the churches of St. Andrew's, Augusta Victoria, Lutheran (Redeemer), Dormition Abbey, Vincent de Paul and the Austrian Hospice.
Abu Ghosh Music Festival, June 7-8
This leading Israeli vocal music festival has been staged twice a year since 1992 in two churches: the 12th century Crusader-Benedictine Church in the heart of the village, and the Kiryat Ye'arim Church on a hill overlooking this mostly Arab Jerusalem suburb. This year's 10 offerings range from the Avishai Cohen String Quartet and the Tel-Aviv Chamber Choir to the Ra'anana Symphonette and the Israel Stage Orchestra. There will be classical, gypsy, mandolin and gospel music.
Jerusalem Light Festival, June 15-22
The architecture of the capital's Old City will be dramatically lit up in addition to light statues, installations, performances and museum artwork. The Light Festival brings to Israel well-known light sculptors and light designers from around the world, who exhibit their creations throughout the streets and alleys of the Old City, in major tourist sites and public spaces.

Tel Aviv LGBT (Lesbian, Gay, Bisexual, Transexual) Film Festival, June 11-18
This annual event at the Tel Aviv Cinematheque and the Tel Aviv LGBT Community Center offers public screenings of films with no Israeli distribution, meetings with local and foreign filmmakers, panel discussions and special events. Established in 2006, the festival also encourages original Israeli work with a domestic film competition.
White Night International Festival, June 30
For the fourth year in a row, Tel Aviv restaurants will stay open all night offering special deals. Late-night theatre shows, music, art and special nighttime tours of the city are available as well. The main event will be the International Marathon for Jazz and Avant-garde Music in the Einav Culture Center above Rabin Square.
JULY
Music Festival on the Water, July-August
Every Tuesday evening in July and August at the Herzliya Marina square on the Mediterranean, the public is welcome to attend live performances by local and international artists in genres from opera, pop and jazz to romantic, Greek and other ethnic styles.
Jerusalem Film Festival, July 7-16
Between 150 and 200 films are screened yearly during this event at the Cinemateque and Sultan's Pool amphitheater, showcasing the best of international feature films, documentary films, and movies and shorts dealing with issues of Jewish identity and history, freedom and human rights. This year, in addition to existing cinematic competitions, there will be an international competition for short animation and sci-fi films and other artworks depicting Jerusalem in 2111.
Karmiel Dance Festival, July 12-14
About 5,000 dancers from Israel and abroad will take part in 120 events and performances at this 10th annual festival, which takes place in Karmiel, a central Galilee town between Acco and Safed. Activities, a bazaar and more than 250,000 anticipated visitors and guests are expected. A folk-dancing course in English is planned from July 4-15.
International Puppet Theater and Film Festival, July 21-23, 28-30
The Israel Puppet Center in Holon, Israel's "Children's City," has been hosting this festival since 1995. In addition to about 30 performances by resident and international artists, there will be conferences, exhibitions, and an opening street procession, workshops for professionals and amateurs; a conference on the therapeutic use of puppets; and exhibitions at the museum and galleries including a special "Puppetry on the Screen" display.
AUGUST
Israeli Wine-Tasting Festival, August 14-19
Sample wines from Israel's leading wineries in the Israel Museum's Billy Rose Art Garden, with soft jazz playing in the background. A wine glass comes with each admission ticket.
International Festival of Puppet Theater, August 14-19
At The Train Theater and other Jerusalem theatres, local and international artists showcase the best in the field of puppetry at this annual event, now in its 20th year. The program is designed mainly for children and families, but includes performances for adults as well. There will be about 30 different productions with approximately 90 shows, including talent from Germany, Belgium, Italy, Bulgaria, The Netherlands, Peru, the United States and the Czech Republic.
International Klezmer Festival, August 15-17 Held in Safed, the kabbalistic heart of the Galilee, the Klezmer Festival showcases 45 artists performing "Jewish soul music" - among them are Sinai Tor, Simply Tsfat, Aaron Razel, the Persian Jerusalem Orchestra and Vilna Klezmer - and also features a huge outdoor arts-and-crafts sale, tours and children's events. The music is presented on eight stages and in the ancient cobbled alleyways of the city.
Jerusalem Beer Festival, August 18-19
Celebrating its sixth year at Jerusalem's historic Old Train Station, the Jerusalem Beer Festival is a magnet for young adults eager to sample more than 100 brands from all over the world -- mainstream, boutique and local. There will be live beer production process demonstrations, food stands and nightly shows by Israel's leading bands to round out the experience.
Kite-Flying Festival, August 23
Colorful shapes waft over the Israel Museum every year after being launched from the Billy Rose Art Garden. Children and their parents can take part in kite-building workshops and meetings with professional kite-flyers.
Red Sea Jazz Festival, August 22-25 This international jazz festival at Eilat Harbor was established in 1987. There are eight to nine concerts per evening, six clinics with guest artists and nightly jam sessions. Styles range from New Orleans to Latin jazz. Every evening at 7pm, there is an open concert featuring upcoming young Israeli jazz groups. Concerts are held in three venues: the Club, featuring 1,000 seats around tables serving food and beverage; the Hall, with 2,000 regular seats; and the Arena, with 4,000 seats, some overlooking the Red Sea.
Details

Written by

The Israeli Opera
Hanna Munitz, General Director of the Israeli Opera announced the 20110/12 season of the Israeli Opera, the 27 season of a company who now enjoys the support of over 18,000 subscribers.
The coming season features eight productions including a new production of Weill and Brecht's Aufsteig und Fall der Stadt Mahagonny. The season will also feature new productions to the company of Orfeo ed Euridice, Jenufa, Lucia di Lammermoor, Cavalleria and Pagliacci as well as revivals of the company's Rigoletto and Madama Butterfly. The season also offers a revival the continuation of the Masada Opera Festival with a new production of Carmen and two gala concerts. The Israeli Opera will also tour once again to the Wiesbaden Opera Festival with tow productions – Tosca and The Child Dreams by Israeli composer Gil Shohat.




Altogether around 100 performances are planned for a season spanning from November 2011 to July 2012 performed by leading international and Israeli opera artists. The Israeli Opera also continues its education, outreach and community activities as well as family and children performances. The season will also feature numerous other, non operatic, activities and events as well as the Israeli Opera's annual international dance series, classical music, jazz, world music and children performances series.

Details about all the Israeli Opera's activities can be found at the company's website www.israel-opera.co.il

The Opera Season

Cavalleria rusticana & Pagliacci (December 2011)

The verismo operatic twins are presented in Giancarlo del Monaco's powerful and realistic production featuring Gustavo Porta as Canio, Ira Bertman as Nedda, Scott Piper as Turiddu and Tatiana Anisimova as Santuzza. David Stern, the music director of the Israeli Opera, conducts.

Peliachi. (The Israeli Opera Archive)

Aufsteig und Fall der Stadt Mahagonny (January 2012)

A new production conducted by David Stern and directed by Omri Nitzan, one of Israel's leading theatre directors who has created many productions for the Israeli Opera.

Jenufa (February 2012)

Barbara Haveman leads an Israeli and international cast in this Slavic masterpiece conducted by George Pehlivanian in a production by Nikolas Lehnhoff from the Glyndebourne Festival.

Lucia di Lammermoor (March 2012)

Daniel Oren conducts Donizetti's masterpiece in Graham Vick's lush production featuring, among others, Jessica Pratt in the title role and Boaz Daniel as her brother Enrico.

Madama Butterfly (April 2012)

Stefano Ranzani makes his Israeli Opera debut conducting Mariusz Trelinsky's stylized and powerful production of the Puccini masterpiece with Israeli soprano Ira Bertman in the lead and Zoran Todorovic as Pinkerton.

Orfeo ed Euridice (May 2012)

David Stern conducts Mariusz Trelinsky's evocative modern production about the mythical poet who this time creates in our own time. Counter tenor Yaniv d'Or performs the role of Orfeo with Hila Baggio as Euridice.

Rigoletto (July 2012)

David Pountney's powerful production of Rigoletto (designed by the late Stefano Lazaridis) returns to the stage conducted by Daniele Callegari in his company debut with Giuseppe Gipali as the Duke and Adriana Kucerova as Gilda.

Carmen at Masada (June 2012)

The third opera festival at the Masada/Dead Sea area will feature a new production of Carmen conducted by Daniel Oren and directed by Giancarlo del Monaco. Hundreds of choristers, dancers and extras will be part of a larger than life production under a canopy of stars by the Dead Sea and the majestic Mt. of Masada.

Lucia. (The Israeli Opera Archive)

Gala Concerts at Masada (June 2012)

Two gala concerts will be featured at the Masada Festival. Tenor Roberto Alagna will perform a gala opera concert with the opera orchestra, and pianist Fazil Say will perform with the Royal Philharmonic Orchestra (London).

Tour to the Wiesbaden May Festival (May 2012)

The Israeli Opera was invited to perform at the Wiesbaden May Festival (Germany). The company will perform Hugo de Ana's most successful cinematic production of Tosca as well as The Child Dreams by Israeli composer Gil Shohat based on a play by Hanoch Levin. Music Director David Stern will conduct both productions.

Operas for the Entire Family (August-October 2012)

The Israeli Opera continues presenting its 70 minutes Hebrew fully staged productions of operas for children on its main stage with revivals of Mozart's The Magic flute and last summer's world premiere Alice in Wonderland (by David Sebba).

Getting Closer to Our Audience

The Israeli Opera presents a large number of extra curricular events in order to get closer to its audience and bring the audience closer to the world of opera and the people performing in it. Each Israeli Opera performance is preceded by a 30 minute introduction lecture at the auditorium. Opera Talkback sessions (with cast and production team members) take place at the end of several performances in each run, enabling members of the audience to meet, speak and ask questions about the production they just attended. Backstage tours, preview forums and other events are also part of the company's mandate to make the art form as accessible as possible to a wide audience.

Israeli Opera Community, Education and Outreach Activities

The Israeli Opera, with the generous assistance of private and public donors, devotes time, money and efforts in order to foster new audiences for opera and enlarge the awareness of opera in as many communities as possible around the country.

The Opera's education program brings the magic of opera to school and kindergarten children of all ages all over Israel. Within these extended, at times year-round, interactive programs the children learn about the intricate world of opera on and off the stage and eventually attend productions at the Opera House. In average the Israeli Opera is involved with at least one educational/community, in or outside of the opera house, activity in each and every day of the year. In each Israeli Opera performance an average of 200 school children attend the performance.

Young audiences can also enjoy the Children Opera Hour at the foyer of the Opera House, a one hour opera weekly program for young children presented in piano accompanied fully staged productions with beautiful costumes (The Magic Flute, Cinderella, Hansel and Gretel, Orfeo and Euridice, The Marriage of Figaro, The Snow Maiden and many others).

The annual open air park performance of the Israeli Opera has become a long awaited summer tradition with past successful productions of Rigoletto, Nabucco, Samson et Dalila, L'elisir d'amore, La traviata and Carmen. In July 2011 over 100,000 opera buffs are expected to attend the open air production of The Magic Flute. Admission for these park performances is free of charge.

The Israeli Opera's community productions enable an entire community in the periphery to take part in the year long preparations, construction of and the actual performance of an opera together with members of the Israeli Opera. In the past years the community production of L'elisir d'amore was presented in Kfar Shalem, Afula, Tiberias, Acco and also for the first time with a social community, that of handicapped people, as well as in Beit Shean. The new community production of Cinderella was already performed in Tirat Hacarmel and Sderot and future productions will take place in Kiryat Gat and Nahariya. In each community the stage is full with scores of local participants who become the opera stars of the moment.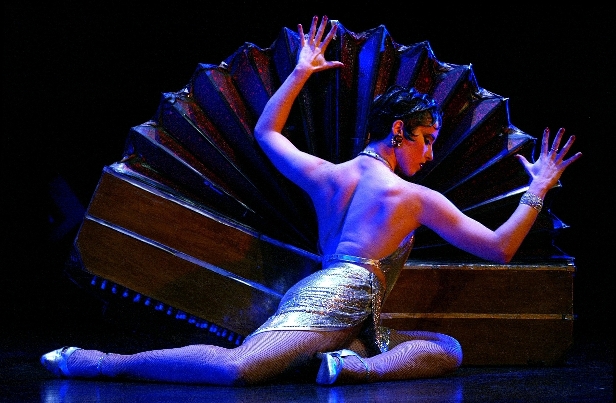 The Opera Studio, the Israeli Opera's young artists program enables a select group of young Israeli opera singers to hone their craft and gain performance experience in order to prepare themselves for a career as opera singers.

Tango Forever. (The Israeli Opera Archive)

Israeli Opera International Dance Series

The international dance series at the opera house features this season 10 dance companies from all over the world. Returning to the Opera House dance series are the Boris Eifman Ballet (Onegin and Don Quixote) and Momix (Botanica). Making their debut in the series are the Zurich Ballet, The Goteburg Ballet (The Sleeping Beauty and Bolero x 3), Cloud Gate from Taiwan, the Martha Graham Dance Company, Ballet Trockadero from Monte Carlo, Yasmin Vardimon (7734) and the Broadway success Forever Tango. The Project, the new initiative of the Israeli Opera and the Suzanne Dellal Centre of a repertory dance company performing works by leading contemporary choreographers, will present a new program within the dance series.

Israeli Opera Classical Music Series

The Israeli Opera presents several series of classical music with local orchestras and Israeli and international soloists, choirs and conductors. The popular Liturgical Series (with the Jerusalem Symphony Orchestra, and local and international soloists and choirs) will feature this coming season four programs including Mendelssohn's Walpurgis Nacht, Bloch's Sacred Service, Dvorak's Biblical Songs, Bach's Magnificat and Mozart's Great Mass. The Israel Symphony Orchestra Rishon LeZion, which regularly plays in Israeli Opera productions, continues with its Symphonic Series featuring the bread and butter of the classical symphonic repertoire led by its music director Dan Ettinger. Classic Rock features this season three programs with mostly young Israeli rock musicians (including Hadag Nahash) in symphonic concerts of their own hits. The Music of all Sorts series will bring the opera house international musicians such as Anonymous 4, Olli Mustonen and others. Two new series this season include a three concert Choral Series with the Israeli Opera Chorus and a romantic chamber music series hosted by Gil Shohat. And as usual there will be two series for young children, Children Opera Hour and Magical Sounds.

Israeli Opera International Jazz and World Music Series

The Israeli Opera Friday night Jazz Series features five concerts with leading international jazz artists. This season the series will feature, among others, pianists Kenny Baron, Stefano Bollani, Mirko Signorile, Omer Klein and Tony Pancella as well as guitarist Joshua Breakstone. The Friday night World Music series will feature internationally renowned performers such as Oumou Sangare (Mali), Ana Moura (Portugal) and Le Mystere des Voix Bulgares (Bulgaria).
Photos The Israeli Opera Archive/
Details

Written by

Silvia G Golan
The Association of South American Embassies in Israel is proud to present a cinema festival of 14 films from the Latin-American film industry. These films portray various beliefs, traditions, cultures, problems and ultimately, the hope of life across these countries.

The festival will give Israeli audiences a small taste of the rich art in the Latino film industry and its dynamic trends.

The represented at the festival includel: Uruguay, El-Salvador, Ecuador, Brazil, Guatemala, Honduras, The Dominican Republic, Mexico, Peru, Chile and Costa- Rica.

The following films will be screened: The Milk of Sorrow (Spain\Peru), Estomago - A Gastronomic Story (Brazil), My Name is not Johnny (Brazil), La Region Perdida (Costa-Rica), El Regalo (Chile), Cuando Me Toque a Mi (Ecuador), Cinema Libertad (El- Salvador), Cuentos de Cipotes (El- Salvador), Donde Acaban los Caminos (Guatemala), No Hay Tierra sin Duenos (Honduras), El Estudiante (Mexico), Yuniol 2 (The Dominican Republic), La Soga (The Dominican Republic), Hit - la Pelicula (Uruguay).

The films will be presented at the Cinematec in Tel-Aviv, Haifa, Sderot and Jerusalem.



For more information, please contact Silvia Golan: This email address is being protected from spambots. You need JavaScript enabled to view it.
MARKET MOVERS
NMS :

YHOO

- 01 Jan,

+0.00

(+0.00%)

After Hours:
Open
Mktcap
High
52wk Hight
57.39
Low
52wk Low
35.05
Vol
0
Avg Vol
19.80M
Eps
0.71
P/e
Currency:
Alphabet Inc.
NMS :

GOOG

- 23 Oct, 4:00pm

968.45

-19.75

(-2.00%)

After Hours:
Open
989.52
Mktcap
671.02B
High
989.52
52wk Hight
997.21
Low
966.12
52wk Low
727.54
Vol
1.48M
Avg Vol
1.41M
Eps
30.64
P/e
35.10
Currency: USD
Apple Inc.
NMS :

AAPL

- 23 Oct, 4:00pm

156.17

-0.08

(-0.05%)

After Hours:
Open
156.89
Mktcap
806.65B
High
157.69
52wk Hight
164.94
Low
155.50
52wk Low
104.08
Vol
21.98M
Avg Vol
27.54M
Eps
9.01
P/e
17.73
Currency: USD
Weather
Jerusalem Israel
Partly Cloudy (day), 22 °C
Current Conditions
Sunrise: 6:49 am | Sunset: 5:57 pm
50%
1.8 m/s
31.417 atm
Forecast

Tue

Low: 13 °C
High: 23 °C

Wed

Low: 15 °C
High: 24 °C

Thu

Low: 15 °C
High: 25 °C

Fri

Low: 16 °C
High: 25 °C

Sat

Low: 16 °C
High: 24 °C

Sun

Low: 14 °C
High: 24 °C

Mon

Low: 15 °C
High: 21 °C

Tue

Low: 13 °C
High: 22 °C

Wed

Low: 11 °C
High: 15 °C

Thu

Low: 11 °C
High: 17 °C
Tel Aviv Israel
Partly Cloudy (day), 25 °C
Current Conditions
Sunrise: 6:51 am | Sunset: 5:58 pm
54%
4.9 m/s
33.723 atm
Forecast

Tue

Low: 18 °C
High: 24 °C

Wed

Low: 17 °C
High: 26 °C

Thu

Low: 18 °C
High: 26 °C

Fri

Low: 20 °C
High: 27 °C

Sat

Low: 17 °C
High: 25 °C

Sun

Low: 17 °C
High: 25 °C

Mon

Low: 19 °C
High: 23 °C

Tue

Low: 18 °C
High: 23 °C

Wed

Low: 19 °C
High: 21 °C

Thu

Low: 18 °C
High: 20 °C
Haifa Israel
Partly Cloudy (day), 24 °C
Current Conditions
Sunrise: 6:52 am | Sunset: 5:56 pm
61%
6.3 m/s
33.556 atm
Forecast

Tue

Low: 21 °C
High: 23 °C

Wed

Low: 19 °C
High: 25 °C

Thu

Low: 19 °C
High: 24 °C

Fri

Low: 20 °C
High: 25 °C

Sat

Low: 22 °C
High: 24 °C

Sun

Low: 19 °C
High: 23 °C

Mon

Low: 21 °C
High: 23 °C

Tue

Low: 20 °C
High: 23 °C

Wed

Low: 19 °C
High: 22 °C

Thu

Low: 16 °C
High: 20 °C