Art & Culture
Details
Archeology
3,400 year old burnt wheat discovered at Tel Hazor
14 large clay jugs containing seeds of 3,400 year old burnt wheat have recently been uncovered in a storage room at Tel Hazor in the Upper Galilee. Tel Hazor, a national park, has long been recognized as one of the country's most important archaeological sites.
Details
The Jerusalem Season of Culture is delighted to present (again):


BALABASTA
Culture in the Market
Three Sundays in August
Made in Mahane Yehuda
August 5, August 12, August 19
Between 5:00pm-11:00pm
Entrance is free!
Details

Written by

Israel Ministry of Foreign Affairs
Jerusalem was selected as one of the top 25 most sought after destinations in 2011 in a
survey held by the prestigious and popular website "Tripadvisor".
Communicated by the Municipality of Jerusalem)

Tourism:In 2011 the number of night stays in Jerusalem hotels amounted to 3,854,500 nights, 18% of all night stays in Israel. 80% of the tourists who visited in Israel in 2011 visited Jerusalem. The most visited sites were the Wailing Wall (visited by 60% of all tourists), the Jewish Quarter in Jerusalem (55%), the Via Dolorosa in Jerusalem (48%) and the Mount of Olives (46%).
Details

Written by

Batya Badanowski - Silvia Golan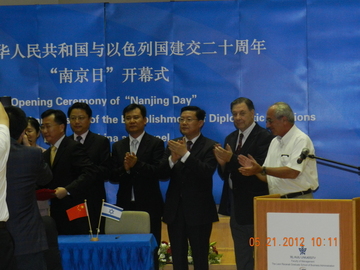 One hundred and fifty guests attended a ceremony marking the 20th anniversary of the establishment of diplomatic relations between Israel and China.
The ceremony hosted by the University of Tel Aviv was also attended by a delegation of senior officials from Nanjing, the capital of the Jiangsu province in China.
Following an opening speech by Professor Joseph klafter, president of Tel Aviv University and Mr Yang Weize, secretary of the Nanjing municipal committee, a cooperation agreement was signed between the University and the city of Nanjing.

According to the agreement, each year for the next five years, Nanjing will send 1000 senior business executives and entrepeneurs to participate in a course entitled "Entrepeneurship
and Innovation": the Israeli Model.


Nanjing is a world famous cultural city with 2500 years of history. Nanjing is also one of the three centers in the Yangtze river delta, which is the most economically developed region in China.


A cocktail hour followed in the outside yard of the Buchman Mehta school of music.


After the ceremony five hundred additional guests arrived in the auditorium to attend a spectacular performance by the internationally renown dancers and singers of Nanjing.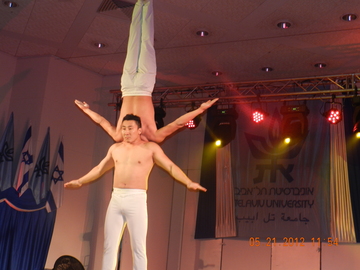 Especially outstanding acrobatic performance was the incorporation of ballet and pointwork during the performance of acrobatic skills.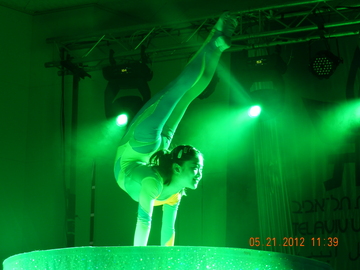 Another outstanding acrobatic performance was the piece entitled :"Harmony of Hand in Hand" which displaced a combination of force, beauty and the masculine form.


Batya Badanowski photos