Diplomatic Events
Details

Written by

Buzzy Gordon
Details

Written by

Steven Aiello
The Republic of Kazakhstan celebrated its 25th birthday on Sunday evening with a festive event in Tel Aviv. Diplomats and business leaders convened with other guests at the Hilton Hotel along the beach, enjoying a lavish buffet, traditional Kazakhstani music and dance, and a speech delivered by the Ambassador.
The celebration commemorated 25 years of Kazakhstani independence. Kazakhstan became an independent nation in 1991, the last and largest of the republics to achieve sovereignty following the breakup of the Soviet Union. Guests were welcomed by a colorful photography display highlighting picturesque landscapes from all over Kazakhstan. In honor of the occasion they were presented with gifts, including a book on Kazakhstan's Jewish community written by a former Israeli Ambassador to Kazakhstan.
H.E. Ambassador Kuanyshev addressed the audience, noting Kazakhstan's many achievements over the last quarter century. The Ambassador discussed Kazakhstan's role in promoting global peace, including its nuclear disarmament initiatives.
The ambassador also mentioned Kazakhstan's efforts to reach a brighter and cleaner future. On that note, Ambassador Kuanyshev announced the 2017 Astana Expo on Future Energy, to be held from June through September of 2017 in Kazakhstan. The Expo will include more than 3,000 events over nearly 100 days, and is dedicated to education and innovation in improving energy efficiency.
The occasion commemorated not just a quarter century of Kazakhstani independence, but also 25 years of Israel-Kazakhstan diplomatic relations and cooperation. Ambassador Kuanyshev noted that Israel is one of Kazakhstan's top 20 trading partners, and mentioned the many commercial ties and joint diplomatic initiatives binding the two nations. He expressed his hope for direct flights between Israel and Kazakhstan in the future. The ambassador also spoke of academic connections, including conferences and exchange student programs. Invoking a mock competitive tone, Ambassador Kuanyshev told the crowd that Kazakhstani secondary school students had recently topped their Israeli peers in standardized math and science testing.
Mr. Ayoub Kara, Israel's Deputy Minister of Regional Cooperation, addressed the crowd after Ambassador Kuanyshev. MK Kara talked about the many joint initiatives that the two countries have run, ranging from energy efficiency to tourism. He congratulated Kazakhstan on its recent appointment to the UN Security Council and pledged support in facilitating any upcoming Kazakhstani diplomatic visits to Israel. Mr. Kara finished by asking Ambassador Kuanyshev to pass a message on to President Nazarbayev and the Kazakhstani nation, offering blessings for the upcoming year and wishing success in their joint initiatives.
The event brought together, diplomats, business owners, military officers, and Kazakhstani citizens living in or visiting Israel. As the evening continued into an elaborate performance of folkloric Kazakhstani music and dance and concluded with warm words spoken between the two nations, all left sure of the importance of this diplomatic friendship.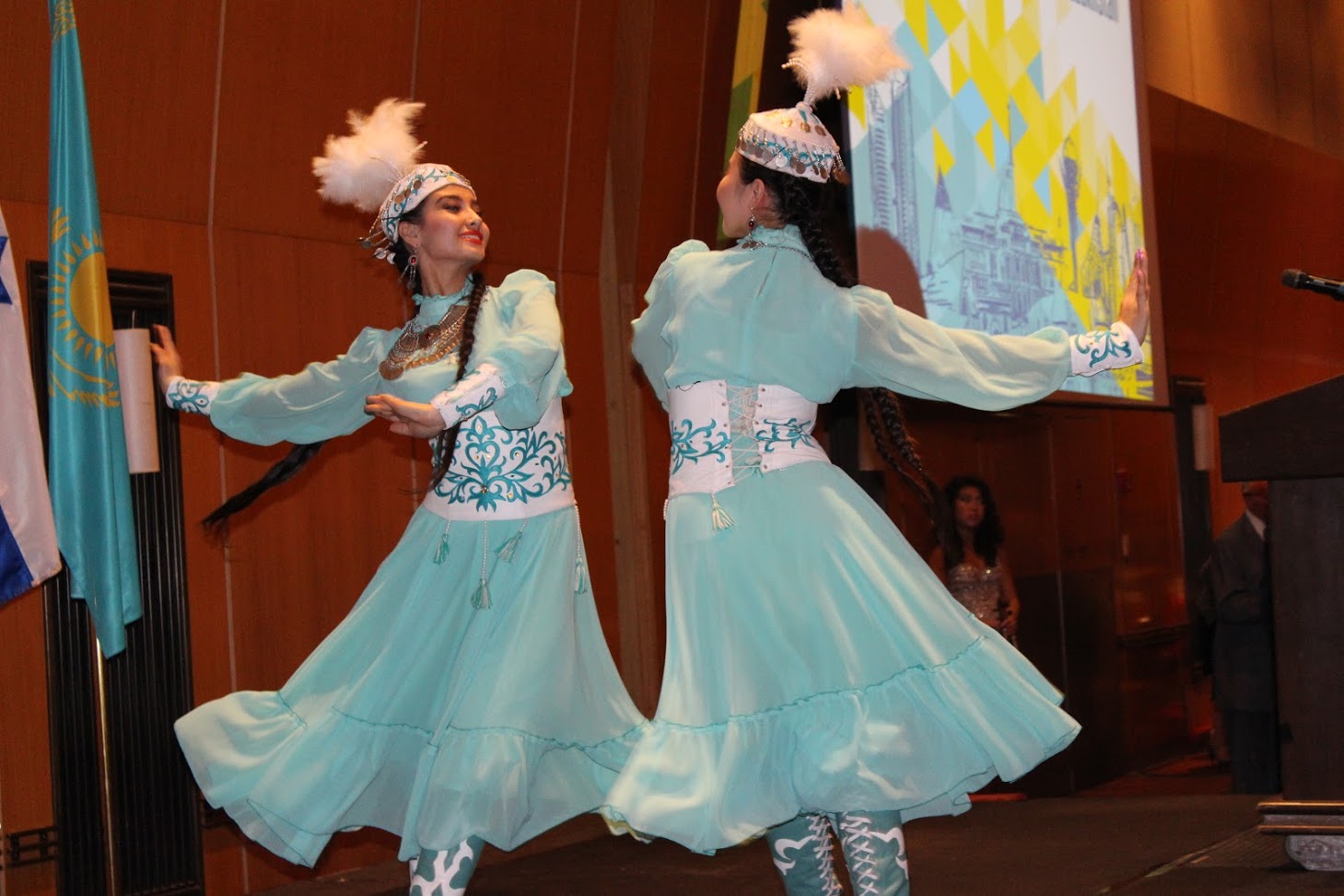 Steven Aiello is the Founder and Director of the Debate for Peace Model UN Program
Details

Written by

Buzzy Gordon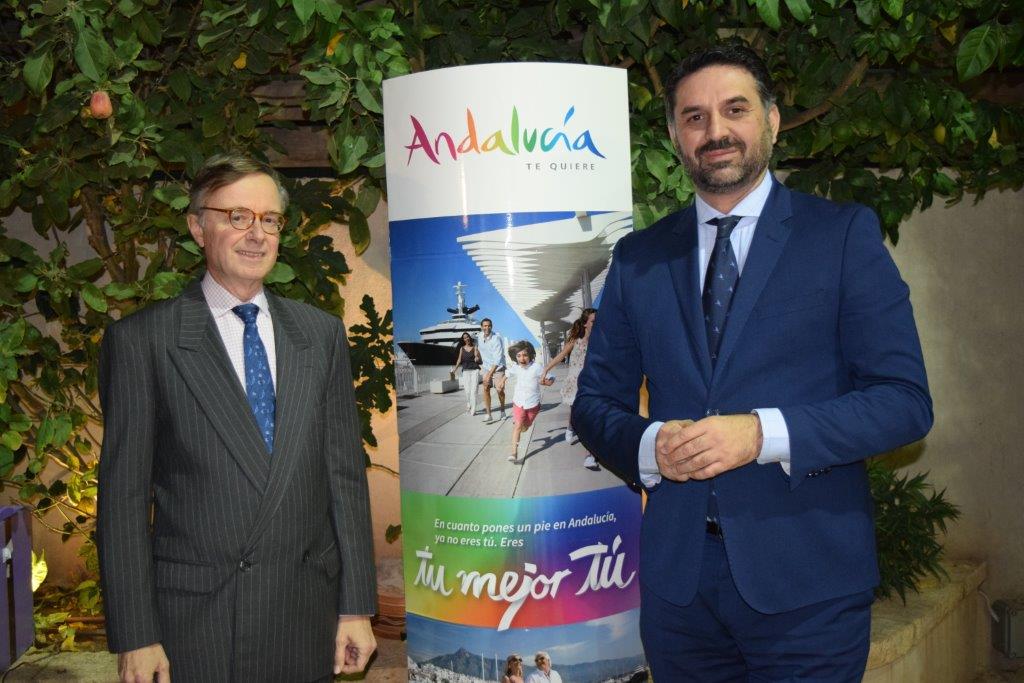 The Embassy of Spain in Israel welcomed this week Minister of Tourism for the autonomous community of Andalucia Francisco Javier Hernandez, on a visit to launch a campaign promoting tourism to this historic region in southern Spain.
At a reception held at the residence of Spain's Ambassador to Israel, Fernando Carderera, the ambassador introduced Minister Hernandez to assembled guests representing Israel's business and travel industry leaders. In his remarks, Ambassador Carderera noted that Spain is the third most popular tourism destination in the world, welcoming more than 70 million foreign visitors annually.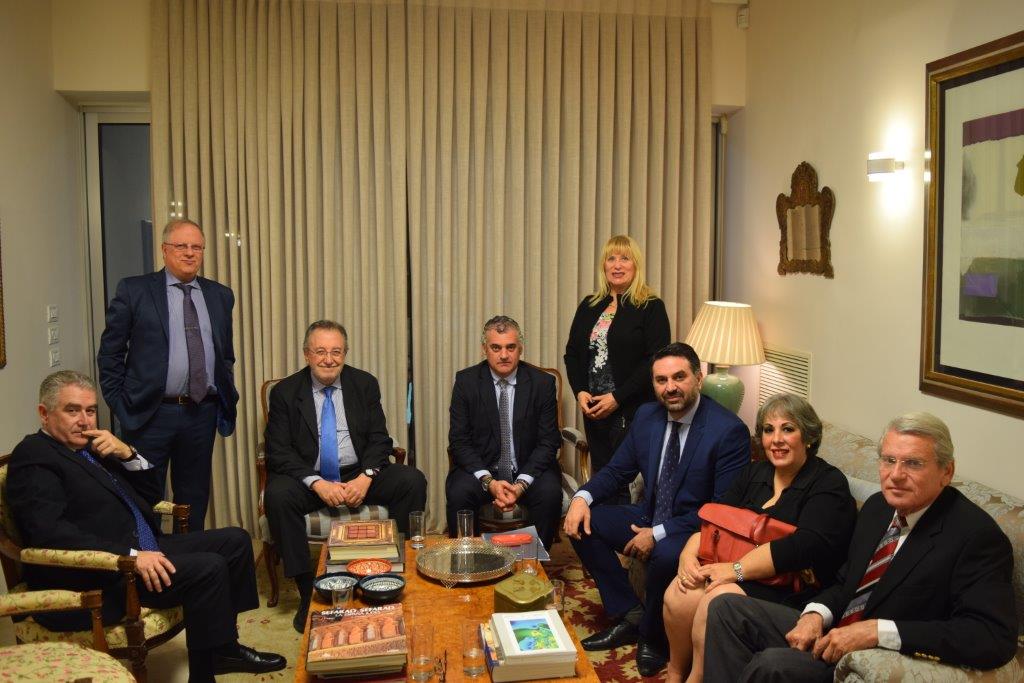 Minister Hernandez unveiled Andalucia's latest promotional campaign, aimed primarily at three million Jews of Sephardic origin living in Israel and throughout the Diaspora. He disclosed the campaign slogan -- "visit Andalucia to discover your roots: a wonderful voyage back to your sources" -- and screened a video featuring the attractions of such cities as Sevilla, Cordoba and Granada, as well as the Costa del Sol.
Following the video, guests -- among them Spanish Tourism consul for Italy and Israel Carlos Hernández Garcia-- enjoyed a concert of flamenco music and dance performed by an Israeli trio while partaking of paella and other Spanish delicacies.
Photo Silvia Golan
Details

Written by

Steven Aiello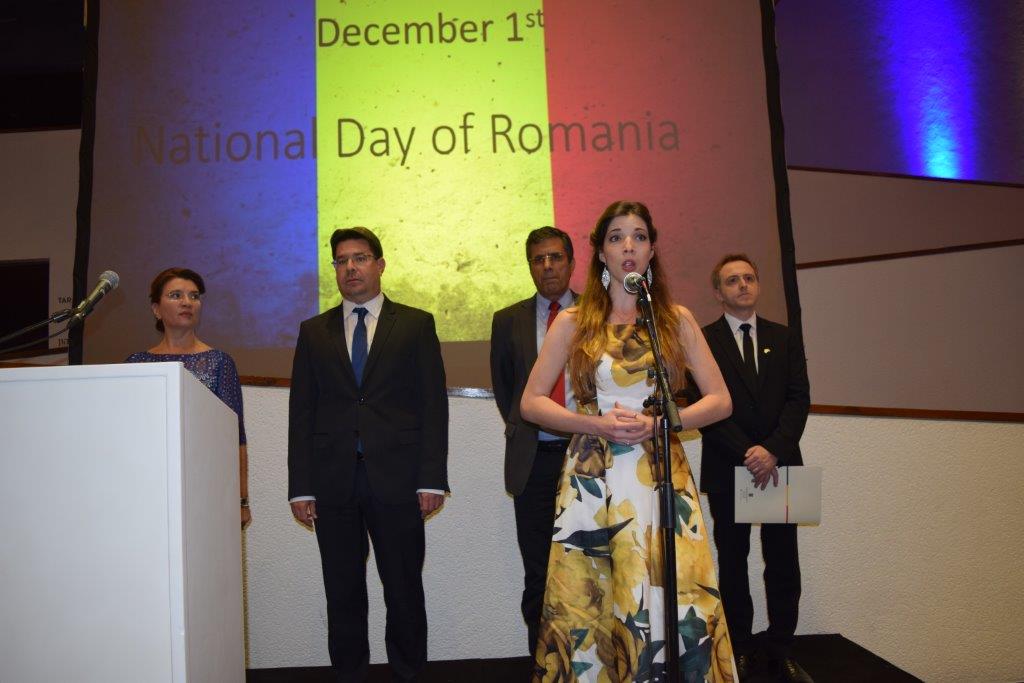 On Wednesday evening, November 30th, a collection of diplomats, politicians, artists and community leaders came together at the Tel Aviv Museum of Art to celebrate the National Day of Romania. The event, held by the Romanian Embassy, celebrated Romania's historical achievements as well as present and future Israeli-Romanian cooperation.
The evening opened with a stirring rendition of the Romanian and Israeli national anthems performed by Monica Schwartz.
Ambassador Andreea Păstârnac, who studied at the Hebrew University in Jerusalem and at Bucharest University, then addressed the crowd in Hebrew.
,
After thanking the event's co-sponsors, Ambassador Păstârnac spoke of the strong Romanian connection with Israel and the historical ties between the nations, citing several early cities (including Zichron Ya'aqov and Rosh Pina) that were founded by Romanian pioneers. He also spoke of more recent diplomatic events, including visits by the Romanian Foreign Minister Lazăr Comănescu and the President, Mr. Klaus Iohannis. The Ambassador declared her country's staunch support for Israel, especially in light of the wildfires which recently ravaged much of the country.
Romania's National Day commemorates the December 1st, 1918 unification of Romania after World War II. Ambassador Păstârnac recalled the many Jews who contributed to Romania society at that time, including Eli Wiesel, artist Iosif Isser, and author Paul Celan, as well as Romanian Jews who have contributed to Israeli art and culture over the years.
The Ambassador chose to highlight specifically the science and technological cooperation that has been the focus of recent diplomatic initiatives between Israel and Romania. She mentioned Israeli-Romanian achievements in a range of scientific and technological areas, including the Extreme Light Infrastructure (ELI) initiative project, based in Romania, which is the largest of its kind in the European Union. The Ambassador also gave credit to many great Romanian scientists and thinkers, noting in particular the Jewish mathematician Solomon Marcus who passed away in March 2016.
Israel's Minister of Science and Technology, MK Ofir Akunis, complimented Ambassador Păstârnac's Hebrew skills before reiterating the Ambassador's message on Israeli-Romanian cooperation in science and technology. He also thanked Romania for its aid during the firefighting efforts of the previous week, and spoke about Romania's key role in prior diplomatic efforts, including the lesser-known fact that the Israeli-Egyptian peace accords signed in 1979 actually began in 1977 in Romania. MK Akunis closed by discussing Israeli tourism in Romania, and expressed his own hope to visit Romania and continue this partnership in science and technology.
MK Yossi Yona followed Mr. Akunis's remarks. MK Yona, himself an Iraqi Jew, spoke of the many great artistic and cultural contributions of Romania, including those brought about by Romanian Jews. As the child of immigrants, he spoke of the ability to build a new life in Israel while maintaining a strong connection to one's place of birth, and how Romanian Jewish immigrants to Israel have done this.
Indeed, among the guests at the celebration were a number of successful Israeli-Romanian authors who continue to publish books in Romanian. Also in attendance was Rabbi Ephraim Gutman, who heads the Yaakov Yosef--Rav Zvi Gutman Synagogue and the Jewish Romanian Heritage Center in Tel Aviv. The center was named after Rav Ephraim's two older brothers, Yaakov and Yosef, who were murdered in 1941 by members of the fascist Iron Guard movement, and after their father Rav Zvi Gutman. Dr. Alex, who accompanied Rav Gutman to the celebration, told Diplomacy about the richness of Romanian Jewish heritage, which included successful Ashkenazi and Sepharadi Jews and was one of the largest Jewish communities in Europe before World War II.
Throughout the celebration guests enjoyed delicious refreshments, including a special collection of the finest Israeli and Romanian wines and traditional Romanian music and dance. This year the celebration featured wine from wineries in Romania that are produced by Israelis of Romanian heritage, in a unique spin on the pioneering spirit and success of the Romanian immigration to Israel and the strong binational ties. Romanian singer Laticia Boroi entertained the crowd with traditional Romanian folk music, and was soon surrounded by an enthusiastic crowd of nostalgic dancers.
Between the venue, the speakers, and the guests and atmosphere, Romana's National Day Celebration in Tel Aviv exemplified the cultural and intellectual achievements of Romania and the strong ties between Israel and Romania.
Photo Silvia Golan
Details

Written by

President's Spokesperson
President Reuven and First Lady Nechama Rivlin this evening (Monday) hosted at the President's Residence in Jerusalem, an official state dinner in honor of the visit of President of Guatemala Jimmy Morales and First Lady Patricia Marroquin de Morales. At the beginning of the evening both Presidents delivered toasts.
President Rivlin welcomed his guests and said, "It is an honor and pleasure to host you here in Jerusalem, the eternal city, Jerusalem, a city dear and holy for the people of Israel and for those of faith around the world." He added, "The honorary doctorate you received today from the Hebrew University – the jewel in our crown – is a sign of the recognition of the community in Israel, and the importance of your mission and achievements so far. At the same time, this award expresses your true friendship, and that of your country, toward Jerusalem and the Jewish people."
The President added, "As the leader of your country, you are faced with challenges in the present, in the here and now – they are important, demanding, and urgent. In the face of these challenges, Israel is a faithful partner of Guatemala under your leadership. Israel is not a just partner in words, we are your partners in actions, in the facts on the ground." The President went on to stress the importance of the wide ranging cooperation between the countries in the fields of medicine, agriculture, and food provision. The President concluded that, "Your visit is just the beginning, and an opportunity for the State of Israel to give thanks to a country who is a true a friend of Israel."
President Morales thanked the President and said, "This is a great honor for my family and me, and for my delegation, to be hosted here at a dinner which is testament to the excellent relations between our countries. It is a great privilege and I thank you from the bottom of my heart for your kindness which we have received on this visit. We truly feel at home. On my visit I am also accompanied by my mother who has long dreamt of visiting the holy land, and for this I thank you."
He added, "I want to stress the cooperation and also the assistance and professional training to thousands of our citizens through scholarship programs and to state that a great number of our cabinet ministers were recipients of this help, including our Health Minister, and our Education Minister, among many others who are thankful to Israel. This activities are part of the great efforts of our governments to advance economic and social development. The exemplarily bilateral cooperation between us will only grow further."
He concluded emotionally by saying, "In the name of the more than six million people of Guatemala, I convey to the Israeli people a warm embrace, we love and appreciate you."
Photo credit: Mark Neiman (GPO)