Life Style
Details

Written by

Buzzy Gordon
The Vietnamese calendar, like the Hebrew calendar, is lunar; and like the Jewish calendar, which celebrates spring with the holiday of Passover, the Vietnamese calendar marks the beginning of spring with the holiday of Tet. And just as the Hebrew month of Nisan is the first month of the Jewish year, Tet represents the Vietnamese New Year (Jews celebrate their actual new year in the seventh month of the Hebrew calendar).




To celebrate Tet this year, the Year of the Dog, Vong -- one of Israel's leading Vietnamese restaurants -- offered diners a special nine-course Vietnamese New Year's banquet on Sunday, 18.2. The banquet, designed as a sharing menu for two people, comprised four starters, four main courses, one dessert, and a bottle of sparkling sake to top off the special occasion.




The special meal was conceived and executed by Van, Vong's native Vietnamese culinary consultant, and featured traditional dishes that not only are not on the restaurant's regular menu, but also were not modified to conform to Western/Israeli adaptations of Southeast Asian cuisine. As such, it was a unique gastronomic experience, of the kind that Vong sponsors on select occasions.



The feast commenced with four starter courses served to the center of the table on a large tray decorated with a banana leaf:




Bun Thit Ga Nuong. Chicken skewers marinated in fish sauce and lemongrass, served on a bed of thin rice noodles with cucumber sprouts and leafy green herbs.




Cha Ca Thi La. White fish fritters in tamarind sauce with shallots, dill, garlic and chili.




Cha Lua. Steamed sausage, served with assorted pickled vegetables.




Thit Bam. Zucchini stuffed with chicken, mushrooms, and glass noodles, in a rich chicken broth.

A bottle of refreshing sparkling sake accompanied these dishes and the four more that followed:




Va Ga Xao. Seared chicken in fish and oyster sauce, with crunchy bean noodles.




Tom Rim Thit Trung. A shrimp and chicken stew with quails' eggs.




Banh Tet. Sticky rice, mash beans, cashew nut and coconut cream steamed in banana leaf.




Ca Com. Fried fresh anchovy coated in chili caramel.

The dinner concluded with a choice of three desserts taken from Vong's daily menu: mango mousse, tapioca with fruit and peanuts, and caramelized bananas.




Website: http://www.vong.co.il/
Details

Written by

Tel Aviv Yafo Muni
The Tel Aviv Samsung Marathon will take place on February 23, 2018. 40,000 runners will participate in Israel's biggest sporting event of the year. A record number of 2,500 international participants from Germany (335 runners), Poland (192), Russia (185), US (182), UK (118), Italy (105), France (102) and more are set to hit the city to take part in the Tel Aviv Samsung Marathon, including a large delegation of elite international runners attempting to break the marathon record. The current record was set in 2016 by William Kiprono Yagon from Kenya at a time of 2:10:30. Any runner who succeeds in achieving a result of under 2:07:59 will receive $40,000.
This year, the Tel Aviv Marathon will take participants on a stunning 42km route winding its way through the beating heart of the city. Runners start at the Tel Aviv Convention Center in northern Tel Aviv and then follow the route through many of the city's most celebrated neighborhoods, including Sarona Market, Rabin Square and Old Jaffa - one of the most ancient port cities of the world. The route also takes runners along the white sandy beaches of the Mediterranean Sea.
150,000 spectators are expected to attend the event this year to cheer the runners on. The Marathon Expo, the largest sport and active lifestyle exhibition in Israel, will be held at Rabin Square during the week leading up to the marathon. CineMarathon, a free film festival will also be held on the premises, showcasing a selection of acclaimed films about running.
The Tel Aviv Samsung Marathon continues this year to support social and community engagement, and encourages marathon runners to take advantage of their participation to raise funds for charity. On the official Tel Aviv Samsung Marathon website, participants can choose from a list of more than 90 charitable organizations to support and create a donation page to share with their friends, family and colleagues. In addition, the Tel Aviv-Yafo Municipality invites more than 1,000 soldiers to participate in the marathon at no cost.
Ron Huldai, Mayor of Tel Aviv-Yafo: "The Tel Aviv-Yafo Municipality is proud to promote the sport culture in the city. We are pleased that every year the number of international participants rises, placing the city as an important destination for marathon runners from Israel and abroad. We welcome the 2,500 runners joining us from abroad to participate in the unique experience that we create annually in the city."
The marathon heats:
Marathon – 42.195 km (kick-off time: 7:00)
Semi-Marathon- 21 km (kick-off time: 6:15)
10 km race
5 km race
Hand-cycle race
Mini-Marathon for kids- 500m and 1km (Wednesday 21st, 16:00 at the Sarona Compound)
To register for the event, or for more information, updates and maps of the routes, visit: http://www.tlvmarathon.co.il/Default.aspx?l=en
Details

Written by

Silvia Golan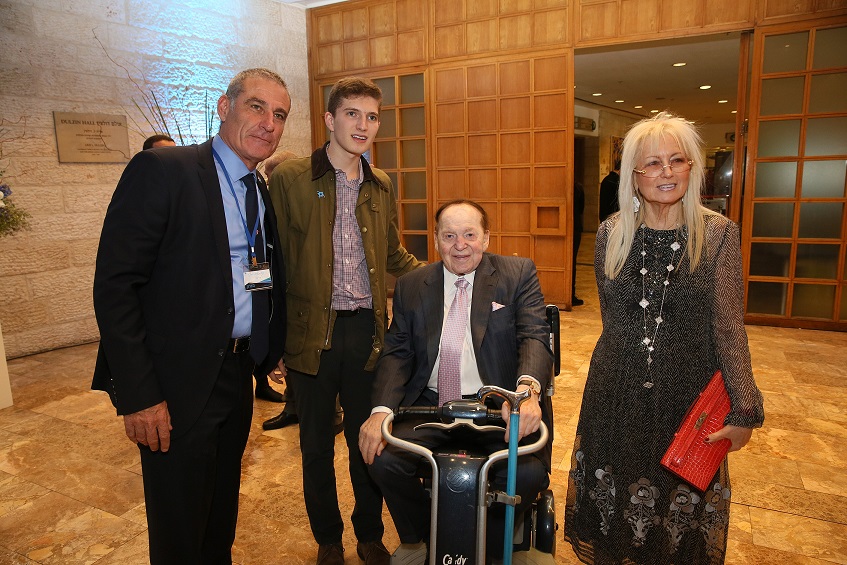 Said Prime Minister Benjamin Netanyahu, to thousands of young Jews participating in 'Birthright Israel's main event held in Jerusalem tonight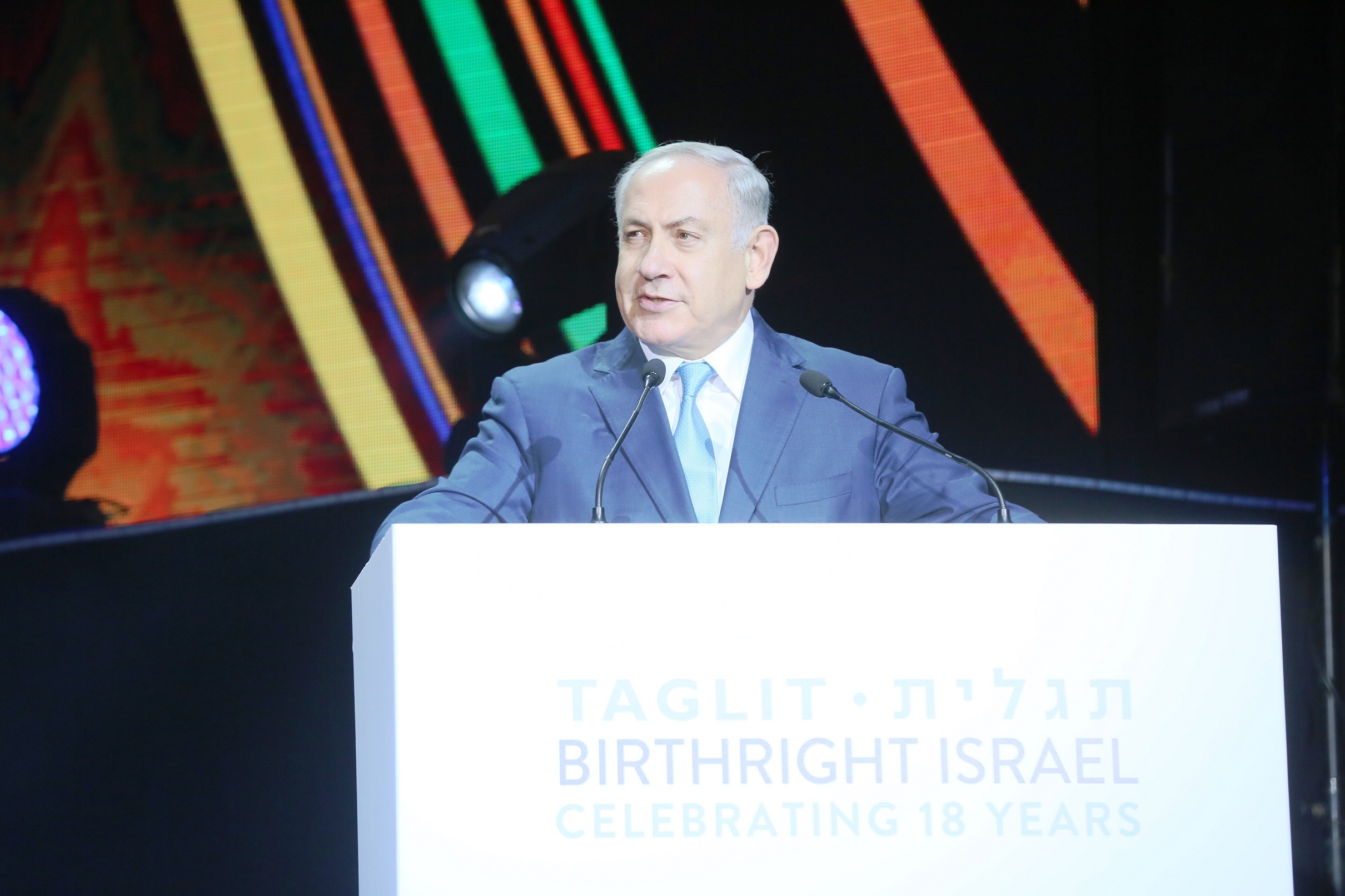 "4000 years ago, our people arrived to this country- and they were sent to exile. Usually people who are expelled – tend to disappear with time- but the Jewish nation refuses to disappear. When we said: 'Next year in the rebuilt Jerusalem'- we knew our wish will come true. It took us a while, but we made it and we are here forever. Strong Israel support powerful Jewish community worldwide. This is 'Birthright Israel's' 18th year of operation – while in Hebrew 18 means 'Hchai', being alive. 'Birthright Israel' brings life to more than half a million Jews over the world and there's nothing that represents your Jewish identity more than 'Birthright Israel' Venture. Remember that no matter where you come from and how you pray – Israel is your home". said Prime Minister Netanyahu in the main event of 'Birthright Israel', the largest Jewish venture in the world.
The event, held in the International Convention Center in Jerusalem in the presence of Dr. Miriam and Sheldon Adelson, Meir Shamir, Birthright Israel International CEO, Gidi Mark, Members of the Israeli Knesset, benefactors, fellows and participants from around the world.
'Birthright Israel' International CEO, Gidi Mark: "As we open 'Birthright Israel's 18th year, we find great importance, especially in this time, in strengthening the bond between young Jewish people in the diaspora, their Jewish heritage and the state of Israel. This year, we continue to expand our offering for future participants, providing more ways than ever for them to connect with their Jewish roots and Israel's diverse character".
Photo Sharona Avraham
Details

Written by

Buzzy Gordon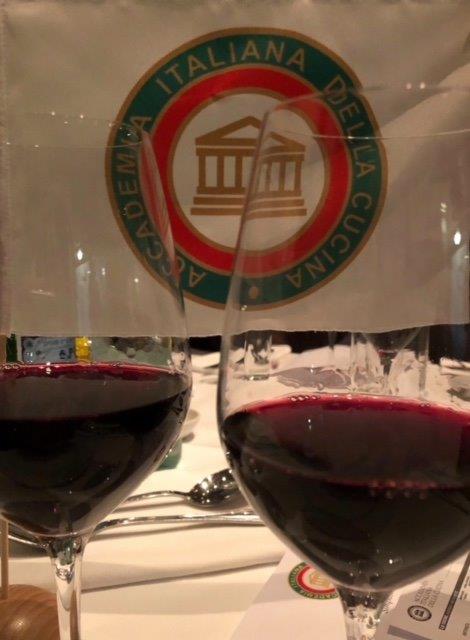 The Israel chapter the Italian Academy of Cuisine (l'Accademia Italiana della Cucina) held its first dinner of 2018 on January 28 at Pronto, the Italian restaurant helmed by Chef David Frenkel. The symposiarchs of the evening were Academy Delegate Dr. Cinzia Klein and Ms. Aliza Radian.
In her opening remarks, Ms. Radian noted that in recent years, the Hebrew media had recognized Pronto as the best Italian restaurant in Tel Aviv.
Chef Frenkel himself won the prestigious San Pellegrino and Acqua Panna Cooking Cup as a result of his performance in the Venice competition in 2012.
Frenkel welcomed the group to his restaurant, noting that under owner Rafi Adar, Pronto was the first Italian trattoria to open in Tel Aviv, in 1988. Pronto moved to its current location seven years ago, where Frenkel has been overseeing its transformation from a typical trattoria to a full-fledged fine dining restaurant.
For the occasion of the Italian Academy's first official visit to Pronto, Frenkel prepared a special four-course da condividere menu, with dishes served in the center of the table to be shared.
The Antipasti comprised tuna tartare bruschetta, grilled eggplant in Gorgonzola cream, and vitello tonnato, while the Primi course featured three pasta dishes: corn ravioli with seasonal vegetables, agnolotti in a Gorgonzola sauce with cream of potato and leek, and cappelletti with oxtail.
At this appropriate juncture in the meal, Dr. Massimo Lomonaco, the Israel bureau chief of the Italian press agency ANSA -- citing the book Moments of Happiness by French anthropologist Marc Augé -- discussed the important role played by pasta in elevating people's moods.
The meal continued with two Secondi -- sea bream poached in white wine with tomatoes and capers, and butcher's cut with polenta -- and concluded with two desserts: crostata al miele and tiramisu.
The food was accompanied by Prosecco Tommasi, as well as Bibi Graetz Casamatta red and white wines from Tuscany.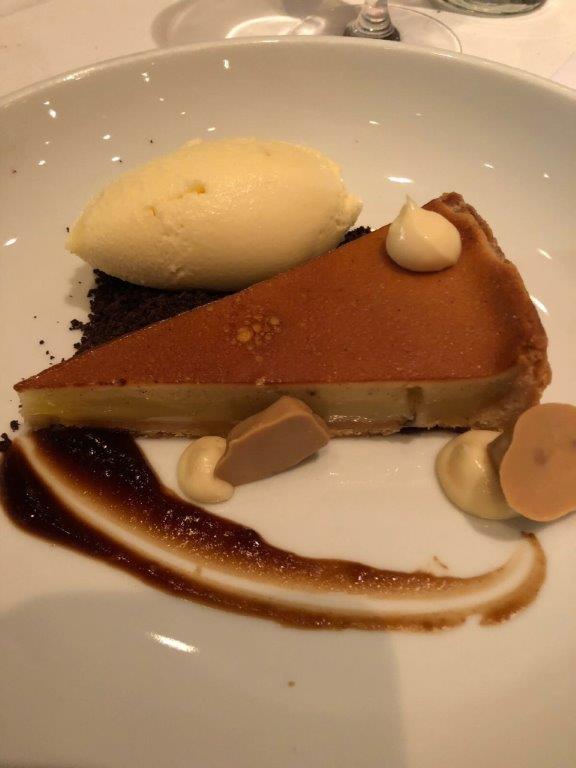 At the conclusion of the meal, the diners voted to award Pronto a score of 7.5, which equates to three stars. This rating ties Pronto with several other restaurants in Tel Aviv that achieved the highest ranking accorded in Israel by the local chapter of the Accademia.
Among the notable personalities attending the dinner at Pronto were Dr. Francesco Meucci, commercial attaché at the embassy of Italy; architect and sommelier Jenny Innocenti; and MK Oded Ben Hur, former Israeli Ambassador to the Vatican.
Photos by Joelle Inowlocki and Iris Kanner
Details

Written by

Buzzy Gordon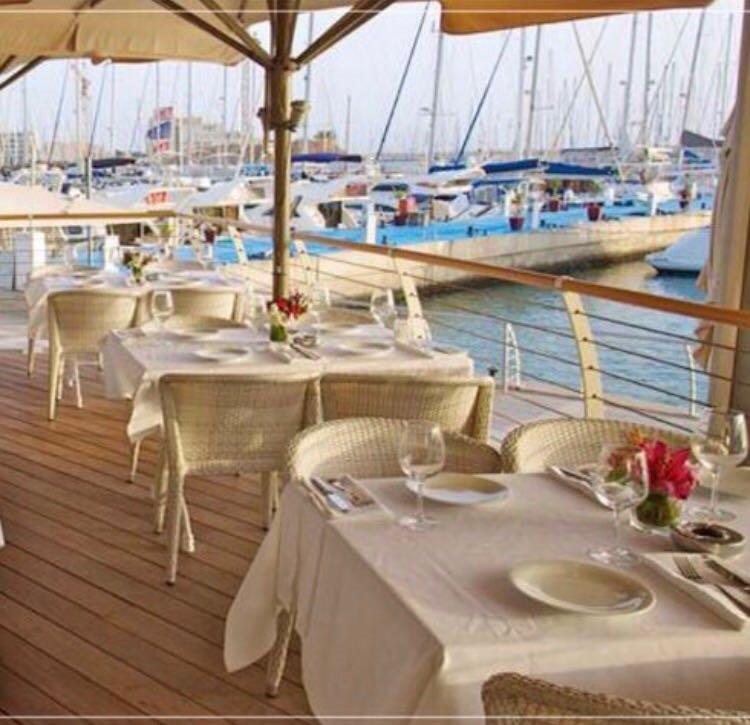 The Japanese-Mediterranean restaurant and sushi bar Nammos occupies one of the prime locations in the Herzliya Marina: the Blue Wave, home of the prestigious Yacht Club. The fine dining restaurant itself extends over several indoor and al fresco areas, in very close proximity to the berths of massive luxury yachts.
Nammos' well-stocked bar offers seven specialty cocktails, in addition to the classics. One of the former creative cocktails is the Apple and Pomegranate: spiced rum, vanilla syrup and lemon, blended with apple and pomegranate juices, resulting in a fruity and refreshing drink. The bartender will also mix a virgin cocktail, sans alcohol.
It is evident from perusing the restaurant's extensive menu that Nammos specializes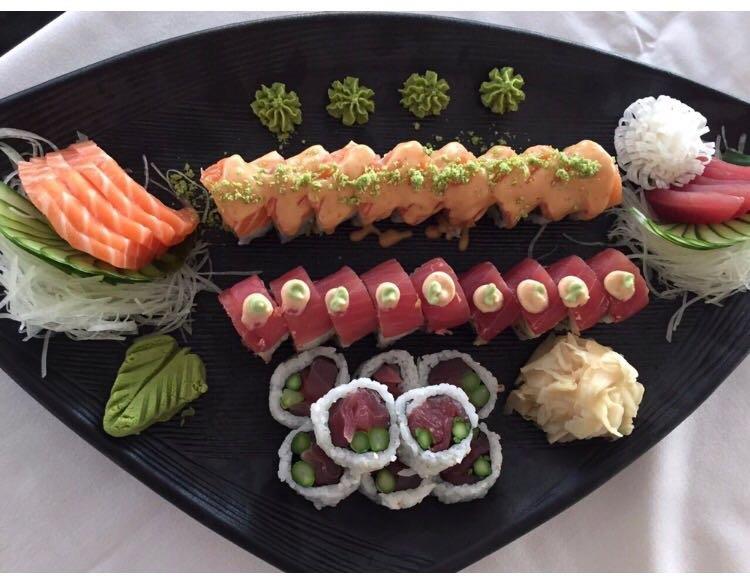 In fish and seafood. The sushi menu highlights 16 special rolls, of which we sampled that evening's chef's recommendations: spider rolls, featuring soft shell crab tempura, avocado, asparagus, tobiko and green onion; lobster rolls with cucumber, avocado, spicy miso and black tobiko; spicy tuna rolls with tempura flakes, avocado, cucumber and spicy mayonnaise; and salmon miso rolls: salmon, cucumber, avocado, takwan, spicy miso and crunchy wasabi peas. All the rolls, prepared with exceedingly fresh fish and seafood, were exceptionally well-balanced.
For our main courses, we were served two of the restaurant's signature pasta dishes.
The lobster ravioli comprised delicate pasta pockets stuffed generously with premium seafood, accompanied by emerald green asparagus. The al dente vegetable and gently cooked ravioli were drenched in a rich, complex saffron cream sauce that we mopped up to the last delicious drop.
The black pasta, meanwhile, was dark linguine studded with a marvelous seafood assortment: lobster, shrimp, calamari and clams. The cream sauce enriched with wine and butter added another exquisite dimension to this outstanding dish, which was greater than the sum of its parts.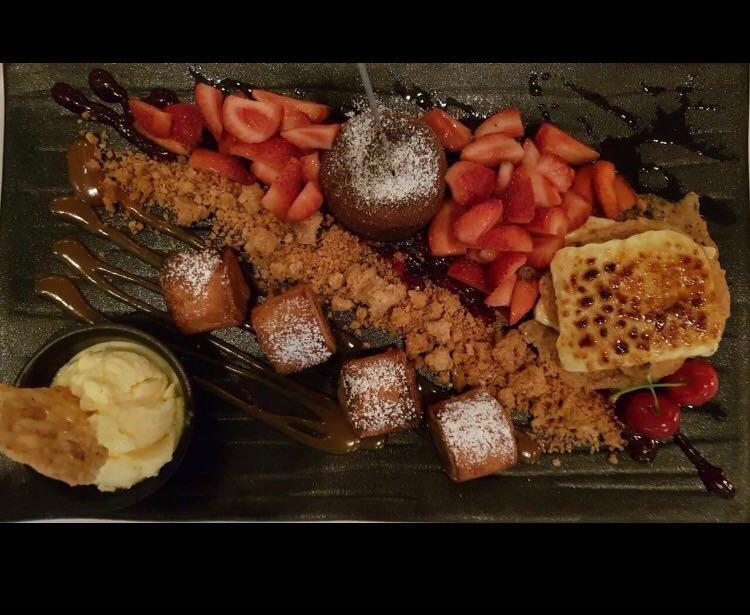 Our two desserts were also chosen by the kitchen. First was the chocolate sphere encasing homemade marshmallow ice, over which our waiter poured chocolate sauce at the table. Together with crunchy, buttery crumble, this dessert was like eating a cool candy bar.
Even sweeter was the crême brulée semifreddo: alternating layers of half-frozen crême brulée with almond tuile, surrounded by dots of toffee sauce. This light dessert of contrasting textures made for a worthy finale to a memorable meal.
Throughout our meal we were treated to friendly and impeccable service, exemplified by the proffering of wet naps from pre-torn packages between each course, along with the constant clearing of the table and resetting with clean plates and cutlery. The excellence of the food, combined with the professional service, are the hallmarks of a first-class restaurant.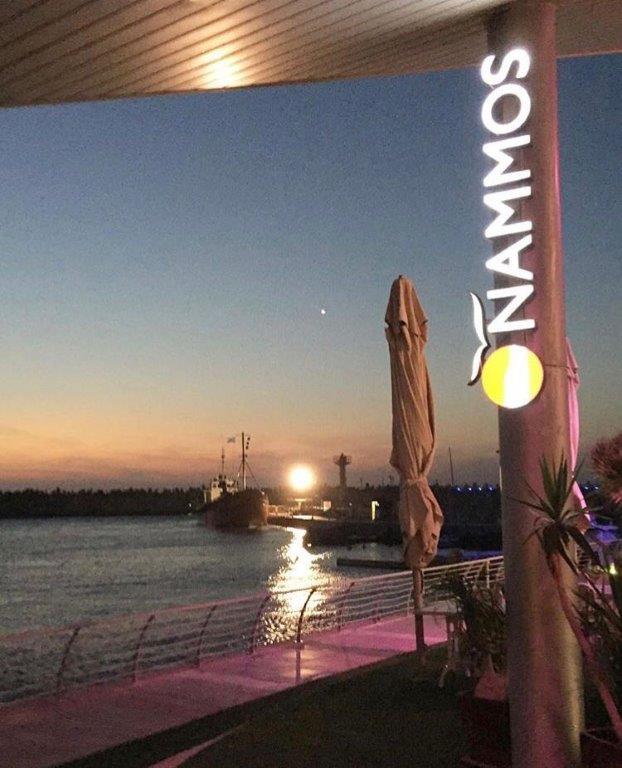 Nammos
Website: http://www.restaurants-in-israel.co.il/restaurant.aspx?id=20403
Chef/Proprietor: Ilan Trigger
Not kosher
Hatzedef 1, Herzliya
Tel. (09) 951-1555
PhotoS Nammos