Visits
Details

Written by

Talma Gotteiner
Eli Cohen is a hair professional who specializes in hair extensions and wig building. He has utilized his 30 plus years of experience to implement an improved method of application of hair extensions.
The technique that he uses was inspired by the African braid culture and is based on weaving in the hair accessory to only 8 points whereas common methods used today tape or glue the accessory to 100 points along the scalp.
The whole process takes only 40 minutes. The accessory weighs 50 grams and is woven with a high-quality PU thread that is also used in medical operations. Once every month and a half or two, the accessory is removed and reattached to 8 different spots.
The advantages of this technique are that it cannot cause accidental burns and bald spots, it takes less time and less points of hair bear weight in parallel. Moreover, the 8 weight-bearing points have time to recover their strength because the spots are changed with each maintenance adjustment.
The hair extensions come in wide variety textures and colors so that they are suitable for a multitude of cases such as: thinning hair and avoidance of a transition phase when growing hair or when growing back to white.
All the additions used by Eli Cohen are based on natural hair imported from Europe. The extensions are sown on site and have a one year warranty. They are suitable for curly, wavy and smooth hair types allowing all women to enjoy thick fashionable hair in all shades without the use of soldering or chemical processes that damage the hair and its renewal.
Although not mentioned by Eli, based on his website he founded a volunteer hair salon at Sourasky Medical Center where he utilizes his experience with hair extensions and wig building to help cancer patients maintain their appearance.
Facebook אלי כהן - אמן תוספות השיער, מילוי ועיצוב
Eli Cohen - The Center for Professional Hair Solutions specializes in hair thinning and extensions. The center offers natural hair extensions and uses various methods including the above weaving method as well as clip on and other options based on personal counseling. Eli Cohen is the only one in Israel who sews and fixes hair extensions on the spot. Lastly, in addition to the hair extensions, the center offers a variety of fashionable wigs. The center is located in Ramat-Gan on the border of Tel-Aviv.
For contact details please refer to the original article on:
https://www.israel-best-trips.com/single-post/Eli-Cohen-Presenting-an-Advanced-Method-for-Hair-Extensions
Photo Silvia Golan
Details

Written by

Talma Gotteiner
A veteran professional Israeli hair products company has just launched a new hair-straightening product, the first of its kind in Israel for self-use at home.
The new product, named 'Silk Keratin' has just been approved by the Ministry of Health. The product is Keratin based and does not contain formaldehyde or any other toxic or carcinogenic substances. It also does not burn or damage the hair. The product is manufactured according to Good Manufacturing Practices. The consumer price is 150 NIS and the amount is sufficient for two straightening treatments. The product is available at the new 'Be' drugstore chain of Shufersal.
Vitamins, until recently, produced and sold hair products only to professional hairdressers. With this new product, it is expanding its reach to consumers who are seeking to treat their hair at home. The treatment duration of the home-treatment is similar to the duration at the barbershop. It is recommended to perform the treatment at home in the company of a friend to help follow the instructions, which you can also see on their video.
The Keratin based product can also be used on hair that has already undergone chemical treatments such as hair dyes and prior hair-straightening treatments. The result is very smooth hair. The durability of the straightening result depends on the type of hair type, hair growth rate and environmental exposure of each customer. The product has a pleasant aroma and is sold in a kit that also contains a mask for hair nourishment following treatment.
A simple calculation of the money saved by this product compares the price of a single hair-straightening treatment at the barbershop that ranges between 800-1000 NIS to a single treatment (half a pack) with the Vitamins 'Silk Keratin' product that costs 75 NIS.
Vitmins has been working internationally in the professional arena since 1943 as a company specializing in hair products. The company develops, manufactures and markets a wide range of hair, scalp and skin care products. Vitamins products are based on the high-quality raw materials and are manufactured using advanced technologies that enable the maintenance of the quality of the materials and the production of products that help restore hair and preserve a younger and healthier appearance.
For more information on where to purchase the product online, refer to the full article on:
https://www.israel-best-trips.com/single-post/Silk-Keratin-by-Vitamins-A-Revolutionary-Home-Use-Hair-Straightening-Treatment-in-Israel

החלקה ביתית - סילק קרטין ויטמינס Facebook
Instagram silk_keratin_vitamins
Photo Silvia Golan
Details

Written by

Talma Gotteiner
The 8th championship in Israel, for hairdressers, makeup artists and nail artists took place at the Smolarz Congress and Conference Center of Tel Aviv University on January 21st, 2019.
The Championship in Israel was held within the framework of "Cosmobeauty 2019", the annual conference of beauty professionals in Israel conducted by the Organization Israel Coiffure (IOC Israel). This annual event attracts hundreds of contestants competing for a first place trophy!
The competition follows strict rules and guidelines and is recognized by the Organization Mondial Coiffure (OMC) since 2008. OMC is the largest organization for beauty professionals around the world with over 500,000 members in over 60 countries.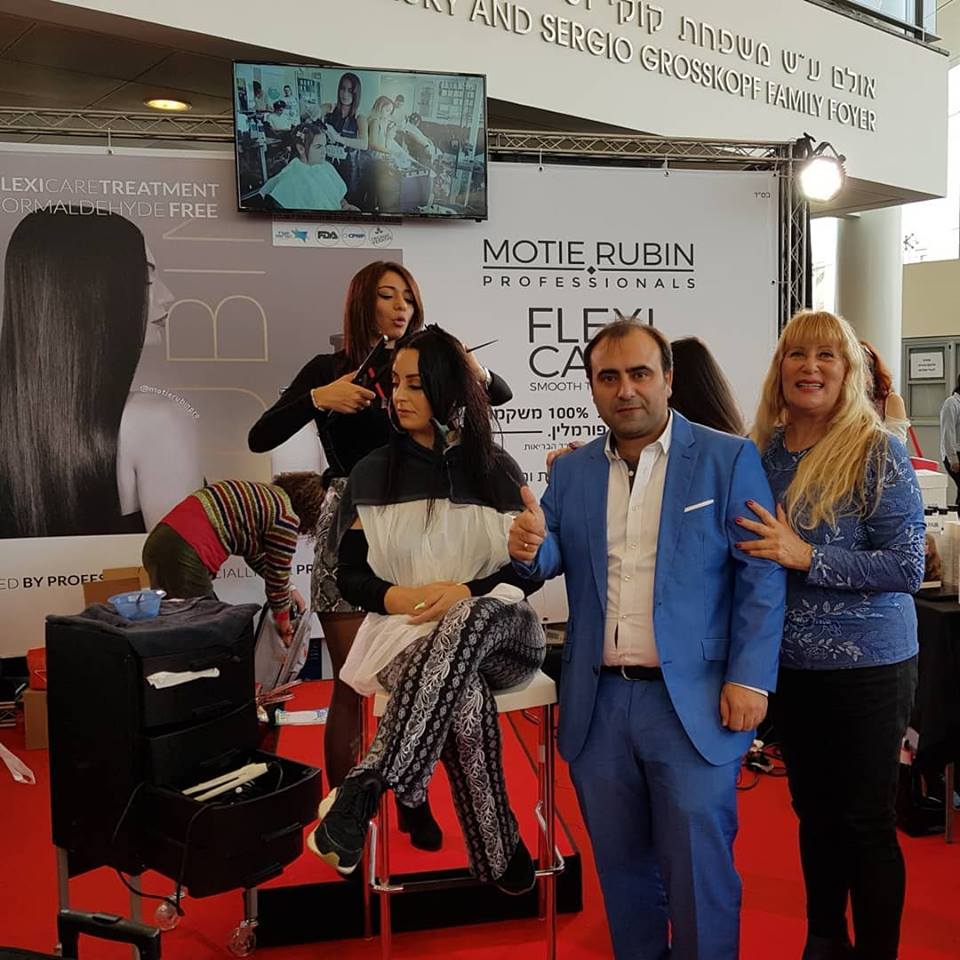 This platform for creative professionals was devised by Motie, Roman and Raphael Rubin, leaders of the hair industry in Israel with the intent of Israeli representation in the most important competitions in the world!
The Motie Rubin Academy is the only hair-styling institute in Israel, that confers on its graduates an international diploma. It is a center for professional studies in a wide range of hair design courses, with a rich curriculum including the most up-to-date content in current and future trends. As part of its vision, the Motie Rubin Academy promotes hair styling while contributing to society, economics and the industry by collaboration with outside bodies. The Motie Rubin Academy is a main sponsor of the Israel Championship at Cosmobeauty.
Motie Rubin Academy
159Yigal Alon St Tel Aviv
Phone
Tel Aviv: 03-6091515
Haifa: 04-8484063
For further details on some of the exhibitors, please refer to the full article at:
https://www.israel-best-trips.com/single-post/Cosmobeauty-2019-Hosting-the-Israel-Cup-for-Hair-Nail-Art-and-Make-Up-and-Barber-Battle-Israel
Photos Silvia Golan
Details

Written by

Talma Gotteiner
WrinkX: Launched by 'The Secret of Youth'
"The Secret of Youth" is an Israeli company specializes in the development and production of naturally based dermo-cosmetic products for the skin. The active ingredients are derived from fresh fruits and vegetables grown in Israel based on a knowledge that has been preserved for thousands of years. "The Secret of Youth" is now launching a new anti-aging product named WrinkX.
WrinkX is designed for anyone who feels a decrease in the vitality of their facial skin and wants to stimulate their overall appearance. WrinkX will help them regain a fresh healthy look and avoid any negative feelings and lack of confidence associated with a more worn-out look. This unique formula for skin rejuvenation enhances the most important business card, our face, to give it a new vigorous look that complements our vibrant interior instead of sending a message of fatigue that affects the way the environment perceives us.
The active ingredients in the formula penetrate the epidermis deeply and are excellent at filling the skin gradually until the finer lines are blurred and the skin gains a smoother appearance. Thus, the product is particularly suitable for people aged 30-60 who will find it effective in maintaining a young, essential look with the onset of the first signs of aging.
The significant advantage of the product is that it contains natural ingredients that are suitable for a wide range of skin types. The cream is intended for daily use and the results are immediately apparent, and more significantly within a short period of two to four weeks contributing to the improved radiant appearance and vibrant skin.
The cream comes in a luxurious stylish package for home as well as in a smaller TO GO version, suitable for carrying in a makeup kit or handbag as you go about your daily affairs.
Site http://www.secretofyouth.biz/
Facebook Secret of Youth ltd
To read more about other available products, please refer to the full article here:
https://www.israel-best-trips.com/single-post/2019/02/21/The-Secret-of-Youth-Launching-WrinkX
Photos by Silvia Golan
Details

Written by

MFA
Today we celebrate Tu-Bishvat - the "New Year of the Trees", a holiday dedicated to nature and the source of life on earth.
Farming in Israel is not an easy task, but we have found creative ways to make the desert bloom.
Here are 7 Israeli Technologies that are making farming more efficient and sustainable - drip irrigation, water recycling, biopesticides, biofertilizers and so much more!
Copyright: MFA video