Economy and Tourism
Details
The Prime Minister received from him the OECD's first review of Israel's environmental accomplishments.(Communicated by the Prime Minister's Media Adviser)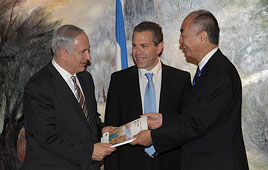 Details

Written by

Ministry of Finance
The rating action reflects S&P view of Israel's improved economic policy flexibility as a result of strong growth and careful macroeconomic management.

(Communicated by the Ministry of Finance)


Standard & Poor's Ratings Services (S&P) raised its long-term foreign currency sovereign credit ratings on the State of Israel to 'A+/A-1' from 'A/A-1'. At the same time, S&P affirmed the local currency ratings at 'AA-/A-1+'. Also, S&P's outlook is stable, and the transfer and convertibility (T&C) assessment remains at 'AA'.

Notes by Standard & Poor's on Israel's rating upgrade:
S&P mentioned that their ratings on Israel are supported by their view of its "prosperous and resilient economy, strong institutions, ongoing fiscal consolidation, and robust external performance." The ratings are also constrained by significant geopolitical risks, partially offset by U.S. support, and its still-sizeable public-sector debt burden.
According to S&P, Israel is on a credible path toward continued government debt burden reduction and stronger external indicators, having weathered the global financial crisis well. S&P also noted that Israel's external position is sound, as a result of consistent current account surpluses since 2003, and that that the production of natural gas by the middle of the decade is likely to further increase the economy's efficiency as well as strengthen its fiscal and external positions.
The stable outlook reflects S&P's opinion that Israel's popular consensus about containing public debt will remain intact despite social protests. S&P noted that "despite rapid appreciation in housing prices, we do not consider the sovereign to be exposed to significant contingent liabilities from the financial system.
Also, according to S&P, the banking sector appears to be tightly regulated, resident banks seem to pursue relatively conservative business models, and Israeli banks and households are also fairly well capitalized by international standards.
Israel's credit ratings:
S&P first upgraded Israel's credit rating to 'A' in 2007. In January 2009, it reaffirmed its decision, further giving Israel's market a "solid" forecast. Alongside the decision by S&P to upgrade Israel's credit rating to A+ this September, the two other major credit rating firms, Moody's and Fitch, also reaffirmed their rating towards Israel, as Moody's left Israel's A1-Stable rating unchanged, and Fitch ratings left Israel's A Stable rating unchanged.
Comments by Ministry of Finance officials:
Minister of Finance, Dr. Yuval Steinitz, noted that "this is an impressive credit given to the Israeli economy and its successful coping with the global economic crisis. This achievement of credit upgrade is especially unique given the debt and massive unemployment crisis, which hurt many economies' credit rating." Minister Steinitz also noted that "the fact that S&P mentioned the latest natural gas findings as a point of strength for the Israeli economy indicated the importance of the work done by the Committee to Examine the Fiscal Policy on Oil and Gas Resources in Israel, Headed by Prof. Eytan Sheshinski." The minister added that "Israel cannot rest on its laurels, as the on-going global crisis demands us to keep our budget frameworks and economic policies.
The Accountant General in the Ministry of Finance, Ms. Michal Abadi-Boiangiu, noted that "the announcement by S&P in such times, when the world is confronting a deep global economic crisis, testifies on the strength of the Israeli economy and reinforces the importance of reducing Israel's public debt."
Details
Tourists from both Israel and abroad can travel the country and enjoy activities that have minimal impact on the environment and build environmental awareness.

Environmental tourism options in Israel are growing apace, especially in the verdant Galilee region. If you want a healthy holiday, check in to the
Mizpe-Hayamim Hotel, Spa and Organic Farm.
Dating from the 1960s, the complex was the vision of Dr. Eric Yaros – a physician and homeopath who emigrated from Berlin.
The vegetarian restaurant gets a personal recommendation and while you're there, be sure to walk up the hill to the 28-acre farm that supplies every single one of the restaurant's seasonal vegetables, fruits and dairy products.
The valley below the hotel is home to the bird-watching paradise of the Hula Valley and Lake Agmon. More than 500 million birds – 400 species – stop over in the valley, as they migrate between Europe and Africa in the spring and fall. Visitors can rent electric golf carts or bicycles, and set out alone or with a resident ornithologist for a tour of the restored wetlands
For a more intimate green getaway, try Hemdatiya in Moshav Sejera–Ilaniya. It's a small B&B with five rooms, in carefully-restored stone farm buildings dating from the early 20th century. Vineyards, goats and seasonal organic vegetable gardens, provide salads, wine and cheese for guests.
Another attractive and practical eco-feature for drought-plagued Israel – all the water from the rooms is channeled down to the wetlands, to irrigate the orchards.
Atalya Trua, one of the owners of Hemdatiya, is passionate about the importance of the eco-holiday site: "The ecologic life is the only way to live today… for the environment, and for the next people, the next generation."
Details

Written by

IMTM
IMTM 2011 will be held on 8-9 February 2011 at the Israel Trade Fairs and Convention Center: from 15:00 on, the general public are invited - at no charge.
This year's IMTM 2011 - Israel's International Mediterranean Tourism Market – is set to be the biggest since its inception 17 years ago. Over 300 exhibitors from more than 35 countries are participating in the fair, to be held on 8-9 February in Pavilion 1 at the Tel Aviv Convention Center.
Participant countries include this year Croatia, Russia, Romania, Cyprus, Turkey, Germany, Italy, the UK, Estonia, Slovenia, Belarus, Portugal, Spain, Lithuania, Montenegro, Latvia, Georgia, Belgium, India, Thailand, Japan, Taiwan and Tanzania.
And after a two-year break, Greece is participating again, following its popularity as a destination for Israelis who continue to boycott Turkey.
Dozens of tourism and leisure organizations from Israel are set to attend, and will present the Israeli public with this year's innovations and attractions, aimed at boosting domestic tourism.
On Tuesday and Wednesday (February 8 and 9) IMTM will be open to the general public - at no charge - from 15:00.
Several professional conferences will be held during the event. Travel agents will be discussing the question of the Dead Sea with journalists, the sixth Annual Conference of the Center for Academic Studies will be looking at innovation and creativity in Israel's tourism sector, and a special conference for managers of Human Resources and Employee Well-Being is planned - "Human Resources and Employee Well-Being in the Social Networks Era."
Eyal Shmueli, publisher, and editor-in-chief of Israel Travel News magazine, and one of the architects of IMTM comments: "I'm proud to say that this year we're expecting a record number of exhibitors. Every year we're thrilled by the huge number of queries from dozens of countries and Israeli tourism sites – all planning to attend the event. It's an expression of confidence in Israeli tourists and their economic clout. Like every year, we'll be awarding special emphasis to domestic tourism and incoming tourism – both of which are flourishing, and generating thousands of jobs in Israel. We invite everyone to come to the event and take a world tour in just a couple of hours."
IMTM Is the annual central event of Israel's tourism sector. Its mission is to encourage incoming and outgoing tourism, plus domestic tourism in Israel, and to strengthen joint ventures with other countries. This is the 17
th
consecutive year of the event. Alongside the foreign nations taking part are Israeli representatives, tourism associations from around the country, hotels and airlines, car rental organizations, and tourism-service providers.
The event is organized by Ortra Ltd. and Israel Travel News, and sponsored by the Tourism Ministry, the Israel Hotel Association, EL AL, IATA, Israel Tourist & Travel Agents Association and Israel Incoming Tour Operators Association.
Details

Written by

Axel Angeles and Zoe Knobil
As has been customary for many years thus far, the largest Israeli business convention was once again inaugurated and sponsored by Globes.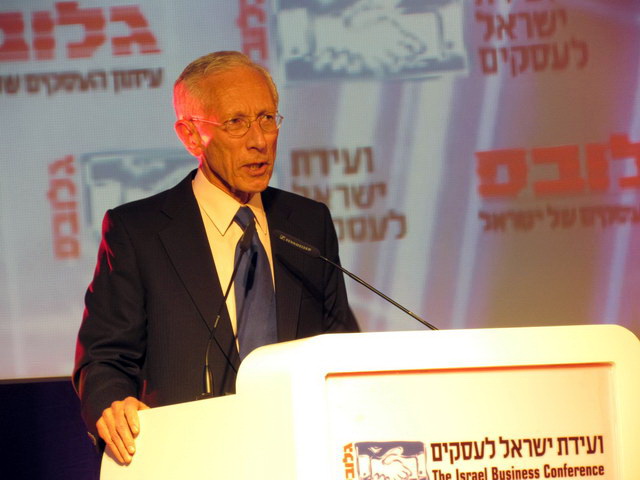 The event played host to the most recognized and intriguing people in the Israeli financial and political world as they embark upon dealing with the issues that will design the forecasted outlook of the state and the economy over the next year.

It was thus no surprise that President of Bank of Israel, Prof. Stanley Fischer, was named 'Person of the Year' by Globes. Fisher has been praised worldwide for his headstrong economic policies and how those policies have helped Israeli prosper and stay afloat during the world's far reaching economic downturn.


Fischer showed his gratitude for the honor by thanking those in attendance.

"When we at the Bank of Israel come to make a decision on interests and interventions, we sit down in the office and we decide; it's that simple," explained Fisher. "

"One time, I gave a lecture at a school in Modiin, and the teacher asked me how I come to make decisions on interest rates. Well, without the extraordinary team that we have in the Bank of Israel - directors and employees - we could not have done what we did. It looks simple but it is not. They did it without hesitation and with great success and that is why the world of finance should congratulate these professionals," he continued.


Fischer did not hesitate in praising the Israeli Economy.

"We can press all the buttons we want, but if there is no economy that responds correspondingly, it will have no significant influence. For example, the low interests in the USA do not influence the mortgage loans, given that there are serious problems in this sector and that the banks are not willing to allow them.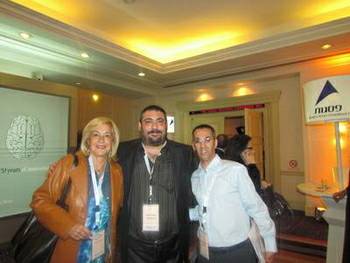 We reduced the interest rates and attained a healthy financial system. That is why the banks responded immediately. Our ability to influence the economy is due to the fact that for many years there were people that worked to strengthen it. This started with the stabilization program of banks in 1985. The past representatives of the Bank of Israel and the ministries of Treasury and Employment also contributed significantly to our current, favorable situation.

In the times of the debt crisis in Europe and the United States, it is not shocking by any means that both are suffering the greatest financial disparity in the last hundred years."

Fischer emphasized the importance of a stable economic model.

"If we are to learn anything from this crisis, it is that without a strong and healthy financial system, the economy can collapse," declared Fischer.

Look at Ireland: they did everything correctly except for one thing, they weren't cautious in the financial sector. The revenue agents allowed for the banks to grow at 700% of the gross domestic product (GDP).


If the State needs to save a banking system whose substance is seven times greater than the economy, there is a problem. The fact that our financial sector is relatively conservative and that we have very strict control over the financial system are reasons why we [the majority of countries] are in the current situation; the biggest crisis since the 1930's."

In this light, Fischer shared with those present, the moment in which he was asked to be the President of the Bank of Israel


"It was at the end of 2004 when my wife and I were on vacation and Bibi [PM Netanyahu] spoke with us. He tried to convince me to accept his offer. It was his own proposition, after Prime Minister Ariel Sharon's previous offer. Now, I can tell them both, that I am grateful for having been granted the opportunity to conduct something I always wanted to - to contribute in some way or another to the success of the Israeli economy.

In his praises and thanks, Fischer referred to the issues that require attention in Israel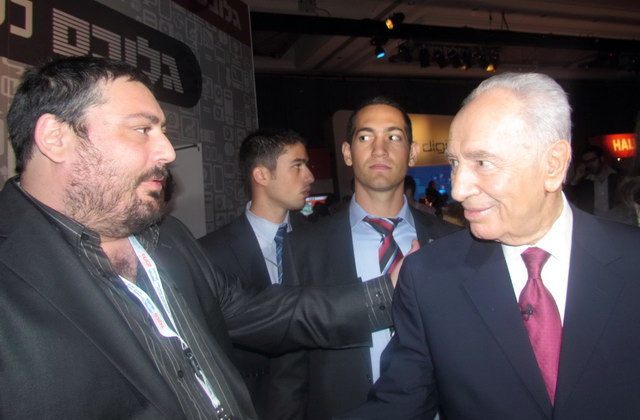 "We have very serious problems such as poverty, infrastructures, peace...we are very good at dealing with the immediate issues but less so with the long term challenges. We must make a change. Five and a half years ago, I said that the Israeli economy was strong and very flexible. Many people approached me and told me I was too optimistic. I believe that if one does not listen to the all the scandals concerning the economy and if we look at what we achieve despite the challenges and wars; we have reasons to feel proud of ourselves.

But like everything in life, we must avoid indulgence. We are good for now, but these circumstances can change quickly and there still remains a lot to be done.''



Photos Silvia Golan