Economy and Tourism
Details

Written by

Steven Aiello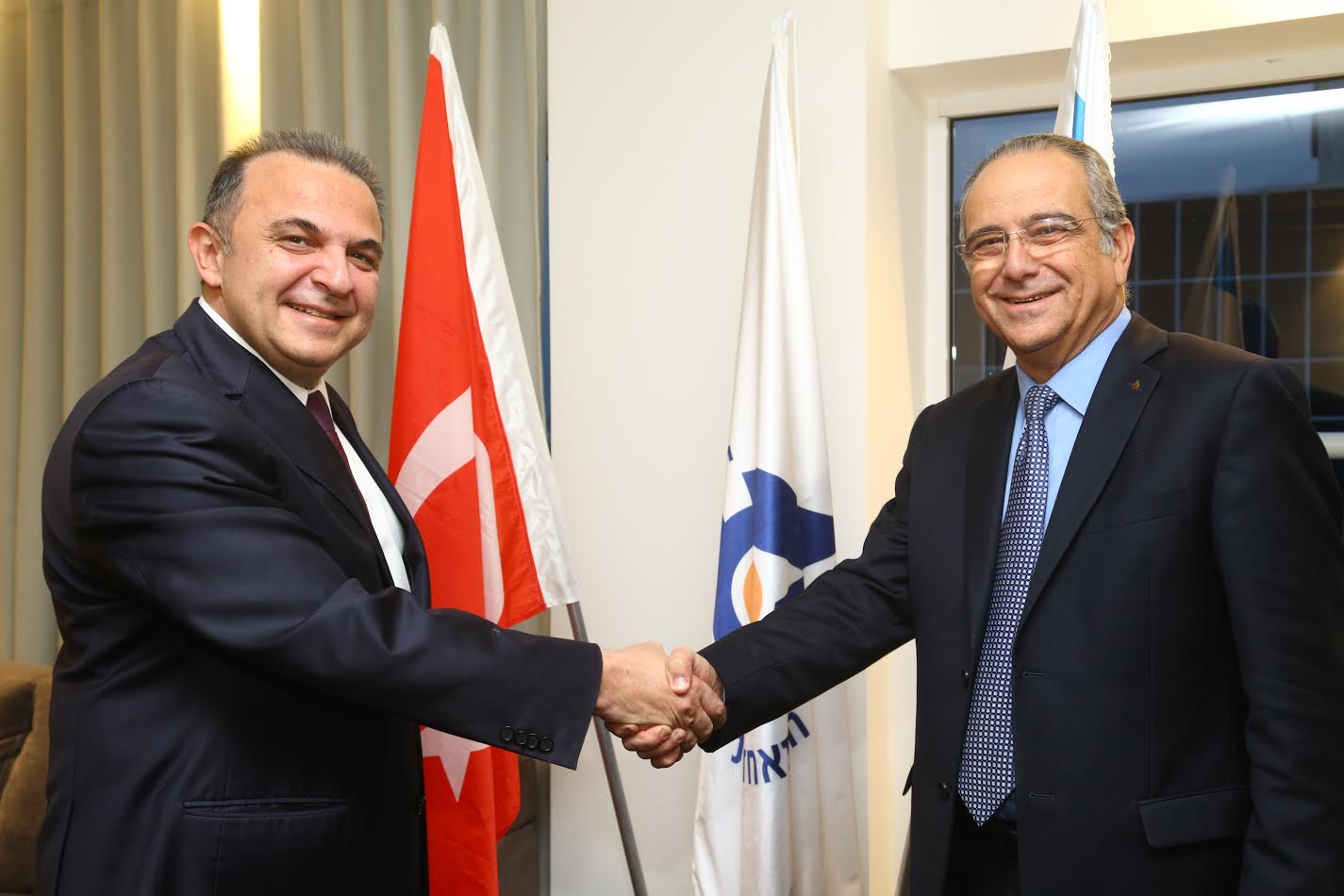 A joyous evening of commerce, cooperation and diplomacy
The President of the Manufacturers' Association of Israel meets with the new Turkish Ambassador to Israel to strengthen commercial ties between the two nations
The President of the Manufacturers Association, and Honorary Consul of Turkey, Shraga Barosh, held a reception on Wednesday evening, February 22, for the incoming Turkish Ambassador, Mustafa Kemal Okem, in the Association's elegant lounge, in the company of senior business figures and leading manufacturers.
The goal of the meeting was to recalibrate and strengthen economic and business ties between Israel and Turkey, in light of their fully restored diplomacy relations, highlighted by the recent exchange of ambassadors.
The President of the Association, Mr. Shraga Barosh, gave his greetings and blessings to the Turkish Ambassadors, and expressed his hope that economic cooperation between the two countries, which has flourished through both difficult and prosperous periods, will continue to grow.
Mr. Barosh said: "The commercial relations with Turkey are very important to us. The trade potential and economic cooperation with Turkey has yet to reach its full potential, and there is no doubt that we can look forward to a strengthening, diversification and deepening of economic ties."
Despite political difficulties between Israel and Turkey in recent years, the economic ties continued unabated. Israel and Turkey enjoy a free trade agreement, and over the last year, Israeli-Turkish trade exceeded 4 billion dollars.
In 2016, Israeli exports reached 1.26 billion dollars, a 25% drop from 2015 figures. Israeli exports primarily consisted of chemical products (75%), plastic and rubber (8%), and machines and electronics (6%).
Turkish exports to Israel reached 2.6 billion dollars, a rise of 6.5% from 2015. The Turkish products included primarily cars and transportation equipment (18.5%), metals (16%), and machines and electronics (13%).
Photo credit: Asaf Shiloh—Israel Sun
Steven Aiello is the founder and Director of the Debate for Peace MUN program
https://debateforpeace.wordpress.com/about/
Details

Written by

Ministry of Tourism
The Tourism Ministry and the Municipality of Tel Aviv to inaugurate a luxury Pop Up hotel in a lifeguard tower on Tel Aviv Beach
Renovations on the lifeguard tower will begin in the coming days

International competition to be launched in partnership with

The competition winners will be flown to Israel in March and will stay in the luxury ocean-front hotel suite, complete with the services of a private butlerby the "Brown Hotels" Urban Collection
Tel Aviv, February 21, 2017 - The City of Tel Aviv-Yafo, the Israel Tourism Ministry and the "Brown Hotels" Urban Collection, are launching the first project of its kind in the world. A lifeguard tower on Tel Aviv Beach ("Frishman") will be transformed into a luxurious hotel suite, in which the guests will be winners of an international competition to be launched in partnership with Hotels.com.
This unique accommodation will be provided to the competition winners (one couple from each country) who will be flown to Israel for a four-day vacation in Tel Aviv, during the period March 15-25. Their first night will be spent inside the lifeguard tower at Frishman Beach, which will be renovated to meet the criteria of a five-star hotel. Guests will enjoy all the usual amenities, including a personal butler, pampering shower, breakfast, and even room service.
This joint initiative of the Israel Tourism Ministry, the City of Tel Aviv-Yafo and Global Tel Aviv will showcase Israel as a leading tourist destination in the winter and shoulder seasons.
The marketing campaign will be implemented by the Tourism Ministry as part of the ongoing Two Cities One Break campaign, promoting Tel Aviv and Jerusalem in countries that have been defined as potential targets for increasing tourism.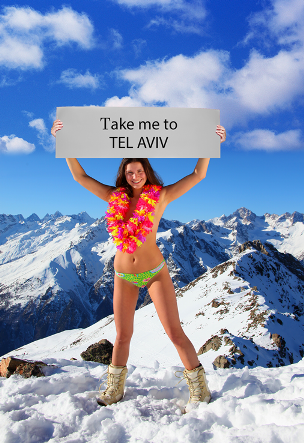 How to take part in the competition?
Participants in the international competition in partnership with Hotels.com are invited to upload a photo of themselves to Instagram, against the background of their city, wearing the beach gear (bathing suits, flip flops, etc.) that they would take with them to Tel Aviv. In addition, they must be photographed with a sign bearing the hash tag "#TAKEME2TELAVIV"and an explanation why they deserve to win this unique hosting. The participants must register on the competition website http://en.citiesbreak.com/. The most creative and viral submissions will be selected by the project committee.
Minister of Tourism, Yariv Levin: "Over the last two years, the Ministry of Tourism has revolutionized its marketing approach and now we are breaking into new niche markets and developing fresh, creative marketing campaigns, especially in social media. As part of our Two Cities One Break campaign, this project aims to encourage incoming tourism to Tel Aviv and Jerusalem. Each city has its own unique attributes, and in Tel Aviv, we are focusing on the nonstop nightlife, the growing culinary scene, and its famous beaches. We are in the midst of an increase in
incoming tourism, and we closed out 2016 with a 4% rise in tourism"
Mayor of Tel Aviv-Yafo, Ron Huldai: "The transformation of a lifeguard tower into a luxury hotel for tourists is a perfect example of the innovation that drives Tel Aviv-Yafo's success - in tech, in tourism, and in lifestyle. This unique project takes advantage of Tel Aviv-Yafo's world-renowned beaches in an exciting and creative way, giving us an additional tool in our daily efforts to promote the city as a top international tourist destination".
The Lifeguard Tower's Design:
Exterior: Edgar Rafael Interior: Aline Langlieb
Details

Written by

Ministry of Tourism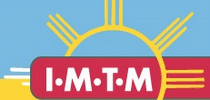 TOURISM MINISTRY PRESENTS AT IMTM, THE INTERNATIONAL MEDITERRANEAN TOURISM MARKET:
·

For the first time in Israel, TEDxTel Aviv Salon

·

Competition to develop tourism apps (hackathon)

·

Professional conference to mark 7 years of activities in the Druze and Circassian villages

·

Panel with Tourism Ministry Regional Directors
Tourism Minister Yariv Levin, on opening the tourism conference: "I am pleased to open IMTM, the largest ever tourism fair to be held in Israel. The size and scope of the fair is testament to the fact that Israel is becoming an attractive destination for tourism and those in the tourism business from around the world. 2016 was a ground-breaking year for tourism to Israel. The increase in incoming tourism is because of the wide-ranging marketing activities of the Tourism Ministry, which include breaking into new markets and the adoption of innovative marketing strategies, whether in digital marketing or in emerging markets such as China and India. We are in the midst of a transformation in the aviation field, where, as a result of the support offered by the Tourism Ministry to airline companies who open new routes into Israel, Hainan Airlines and Ryanair began flying into Israel for the first time. IMTM will give additional momentum to this trend and will have a positive influence on increasing incoming tourism to Israel in 2017."
Jerusalem, February 5, 2016 - Tourism Minister Yariv Levin will open Tuesday the Tourism Ministry stand at IMTM, the International Mediterranean Tourism Market, which will take place at the Tel Aviv Convention Center, Pavilion 2, from 7-8 February.
Ten tourism ministers from around the world will participate in this year's IMTM – a record number for IMTM - including after several years' absence, H.E. Tourism Minister from Turkey, Mr. Nabi Avci, who will meet with Tourism Minister Levin. Other tourism ministers and senior tourism officials attending IMTM come from Italy, Kenya, Madagascar, Norway, Romania, Sri Lanka, Tanzania, Zanzibar, Ethiopia, Lithuania, Philippines and Kazakhstan, among others.
The Tourism Ministry is hosting about 200 tour operators and conference organizers from overseas with a view to exposing them to the Israeli tourism product at IMTM, as well as offering them tours of the country. The Tourism Ministry stand will feature various attractions, including a large screen that will list the hotels awarded stars under the Tourism Ministry hotel rating scheme. Tablets will be available for the public to try out the new Tourism Ministry app. The stand will also screen Tourism Ministry videos and TV commercials with the new branding that the ministry is promoting in marketing campaigns overseas. Subsidiaries of the Tourism Ministry will also be exhibiting at the stand: The Dead Sea Preservation Government Company that will present for the first time the branding of the lowest place on earth for investors, as well as the Old Acre Development Company that will present the range of sites and attractions for tourists in the city, including the new Haifa-Acre pleasure cruise line.
Tourism Ministry Director-General Amir Halevi: "The marketing structure of the Tourism Ministry is currently undergoing great change, both in its organizational structure and in terms of the branding and campaign activities, for example the Two Cities One Break campaign that is targeted at tourism into Tel Aviv and Jerusalem, alongside the development of new tourism products such as the "the Land of the Desert" targeted to Europeans in winter. The ministry will continue its' cooperation with online travel agents, as well as hosting opinion formers – an important additional aspect of marketing Israel as a tourism destination."
For the first time, IMTM will host the TEDxTelAvivSalon about tourism issues. Four lecturers will address the event in English, which will open a door to the world of tourism. Omer Boger will speak about his personal story – how, with the minimum of resources, it is possible to take an abandoned place and transform it into a meeting place for people from around the world. Noam Klinger, CEO of Eatwith, will speak about the new world of tourism, in which visitors seek out authentic experiences and not just attractions. Tzippora Nussbaum will offer a glimpse into the ultra-Orthodox (haredi) world and Dr. Eran Ketter will present how it is possible to overturn a countrywide trend with marketing.
For the second time, IMTM will host a Tourism Ministry hackathon, a competition to develop tourism apps. Competition finalists will present their apps before a panel of judges and an audience. The finalists developed tourism apps that are designed to enhance the experience of the visitor and tourist in Israel. Every app makes use of the extensive database provided by the Tourism Ministry for public use. The database currently includes about 25,000 pieces of information. This is the largest database of its type among all the government ministries. The competition winners will receive cash prizes, with the first prize being NIS 10,000.
There will also be a panel via Skype with the directors of the Israel Government Tourist Offices in Germany, India and China covering the marketing activities in those destinations.
The Tourism Ministry will also hold a conference to mark seven years of activity developing rural tourism in the Druze and Circassian communities. In recent years, the ministry has invested tens of millions of shekel in improving tourism infrastructure and establishing tourism incubators to help small tourism-related businesses in these villages. The conference will include encounters with some of the people behind the success stories in the Druze and Circassian tourism enterprise, as well as tastes of ethnic cuisine and folklore.
For a full program, see here
IMTM Pavilion 2, Tel Aviv Convention Center, 101 Rokach Boulevard.
Details

Written by

Israel Diamond Exchange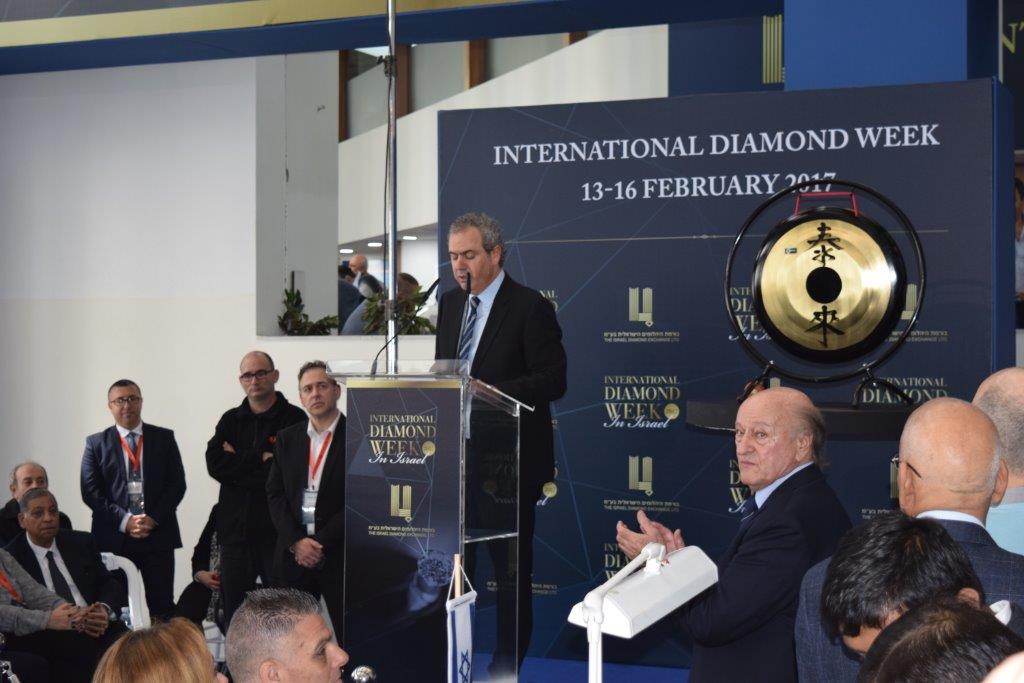 The IDE held a festive opening ceremony for the Sixth International Diamond Week in the trading hall which had been redesigned for the buyers.
IDE President Yoram Dvash: "The present is the only time to create our reality and that's what we are doing today."
The ceremony was attended by Tourism Minister Yariv Levin , IDE President Yoram Dvash, President of ALROSA, Andrei Zharkov, Israel Diamond Manufacturers Association President Kobi Korn, IDI Chairman Shmuel Schnitzer, DDCNY President Reuven Kaufman, CIBJO President Gaetano Cavalieri, senior members of the Israeli and foreign diamond trade.
In addition, there were 220 representatives from Israel and 388 buyers from 30 countries, including the US, China, Hong Kong, India, Italy, Turkey, Belgium.
Yariv Levin praised the organizers of the event as well as the buyers who had arrived from abroad. "The presence of so many foreign buyers is testament to the importance of the Israeli diamond trade despite the difficulties it is facing at the moment. Israel has a long tradition as a pioneer both in diamonds and in tourism."
He said that the Israeli diamantaires were ambassadors for Israel. He also told the foreign buyers to find the time to travel around Israel and take in its sights.

Yoram Dvash said: "I am delighted to see the trading hall today and all our friends from Israel and abroad and to open the Diamond Week. We are here to do the thing we do best: buying and selling diamonds. It's in our DNA. We hope that we will go from strength to strength."
Dvash also spoke of the improving business atmosphere following the signing of the tax agreement in December with the Tax Authority, the strong marketing initiatives that the bourse is carrying out and the Internet trading platform, James Allen and Get Diamonds.

In addition, he mentioned the factory for the cutting of large diamonds that the bourse created, the recently opened Sinova laser cutting center, and the International Tender Center that will be opened on Wednesday.
"The state of the international markets doesn't depend on us, but we are here to provide you with the biggest, most professional and best platforms in marketing, rough, trade shows, tenders and technology.
He also thanked all the guests from abroad, heads of delegations, senior partners in the Israeli diamond sector, Kobi Korn and Shmuel Schnitzer, the Chairman of the IDWI Organizing Committee, Chaim Volner, and Miki Kattan. "Colleagues, we can't change the past and can't forecast the future.
"The present is the time to create reality, and that is exactly what we are doing every day and today as well with the taking place of this Diamond Week. I would like to wish us all well."
ALROSA President Andrei Zharkov said: "I thank you all for the warm reception. I am very happy to be here with you. It's a great pleasure and responsibility to be here as CEO of ALROSA which will be holding tenders of rough and polished goods this week. We are looking forward to fruitful cooperation with our friends here. We feel at home here in Israel. I wish you all a successful week on behalf of ALROSA and myself."
Shmuel Schnitzer said: "The bourse is full of action today. I really hope that this Diamond Week and others like it will lead to increased activity in the trading hall and the new International Tenders Center. This is undoubtedly a welcome initiative and I wish all strength to the bourse president, Yoram Dvash, and the management team. This year looks promising and I wish us all great success."

Kobi Korn wished the participants success as did DDCNY Reuven Kaufman who said Israel was like home for him.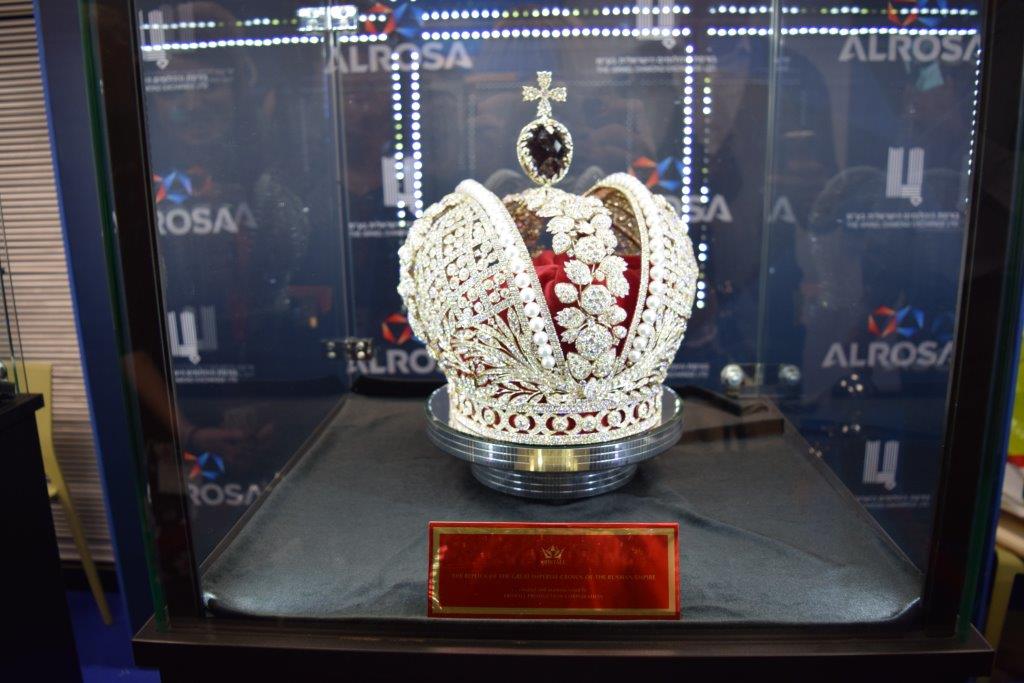 Heavy Traffic on Trading Floor on Day 2 at IDWI
Tender Center Opens, IDE Signs MOU with HKJMA, DPA CEO Presents Strategic Direction
Ramat Gan, Israel, February 14, 2017: The trading floor of the Israel Diamond Exchange (IDE) continued to see heavy traffic on the second day of the 6th International Diamond Week in Israel (IDWI). The mood was upbeat, reflecting a lively trading atmosphere.
Beyond the trading floor several events took place during the day. The IDE inaugurated its new state-of-the-art International Tender Center with a small ribbon-cutting ceremony, attended by Alrosa President Andrey Zharkov and local diamond leaders. IDE President Yoram Dvash said that the new tender center is intended to bring many additional rough and polished diamond tenders to Israel, avoiding the necessity of Israeli companies having to travel to participate in these sales.
Later in the day a Memorandum of Understanding was signed between the young generation forums of the Hong Kong Jewelry Manufacturers' Association (HKJMA) and the IDE for cooperation and business promotion. IDE President Yoram Dvash cited the longstanding business cooperation between the diamond industries of Israel and Hong Kong. "We feel very close to you based on shared values. The young generation of both our countries have a great future. We can grow together," he said. The MOU was signed by Dvash and by Kevin Ng, head of the Young Generation Forum of HKJMA.
Jean-Marc Lieberherr, CEO of the Diamond Producers' Association (DPA) gave a presentation outlining the strategic direction of their generic diamond marketing program targeting Millennials and discussed plans for 2017. He invited members of the Israeli diamond industry to make use of the marketing materials produced by the DPA and to interact with him with suggestions and concerns. He also invited diamond industry organizations to partner with the DPA on joint programs.
The second day of IDWI concluded with a festive cocktail reception at the Leonardo City Tower Hotel for all participants.
NEW INTERNATIONAL TENDER CENTER INAUGURATED DURING INTERNATIONAL DIAMOND WEEK IN ISRAEL
In a festive ceremony (February 14), the Israel Diamond Exchange (IDE) officially opened the new International Tender Center. The new facility is to consolidate under one roof as many polished and rough tenders as possible
Facebook Israel Diamond Exchange
Photos by Silvia Golan
Photo 1 : Opening to Sixth International Diamond Week, IDE President Yoram Dvash
Photo 2 : The Russian crown in Israel , Price estimated $20.000.000. Is a replica of the Great Imperial Crown of the Russian Empire, created by Russia's leading diamond manufacturer Kristall in honor of its 250th anniversary, exhibited at the sixth International Diamond Week in Israel
The crown, contains 11,352 polished diamonds, with a total weight of 1,180 carats. All of the polished diamonds are made from Alrosa rough.
Photo 3 : IDE President Yoram Dvash , Shlomo Eshed ,President, Israel Precious Stones and Diamonds Exchange & Eli Izhakoff one of the international diamond and jewelry industry's most prominent leaders
More PIcs at Diplomacy Israel Facebook
Details

Written by

Ministry of Tourism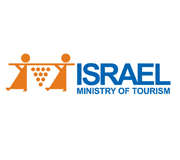 Tourism Minister Yariv Levin: "The increase in tourist entries to Israel is the result of significant budgets that were allocated for marketing and attractive campaigns, investment in new markets and the development of relevant sub-brands for different target markets."
Jerusalem, January 9, 2017 – Against the security background in the Middle East and despite the drop in incoming tourism in many countries in the region, Israel registered a 3.6% increase in incoming tourism for 2016, with 2.9 million tourist entries. The Tourism Ministry is not surprised by these statistics and attributes the increase to a strategic shift in marketing and an increase in the marketing budget.
The marketing program adopted by the Tourism Minister Yariv Levin and implemented under the direction of Tourism Ministry Director-General Amir Halevi focused on creating demand in Israel tourism by building sub-brands suited to different target markets, supported by wide-ranging campaigns and including new markets such as India and China which have each registered increases of tens of percent in incoming tourism. The Tourism Ministry also promoted collaborations with the largest international online travel agents such as Expedia and TripAdvisor. In addition, the ministry worked with international airlines to expose them to the economic potential of opening routes to Israel and, among others, by giving incentives for every passenger flying into Ovda and for opening new routes into Ben Gurion airport.
Tourism Minister Yariv Levin: "The increase does not come from thin air. The increase in tourist entries to Israel is the result of significant budgets that were allocated for marketing and attractive campaigns, investment in new markets and the development of relevant sub-brands for different target markets. The strategic plans are adapted to fluctuations and changes in the tourism industry worldwide. I will continue to advance the activities of the ministry with strategic international partners so that the tourism market in Israel will continue to develop and flourish."
With a budget of nearly half a billion shekels - the highest ever for tourism marketing – the focus was placed on campaigns in key markets with the highest numbers of incoming tourism and the largest potential for additional growth, such as USA, Russia, Germany, France, England and others. This, alongside investment in new and significant markets with high potential for increased tourism, particularly India and China.
In addition to the marketing campaigns, Hainan Airlines, the largest private airline in China, opened a new route into Israel and one can see an increase of tens of percent in tourism traffic. The expenditure of the Chinese tourist in Israel is the largest of all countries, injecting revenue into the local economy. For the first time this year, a tourism campaign ran in India, gaining millions of views. According to Google, the exposure to the campaign promoting tourism to Israel came close to the exposure of the campaign for the Pepsi drinks brand.
Increase in tourism from countries with new air routes and advertising campaigns:
The period September through December 2016 saw a record in the number of incoming tourists. The countries which registered the most significant increase in the number of tourist entries as opposed to the previous year were: China (+69%); Croatia (+62%); Belarus, Latvia and Georgia (+41%), Malaysia (+35%) and the Philippines (+ 27%). The USA and Russia continue to lead in the numbers of incoming tourists, followed by France, UK, Germany and Ukraine .
Tourism to Eilat doubles:
Flights to Eilat from 9 European cities – because of the ministry directive that offers a 45 Euro subsidy to every passenger flying into Ovda in the current winter season, with a total budget of NIS 18 million.

Anticipated doubling of tourist entries arriving on direct flights into Ovda this winter season, as opposed to 42,000 in the winter season 2015/2016.

NIS 10 million advertising campaigns promoting the new Eilat brand in UK, Finland, Russia, France and Poland, with a dedicated website in English, Russian, Finnish and French : www.traveleilat.com

Because of the ministry's activities, Eilat was ranked seventh by TripAdvisor in a list of destinations on the rise.
New Markets
India
For the first time, an advertising campaign in India to encourage tourism to Israel – the video had tens of millions of hits for minimal promotional cost. The YouTube video has over 11.7 million views

The marketing budget stood at NIS15m in 2016

Israel won a prize from the Indian Travel + Leisure Magazine as the best destination for history and heritage

According to Google and YouTube, as a result of the campaign, the brand Israel competes with other leading brands in India such as Pepsi
China
Israel won the 2016 Best Destination in Chinese media awards.

Hainan Airlines, the largest private airline in China, opened its route from Beijing-Tel Aviv in April 2016

Hainan recently added another weekly flight and is planning to open a route from Shanghai

The marketing budget rose dramatically in 2016 to about NIS 20m.

The increased tourism traffic from China and India injected tems of millions of shekel into the Israeli economy in 2016 and this is expected to significantly increase in the future.
Renewing Existing Markets
Campaigns in Europe
After many years of hiatus, advertising campaigns ran in Holland, Scandinavia and Spain.

Two Cities One Break – a new and comprehensive campaign with a budget of NIS 80 million that ran simultaneously in 8 European countries, promoting the city break concept in Tel Aviv and Jerusalem. The campaign, which starred Israeli model Shir Elmaliach, ran on TV, billboards and in print, with a focus on digital media. The concept offers Europeans two destinations on one ticket, Jerusalem and Tel Aviv. From data based on the first round of the campaign, there were 1.9 million unique visitors and 4.5 million clicks from 9 countries. More than 24.5 million views were recorded for the campaign video. Example: https://youtu.be/_dBNXPfdePs
Campaigns in USA
The NIS 50 million USA campaign targets Evangelical, Catholic and Jewish audiences in New York, LA, Atlanta and Florida, with a particularly high budget for online promotion.
Aviation
New Hainan Airlines route from Beijing

New Wizzair route from Warsaw

New Ryanair route from Bratislava

New EasyJet route from Amsterdam

New United Airlines route from San Francisco

New Ryanair route from Paphos

Declaration by Cathay Pacific to open new route from Hong Kong in two more months
Tourism Minister Yariv Levin defined the increase of seat capacity on flights into Israel as a significant target for the ministry. In 2017, significant budgets will be allocated to promoting new routes from Europe into Ovda and Ben Gurion airports.
Collaboration with online travel agents
TripAdvisor, Expedia, Odigeo

Payment to agents based on sales results

Adjusting to the market reversal – 60% of tourists arrive independently and not in organized groups
There have been marked changes in incoming tourism in recent years, with most tourists today arriving independently (FITs), about 60%, as opposed to arriving as part of a group. In addition, they purchase their own land and air arrangements through online travel agencies. The ministry adapted itself to this trend, with a NIS 18.5 million investment in collaboration with the largest companies such as Expedia, TripAdvisor, Edreams and Odigeo. Payment is based on results and not on advertising.
Promoting sports events as a tourism engine
Campaigns on Eurosport during the Tour de France

About 3,000 tourists participated in the Jerusalem Marathon

Hosting journalists from around the world to cover sporting events

Hosting journalists who cycle to cover new cycling routes
Hostings in 2016
The Ministry hosted more than 2000 opinion-formers, decision-makers, celebrities and travel agents, of whom 70% were journalists.
Among the most well-known: Bollywood producers, Roseanne Barr, Bollywood star Sunam Kapoor, stars of the youth series The Green House, American Jazz ensembles for Winter Jam, 2016 Eurovision participants and more

Hosting of production of popular reality shows from Europe and USA

Hosting cyclists to ride the new cycling routes in the desert

Hosting chefs and journalists for the Round Tables event

Hosting the conference for Indian travel agents (TAFI)

Hosting the Romanian travel agents conference

Hosting journalists for a variety of events, such as Tel Aviv Pride Parade, the Opera Festival in Jerusalem and Acre, Midburn Festival, Bird Festival in Eilat, Israel Trail, Open Houses in Jerusalem, Yoga in the Arava and more

Hosting large conferences of travel agents and tour operators from India, China, Philippines, Russia, Ukraine, Japan and more
Tourism by Source Country
As in previous years, tourism from the USA continued to represent the largest country of origin for incoming tourism to Israel, with 648,310 tourist entries in 2016, 5% more than 2015 and 8% more than in 2014. In second place is tourism from Russiawith 440,358 visitors, a decrease of 1% on 2015 and 21% on 2014. Tourism from France takes third place, with 287,450 tourist entries, 2% less than last year and 1% down on 2014, followed by the United Kingdom with 181,346 (4% up on 2015 and 10% up on 2014) and Germany with 164,076 tourist entries, 3% more than 2015 and 1% more than 2014.