Society
Details

Written by

Silvia G. Golan & Haim Rotter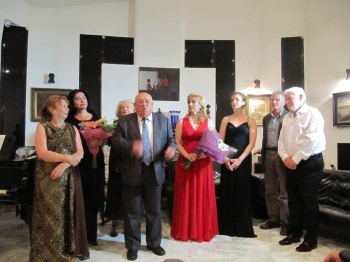 A very special Concert was held from Mr. Samuel Schlesinger, Honorary Consul of The Republic of Croatia at his residence in Savion, on Jun 25th 2013, in a warm atmosphere, on a warm typical Israeli summer evening
The concert, under the title "To Remember with Music" was dedicated to the memory of Jews from Yugoslavia, supported by the host, Mr. Schlesinger and by the Ing.Josef Zamboki - who also produced the concert.
The program included Opera arias by Puccini, Verdi, Rossini, Mascagni, Lehar, Catalani and Bizet, beautifully performed by three Opera Divas: Jasmina Trumbetas , Soprano from Serbia, Jelena Vlahovic , Mezzo soprano also from Serbia , Tijana Grujic , soprano from Germany, from Israel participated the soprano Ruth Zamboki, the singers were accompanied on the piano by Ljubica Grujic from Serbia and Jonathan Kol from Israel.
Details

Written by

Esther Tomaszewski & Silvia Golan
Celebrating Croatia's National Day & Croatia's ascension to the European Union
Last Wednesday evening June 26th, ambassadors from around the world gathered to celebrate Croatian national Independence Day as well as to congratulate the Croatian government for being accepted into the European Union. The event was held in the new and renovated Tel Aviv Museum of Modern Art. Upon arrival, guests were greeted by the Croatian Ambassador himself, Mr Pjer Šimunović. Wine and ho'deurves were served as guests mingled. There were representatives present from governments around the world, even the Vatican was represented as well as the Rabbinate of Tel Aviv.
Details

Written by

President's office



Former U.S. President Bill Clinton, Barbra Streisand, former U.K. Prime Minister Tony Blair, Sharon Stone and numerous other dignitaries and celebrities headlined a gala event celebrating the 90th birthday of Israeli President Shimon Peres, attended by more than 2,500 VIP guests.
Details

Written by

Michal Cohen

Senior members of the diplomatic, business and culture communities in Israel were summoned on June 25th, 2013 to celebrate the twenty second Slovenian National day as an independent country.
The dissolution of the Socialist Federal Republic of Yugoslavia and Establishment of Slovenia took place on June 25th 1991. The country is recognized today as an important contributor and has influence in many fields, as it is growing constantly. Slovenia, a member of the European Union, is a country that contributes to economy, trade, culture and tourism, and has shown a capable grasp on its way to handle the economic crisis that Europe and the world is currently facing.
Details

Written by

Office of the President of Israel
Robert De Niro, who is in Israel for this evening's celebrations, was joined by his 17 year old
The President of the State of Israel, Shimon Peres, hosted the American actor, director and producer Robert De Niro who is visiting Israel and attending the Presidential Conference. Robert De Niro and his 17 year old son landed this morning and arrived at the President's Residence for a personal meeting with President Peres who said, "Thank you for coming, we are delighted to see you here in Israel. You have an Oscar for you work and you also have the love of the people of Israel."