Society
Details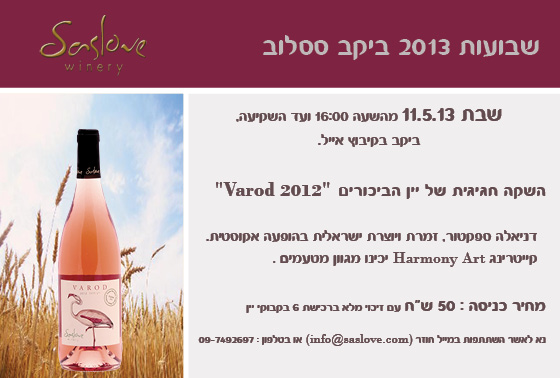 The Saslove Winery proudly presents their traditional Shavuot celebration to be held on 5/11/13 starting at 16:00 and until sunset at the visitor's center in Kibbutz Eyal.
The Winery will launch their "Varod" collection- the 2012 rose colored semi-dry vintage wine. Additionally, the event will include a special performance by Daniela Spector and culinary delicacies provided by Art Harmony.
Event tickets are 50 ₪per person (and a full return with the purchase of 6 bottles)
All are invited and we would love to see you there!
Details

Written by

Baha'i World News
HAIFA, Israel, (BWNS)
More than 1,000 delegates representing 157 countries have arrived here to participate in the 11th International Baha'i Convention.
A global election process that began with Baha'is in more than 100,000 cities and villages around the world culminates on Monday, when delegates will gather to elect the nine members of the Universal House of Justice, the international governing council of the Baha'i Faith.
Details

Written by

Office of the President
President Peres on Boston:
"I wish to express our solidarity with the bereaved families in Boston today. When it comes to events like this, all of us are one family."
President Peres on peace with the Palestinians:
"I think one of the greatest contributions of the Prime Minister is to bring Israel to a unified position of two states, for two peoples."
The President of the State of Israel, President Shimon Peres, hosted a reception this afternoon for the foreign diplomatic corps at his residence in Jerusalem in honor of Israel's 65th Independence Day. During the reception, which was attended by Prime Minister and Foreign Minister Benjamin Netanyahu, the members of the diplomatic corps, and leaders of Israel's faith groups.
Details

Written by

Prime Minister's Media Adviser
Following are excerpts from the remarks that Prime Minister Benjamin Netanyahu, (Tuesday, 16 April 2012), made at President Shimon Peres' Independence Day reception for the foreign diplomatic corps:
"Yesterday, a day of enjoyment in Boston was turned into a day of terror. We send our condolences to President Obama, the American people and the bereaved families. On this day and on any day, Israel stands shoulder-to-shoulder with the American people. We are partners in freedom and in seeking a better future for all humanity."
Details

Written by

Prime Minister's Media Adviser
Prime Minister Benjamin Netanyahu and his wife Sara,yesterday (Monday, 1 April 2013), attended Maimouna
festivities in Or Akiva . The Prime Minister said, "Jewish People, eat and enjoy!
The Jewish People are moving from matza and bitter herbs to mufleta and honey.
I would like to thank the Israel Police and the security services for protecting and guarding Israelis
who traveled around the country during the holiday."