Society
Details

Written by

Spokesperson's Department Office of the President
President Shimon Peres swore-in 12 new judges and one senior registrar at a ceremony at the President's Residence under the auspices of the President of the State of Israel, Justice Minister and President of the Supreme Court:
President Shimon Peres to the new judges:
"An independent and impartial judicial system is a prerequisite for an enlightened democratic society"
The President of the State of Israel, President Shimon Peres, delivered remarks this morning at a swearing-in ceremony for eleven new judges to the Magistrates Courts, one to the Transportation Court and one senior registrar. The ceremony was also attended by the President of the Supreme Court, Asher Grunis, and the Justice Minister, Yaakov Neeman.
Details

Written by

Spokesperson's of the President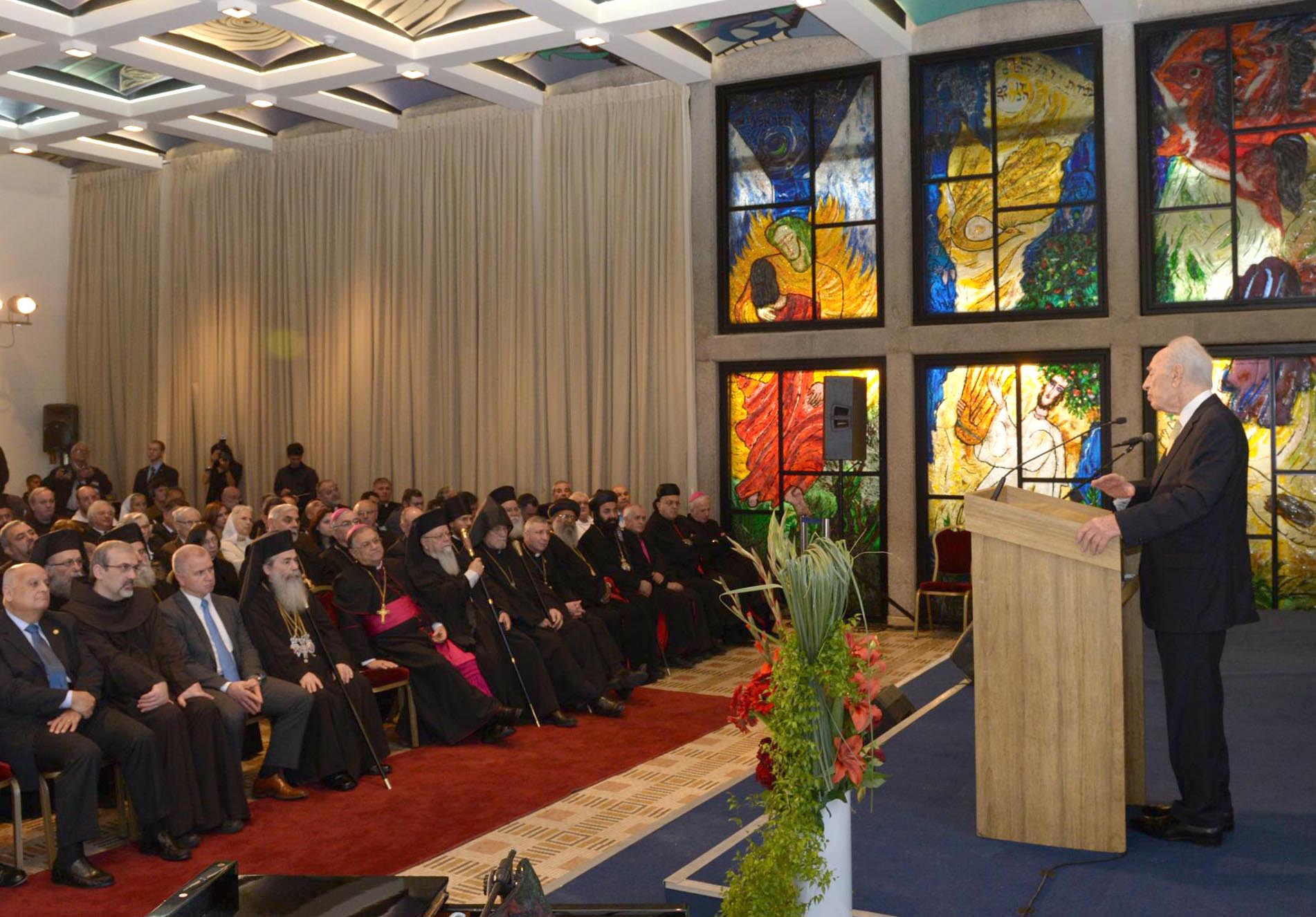 President Shimon Peres:
"Peace is not just a desire, it is not just a call from heaven, I think it can be attained and achieved. We have to act determinedly, honestly and courageously to achieve it."
"May everybody be blessed with a good new year"
The Greek Patriarch Theophilos:

"Our shared history has taught us that the road to peace is a dynamic process, that is to say that it is not through violence but through dialogue."
In honor of the New Year the President of the State of Israel, President Shimon Peres, hosted a reception for the leaders of the Christian faith in Israel. President Peres delivered a special greeting and said, "I would like to express my best wishes and greatest hope from Jerusalem, a city that is holy to us all and that represents peace for everybody in the world. May everybody be blessed with a good new year."
Details
British Embassador Mr Matthew Gould was awarded Yesterday an honorary degree from Ben Gurion University
www.diplomacy.co.il
would like to congratulate , Mr. Matthew Gould on receiiving the honorary award from Ben gurion University.
Your achievements indeed merit this award.
Wishing you success and best of luck
Silvia Golan Executive Director and team
Follow the embassador speech
Acceptance speech
Ben Gurion University, 26 December 2012
You have done me a huge honour.
You have allowed me to fulfil one of my lifelong ambitions, namely to get a doctorate without doing any work.
I am hoping you will now find a painless way for me to run the marathon.
This award is a source of both pride and humility.
Pride because it reflects the progress we have made in the mission I set myself as Ambassador when I came to Israel two years ago.
To build links between our universities.
To get our scientists working together.
A year ago, in this university, we brought that vision to life, with the first UK/Israel Conference on Regenerative Medicine, bringing together over two

hundred scientists, including from 20 British universities.
Details

Written by

Jonathan Danilowitz


The President's official residence in Jerusalem was bursting with ambassadors and heads of diplomatic missions in Israel when Mr. Shimon Peres himself hosted a unique gathering on Sunday 30th December 2012. In his address to the distinguished guests, the President spoke of Israel's earnest resolve to achieve peace in the region.

"Great changes are taking place in the Arab world and the State of Israel is not part of them. It can take a passive stance in which decision-making is determined by the reality or Israel can take the initiative and brave steps, and thus positively influence three aspects. First, is the completion of a peace agreement with the Palestinians without delay. A clear majority of the people is in favor of the principle of two states for two peoples. I have known Abu Mazen for 30 years. He has stood up and publicly said that he favors peace and opposes terrorism. Abu Mazen's actions to thwart terrorism are brave to the point where his life is at risk. Put yourselves in his shoes and realize that his recognition of a solution to the refugee issue, and the fact that he will not return to Safed, the city of his birth, are important and courageous. There is not much time and from the perspective of probability, this is the move that could be carried out now.

Details
Diplomacy.co.il


Wishing you and your family a Merry Christmas


and a Happy New Year

Silvia G. Golan
Executive Director & Team