Society
Details

Written by

KKL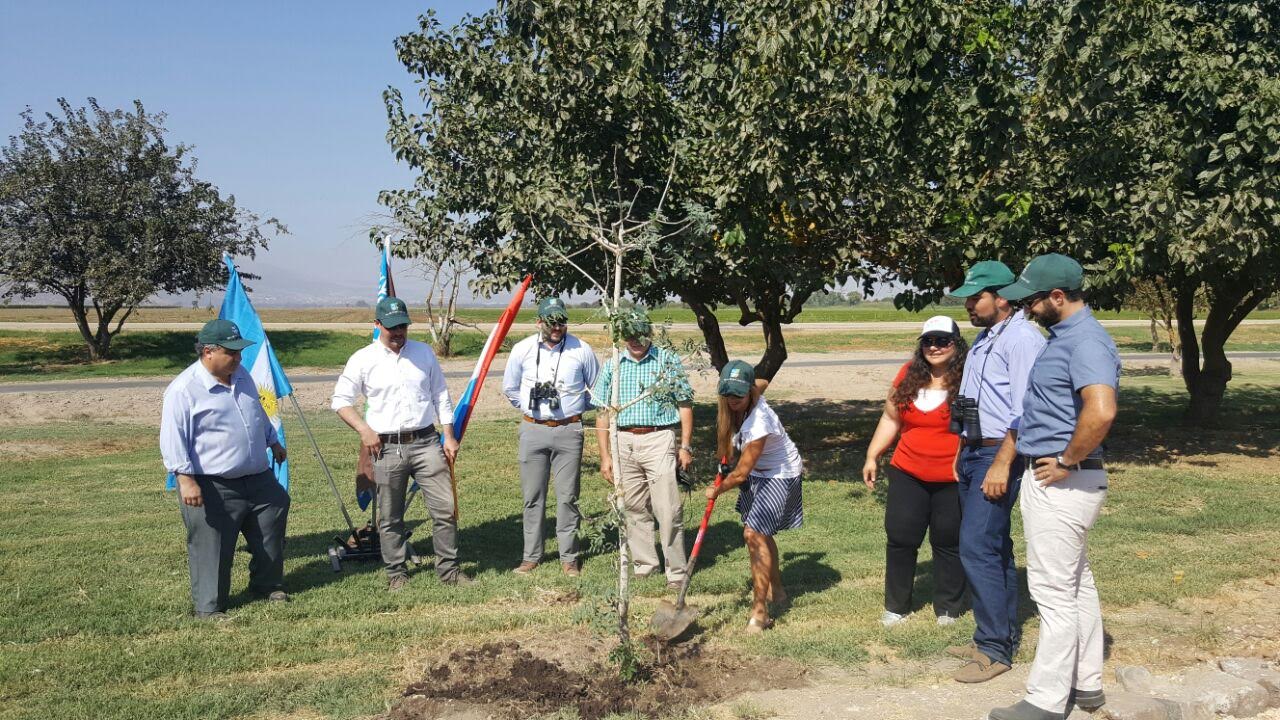 Latin America Ambassadors visit KKL-JNF Hula Lake Park and plant ceremonial trees
Today, October 6, 2016, a delegation of Ambassadors from nine Latin America countries, including, Peru, Ecuador, Costa Rica and Argentina, received a tour of the lake as well as an explanation by KKL-JNF personnel about the Crane ("Agurim") project. They proceeded to conduct a bird ringing as well as planted an Oak and Pistacia Atlantica ("Atlantic Ela") trees.
KKL-JNF maintains and develops the Hula Lake - the biggest bird migration site in Israel, and a unique environmental feat of reintroducing the lake after being dehydrated for years, which.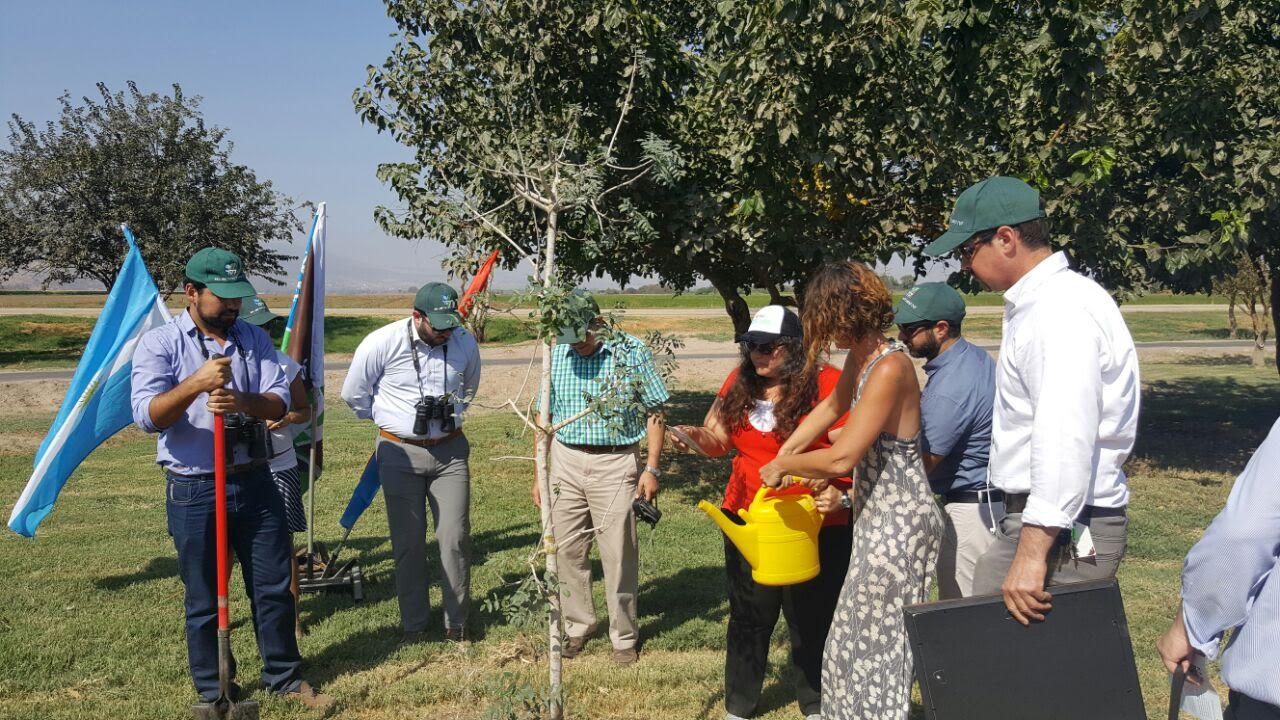 Photo Credit: Efi Naim, KKL-JNF
Details

Written by

Buzzy Gordon
The Sheraton Tel Aviv threw its annual party celebrating the Jewish New Year on Monday evening, September 19, 2016, with a distinguished guest list that included ambassadors and other diplomats, leaders of the business community, members of the press corps and VIP guests.
The hosts for the evening were the Sheraton's sales and marketing team, while the party's theme was a Festa Italiana. Attendees were greeted by Anat Shilon-Monrov, director of sales and marketing for the hotel, who thanked guests for their support throughout the year. She also acknowledged the hotel's new food and beverage director, Patrick Mudalige, who had organized the evening's menu.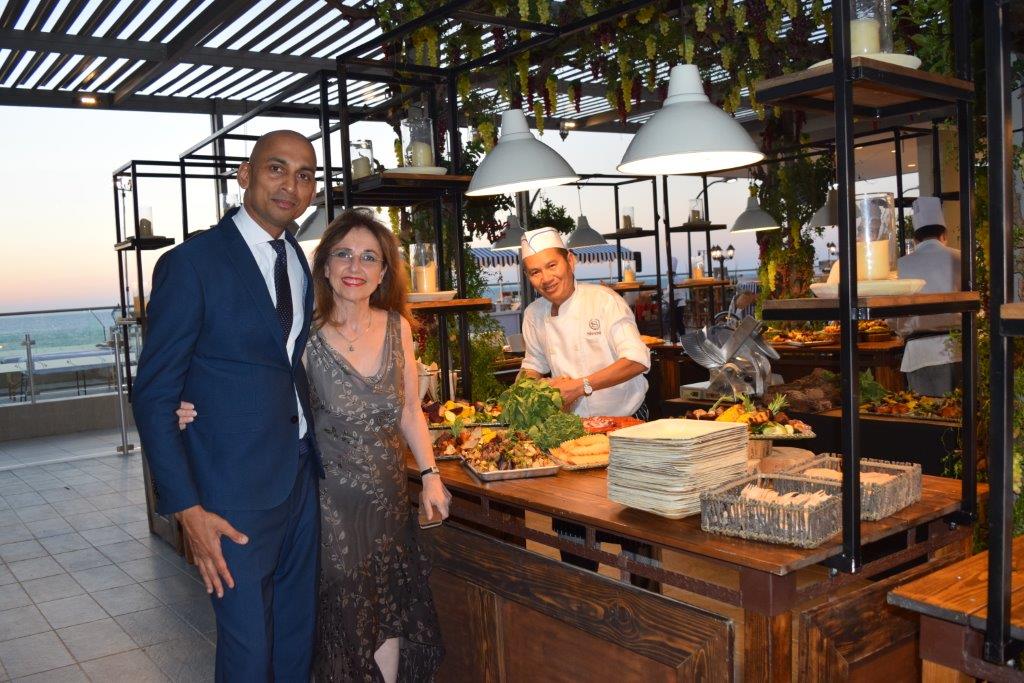 The hotel's pool area was beautifully decorated as a marketplace with eight culinary stations, each featuring specialties from different regions of Italy. For example, "Florence" offered a grilled meat buffet; "Bologna" a typical fish soup; and "South Italy" two different pastas. Other stations offered cold meats and salads, and an entire station was devoted to focaccia and other Italian breads.
The dessert corner featured gelati and sorbets from Sicily, as well as sliced fresh seasonal fruit, classic fruit and chocolate tarts, and meringues, along with Illy coffee from Italy.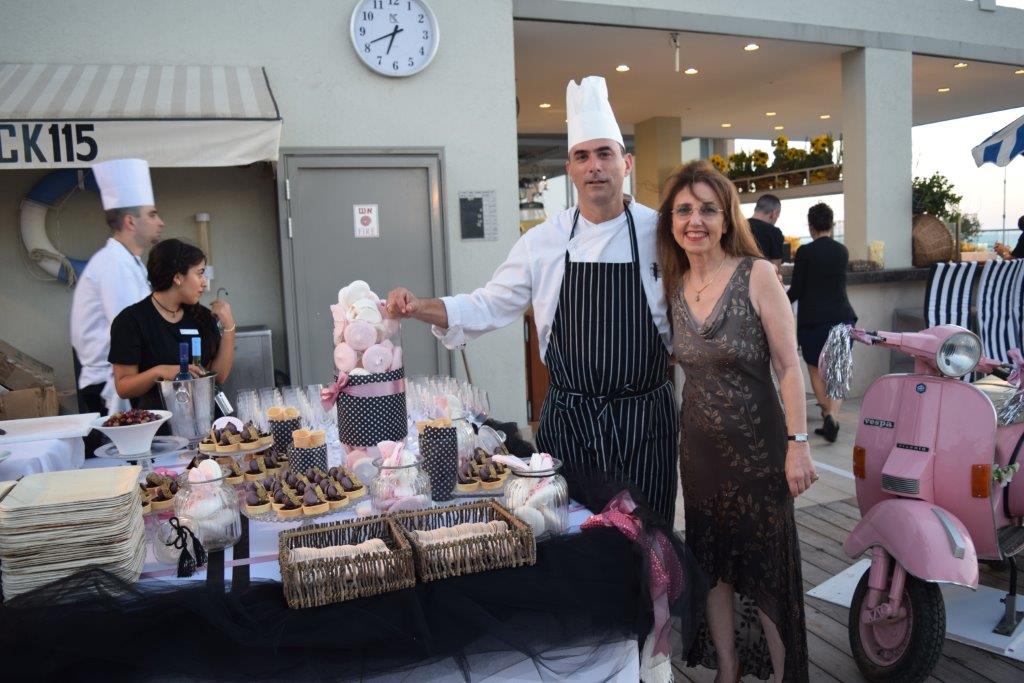 Wine and spirits flowed freely: there was a bar serving limoncello, Aperol and Campari, as well as a selection of eight kosher wines imported from Italy, including chianti, pinot grigio and moscato. Grappa and amaretto were also available as digestives,
Guests enjoyed an evening of Italian music, including songs performed by X-Factor vocalist Anna Timofei. They were also treated to 15-minute massages in a corner set aside for pampering. As a souvenir of the event, guests received magnets personalized with their photos.
Photo Silvia G. Golan
Details

Written by

Young Ambassadors School /Rachel Amrani.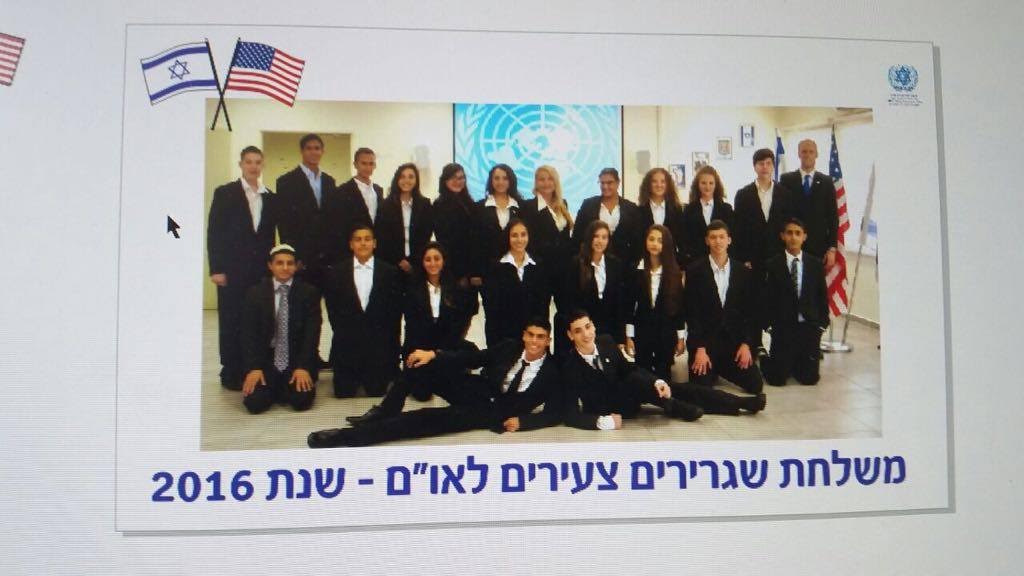 On August 31st, a delegation of youth leaders from Rachel Amrani's Young Ambassadors School returned from a diplomatic mission to NY, NJ and Massachusetts, where they visited the UN and met with local Jewish communities along with a number of other unique site visits.
The Young Ambassadors delegation included 20 high school students from Petah Tikva and Tel Aviv. Their itinerary included the requisite tourist stops: Times Square, Central Park, Chinatown, Statue of Liberty, 9/11 Memorial, along with some visits unique to a diplomatic trip: briefings at the UN, meeting with American and Israeli diplomats at the American and Israeli Missions to the UN and the Israeli Consulate and AIPAC in Boston.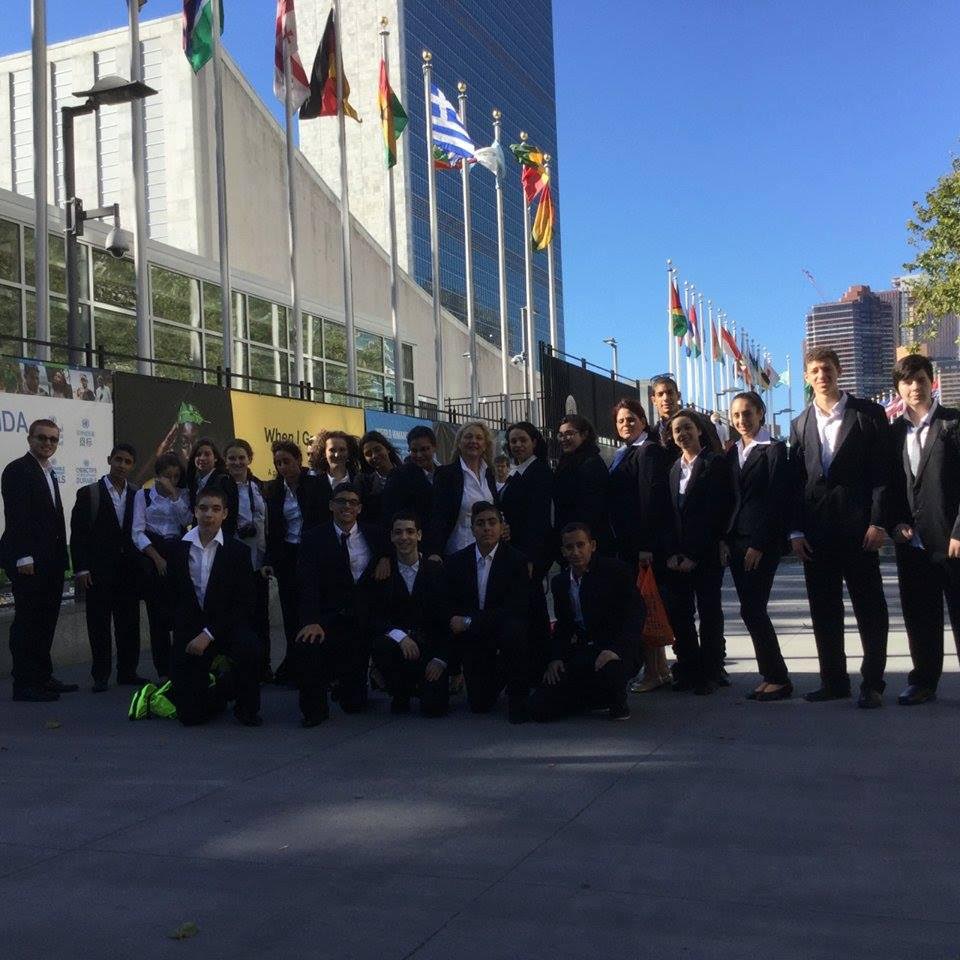 As part of the delegation's focus on strengthening ties between Israeli and American communities and bolstering Jewish heritage, the group visited Kehilah Kedosha Janina, the only Romaniote synagogue in the Western Hemisphere, the Spanish-Portuguese Shearith Israel, the oldest Jewish congregation in America, and NYC's Holocaust Museum. They also met with Hazon, a Jewish environmentalist organization, to discuss how Judaism relates to sustainability. In Massachusetts the group was hosted by families from the Youth2Israel (Y2I) program overseen by Debbie Coltin, Congregation Sha'arei Tefilah, and a local Israeli-American family.
Another key goal for the delegation was building bridges with non-Jewish communities. The group partnered with Manhattan's Brotherhood Synagogue and the Interfaith Encounters Association to host an event with local Muslim activists on Jewish-Muslim relations and how Israel is perceived in different Muslim communities. The Young Ambassadors got to see a Sufi prayer ceremony with the Nur Ashki Jerahhi community and talk to the group's spiritual leader. In Boston, a professor of biblical studies talked to the group about Evangelical Christian support for Israel.
After ten days abroad, the Young Ambassadors delegation returned to Israel with many ideas and greater motivation to continue their path of people to people diplomacy.
Photos credit Young Ambassadors School /Rachel Amrani.
Details

Written by

President's Spokesperson
President & First Lady Rivlin host spouses and partners of diplomats serving in Israel
President Reuven & First Lady Nechama Rivlin today (Tuesday), met at the President's Residence with spouses and partners of foreign diplomats serving in Israel. The meeting was held together with the Diplomatic Spouses of Israel Association, headed by Julie Fisher wife of the US Ambassador to Israel.
"We know the sacrifices that you make for your spouses and partners," began the President, and added, "we know that you are not just 'ambassador's better halves', you are also ambassadors of your countries, and you are also ambassadors of Israel. Each of you has made your homes in Israel, and even if you are here for only a few years, I hope Israel will always have a place in your hearts."
The President spoke of the challenges faced in the past year and said, "We are very near Rosh Hashannah, the Jewish New Year. It is a time when we look back at the year gone by and we pray for a year of health and peace. It wasn't an easy year, but I am sure that the coming year will be much better, safer, happier, and hopefully much more peaceful. Israel and the whole world has many challenges, but with you, our friends, standing by our side, we can and we will overcome them."
Photo credit: Mark Neiman (GPO)
Details

Written by

KKL-JNF.
Royal Visit: H.H the Belgium prince Michel de Ligne plants a tree at KKL-JNF's Belgium Forest
Wednesday, July 13th, 2016, H.H Michel Charles Eugène Marie Lamoral, Prince de Ligne of Belgium planted an olive tree in KKL-JNF's Belgium Forest in Neve Ilan. Other honorable guests joined the planting ceremony, among them KKL Belgium president and the Organization of Belgians in Israel (OBI) and other dignitaries.
His highness is a Belgian - French aristocrat and businessman, member of one of the most prestigious families of the Belgian nobility - the House of Ligne, which is one of the oldest Belgian noble families, dating back to the eleventh century.
H.H Michel Charles Eugène Marie Lamoral stated: "The tree we are planting today will live for a thousand years. It is an eternal symbol to the bravery of our forefathers. Our responsibility towards the other is important. We should be standing united in order to preserve the right for life. The location of this tree is a symbol of courage and solidarity"
KKL Belgium supports projects for land development, tourism, preservation and environmental rehabilitation in Israel including the Neve Ilan Park. In honor of the event, President of KKL Belgium, Jacqui Benzennou said: "There is no better place to commemorate Prince Eugene and his wife than Belgium Park in Neve Ilan, a village near Jerusalem overlooking the Holy City, the forest symbolizes the connection between Belgium and Israel. Planting a tree in this forest is a living testament to the desire to advance and develop the country, which is KKL-JNF's mission".
Organization of Belgians in Israel (OBI), a non-profit Belgium organization which assists new Olim, students, lonely soldiers, Zionist youths and Holocaust survivors living in Israel to receive support from Belgium. Sally Zajfman, President of OBIaddressed the Prince emphasizing that: "Your visit today threads a string between remembrance, friendship and hope – three core values to the Jewish people. Remembering the past, friendship in the present and a hope for a good future"
Belgium Forest in Neve Ilan is located to the west of Jerusalem. It has groves, a recreation area and lookout points that were all established thanks to the help of donations from KKL-JNF's Friends in Belgium. As a gesture of appreciation for their generosity, KKL-JNF dedicated the forest to the Jews of Belgium, and in the 1990s, a special center was established there in their honor.
Photo Caption: H.H the Belgium prince Michel de Ligne plants a tree at KKL-JNF's Belgium Forest
Photo Credit: Yossi Zamir, Courtesy of KKL-JNF