Society
Details

Written by

Jonathan Danilowitz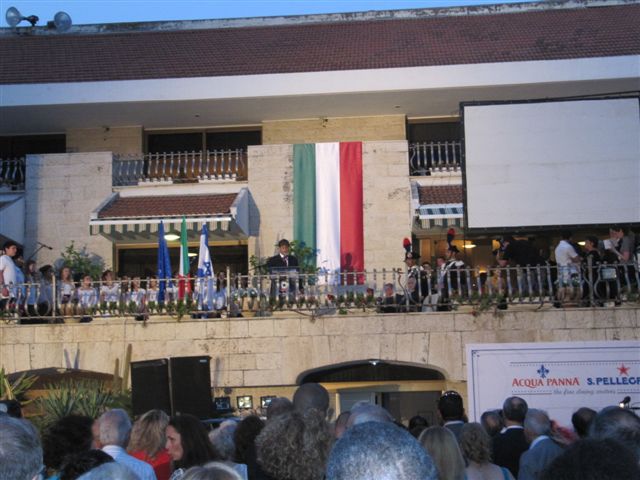 On Sunday evening 2nd June the Italian Ambassador to Israel, His Excellency Francesco M. Taló and his gracious wife Ornella hosted a gala cocktail party at their beautiful Ramat Gan residence in honor of the Italian National Day. The cream of Israeli political, economic and cultural society, together with many Italian residents of Israel mingled on the lawns around the beautiful azure pool.
In true Italian tradition an array of delectable dishes was served to the guests, with the emphasis on Italy: Italian ice creams, snacks, pizza, eggplant lasagna (meatless and delizioso) with chunks of specially imported parmigan cheese, not to mention chilled Italian apperitivi, wines and other beverages to keep the guests cool and happy on the rather hot day.
Details

Written by

Nepal Embassy



















The Embassy of Nepal in Israel in cooperation with Nepalese community in Israel organized a grand event to celebrate 2557th Birth Anniversary of Lord Buddha, Mount Everest Diamond Jubilee and tourism attractions in Nepal, in Tel Aviv, Israel on 25 May 2013.
The event was inaugurated jointly by HE Ambassador of Nepal Mr. Prahlad Kumar Prasai, HE Ambassador of Myanmar Mr. Myo Aye, HE Ambassador of Srilanka Mr. Sarath Devasena Wijesinghe and Deputy Chief of Mission Mr. Suchart Liengsaengthong of Royal Thai Embassy. Welcoming the guests HE Ambassador of Nepal highlighted on the glory of birthplace of Lord Buddha, Lumbini and urged the Israeli people to visit Lumbini among other places of Nepal. HE Ambassador also emphasized that Buddha's message of compassion and devotion to the service of humanity is more relevant today than any other time in the history.
Details

Written by

Silvia Golan & Marina Smolyanov
On May 20
th
2013, in honor of Cameroon's National Day, we were warmly welcomed in the reception at the garden of Cameroon's Ambassador Villa, which was colorful decorated in Kfar Shmaryahu.
A various selections of fruits cocktails welcomed the guests with a rhythmic exotic African music playing in the background.
Among the guests you could find, members of diplomatic missions in Israel, representatives of Israel Foreign Affairs Ministry, Israeli businessmen and members of Cameroon and Africa community in Israel.
Details

Written by

Silvia G. Golan
New ambassadors from Bulgaria, Ghana, Greece, Latvia, Guyana present on Tuesday 28th May 2013 , their credentials to President Shimon Peres,
as ambassadors in Israel.
Five new ambassadors thanked President Peres for his welcome and said it was a great privilege to serve in Israel and expressed their hope to develop ties between the two countries.
President wished success the new ambassadors and said: "You have reached a friendly country that now is your new home. Israel will do everything possible to meet your side and help you deepen economic ties, scientific and strategic bilateral" The new ambassadors are:
Details

Written by

Jonathan Danilowitz
GAY RIGHTS ARE HUMAN RIGHTS
I was deeply honored to accept an invitation from the Ambassador of the United States to a reception last week honoring the Lesbian, Gay, Bisexual and Transgender (LGBT) community in Israel; together with parliamentary dignitaries from a range of political parties, representatives from other embassies (including at least two ambassadors), religious leaders and some of the great movers and shakers of Israel's vibrant LGBT community.
The theme of the ambassador's words as he addressed the guests resonates: "Gay rights are human rights; human rights include gay rights."