Science & Technology
Details

Written by

Rambam Health Care Campus
For Dr. Rania Elkhatib, the first Israeli Arab woman to become a plastic surgeon in Israel, the job at Rambam Medical Center is a chance to be an emissary for her community.
The first Israeli Arab woman to become a plastic surgeon, Dr RaniaElkhatib works at the Rambam Medical Center, the largest hospital in northern Israel.
After studying medicine at the Technion -- Israel Institute of Technology in Haifa and then specializing in general surgery, the 28-year-old doctor decided to focus on plastic surgery: "... It was important to me because in our community plastic surgery isn't very advanced and it's not well accepted so I feel a bit like an emissary for my community, to go into this field and take it forward," she says.
Situated in Haifa, Rambam is the referral center for 11 district hospitals. Its plastic surgeons treat a number of conditions, ranging from burns, war injuries and cleft palates to breast and facial reconstruction for cancer patients.
Thirty percent of doctors at Rambam are women, and the representation of Arab physicians is proportionate to the numbers in the population.
While the hospital is committed to providing equal opportunities, Prof. Yehuda Ullmann, head of the plastic surgery department, stresses that doctors are chosen purely on merit: "Plastic surgery residency is the most wanted residency in medicine not just in Israel but all over the world, and she was elected not because she's Arab, not because she's a woman, because she is Dr. Elkhatib and she is good and she is a very good doctor over here so we are lucky to have her here."
Details
For decades, Israel has been improving and perfecting Desertification Solutions. With increasing soil erosion, salinization and groundwater mismanagement, it's time to share those solutions with the world.

The conference, to be held between November 8-11, will be hosted at Ben Gurion University's Sde Boker campus in cooperation with UNESCO.
(By Avigayil Kadesh)



In a country where 97 percent of the land is arid, the problem of desertification looms large. Over the past several decades, Israel has not only "made the desert bloom," as the saying goes, but has also invested major resources in learning how to keep dry lands from overtaking fertile soil.
Many other countries were slow to understand the significance of this global crisis. Now that problems such as soil erosion, salinization, climate change and groundwater mismanagement have heightened awareness of the devastating effects of desertification, Israel is honing its expertise and offering it far beyond its own borders.

Ben-Gurion University of the Negev's (BGU) Prof. Alon Tal describes desertification as "the orphan of global environmental problems on our planet" because it was not high on most nations' list of priorities. But today it is acknowledged as one of the main reasons why more than 200 million people around the globe are threatened with poverty and hunger.
A catalyst for cooperation and collaboration
Tal, a desert ecologist at BGU's Jacob Blaustein Institutes of Desert Research at Ben-Gurion University (BGU) and founder of the Arava Institute for Environmental Studies, organized the November 8-11 third annual International Conference on Drylands, Deserts and Desertification: The Route to Restoration.
The conference will be hosted at BGU's Sde Boker campus in cooperation with the United Nations Educational, Scientific and Cultural Organization (UNESCO). It is the second conference in Israel on the subject. More than 500 government officials and academics from 50 countries, including Palestinian and Jordanian delegates, will participate.
"We believe that by bringing a diverse group of academics, professionals and policy-makers together to confront the myriad critical issues of desertification, the BGU conference can serve as a meaningful catalyst for cooperative and collaborative projects in the future at the global level," says Tal.
Attendees will discuss the public health aspects of desertification; sustainable building in desert environments; remote sensing to assess how flora are responding to anti-desertification attempts; grazing and the Bedouin community; the future of the Dead Sea; environmental education and dry-land agriculture; and soil and water restoration.
The Israel triangle
Two years ago, forestry experts from several African countries participated in a three-day seminar on desertification. The event was initiated by MASHAV, Israel's Agency for International Development Cooperation, together with Keren Kayemet L'Yisrael - Jewish National Fund, and CINADCO, the Center for International Cooperation of the Ministry of Agriculture.
Participants gained pointers on establishing forests, collecting and germinating seeds, managing nurseries, and fostering forest-related industries such as honey production and ecological tourism, according to David Brand, head forester for KKL-JNF.
Israel also excels at wastewater management, a crucial aspect in fighting desertification. About half the water used for agriculture cycles through 240 KKL-JNF-built reservoirs. Israel reuses about 74 percent of its wastewater; in comparison, Spain, the second-most efficient country in this area, reuses only 20%.
Government agriculture officials from nations including Kenya, Ethiopia, Ghana, China, Nigeria, and Burkina Faso learned how Israel structures its efforts in a 'triangle' of research, advising, and fieldwork, Brand relates.
Tal strongly endorses this sort of information sharing. "If you do nothing about desertification, people will starve and die," he states. The UN, as well, encourages developed nations such as Israel to provide assistance to developing countries in fighting desertification.
Israel's moral obligation to provide expertise
What Israel has to offer is its proficiency in restoring marginal lands, and protecting its dry lands from further deterioration. Parts of the Negev desert have been transformed into a productive breadbasket, actually reducing the desert's size significantly since 1948. KKL-JNF planted forests are thriving and salt- and drought-resistant crops are flourishing thanks to advanced agricultural methods. The desert is dotted with commercial fishponds and with healthful algae used for manufacturing pharmaceuticals and health foods.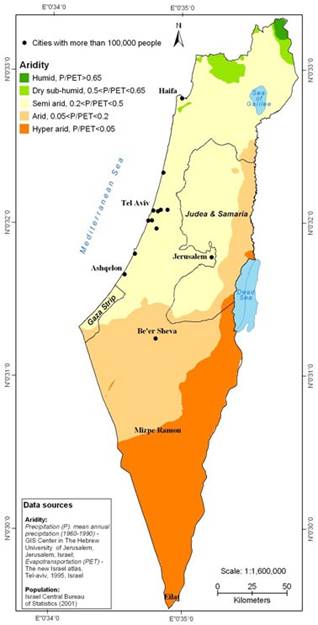 In fact, says Tal, algae grow better in dry areas. This is one example of how the desert setting offers advantages. Arid spaces are also perfect settings for solar and wind power, as well as trails for hiking.
Tal, a North Carolina native, works closely with Israel's neighbors. He co-authored a model for an agreement on environmental cooperation between Israel and the Palestinian Authority and represents Israel at UN conferences on desertification alongside Dr. Uriel Safriel, professor of ecology at the Hebrew University of Jerusalem (Hebrew University of Jerusalem) and - according to Tal - a "true hero" who is the world's leading authority on desertification.
"Desertification is not, as it's often perceived, about vast sand dunes expanding and overwhelming villages," he says. "Although this happens in some places, it is simply a loss of soil fertility due to many factors whose long-term impacts are far greater in dry lands. This manifests itself in the scenes you see on television of millions of hungry people without food. Israel is recognized as a country which for some time has taken on the challenge of reversing these trends. Now, we have a moral obligation to be a light unto the nations and offer our capabilities."
Details
Israeli scientists are making significant contributions to the advance of nano-technology, discovering and developing some of the most important breakthroughs.
Second annual International Nanotechnology Conference to be held in Tel Aviv in November.

(By David Halevi)





Israeli high-tech has done some big things in the past - creating some of the most important advances in computer security and networking, social media, and telecommunications. Today, Israeli companies are set to do some little things - which may have an even bigger impact than some of those high-tech achievements.

What Internet startups were to the past decade, nanotechnology will be to the next one, experts say - and Israel is already a world leader in development and deployment of applications based on this new science. Already, Israeli scientists have made significant contributions to the field, discovering and developing some of the most important breakthroughs.


Among the applications Israeli start-ups have developed using nanotech are water purification membranes, agents for oral drug delivery, inkjet digital printing systems, diagnostic tools, holographic storage systems - and an 'e-beam on a chip,' which is similar to a laser beam, to be used for semiconductor manufacturing.

Thanks to nanotech, for example, organ transplants may become a thing of the past, as special growth factors based on nanotechnology help grow healthy cells in an organ to replace unhealthy ones. Nanotechnology could also help to vastly reduce pollutants from internal combustion engines and could even develop elements that provide the taste of sugar in foods, without the calories and tooth decay that are part and parcel of the product today.


The nanotechnology revolution is here, and moving forward rapidly, with a host of Israeli companies already producing applications based on this new science, which allows researchers to control matter on an atomic and molecular scale.

Highlighting Israel's nano-accomplishments

Highlighting Israel's accomplishments and research in the emerging nanotech field, the second annual International Nanotechnology Conference will be held in Tel Aviv in November. It will focus on innovations and business opportunities in the energy, water, environment, nano-material, nano-electronics, nano-photonics, nano-bio and nano-medicine fields.

Investors seeking opportunities and companies from Israel and abroad will attend, showing off their nano-wares. Speakers will include the leading lights of the discipline from Israel and abroad. Among them will be the 2010 co-winner of the Nobel Prize for Physics, Professor Andre Geim, for his discovery and work with the nano-material graphene.


The conference is being chaired by Nava Swersky-Sofer, who is one of the leaders of Israel's life-science industry and is the former CEO of the Hebrew University's tech transfer arm, Yissum; Mr. Dan Vilenski from the Israel National Nano-technology Initiative (INNI); and Prof. Arie Zaban from Bar-Ilan University.
"Israel is known worldwide as a center of knowledge and innovation in nano-technology and research in the nano field. Israel's achievements are at the forefront of a variety of the industrial fields, such as communications, electronics, computerization, security, medicine and life-sciences," says Swersky-Sofer.

Israel is already on the international nanotech map, according to the INNI, one of the conference sponsors. The group lists about 80 large and small companies working in Israel's nanotech sector, along with more than 40 academic and governmental labs, employing some 300 researchers and scholars. The INNI states that Israel has the third-largest concentration of startup companies in the world, surpassed only by California's Silicon Valley and the Boston technology corridor.

A survey conducted by INNI shows that the Technion employs 119 nano-researchers, followed by 55 at Tel Aviv University, 47 at Ben-Gurion University of the Negev, 43 at the Weizmann Institute of Science, 39 at the Hebrew University in Jerusalem and 30 at Bar-Ilan University. Since 2002, the number of nano-researchers in Israel has doubled. The two main scientific disciplines are chemistry (25.6%) and physics (19.5%). Most of the researchers (33%) focus on materials, followed by electronics and photonics (22%) and biotechnology (17%).

Israel had a head-start

Israel is ahead of many other countries in this new field, because its researchers have been working in the nano sphere for years. Among the researchers is Prof. Reshef Tenne of the Weizmann Institute. Tenne, who will chair a session at the conference, is best known for leading the group that discovered and studied the inorganic fullerene-like nanospheres and nanotubes, generally termed IF nanoparticles, considered a new class of nanomaterials. Tenne says that nanotech development suits the Israeli development model: "This is a small country, and nano-material research, of course, is done on a small scale. But the research can yield big results, and we expect that today's research will pay off handsomely in the coming years."

Israeli researchers have done a great deal of work in helping to discover new nano-materials, and Israel is by far the most advanced country in its neighborhood in nano-research. "You can tell how advanced a country is by the number of high-resolution electron microscopes a country has. We certainly don't have the resources that rich European countries like Germany and Holland have, but we've got quite enough for a country of our size. We're in a good spot in the middle, and our researchers take full advantage of the resources available," Tenne says.

Tenne himself conducts ongoing nanotech research at the Weizmann Institute in both basic materials and applications, a combination that he says suits him well.
"Over the next five to 10 years we'll see nanotech applications take off. Most of the first round of applications will probably be in the medical field, and we here in Israel have been making great strides in the area of nano-medical technology," Tenne relates.

Manipulating small elements of matter as it does, the science of nanotechnology is also considered an art form. 'Nanoart' features nanolandscapes (molecular and atomic landscapes, which are natural structures of matter at molecular and atomic scales) and nanosculptures (structures created by manipulating matter at molecular and atomic scales using chemical and physical processes). These scientific images, captured and processed with various artistic techniques, will be on display at the November conference.