Science & Technology
Details

Written by

Israel Defense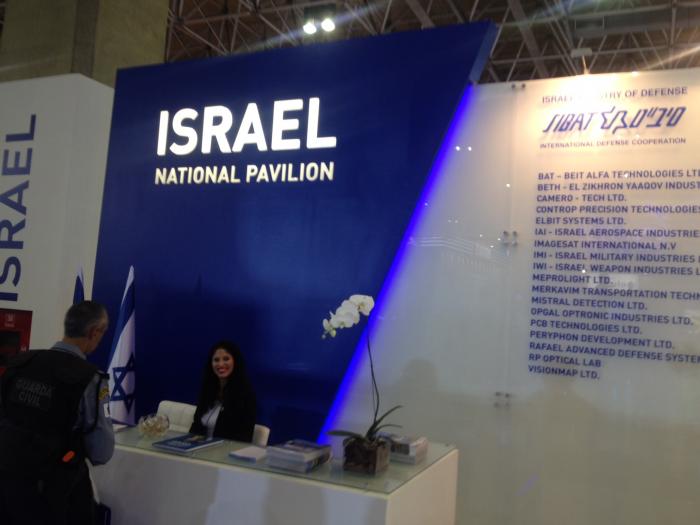 A Record Number of 28 Israeli Companies Participating in DEFEXPO 2016
The Israeli pavilion at the DEFEXPO exhibition in India is the largest ever. Head of SIBAT: "Israel and India are working together to enhance cooperation in various technological fields"
Defense Ministry officials inaugurated the Israeli national pavilion at Defexpo in Goa, India, one of the most important defense exhibitions in the world. The opening ceremony of the Israeli pavilion was attended by the Director General of the Ministry of Defense, Maj. Gen. (res.) Dan Harel, Head of SIBAT, Brig. Gen. (res.) Michel Ben-Baruch, and CEO's of major defense industries.
This year, 28 Israeli defense industries and start-up companies will present a wide range of advanced technologies, most of which have been tested successfully on the battlefield. Among other things, Israeli companies will present sophisticated sensors, borders and sensitive facility protection systems, robotic systems, electro-optic systems for artillery and infantry, airborne satellite communications, fire control solutions, tactical medical equipment for the battlefield, and more.
Head of SIBAT, Brig. Gen. (res.) Michel Ben-Baruch said, "Israel and India are working together to enhance cooperation in various technological fields. India is a country with great capabilities. The large Israeli presence in the exhibition reflects our desire to strengthen the ties with Indian companies, and to increase the domestic production of advanced military technologies. A large part of the Israeli companies participating in the exhibition have been working closely with Indian companies, and we are confident that the collaboration will yield massive projects for Indian security forces."
Ben-Baruch added, "In the field of security, Israel and India face similar threats. The technological cooperation between the two countries will help us in the face of these threats, and will contribute to the economy of both countries."
The Israeli industries to exhibit in the national pavilion at DEFEXPO are Aeromaoz, Al Cielo, Astronautics, Beth-El industries, Camero, CI systems, Controp, Elbit Systems, Enercon, Persys Medical, IWI, Magal, Meprolight, MORE, Manomotion, Nimda, Noga-Einat, Opgal, Ophir Optronics, Orbit, PCB, Plasan, Rafael, Optica lab, SCD and Urdan.
Meanwhile, a large Israeli delegation of SIBAT will inaugurate the National Pavilion at FIDAE exhibition in Chile this week. This biennial event is the largest and most important aerospace exhibition in Latin America. Eleven leading Israeli defense industries in the Israeli pavilion will present a series of advanced technological solutions, most of which have had operational experience on the battlefield.
The Ministry of Defense stated that in recent years, the security market in Central and South America is one of the largest emerging markets in the world, both in the military field and in Border Protection and Homeland Security (HLS). More and more countries in Latin America are seeking cooperation with Western countries and leading defense industries. Changes in the geopolitical region also present many opportunities for the defense industry. Israeli defense companies specialize in the development of advanced technologies with proven operational experience, which can be adapted to the unique needs of each country. Therefore, these industries are considered particularly attractive to this market.
The Israeli industries to exhibit at the Israeli Pavilion at FIDAE are Elbit Systems, Rafael, IAI, IMI, IWI, Meprolight, Camero, VISION MAP, Controp, FAB and Beth-El industries.
http://www.israeldefense.co.il/
Details

Written by

MFA
1st International Digital Diplomacy Conference in Israel
For the first time in Israel - a Digital Diplomacy Conference hosted by the Ministry of Foreign Affairs and the Partner Institute for Internet Studies at the Tel-Aviv University brings together scholars and practitioners from around the world to investigate and advance the practice of diplomacy in the digital age and formulate a research agenda
The 1st International Digital Diplomacy Conference - the first of its kind in Israel - will examine the influence of the social networks and technologies on the activity of ministries of foreign affairs throughout the world. The conference will take place on 29-31 March 2016 at the Tel-Aviv University, with participants from 25 countries, including the US, UK, France, South Korea and Germany, as well as researchers from universities in the US, Europe and Israel in the fields of Diplomacy, Communications and the interaction among them.
The Israeli Ministry of Foreign Affairs has been highly active in the digital arena over the past few years, operating hundreds of accounts in various media and in about 50 languages, including Hebrew, English, Spanish, French, Arabic, Persian, Indonesian, Finnish and numerous others.
The conference will discuss the issue of "Technology at the Service of Diplomacy" and address questions, such as the use of social networks by ministries of foreign affairs to advance political goals; engagement in dialogue with on-line audiences; consular services to citizens in emergency situations; and country branding. In addition, the possibility of establishing an international digital network of ministries of foreign affairs will be explored for the first time.
These issues are being researched at the Department of Communications and the Partner Institute for Internet Studies at the Tel-Aviv University. The conference brings together diplomats who are active in the field and academic researchers, in a step intended to boost the development of digital diplomacy, and to create an exchange of views through which Israeli insights will be shared and each participant will be able to learn from the experience of other countries and from the insights of researchers in the field.
March 30 - 31, 2016, Israel
This two day international conference aims to bring together scholars and practitioners from around the world in order to investigate and advance the practice of diplomacy in the digital age as well as formulating a research agenda that will contribute to the study of Digital Diplomacy.
The conference shall be co-hosted by The Israeli Ministry of Foreign Affairs and the Partner Institute for Internet Studies at the University of Tel Aviv, and will include round-table discussions, expert panels and case - studies in which foreign ministries will be invited to share the insight they have gained. Recent years have seen Ministries of Foreign Affairs (MFA's), embassies and diplomats engage in social networking sites and according to the Twiplomacy website, there are now 228 MFA's and Foreign ministers active on twitter in addition to some 400 heads of state and governments. The conference will bring to the fore the many challenges facing the world of Digital Diplomacy ranging from the need to train diplomats in the art of social media engagement to identifying the means with which to evaluate its impact.
The conference will focus on the rise of a 'whole of government' approach to diplomacy as well as attempting to understand the relationship between the concepts of digital diplomacy, public diplomacy & nation branding.
Contact: This email address is being protected from spambots. You need JavaScript enabled to view it.
Details

Written by

G.A.L. Water Technologies
ISRAEL'S CONTRIBUTION TO THE CITIZENS OF PAPUA NEW GUINEA
The World's First Water Purification Vehicle, GALMOBILE™
Caesarea, Israel (March 2, 2016) – G.A.L. Water Technologies Ltd., creators of the GALMOBILE™, announced on Monday that the State of Israel is donating a unit of their Water Purification Vehicle to the citizens of Papua New Guinea, who are suffering from the country's worst drought this century. This achievement underscores G.A.L. Water Technologies' commitment to "Cleaning Water and Saving Lives."
Papua New Guinea
Papua New Guinea is located on the Eastern-half of the Island of New Guinea, just North of Australia, and inhabits about six million people. Eighty-five (85) percent of the population live in villages without access to electricity and tap water. Hundreds of children die every year from diseases caused by drinking non-potable water. The state struggles with serious drought as a result of El Nino's influence. Millions of people are afflicted with starvation and lack of clean water due to the El Nino phenomenon that occurs in the Pacific Ocean.
What started out as a simple solution with the intent of saving lives, is signified as one of the leading solutions for supplying clean and safe drinking water in the event of an emergency or natural disaster. Israel's Ministry of Foreign Affairs purchased the desalination vehicle from G.A.L. Water Technologies to be donated to the Independent State of Papua New Guinea. On February 29th at 12:00, an event was held at the Ministry of Foreign Affairs in Jerusalem, with the cooperation of Deputy Foreign Minister, Mrs. Tzipi Hotovely, and Mr. Raphael Morav, Director of the Pacific Department of the Ministry of Foreign Affairs. As part of the program, Mr. Rami Aflalo presented the GALMOBILE's capabilities and how the system will aid the residents of Papua New Guinea in overcoming their water shortage.
GALMOBILE™
The GALMOBILE™ is a mobile potable water treatment system for sustained emergency recovery and response. Independent, self-contained and automatic, the system combines all elements required to provide drinking water: source, treatment, storage and distribution. GALMOBILE™ connects to any possible water source and produces drinking water at World Health Organization standards in less than 30 minutes, yielding approximately 8,000 cups of water per hour. The system is lightweight with small dimensions, facilitating transport and shipping. The greatest advantage of the GALMOBILE™ is that it has a variety of applications and presents a complete and immediate solution to a global problem.
Participants
Among those participating in this event were:
Ministry of Foreign Affairs:
Mrs. Tzipi Hotovely, Deputy Foreign Minister of Israel
Mr. Gil Haskel, Head of MASHAV
Mr. Raphael Morav, Director of the Pacific Department
Mr. Michael Ronen, Director of the Southeast Asia Department
G.A.L. Water Technologies Ltd.:
Mr. Rami Aflalo, CEO & Owner of G.A.L. Water Technologies Ltd.
Mrs. Sigal Levi, Deputy CEO & Owner of G.A.L. Water Technologies Ltd.
Haim Haviv, Partnerships Officer in the World Bank in Washington, D.C.
Adi Shauly, Executive Manager of the Water Industry, Manufacturers Association of Israel (MAI)
Gadi Aviram, Owner of Kawasaki Israel
Rotem Asa, Sales Manager of Polaris Israel
Dr. Efraim Laor, Professor of Disaster Management
The Israeli Ministry of Economy
Photo : Deputy Foreign Minister Mrs. Tzipi Hotovely in the GALMOBILE with G.A.L.'s CEO, Mr. Rami Aflalo
Details

Written by

Silvia G Golan
CleanTech 2016
Over 5000 participants and exhibitors from around the world are expected to attend CleanTech 2016 , the 20th annual international event for Clean Technologies: environmental quality, infrastructures and green building, renewable energy and water technologies. The event will take place at the Ramada Hotel, Jerusalem and will be a central meeting point for the CleanTech industry in Europe, Asia and Africa. The World CleanTech Awards will be delivered to outstanding candidates at the official ceremony.
The geographical location of CleanTech 2016 - in the middle of the three continents - Europe, Asia and Africa - makes it an international magnet for companies to expose their products and services to international customers and traders and for buyers to create new commercial contacts.
Though Israel is a small country with limited natural resources, it stands out as one of the most competitive economies. The country's market economy can be characterized as advanced technology based and globally oriented. In recent years Israel has been focusing on CleanTech and there are now more than 600 companies in Israel that can be defined as specializing in the CleanTech field.
CleanTech Exhibition has gained the status of a high quality international business platform, where companies, researchers and professionals display their newest developments, novel technologies and outstanding quality services in the fields of environmental protection and green solutions, infrastructure, renewable energy, waste treatment, water technologies for treatment, desalination, harvesting, purification, filtration and more. The exhibition includes professional conferences, seminars and symposiums.
Renewable Energy
Global investment in renewable energy sets new records every year, according to a reports released by the Renewable Energy Policy Network for the 21st Century (REN21). Technologies such as wind, solar, biomass, geothermal, and small hydro now provide hundreds of gigawatts of electricity generating capacity. Subsequently renewable energy markets have been growing robustly. According to the forecasts the market capacity may at least double itself within a relatively short period of time. The steep rise in air pollution and oil prices has spurred the development of energy alternatives that will reduce dependency on expensive, environment-polluting oils. Israel must keep abreast with the developed countries and increase its use of renewable energies. The Exhibition promotes the technologies in this crucial area.
Green Building
In recent years there has been a growing awareness of "green construction," that is, building that provides a higher quality of life and healthier environment by cutting back on the overall bad effects on the environment from the process of construction and building use. The exhibition will emphasize the environment as a central factor in the planning and implementation of green construction projects.
Natural Gas
Gas demand, which is rising at a slightly faster rate than oil, is currently being driven by rapid growth as a fuel for clean and efficient electric power generation. As with oil, gas resource additions have exceeded demand for most of the last century. Much of this supply was discovered between roughly 1960 to about 1980. This was driven by major discoveries in Russia, the Middle East, the Netherlands and Indonesia. Israel has begun setting up a natural gas system to provide this energy source to industrial plants and national and privately owned power stations throughout the country. The expo will also display technologies for transporting oil and gas that are safety guaranteed and environmentally friendly.
Waste and Recycling
Recycling is an economic development tool as well as an environmental tool. Reuse, recycling, and waste reduction offer direct development opportunities for communities. According to different sources the worldwide recycling industry employs the skills of more than 1.5 million employees as well as using a great armoury of sophisticated machinery. With a total annual turnover exceeding US$ 160 billion, it is also a capital-intensive business. Annual investments and R&D in the recycling industry amount to around US$ 20 billion. Each year, the global recycling industry processes more than 600 million tonnes of commodities such as ferrous and nonferrous metals, paper, plastics, textiles, glass, tyres and much more. CleanTech 2016 will display cutting-edge technologies and solutions for this industry.
Air Pollution
The contamination of the air we breathe is the curse of the developed countries. Special factors in Israel, such as population density, the continuous rise in the standard of living, and meteorological conditions exacerbate the problem. Unfortunately Israel lags far behind the first world in the treatment of air pollution and the effects that can cause disease and suffering. The exhibition management targeted this area for special concern by raising public awareness of the need to cope with this problem seriously.
Organization Name: Mashov Group Ltd.
Address: Ramada Hotel, Jerusalem
Start Date: 03 Apr 2016 End Date: 05 Apr 2016
Country: Israel
Phone Number: +972-8-6273838
Fax Number: +972-8-6230950
Email: This email address is being protected from spambots. You need JavaScript enabled to view it.
Details

Written by

Science, Technology and Space Ministry Spokesperson
Israeli scientific discoveries that affected the world
New exhibit at Ben-Gurion Airport will feature approximately 60 discoveries and developments selected for the innovative and pioneering qualities, and their direct and indirect influence on the lives of millions of people around the world.
The Ministry of Science, Technology and Space will, on Monday, 7 March 2016, at Ben-Gurion International (BGI) Airport, in the presence of Science, Technology and Space Minister Ofir Akunis and Transportation and Road Safety, and Intelligence Minister Yisrael Katz, launch a year-long wall exhibit of approximately 60 Israeli developments and discoveries that have affected the world. Nobel laureates, featured researchers and university presidents and vice-presidents for research will also attend.

The exhibit will be displayed on a giant wall just past passport control and will have the potential of reaching approximately 8 million people. The exhibit is designed for public diplomacy and to increase domestic public awareness of science. A recent survey shows that 43% of Israelis are unaware that Israel's first President, Chaim Weizmann, was originally a chemist. Approximately 50% of Israelis were unable to name even one Israeli Nobel laureate scientist. The Science Technology and Space Ministry, in cooperation with the Israel Young Academy, initiated the Ben-Gurion Airport exhibit to present Israeli science.

The exhibit will feature approximately 60 discoveries and developments - chosen by a selection committee composed of representatives from the Israel Young Academy and the Science, Technology and Space Ministry Chief Scientist's office - that were selected for the innovative and pioneering qualities, and their direct and indirect influence on the lives of millions of people around the world.

Sections of the exhibit will be devoted to Israel's eight Nobel science laureates, three Turing laureates and one Fields Medal winner, as well as to such prominent scientists as Chaim Weizmann, Aaron Aaronsohn and Albert Einstein.

Science, Technology and Space Minister Akounis: "The exhibit is a major public diplomacy asset for Israel. We are showing the vast contributions of Israeli science and technology to the world and all humanity. We have what and who to be proud of. Israel is a pioneering country and innovative leader. The entire world admires, and is amazed by, our achievements; therefore, it is fitting that they be shown at the gateway into and out of Israel."
Photo ReWalk - an exoskeleton invented by Dr. Amit Gopher that allows people with paralyzed legs to walk again

Copyright: Ministry of Science, Technology and Space