Art & Culture
Details

Written by

Pamela Hickman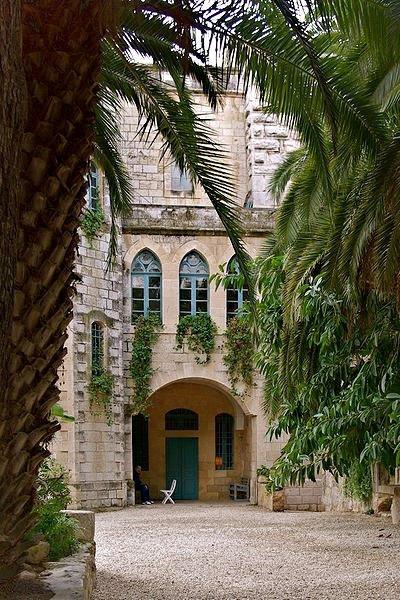 The Abu Gosh Vocal Music Festival takes place twice a year in and around Abu Gosh, a town located 16 kilometers west of Jerusalem on the Tel Aviv-Jerusalem highway. The 55th Abu Gosh Festival will take place from June 7th to 9th 2019, with a line-up of 13 concerts suited to a variety of musical tastes. Events take place in two churches - the spacious Kiryat Ye'arim Church, sitting high up on a hill, and the Crypt below the 12th century Benedictine Crusader church, set in a magical, exotic garden in the lower quarter of Abu Gosh. The Abu Gosh Festival has existed in its present format since 1992. People come from far and wide to attend concerts, sit in on the more informal outdoor musical events, picnic in the open, buy trinkets at the stalls set up near the Kiryat Ye'arim Church and relax in the surroundings of the Judean Hills. The festival features many Israeli artists and groups, also hosting overseas choirs. As of 1995, Hannah Tzur has served as musical director. A contralto who has soloed with major Israeli orchestras and conductors, Ms. Tzur has been directing the Ramat Gan Chamber Choir for 20 years.
The Kiryat Ye'arim Church will host a number of classical events; "Puccini's Requiem" (Concert No.3) conducted by Hannah Tzur herself, Telemann's opera "Orpheus" (Concert No.4) conducted by Yair Polishook, Bach's St. John Passion (Concert No.9) under the baton of Michael Shani and versatile soprano Keren Hadar will perform with the Tremolo Ensemble directed by marimba player Tomer Yariv (Concert No.1). Overseas guest artists appearing at the Kiryat Ye'arim Church are the Estonian Philharmonic Chamber Choir under Kaspars Putninš (Concerts 2, 5 and 8) and Concert No.7, which will feature the Bach Freiburg Choir (conductor: Hans Reich), to be joined by the (Israeli) Maayan Choir.(conductor: Anat Morahg) in a program of Rossini, Brahms, Villa-Lobos and Gabrieli.
Take a wander down to the Romanesque Crusader Church. Below it, the Crypt, which was built in a former reservoir of the second century, is massive and austere; in some places its walls are more than 3½ meters thick. At its center flows a spring. In the church's exotic, tranquil garden, a local man will be there to serve you coffee with cardamom and rich, sweet pastries. Some of the more intimate and different-style concerts take place here. In "Pulsating Poetry and Prayer" (Concert No.10), the Sirenot Ensemble will present a variety of Jewish vocal music, soprano Tal Ganor will sing works of Bach, Handel, Vivaldi and more in "Sound the Trumpet" (Concert 11), soprano Revital Raviv and friends will take listeners on a musical tour of the British Isles (Concert No.12) and soprano Sivan Rotem, Yair Kless (violin) and Jonathan Zak (piano) will present works "From Italy to Argentina" (Concert No.13).
http://www.agfestival.co.il/
For ticket reservations:
Internet: http://www.bimot.co.il
Bimot : 02-6237000 or *6226
Bravo: *3221, 0722753221
During the festival, tickets will be available at the churches (cash only)
http://pamelahickmansblog.blogspot.com
http://pamelahickmansmusicinterviews.blogspot.com

Photo: Berthold Werner
Details

Written by

Maccabi World Union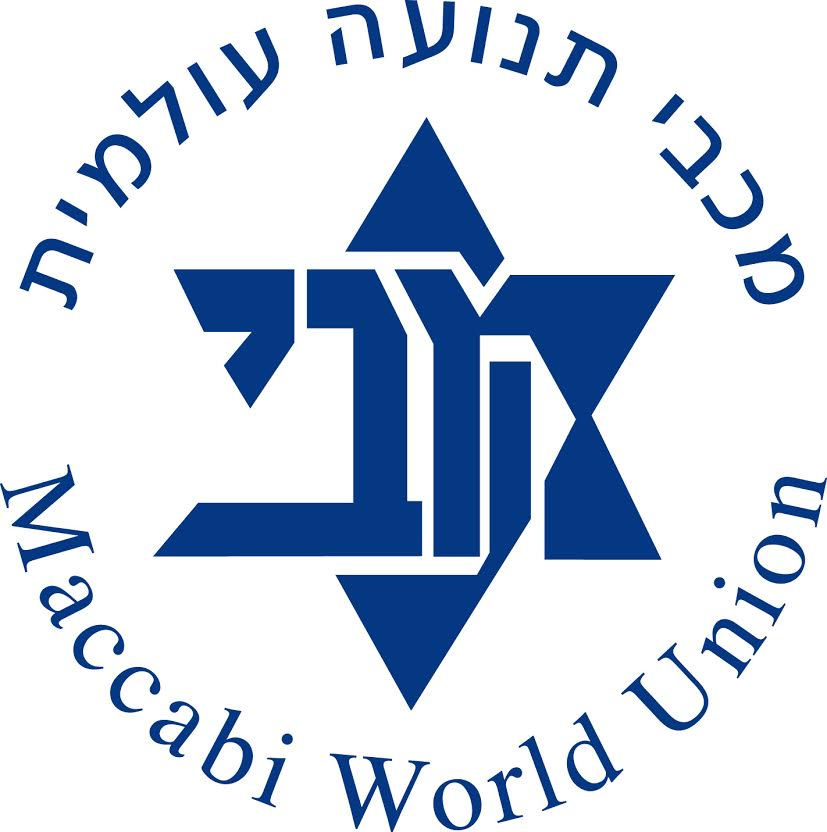 Dear friends,
Shimon Bar Kochba's military victories endowed the People of Israel with nearly 3 years of national independence during 132-135 CE (Common Era); on Lag Ba'Omer we celebrate that Great Hebrew Revolt. The same rebellion, however, also led to the worst massacres of Jews in ancient times, and the Exile of most of our People from almost all of our ancestral Land of Israel. Bar Kochba's war began in the hills of Judea and carried as far afield as Beit She'an in Lower Galilee. It cost Rome and its Empire the utter destruction of 2 Legions out of 12 eventually sent to crush the Jewish rebels in a massive expedition involving huge troop numbers led by Julius Severus, the best Roman general of the time, summoned from as far away as Britannia.
The massacre that followed Bar Kochba's final defeat challenged the theology of Chaz"al, those holy Sages who bequeathed the Oral Torah and forged Judaism as we know it today. Unable to accept that the vast catastrophe which befell our People was merely due to military defeat, our Sages explained that what happened was caused by tremendous division amongst the Jews in general, and, in particular, among the students of the greatest Sage at that time of the Oral Torah, Rabbi Akiva:
"It was said that Rabbi Akiba had twelve thousand pairs of disciples, from Gabbatha to Antipatris; and all of them died at the same time because they did not treat each other with respect. The world remained desolate
d…
"
The Talmudic text would seem to leave us in despair. The strength of the Jewish people, their education, their transmission, ended with the death of their Masters. But the same text immediately continues with the light of hope:
"…until Rabbi Akiba came to our Masters in the South and taught the Torah to them. These were Rabbi Meir, Rabbi Yehudah, Rabbi Yose, Rabbi Shim'on and Rabbi Eleazar ben Shammua; and it was they who revived the Torah at that time."
[1]
Our Sages taught us that the Jewish People, though bereft of a national life, could and would be sustained by educating future generations. So long as that education was guaranteed, even after such a genocidal horror, the Jewish future would be secured. Thus, Jewish education is central to the life of the People of Israel. But how could a future possibly be built without transmitting values, content, and ideological commitment unshaped by a shared National purpose...? If the messages that shaped our People could not be maintained or disseminated to successive generations, how could the People continue in the wake of such immense tragedy? Rabbi Meir, Rabbi Yehudah, Rabbi Yose, Rabbi Shim'on and Rabbi Eleazar ben Shammua supplied the answers – indeed immediately, amongst the surviving remnants & generations who survived the Roman devastation of our People. Their students guaranteed Judaism's survival and future, and their students' students, and in turn, their students, and so on, right up to the present day: their teachings preserved our values, traditions and the annals of our past history, projected it forwards, molded and maintained a Jewish national consciousness, identity, and solidarity that transcended the borders and physical boundaries of the countries where our People were dispersed to for so many centuries. For that reason, to this day we celebrate Lag Ba'Omer, despite the vast tragedy that followed Bar Kochba's defeat: it leaves us committed to transmit Judaism as the key to the actual life and future hope of our People.
May the light of our glorious Lag BaOmer bonfires
illuminate our present and the bright promise of our future;
May this Festival kindle and sustain the spirit of our long national continuity!
Lag BaOmer Sameach!
Chazak ve'Ematz!
RABBI CARLOS A. TAPIERO
Deputy Director-General & Director of Education
Maccabi World Union
[1]
Babylonian Talmud, Yevamot 62b.
Details

Written by

David Goland
The Italian Institute for Culture in Tel Aviv gladly accepted an invitation by Bikurei Ha'itim Community Centre in Tel Aviv, for an evening of Italian Culture. Bikurei Ha'itim Municipal Centre is a professional studio for performing arts.
Fabio Ruggirello, the director of the Italian Institute of Culture, the guest of honor, accompanied by his lovely secretaries, Barbara and Miriam, greeted a local crowd of about a hundred people who gathered to experience the wonders of Italy. The Institute gave out copies of a beautiful booklet in Hebrew describing the cultural, historic and culinary treasures of Italy. The Italian Institute for Culture (Instituto Italiano de Cultura) is attached to the Italian Embassy in Tel Aviv with a branch in Haifa. The Institute offers Italian language courses and various cultural events.
Within the framework of the Eurovision Song Contest currently taking place in Tel Aviv, several Tel Aviv community centers "adopted" European delegations, and invited them to visit the centers. Bikurei Ha'itim is proud to host the Italian delegation to Eurovision.
The program included song, drama, dance, all performed by the students of Bikurei Ha'itim, and food provided by Pasta Mia restaurant. Three dance ensembles from Bikurei Ha'itim performed a Tarantella dance, a contemporary dance to Monteverdi's music (what an ingenious juxtaposition!), as well as a children's Hip-hop style dance choreographed, to the Italian song entry to be performed next Saturday's Eurovision final stage by Italian singer Bilal Hassani. Orr, an a ten years old boy, played a piano version of a Tarantella song and Vivaldi's "Spring". Mr. Alberto Levy sang a Hebrew version of the Neapolitan song Maruzzella, Mr. Gletzki acted out a humorous monologue of Geppetto complaining about his rogue son Pinocchio, and finally a trio dressed in red-white-green performed a Hebrew song.
Pasta Mia restaurant provided to each guest a glass of refreshing prosecco and a slice of tasty focaccia at the door, and then a taste of fine pasta in a rich tasting sauce at the end of the evening. Chef Ilan Moses was represented by Tsadok who told the audience the history of pasta, the traditions associated with pasta, and its serving style. Charming Mr. Riccardo Hoffman, the restaurant's promoter, was there to assure that we can all enjoy the food.
Websites:
Photos by Riccardo Hofmann and David Goland
Details

Written by

Sillvia Golan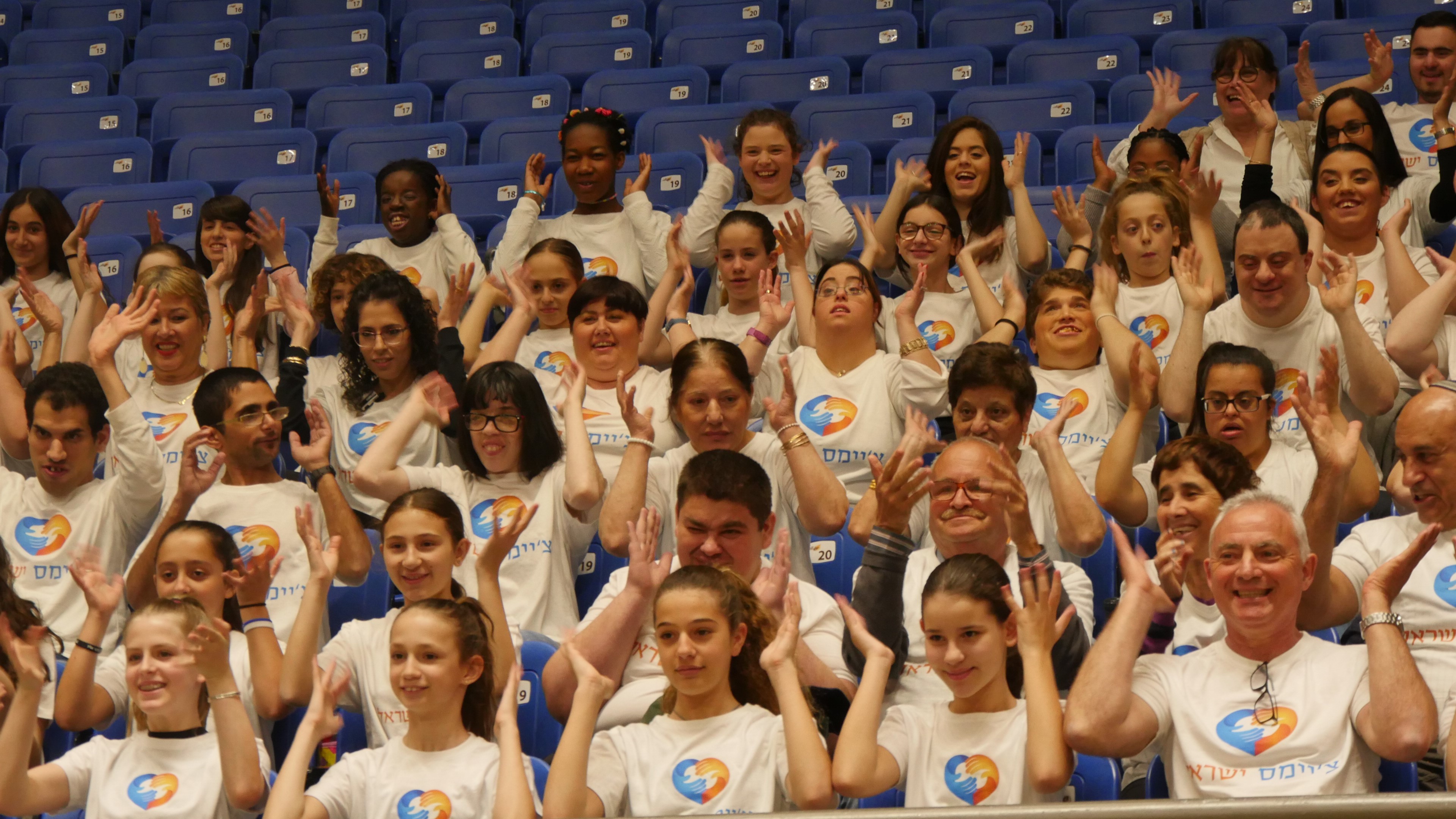 Dance the integration - TOYA
In preparation for the Eurovision Song Contest, an exceptional video clip of social value for TOY is currently being released.
The unique video calls for raising awareness of the integration of people with disabilities in the community, and it is attended by children and adults with special needs, alongside dozens of teenagers from the Tel Aviv Arts School.
In preparation for the Eurovision Song Contest, "CHIMES Israel" initiated the TOYA project, which calls for raising awareness of the integration of people with disabilities in the community. In the framework of the project, they produced a special and moving video clip, in which children and adults with disabilities from the age group of 10-70 dance the song "TOY" by Neta Barzilai, along with dozens of teenagers, dance students from the Tel Aviv arts school and employees of the association.
TOYA was inspired by the Eurovision Song Contest and its social message, about accepting the different and the other and the right of people with disabilities to participate equally and actively in the community in all spheres of life. Alongside the apprentices and dancers, makeup artists from the Ravit Assaf School of Makeup came to the project voluntarily. They made up the participants and made them feel stars. In addition, specially prepared costumes worn by participants during the clip.
The project is the result of the collaboration of the Chimes Israel association with the "Maon Dehu" association, led by choreographer Nachshon Stein, who specializes in dance and movement for people with special needs.
George Zimmerman, CEO of "CHIMES Israel", said: "The value of the "integration" of people with disabilities in the community, is one of the core goals of the association. Art in general and dance in particular, provide valuable tools, meaning and opportunity to create communication and dialogue for people with disabilities and the community, alongside educational activities rich and experiential".
"Chimes Israel" believes that every person with special needs has the right and ability to integrate into the community and live a life of dignity, independence and fulfillment while realizing its potential. The association has been leading for 27 years in providing many and varied services, to promote and integrate people with special needs in the community from birth to old age, under the supervision of the Ministries of Welfare, Health, Education and in cooperation with the National Insurance Institute.
"Dance is the secret language of the soul" Martha Graham, dancer and choreographer.
Photo Micha Hadar
Details

Written by

Pamela Hickman
MUSIC & TOURS IN JERUSALEM GOLDEN BELLS
An exciting new spring event is about to take place very soon in Jerusalem from May 16th to 18th. A long weekend of fine music and walking tours, Golden Bells offers visitors and locals a variety of concerts and an opportunity to discover the many fascinating quarters of Jerusalem, its history and magic. Thursday 16.5.19 16:00-17:30 Balabuste tour & flavors of the Old Yishuv Court Museum, the Jewish Quarter
Guide: Ora Pikel Tzabari • Meeting point: 6 Or Haim st., the Jewish Quarter NIS 75/65 19:00-20:30 The Jerusalem Experience, a tour of Beit Ot Hamutzar • Guide: Issac Weiss NIS 75/65 20:00-21:30 Schumann Quartet (Germany) concert • Jerusalem YMCA NIS 95/85 20:30-22:30 El Greco, a Greek celebration of music & flavors NIS 75/65 22:30-23:15 KING DAVID show, a night experience at the Tower of David Museum NIS 65/60 22:00-23:30 Night Birds in Machnejuda, a night tour to the most famous market
Guide: Itamar Ben David • Meeting point: 88 Agripas st. NIS 75/65 Friday 17.5.19 11:00-12:00 The Jerusalem Experience, a tour of Beit Ot Hamutzar • Guide: Issac Weiss NIS 75/65 12:00-13:00 Thalamus Vocal Quartet, an a-capella concert • Beit Ot Hamutzar NIS 75/65 13:30-14:30 The Jerusalem Experience, a tour of Beit Ot Hamutzar • Guide: Issac Weiss NIS 75/65 14:00-16:00 From Scotland to Jerusalem, a tour from Beit Ot Hamutzar to St. Andrew's Church
Guide: Ester Sa'ad • Meeting point: Beit Ot Hamutzar NIS 75/65 16:00-17:15 Near Eastern Voices concert
Abaad Ensemble, Bertini Choir • St. Andrew's Church NIS 75/65 19:30-20:00 Carillon concert, Gaby Shefler, YMCA courtyard Free 20:00-22:30 Coral ensemble hosting Koolulam, concert + mass-singing.
Singing together "One Love" by Bob Marley • Jerusalem YMCA NIS 95/85 Saturday 18.5.19 10:30-11:00 Carillon concert, Gaby Shefler, YMCA courtyard Free 11:00-12:15 Bach: Anna Magdalena • Barrocade Ensemble • Concert at the Jerusalem YMCA NIS 95/85 12:45-15:00 Tour-Concert No. 1: Russian & French in Jerusalem • Guide: Shmuel Langer NIS 130/120
Meeting point: Sergei courtyard, corner of Heleni Hamalka & Monbaz streets 15:00-16:00 Night at noon time, a-cappella concert • Jerusalem Oratorio Chamber Choir
Jerusalem Notre Dame Cathedral 12:45-14:00 Tour-Concert No. 2: Between Heaven & Hell. Guide: Ester Sa'ad NIS 130/120
Meeting point: Jerusalem YMCA gate, 26 King David St. 14:00-15:00 Classical Israeli songs • Bertini Choir • Christ Church 15:00-16:00 The tour continues from Christ Church to the Christian Quarter 12:45-15:00 Tour-Concert No. 3: Architecture & Romance in Jerusalem. Guide: Nir Ortal NIS 130/120
Meeting point: Jerusalem YMCA 15:00-16:00 Israeli songs • A-cappella concert • Adi Choir • St. Andrew's Church 17:00-18:00 Bach, Fauré, Cantata & Requiem, a festive final concert
The Jerusalem Street Orchestra, Bertini Choir, The Jerusalem Academy Chamber Choir • Jerusalem YMCA NIS 95/85
art-jerusalem.co.il | Tel: 02-6717430
Photo Tali Raz