Art & Culture
Details

Written by

Romanian Cultural Institut
Baruch Elron's "The Magic of The Paintbrush" Art exhibition was successfully launched !
Over 100 people arrived to the festive launch of "The Magic of The Paintbrush" Art exhibition at the Tel Aviv brunch of The Romanian Culture Institution (ICR) with the presentation of 22 different works of the late artist
People of art & culture, intellectuals, colleagues, public figures, art lovers, family and friends came to honor the special art exhibition of one of the most unique and honorable paint artist Israel ever had
Baruch Elron (1934 – 2006) became one of the most important contemporary Israeli paint artist of our time – famous abroad as well as in Israel – who created in an esteemed Fantastic-Realism style
The exhibition is in fact a magical time travel in Elron's dream world which includes paintings of different sizes from different periods of his artistic life – starting from his time as a student at the Art Academy in Bucharest (Already then called by many "Maestro") till his late works of art
After a brief welcome by the ICR manager, Andrea Shemesh, who is hosting the art exhibition, Dr. Dalia Hacker explained about Elron's uniqueness style and work and shared with the guests well remembered experiences from the times they worked and teached together at the biggest art academies around. Also, The 08th book written about the art of Baruch Elron was
launched by Mr. Adrian Graunfels, the writer – this time in the Romanian language
(Other 7 very impressive and notable books about Elron's work with explicit art analysis and fine pictures were published in the past few years in other 4 different languages: English, Spanish, Russian and Hebrew and got acknowledged by art academies throughout the world)
As a final part of the opening event, a special 30 minutes movie was screened about Elron's life and biggest works that was specially prepared by Mr. Shari Rabbi – an art specialist – for this occasion and got very big applaus
Baruch Elron got recognition all his life both in Romania – his birth place – as well as in Europe, USA, Africa and Israel
Since he immigrated to Israel at the age of 30 till his death, he never stopped painting and presenting his works in over 100 (!!!) art exhibitions around the world
Elron's art always managed to garner much interest due to his special vision of reality capture and his interpretation to it
His widow, Mrs. Lydia Elron, who takes care of his inheritance, seeks to provide for the art lovers in Israel (this time) and abroad another opportunity to
get familiar with Baruch Elron's work
The art exhibition will be displayed in Tel Aviv till
January 19th 2018

Place: ICR – Romanian Culture Institute
Address : 8 Shaul HaMelech blvd., 6th floor – T.A

Schedule : Monday to Friday between 10.00 to 16.00
Photo Lydia Elron

Details

Written by

Silvia Golan
Petach Tikva Museum of Art is pleased to present 4 new exhibitions:
Benni Efrat, Doom's Path, Winter 2065
Curators: Drorit Gur Arie, Avshalom Suliman
A new exhibition at Petach Tikva Museum of Art
Opening: Thursday, 11 January 2018
Closing: 12 May 2018
Benni Efrat's works wage a harsh offensive against the viewer's senses, consciousness, and beliefs. They engage with current issues pertaining to life in this planet, rather than with intra-artistic concerns. "Art deals with life, but my art deals with the very possibility to survive, to stay alive," says Efrat, who since 1982 has been dating all of his works using a timeline beginning with his estimated year of death, 2030. The video installation Doom's Path, Winter 2065, created especially for the current show, offers an all-embracing experience, engulfing the viewers with blown-up images of environmental destruction and ecological disasters.
The exhibition sheds light on the consistent, continuous progression of Efrat's work over more than five decades. It indicates how Efrat's engagement with the relativity of human perception evolved in the early 1980s into a pioneering engagement with moral issues regarding ecological destruction and exploitation of weaker species. The show also features two of Efrat's video sculptures, which illustrate his work as a sculptor who uses light as a raw material, addressing the failures and illusions of the viewer's visual perception. Requiem for the Last Leopard in the World is a new installation-performance created in collaboration with poet Ronny Someck, celebrating twenty years since the two first collaborated in the exhibition "Nature's Factory, Winter 2046." The new piece presents a collaboration between a visual artist and a poet which goes beyond the conventional text/illustration relationship, blending with the apocalyptic air inspiring the exhibition as a whole.
The exhibition also presents an anthology spanning six of 140 experimental films created by Efrat in 1968–1975 (curator: Adi Englman), which represent his thinking and work modes in that period. Efrat began making his films without prior experience or professional knowledge in the field, to illustrate a concept, an idea, or an action, and introduce them as preceding form and medium. The films, which underwent restoration as part of a comprehensive project of cataloging Efrat's entire video oeuvre, are presented without any post-production editing or manipulation, in a desire to represent truth rather than illusion in art.
A conceptual artist who belongs to the second generation of post-minimalist artists who began working in the 1960s, Efrat earned international acclaim for his painting performances on film projections, which were groundbreaking at the time and addressed the gap between representation and action. Following an encounter with renowned scientists, among them Carl Sagan, and trips to Ruanda and Cambodia, Efrat turned to explore social and environmental issues, a rare stance among artists at the time, which proves itself to be more relevant than ever these days.
Guy Goldstein:
Once, a Beat, Second Hit
Curator: Drorit Gur Arie
A new exhibition at Petach Tikva Museum of Art
Opening: Thursday, 11 January 2018
Closing: 12 May 2018
Guy Goldstein's work engages with transitions in medium between sound, form, color, and time, and the by-products of this translation. As a visual artist who also writes and composes music, and a former member of the Israeli rock band Reines Girls, his work draws on the affinities between the visual and the sonic, employing materials and tools of music and sound.
Music is a major player in the exhibition, as background, subject, and character. The show originated in a record (Memorable Equinox) created by Goldstein during his residency in a Curfew Tower in Northern Ireland in the autumn of 2015. His research on the "colors of noise" was expanded to the violence- and strife-ridden environment and the local color of life in it. In the three-channel video installation Silence Isn't Very Much, created especially for the current exhibition, the album's songs are played alongside texts, actions, characters, and landscapes associated with questions of "noise" and "interruption"; the noise, however, does not emerge as a strident disruption, but rather as an atmosphere imbued with pain, hardship, and trauma. The music is also present in Theme Tonight …—an independent production by Goldstein for Samuel Beckett's radio play Words and Music, in which he played the two characters entitled "Words" and "Music", in addition to composting and performing the music (in collaboration with producer Avichai Tuchman). The play addresses the tools of the radiophonic medium, the tension between words and music evolving into a song. Another musical means in the exhibition is the pianola—a music-playing device which preceded the gramophone, whereby piano keys are moved using a mechanism operated according to musical data on a perforated paper roll (piano roll).
Goldstein's variegated body of work scrutinizes narrative configurations which stretch over different, distorted temporal axes. Music joins text and image in such media as drawing, video, and animation. Layers of data are superimposed, eliciting questions about sequence and order, truth and fiction. Goldstein patches and crosses data and tenses while oscillating between sounds and silences on his way to a solution or a resolution. The viewer's senses wriggle between listening and viewing, "Once, a Beat, Second Hit."
An Archive of the Moment:
Tali Navon Following Drawings by Ze'ev Tishbi
Curator: Irena Gordon
A new exhibition at Petach Tikva Museum of Art
Opening: Thursday, 11 January 2018
Closing: 17 March 2018
Tali Navon's exhibition was inspired by Ze'ev Tishbi's (1915–1953) sketchbooks, held in the Petach Tikva Museum of Art collection. It focuses on drawing as a medium and as an act which signifies existence, linking past and present. Navon uncovers Tishbi's drawings, most of which depict intimate portraits and the daily life of the soldiers with whom he served during World War II. Her own drawings, on the other hand, explore the intimacy resulting from the encounter between the attempt to capture a segment of reality and the search for the pure essence of the line, the rhythm of the drawing hand, and the interaction with the drawing surface.
Ze'ev Tishbi passed away prematurely, when he was only 37, the day before the opening of his exhibition at the Yad Labanim Museum, Petach Tikva, in 1953. Navon focused mainly on drawings he created during his service in the Jewish Brigade in the British Army. She conducted thorough research about him, using archival materials she found at the National Library of Israel and elsewhere.
InService
Curator: Or Tshuva
A new exhibition at Petach Tikva Museum of Art
Opening: Thursday, 11 January 2018
Closing: 3 March 2018
The exhibition continues the Museum's scrutiny of its corpus and spaces. It relies on the duality typical of the work of active contemporary artists, who simultaneously work as instructors in the Museum's Education Department. Although museum visitor's and workers tend to disregard this prevalent phenomenon, it is, in fact, an intricate position which may impose a multiplicity of stances regarding the institution and the works of art displayed in it.
While the distinction between their role as mediators of art on behalf of the museum and their inner world as independent artists remains clear for the most part, in the current project the Museum's art instructors were asked to wear both hats at once. The works they were commissioned to create and exhibit allude to their pedagogical role in the museum, and are inspired by it.
The familiar art-making cycle, beginning in the artist's studio and ending in the encounter with the art work in the museum, is reversed in the exhibition: the encounter with the work, through the instructors' mediation, is the point of departure and the driving force. The show thus turns the spotlight on the occurrences and dynamics created in the museum, which usually remain out of sight as far as the audience is concerned, introducing the triangular relationship between instructors, audience, and art as a moment of contemplation worthy of observation and critical attention. This project is also a reminder that the interrelations between institution, audience, and artwork may and should be multidirectional. The audience observes, criticizes, and learns from our practice—but, in fact, we also observe, criticize, and learn from the encounter with it.
Participants (in alphabetical order): Netaly Aylon, Reut Ferster, Yifat Giladi, Tseela Greenberg, Dani Rosenberg, Gili Roman, Avshalom Suliman, Shira Tabachnik
Photo P.R.
Details

Written by

GPO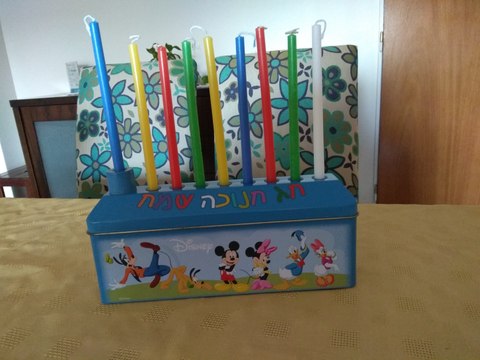 Chanukah ("dedication" in Hebrew) is celebrated this year from sunset tomorrow (Tuesday), 12 December, until sunset onWednesday, 20 December. The festival commemorates both the 164 BCE rededication of the Second Temple in Jerusalem after its desecration by the ruling Seleucid (Syrian Greek) Kingdom, under Antiochus IV – and the re-establishment of religious freedom for the Jewish people after a period of harsh repression.
Details

Written by

Stella Szpira
A few days ago, the Institute Cervantes together with the Hebrew University of Jerusalem and the Embassy of Guatemala organized an evening commemorating the 50 year anniversary (1967-2017) of the Nobel Prize for Literature being awarded to Miguel Ángel Asturias. The Ambassador of Guatemala H.E. Sara Solis Castañeda opened the festivities by listing the huge and cultural importance of Asturias's writing in Latin America. This was followed by an exposition held by Prof. Klein, a Latin American studies scholar from the Hebrew University of Jerusalem.

Miguel Angel Asturias spent several years in Europe holding diplomatic positions. He also visited Israel and reached the Western Wall. Although he died in Spain, his remains rest in the Le Père-Lachaise cemetery in Paris.
A prolific and accomplished writer, his works have been translated to several languages. His most outstanding works include: Legends of Guatemala (1930), The President (1946), Men of Corn (1949), Mulata de Tal (1963), and Friday of Pain (1972). His work also includes poetry, story, theater and essays.
Asturias received numerous commendations for his works: the Gálvez Prize (1923) on his thesis on indigenous issues, the Falla Prize for best student of his faculty, the Sylla Monsegur Award for French translation of Legends of Guatemala and Mulata de Tal for the best published Latin American novels in France, the Lenin Prize for Peace, and of course the aforementioned Nobel Prize for Literature (1967).
After hearing about Asturias's achievements, the guests were then shown a short film highlighting the Nobel Prize ceremony, before enjoying hot chocolate and several Guatemalan delicacies.
Details

Written by

Silvia G Golan
Following the successful world premiere shows last month, the new English On Stage comedy is headed to Tel Aviv!
Inconceivable: The Totally True One-Woman Semi-Fertile Quasi-"Musical"
A comedic one-woman stage performance incorporating stand-up, music, and various props, performed by an American professional actress. This performance is in English, suitable for women and men, adult audiences only.
Taking a hilarious and honest look at the complexity of modern infertility, this comedic solo show is insightful, moving, absurd, and compelling. Everyone can relate to this performance. Experienced, written, and performed by Meirav Zur, everything seen in this production is amazingly and amusingly true.

Read what audiences have been saying:
"Wonderful, amazing, brave!"
"Totally fantastic."
"Thank you for making this journey so relatable and funny... Please take this all over the world-- People need to see this!"
"Hilarious and so moving."
"So powerful, emotional, and real. This was an amazing show!"
"Didn't want it to end."
"Very entertaining!"
SHOW INFO:
Wednesday, December 27, 20:30 (8:30 PM), at Habima National Theater, 2 Sderot Tarsat, Tel Aviv.
TICKETS:

Full price at the door (pending availability) = 90 NIS

*Group Rates available for groups of 10 or more, please contact

This email address is being protected from spambots. You need JavaScript enabled to view it.
**Seats are not assigned. Doors open at 20:00.
Israel's professional English-language theater, English On Stage,new stage production . The show's title, "Inconceivable: The totally true one-woman semi-fertile quasi-'musical'", quite simply says it all. Taking an honest look at the complexity of modern infertility, this comedic solo show is insightful, moving, absurd, and compelling.
Experienced, written, and performed by Meirav Zur, everything seen in this production is amazingly and amusingly true.
Styling: Wendy Lehmann
Dramaturgy: Natalie Feinstein
Photo Meirav Zur