Art & Culture
Details

Written by

Silvia Golan & Eliran Ben Yair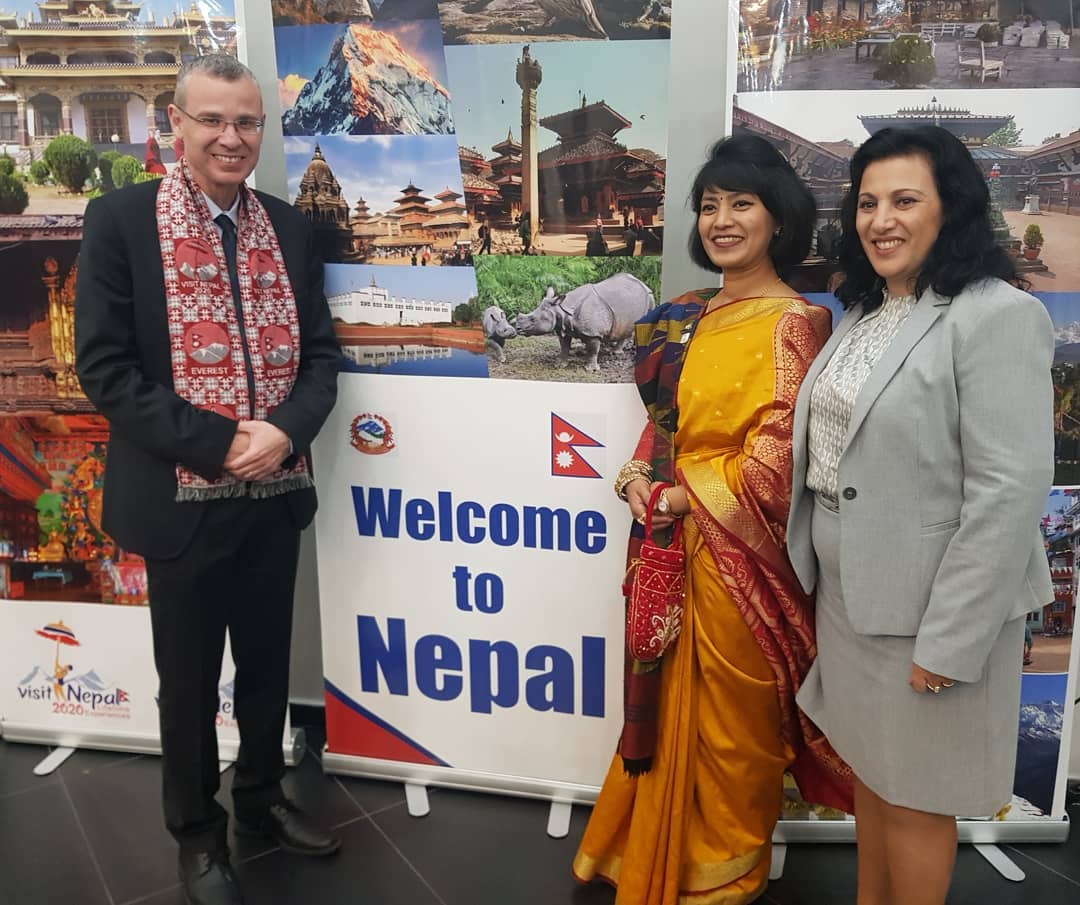 On January 7th, 2020, the Embassy of Nepal in Israel celebrated a tourism event about increasing the volume of tourism between the two countries in Israel. H.E. Mrs. Anjan Shakya, the Ambassador of Nepal in Israel and the Nepali Embassy staff hosted the event. Mr. Arjun Ghimire, Deputy Chief of Mission, served as the master of ceremony. The event was held and hosted in the compound of the "Council for a Beautiful Israel" at the Alon Hall in Tel Aviv.
Mr. Yariv Levin, Israeli minister of tourism, was an honored guest representing the Israeli government. Among the many distinguished guests of the event were also Ambassador Yaron Meir (Former Israeli Ambassador to Nepal), Mrs. Nurit Koren (Former MK ), Ambassador Itzhak Eldan (former Israeli Ambassador to Denmark, Council of Europe and UNESCO), Adi Baruch (Senior Counsel of Government Ministries), Ariel Blidstein (business Development & Innovation), representative of the Israeli Police Mr. Moti Meiry (The Yarkon Space Police Security and Licensing Officer), members of the Nepali Embassy in Israel, Israeli journalists and a variety of honorable foreign ambassadors.
The event began with time to mingle, as Nepalese and Israeli foods were served. The formal part of the event started with a few words by the Deputy chief of mission, Mr. Arjun Ghimire. Mr. Ghimire invited the guests to the "Nepal: Life Time Experiences" presentation, noting that although the current number of visitors from Israel is relatively low, Nepal is actually a pristine tourist destination which has much to offer to Israeli travelers.
Ambassador Shakya opened her speech in Hebrew, delighting the audience. She highlighted the diversity of Nepal in terms of people, languages, costumes, festivals, and food. The ambassador noted that Nepal is in many lists of top travel destinations by magazines like Forbes, Trip advisor, Lonely Planet, etc. The ambassador explained that the rich cuisine, pleasant weather, and culture, all warranted a visit by Israeli tourists.
Deputy chief of mission Mr. Ghimire then showed an interesting video about the country and about the Nepali government goals for 2020 that was declared by the government of Nepal as "The year of tourism," including the goal to have 2 million visitors, which means doubling the current number of visitors that stands on 1 million visitors a year.
The presentation also included recommended tourist attractions and places such as the Everest mountain, national park Chitwan, national park Sagarmatha, Lake Tilicho (the tallest lake in Nepal), Lake Rara (the biggest lake in Nepal), Fokara, Ilam and Bandipur, Elephant polo, Banji and many unique festivals. In the last part of the presentation they showed interesting facts about Nepal such as being home to 6,391 different kinds of plants, 848 different kinds of birds, 500 different kinds of butterflies and 185 different kinds of Mammals.
After this, the Israeli tourism minister, Mr. Levin, remarked on the growing relationship between Nepal and Israel and his desire to open the gates of Israel to more people from Nepal to visit Israel, as well as Israelis visiting Nepal: "Nepal is an extraordinary country which offers a special tourist experience. The combination between natural wonders, breathtaking views, and distinguished historic and religious sites, is a rare assemblage which the 'Visit Nepal 2020' project will expose to potential tourists from all over the world. Our countries, Nepal and Israel, represent two astonishing extremes of nature. In Israel we have the Dead Sea, the lowest place on earth, and Nepal is home to Mount Everest, the world's highest mountain peak." ...." Tourism is a bridge for bringing peoples and cultures together."..." I am certain that Nepal as well as Israel will continue to be popular destinations for tourists. I am sure that this important initiative, 'Visit Nepal 2020', will expose your unique country to many more crowds and bring about a major increase in tourism to Nepal, as well as in the revenues which it brings to the economy. Your Excellency, the Ambassador, please convey my appreciation to the Minister of Culture, Tourism and Civil Aviation, Mr. Yogesh Bhattarai, for this unique initiative. Madam Ambassador, I wish to thank you again for the invitation, for the cooperation between us, and for the important work that you undertake with your fellow embassy members, to strengthen the ties between Nepal and Israel.
Ambassador Shakya then awarded the title of "Goodwill Ambassador of VNY 2020" to Nadav Ben Yehuda, an Israeli tourism representative of Nepal, who said "Nepal is like my second home."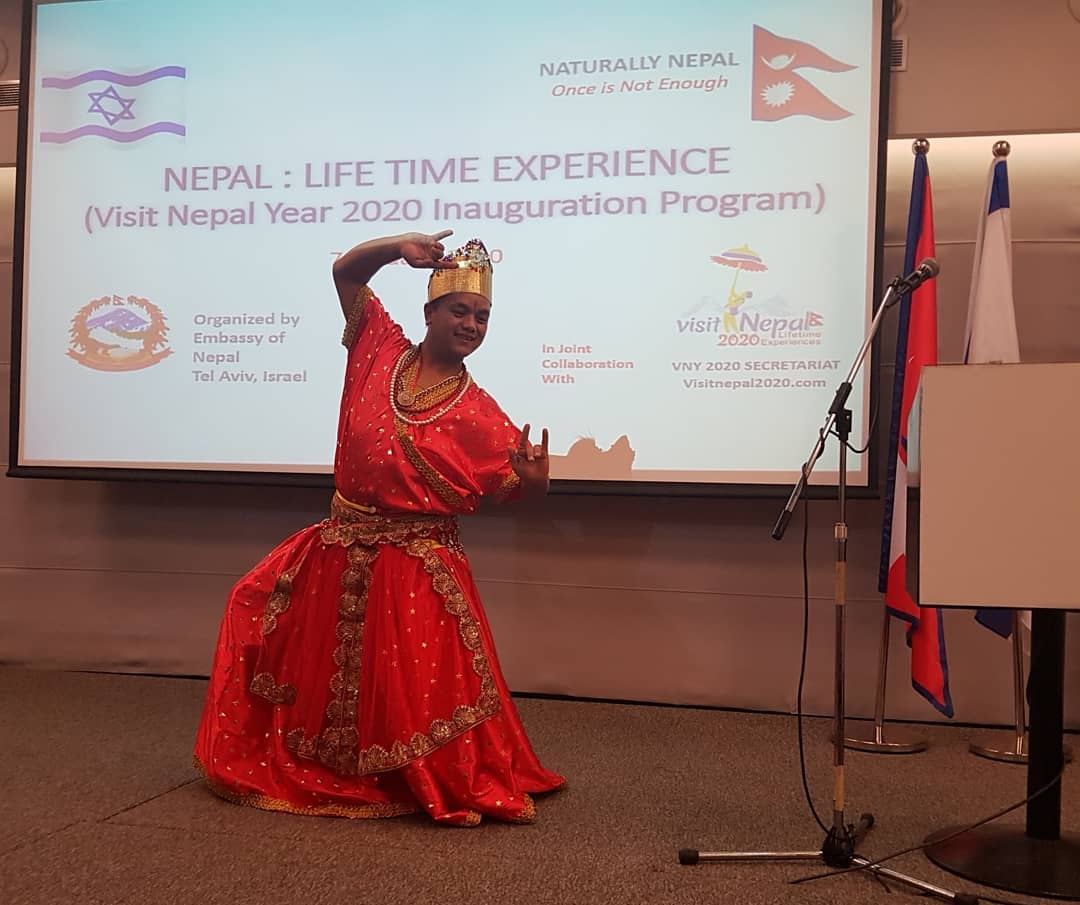 Finally came the artistic part that included traditional dances and a joint dance between the Nepali dancers and the audience. The event was very impressive and definitely left a great impression of Nepal and a taste for more!
Eliran Ben Yair (member of Debate for Peace)
https://debateforpeace.wordpress.com/about/ )
Photos by Silvia Golan
More Pics at Facebook https://www.facebook.com/diplomacy.israel
Details

Written by

Silvia G. Golan
Liebling Haus – The White City Center is an Israeli-German cultural center that seeks to expose and discuss the values ​​of modern architecture and the White City as a world heritage site in Tel Aviv-Jaffa, while expanding its discourse on conservation and urbanism.
The center features exhibition spaces, workspaces, a research lab and a charming café. Various events and tours are open for the general public. The center joins a number of leading cultural institutions in the city, which is an important cultural value asset for its residents and visitors from Israel and around the world.
Liebling Haus – The White City Center
December Events in English
Liebling Haus - The White City Center (WCC) was co-founded by the Tel Aviv-Yafo Municipality and the German government at a historical and cultural crossroad in the heart of Tel Aviv. The WCC's mission is to actively preserve the heritage of the White City site and the international style, known in Israel as the Bauhaus.
​
In 2003, UNESCO declared the White City zone in Tel Aviv as a unique World Heritage Site of the modern movement. The White City Center was founded in an effort to advance the recognition of the outstanding architectural landscape of Tel Aviv, with its collection of over 4,000 buildings built in the international style; an unparalleled global phenomenon.
​
The White City Center operates at the Liebling Haus on 29 Idelson Street, one of a series of historic buildings erected around Bialik Square, in the area that was once the beating heart of Tel Aviv. Built by Tony and Max Liebling in 1936, it was designed by architect Dov Karmi and engineer Tzvi Barak with distinctive characteristics of the international style; entirely different from the decorated home of poet Haim Nachman Bialik, located around the corner.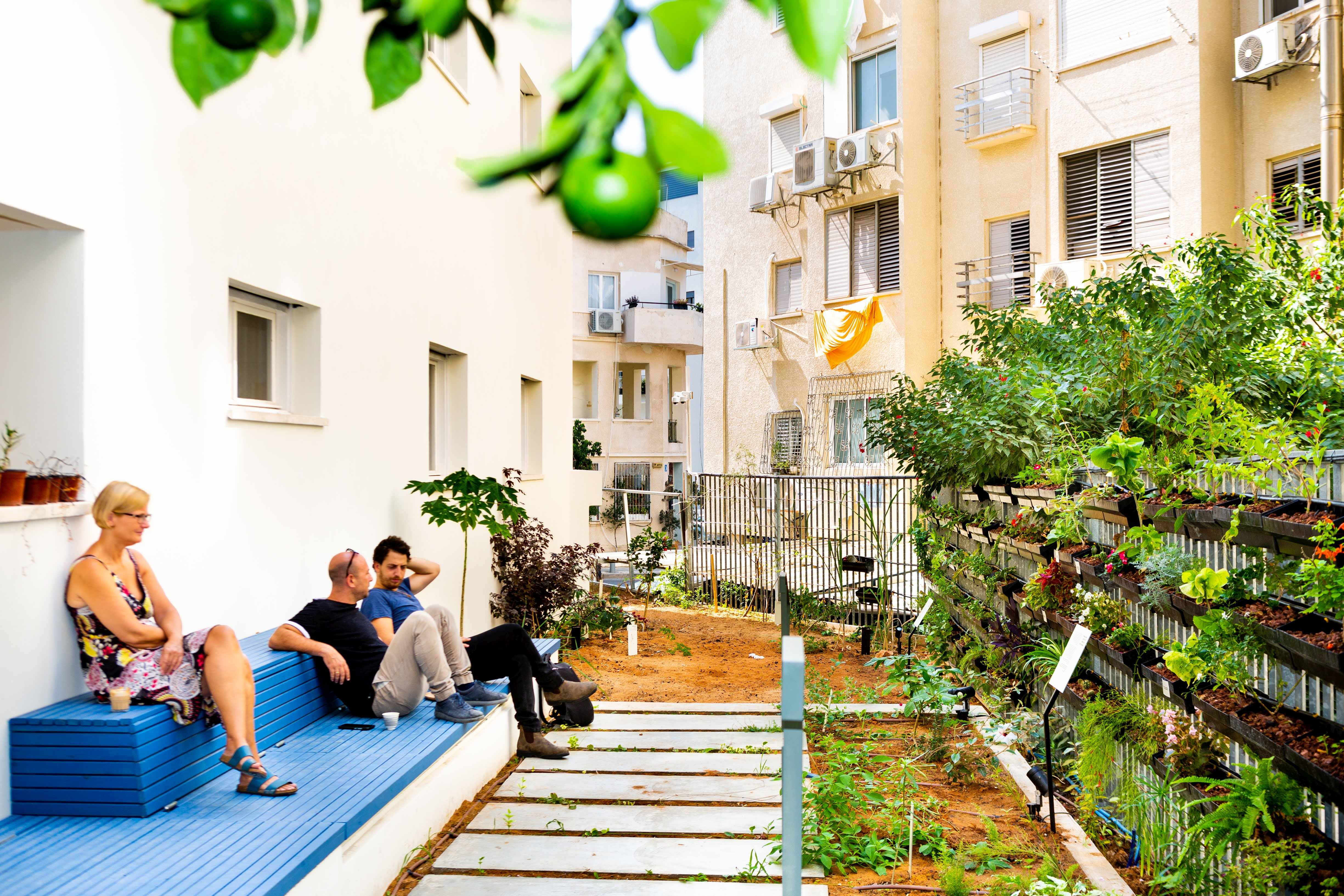 Propaganda and Visual Representation of Modernism - The Case of Tel Aviv and Gdynia
Tuesday, 17.12 at 19:00, Activity in English, Free Admission
The modernist ideas brought to Israel in the 1930s were visualised in architecture and art, and also incorporated in posters, advertisements and as well as in various other examples of political propaganda. A promise of modernity was essential for Tel Aviv, but also for Gdynia, as both cities symbolized the new beginning – close to the sea and thus open for promising interaction with the external world. Waves of immigration to mandatory Palestine on one hand, and a freshly regained independence of Poland (in 1919) on the other, gave rise to the desire to construct new political imaginery, and Tel Aviv and Gdynia were meant to realize it.
This evening we will present some examples from mandatory Palestine and Gdynia. We shall examine the way modernist ideas penetrated the public consciousness through art, commercial advertisements and visual propaganda.A discussion panel with: Iddo Ginat, Bezalel University, author of a PhD dissertation "The Construction of the Zionist Space in International Exhibitions and Fairs"; Oded Ben Yehuda, Art director, Lecturer and a Design journalist.; Artur Tanikowski, curator of the exhibition "Gdynia – Tel-Aviv" at the POLIN Museum, Warsaw; Anna C. Zielinska, philosopher at the University of Lorraine, France & manager of the European Association of POLIN Museum of the History of Polish JewsThis event is organized by the Liebling Haus – The White City Center in Tel Aviv, The European Association of POLIN Museum of the History of Polish Jews, Polish Institute in Tel Aviv and the Adam Mickiewicz Institute in Warsaw.

More Than Bauhaus
Friday 27.12 at 11:00, 60 ILS, online registration. Activity in English
The tour will introduce you to the historical background and evolution of Tel Aviv's diverse architecture and building heritage, focusing on the international style.
The tour offers an introduction to the White City of Tel Aviv, highlighting contemporary conservation and urban planning challenges faced by the city's planners. The tour centers around Bialik-Allenby - a fascinating urban microcosm, where we can discuss the urban changes happening before our eyes. The tour includes a visit to the exhibitions at the Liebling Haus, a typical international style residential building recently converted into a public center. A tour guided by the Liebling Haus' team of architects, city planners, and conservation experts.
See the full events schedule in Liebling Haus Event Page
29 Idelson St, Tel Aviv-Yafo, + 972 3647 3239
Opening times
Sun, Mon, Wed, Thu 8:00-19:00
Tues 8:00-21:00
Fri 8:00-14:00
Sat 10:00-18:00
https://www.instagram.com/liebling_haus/
Photo credit Yael Shmident
Details

Written by

Silvia G. Golan
We are holding a fundraising event "Mama Mia" Show , all of which is for the benefit of the children!
I'd love if you took part in purchasing tickets to the show - Mama Mia! An amazing performance that will take place on December 10, 19 at 20:30 at the Habima National Theater. Of course you will receive a receipt for donation for tax purposes! Hand in Hand Association
"Warm House" is one of the main projects of the Hand in Hand Association.
Each warm home is designed for about 25 high-risk children aged 3-7, who come from distressed families (drugs, delinquency, mental illness, etc.) and are recognized by welfare services. Warm House operates year-round, after hours following the end of kindergarten and school day activities, until 6 p.m., and from there the children go home to sleep.
This framework provides: shuttles and hot meals (which the children do not enjoy at home), enrichment activities, study help, instilling normative habits, computer knowledge, therapy and emotional support and lots of warmth and love. This gives these children another opportunity for a better life by reducing their exposure to street influences.
Mamma Mia!
The successful musical for the whole family - based on the songs of the Abba band
Dozens of actors and dancers are accompanied by a live orchestra
Director: Moshe Captain
Participants: Mickey Kam, Hani Nahmias / Irit Anavi, Orna Datz / Sharon Haziz, Yigal Sadeh, Doron Oren, Sharon Alexander, Gal Goldstein / Matan Shavit, Roni Dalumi / Agam Bohbot and other actors, dancers and accompanied by live orchestra
A hit musical by British playwright Catherine Johnson, based on the songs of the Abba Band, composed by Benny Anderson and Bjorn Olbaus, former members of the band.
Ticket cost: 259 NIS / 259-199 NIS
Tickets can be purchased online
https://www.eventer.co.il/mamamiayadbyad?fbclid
And at the Association's offices at 36 Prophets Street, TA
Tel: 03-6203141, Fax: 03-6203138 and Email:
This email address is being protected from spambots. You need JavaScript enabled to view it.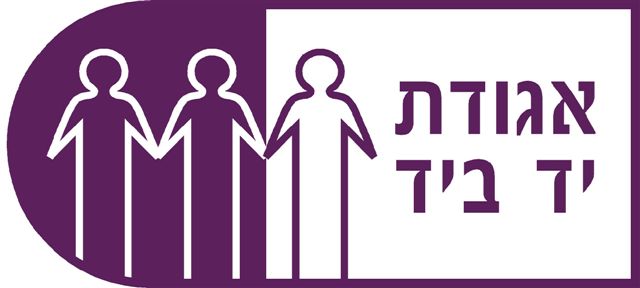 `Yad BeYad'' (Hand in Hand) is a charity non-profit organization established in 1982 by Mrs. Shelly Hoshen, who serves as its president.
The ``Bait Ham'' (a Warm Home) project is one of the projects initiated by Yad beYad, to help needy children. These children come from dysfunctional families were the parents are not able to provide them with basic needs. Many of these children have a Mom or Dad who is serving jail time, or who is a serious drug addict. The children are abused, neglected, needy and hungry.
Every day, in these warm homes, these children are given hot, nutritious meals, psychological and sociological counseling and general loving and tender care by a team of professionals and community volunteers.
Thus far over 10 homes, each hosting about 25 children aged 3-7, have been established in Tel-Aviv, Haifa, Jerusalem, Netanya, Yavne, Hod Hasharon, Hertzlia and other communities throughout Israel with more planned in the future.
The Israeli community in Silicon Valley has taken upon itself to establish and support one such warm home in Kerem HaTemanim, and to fund it on a permanent basis. As lucky as we are, living in this area of great prosperity during especially fortunate times, we feel it is our duty to give back and help those who are not as fortunate as we are. All it takes is about $350 per month, per child to make them smile again and develop a more positive attitude for the rest of their lives.
Details

Written by

Talma Gotteiner
Some of the sites in Jerusalem are planning holiday activities for tourists and visitors.
Trip Itinerary
The Menachem Begin Heritage Center
Plugat HaKotel Museum
The Jerusalem Botanical Garden
Beit Mazia Theater Jerusalem
Trip Details
The Menachem Begin Heritage Center
The Menachem Begin Heritage Center has a unique multi-sensory audiovisual tour that takes visitors on a fascinating journey through time into the life of one of the most significant leaders in the country's history. The experience appeals to all the senses through interactive touch screens, rare films, the accompanying soundtrack, multiple restorations, dramatic lighting, and original items.
The museum tours are suitable for the whole family and require prior registration to a guided tour. They take about an hour and 15 minutes with a 30-minute break between each tour.
In addition to the museum experience, the Menachem Begin Heritage Center has an archeological garden, the "Hinnom Shoulder" that is part of an ancient necropolis, surrounding the old city of Jerusalem.
Finally, the Menachem Begin Heritage Center serves as a cultural and educational tourist center in Jerusalem offering a range of activities for individuals and groups including lectures, singing evenings, workshops and tours.
Plugat HaKotel Museum
The Plugat HaKotel Museum is located within a walking distance from the Menachem Begin Heritage Center inside the Jewish Quarter. The museum tells the story of the Western Wall Platoon, a group of youngsters from the Betar revisionist movement that volunteered to maintain the Jewish presence at the Western Wall, during the period of British mandate before the State of Israel was established.
The museum was founded on the actual location of the platoon's former building and includes a 35-minute audio-visual film that recounts the activities of the platoon.
Both museums are included in the J-Ticket, a combination discount ticket for the attractions and sites in the Jewish quarter. Registration to the Plugat Hakotel Museum is through the Menachem Begin Heritage Center.
The Jerusalem Botanical Gardens
The Jerusalem Botanical Gardens are owned by the Hebrew University and are next to the Givat Ram campus. They are the largest botanical garden in Israel, covering an area of ​​150 hectares, with the a plant collection of over 6,000 species of plants from around the world.
The gardens are featuring a new tropical greenhouse that was opened to the public a few weeks ago, after a year and a half of preparations, an investment of 7 million NIS.
In order to get to the greenhouse and enjoy all the variety that the garden has to offer, our tour took the children's train. The train takes you through the six geographical plots in the botanical garden, each simulating the landscapes in each region. The regions include South Africa, Europe, North America, Australia, Southwest and Central Asia and the Mediterranean respectively. The train is included in the entrance fee and is available to visitors on Sundays through Thursdays at any hour on the hour leaving from the garden entrance.
The greenhouse is divided into two areas: a tropical region and a desert region displaying plants adapted to their respective ecological environments demonstrating a large range of habitats.
In the tropical area, we were exposed to the special rain forest with tall trees, climbs and plants growing on the trees and a large pool with aquatic plants. There are even remains of an ancient columbarium carved in the rock that dated to the Second Temple period that was exposed during construction of the site.
In the desert area, we saw some of the plants that have adapted to extremely arid conditions, including the Jericho rose and several fragrant bushes that are used to produce perfumes.
The greenhouse is open to the public on Mondays and Wednesdays from 14:00 to 15:30 and there are guided tours.
The Jerusalem Botanical Gardens are leading a new educational campaign to save extinct wildflowers in Israel. The campaign is dedicated to Nechama Rivlin, the late First Lady of Israel, a true nature lover, who contributed greatly over the years to Israeli society and nature conservation. The botanical garden workers, as well as dozens of volunteers, have collected 12,000 wildflower seed bags that they are distributing to visitors. The purpose of the campaign is to enable people to integrate the wildflowers into their home gardens, thereby making them more widespread.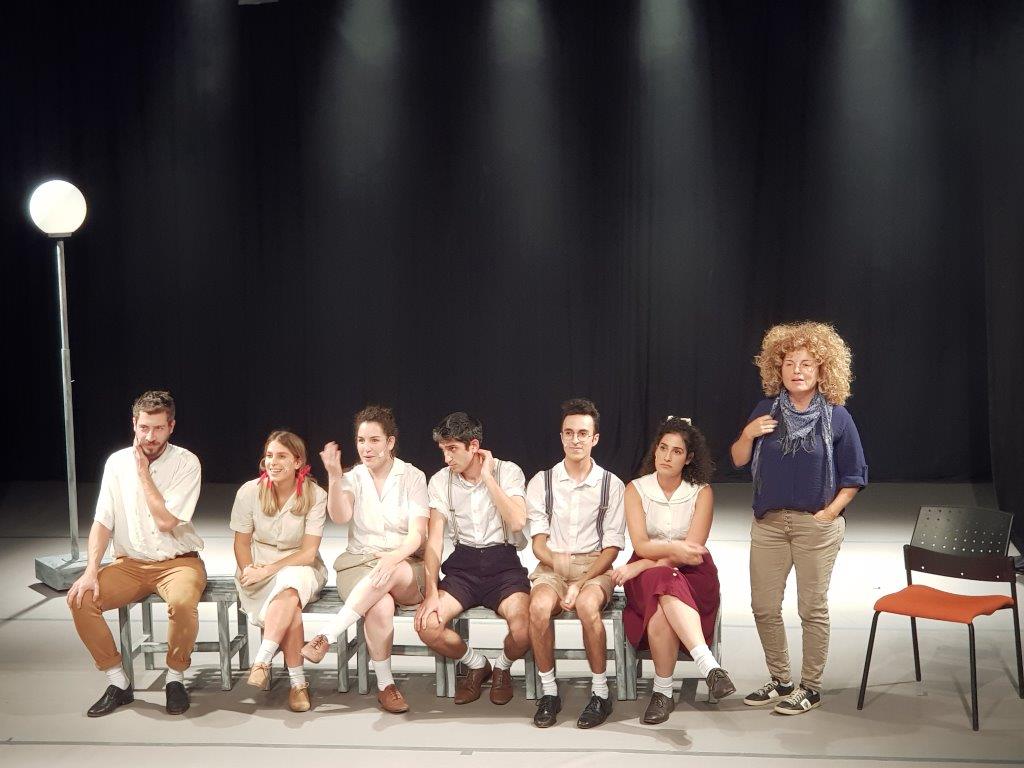 Beit Mazia Theater Jerusalem - The International Jewish Festival for Contemporary Art
A new festival entitled "International Jewish Festival of Contemporary Culture" produced by the Jerusalem Theater Group, is taking place between Dec 3-10, 2019.
Osnat Gispan, the festival's artistic director, reviewed this year's highlights. She explained that the festival has been successful these past three years, due to its integration of music, dance-theater, film and literature creators. It examines Jewish origins as sources of inspiration making the festival a pioneer in its field.
The rehearsals for the opening performance of "Rega, Rega" a theatrical musical world premiere by director Shahaf Berger and musical director, Ronit Roland based on Sasha Argov's songs were ongoing.
For more details on the activities and registration to the tours this Hannukah, please refer to the full article.
https://www.israel-best-trips.com/post/jerusalem-a-preview-trip-for-hannukah-2019
Photos Silvia G. Golan
Details

Written by

Silvia Golan
In a world of fast fashion, designer Sharon Chandally Pedrini is a rare breed: a jeweler who extols the virtues of jewelry made with integrity and respect, and an incredibly careful hand.
In the two years since her store opened on Dizengoff Street in Tel Aviv, the New York City-native has emerged as an important figure in the Israeli jewelry scene. Just this year, she participated in the Fashion Revolution sustainable fashion show, was featured on multiple segments on globally-broadcast i24 News, and her store was recently awarded "Best Luxury Jewelry Design Studio and Boutique" in MEA Market's 2019 Israeli Business Awards.
Nowhere is the designer's deep connection to her heritage more evident than her intimate shop, which doubles as a studio and workspace. Many of the pieces featured in the store's recessed displays feature intricate filigree detail, an ancient wireworking technique made famous by the Jewish silversmiths of Yemen. Sharon's grandfather and great-uncles were amongst them before emigrating to Israel, and the store even features a small museum, where an impressive collection of traditional pieces made by their hands are on display.
Sharon studied Industrial Design before travelling extensively around the world. She visited places like New Zealand, India, Ghana, Benin and Japan, and this experience awakened a deepening connection to her roots. She soon found herself drawn to metalwork, and when her grandfather's brothers—both in their 80s at the time—invited her to Israel to learn the craft, she jumped at the chance. Sharon apprenticed with them, and the filigree techniques they passed on formed the foundation of her trademark style.
Sharon vividly remembers how her grandfather would sit on his bed for hours, soldering small pieces of silver with a butane torch over a small table. At his bedside sat a collection of small containers, in which he kept old stones and coins, scraps of silver, and other artifacts he would amass to later integrate into his pieces. His work inspired great awe in Sharon, and she recalls how his pieces seemed like more than just jewelry. For her, they conveyed spiritual meaning alongside their aesthetic appeal. She remains deeply affected by the masterful torch her relatives passed on to her during this time.
With her intimate store as her home base, Sharon is taking strides to ensure the tradition of filigree wirework is carried on, and keeps in step with modern times. Not only does she combine contemporary sensibilities and high karat gold with ages-old techniques, but she also does it as a woman, fearlessly innovating a practice traditionally practiced exclusively by men.
Sharon is also working to elevate the integrity of the art form from the perspective of production, which in many cases suffers from a checkered supply chain. While many consumers are aware of blood diamonds and the importance of understanding where precious stones come from, few are as aware of the mining conditions and practices that affect how fine metals are sourced. By using both Fairmined metals and conflict free stones wherever possible, she challenges herself and other jewelers to make pieces whose origin story is as central to the piece as their aesthetic appeal.
The result of Sharon's own origin story and unique approach to craft is a body of work that is both exciting and culturally important. Together, Sharon's pieces walk a fine line between old and new with grace, glamor and a touch of grit, and discriminating customers within Israel and beyond are starting to pay attention.
Dizengoff 242A Tel Aviv
This email address is being protected from spambots. You need JavaScript enabled to view it.
+972 (0) 55.997.6829
www.facebook.com/chandallyjewelry/
www.instagram.com/chandallyjewelry/
Photos Silvia G. Golan / Keith Glassman