Art & Culture
Details

Written by

Talma Gotteiner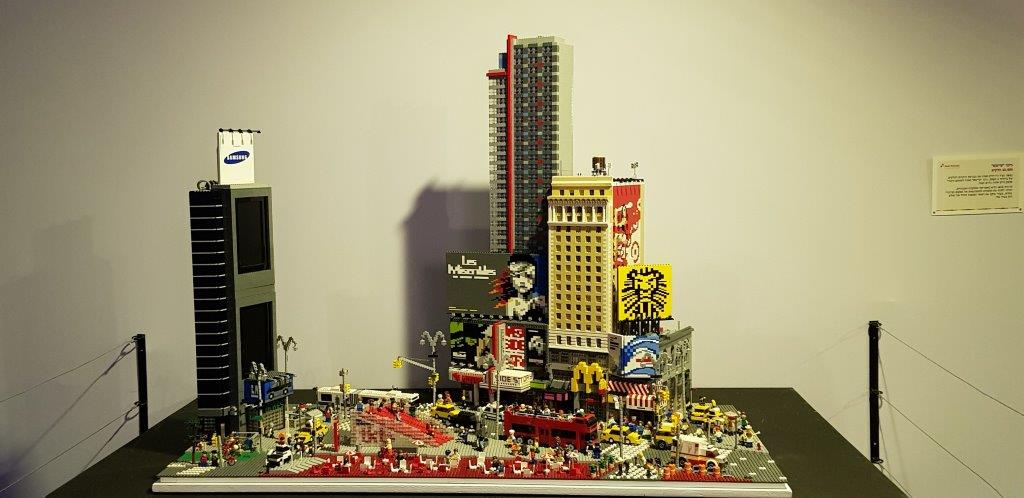 Best,
Hi there!
I was invited to a Lego exhibition last week, courtesy of Gil-ad Tadmit and I am happy to share my impressions with you. For the first time in Israel an international Lego artist by the name of Sean Kenney is exhibiting in Tel Aviv. Kenney holds the rare title of "LEGO Certified Professional", which, apart from Kenney, is held by only 13 international artists. After 10 years in the field of graphics, Kenney decided to expand his horizons and reinvented himself with LEGO blocks and lots of creativity. The exhibition will be held between 26.7.2018-31.8.2018.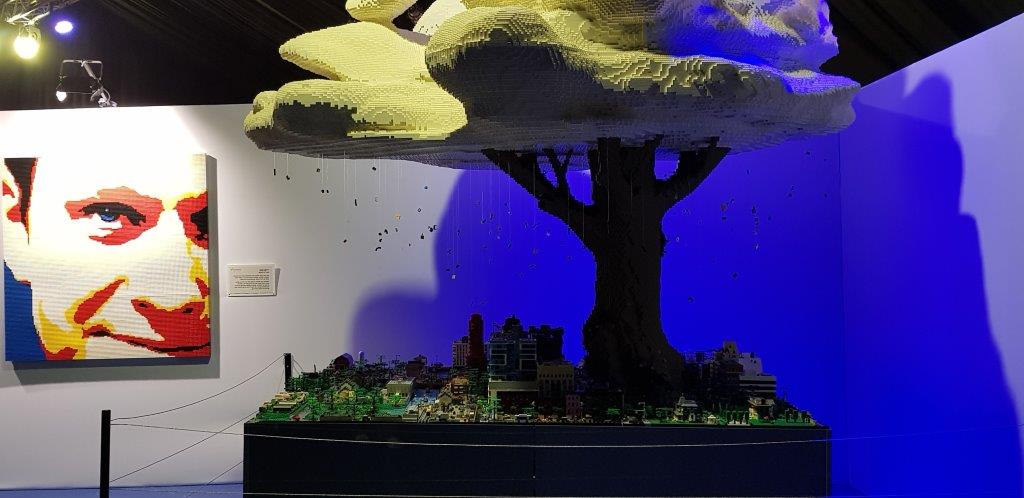 Since his international breakthrough as a Lego expert, he has exhibited in numerous countries in North America, Asia, and Europe, has published nine award-winning children's books and has presented his works in the world's leading newspapers: The New York Times, The Washington Post and BBC. Art. " Among other things, his Lego exhibition was awarded at Lonely Planet as "an amazing exhibition". Sean Kenney currently lives with his family in Brooklyn, New York.
The exhibition in Israel, is displaying a collection of about 25 exhibits, chosen from a wide variety of subjects, including entertaining works for children, an architectural model of Times Square in New York and the famous work of GROWING IDEAS: a large tree model that took around 18 months to design and is made up of 380,000 Lego blocks.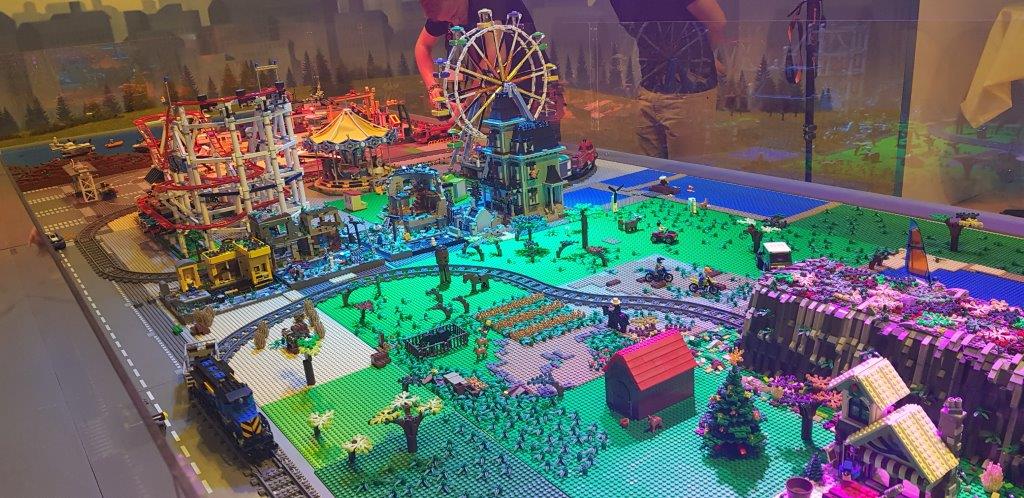 The exhibition will be divided into interactive areas for the whole family:
A robotic activity zone containing ~40 operating stations that is recommended for ages 7 and up.
A technical complex that includes a collection of tools and vehicles of all times. The collection includes extremely rare models, Adult Fan of Lego (AFOL) models with operational points for the visitors and challenging routes for Jeeps.
A robotic Lego Mindstorm complex - the largest interactive city collection in Israel. With the participation of LEGO artists from Israel and abroad.
A virtual reality zone where viewers will be able to travel within the Lego City collection in 3D.
A Lego shop with rare Lego models at special prices. After the exhibition, visitors will be able to purchase the artist's LEGO exhibits. Such as LEGO lamps, LEGO bikes, LEGO images and more. In addition, the exhibits will be sold from the miniature LEGO exhibition.
When: 26.7.2018-31.8.2018
Where: Federation Hall, Hangar 11, Tel Aviv Port
Open: Sunday - Thursday: 08:30-20:00, Fridays: 08:30-16:00, Saturdays: 08: 30-19:30
Phone: 3942* (www.etickets.co.il)
Price: 69 NIS per ticket, 250 NIS for a family card of 4 – children up to the age of 2 are free of charge. You can find offers through the various companies as well.
Best,
Talma
Details

Written by

Talma Gotteiner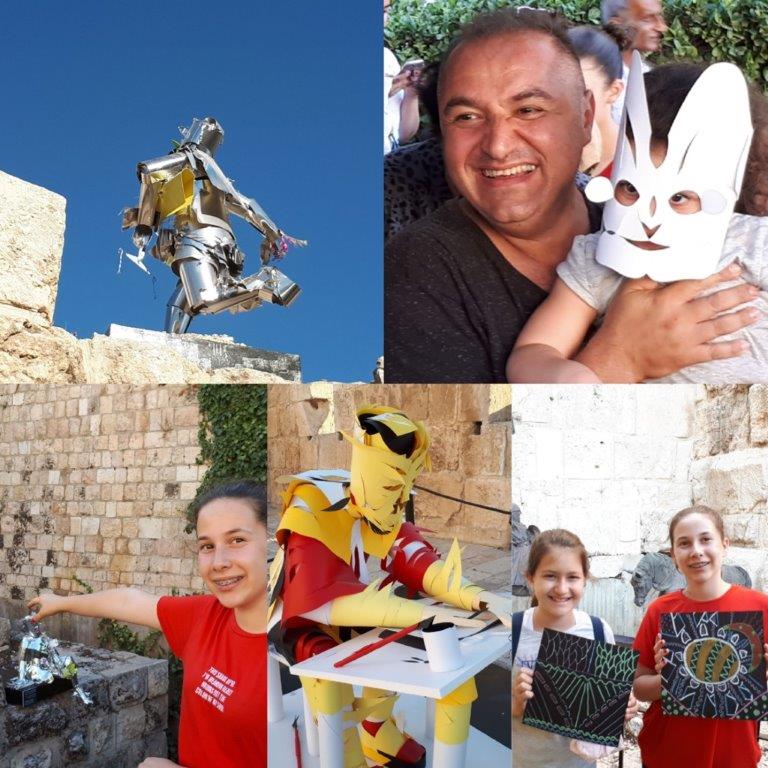 Dear Friends,
I am happy to share with you a post written by my friend Talma Gotteiner from
https://www.israel-best-trips.com/
about the summer activities in the Tower of David Museum in Jerusalem.
Best,
Silvia
:
Jerusalem's Tower of David Museum: 3D Tributes
Hi there!
I was delighted to be invited back to the Tower of David Museum in Jerusalem to write about some new exhibits. In my previous post, I gave some background on the historical location of this splendid museum. Today, I am happy to dive straight into the current exhibits.
Trip Agenda Options
London in Jerusalem: Exhibition - a tribute to the British Mandate
Rock Paper Scissors – a great summer activity for children and a tribute to the artist Karen Sargsyan.
The new night show – a tribute to King David
Trip Anchors
London in Jerusalem: Exhibition
When the British Mandate took over Jerusalem in 1917 from the Ottoman Empire, they found a very poor city, rampant with cholera and no sewage system or electrical lighting to speak of. The exhibition in the Tower of David Museum is a second tribute to the British Mandate who not only brought orderliness, but also contributed to the cultural life of the residents. It is a second tribute because their previous exhibition that I wrote about "A General and A Gentleman – Allenby at the Gates of Jerusalem" is still ongoing.
The new exhibition brings to life the famous 'Fink's bar', where you can take a seat and play some interactive games.
Or you can enter the pseudo-cinema and watch a short film about the old-time favourite cinames of Jerusalem and what they used to play.
Check out the floor if you want to learn the dance steps of the roaring 1920's swing or just take a peek at a sample salon that pays tribute to the famous cellist Thelma Yelin (Bentwich), (no relationship) whose invitations for high tea were a well-known practice.
Rock Paper Scissors
I got a sneak peek at the artist, Karen Sargsyan who will be staying all summer in Jerusalem and will be holding workshops for children at the museum teaching them some paper sculpting techniques. During my preview visit, only one statue was in place. In order to ensure durability in the open-air, it was created from aluminum foil, instead of regular paper, but other statues in his exhibit will be made of paper.
In the photo below, we were welcomed by Efrat Lieber, Director and Chief Curator.
However, I finally managed to get a good facial, by requesting a selfie.
Karen Sargsyan is an Armenian born artist who studied in the Rijksakademie in Holland where he lives till this day. His works have been displayed in well recognized museums worldwide including the Tate Modern in London and the Centre Pompidou in Metz.
Post Visit Note: I returned again with my daughter and her friend to the grand opening of the workshops. We enjoyed the workshop, seeing the full exhibition of statues and the atmosphere in general. I included in my video some of the live music that was played by a band called 'Poly Zosiball'. I've added a photo and video to share with you.
and
VIDEO
The King David Night Show
For those who have already seen the night spectacular show that presents the story of Jerusalem, the new 'King David' show presents an alternative. The new video art show brings together all the effects that modern technology can bring. It covers a square footage of ~3,850 m2 and uses over 20 laser projectors to light up the citadel.
The tribute to King David presents the Biblical stories in a virtual tour that manages to combine renowned works of art by Chagall, Matisse, Michelangelo while drawing inspiration from the Book of Psalms. David himself plays on the flute and lyre. Credit goes to the creators: Skertzo company, France, original music: Alexandre Levy, sound effects: Jean Goudier and curator of the show: Renee Sivan. The show lasts 45 minutes in the open air.
I'm not going to ruin it by sharing a video. Instead, I'll conclude with my best tower photos.
Food
A few nearby restaurants include: 'The Eucalyptus', 'Tala Hummus and Falafel', 'Rossini's Restaurant', 'Versavee', 'Samara Restaurant', 'Luciana', 'Armenian Tavern', 'Rooftop', 'Notre Dame Rooftop Cheese and Wine' and 'The Spaghettis Kosher Italian Dairy Restaurant'.
Accomodation
A few suggestions include: 'Gloria Hotel', 'Dan Boutique Jerusalem', 'David Citadel Hotel', 'Mamilla Hotel', 'National Hotel Jerusalem' and 'Eldan Hotel'.
My Timeline
This trip filled up an evening between 17:30-22:00.
I used the previous map, which was based on a location in the old city (The Western Wall) and a location in the new city (King George Street) so that you can see that the Tower of David Museum is situated between the two parts of the city.
This is what it looks like on the map.
Best,
Talma
Details

Written by

Philippine Embassy
The Philippine Embassy in Israel, in partnership with the Film Development Council of the Philippines (FDCP) and Cinematheque Tel Aviv, Cinematheque Jerusalem, and Cinematheque Haifa, will launch the first Philippine Film Festival in Israel in Cinematheque Tel Aviv on Sunday, 08 July.
The festival will open in Cinematheque Tel Aviv with On the Job, a gritty crime thriller which premiered worldwide at the Cannes Film Festival in 2013 and was received with a standing ovation at its first screening. Joel Torre, who won a Best Actor award for his performance at the 17th Puchon International Fantastic Film Festival in Bucheon, South Korea, plays Mario Maghari, a convicted felon who carries out contract killings during his incarceration to earn money to support his family.
Three other films will be shown during the film festival. On 15 July, Cinematheque Jerusalem will screen An Open Door, a documentary about Philippine President Manuel Quezon's policy to create a safe haven in the Philippines for Jewish refugees from the Holocaust. The film, one of multi-awarded filmmaker Noel Izon's trilogy of Forgotten Stories from World War II, has won numerous international awards, including Best Picture/Best Documentary wins in Madrid, Sochi, Bali, London, Java, and St. Petersburg.
On 22 July, Cinematheque Haifa screens Smaller and Smaller Circles, a screenplay based on a Filipino crime novel – the first of its genre in the Philippines – that won both the Carlos Palanca Grand Prize for the English Novel and the National Book Award. In this gripping whodunnit, two Jesuit priests who also perform forensic work find themselves in a search for a serial killer, and in the process end up confronting class conflict, corruption, and religious dilemmas.
The film festival wraps up on 29 July in Cinematheque Tel Aviv with Die Beautiful, a comedy-drama that takes off from a transgender beauty queen's final request to be made up as a different celebrity during every day of her wake. As friends trickle in to pay their respects, they look back at the events that preceded her death, and celebrate her journey to discovering and living as her true self. The film, which debuted at the 29th Tokyo International Film Festival, won the Audience Choice Award and netted lead actor Paulo Ballesteros a Best Actor Award.
"We're excited and proud to be holding the very first Philippine Film Festival in Israel," Ambassador Neal Imperial declared. "Philippine cinema has been undergoing a renaissance in the past decade, and we've seen some truly well-made films emerge during this period.
"This film festival is also, in a way, our tribute to the Filipino woman, who – as the Chinese proverb goes – 'holds up half the sky', as a member of our society and as a creative force to be reckoned with. Two out of three of our films feature screenplays written by women, which were groundbreaking in their respective genres – On the Job and Smaller and Smaller Circles. Our final film, Die Beautiful, explores Filipino society's views on gender, and – when it screened in Manila – opened up many difficult but necessary conversations on how we view men, women, and those who do not fit into the gender binary."
The Philippine Film Festival will run from 8 July to 29 July, and includes the following films:
8 July (Tel Aviv) – On the Job, screening at Cinematheque Tel Aviv at 8:00 pm. For tickets, visit https://www.cinema.co.il.
15 July (Jerusalem) – An Open Door: Holocaust Haven in the Philippines, screening at Cinematheque Jerusalem at 8:45 pm. For tickets, visit https://www.jer-cin.org.il.
22 July (Haifa) – Smaller and Smaller Circles, screening at Cinematheque Haifa at 8:30 pm. For tickets, visit https://www.haifacin.co.il.
29 July (Tel Aviv) – Die Beautiful, screening at Cinematheque Tel Aviv at 8:00 pm. For tickets, visit https://www.cinema.co.il.
Photos courtesy of the Philippine Embassy
Details

Written by

Talma Gotteiner
Best,
--------------------------------
I was invited to a launch of a new map of the old city's Jewish Quarter that is intended to raise the awareness of both tourists and Israelis to the historic gems and attractions within. In parallel, the city is launching a new touristic discount city-card called 'JTicket', which I will describe below. Following the launch ceremony, I visited some of the locations and am happy to share them with you.
To order the Jticket and the new Jewish Quarter map in advance email This email address is being protected from spambots. You need JavaScript enabled to view it. or call *4987.
Trip Agenda Options
The Hurva Synagogue and Plaza
Heroes on the Way to You - a multi-sensory experience through virtual reality glasses
Bible Heritage Center - Karaite Community
Live the Bible
The Jticket
Trip Anchors
The Hurva Synagogue and Plaza
The map launch of the Jewish Quarter on the occasion of the 70th anniversary of the State of Israel, was conducted at the Hurva Plaza, the center of the Jewish Quarter by the Minister of Construction and Housing, Yoav Galant (top tier and center in my photo and in the map reveal photo), in cooperation with the Society for the Rehabilitation and Development of the Jewish Quarter, headed by Chairman Moti Rinkov (low tier in my photo) and the Israel Mapping Center (middle tier on the left: Ronen Regev, Director General of the Survey of Israel and on the right, Herzl Ben-Ari, General Manager of the Jewish Quarter Development Company).
The new map presents the Old City of Jerusalem in a special manner using an ortho-photo – a combination of an aerial photograph with a street map. On one side, is a map of the entire Old City and on the other - a map of the Jewish Quarter. On the margins of the map there is a lot of information about the tourist attractions and the main sites in the Jewish Quarter as well as a detailed index of sites and streets. The main tourist routes and sites were marked and, for the first time, all the underground attractions in the Quarter were highlighted. Another new feature is that the map integrates barcodes that can be scanned by smart phones, enabling visitors to hear and read information about the sites they visit. Among other things, one can find rare historical pictures of Jerusalem, as well as the possibility of connecting to the Wall cameras live, Segway tours and more.
Visitors to the Hurva Synagogue are offered free explanatory notes in Hebrew, English, French, Russian and Spanish and a children's version.
The breathtaking tour includes the renovated Hurva Synagogue, that has a spectacular 360-degree view of all of Jerusalem from the top of its dome and a visit to the archeological floor of the synagogue. In addition to the synagogue, visitors to the Jewish Quarter will enjoy the huge gold lamp that was transferred from the plaza above the Western Wall to the Hurva plaza following the work on the Western Wall elevator.
A walk in Jerusalem is always a delight. The 'Jerusalem Festival of Lights', was taking place during this visit and I got some incredible night photos as well. Do you recognize the big building?
Heroes on the Way to You
A new technological project in the Jewish Quarter brings the Bible to the year 2018, with technology that allows visitors to experience the Bible stories - to be in the pit with Joseph and to fight Goliath together with David. Using virtual reality (vive-vr), the participant meets heroes from the Bible.
The attraction begins with a number of group challenges suitable for families of varying ages such as an interactive tablet monopoly, a trivia game, and even tefillin games that can be seen on a large screen, followed by a variety of virtual reality games in which each person plays by himself in the Biblical story settings.
Bible Heritage Center - Karaite Community
The Karaites reminded me of the Samaritans whom I wrote about recently, in that they also believe only in the written Torah without the oral rabbinical interpretation. However, there are a number of differences in ancestry and history that impacted their beliefs and practices that make them a unique ethnoreligious group.
The Heritage Center in the Jewish Quarter is built on three levels surrounding their synagogue, the oldest active synagogue in the world. The tour begins with a short film about the Karaite community, continues through a museum that provides a more in-depth explanation.
Live the Bible
This new family attraction in the Jewish Quarter provides you with a special and unforgettable souvenir. With the help of accessories, costumes, backgrounds and advanced technology, you enter into the magical world of the biblical period and become a central part of the story, the best part of which, is that you get to take home a colorful keepsake of your visit to Israel.
The JTicket
The company for the rehabilitation and development of the Jewish Quarter in Jerusalem initiated the JTICKET - a combination discount ticket of the attractions and sites in the Old City.
The ticket enables you to choose entry into five sites/attractions available from a list of over twenty including the ones mentioned above and other major sites for example: The Burnt House, the Four Sephardic Synagogues, the Walls Promenade (Northern or Southern), the archeological park Davidson Center, the Western Wall Railway (one way), the Menachem Begin Heritage Center and much more.
Tickets can be purchased at the tourist attractions in the quarter and are usable for a month. Each ticket allows single entry to each site or attraction. I don't put prices on my website since I don't update them, but the combination JTicket offers a valuable deal and you should ask about it at the ticket booth.
Food
A few nearby restaurants include: The Quarter Cafe', 'Between the Arches', 'Holy Café', 'Friends Restaurant', 'Burgers Bar', 'Keshet HaHurva Café Restaurant' and 'B'Shaarayich'.
Accomodation
A few nearby suggestions include: 'The Sepharadic House', 'New Victoria Hotel Jerusalem', 'Dan Panorama Jerusalem', 'Dan Boutique Jerusalem', 'Mamilla Hotel' and 'Notre Dame Guest House'.
My Timeline
This trip filled up a day.
This is what it looks like on the map:
As mentioned above, to order the Jticket and the new Jewish Quarter map in advance call *4987 or email This email address is being protected from spambots. You need JavaScript enabled to view it..
Best,
Talma
Details

Written by

Talma Gotteiner

Best,
-----------------
I was thrilled to be invited to a seaside trip, courtesy of Ashdod's Tourism office. It was full of activities, amazing food and fun so I'm happy to share it with you. Talma
Trip Agenda Options
Breakfast at Aramis on 'Lido Beach'
Group Tour of the Port of Ashdod
Surfing at Lee Gal on 'Lido Beach'
Yacht sailing trip from the Marina
Municipal Project 'Hofix' for Teenagers
Touchable sculptures on 'HaKshatot Beach'
Lunch feast at 'Vox Beach' on 'HaKshatot Beach'
Trip Anchors
Port of Ashdod
The "bad news" is that you can only visit the port as part of a group bus-tour. The "good news" is that the Municipality organizes group tours once a month and the Port itself organizes a group tour every Sukkot Holiday (Feast of the Tabernacles usually around September), which you can register for. The group tours are suitable for ages 9 and above and you'll need to bring photo ID.
The visit takes about an hour and includes an introductory meeting at the visitors' center with a film and a number of interactive games that demonstrate different aspects of the port's functions followed by a bus tour of the port itself.
Surfing at Lee Gal, Lido Beach
If you want to take a surfing lesson with two first place surfing champions in Israel, you are welcome to visit the siblings Gal Dahan and his sister Shiran Buchbut Dahan, owners of the Lee Gal school, club and café in Ashdod.
Lessons are suitable for children aged 6 and above who know how to swim. They also teach sailing on SAPs and do kayaking. If you live in Israel, they even have summer camps for children teaching all of the above. They are open daily including weekends. The café is open on weekends and serves kosher food without a kosher stamp of approval (i.e. no seafood etc.).
Yacht Sailing Trip, Marina
Captain Jackie Savag, offers yacht trips like the one we took, sailing trips on a bigger boat called 'Israel-1' suitable for big groups and extreme sailing on banana boats. To do justice to the experience, I prepared a video.
Additional Options
Breakfast at Aramis, Lido Beach
Although we had a delightful breakfast at Aramis, just meters away from the sea, I was under the impression that it was no less charming for evening entertainment. Now that the FIFA world cup series is ongoing, you can sit, preferably outside in the breeze, and watch the games, while having a Mediterranean style meal. Roman Kabilov, one of the musketeer owners welcomes you!
Municipal Project 'Hofix' for Teenagers, All Beaches
'Hof' in Hebrew means beach. The municipality has a special arrangement that both employs and serves teenagers aged 14-18 on al the beaches. In short, it's a cheap rental service of beach chairs, sunshades and equipment. Each piece is rented at 2 NIS.
The Hofix kids are located next to the lifeguards' huts. We even visited the lifeguards who told us about their work. Ashdod has seven lifeguard huts throughout its beaches that all meet an international standard for declared beaches. The standard defines a number of criteria for proper management including safety and cleanliness. Most importantly, all the beaches in Ashdod have free entrance and free parking.
Touchable Sculptures on HaKshatot Beach
This is a new artistic project for the public that was organized by Ashdod Tourism. Sculptors were given the leftover tetrapods that were used to build the piers for decoration. These were then placed in a number of locations in the city. We met one of the central sculptors at work, Eliasaf Miara who told us about the technical challenges of painting objects exposed to the salt and weather conditions on the beach. Despite the difficulties, I think they were able to create a delightful arrangement perfect for selfies and playful children. You're not only allowed to, you're invited to touch them!
Lunch Feast at Vox Beach, HaKshatot Beach
I'm calling it a feast because that is the lavish experience that we had. Vox Beach is a local restaurant that specializes in Georgian and European cuisine. It has two leading chefs each responsible for one of the cuisine styles. The photo below depicts the manageress in the middle, the two lead chefs and our attentive waiters.
Our meal began with a sample of regular starters: salads, a beef carpaccio, paté de fois gras and caviar blintzes.
It continued with Georgian starters: Emroli (a cheese filled pie), Sambusiki (cheese dumplings), Hinkali and Chiburiki (two kinds of meat dumplings) and Khachapuri (an egg and cheese boat).
It moved on to the main course - a terrific mixed grill:
and concluded with mouth-watering desserts:
As its name suggests, the place has Karaoke nights on Thursdays and Fridays.
Food
This post is all inclusive.
Accomodation
I am linking the following hotels: 'West Boutique Hotel Ashdod', 'Leonardo Plaza Ashdod', 'Sur la Mer Boutique Hotel' and 'Penthouse Hotel'.
My Timeline
This trip took a day.
This is what it looks like on the map:
Best,
Talma
P.S. If you're interested in travel-related offers, you're welcome to view my 'best deals' page. Subscribers also have 'members only' benefits. To subscribe go here.