Art & Culture
Details

Written by

Simon Wiesenthal Center
Stories of Jewish resistance, courage, heroism and inspiration during the darkest of times. Unforgettable accounts of courage, resistance, and survival during a world gone mad. Stream Unlikely Heroes and Liberation from two-time Academy Award-winning Moriah Films today.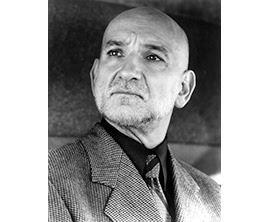 Unlikely Heroes: Narrator, Ben Kingsley
Unlikely Heroes Unlikely Heroes
Narrated by Academy Award®-winner Sir Ben Kingsley, Unlikely Heroes chronicles the yet untold stories of Jewish resistance and individual heroism throughout the Nazi Holocaust. The documentary feature presents previously unknown stories of extraordinary men and women who exemplified the highest level of courage and human dignity during the most desperate days of the Holocaust. Unlikely Heroes highlights seven extraordinary people whose unique and inspiring stories will add a new chapter to the story of Jewish resistance
Streaming now on:
Amazon, iTunes, GooglePlay, InDemand/Comcast, AppleTV, Pluto, Xumo
Upcoming: The Roku Channel, Dish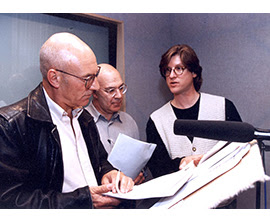 Liberation: Narrator, Sir Patrick Stewart, Producer, Director, Arnold Schwartzman, Executive Producer, Richard Trank
Liberation tells the dramatic story of the battle waged on two fronts during World War II – the Allied campaign to liberate Europe and Hitler's genocidal campaign against the Jews. Narrators include Academy Award®-winner Sir Ben Kingsley, Sir Patrick Stewart, and Whoopi Goldberg. The World War II documentary uses film footage, radio broadcasts, and period music gathered from archives around the world. Interwoven throughout the film are the compelling stories of the Jews of Europe – unforgettable stories of tragedy, courage, resistance, and survival.
Streaming now on:
Amazon, iTunes, GooglePlay, InDemand/Comcast, AppleTV, Xumo
https://www.facebook.com/moriahfilms/
https://twitter.com/simonwiesenthal
https://www.youtube.com/user/SimonWiesenthalCtr/featured
About Us

Moriah Films is the Jack and Pearl Resnick Film Division of the Simon Wiesenthal Center. Our documentaries focus on the 3,500 year old Jewish experience as well as contemporary human rights and ethical issues.Moriah's goal is to produce theatrical documentaries on a regular basis that both enlighten and educate while at the same time reach national and international audiences. Two of Moriahs' films have been recipients of Academy Awards™ for Best Feature Documentary, Genocide (1981) and The Long Way Home (1997).
In-House Production Facility
The Moriah Films' Studio houses its own in-house production facility with state-of-the-art equipment. It is also the repository of the film and video archives of the Simon Wiesenthal Center, totaling millions of feet of film and tens of thousands of hours of materials.
Narrators

Many noted actors have narrated Moriah's productions including the late Orson Welles, Elizabeth Taylor, Michael Douglas, Sir Ben Kingsley, Nicole Kidman, Kevin Costner, Brooke Shields, Morgan Freeman,
Anne Bancroft, Martin Landau, Richard Dreyfuss, Sean Astin, Michael York, Richard Dreyfuss, Patrick Stewart, Whoopi Goldberg, and Ed Asner.
Moriah's films have been screened theatrically and broadcast around the world on HBO, Showtime, Starz/Encore, Channel 4 in the UK, ORF in Austria, RAI in Italy, as well as on German, French, Russian, Chinese, and Israeli television outlets.
The Wiesenthal Center has had a strong interest in films since its inception and benefits from the ongoing advice and counsel of some of the leaders in the film industry who serve on its Board of Trustees.
Contact Us
1399 South Roxbury Drive
Los Angeles, California 90035
310 553.9036
800 900.9036 (toll-free from within the U.S.)
310 553.4521 (fax)
This email address is being protected from spambots. You need JavaScript enabled to view it.
Photos Simon Wiesenthal Center site
Details

Written by

Steven Aiello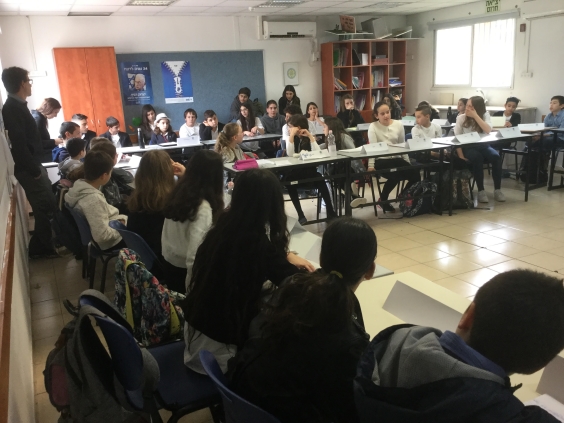 TiqvaMUN 2020 took place on Sunday, February 23, at Ahad Ha'am High School in Petah Tiqva. 140 students, from more than 25 cities and towns around Israel, participated in the conference, themed "War and Peace."
The delegates debated a range of topics, from Bottom-up peace processes, and rehabilitating military veterans for beginners, to a Model Knesset on the military draft in Israel, and an advanced committee dealing with international humanitarian law. The WHO committee, for grades 5-7, dealt with the corona virus and other contagious diseases.
After a long day of debating, negotiating, writing proposals, and voting on resolutions, the students received their certificates of participation and gathered for the closing ceremony. From the ECOSOC committee, Mias Abo Salih, David Taitevski, and Dana Zbedat received Outstanding Delegate awards, and Lian Said Ahmad was the Best Delegate. In SOCHUM, Sagi Cohen was Outstanding Delegate, and Shahd Abu Raya and Jana Sayed Ahmad were awarded Best Delegate.
In the Model Knesset, Idan Avni was Outstanding Delegate, and Daniel Glassner and Itamar Raviv were Best Delegate. In the Legal committee, Deyar Abu Rahal was the Outstanding Delegate, and Ariel Vincent was Best Delegate. In the WHO, Shahar Eini, Rotem Getraide, May Gold, and Shir Liluz won Outstanding Delegate, and Alma Kostis and Carmel Wiazl received Best Delegate.
Rachel Amrani, Principal of the "Chen" Young Ambassadors school, told Diplomacy that Model UN is just part of the diverse enrichment opportunities offered by the municipality of Petah Tiqva for top students from around the city. "The future of the country rests in the power of the youth, and their ability to handle contemporary challenges-economic, foreign affairs, tourism, etc." Mrs. Amrani added "We hope that many schools around Israel will join Model UN, and that conferences will only continue to grow around the country.
Hasan Ahmad Massawa, from Al-Andalous high school in Baqa-Al-Garbya, told Diplomacy "I would like to thank my school for giving me the chance to participate in the MUN conference, I really enjoyed it, as well as this experience teaches me how to be a leader and helped me to improve my communication skills."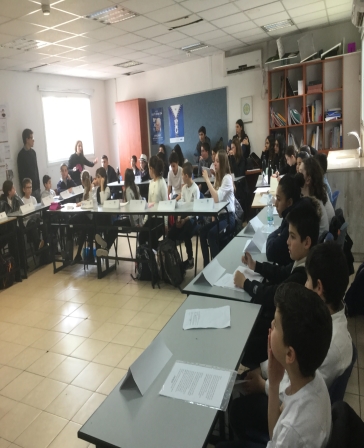 It was the first conference for Karam Abu Arar, a 10th grade student from Nitzanna Neve Midbar high school. Karam explained that "it was very useful for me to get to understand how to debate much better and how can I present myself." Anas Musa Reaty, from Wadi Al-Neam village, added "I was happy when I went to the first conference of my life and when I met Arab and Jewish students. I gained from this conference how to respect other religions, and the importance of countries to peace."
Photo credit: Chen Young Ambassadors School of Petah Tiqva
Steven Aiello
Founder--DebateforPeace
https://debateforpeace.wordpress.com/about/
Details

Written by

Silvia G. Golan
Concert :Mario I Blejer's music SHIR HADASH (New Song) by the Hungarian band Artisans
The concert is the result of a special Hungarian-Israeli-Argentinian collaboration.
The first part indudes compositions by the Argentine-Israeli Mario I. Blejer, based upon sacred biblical texts and now performed in the interpretation of the band Artisans. In the second part, the band play their own compositions.
Mario I Blejer, a renowned economist, currently a board member of IDB Israel, a formerl president of the Bank of Argentina and professor at Hebrew University of Jerusalem. He started composing ten years ago. He has had concerts in Israel (2018) and Argentina (2019).
The members of the Artisans (Szakértők), a band from Budapest led by Márton Kovács, are representatives of Hungarian jazz, folk music and contemporary music. The name of the band was proposed by János Mohács, the renowned Hungarian theatrical director, and the members of the band often play together in the performances directed by him.
In the second part, Artisans (Szakértők) play their own theatrical music, the melody and rhythms of which originate from Hungarian, Jewish, Romanian and Gypsy folk music, but due to the many instrumental improvisations and the dramaturgy of each song are also closely related to jazz and contemporary music.
Members of the band Artisans (Szakértők):
Márton Kovács - violin, vocals
Csilla Radnay - flute, vocals
Béla Ágoston - alto clarinet, vocals
Ádám Móser – accordion
Tamás Rozs - vocals, cello
Tibor Bodor, "Teskó" – accordion
Csaba Gyulai - percussion, gadulka
Photo courtesy of the Hungarian Embassy
Details

Written by

Nurit Peled & Silvia Golan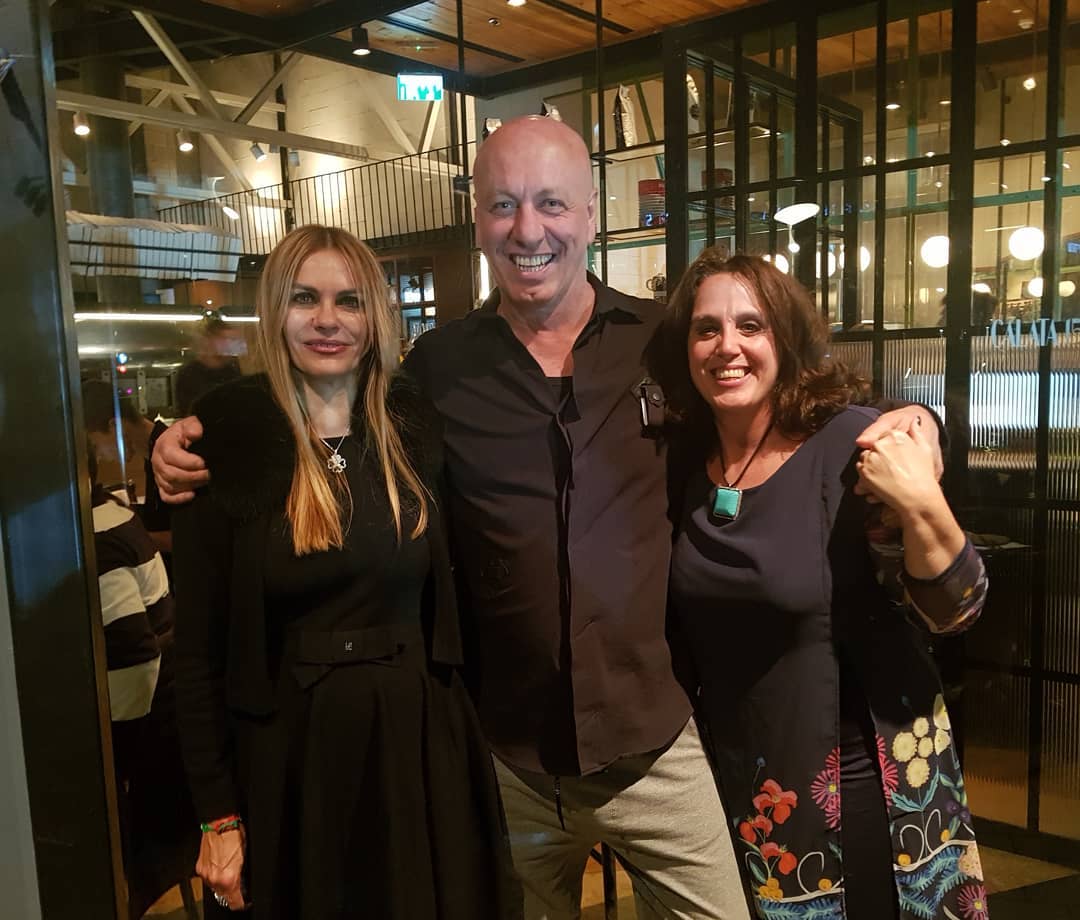 The Israeli chapter of the Italian Academy of Cuisine (Accademia Italiana della Cucina) held its monthly dinner at the newest Italian restaurant CALATA 15 located in Hertzlia Pituach during a pleasant evening well organized by Academy Delegate Dr. Cinzia Klein, Vice Delegate Ms. Sabrina Fadlun and Ms. Nessia Laniado.
Calata 15, new place in town, serves authentic creative dishes, realized by Italian chef Stefano Andreoni. The owner, Andrea Magi arrived a while ago from Pesaro, a city in the region of Marche, overlooking the Adriatic Sea.
All tables were decorated with the academy flags. While looking around; I saw a wide space and beautiful restaurant, warm and inviting
The evening began with a warm welcome by Delegate Cinzia Klein.
The dinner menu featured four courses, in the traditional Italian way, beginning with antipasti consisting of Vitello Tonnato, Melanzane alla Parmigiana and two versions of Pizzette-Marinara and Margherita and some focaccia slices
Starters were soon followed by two pasta dishes served as primi: Ravioli in a white sauce with sea bass and samphire and Gnocchi Sorrento style with mozzarella, tomatoes and basil.
Side dishes: Mixed salad, roasted potatoes, Swiss chard and seasonal vegetables
Main courses were two kinds: braised beef and grilled drum fish with broccoli, olives and pine nuts.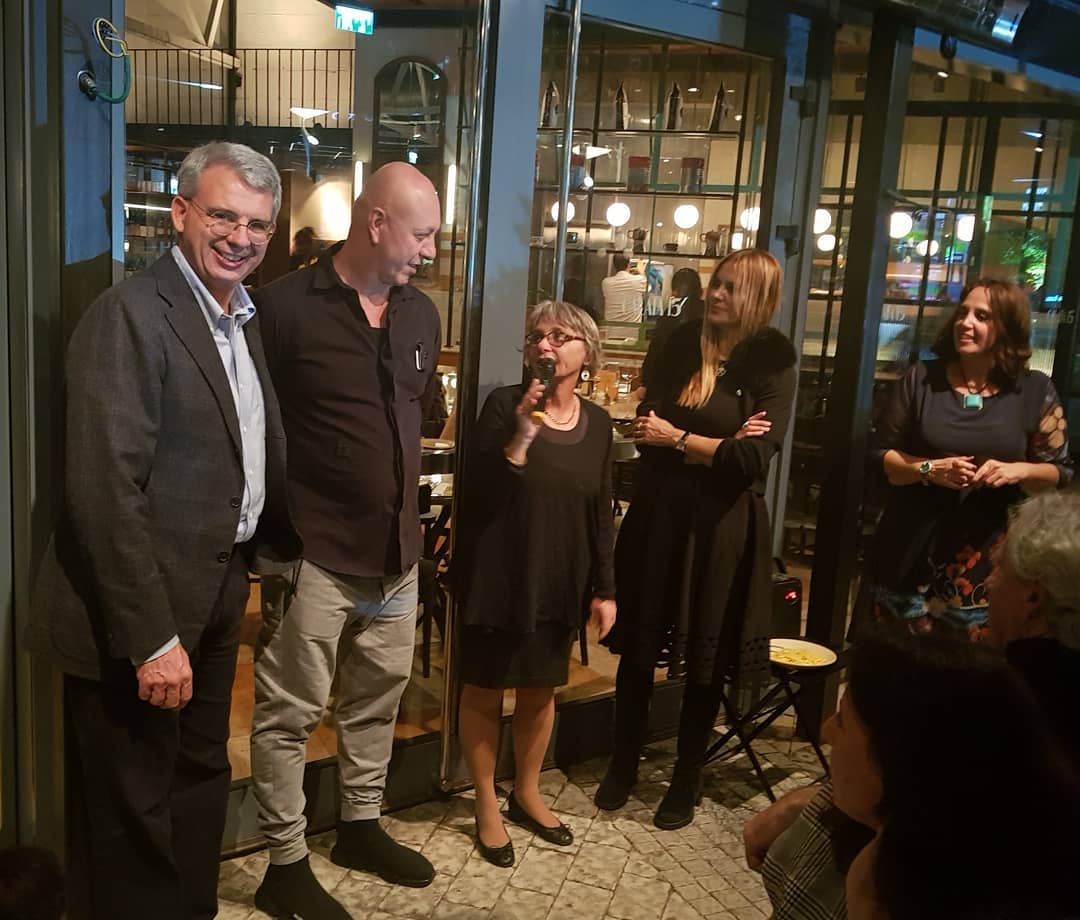 There were also two desserts: Profiteroles and selection of pastries served with sabayon
The red and white wines accompanying the meal were both from Toscana:
Rosso Toscano "Le Maestrelle", Santa Cristina - IGT Toscana and Villa Antinori Bianco Toscana, Antinori - IGT Toscana
Between courses, we had the chance of hearing a short and interesting lecture on the fork and its use from the beginning.
The lecture was given by Nessia Laniado and translated by Professor Ghi'lad Zuckerman, Chair of Linguistics and Endangered Languages at the University of Adelaide, Australia.
At the end, Chef Andreoni was given a book presented by Mrs. Klein with applause of all participants for his efforts.
Attending the dinner was a large delegation from the Embassy of Italy in Israel, H.E. Mr. Gianluigi Benedetti, Ambassador of Italy to Israel and wife, Mrs. Sabina d'Antonio, an Honorary Academic, Mr. Gianmarco Macchia, First Counsellor and Deputy Head of Mission, Mr. Francesco Meucci, Head of Office, Economic and Commercial Affairs, Colonel Guido Cerioni, Defense Attaché and Colonel Davide Salerno, Mr. Fabio Ruggirello, Director of the Italian Cultural Institute in Tel Aviv, Ms. Giulia Calabrese, First Secretary and Mr. Emanuel Oldani, the newly appointed Consul.
A large number of Members of the Italian Academy of Cuisine were also present as well as Professor Zvika Ram, Director of Neurosurgery Division at Ichilov Tel Aviv Souraski Medical Center and other dignitaries from both the corporate and medical fields.
This lovely night left us the true taste of Italy.
Photos by Silvia Golan
More pics at Facebook Israel Diplo https://www.facebook.com/diplomacy.israel
Details

Written by

Silvia Golan & Eliran Ben Yair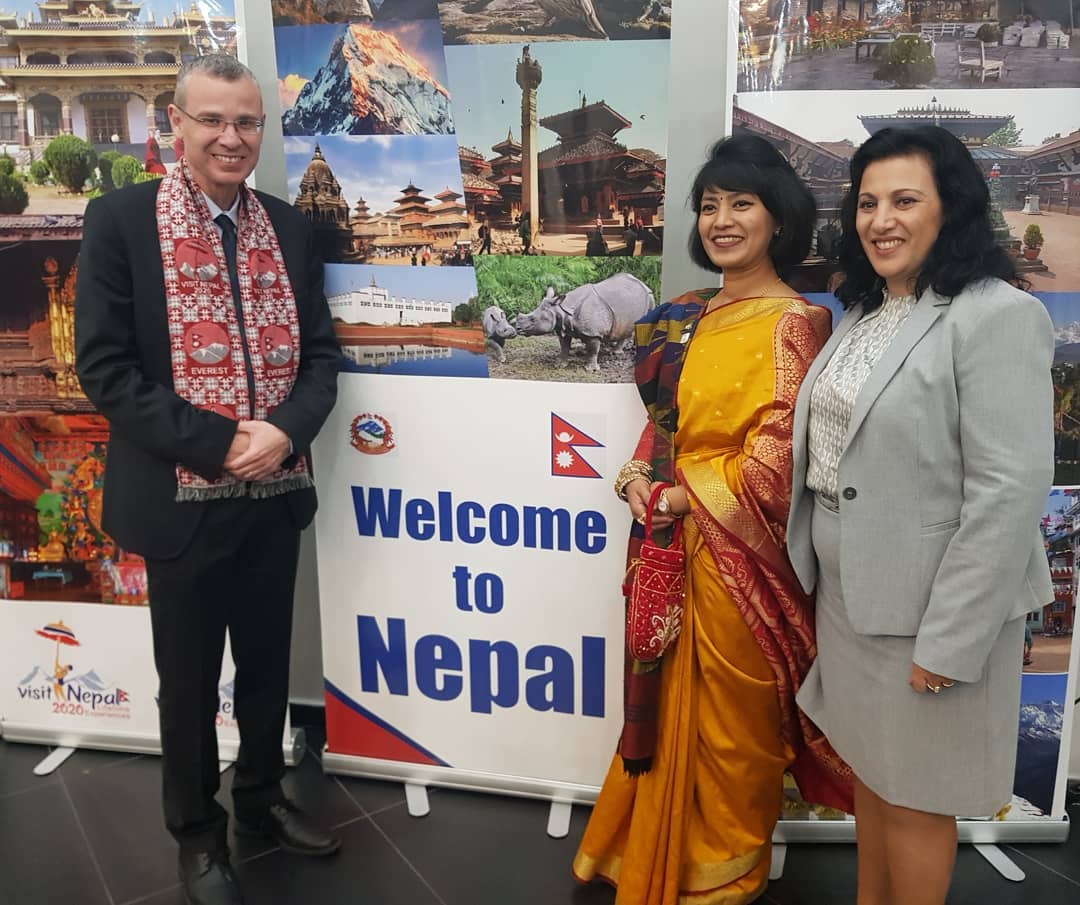 On January 7th, 2020, the Embassy of Nepal in Israel celebrated a tourism event about increasing the volume of tourism between the two countries in Israel. H.E. Mrs. Anjan Shakya, the Ambassador of Nepal in Israel and the Nepali Embassy staff hosted the event. Mr. Arjun Ghimire, Deputy Chief of Mission, served as the master of ceremony. The event was held and hosted in the compound of the "Council for a Beautiful Israel" at the Alon Hall in Tel Aviv.
Mr. Yariv Levin, Israeli minister of tourism, was an honored guest representing the Israeli government. Among the many distinguished guests of the event were also Ambassador Yaron Meir (Former Israeli Ambassador to Nepal), Mrs. Nurit Koren (Former MK ), Ambassador Itzhak Eldan (former Israeli Ambassador to Denmark, Council of Europe and UNESCO), Adi Baruch (Senior Counsel of Government Ministries), Ariel Blidstein (business Development & Innovation), representative of the Israeli Police Mr. Moti Meiry (The Yarkon Space Police Security and Licensing Officer), members of the Nepali Embassy in Israel, Israeli journalists and a variety of honorable foreign ambassadors.
The event began with time to mingle, as Nepalese and Israeli foods were served. The formal part of the event started with a few words by the Deputy chief of mission, Mr. Arjun Ghimire. Mr. Ghimire invited the guests to the "Nepal: Life Time Experiences" presentation, noting that although the current number of visitors from Israel is relatively low, Nepal is actually a pristine tourist destination which has much to offer to Israeli travelers.
Ambassador Shakya opened her speech in Hebrew, delighting the audience. She highlighted the diversity of Nepal in terms of people, languages, costumes, festivals, and food. The ambassador noted that Nepal is in many lists of top travel destinations by magazines like Forbes, Trip advisor, Lonely Planet, etc. The ambassador explained that the rich cuisine, pleasant weather, and culture, all warranted a visit by Israeli tourists.
Deputy chief of mission Mr. Ghimire then showed an interesting video about the country and about the Nepali government goals for 2020 that was declared by the government of Nepal as "The year of tourism," including the goal to have 2 million visitors, which means doubling the current number of visitors that stands on 1 million visitors a year.
The presentation also included recommended tourist attractions and places such as the Everest mountain, national park Chitwan, national park Sagarmatha, Lake Tilicho (the tallest lake in Nepal), Lake Rara (the biggest lake in Nepal), Fokara, Ilam and Bandipur, Elephant polo, Banji and many unique festivals. In the last part of the presentation they showed interesting facts about Nepal such as being home to 6,391 different kinds of plants, 848 different kinds of birds, 500 different kinds of butterflies and 185 different kinds of Mammals.
After this, the Israeli tourism minister, Mr. Levin, remarked on the growing relationship between Nepal and Israel and his desire to open the gates of Israel to more people from Nepal to visit Israel, as well as Israelis visiting Nepal: "Nepal is an extraordinary country which offers a special tourist experience. The combination between natural wonders, breathtaking views, and distinguished historic and religious sites, is a rare assemblage which the 'Visit Nepal 2020' project will expose to potential tourists from all over the world. Our countries, Nepal and Israel, represent two astonishing extremes of nature. In Israel we have the Dead Sea, the lowest place on earth, and Nepal is home to Mount Everest, the world's highest mountain peak." ...." Tourism is a bridge for bringing peoples and cultures together."..." I am certain that Nepal as well as Israel will continue to be popular destinations for tourists. I am sure that this important initiative, 'Visit Nepal 2020', will expose your unique country to many more crowds and bring about a major increase in tourism to Nepal, as well as in the revenues which it brings to the economy. Your Excellency, the Ambassador, please convey my appreciation to the Minister of Culture, Tourism and Civil Aviation, Mr. Yogesh Bhattarai, for this unique initiative. Madam Ambassador, I wish to thank you again for the invitation, for the cooperation between us, and for the important work that you undertake with your fellow embassy members, to strengthen the ties between Nepal and Israel.
Ambassador Shakya then awarded the title of "Goodwill Ambassador of VNY 2020" to Nadav Ben Yehuda, an Israeli tourism representative of Nepal, who said "Nepal is like my second home."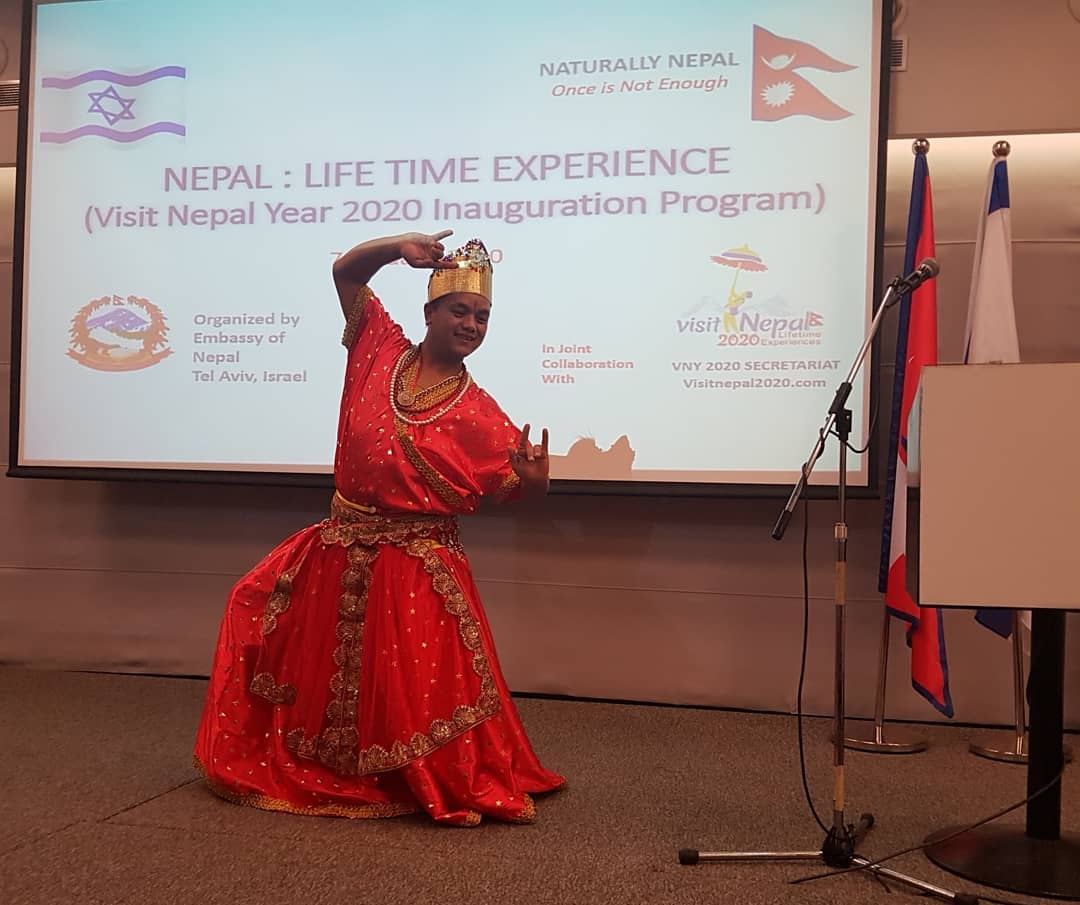 Finally came the artistic part that included traditional dances and a joint dance between the Nepali dancers and the audience. The event was very impressive and definitely left a great impression of Nepal and a taste for more!
Eliran Ben Yair (member of Debate for Peace)
https://debateforpeace.wordpress.com/about/ )
Photos by Silvia Golan
More Pics at Facebook https://www.facebook.com/diplomacy.israel