Society
Details

Written by

The Golda Meir MASHAV Carmel International Training Center
Ms. Hava Karrie, Director of the
Golda Meir MASHAV Carmel International Training Center (MCTC
), sheds some light on the Center's longstanding activities aimed at empowering women worldwide and the unique international conference on Women in Diplomacy that MCTC held last week in Haifa.
In September 2015, the UN member states adopted the sustainable development goals, which included Goal #5, "achieve gender equality and empower all women and girls", an important step in improving the situation of women and girls throughout the world. Still today, women are fighting for the same economic and social rights as men.
Details

Written by

KKL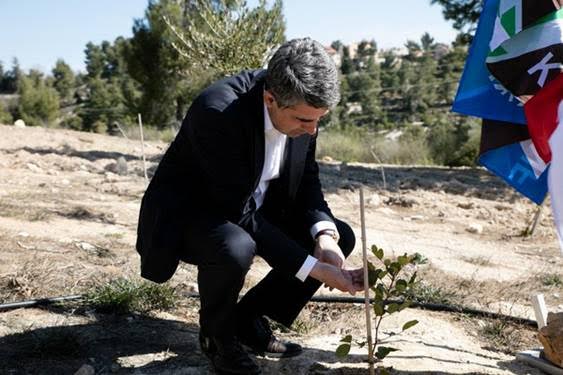 On Monday, February 20, 2017, H.E. Rosen Asenov Plevneliev, the former Presid ent of Bulgaria, planted a carob tree in the Jerusalem mountains, to stand alongside a tree planted in memory of his son Filip, who died suddenly at age 15 on August 8, 2015.
His Excellency Rosen Asenov Plevneliev served as president of Bulgaria from January 2013 until just a few weeks ago. When his son Filip died in 2015, his friend Eli Egosi, an Israeli businessman who built a mall in Sofia, asked KKL-JNF to plant a tree in Filip's memory. The President, who was very touched by this gesture, asked to see his son's tree and plant another tree next to it during his three-day visit in Israel.
KKL-JNF's VIP tree planting site, which is next to the Yad Kennedy Memorial in the mountains surrounding Jerusalem, was the site chosen for both trees.
The former President was greeted by KKL-JNF Chief of Protocol Andy Michelson, who said that not long ago, "we planted a tree here in memory of your son, and now you'll be planting a carob tree next to it. Carob trees take a lot of time to produce fruit, so planting one is an affirmation of life and an expression of our commitment to future generations. The tragedy of losing a son is incomprehensible. We can only hope that there is some small comfort in the fact that there is something growing and living in his memory."
KKL-JNF Director of International Relations and Conferences Karine Bolton-Laor welcomed the honored guest and said: "Your family's spirit will be forever in the mountains of Jerusalem". She described KKL-JNF's history and elaborated on KKL-JNF's commitment to sharing its knowledge with countries throughout the world. "KKL-JNF has achieved worldwide acclaim for its achievements in the fields of afforestation in semi-arid regions, combating desertification, forest planning, and more. People from everywhere come here to see what we have accomplished, and sharing our knowledge is part of our mission."
H.E. Rosen Asenov Plevneliev said that in his home county of Bulgaria, there is a saying that a man has to build one house, plant one tree and have one son. "I have built many houses, planted many trees and am the proud father of three boys. One of them is my angel in the sky. He died suddenly, at age fifteen, and that was the worst moment of my life. At that time, here in Israel, you planted a tree in his memory, and by doing so, you gave me a hand, you shared my pain. This act will stay in my heart forever. Standing here now, I want to thank you. I have planted over 6,000 trees in many different places, but planting this tree here is very special. Maybe it is the most special tree of all."
Eli Egosi, an old friend of the president, was the person behind the initiative to plant a tree in memory of the president's son. "I must be very honest. When disaster struck, I didn't have the courage to go to Bulgaria or to call the president. I thought about what I could do, and I had the idea of planting a tree. KKL-JNF was supportive from the first moment, and the ceremony was very, very moving. KKL-JNF gave us a beautiful spot to plant your son's tree, a holy spot, a spot overlooking Jerusalem. This is something small for Filip. He's always up there looking on us."
Speaking after the ceremony, the President said that his tenure had ended just five weeks ago. "This is my first trip abroad since then. I say abroad, not a trip to a foreign country, because for me, Israel is not a foreign country, it's like my home. I could have run for another term, but I felt that now is the time to build bridges in a different way. For me, what's important in life in general, and politics in particular, is giving, not taking. We must confront life and live it fully.
Photo 1 :Bulgarian Former President with his freshly planted tree; Credit: Leader photography
Photo 2 :Left to Right: Andy Michelson, Eli Egosi, H.E. Rosen Asenov Plevneliev, Karine Bolton and Rami Levy; Credit: Leader Photography
Details

Written by

KKL
Yesterday, February 15, British parliament members participated in a ceremony in honor of Rt. Hon. Sir Eric Pickles MP, including senior parliament members, Lord Stuart Polak CBE, and HE. Mark Regev, Israeli Ambassador to the UK. This event was part of a tour organized by CFI (Conservative Friends of Israel), the senior parliament members have come to witness the hardship of the areas surrounding the Gaza Strip.

Mr. Yonatan Galon, JNF-UK representative in Israel commemorated the event: "The amazing support of British Jews over the last 116 years has allowed us to play an important part in this development of the Negev. May this tree planting ceremony symbolize a growing and fruitful partnership between us for at least another 100 years."

Sir Eric Pickles: "My thought remains the same that it is good to put down roots in this wonderful country, this bastion of democracy. It has been a real pleasure playing a small part in trying to bring our two countries closer together. I remember meeting Prime Minister Rabin shortly before his assassination, and he said "The desire is to get water into the desert, and to get blood out of the land" and I think we have a chance in the coming few years not only to see trees flourish, but to see friendships flourish."

Lord Stuart Polak CBE: "It is an enormous pleasure to be here. It is fitting for Sir Pickles and the members of parliament to be here because they have tirelessly worked for the good of the people of Britain, the good of the Jewish people throughout the world and the good of Israel. There is a quote which states, "A man does not plant a tree for himself, he plants it for prosperity; and he who plants a tree plants hope (Alexander Smith)"."

Following these remarks, Lord Stuart Polak CBE and Ambassador Regev presented certificates of honor for their support to Israel to: Rt. Hon. Stephen Crabb MP, Rt. Hon. Nicky Morgan MP, Rt. Hon. Theresa Villiers MP, Lord Gadhia of Northwood, and Mustafa Muhammed. A special certificate of honor was presented to Sir Eric Pickles for his support of and dedication to the state of Israel.

Background
For many years, Lord Polak of Hertsmere CBE led parliamentary visits to Israel in order to raise awareness about Israel and strengthen their support for Israel.

Two years ago, KKL-JNF together with JNF-UK and CFI organized a similar planting ceremony in honor of British MPs; this year, the ceremony was held in honor of Sir Eric Pickles – whom continues to support Israel with his different initiatives. KKL-JNF has placed a plaque in his honor in the Aminadav forest.

The ceremony was followed by a planting ceremony in the KKL-JNF Yad Kennedy Memorial.
Photo
Sir Eric Pickles planting a tree in KKL-JNF Yad Kennedy Memorial\Aminadav forest; Credit: Avi Hayun
Details

Written by

President's Spokesperson
President Reuven Rivlin this evening (Sunday) addressed the opening dinner of the Annual Israel Leadership Mission of the Conference of Presidents of Major American Organizations led by Chairman Stephen M. Greenberg, and CEO Malcolm Hoenlein. The mission brought together more than 100 leaders from the Conference's 52 member organizations and National Leadership Council.
President Rivlin welcomed the participants, and thanked them for their support for Israel which he noted was not just in words but in actions. He said, "We are meeting at a very sensitive time – both in Israel, and in the USA, our greatest, and most important ally," said the President, and added, "It is also, a very sensitive time for the Jewish community, which you represent."
He noted, "In Israel, we are very concerned by polarization in society, and in politics. And we share your concerns, for these trends – the polarization of society – that you have experienced in the US. When a society is divided, it is not easy to find and maintain the shared vision, and the shared space. Sometimes, it is only at times of tragedy that we are able to come together. America's strength is important and dear to us all."
The President went on to speak of the importance of the relationship between Israel and the US. He said, "We cannot allow Israel to be a political football between different sides, between different ideologies." The President added, "Support for Israel must and will always remain a bi-partisan issue. I also want to send from here, my warm wishes to President Trump, and I hope he is able to visit us soon."
President Rivlin concluded, "Friends, we respect all the Jews in North America, and we know that Israel is important to you. We appreciate your concern, and we have no doubt that whatever your politics, you care for the safety for the prosperity and for the well-being of the State of Israel. I assure you all that we will continue to build this country, as a light unto the nations, a Jewish democratic state."
Photo credit: Mark Neiman (GPO)
Details

Written by

KKL
Two years following the massive fire in Ein Kerem, KKL-JNF renews the forest together with residents of Jerusalem and the Jerusalem municipality
In a formal ceremony, which took place on Sunday morning, February 5th, as part of the Tu B'Shvat celebration, 2,000 trees were planted in Ein Kerem Valley, among them Judas, almond, cashew and carob trees. The ceremony included the Deputy Minister of Defense Rabbi Eli Ben-Dahan, KKL-JNF World Chairman Danny Atar, and Deputy Mayor of Jerusalem Yael Antebi.
Among the participants were 90 students from Australia that arrived especially for the event to plant trees, as well as schoolchildren from the neighborhood of Ein Kerem's elementary school.
The fire in Ein Kerem was part of a massive fire that destroyed 197 dunams (about 50 acres) in the Jerusalem area.
According to the forest rehabilitation policy of KKL-JNF, there is no planting in the first years following a fire to allow for natural recovery. KKL-JNF foresters used this period of time to collaborate with residents of Jerusalem in planning the forest's rehabilitation process.
Participation from the public is part of KKL-JNF's policy in the last several years to encourage community forests. Following this policy, 15 community forests were established across Israel, in which the forest's planning process and work was done in collaboration with the local municipality and its residents.
The Deputy Minister of Defense Rabbi Eli Ben-Dahan: "We plant trees today in Ein Kerem forest, which is across from the Grove of Nations, and experienced a terrible fire. We plant together with students from Israel and Australia to signify the strength of the people of Israel, in the state of Israel. Despite all the attempts we experience to banish us from our land, we celebrate Tu B'Shvat by planting trees in a community forest, whose participants include the people of Israel, both from Israel and the Diaspora.
When the writer, Mark Twain, arrived in Israel, he went three days before finding a tree under which he could enjoy the shade. Today we can see Israel is full of trees, and seeing trees bearing fruit is a symbol of redemption. KKL-JNF World Chairman Danny Atar and KKL-JNF employees deserve great praise for their work."
KKL-JNF World Chairman, Danny Atar: "KKL-JNF has been a partner to the Israeli community for 115 years, and this place (the Grove of Nations) represents our cooperation with the Jerusalem municipality and the residents of Ein Kerem for Ein Kerem forest. We invite the Israeli public to participate with us in Tu B'Shvat events all across Israel.
Tu B'Shvat is not just the holiday of the trees; it is the holiday in which the Israeli community meets the forests and parks. In the last year Israel's green lungs have suffered difficult fires; this is the time to paint Israel green, to plant a tree in the earth and community action in the heart."
Caption (Left to Right): Deputy Mayor of Jerusalem Yael Antebi, KKL-JNF World Chairman, Danny Atar, Deputy Minister of Defense Rabbi Eli Ben-Dahan
Credit: Yossi Zamir, KKL-JNF