Society
Details

Written by

KKL
Yesterday, February 15, British parliament members participated in a ceremony in honor of Rt. Hon. Sir Eric Pickles MP, including senior parliament members, Lord Stuart Polak CBE, and HE. Mark Regev, Israeli Ambassador to the UK. This event was part of a tour organized by CFI (Conservative Friends of Israel), the senior parliament members have come to witness the hardship of the areas surrounding the Gaza Strip.

Mr. Yonatan Galon, JNF-UK representative in Israel commemorated the event: "The amazing support of British Jews over the last 116 years has allowed us to play an important part in this development of the Negev. May this tree planting ceremony symbolize a growing and fruitful partnership between us for at least another 100 years."

Sir Eric Pickles: "My thought remains the same that it is good to put down roots in this wonderful country, this bastion of democracy. It has been a real pleasure playing a small part in trying to bring our two countries closer together. I remember meeting Prime Minister Rabin shortly before his assassination, and he said "The desire is to get water into the desert, and to get blood out of the land" and I think we have a chance in the coming few years not only to see trees flourish, but to see friendships flourish."

Lord Stuart Polak CBE: "It is an enormous pleasure to be here. It is fitting for Sir Pickles and the members of parliament to be here because they have tirelessly worked for the good of the people of Britain, the good of the Jewish people throughout the world and the good of Israel. There is a quote which states, "A man does not plant a tree for himself, he plants it for prosperity; and he who plants a tree plants hope (Alexander Smith)"."

Following these remarks, Lord Stuart Polak CBE and Ambassador Regev presented certificates of honor for their support to Israel to: Rt. Hon. Stephen Crabb MP, Rt. Hon. Nicky Morgan MP, Rt. Hon. Theresa Villiers MP, Lord Gadhia of Northwood, and Mustafa Muhammed. A special certificate of honor was presented to Sir Eric Pickles for his support of and dedication to the state of Israel.

Background
For many years, Lord Polak of Hertsmere CBE led parliamentary visits to Israel in order to raise awareness about Israel and strengthen their support for Israel.

Two years ago, KKL-JNF together with JNF-UK and CFI organized a similar planting ceremony in honor of British MPs; this year, the ceremony was held in honor of Sir Eric Pickles – whom continues to support Israel with his different initiatives. KKL-JNF has placed a plaque in his honor in the Aminadav forest.

The ceremony was followed by a planting ceremony in the KKL-JNF Yad Kennedy Memorial.
Photo
Sir Eric Pickles planting a tree in KKL-JNF Yad Kennedy Memorial\Aminadav forest; Credit: Avi Hayun
Details

Written by

Birthright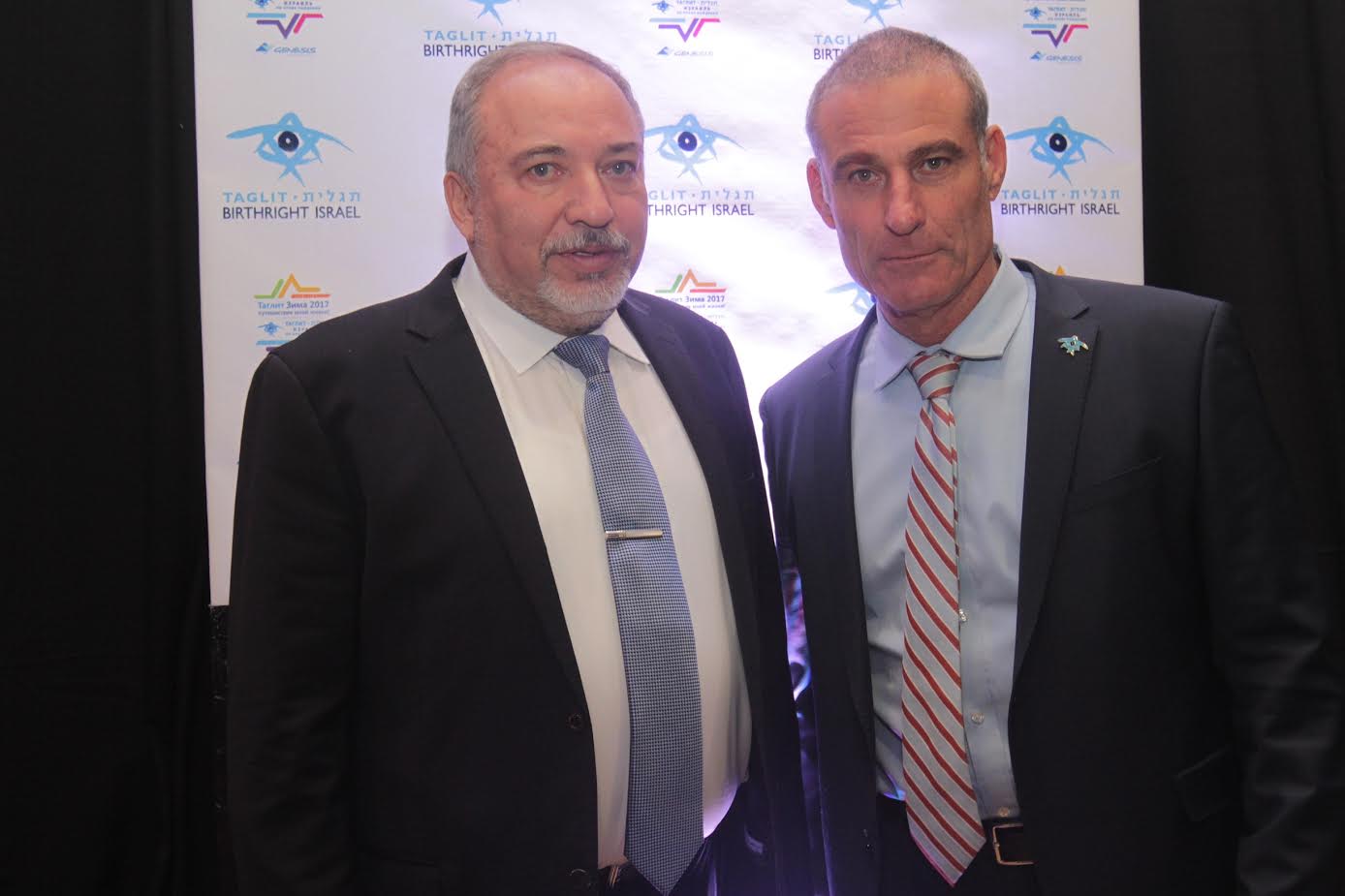 "Just Like I arrived here as a young student from Kishinev and went on to assume some of the most significant positions of power in the state of Israel, you too have the possibility to achieve anything you chose and accomplish anything you set your mind to" Said Defense Minister, Avigdor Lieberman, Speaking to 1,000 young Russian Jewish adults from the FSU, during a Birthright Israel event held tonight in Jerusalem. Other speakers at the event included Gidi Mark, International CEO of Birthright Israel and Mrs. Dorit Holander, Vice President of Genesis Philanthropy Group.
For the majority of Russian speaking Birthright Israel participants, the ten day trip to Israel marks not only their first visit to the country but also an opportunity to witness Israel's vast cultural wealth, beautiful landscapes and diverse society firsthand, taking that experience with them back home to their Jewish communities.
Gidi Mark, International CEO of Birthright Israel said at the event: "Hundreds of participants who took part in today's event join 45,000 native Russian-speaking young Jewish adults who help us realize the importance of building bridges between Israel and Jewish communities worldwide. I believe each and every Jew should be exposed to modern Israel and its culture in addition to the country's ancient history and heritage, and we are particularly excited for this unique event, celebrating the Russian speaking participants, who get to explore Israel for themselves."
The event is a part of a comprehensive partnership between Birthright Israel and Genesis Philanthropy Group, intended to provide Russian-speaking participants with various enrichment experiences while they are in Israel.
Mrs. Dorit Holander Vice President of Community Relations, Genesis Philanthropy Group also spoke to the participants: "for the past eight years of our collaboration with Birthright Israel we have developed a unique program, specifically tailored to meet the needs and interests of Russian speaking young Jews. We view the ten day trip as an opportunity for you to begin a much greater journey, a Jewish journey that will last a lifetime."
About Birthright Israel
Birthright Israel connects young Jews to the State of Israel as well as to their Jewish identity through a free ten-day educational tour of the country. Over the past 16 years, Taglit-Birthright Israel has opened the eyes of hundreds of thousands of trip participants to the people and the land of Israel. The trip aims to build an understanding, friendship, and lasting bond with the land and people of Israel and to reinforce the solidarity of the Jewish people worldwide.
Birthright Israel is considered the most successful and largest Zionist project in the Jewish world. Birthright Israel has a unique, historical and innovative partnership between the Government of Israel, thousands of individual donors and private philanthropists, and Jewish communities around the world.
Since its inception in 1999, over 500,000 Jews from over 66 countries have participated in the free 10-day educational tour of Israel. Of these over 80,000 young Israeli soldiers (from prestigious units of the IDF) and students have joined various groups on their tours. Over the years, several studies have been conducted at Brandies University, located in the USA, demonstrating the lasting effect on Diaspora Jews when focusing on their Jewish identity, their connection to Israel and their ability to promote the country.
About Genesis Philanthropy Group:
Genesis Philanthropy Group is a private foundation whose mission is to develop and enhance a sense of Jewish identity among Russian-speaking Jews worldwide by supporting and launching projects, programing and institutions that are focused on ensuring that Jewish culture, heritage and values are preserved in Russian-speaking Jewish communities. More information is available at gpg.org.
Photo Credit: Erez Uzir
Details

Written by

President's Spokesperson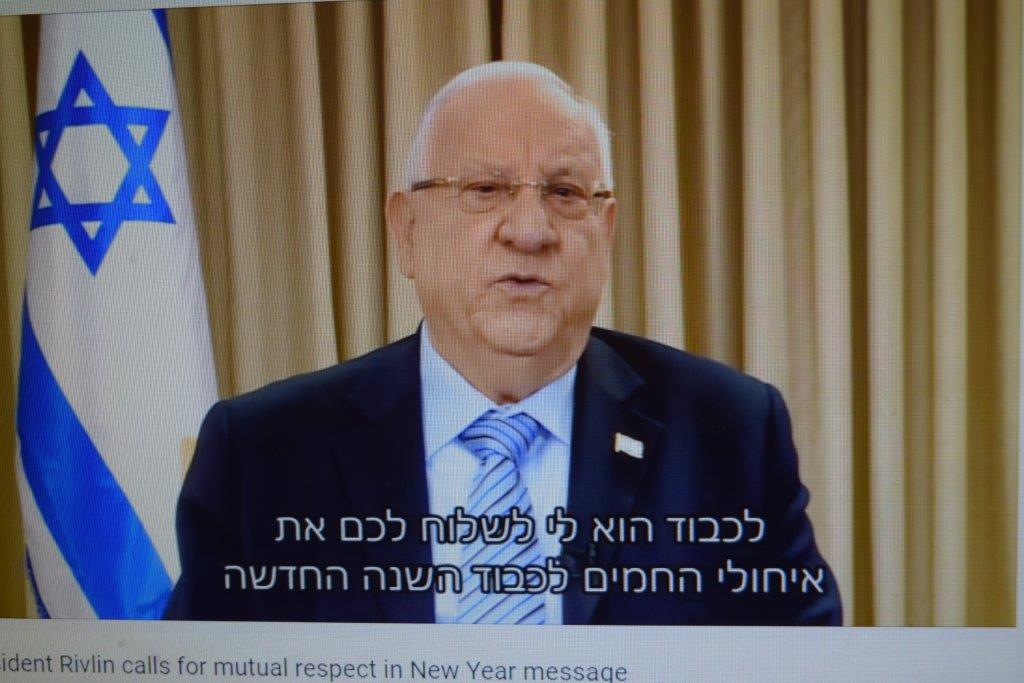 President Reuven Rivlin this morning (Thursday) issued a call for 2017 to be a year of "mutual respect, between people, and between nations," in a recorded greeting issued to mark the civil New Year.
The President noted that 2016 had been a year with many "highs and lows". He said, "There is much to look back on, over the last 12 months. This year the world came together in Rio for the Olympics and Paralympics, and we are proud of the Israelis who represented us there. This year I had the chance, to visit India, where I saw Israeli innovations used to develop water and agriculture, working to bring an end to the curse of hunger and thirst; in Asia, Africa, Latin America and around the world. I also welcomed to the President's office, here in Jerusalem, Presidents and Prime Ministers from around the world, as well scholars, religious leaders, business leaders, working together to build a better future." He added, "That future starts now. I am hopeful that during the New Year we will see the fruit of this hard work."
The President continued, "There is no ignoring the fact that 2016 was a very difficult year. Bloodshed and terror, in the name of politics and religion, have led to much misery, and loss. We also have said goodbye to some great leaders. We mourned the loss of Shimon Peres, Israel's ninth President, who helped build the State of Israel, and the vision for its future. We mourned Elie Weisel, a man whose moral light helped us remember and understand the darkest days. We also lost the great Leonard Cohen and Gene Wilder, among many others who brought us joy in their music and films."
The President concluded by quoting Leonard Cohen's song 'Steer Your Way' and said, "'Steer your way, year by year, month by month, day by day, thought by thought.' After a year of so many highs and lows, let's make 2017 a year of mutual respect, between people, and between nations. I wish all of you; to the Christian community in Israel and around the world, season's greetings, and a very happy, healthy New Year; and to all our Jewish brothers and sisters, I wish you all, a very happy Chanukah. God bless, and Shalom from Jerusalem."
Video can be viewed here: https://www.youtube.com/watch?v=Yw8nzuv-5og&feature=youtu.be
Photo Silvia Golan
Details

Written by

KKL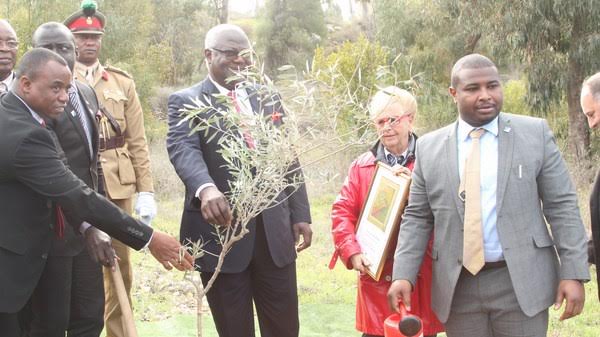 In the course of a three-day visit to Israel with his entourage, Sierra Leone President Ernest Bai Koroma planted a tree in the Keren Kayemeth LeIsrael - Jewish National Fund (KKL-JNF) Grove of Nations in Jerusalem, at a ceremony held on January 10th, 2017.
"I am here to take part in this wonderful tradition ofplanting a tree. We shall continue to be a symbol of hope, a symbol of peace and a symbol that represents the future of all of us – of Israel and the rest of the world. I believe that your tradition was always relevant in the past, but it is especially relevant today, when we are coping with the challenges ofclimate change. We need to continue with this concept of tree planting and continue with the concept of conserving the environment in order to safeguard the future of us all, the future of the world," said President of Sierra Leone Dr.Ernest Bai Koromain his speech at the official planting ceremony, which was held on Tuesday, January 10th, 2017, in theGrove of Nationsin theJerusalem Forest, below Yad VaShem.The ceremony was attended by seven of Sierra Leone's government ministers, including Minister of Foreign Affairs Dr.Samura Kamara, Finance MinisterMomodu Kargbo, Justice MinisterJoseph Kamara, Agriculture Minister ProfessorMonty Jones, Energy MinisterHenry Macauley, Minister of InformationMohamed Banguraand Minister for Infrastructure and WaterMomodu Maligi. The ambassadors of both countries were also present, withPaul Hirschsonrepresenting Israel in Sierra Leone andOsman Keh Kamararepresenting Sierra Leone in Israel. KKL-JNF's Head of ProtocolAndy Michelsonpresided over the ceremony, andBarbara Goldsteinof KKL-JNF's Board of Directors delivered a speech.

Dr. Ernest Bai Koroma was born on October 2nd, 1953 in Makeni in northern Sierra Leone, where he also grew up. He completed his studies in business management in 1976 and graduated from Fourah Bay College, the oldest university in West Africa. For over twenty-four years he worked in private insurance before entering politics in 2002. He was the leader of the All People's Congress (APC), Sierra Leone's main opposition party, before being elected president for the first time in 2007. In 2012 he was reelected for a second term.

"For over one hundred years our organization has understood that we have to come to this land and redeem it, care for it and bring it back to life after it had remained a wilderness for almost 2000 years of Jewish exile. Thus, our hope of returning to our homeland in the early 20th century stemmed from the fact that we knew that the first thing we would do was plant a tree," said Barbara Goldstein. She expressed hope that 2017 would be a year of blessing and fruitful dialogue, and that all nations would learn to live together in peace.

Andy Michelson endorsed the remarks made by the Sierra Leonean president and said thattree-planting, apart from being extremely important for the ecology of the planet, also possesses a traditional significance for the Jewish People. "We have a tradition of tree-planting in Judaism. We plant a tree when child is born, we plant one when he reaches bar-mitzvah age, and we plant another when he marries. Not just because it's good for the ecology, but also because it warms the heart and speaks to the soul," he said.After the speeches, Ambassadors Paul Hirschson and Osman Keh Kamara recited the Planter's Prayer in Hebrew and English, after which the whole party made its way up to the woodland for the planting, in which all members of the Sierra Leone delegation took part.When the planting was complete, Barbara Goldstein presented Dr. Ernest Bai Koroma with a KKL-JNF certificate of appreciation for having planted a tree in the Grove of Nations.
Photo : Left to right: Samura Kamara, Dr. Earnest Bai Koroma, Barbara Goldstein, Momodu Kargbo (Credit: Guy Lumer)
Details

Written by

Silvia G Golan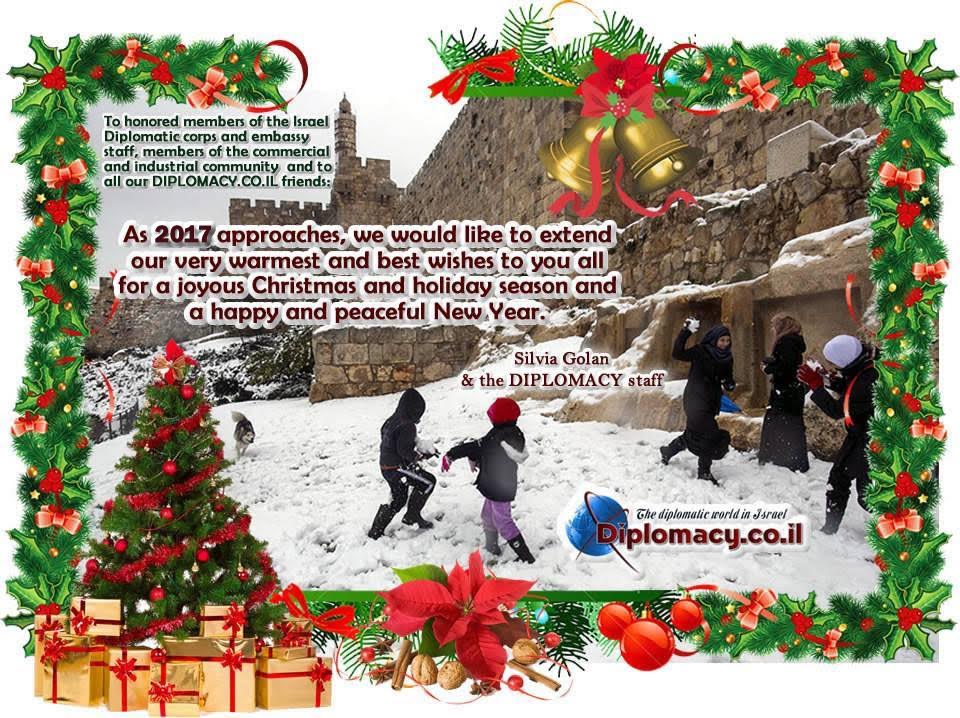 Christmas Chanukkah & New Year greetings
from www.diplomacy.co.il
To honored members of the Israel Diplomatic corps and Embassy staff,

members of the Government Offices, Cultural, Commercial
and Industrial community in Israel
and to all our www.diplomacy.co.il friends:
As 2016 approaches, we would like to extend our very warmest and best wishes
to you all for a joyous Christmas , Chanukkah and holiday season
and a Happy and Peaceful New Year.
Silvia Golan Daniel Schwarz
Buzzy Gordon Steve Aiello
& all the staff of www.diplomacy.co.il
Facebook : Diplomacy Israel & Diplomacy Israel Community