Science & Technology
Details

Written by

European Union
A European Union 'twinning' project to provide Israel with technical assistance in the field of telecommunications is to be launched at an international conference at Mishkenot Sha'ananim in Jerusalem on Monday, March 28 in the presence of Minister of Communications, Moshe Kahalon.




"Twinning" projects are one of the tools that the European Union employs in the framework of its European Neighbourhood Policy (ENP). A twinning project consists of sending a resident advisor from an EU member state (supported by other advisors on shorter term missions) to a partner country for at least one year.


The telecom twinning project is called "Assist the Israeli Telecommunications regulator to establish greater approximation to the European Union regulatory approach, specifically with wholesale markets". It is being conducted by the Israel Ministry of Communications with the cooperation of the German Federal Network Agency, the Italian Authority for Communications, and the Telecommunications Market Commission of Spain.


The Resident Twinning Advisor will be Ms. Yvonne Groesch of the German Federal Network Agency's department 'International Policy Issues and Regulatory Strategies', who has vast experience in advising public authorities on regulatory reform and sector specific regulation.


The launch of the project will be also be attended by Ambassador Andrew Standley, Head of the Delegation of the European Union to Israel, the Ambassador of Spain Alvaro Iranzo Gutierrez, the directors of the National Regulatory Agencies of Germany, Italy and Spain, and other guests.
Details

Written by

MFA
Tel Aviv professor Yosef Shiloh's study of an uncommon genetic disease unlocks a mystery behind cellular DNA damage, an important link to cancer.



Prof. Yosef Shiloh of Tel Aviv University recently became the first Israeli ever to win the prestigious G.H.A. Clowes Memorial Award from the American Association for Cancer Research (AACR). He will receive a $10,000 grant and will address the AACR, the oldest and largest cancer organization in the world, in April.
Shiloh is renowned for his research on ataxia telangiectasia (A-T), a rare neurodegenerative inherited disease that leads to early death. This research is also relevant to an understanding of a mechanism behind cancer.
"Professor Shiloh is an international leader in his field and an extraordinary scientist," says AACR director Dr. Margaret Foti. "His work has launched a scientific revolution and opened up new horizons in the understanding of how the living cell copes with DNA damage, which is among the main factors in cancer."
"I was overwhelmed," says Shiloh of the award announcement. "Given the fantastic science being done in the US, I'm sure there's a long line of worthy scientists deserving of this award. I didn't think they would give it to a non-American."


Staying in Israel
Shiloh began exploring A-T in 1977, after meeting a family from the Negev whose four children suffered from the disease. Over the course of his research career, Shiloh made several discoveries that contributed to understanding the syndrome. Most importantly, he identified the defective gene that causes it.
And though he has often been offered positions abroad, Shiloh is first and foremost an Israeli scientist. "I've been offered very nice positions in the US. [I always say] 'Thanks so much, I appreciate it, but I'm going to stay in Israel,'" he says.


The 62-year-old scientist is a professor in cancer research in the Sackler School of Medicine at Tel Aviv University; research professor of the Israel Cancer Research Fund; and member of the American Association of Cancer Research and numerous editorial boards and organizations. He regularly flies to the United States to take part in research conferences and lectures and sees firsthand the monetary difference between grants received by researchers in Israel and those abroad.

However, Shiloh notes, "Israeli science and research is top notch. The fact that we can do good science and get these [international] awards means that the quality of science in Israel is excellent. Thanks to our innovation, Israelis have the ability to make the best out of what we have."


Israeli scientists in the forefront
This may be the first time an Israeli scientist has won the AACR honor, but the country's science institutions are used to international accolades. One example is the Weizmann Institute of Science, where Shiloh's daughter studies, which was chosen as the best university in the world for life scientists to conduct research.
Shiloh says the award has even greater significance for his students and colleagues. He oversees 12 research assistants and graduate students in his David and Inez Myers Laboratory for Cancer Genetics at the university.
"Other than being thrilled, it simply means that what we're doing here is good and can make a difference. It means a lot to Israeli science," says Shiloh. He adds that the award is a "message to my colleagues and to our students that the scientific community at large recognizes the work being done in Israel. "Even when you compete with much stronger labs, even with our political instability, things can be done in Israel and the international community recognizes it," says Shiloh.

Giving hope through science
In 1977, when Shiloh first started investigating A-T and the defect in the DNA damage response that leads to this disease, even doctors questioned his purpose. But seeing the despair that the patients and their families were dealing with, Shiloh marched on.
"I think that we, the medical and scientific community, owe these families the same work that we invest in more common diseases. For them it doesn't make a difference if it's a common disease or a rare one," says Shiloh. "It was clear just from looking at these patients that if we understand this disease we'll understand the implications in many areas of science."


In 1995, Shiloh's identified the A-T gene and successfully cloned it, calling it ataxia-telangiectasia mutated (ATM). The identification of the ATM gene revolutionized the field, opening many new avenues of inquiry and research. Shiloh's lab and others found that this gene encodes a protein (also called ATM) that controls an intricate defense system against specific types of DNA damage - one of the major threats to cellular life. This defense system also protects the cell from becoming cancerous.

Shiloh's work enabled detection of the disease in the early stages of pregnancy and paved the way to understanding the defective DNA damage response underlying it. "Our great hope is that understanding the complex defense mechanism will enable new ways of treating the disease and other diseases caused by failures in our defense from DNA damages," Shiloh says.


In Israel, A-T disease affects about 120 families - Jews of North African origin as well as Palestinian, Druze and Bedouin families. Epidemiologists estimate the frequency of A-T as one in 40,000 to 100,000 persons worldwide. A-T patients usually die from respiratory failure or cancer by their early 20s.

Shiloh says there is more awareness about A-T today than 30 years ago when he started his research. "Today people recognize that these rare diseases are worth attention," says Shiloh. "Mining these diseases, a lot can be gained about basic scientific knowledge that has implications for many [other] diseases."


And while there is still no cure for this devastating genetic disorder, A-T patients around the world have new hope for a brighter future, with scientists like Shiloh behind the microscope.
Details

Written by

AgroMashov
On Wednesday 29th December, at 8am, forty journalists from all over the globe, from Taiwan to Belgium set out on an Agro-Mashov tour, in advance of the agro-mashov exposition that will take place in the coming 2nd and 3rd of March at the Tel Aviv exhibition grounds; one of Israel's most renowned events and also its greatest annual, international, agricultural exhibition.



The worldwide and unique event which has an average of 20,000 visitors in past years, from fifty different states, will encompass new innovations in global agriculture, developments in agricultural mechanization, new varieties of fruits, vegetables and flowers and of course a visit of delegations from around the World. The Israeli Agro-Mashav exposition has become the natural meeting point of the modern world's agricultural village because it is a leading pioneer in the industry.
This year is also a particularly special year as it has been reported that the event will host the Palestinian Agricultural Minister, Dr. Ismail Daak and about two hundred Palestinian farmers, a great initiative towards bringing the two peoples closer. A senior official in the Palestinian Authority stated that the two hundred Palestinian farmers: 'promote many projects in agriculture, allowing farmers on both sides to expand their knowledge of work practices and to be updated about innovations in the industry.'
Many international brands are represented at the exhibition: Carmel, Jaffo, Pure Line Seeds, John Deere, to name just a few and the event has attracted people from all over the world, who use the exhibition in order to update themselves on new innovations and to nurture international cooperation. The event has also become the forum for the start of joint venture projects and business deals between different agricultural companies. Of the numerous, renowned, Israeli agricultural companies that are to be represented in this yearly phenomenon is Hishtil, the highly successful plantation business, the market leader in the world of advanced horticulture nurseries. The company is constantly involved in joint venture projects around the world and in 2009, sold over one billion plants. Ecopak is another company to be present at the event, which is the business which produces a new more hygienic, recyclable and flexible form of packaging of fruit and vegetables and replaces cartons. This project is very likely to soon become an international phenomenon.
This unique event provides a golden opportunity for all agricultural representatives and members of the agro-business manufacture to present their products and services and also for buyers to create new commercial contacts. It is one of the biggest international, agricultural events and in its aftermath thousands of new and successful business deals are closed.
This March, come and witness the hub of new agricultural innovations at the Agro-Mashov exhibition in Tel Aviv.
Details

Written by

Ariel Rubinsky
Over 200 exhibitors and thousands of visitors attended the international annually agriculture exhibition "Agro-Mashov 2011" which was held at the Israeli fair center.

By Ariel Rubinsky

Stand by stand, gathered advanced water systems manufactures, greenhouses manufactures, flower and bee growers, tractors importers and technology exporters and even olive oil manufactures from an isolated farm, next to Palestinian stand that offered beer from Taybe Ramalla, different kinds of olive oil, and organic fruits from the Palestinian authority.
At the exhibition attended many foreign representatives from United States, Spain, India, China and more. A special hall was dedicated to solar energy developers, which had a small cowshed with two young calves that was very curious to the fuss around them.
"This is the world cup of agriculture", Says CEO of Agro-Mashov, Haim Alush to Diplomacy Publishing, he added that the exhibition allows direct encounter of manufactures and their target audience and during these two days, many deals involving millions of dollars are closing.
Alush points out the large number of foreign exhibitors as he emphasized the Palestinian stand, "Through agriculture we are generating good neighborhood and making peace".
The exhibition opened officially with a conference dedicated to the world hunger crisis. The speakers in the conference were minister of agriculture, Orit Noked, Professor Haim Rabinovich from the agriculture faculty, Dr. Ismail Dayik, Palestinian minister of agriculture, Maria Berenguer, Ambassador of Brazil in Israel, and Moses Adwai, CEO of the national fund for agriculture development and marketing in Nigeria.
"Israel, since its establishment, is working under harsh climate constraints and developed, during the years, a number of technological agriculture means, which can benefit to dealing with the world hunger crisis." Said minister Noked, and called to "All those who are practicing to solve this crisis, to use the knowledge and coordinate and promote and joint action around the world to eliminate the phenomenon of hunger."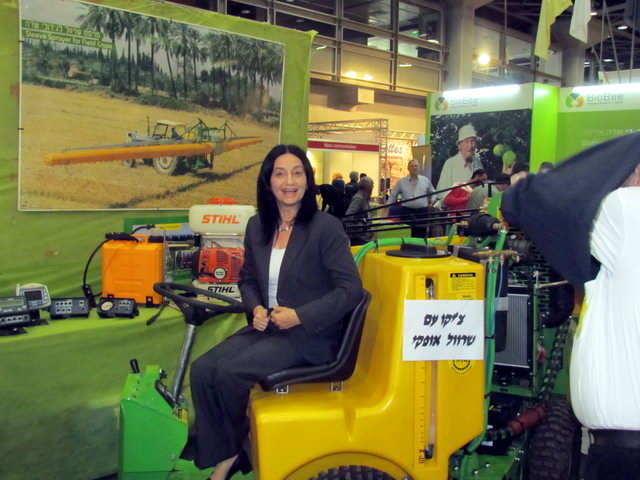 Details
For decades, Israel has been improving and perfecting Desertification Solutions. With increasing soil erosion, salinization and groundwater mismanagement, it's time to share those solutions with the world.

The conference, to be held between November 8-11, will be hosted at Ben Gurion University's Sde Boker campus in cooperation with UNESCO.
(By Avigayil Kadesh)



In a country where 97 percent of the land is arid, the problem of desertification looms large. Over the past several decades, Israel has not only "made the desert bloom," as the saying goes, but has also invested major resources in learning how to keep dry lands from overtaking fertile soil.
Many other countries were slow to understand the significance of this global crisis. Now that problems such as soil erosion, salinization, climate change and groundwater mismanagement have heightened awareness of the devastating effects of desertification, Israel is honing its expertise and offering it far beyond its own borders.

Ben-Gurion University of the Negev's (BGU) Prof. Alon Tal describes desertification as "the orphan of global environmental problems on our planet" because it was not high on most nations' list of priorities. But today it is acknowledged as one of the main reasons why more than 200 million people around the globe are threatened with poverty and hunger.
A catalyst for cooperation and collaboration
Tal, a desert ecologist at BGU's Jacob Blaustein Institutes of Desert Research at Ben-Gurion University (BGU) and founder of the Arava Institute for Environmental Studies, organized the November 8-11 third annual International Conference on Drylands, Deserts and Desertification: The Route to Restoration.
The conference will be hosted at BGU's Sde Boker campus in cooperation with the United Nations Educational, Scientific and Cultural Organization (UNESCO). It is the second conference in Israel on the subject. More than 500 government officials and academics from 50 countries, including Palestinian and Jordanian delegates, will participate.
"We believe that by bringing a diverse group of academics, professionals and policy-makers together to confront the myriad critical issues of desertification, the BGU conference can serve as a meaningful catalyst for cooperative and collaborative projects in the future at the global level," says Tal.
Attendees will discuss the public health aspects of desertification; sustainable building in desert environments; remote sensing to assess how flora are responding to anti-desertification attempts; grazing and the Bedouin community; the future of the Dead Sea; environmental education and dry-land agriculture; and soil and water restoration.
The Israel triangle
Two years ago, forestry experts from several African countries participated in a three-day seminar on desertification. The event was initiated by MASHAV, Israel's Agency for International Development Cooperation, together with Keren Kayemet L'Yisrael - Jewish National Fund, and CINADCO, the Center for International Cooperation of the Ministry of Agriculture.
Participants gained pointers on establishing forests, collecting and germinating seeds, managing nurseries, and fostering forest-related industries such as honey production and ecological tourism, according to David Brand, head forester for KKL-JNF.
Israel also excels at wastewater management, a crucial aspect in fighting desertification. About half the water used for agriculture cycles through 240 KKL-JNF-built reservoirs. Israel reuses about 74 percent of its wastewater; in comparison, Spain, the second-most efficient country in this area, reuses only 20%.
Government agriculture officials from nations including Kenya, Ethiopia, Ghana, China, Nigeria, and Burkina Faso learned how Israel structures its efforts in a 'triangle' of research, advising, and fieldwork, Brand relates.
Tal strongly endorses this sort of information sharing. "If you do nothing about desertification, people will starve and die," he states. The UN, as well, encourages developed nations such as Israel to provide assistance to developing countries in fighting desertification.
Israel's moral obligation to provide expertise
What Israel has to offer is its proficiency in restoring marginal lands, and protecting its dry lands from further deterioration. Parts of the Negev desert have been transformed into a productive breadbasket, actually reducing the desert's size significantly since 1948. KKL-JNF planted forests are thriving and salt- and drought-resistant crops are flourishing thanks to advanced agricultural methods. The desert is dotted with commercial fishponds and with healthful algae used for manufacturing pharmaceuticals and health foods.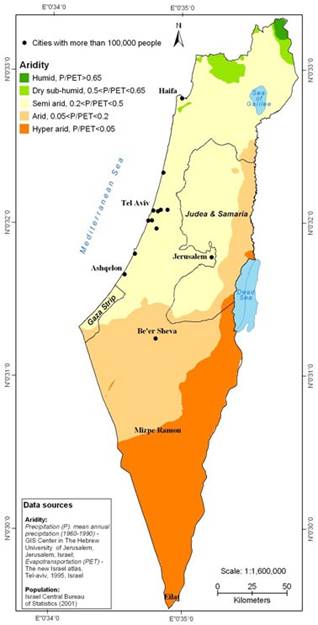 In fact, says Tal, algae grow better in dry areas. This is one example of how the desert setting offers advantages. Arid spaces are also perfect settings for solar and wind power, as well as trails for hiking.
Tal, a North Carolina native, works closely with Israel's neighbors. He co-authored a model for an agreement on environmental cooperation between Israel and the Palestinian Authority and represents Israel at UN conferences on desertification alongside Dr. Uriel Safriel, professor of ecology at the Hebrew University of Jerusalem (Hebrew University of Jerusalem) and - according to Tal - a "true hero" who is the world's leading authority on desertification.
"Desertification is not, as it's often perceived, about vast sand dunes expanding and overwhelming villages," he says. "Although this happens in some places, it is simply a loss of soil fertility due to many factors whose long-term impacts are far greater in dry lands. This manifests itself in the scenes you see on television of millions of hungry people without food. Israel is recognized as a country which for some time has taken on the challenge of reversing these trends. Now, we have a moral obligation to be a light unto the nations and offer our capabilities."