Science & Technology
Details

Written by

Rambam Health Care Campus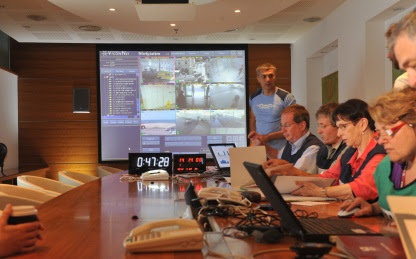 The Emergency Department of the Ministry of Health recently adopted one of the most advanced computerized information and control systems in the world—developed at Rambam Health Care Campus. With the beginning of "Protective Edge" it is now being used for the first time.
During emergency situations hospitals must quickly adapt to the circumstances. To that end, this award winning innovation, called emergency System, facilitates multi-tasking and rapid transfer to emergency operations throughout a hospital. It also enables informed decisions by hospital management under emergency situations, based on integrated real-time data received from all other hospital systems together with essential and scenario-based information.
Following the Second Lebanon War, the system was conceptualized under the visionary guidance of Professor Shimon Reisner, the Deputy Director and Director of Rambam under Emergency Situations, assisted by Leora Otitz, the hospital's emergency situations coordinator. The system was developed by Rambam's IT Department, headed by Sara Tzafrir. Prior to its first use by the Ministry of Health, the system was tested during various emergency drills in which Rambam participated.
Rambam's Computing Division customized the system for the Emergency Department of Israel's Ministry of Health. The ministry has expressed interest in integrating the system with Israeli hospitals to facilitate communication between emergency operations rooms nationwide.
The Ministry of Health is also utilizing another system developed by Rambam—"Adam." The Adam System automatically provides a full picture of patients received by hospitals during security incidents and helps decision-makers follow their care based on up-to-date information. This system is being used during operation "Protective Edge," enabling the ministry to receive updates on all casualties evacuated to hospitals over the past few weeks.
Photo : Rambam's Emergency Staff working with the emergency system during a drill
Photo credit: Ben Yuster
http://youtu.be/Ce9Pbq27Vf8
Details

Written by

Technion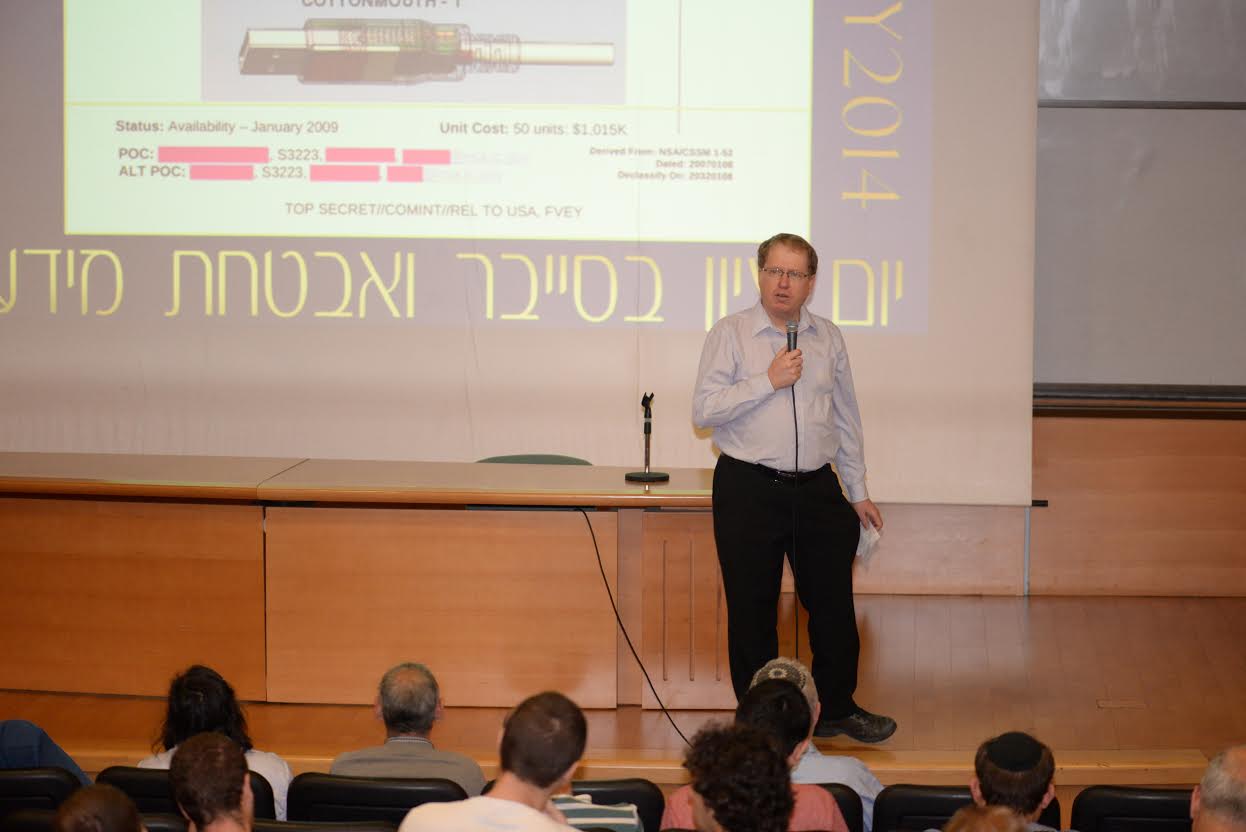 The Solution to Solving Security Vulnerabilities in all Devices and Protocols – Educating Developers Not to Release a Product until Thoroughly Tested
The solution to solving security vulnerabilities in all devices and protocols lies in the proper education of developers, who should be taught not to release a product until it has been thoroughly tested.
This is what was said by Professor Eli Biham at the Seminar Day on Cyber & Information Security, held this week at the Technion. The seminar was organized by Professor Biham, Dr. Sara Bitan and the Technion Computer Engineering Center (TCE), which was founded jointly by the Faculty of Computer Science and the Faculty of Electrical Engineering.
Ohad Bobrov from Lacoon Security said at the seminar that it is very easy to plan a security breach for the purposes of spying on a particular person through any mobile device. "One in a thousand mobile devices contains a dedicated spyware. The problem is that manufacturers are aware of the loopholes, but it takes them a long time to respond," he emphasized.

According to Professor Biham, the problem is not connected just to the ability of hackers to break into computers and mobile devices, but to the vulnerabilities that make it possible. "There is a significant problem in the education of programmers around the world; institutions are less concerned about enlightening individuals studying to be programmers about all of the attacks that the software they are learning to develop may suffer from. All those trying to meet product release deadlines almost always sidestep security. The problem is that customers don't care either, and are willing to buy these products even if it isn't secure, whether in the mobile market, the PC market and any other product."

"Only after consumers start refusing to buy products that haven't undergone testing for security aspects will any type of modification be made to programming education," added Professor Biham. "I have yet to see a person who is ready to go to the post office and buy a transparent envelope at half the price, with which to send his/her secret mail. But when it comes to telephones or computers, no one asks if it's see-through."
As for the timing of the conference, at a date when massive attacks are plotted and carried out on servers all around Israel, Professor Biham stated that these types of security attacks are ongoing occurrences, usually not planned for any particular date. "Today we are getting ready for DOS attacks (Denial of Service)," he explained. "This kind of attack only succeeds if numerous requests are sent to a server simultaneously, and therefore, they are usually more coordinated than other kinds of attacks. Many have suggested that we shutdown servers on this day, and my answer to this is that this is precisely the hackers' intensions – that we shutdown our servers, why should we help them accomplish their goals?"

During the first session of the seminar, Professor Orna Grumberg from the Technion's Faculty of Computer Science presented a system she developed along with Dr. Gabi Nakibly – an algorithm capable of automatically routing out security breaches in OSPF network traffic protocols, which determines the data routes sent from computer to computer. An OSPF protocol studies the network structure in order to know how to transmit packets, and it is impossible to run a network without such a protocol. Until now, the only way of tracking breaches was by employing experts who examined the protocols manually. The algorithm successfully simulated a security breach event that amazed scientists.
Ohad Bobrov, co-founder of Lacoon Security, demonstrated how easy it is to download data from a network by simple and common means: how to hack into any phone, view a list of contacts, listen to a microphone, turn on the camera, and anything else that comes to the mind of the hacker.

"The examples were astounding. I always knew that it was awfully easy to break into any mobile device, but today I was amazed to see just how easy it is," concluded Professor Biham.
In the photo: Professor Eli Biham at the Seminar Day on Cyber & Information Security.

Photographed by: Shiatzo Photography Services, the Technion's Spokesperson's Office
Details

Written by

Silvia G Golan
Samsung Israel, the main sponsor of the Tel Aviv Samsung Marathon, is proud to present: SAMSUNG CITY
1200 m2 of electronic innovation in a Kikar Rabin offering a great experience for the whole family.
The Tel Aviv Samsung Marathon 2014 opens with a symbol of contribution to the community and an experience for the whole family. Samsung Israel, the main sponsor of the Marathon, invites the runners and their families to SAMSUNG CITY, first site of its type in Israel, which offers an experience of electronic innovation. This exhibition will be open in Kikar Rabin from Thursday, February 20, until February 27.
Ana Lipnik Levy, the Marketing Manager of Samsung Israel, says: "We, in Samsung, look at technology as a way to live new experiences, and create contents in unique fashions. As an international leader in the technological area, Samsung is proud and excited to lead the Tel Aviv Samsung Marathon to the worlds of most advanced technological contents. We decided to organize the present marathon in the symbol of innovation, quality of life, and an experience for Samsung's clients and their families, and a contribution to the community".
For additional information, see our website link: www.samsung.com.
Photo Silvia Golan
Details

Written by

Silvia G Golan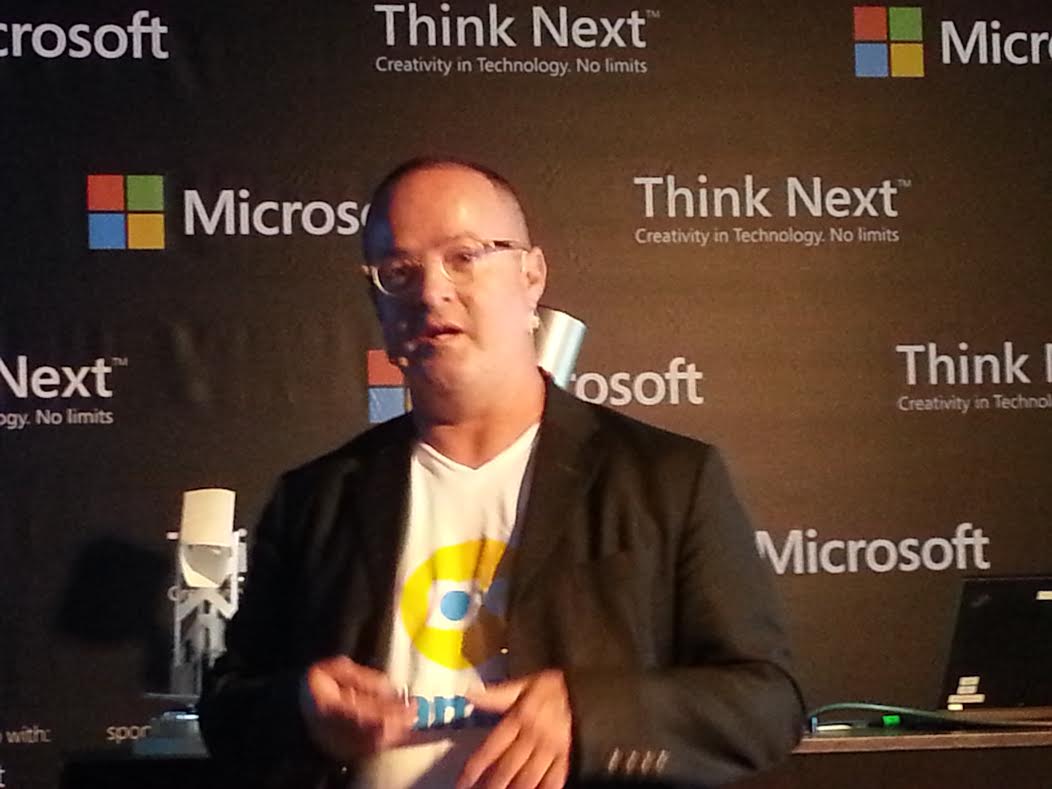 On April 7, 35 new technologies in innovative fields were exposed. Among these technologies: 3D, multi-layered reality, user interfaces for technical applications, entertainment, robotics, machine learning, etc.
Developers: Israeli start ups, academic institutions and Microsoft laboratories
Microsoft's R&D Center in Israel opened its yearly Think Next innovation event at Hangar 11 in the Tel Aviv port, on April 7. This event is taking place this year for the 6th time. About 1,800 participants are invited from the hi-tech industry, including: developers, development managers, chief technologists, entrepreneurs and start up companies, venture capital funds, students and researchers from academic institutions, and more.
The event, which takes place in cooperation with Microsoft Ventures, deals with 'unlimited innovation in technology' and shows the special capabilities of the Israeli industry to continue breaking limits by means of creativity. Although Microsoft promotes the Think Next events, it provides a central stage for young Israeli entrepreneurs to expose their innovative ideas and products to Microsoft's international senior staff, and to the leaders of Israeli hi tech. The Israeli entrepreneurs and their developments are also exposed to delegations from abroad, among them, a delegation of 50 managers of accelerator start ups from the whole world, who have arrived to the event and examine the Israeli innovations.
In the event, 35 new technologies are exposed: about half of them belong to Israeli start up companies and academic institutions, selected as part of Microsoft Ventures' activities within these companies and institutions. The second part presents technologies developed by Microsoft's R&D centers in Israel and throughout the world.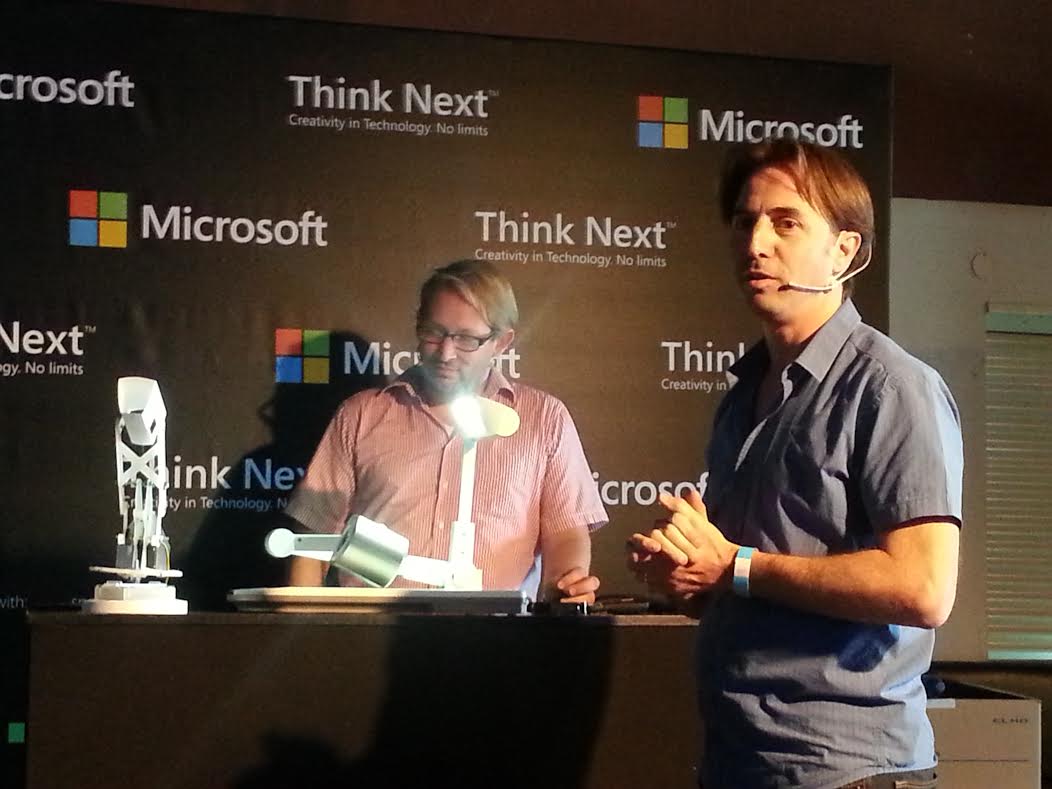 Yoram Yaacobi, Chairman of Microsoft's R&D centers in Israel, said: "The Israeli industry shows in this event innovations in a number of hottest technological fields in the world; among them: 3D, multi-layered reality, user interfaces for technical applications, entertainment, robotics, machine learning, etc. These developments strengthen the user capabilities and enrich our lives by means of friendly devices that will soon be available to all. For example, new devices will enable everyone to develop an application without any knowledge in programming. Everyone will be able to easily design a 3D object and print it. I hope that the exposure of start ups to delegations from abroad and to Israeli industry leaders will pave their way to success in the world market".
The guest of honor this year is Harry Shum, senior vice-president, manager of Microsoft's R&D and technology in the world, who came in his first visit to Israel. Harry Shum appeared in the conference in a free talk with Dr. Kira Radinsky, former researcher in Microsoft's research laboratory, researcher in the Technion, founder of Sales Predict, and one of the leading entrepreneurs in Israel.
Harry Shum is responsible of Microsoft's technological strategy and on Microsoft's research group, which specializes in basic research, and research applied to computer science and software engineering. This research group, one of the largest in the world in this field, includes 850 researchers in 10 laboratories throughout the world, including Israel. Harry Shum is the last in a long chain of Microsoft's senior officials that have arrived to Think Next events. Among these: Steve Ballmer, Ray Ozzie, Craig Monday, Chi Lo and Rick Rashid.
Besides Harry Shum, also appeared on the event stage a series of lecturers that break-thru in technological fields; among them: Doron Meirsdorf, Oshri Even Zohar and Eyal Shahar. James Whitaker, one of Microsoft's leaders in the technology field, also presented his views on this issue.
Photos Silvia Golan
Details

Written by

Technion
Winners of Technion's prestigious 2014 Harvey Prize are Professor Paul B. Corkum from the University of Ottawa, Canada, and Professor Jon M. Kleinberg from Cornell University, New York, USA.
Professor Paul Corkum, of the Joint Laboratory for Attosecond Science, University of Ottawa, has been a leader and pioneer in the field of ultrafast laser spectroscopy. For two decades he has been the main source of the powerful insights which lie behind many of the recent advances in this field. He is known primarily for his remarkable contributions to the field of high harmonic generation and for his ability to create intuitive models for very complex phenomena which enabled him to make the advances that created the exciting field of attosecond spectroscopy.

The 2014 Harvey Prize will be awarded to Professor Jon M. Kleinberg from Cornell University for his seminal contributions and leadership in the newly emerging science of information networks, including his groundbreaking work on characterizing the structure of the World Wide Web in terms of hubs and authorities, his analysis of the " small-world" phenomena, and his work on influence propagation in networks.
The Harvey Prize was first awarded in 1972 by the Foundation established by the late Leo M. Harvey from Los Angeles, to recognize significant contributions in the advancement of humankind in the areas of science and technology, human health and peace in the Middle East. Each year it awards prizes in the amount of $75,000 to each award winner.
The prestigious Harvey Prize has been awarded to scientists from the United States, Britain, Russia, Sweden, France and Israel, among them Nobel Laureate Mikhail Gorbachev, former leader of the USSR, awarded the Harvey Prize in appreciation of his seminal initiatives and policies to lessen regional tensions; Nobel Laureate in Medicine, Professor Bert Sakmann; Nobel Laureate in Physics, Professor Pierre-Gilles de Gennes, Professor Edward Teller for his discoveries in solid state physics, atomic and nuclear energy; and Professor William J. Kolff for his invention of the artificial kidney.
Harvey Prize winners are selected by a council of world-renowned scientists and personalities from Israel and around the world. Award winners are chosen by the Harvey Prize Committee following a rigorous selection process at the Technion.
In the photo: Professor Paul B. Corkum and Professor Jon M. Kleinberg.
Photographed by: The Technion's Spokesperson's Office