Science & Technology
Details

Written by

Cyber Security Conference
Israeli Prime Minister Benjamin Netanyahu will be the keynote speaker at the second-largest exhibition of cyber technologies worldwide, with attendees including state leaders from around the world, global cyber security executives and investors. Mr. Chuck Robbins, CEO, Cisco, will be among the world-renowned speakers participating.
A variety of cyber-dedicated professional presentations, events and panels with experts from around the world regarding diverse topics such as international collaboration between national law enforcement authorities and the field's present challenges will be held at the conference, in addition to a hacker zone, startup competition and more.
January 30th -February 1st 2017, Israel Trade Fairs & Convention Center, Pavilion 2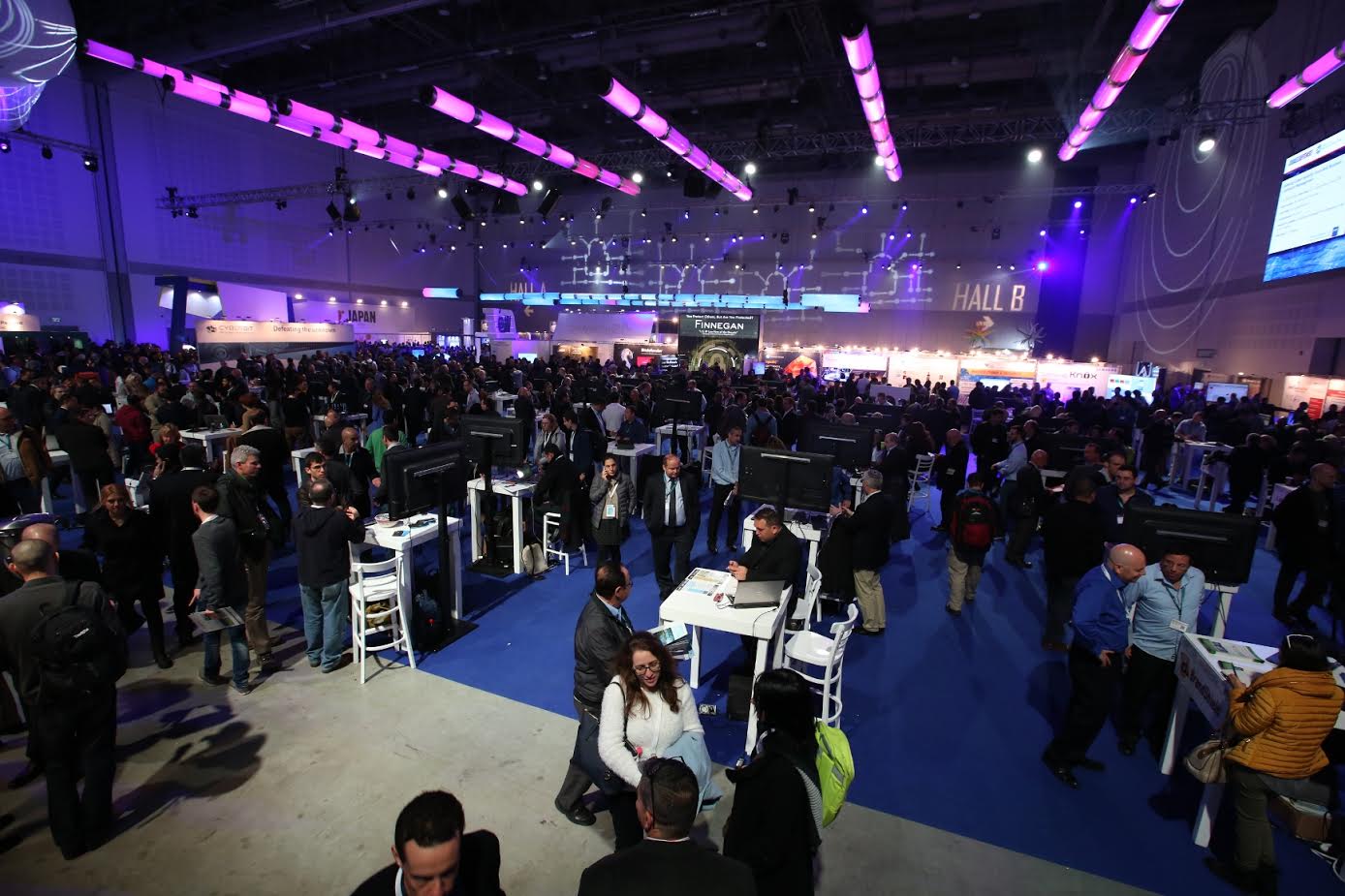 The Cybertech 2017 Conference, held for the fourth year in Israel at Pavilion 2 of the Israel Trade Fairs & Convention Center on January 30th - February 1st is the second largest conference and exhibition of cyber technologies in the world. Cybertech, bringing together leading investors, entrepreneurs and cyber companies, will consist of a conference with prominent international speakers in the field of cyber security, as well as an exhibition hosting over 250 companies and 100 startups that will present innovative problem-solving strategies and solutions to challenges relevant for a wide range of sectors.
Hundreds of foreign delegations, representatives of multinational corporations and foreign investors will travel to Israel to gain exposure to the latest innovations in cyber technologies, and take part in the conference and mega exhibition. Israeli Prime Minister Benjamin Netanyahu, who launched the Israel National Cyber authority devoted entirely to cyberwarfare, will open the Cybertech Conference as the keynote speaker.
Other opening plenary speakers alongside Prime Minister Benjamin Netanyahu will include Gov. Rick Snyder, Governor of the State of Michigan as well as Israeli and international cyber industry experts & executives from leading companies such as Cisco, HP, IBM, Checkpoint and Matrix.
The CyberTech Conference will host other prominent speakers, including Mr. Chuck Robbins, CEO, Cisco, Dr. Yossi Vardi, Conference Chairman, Chief Superintendent Meir Hayun, Head of National Cybercrime Unit, Israel Police, Dr. Eviatar Matania, Head of the National Cyber Bureau in the Prime Minister office of Israel, Mr. Yair Frank, Government CIO, Head of ICT Authority, Prime Minister Office of Israel, Mr. Avi Hasson, Chief Scientist, Ministry of Economy & Industry,Mr. Luigi Rebuffi, CEO & founder, EOS; Secretary General, ECSO, DPM., Peter Pellegrini, Deputy Prime Minister, Slovakia, Dr. Dorit Dor, VP of Products, Check Point Software Technologies, Mr. Gerard Brady, Managing Director, CISO, Morgan Stanley, USA, and many others.
The event will provide a unique platform for discussion about the latest cyber-related technological developments through panel discussions such as challenges and solutions for the cyber industry, international collaboration between law enforcement authorities around the world, cognitive computing issues, and the future of cyber security for the fintech industry. Furthermore, Cybertech will also host a variety of other events and complexes dedicated to current issues and breakthroughs, such as an Israeli startup pavilion with 100 different presentations by cyber companies, a hacker zone which will include an IoT hacking challenge and unique cyber-themed escape rooms, a Start Up competition and more.
In addition to the unique opportunity to discover the latest innovations in the local and global cyber community, Cybertech presents problem-solving strategies and solutions to challenges for a wide range of sectors including finance, defense, transportation, utilities, R&D, energy, manufacturing, service sectors, health, media, government, and more.
The event will allow businesses, startups, investors, government officials, military personnel, ambassadors and exhibition visitors to focus on networking, strengthening existing alliances, and forming new ones.
Link to the conference Site| Link to the full speakers list | Link to the Conference program
Link to Israeli Start Up Pavilion| Link to registration for the Start Up competition
Photos Gilad Kavaranchik
Details

Written by

Technion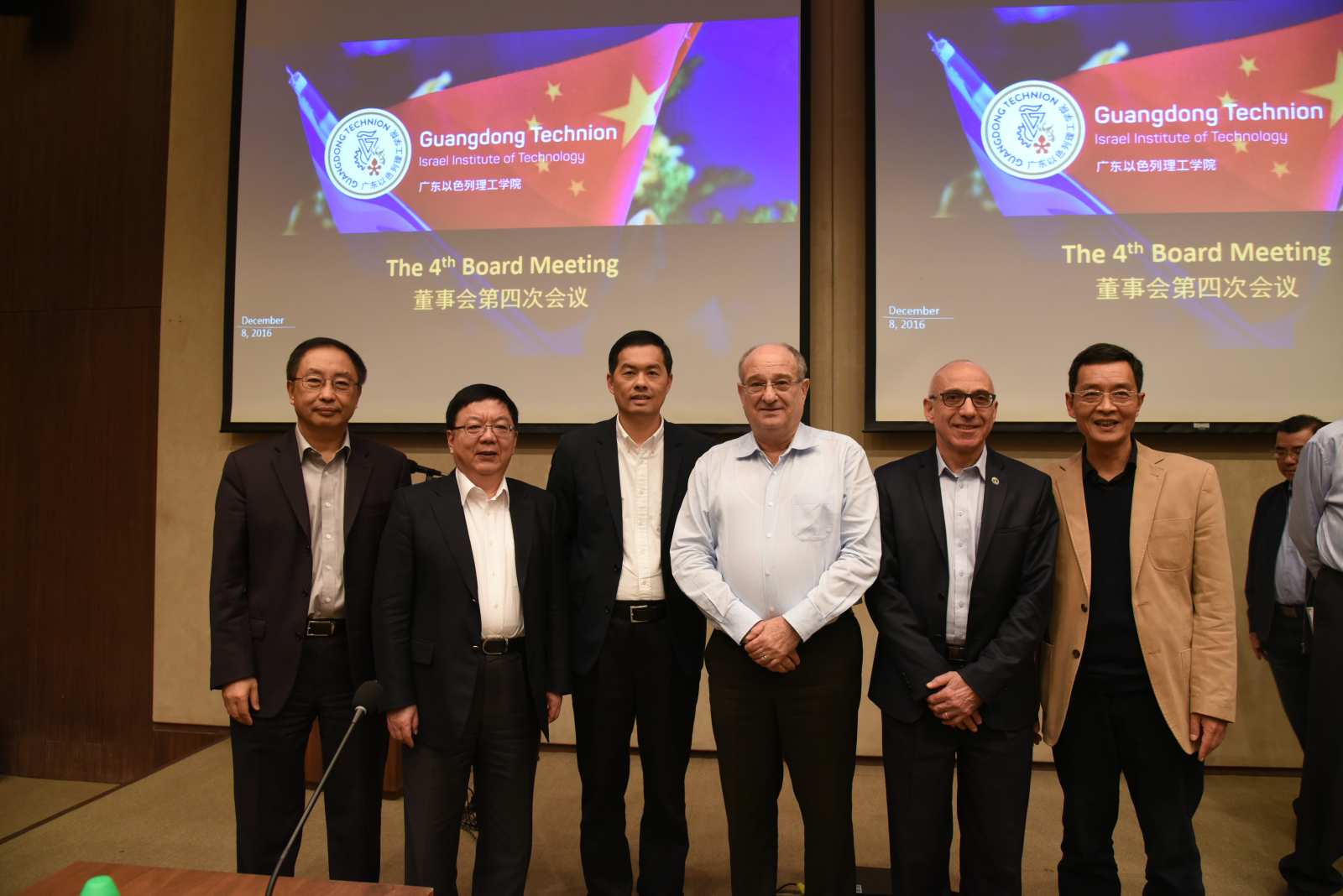 An important milestone in the establishment of GTIIT - Guangdong Technion Israel Institute of Technology - was recorded with the official approval by the Ministry of Education of the People's Republic of China. The Ministry confirmed that cooperation with Technion is consistent with the strategic goal of the Chinese Government: the establishment of world-class research universities; as well as with the regional strategy of innovation-based development.
The Chinese National Program for Medium- and Long-Term Educational Reform and Development is intended, inter alia, to promote the establishment of superior foreign educational resources and to establish several model Chinese-foreign universities in China, based on cooperation with other countries.
Approval for GTIIT was given exactly one year after the cornerstone laying ceremony for the new campus: a ceremony which was attended by about 5,000 guests, including the late ninth President of the State of Israel, Shimon Peres z"l. At that event, Peres said that "the establishment of a Technion campus in China is one more proof that Israeli innovation is breaking down geographic borders."
The establishment of Guangdong Technion - the first Israeli university in China - is a dramatic and unprecedented event in Israel-China relations. Israel's Ambassador to China Matan Vilnai said: "The opening of the Technion branch in China is the most important project in Israel-China relations during my term in office. This project, which focuses on education, is an important asset to China and Israel and hence its great importance. We have worked hard to obtain approval and I am pleased that it has been granted."
"This is a courageous and important partnership which represents a historic step in Israel-China relations," said Technion President Prof. Peretz Lavie. "This partnership, which combines the spirit of Israeli innovation with the power of China, will benefit all parties - the Technion and the University of Shantou, Israel and China - and will give a significant boost to the Chinese education system. The outcomes of this historic project will affect the whole of humanity."
"I'm glad we did it," said the Mayor of Shantou, Liu Xiaotao. "I would like to thank Technion President Prof. Peretz Lavie and professors from the Technion for their efforts and dedication. On behalf of the 5.5 million residents of Shantou, I would like to thank you for this important project."
Guangdong Technion, situated near the Shantou University campus, will be a high quality, innovative and research-oriented university. In the future, an innovation center will be built near it, and will serve as a foothold for Israeli companies to crack key markets in the U.S. and China. This project is made possible thanks to the cooperation between China's Shantou University, Guangdong Provincial Government, Shantou Municipal Government and the Technion. The project leader on behalf of the Technion is Prof. Paul Feigin, Assistant to the President for Strategic Projects.
According to the letter of approval from the Government of China, "GTIIT is a beneficial attempt to build a high standard and exemplary Sino-foreign co-running university. Guangdong Government shall offer guidance and take advantages of subjects and research provided by both sides, integrate educational resources, innovate methods of cultivating talents, classifying subjects and courses, and managing schools. It will promote Sino-Israeli educational cooperation and exchange, and contribute to our educational reform. GTIIT shall progressively carry out the master and doctoral programs by learning from Technion's advanced experience in the way of independent admission according to the Sino-Foreign Cooperative Education Provision and its concrete measures. Masters and PhD degree certificates will be issued by Technion. "GTIIT shall strive for economic growth and social development based on the areas where Technion excels and in accordance with the environmental challenges faced by China.
The new university is headed by GTIIT Chancellor Mr. Li Jiange and Vice Chancellor Research Professor Aaron Ciechanover from the Technion. "The Government's approval of the establishment of GTIIT has brought us much joy and confidence," said Chancellor Mr. Li Jiange. "As an ancient Chinese saying goes, 'A journey of a thousand miles begins with a single step.' Now we have achieved the first step of success, we still have a long way to go. To build GTIIT into a world-class university, we need to recruit the elite faculties, and we are willing to pay them with the most attractive salaries."
"The granting of approval by the Government of China is a moment of great hope for all of us," said Prof. Ciechanover, winner of the Nobel Prize in Chemistry for 2004. "This is an initiative that will combine the diligence and determination typical of China with the extensive experience of the Technion in training scientists and engineers, and in turning scientific discoveries into developments that are beneficial to mankind."
According to the letter of approval from the Government of China, GTIIT will have 2,960 students in the initial stage (from 2017 to 2026), including 300 postgraduates, and 5,000 in the long term, including 1,000 postgraduates. Guangdong Technion's first undergraduate programs are Chemical Engineering, Biotechnology and Food Engineering, and Materials Engineering. Its graduate programs are Chemical Engineering, Materials Engineering, Food Engineering, Environmental Engineering, Mathematics, Physics, Chemistry and Biology. Its doctoral programs will also be in these disciplines .
The cooperation between the Technion and Guangdong Province has already led to several other agreements, including a memorandum of understanding for scientific cooperation between the State of Israel and Guangdong Province, economic cooperation agreements and a twin city agreement between the cities of Haifa and Shantou. The first academic school year at Guangdong Technion is scheduled to begin in October 2017, with 300 students will first complete a preparatory period starting in August.
Photo Left to right: Shantou University Provost Prof. Gu Peihua, GTIIT Chancellor Mr. Li Jiange, Shantou Mayor Liu Xiaotao, Technion President Prof. Peretz Lavie, Assistant to the President for Strategic Projects Prof. Paul Feigin, and Shantou University Vice President Prof. Lin Danming
Credit: Government of the Guangdong Province
Details

Written by

Ministry of Defense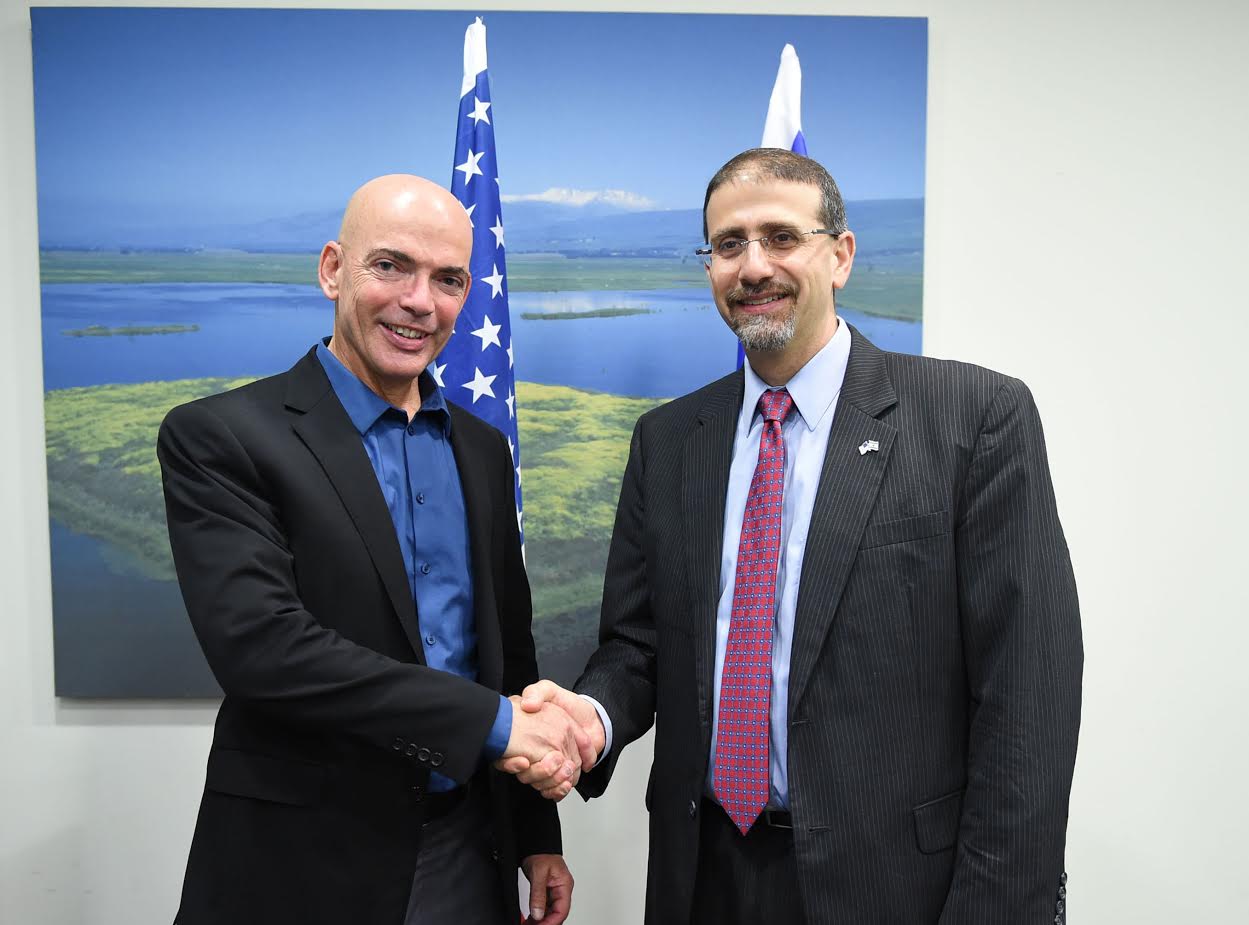 For the past three decades American and Israeli scientists have been engaged in a fruitful collaborative effort and have jointly conducted dozens of challenging research and development programs, aimed at improving the performance of US and Israel's military helicopters and to integrate advanced capabilities in future platforms.
An official ceremony was held at Israel's Ministry of Defense (IMOD) on November 3, 2016, on the occasion of 30 years of fruitful collaboration in the domains of rotorcraft technologies and human factors engineering. The ceremony was headed by US Ambassador to Israel, HE Dan Shapiro, and IMOD Head of DDR&D, Brig. Gen. (res) Dr. Daniel Gold and attended by Director of US ARMDEC, Mr. James B. Lackey, IMOD Head of R&D Technology Base, Dr. Moshe Goldberg, officials and guests.
The rotorcrafts technologies effort is jointly headed by the US Army Aviation & Missile Research Development and Engineering Center (ARMDEC) and the IMOD Directorate of Defense Research & Development (DDR&D). Participating parties include the research and development teams at the IAF, the Technion, Tel Aviv University, Ben-Gurion University and Haifa University.
The United States and Israel have been collaborating on rotorcraft technologies since the 1980's, with over one hundred scientists and engineers from both sides developing breakthrough technologies in the areas of aeronautical mechanics, aerodynamics and human factors engineering (HFE) for helicopters.
The operation of helicopters is especially challenging due to the technical complexity and operational demands of low-level night flights. Accordingly, advanced HFE solutions are required to enable efficient and safe operation. The research efforts in this domain resulted in improved pilot displays and obstacle avoidance solutions. Additional efforts addressed the challenge of two aircraft jointly lifting heavy loads, beyond the capacity of a single helicopter. Some of the research products have been implemented in US rotorcraft, come of which are also operated by the IAF. Other will be integrated in future platforms or upgrades.
HE Ambassador Shapiro: "This rotorcraft cooperation has long been considered among the best US-Israel research agreements. It is unique in that it brings together the technical leaders from our two countries to conduct joint research on problems of common interest to our countries. At the same time the personal connections have enriched understanding of each other's cultures and history and strengthened the ties between the two countries."
Dr. Danny Gold: "The defense ties and close collaboration of the US and Israel are deep and long lasting. The Rotorcraft Project Agreement (RPA) collaboration is very special, as it embodies the deep research cooperation between the Parties. In my view, the RPA collaboration sets the gold standard for US-Israeli Defense R&D."
Photo credit: Dana Shraga, Ministry of Defense
Details

Written by

Ministry of Economy and Industry Spokesperson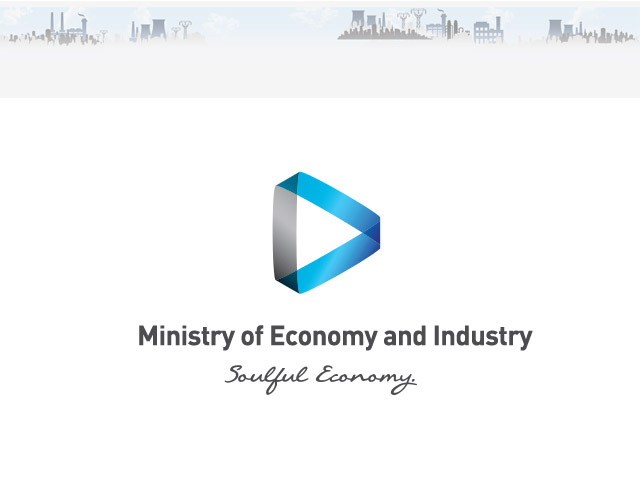 The program will support joint projects in the nanotechnology sector in Israel, cooperating with similar teams in Germany. The overall budget for the Israeli and German entities stands at €30 million for three years.
The Israel Innovation Authority is inviting Israeli companies along with academic nano-institutes to submit proposals to receive support for industrial cooperation with parallel German entities in the field of nanotechnology.

Head of the Israel Innovation Authority and Chief Scientist Avi Hasson: "The impressive achievements of nanotechnology in research and industry are a source of pride for us globally – these achievements reflect the state's focus on this sector and the support it grants."


Ilan Peled, Manager of Technological Infrastructure Arena in the Innovation Authority: "Our jumping off point, as the most advanced innovation agency in the world and as a senior partner in the effort to advance nanotechnology in Israel, was to make a significant contribution on the academic/research level and on the industrial/trade level, on several levels: creating academic excellence at the forefront of the technology, developing research capabilities and achievements, and combining resources and recruiting funding to establish research infrastructure and to train personnel for this sector."


The program will support joint projects in the nanotechnology sector in Israel (business/industrial company + nano research center), cooperating with similar teams (company + research center) in Germany. The overall budget for the Israeli and German entities stands at €30 million for three years.

Nanotechnology ('nanotech') is seen by many as the tech field of the future. If the last decade focused mainly on research, the next decade will focus on implementation – and like the revolutions in cyber, apps, robotics and many other fields – the countries of the world are competing to build the ecosystem that will draw the leading companies in world to them. We are expecting to see more and more nanotechnology developments quite soon in new products and in existing products, which will change and improve these products immeasurably.


Israel, which understood the huge potential of this technology over a decade ago, has become one of the world's leaders in the field of nano research. Over the last decade, the country has focused on creating a robust research foundation that can support a large industry. The Innovation Authority has supported the establishment and development of six academic research institutes among the world's most advanced, and has invested in equipment and the highest quality personnel. Against this backdrop, according to the Authority's estimates, about 200 new startups were established over the last decade in the field. Many are deep in the stages of development, with the State of Israel also encouraging the application of nanotechnology to traditional industry – in order to significantly strengthen these fields and keep them rooted in the country.


Nanotechnology is already taking a significant part of all aspects of life – from the undergarments we wear, the food we eat to medical equipment and medications.

Nanotechnology is a multidisciplinary field that improves existing technologies in a range of fields – energy, medicine, environment, commerce, electricity, textile and more. Until now, we have manufactured products according to the laws of physics – iron is strong and heavy and glass is transparent and fragile. But the field of nano deals on such small scales that the "old" laws of physics no longer apply. The rules are changing – nanotechnology will, for example, make glass five times stronger than iron, and iron six times lighter than the iron we know today. This is going to be an enormous revolution and will enrich industries around the world by billions of dollars.

The possibilities for industrial applications in this field are broad. For example, heavy ceramic body armor, thanks to nanotechnology, can be stronger than steel and six times lighter than the military armor we know today. In addition, the armor will be able to absorb strong blows, a rifle bullet for example, and disperse the energy across the entire surface of the material, which will prevent the bullet from penetrating the armor.


Another example from the textile industry can already be seen on the shelves of clothing stores in the U.S. but also in Israel. Anti-bacterial clothing, for example – nano-based fabrics with silver particles that kill bacteria absorbed in the cloth –prevent infections, odors, rashes etc. – a development the undergarment industry has been waiting for. We can only imagine what this technology may bring to other products – like diapers, or surgeons' scrubs. Other examples we can already see on the market include Vulcan car batteries, that last twice as long as they used to thanks to nanotechnology, extra strong glass, like "glass iron," that is being used in some smart phones, drapes or windows that can grow brighter or darker according to the level of sunlight, food products with an extended shelf-life of 2 or 3 times via the use of plastic and paper packaging with nanotechnology anti oxidation and anti-bacterial materials – something that may save billions of dollars all over the world.
Details

Written by

Silvia G Golan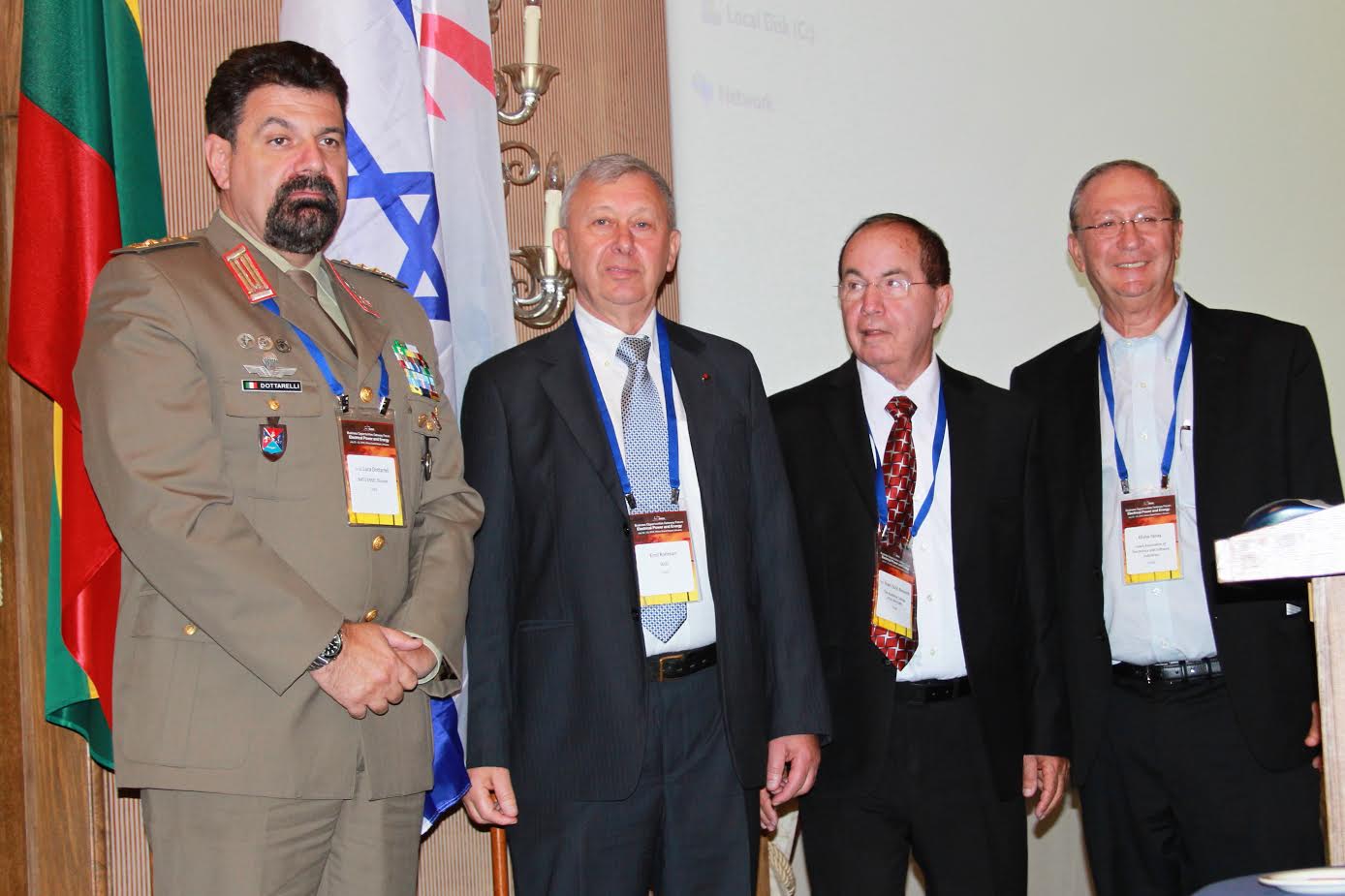 The Society of Electrical and Electronics Engineers in Israel (SEEEI) will hold its annual 17th international convention on November 9 – 11, 2016, in Eilat. This year convention, "Electricity 2016", is titled "Smart World a new era of energy".
This is the 17th annual meeting of SEEEIl, and is considered to be one of the largest and most influential in the fields of electricity and energy in Israel, with the participation of senior decision-makers from the governmental agencies and the business sector in Israel; entrepreneurs, experts and opinion leaders from Israel and abroad.
Among the major figures who will participate in the convention: Government Ministers; Shaul Meridor, Director General of the Ministry of national infrastructures, energy and water resources; Ofer Bloch, CEO IEC; Buki Carmeli, head of the national Cyber Defense Authority; Jeffery Ketz, Chief Executive of energy technologies at IBM USA; Prof. Shmuel Oren, University of California, Berkeley; Dr. Alessandro Clerici, Italy, a senior at WEC (the Italian National Committee of World Energy Council); Dr. Frederick Bauchot, IBM, CTO for Gisc Energy; Dr. Cathy Yao Chen, Research department manager at ABB Research Institute in Sweden; Elisha Yanay, Chairman of the Association of electronics & software industries, former Senior Vice President at Motorola worldwide; Omer Keilaf, CEO and Ce-founder of start-up company Innoviz, which generates a revolution in autonomous vehicles; And many other dignitaries.
In 2015 more than 1300 local and overseas visitors attended Electricity 2015. This year we expect similar number of attendees. The main topics that will be discussed include: cyber safety, transport, renewable energy, energy efficiency, smart grid, energy management in buildings, developing smart grids, smart cities and campuses IOT, light engineering; training engineers and the registration regulations for electrical engineers, trends and innovations, power production, etc.
SEEEI's chairman, Emil Kaufmann, forecasts that "in 20 years, most public transportation in the country will be electrified, electricity production will be distributed and a substantial portion will consist of small power stations operated by gas and renewable energies".
Photo
Courtesy: SEEEI. From left to right: Lieutenant Colonel Luca Dottarelli; Mr. Emil Koifman – chairman of SEEEI; Prof. Izzy Borovich – the forum chair and Mr. Elisha Yanay – chair of the Industrials Association of Electronics and Software Industries.