Science & Technology
Details

Written by

SanDisk
SanDisk Ventures officially introduced itself on Sunday and called for opportunities to invest in Israeli companies at an investment event in the old city of Jaffa and Tel Aviv coast.
In the event, that was held as a conference, leading multinational corporates, as well as venture capitals and startups from the Israeli ecosystem, discussed the future of storage and the innovations taking place in the global enterprise cloud and mobile flash storage industry.
Among guests there were Drew Henry, SanDisk Senior Vice President and General Manager of the Mobile and Connected Solutions; Rene Hartner, SanDisk Senior Director, Corporate Strategy & Business Development, David Flynn, PrimaryData CEO and ex founder and CEO of Fusion-IO; Riccardo Badalone, Diablo Technologies CEO; Bryan Bogensberger, Inktank CEO; Emil Alon, Pebbles Interfaces CEO and Oren Boiman of Magisto, CEO.
"We see Israel, as a leading hub of storage solution companies, technology and innovation," said Amir Fridman, SanDisk Director of Corporate Strategy & Business Development.
"SanDisk will be investing over $75 million dollars in select early- to mid-stage companies that demonstrate innovation across the spectrum of flash storage, from companies with solutions that enhance enterprise storage applications to companies that develop consumer products. By collaborating with SanDisk, these companies gain access to a broad product portfolio from a recognized leader in flash, world-class technical expertise, customer introductions and an expanded channel for their products and services".
In the last year, SanDisk announced five investments, 3 three in the US and 2 two in Israel, Pebbles Interfaces and Magisto.
Photo Ifat Golan. from right: Drew Henry and Amir Fridman.
Details

Written by

Tozza
Italian vegetable vendors have signed an agreement to grow potatoes in the Negev during the winter, with the aim of retaining a supply of fresh produce when the Italian cold does not enable growing
The European seed company, Germicopa, sent diploid potato seeds to Negev farmers, for them to grow during the winter, when whether conditions in Italy are not conducive for growing. This joint venture is aimed at avoiding any severance of the marketing sequence, enabling Italy's regions to enjoy fresh produce in the winter as well.
According to Abraham Rothstein, CEO of "Tozza" (representing Germicopa), this is a preliminary export of the species from Israel to Italy. The Italian vendors discovered the combination of good winter weather in the Negev and the quality of southern farming products.
The first transaction entails the export of 450 tons derived of the Negev fields. In light of the demand for this species in Italy, measures will be taken to increase the scope of marketing next winter.
The diploid seeds were brought to Israel after joint planning by the Italian distributor and Negev farmers in Israel. The diploid has a unique flavor and color that is loved by Italian consumers, especially in Sicily. The species produces high yields and is suitable for mashed potatoes, gnocchi, filling pocket pastries, knishes and baking.
The Germicopa seeds are advanced hybrid seeds created under full growth control in isolated areas of the French Brittany region.
Rothstein adds that the Israeli market is very important to the Europeans, seeing that we serve as their vegetable barn during the winter, when the ground on the continent is frozen, preventing vegetable growth in open areas. In the past, Europeans made do with vegetables that were stored since the summer or obtained through limited import, but as the standard of living improved in Russia and Eastern Europe, so did the demand for vegetables in the winter and spring.
Details

Written by

TAU
New software allows users to upload and
then update the meaning of their genetic information
Tel Aviv — Until now, understanding and using genetic information has depended on the scientists and doctors who do the testing. No longer.
Now, software developed by researchers at Tel Aviv University is putting the power of genetic information in the hands of the people. GeneG, a smartphone app and associated web site created by Dr. Noam Shomron at TAU's Faculty of Medicine allows individuals to access and analyze their genome at any time. After undergoing whole genome sequencing, users can upload their data to the GeneG website for analysis. The results are available via the GeneG app on mobile devices.
"For the first time you can take your genome home and look at it whenever you want," says Shomron. "We are giving you eyes to peer into your genetics." And as new analytical tests are developed, you can apply them right away.
TAU graduate students Ofer Isakov and Gershon Celniker worked under Shomron to develop the software, which is to be released to physicians in October ahead of a public release
.
Data-driven demand
The first map of the human genome, published in 2003, took eight years of work by thousands of researchers and cost $1 billion. Today, people can get their entire genome sequenced within a few weeks for around $1,000. Thousands have had it done, and the turnaround time and cost are fast decreasing as the technology advances. GeneG aims to meet the growing demand for ways to make sense of all this information.
At the moment, DNA sequencing focuses on specific areas, looking for quirks in sequences within individual genes, clusters of genes, or chromosomes. A downside of this targeted approach is that each genetic test requires donating new DNA and waiting for it to be processed. Shomron gives the example of a woman who wants to get tested before becoming pregnant. Currently, she has to take a day off work, travel to a lab to have her blood drawn, then wait for several weeks while a selection of her genes is amplified and sequenced. If she later decides to conceive again and wants the newest genetic tests, she has to start the whole process over again.
With GeneG, on the other hand, new tests are just a software update away. Users who have uploaded their genomes to the website can "query" them using digital genetic tests based on research from organizations like the National Institutes of Health, Stanford University, and the European Bioinformatics Institute. The software provides all the functions of more limited genetic testing, including diagnosing and predicting genetic diseases, checking potential parents for genetic traits that could cause disease in their future children, and screening unborn and newborn babies. And it can all be done without setting foot in a lab.
iGenome
But GeneG is not just a timesaver. By giving people instant access to their genomic information, Shomron hopes to help usher in an era of personalized medicine. He envisions people carrying their genomes with them on their mobile devices wherever they go, encouraging scientists to develop more tests and doctors to use the information in their treatment of patients.
"If we give this power to the general public, it will put pressure on the medical field to catch up with this information," said Shomron. But, he says, "It should be used with great caution and with sensible interpretation. Some people might not be ready to see all this information about themselves."
The software could be particularly effective, Shomron says, in advancing pharmacogenomics — the science of optimizing medications for each individual's unique genetic makeup. With the right tests, GeneG will tell patients and their doctors which medicines are likely to be the safest and most effective in treating whatever ails them. Specific applications could range from finding the right antidepressant to maximizing the effectiveness of cancer treatments.
Within a few iterations of the software, Shomron hopes the GeneG mobile app will be independent of the website. A bit further in the future, he says, you and your partner may be able to tap your smartphones together to see if you are as compatible genetically as you are personally.
Details

Written by

Office of the President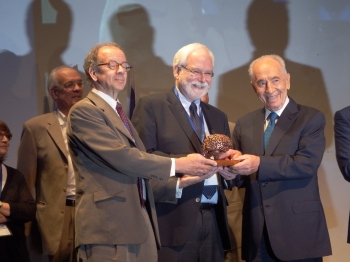 President Peres presented the million dollar Breakthrough Research and Innovation in Neurotechnology (B.R.A.I.N) prize to Brain Gate Research and Development for the creation of robotic arms for disabled people which are controlled by neural sensors
President Peres to the BrainGate team:
"Israel can become a world leading start-up nation in brain research. Just as we are world leaders in nanotechnology so we can become leaders in brain research"
The President of the State of Israel, Shimon Peres, presented a million dollar prize this morning to BrainGate Research team for groundbreaking research in neurotechnology (The Breakthrough Research and Innovation in Neurotechnology - B.R.A.I.N) at the international Braintech Israel 2013 Conference, hosted by Israel Brain Technologies (IBT), a non-profit organization inspired by the vision of President Peres. IBT is headed by Rafi Gidron and was founded in 2011 with the aim of making Israel a hub for brain research.
BrainGate provides hope for disabled people all over the world through the creation of robotic and prosthetic arms which are controlled by neural sensors. The development is at the cutting edge of brain research which can allow disabled people to walk again and regain use of their arms. The 10 finalists are from some of the world's leading institutions including MIT, Brown, UCLA, UCSF as well as Israeli researches from top universities and businesses in the field of healthcare. The finalists were chosen from 70 projects, from 11 countries across the world.
Upon presenting the prize President Peres said, "It's a privilege to present this prize. It is the result of hard work. Personally I'm excited because a few years ago we turned Israel into a world leader in nanotechnology and now we must do the same with neurotechnology and brain science research. "Israel can become a world leading start-up nation in brain research. Just as we are world leaders in nanotechnology so we can become leaders in brain research"
The 10 Brain Prize Finalists:
Dr. Hagai Bergman
We have shown that closed loop adaptive deep brain stimulation (DBS) of the basal ganglia (the part of the brain which is affected during Parkinson's and other brain diseases) is superior to current stimulation methods. We conclude that the basal ganglia can be observed and controlled, and suggest that closed loop adaptive DBS is the optimal treatment for a range of severe basal ganglia disorders including Parkinson's disease, depression, obsessive-compulsive disorders and schizophrenia.
Dr. Edward Boyden, MIT
The brain is made out of an incredible number of cell types, which change in different ways to cause diseases, raising the question of how to identify optimal targets in the brain for therapeutic purposes, as well as how to resculpt the dynamics of the brain for clinical benefit. We propose to adapt a technology that we and our collaborators developed earlier, optogenetics, which enables cells to be activated and silenced by light, towards the systematic identification of clinically relevant targets in the brain, and towards deployment as a fundamental new neuromodulation technique for treating brain disorders.
BrainGateTeam Led by Dr. John Donoghue
The BrainGate Research and Development team, based at Brown University with collaborators at the Massachusetts General Hospital, the Department of Veterans Affairs Medical Center (Providence, Rhode Island), Case Western Reserve University, and Stanford University, has demonstrated the first human uses of an implanted neural sensor and neural interface system to control robotic and prosthetic arms in three-dimensional space, in one case by a woman with tetraplegia who served herself a bottle of coffee nearly 15 years after a stroke. The BrainGate research, which previously resulted in the first human neural control of a computer cursor, has enabled a new understanding of human brain function and the development of a novel, fully-implanted platform neurotechnology capable of wirelessly transmitting large numbers of neural signals from multiple types of sensors for use in Brain Computer Interface, epilepsy monitoring, and neuromodulation applications.
ElMindA&Soterix (Collaboration)
About one third of the world's population suffers from acute or chronic pain with the effects of pain exact a tremendous cost on health systems and impose emotional and financial burden on patients. Diagnostic and clinical management of pain still heavily rely on clinical symptoms and patient's subjective reporting while the common treatment for pain is not based on personally customized pain relief. The proposed project (based on a multi-national collaboration) aims to develop a closed loop pain treatment platform, with the goal of offering a focused, specific and personalized approach for the effective treatment of pain.
Dr. Itzhak Fried
Brain pacemaker to treat memory impairment in early Alzheimer's Disease and other memory disorders including traumatic brain injury, epilepsy and stroke. Neurotechnology is based on site-specific, on-demand brain stimulation coupled to information processing and regulated by neural signal feedback.
Inscopix
Research on brain disease stands poised to achieve conceptual breakthroughs due to recent technological advances. There are now mice that provide models of human disease for study, tools to target specific brain regions, and ways to adjust certain patterns of brain functioning. However, science has yet to uncover the normal patterns of neural dynamics and how these go awry in disease states. Dr. Mark Schnitzer and the company he co-founded, (with Drs KunalGhosh and Abbas El Gamal) InscopixInc, have created a technology to fill this gap by providing the necessary data to guide therapeutic strategies for re-tuning neural dynamics. Specifically, Inscopix has created brain imaging devices for use in freely behaving mice, by using mass producible optoelectronics, thereby enabling researchers to observe the dynamics of large numbers of individual, genetically identified neurons and in many mice in parallel. This innovation will yield crucial knowledge of how circuit dynamics differ between normal and diseased brains, a key toward creating corrective strategies.
Insightec
Focused ultrasound enables focal effects in the brain with sub millimeter accuracy with no impact to surrounding tissue using MRI image guidance.It is currently applied to the treatments of movement disorders (Parkinson's and Tremor).Beyond that it is being evaluated as the world first noninvasive deep brain focused Neuromodulation technology which will revolutionize our understanding of the human brain.
Nano-Retina
Interfacing with retinal neurons, Nano Retina's artificial retina prosthesis is designed to use the natural mechanisms of the eye to convert images into neural stimulation. Neural stimulation is delivered through more than 600 electrodes, which can be recognized by the brain, thereby restoring vision to persons blinded by retinal diseases, such as macular degeneration.
Dr. Andrew Schwartz
In the last 30 years we have developed an effective approach for decoding the intention component of volitional movement. Using these results, we have now demonstrated the ability to translate recorded brain signals to coordinated, natural movement of a prosthetic arm and hand by a quadriplegic individual who uses this technology to perform tasks of daily living.
Team Led by Dr. Phillip Starr
By recording brain signals from the cortex in persons undergoing surgery for Parkinson's disease, we recently discovered a biomarker of abnormal brain synchronization that can be detected using a clinically practical electrode that does not penetrate or damage brain tissue. Our next step is to utilize this signal to improve the effectiveness of neurostimulation therapies by incorporating feedback control.
Photos Silvia Golan
Details

Written by

Tel Aviv University
An MOU for collaboration on an unprecedented scale was signed between Tel Aviv University and the elite Tsinghua University in China
Under the MOU, a unique joint research center will be established and named the XIN Center.XIN will recruit the best minds in Israel and China as well as the rest of world, and will include input from academia and industry in creating projects that will meet mutual national challenges.
In the framework of the XIN project, an investment fund will be established to seed ventures initiated by XIN Fellows. The fund of 100 million RMB will be set up by Infinity Group. Investors in the fund will include the Beijing government and alumni of Tsinghua University.
Professor Joseph Klafter, President of Tel Aviv University, and Professor Chen Jining, President of Tsinghua University, signed an MOU for collaboration on an unprecedented scale in Beijing, China (on Tuesday, September 10, 2013), in the presence of Israel Ambassador to China, Mr. Matan Vilnai, and leaders of the Israeli business community in Beijing.
According to the MOU, Tel Aviv University and Tsinghua University will pursue a strategic cooperation in innovative research and education for the mutual benefit of both institutions and nations. The two universities intend to co-establish a unique joint center, named the XIN Center, as an international hub for scientific and technical innovation. XIN ("new" in Chinese) will advance interdisciplinary research, provide optimal conditions for creativity, and promote activity in fields that can truly impact society in both countries and the entire world.
The research center will initially focus on fields which enjoy accelerated development both in Israel and in China such as nanotechnology, but in time it will expand to other fields of science. The Center will aspire to provide an answer to grand challenges and its projects will work toward combining forces with the high-tech industry.
When excellence meets innovation
The XIN Center will aim to recruit the top research students in the two countries as well as the rest of world. It will encourage innovation among students by giving them optimal conditions to create, develop and leverage their ideas in various areas of technology and science. The finest researchers will serve as instructors and mentors to the research students, and help them develop promising projects.
The joint research center will recruit leading international researchers. The preeminence of the human capital and resources that will be available to the XIN Center will win academic recognition internationally and partnerships with the technology industry in both countries.
Prof. Klafter noted that this is an exceptionally important agreement, opening new horizons for Israel and Israeli society. According to Prof. Klafter, the establishment of the XIN Center is evidence of the considerable esteem in which the Chinese hold Israeli innovation and the high academic standards of Tel Aviv University.
President Chen of Tsinghua University expressed the readiness of his institution to work with Tel Aviv University to push forward cross-disciplinary research and explore ways to answer global challenges. The president stressed the importance of cultivating innovative future scientists and leaders. He also noted that Tsinghua University will give full support to the XIN Center and make its due contribution to the global development of innovative research and education.
The Chief Scientist of the Israeli Ministry of Economy, Mr. Avi Hasson, noted that the cooperation agreement is an excellent model for multifaceted collaboration in our modern technological world between academic institutions and industry on an international level. "I want to congratulate all parties involved and wish upon them a fruitful and successful collaboration."
Participating in the ceremony were also Mr. Amir Gal-Or, managing partner of Infinity Group, and Dr. Chen Lichtenstein, President and CEO of China National Agrochemical Corporation (CNAC).
Captions to attached photos:
Ceremony1- Professor Joseph Klafter, President of Tel Aviv University, and Professor Chen Jining, President of Tsinghua University at the signing ceremony
Ceremony2- Professor Joseph Klafter, President of Tel Aviv University, and Professor Chen Jining, President of Tsinghua University, at the back: Matan Vilnai, Israel's ambassador to China and Dr. Avi Hasson Chief Scientist at the signing ceremony
Photo credit: Chang Zhidong