Science & Technology
Details

Written by

Silvia G Golan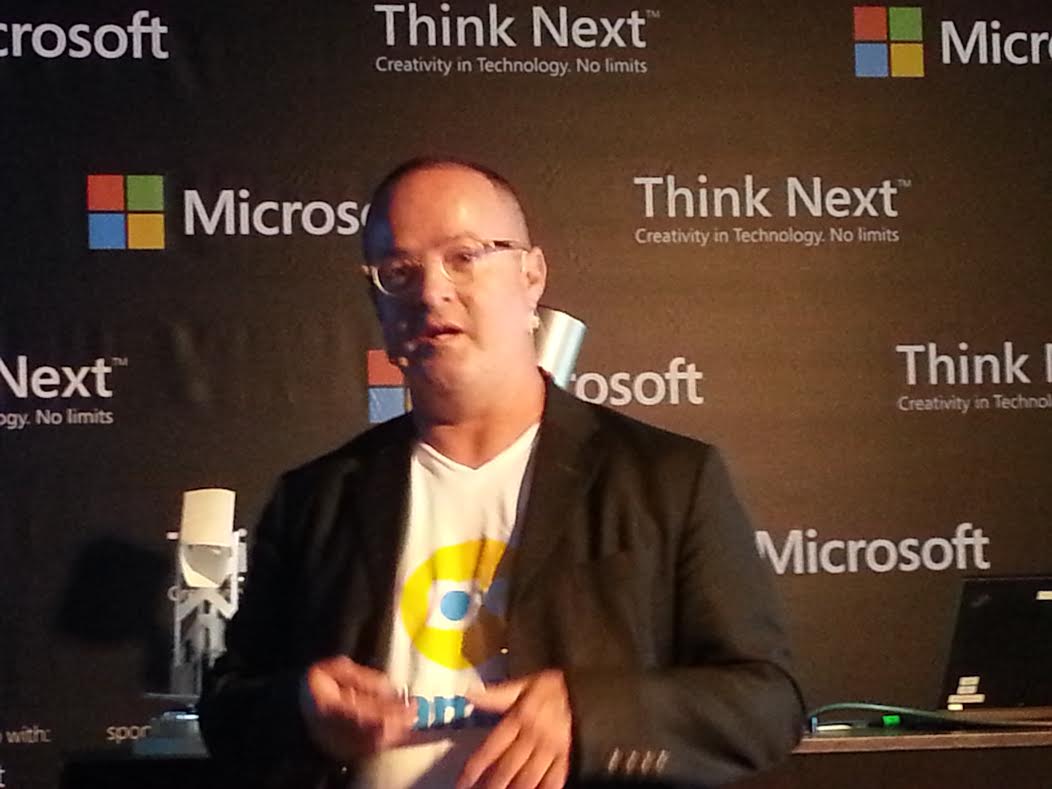 On April 7, 35 new technologies in innovative fields were exposed. Among these technologies: 3D, multi-layered reality, user interfaces for technical applications, entertainment, robotics, machine learning, etc.
Developers: Israeli start ups, academic institutions and Microsoft laboratories
Microsoft's R&D Center in Israel opened its yearly Think Next innovation event at Hangar 11 in the Tel Aviv port, on April 7. This event is taking place this year for the 6th time. About 1,800 participants are invited from the hi-tech industry, including: developers, development managers, chief technologists, entrepreneurs and start up companies, venture capital funds, students and researchers from academic institutions, and more.
The event, which takes place in cooperation with Microsoft Ventures, deals with 'unlimited innovation in technology' and shows the special capabilities of the Israeli industry to continue breaking limits by means of creativity. Although Microsoft promotes the Think Next events, it provides a central stage for young Israeli entrepreneurs to expose their innovative ideas and products to Microsoft's international senior staff, and to the leaders of Israeli hi tech. The Israeli entrepreneurs and their developments are also exposed to delegations from abroad, among them, a delegation of 50 managers of accelerator start ups from the whole world, who have arrived to the event and examine the Israeli innovations.
In the event, 35 new technologies are exposed: about half of them belong to Israeli start up companies and academic institutions, selected as part of Microsoft Ventures' activities within these companies and institutions. The second part presents technologies developed by Microsoft's R&D centers in Israel and throughout the world.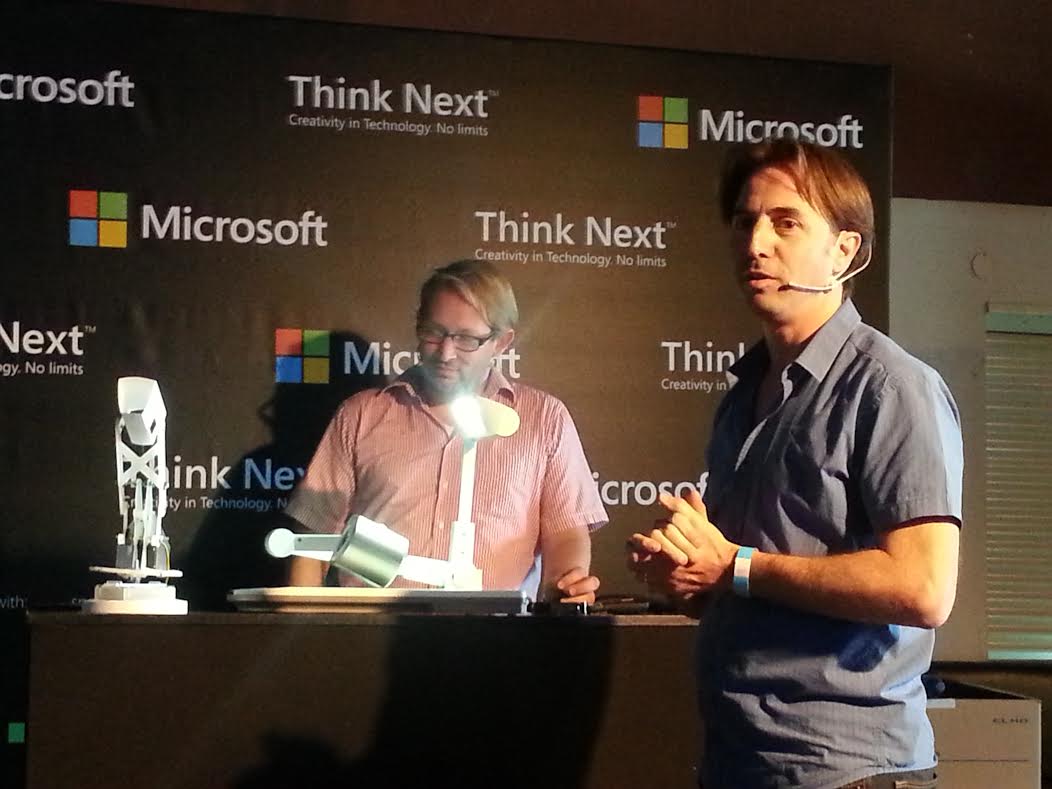 Yoram Yaacobi, Chairman of Microsoft's R&D centers in Israel, said: "The Israeli industry shows in this event innovations in a number of hottest technological fields in the world; among them: 3D, multi-layered reality, user interfaces for technical applications, entertainment, robotics, machine learning, etc. These developments strengthen the user capabilities and enrich our lives by means of friendly devices that will soon be available to all. For example, new devices will enable everyone to develop an application without any knowledge in programming. Everyone will be able to easily design a 3D object and print it. I hope that the exposure of start ups to delegations from abroad and to Israeli industry leaders will pave their way to success in the world market".
The guest of honor this year is Harry Shum, senior vice-president, manager of Microsoft's R&D and technology in the world, who came in his first visit to Israel. Harry Shum appeared in the conference in a free talk with Dr. Kira Radinsky, former researcher in Microsoft's research laboratory, researcher in the Technion, founder of Sales Predict, and one of the leading entrepreneurs in Israel.
Harry Shum is responsible of Microsoft's technological strategy and on Microsoft's research group, which specializes in basic research, and research applied to computer science and software engineering. This research group, one of the largest in the world in this field, includes 850 researchers in 10 laboratories throughout the world, including Israel. Harry Shum is the last in a long chain of Microsoft's senior officials that have arrived to Think Next events. Among these: Steve Ballmer, Ray Ozzie, Craig Monday, Chi Lo and Rick Rashid.
Besides Harry Shum, also appeared on the event stage a series of lecturers that break-thru in technological fields; among them: Doron Meirsdorf, Oshri Even Zohar and Eyal Shahar. James Whitaker, one of Microsoft's leaders in the technology field, also presented his views on this issue.
Photos Silvia Golan
Details

Written by

Silvia G Golan
Samsung Israel, the main sponsor of the Tel Aviv Samsung Marathon, is proud to present: SAMSUNG CITY
1200 m2 of electronic innovation in a Kikar Rabin offering a great experience for the whole family.
The Tel Aviv Samsung Marathon 2014 opens with a symbol of contribution to the community and an experience for the whole family. Samsung Israel, the main sponsor of the Marathon, invites the runners and their families to SAMSUNG CITY, first site of its type in Israel, which offers an experience of electronic innovation. This exhibition will be open in Kikar Rabin from Thursday, February 20, until February 27.
Ana Lipnik Levy, the Marketing Manager of Samsung Israel, says: "We, in Samsung, look at technology as a way to live new experiences, and create contents in unique fashions. As an international leader in the technological area, Samsung is proud and excited to lead the Tel Aviv Samsung Marathon to the worlds of most advanced technological contents. We decided to organize the present marathon in the symbol of innovation, quality of life, and an experience for Samsung's clients and their families, and a contribution to the community".
For additional information, see our website link: www.samsung.com.
Photo Silvia Golan
Details

Written by

Office of the President

President Peres met his Avatar on the Xbox One and visited the Ilumiroom which was presented for the first time in Israel
During the visit President Peres experimented with an application to explore space on an interactive table, met with young people who presented newly developed applications and met with employees of the company
The President of the State of Israel, Shimon Peres, visited Microsoft Israel earlier today (Tuesday) and during the visit he was presented with new technologies developed in Israel. President Peres was shown the new Microsoft entertainment console – Xbox One, which has been a great success across the world. While being shown the console, President Peres came face to face with his avatar, a surprise created for him by the employees of the company. Among the initiatives presented to President Peres was a kinetics camera which recognizes voice and movement and the new Microsoft development, Ilumiroom. The Ilumiroom projects expands and enriches the surroundings of the television set and changes the gaming and television watching experience. The Ilumiroom uses the kinetics camera to learn the lay out of the room and enhance the experience, the technology was shown in Israel for the first time.
During the rest of the visit President Peres experimented with the PixelSense table with touch technology which includes an interactive application to navigate through galaxies and stars. The application allows for study and research into space. Alongside the table President Peres was presented with technological applications developed by youngsters taking part in the Innovate for Good project.
President Peres congratulated the employees of Microsoft Israel during a meeting with them and said, "I am extremely proud of you and the work that you do. Greatness is to contribute to society and think in terms of generosity. I see you not only as an advanced technological company but a community organization based on technology. Israel's technological potential is vast. Within Israel we have talented people and we must find the ways to continue developments here."
President Peres was accompanied throughout the visit by the CEO of Microsoft Israel, Mr. Danny Yamin.
Photos Silvia G Golan
Details

Written by

Technion
Winners of Technion's prestigious 2014 Harvey Prize are Professor Paul B. Corkum from the University of Ottawa, Canada, and Professor Jon M. Kleinberg from Cornell University, New York, USA.
Professor Paul Corkum, of the Joint Laboratory for Attosecond Science, University of Ottawa, has been a leader and pioneer in the field of ultrafast laser spectroscopy. For two decades he has been the main source of the powerful insights which lie behind many of the recent advances in this field. He is known primarily for his remarkable contributions to the field of high harmonic generation and for his ability to create intuitive models for very complex phenomena which enabled him to make the advances that created the exciting field of attosecond spectroscopy.

The 2014 Harvey Prize will be awarded to Professor Jon M. Kleinberg from Cornell University for his seminal contributions and leadership in the newly emerging science of information networks, including his groundbreaking work on characterizing the structure of the World Wide Web in terms of hubs and authorities, his analysis of the " small-world" phenomena, and his work on influence propagation in networks.
The Harvey Prize was first awarded in 1972 by the Foundation established by the late Leo M. Harvey from Los Angeles, to recognize significant contributions in the advancement of humankind in the areas of science and technology, human health and peace in the Middle East. Each year it awards prizes in the amount of $75,000 to each award winner.
The prestigious Harvey Prize has been awarded to scientists from the United States, Britain, Russia, Sweden, France and Israel, among them Nobel Laureate Mikhail Gorbachev, former leader of the USSR, awarded the Harvey Prize in appreciation of his seminal initiatives and policies to lessen regional tensions; Nobel Laureate in Medicine, Professor Bert Sakmann; Nobel Laureate in Physics, Professor Pierre-Gilles de Gennes, Professor Edward Teller for his discoveries in solid state physics, atomic and nuclear energy; and Professor William J. Kolff for his invention of the artificial kidney.
Harvey Prize winners are selected by a council of world-renowned scientists and personalities from Israel and around the world. Award winners are chosen by the Harvey Prize Committee following a rigorous selection process at the Technion.
In the photo: Professor Paul B. Corkum and Professor Jon M. Kleinberg.
Photographed by: The Technion's Spokesperson's Office
Details

Written by

Trendlines
Yair Shamir (Minister of Agriculture) and Todd Dollinger (Chairman and CEO of The Trendlines Group
On December 4, more than 250 professionals gathered at Eretz Yisrael Museum in Tel Aviv on Tuesday for an international conference exploring the state of agriculture technology and investment, specifically focusing on how Israel's R&D advantage, the country's unique multidisciplinary approach, and more than 100 years of experience tackling "food security" may indeed solve current global challenges. Distinguished panelists included members of the Israeli government, executives from leading international agrochemical and food companies, as well as venture capitalists from international agritech-focused firms.
Avi Hasson (Chief Scientist of the Israeli Ministry of Economy) and Steve Rhodes (Chairman and CEO of The Trendlines Group)
Margaret Dohnalek, global head of technology scouting in corporate R&D for PepsiCo, remarked that she understands "we don't know what we need to know about Israel," underscoring a sentiment across the panel of corporate executives, that technology currently being developed in Israel may be the next game-changer. The conference was part a 4-day Agrivest Tour of Israel organized by The Trendlines Group (www.trendlines.com), which included visits to Israel's top agricultural research organizations, as well as agritech start-up success stories, such as Evogene and Bio-Bee.
At the conference, Dohnalek, along with corporate leads from Syngenta, Bayer, and Monsanto spoke on a panel ("Profiling Tomorrow's Ag Solutions") offering insights into why companies are looking to Israel for the next addition to their pipelines, and discussed their "dream technologies." Precision agriculture, with a focus on gaging weather patterns, was the most popular response. Virginia Ursin, Technology Prospecting Lead at Monsanto added that this sector -- "smart farming" -- is growing rapidly.
Ofra Strauss (Chairperson of the Board, Strauss Group) and Dr. Nitza Kardish (CEO of Trendlines Agtech)
Prof. Avi Perl, chief scientist, Israeli Ministry of Agriculture agreed and emphasized the formal funding structure the government gives to agritech start-ups as a sign of the government's commitment to the sector's growth and success. Dohnalek of PepsiCo said the formal support makes it more feasible for Israel entrepreneurs to successfully come up with ideas that address multiple challenges. She acknowledged this as a reason why large corporations seek collaborations and acquisitions in Israel. Ron Meeusen, managing partner of Cultivian Sandbox Ventures, said that what sets the Israeli start-up ecosystem apart is a culture of serial entrepreneurs who are willing to start over again and again.
Photos : Moshe Amar Liran Shemesh