Science & Technology
Details

Written by

Technion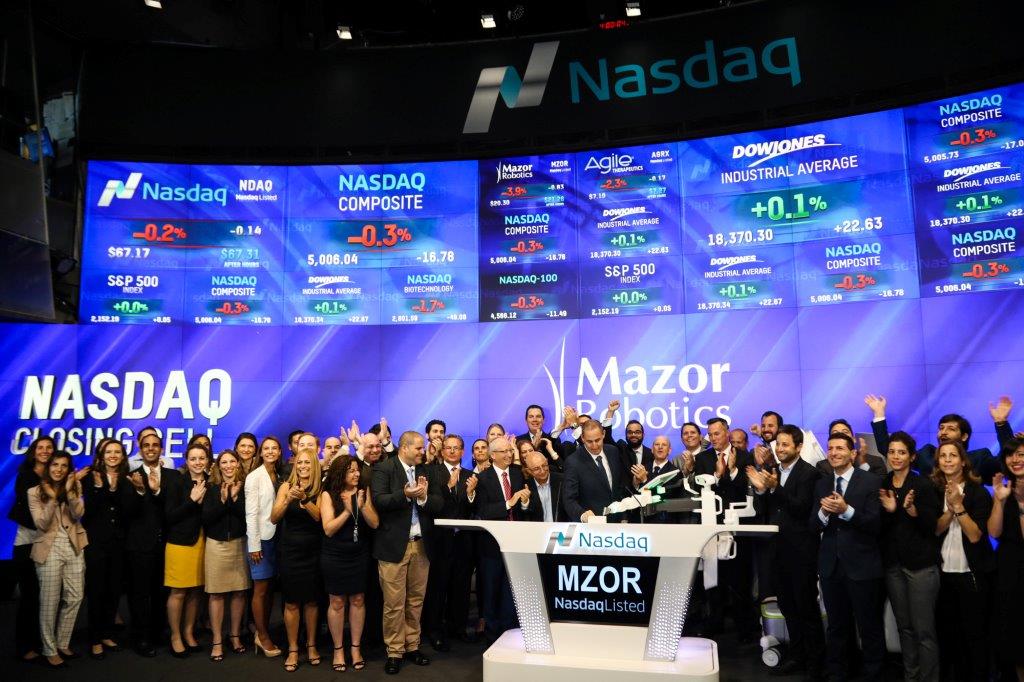 The Right to Ring Representatives of Mazor Robotics Ltd, which was born in Prof. Moshe Shoham's lab and the Technion incubator, attend the Closing Bell Ceremony at NASDAQ
Representatives of Mazor Robotics, founded at the Technion in 2001, attended the Closing Bell Ceremony at NASDAQ on Wednesday July 13. The representatives from Mazor, including CEO Ori Hadomi, COO & VP R&D Eli Zehavi and Prof. Moshe Shoham of the Technion, were greeted by NASDAQ officials and representatives of ATS - the American Technion Society.
Attending the Closing Bell Ceremony is a show of respect by NASDAQ, generally granted to its listed companies on the occasion of a milestone in their history. Mazor, traded on NASDAQ as MZOR since August 2013, was invited to ring the bell the day after the unveiling of its new robot, the Mazor X. The privilege of ringing the bell was given to Company CEO Ori Hadomi.
Mazor's technology was born in the medical robotics lab at the Technion Faculty of Mechanical Engineering. The head of the lab, Prof. Moshe Shoham, led the idea to commercial realization at the Technion incubator, together with student Michael Burman and Eli Zehavi, former director of engineering at Elscint (Israel) Elscint and currently COO & VP R&D at Mazor. The company was founded in 2001 at the Technion incubator and moved to the Caesarea industrial zone two years later.
Mazor Robotics develops robotic systems for back and brain surgery. Mazor's systems, including the Renaissance robot, are used for treating back problems such as spine deformity, herniated discs and spine instability, and brain disorders such as Parkinson's disease, which require accurate electrode insertion for deep brain stimulation (DBS). These systems, currently operating in over 120 hospitals, have been used in some 17,000 operations with more than 100,000 implants, and have never caused permanent nerve damage in any patient. The advantages of the system, according to Prof. Shoham, are its high precision, minimal invasiveness and the reduced dose of radiation for the patient and operating room staff. He said: "The launch of the Mazor X system, and the signing of an agreement with medical device giant Medtronics, is leading the company into a new era in terms of technology and in terms of the ability to realize our motto: Healing through Innovation."
https://www.youtube.com/watch?v=zF4dkKiHKNc
Photo credit: © Nasdaq 2016
Details

Written by

Technion
A Selfie from Space
Participants in the International Space University's 29th Space Studies Program (SSP), currently being held at Technion – Israel Institute of Technology, posed for a group photo from space yesterday (July 20th). The photo (attached), taken from a height of 520 kilometers, shows the 104 program participants lying on the main lawn of Technion campus in Haifa, with their bodies forming the letters ISU - the abbreviation of International Space University.
The photo was taken by the EROS-B satellite. The EROS observation satellites, built by Israel Aerospace Industries (IAI) and operated by the Israeli company ImageSat International (ISI), are equipped with a space camera manufactured by El-Op. ISI previously purchased two such satellites and ordered a third satellite last year, far more advanced than the existing models. EROS satellite photos are sold to both civilian and defense customers worldwide.
The highly acclaimed Space Studies Program (SSP) has been conducted annually by the International Space University since 1988. Each summer, it is held in a different host institutionin locations spanning the globe. This is the first time it is being held in the Middle East - at Technion in Haifa, Israel. As part of the current session, SSP16, the Technion is hosting lectures and panels that are open to the public, free of charge. All the open events are held in English and require advance registration.
Satellite photo credit: courtesy of ISI (ImageSat International) - taken by the EROS-B satellite built by Israel Aerospace Industries
Details

Written by

Rambam Health Care Campus

Good News for Northern Israel: New Oncology Center Opens
The opening of this modern and spacious center marks another milestone in Rambam's ambitious West Campus development plan, bringing state-of-the-art and secure healthcare in environmentally sustainable facilities to benefit the citizens of Northern Israel.
When Haifa businessman Joseph Fishman (z"l) was treated for cancer at Rambam, he was both impressed by the caliber and dedication of the medical team, and dismayed by the conditions of the over-crowded and aging facilities. Mr. Fishman's legacy, supported by his family and carried out by Rambam's leadership, was to establish a new and modern center to benefit the hospital's cancer patients and the medical staff responsible for their care.
On June 30th, the new Joseph Fishman Oncology Center at Rambam Health Care Campus officially opened its doors, ready to provide excellent, secure and dignified care for thousands of cancer patients from throughout Northern Israel. The Department of Outpatient Chemotherapy and the chemo-pharmacy were the first to move in. Other departments and units will move into the new facility over the coming months. Professor Rafi Beyar, Director of Rambam Health Care Campus, addressed Israel's Minister of Health, Rabbi Yaakov Leizman, and the audience at the inauguration ceremony, emphasizing that, "cancer continues to be the most devastating illness we are contending with." The nine-floor, 10,000 square meter structure will eventually house inpatient departments, ambulatory and treatment clinics, cutting-edge radiation treatment technologies, and a complementary medicine clinic. The facilities are designed to maximize comfort and privacy, and enable patients to be accompanied by a family member or friend at all stages of treatment. According to Professor Ron Apelboim, Director of the Division of Oncology, "this is the beginning of a new era for thousands of patients."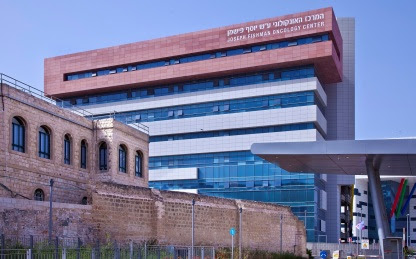 As part of Rambam's commitment to a healthy environment, the new center was built according to Israel's most stringent "green building" standards. Already at the planning stage, factors such as the use of environmentally sustainable and energy saving materials were designed into the project. Four linear accelerators will be permanently installed in the Sammy Ofer Fortified Underground Emergency Hospital—assuring access to radiation therapy under the most challenging of circumstances.
After an investment of some $30 Million to build and open the Fishman Oncology Center, Rambam is still seeking funds for additional equipment acquisition, staffing, and related expenses.
Photo description: Outside view of the Joseph Fishman Oncology Center at Rambam.
Photo credit: Micky Koren.
Details

Written by

Former President Shimon Peres Spokesperson
Ninth President of Israel and Nobel Peace Prize Laureate Shimon Peres is looking out for MENA youth and launching the Israeli Innovation Center
Peres is utilizing innovation as a tool to bring people from around the Middle East together to build peace

Peres "I implore our neighbors - Let us cooperate and create a startup region. Let us adopt the path of peace and innovation, which is always preferable to war and pain."
"Finally, I have one small request – Israel is a dream that came true. Permit me to continue to dream."
President of the State of Israel Reuven (Ruvi) Rivlin: "The Innovation Center inaugurated this morning shall create a link between the past and the future. With one eye, it looks back to the accomplishments we have achieved, with its other eye, it looks ahead to the future, planning its next step." "The nature of innovation is that it cannot stay put - innovation, too, should be innovated"
Prime Minister of the State of Israel Benjamin Netanyahu: "Innovation and Peace complement one another" "We will continue to be on the cutting edge"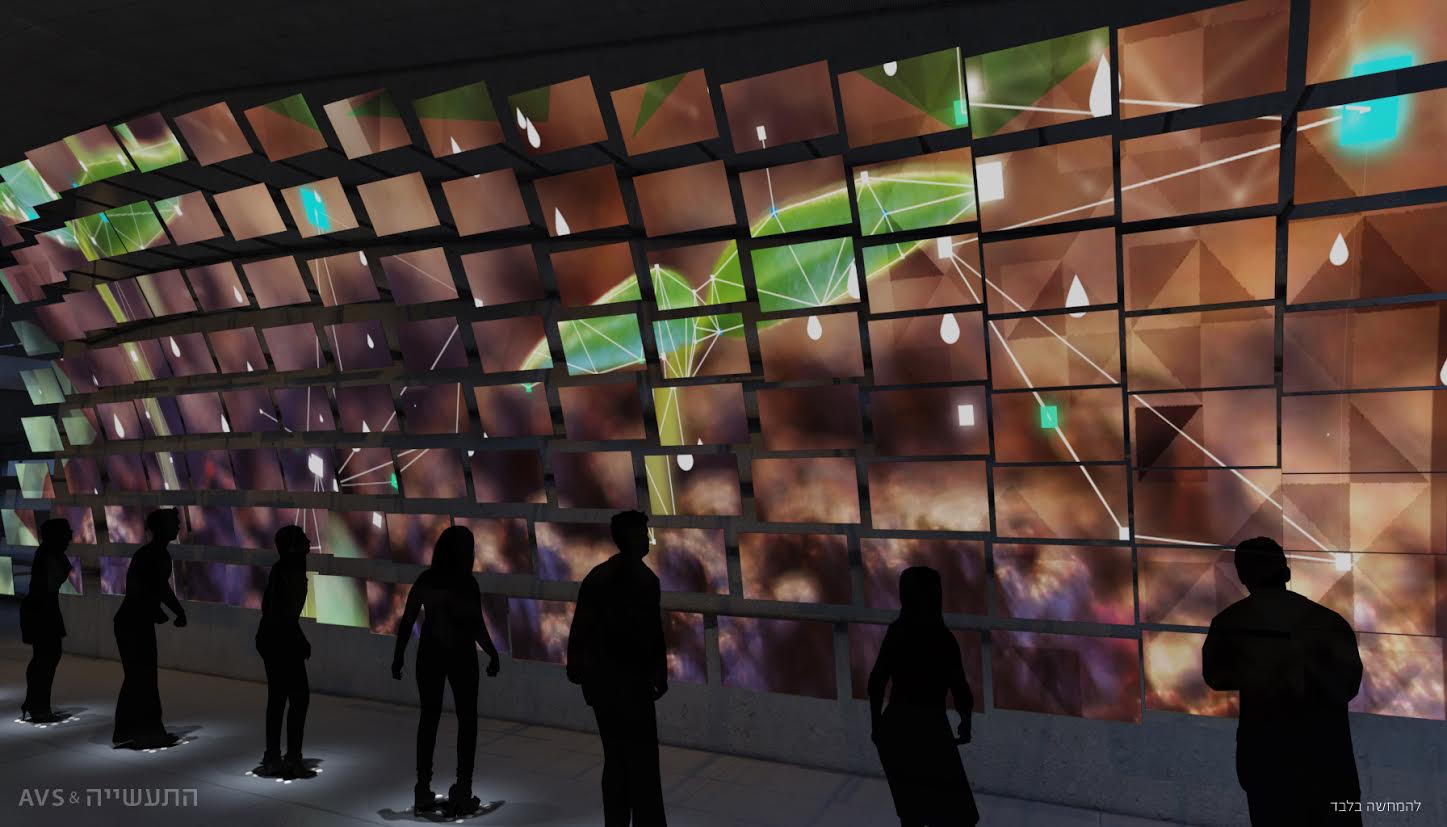 This morning, 21.7, the Ninth President of Israel Shimon Peres launched the establishment of the Israeli Innovation Center together with President Reuven "Ruvi" Rivlin, Prime Minister Benjamin Netanyahu, Tel Aviv Mayor Ron Huldai, and leading figures from the Israeli innovation and high-tech industry.
The Israeli Innovation Center, located at the Peres Peace House in Jaffa, will be an educational hub and visitors' center, drawing guests from around the world to learn about Israel's historic achievements, absorb the core values of innovation, optimism and the pursuit of peace, and be inspired and empowered to positively impact their communities and the world.
Ninth President Peres, who heads the Peres Center for Peace and is leading the establishment of the Israeli Innovation Center said: "The Innovation Center that will be established here will showcase our national pride and will advance peace between people. It will highlight inventions already created as well as those yet to be developed in fields such as science, technology, medicine and healthcare, agriculture, and industry. This Center will, of course, showcase achievements of the past, but its primary focus will be on the path to the future .We will prove that innovation has no limits and no barriers. Innovation enables dialogue between nations and between people. It will enable all young people – Jews, Muslims and Christians –to engage in science and technology equally. Here we will emphasize that we can promote peace from childhood, and we will spark the imagination of every boy and girl and enrich their dreams."
Peres shared his perspective based on his personal experiences since the establishment of the State of Israel and its technological development and said: "All my life I have worked to ensure that Israel's future is based on science and technology as well as on an unwavering moral commitment. They called me a dreamer. But today, when I look at Israel, we all can see clearly that the greater the dream, the more spectacular the results. I am proud of our young people. They have created a new reality. They are gifted with independence, creativity, and Israeli chutzpah. They overcame the obstacles along the way and answered every challenge that appeared. Who would have believed that the entire world would one day use Israeli navigation software in their daily lives? Who would have believed that this stubborn and infertile land would produce an abundance of fresh fruits and vegetables, and that Israel would become self sufficient in water? Who would have believed that millions of people would utilize an Israeli developed stent implanted in damaged heart arteries allowing sick patients to breathe? Who would have predicted that we could give paralyzed individuals the ability to walk through robotic legs that were created in Israel? Our innovative spirit has been recognized the world over, and of course, my heart swells with pride when I see how many nations turn to the tiny State of Israel to learn from our bold innovations, to learn how to turn the impossible into the possible."
President of the State of Israel Reuven (Ruvi) Rivlin said: "In Israel in 2016 it is impossible to talk about innovation without mentioning a man who is also a legend, a young man whose trademark is innovation, Shimon Peres, the Ninth President of the State of Israel. Young people want to devour the world. They have big dreams, visions of "Tikkun Olam". As the years pass, they succumb to reality and give up on their lofty dreams. But you, Shimon, are the opposite. You led the way in atomic research in Israel. Since then, your vision has become bolder, more innovative. Every dream that came true was, for you, just one more step toward the next destination. Shimon, in Israel today you are a leader of innovation, and it is impossible not to be envious. At almost 93 you are leading, creating and challenging yourself every year."
Rivlin added: "The Innovation Center inaugurated this morning shall create a link between the past and the future. With one eye, it looks back to the accomplishments we have achieved, with its other eye, it looks ahead to the future, planning its next step. With its one hand it promotes science and technology, with the other, its vision for a model society. This is a winning combination that I am confident will accelerate and motivate continued creativity, innovation and empowerment."
Prime Minister of the State of Israel Benjamin Netanyahu said:
"We will continue to build upon our immense advantages, first and foremost our heritage, which always sought knowledge. We will ensure that our state will be vibrant, progressive, developed, inquisitive, operating in fields that no one has ever before considered, all while we help many people around the world, and we will remain on the cutting edge. Shimon, you have seen the way to get there."
Peres has always been a dreamer, an optimist. From building the Israeli air force to developing the nuclear reactor, from the Oslo Accords to peace with Jordan and Egypt, he has been at the forefront of Israeli innovation, always in the pursuit of peace. The Israeli Innovation Center is yet another milestone along Peres' lifelong journey. With the goal of opening similar Innovation Centers in countries across the MENA region, Peres is dreaming big, but as he often says, "Our only mistake was not dreaming big enough".
A nation with more startups per capita, where "impossible" is not in the vocabulary, and where organizations like the Peres Center for Peace are ever searching for new avenues to promote peace, Israel has much to share with its neighbors in the region. And this Innovation Center will be the first step on the long path to building a startup region, an innovation region, a region of peace.
The Innovation Center itself will be made up of four floors that tell the story of Israel and its transformation into the Innovation Nation:
This full sensory journey begins at the entrance, where visitors will experience a large, kinetic art exhibit of interactive screens, and will be exposed to Israeli innovations that changed the face of the world. A unique digital library, the only one of its kind in the world, will provide visitors with the opportunity to ask questions and receive answers about Israeli innovations.
The story of Israel as a startup nation will be shared with visitors through exhibits based on cutting edge technology and information sharing, touch tables and an interactive game, illuminating historically significant events such as the Israeli Military Industry, the development of new agricultural methods, launching the first satellite into space, and more.
Visitors will learn about Israeli innovations that are used around world in fields such as medicine, water, food, agriculture, communication, and more, with a focus on inventions such as cherry tomatoes, Rewalk, Waze, ICQ, drip irrigation, USB flash drives, coronary stents, and more. Visitors will learn about Israeli inventors, the processes that led to their ideas becoming life-changing inventions, all with the goal of developing and enriching the next generation of inventors.
As Israel has been and continues to be a leader in innovation, the Innovation Center will devote a section to contemporary innovation and future technology, showcasing leading Israeli companies. This exhibition will allow every child or tourist to try thinking outside the box and finding creative solutions to the challenges of the future and the problems that lay in store around the world.
Finally, there will be a space for entrepreneurs and developers to meet, take courses, engage in hackathons, and become introduced to leading Israeli innovations that will serve as a tool for training the next generation of Israeli startup leaders. This will be offered in a variety of languages for individuals around the world through a digital platform. With educational components providing every child – Christian, Jewish, and Muslim alike – with the opportunity to learn about technology, persistence, and determination, the Center will fan the spark of creativity and bring each child into the global revolution of innovation, science, and technology. It will offer accelerators, tech hubs and workshops, courses on entrepreneurship, leadership, and the fundamentals for being a part of the tech world, and will teach young people how to reach for their dreams and never give up.
By using technology to build peace and shared-living, for the first time, there will be a safe space for thousands of Jews and Arabs, Israelis and Palestinians to innovate—together.
This Center is a deep source of pride for Peres, as he views the sharing of science with Israel's neighbors, the promotion of peace through innovation, as the most imperative initiative today.
At the age of 93, Peres is still looking to the future, and is just now launching the startup of a lifetime, an initiative that will reshape the way peacebuilding is viewed and conducted in the Middle East, a new phase on his lifelong quest for peace – peacebuilding through innovation.
Details

Written by

RHCC Spokesperson
Medicine, the international language
Medical leaders from around the globe convened at RAMBAM Health Care Campus for its 13th Annual International Trauma Course
Twenty-six leading healthcare professionals representing 20 countries around the world recently came to Haifa to participate in RAMBAM Health Care Campus' ' prestigious Trauma Medicine Course. The purpose of the course is to share RAMBAM's expertise in treating military and civilian trauma victims, and give participants the tools to develop systems capable of dealing with multiple-casualty events in their home countries.
Now in its 13th year, the course is offered in cooperation with MASHAV, Israel's Agency for International Development Cooperation.
Participants in this year's trauma course included high-level medical personnel from the Far East, Latin America, the US, and Europe. Among them were the Director of the Office for Emergency Medical Systems in Thailand, a senior medical officer from the UN serving in the Golan Heights, the president of the Vietnamese Nurses and Operating Room Nurses Associations, the Acting Director of the National Emergency Medical Services Center in Nepal, a head nurse from a military hospital in the Philippines, and the Director of the Resuscitation Team at the only pediatric hospital in Kenya, among others.
One of the many activities offered by RAMBAM's Center for Trauma and Emergency Medicine Studies, the two-week international trauma course includes lectures, workshops, training activities, simulations, and tours of RAMBAM and other sites around the country.
According to Gila Hymes, Director of the Teaching Center for Trauma, Emergency, and Mass Casualty Situations, "We have taken our vast experience treating victims of war, terror and accidents, and are sharing it to benefit medical systems around the world. Medicine is an international language that we are using here at RAMBAM to help save lives around the world."
Course participants and organizers at the RAMBAM Health Care Campus.
Photo: Pioter Fliter, RHCC