Science & Technology
Details

Written by

Ariel Rubinsky
Over 200 exhibitors and thousands of visitors attended the international annually agriculture exhibition "Agro-Mashov 2011" which was held at the Israeli fair center.

By Ariel Rubinsky

Stand by stand, gathered advanced water systems manufactures, greenhouses manufactures, flower and bee growers, tractors importers and technology exporters and even olive oil manufactures from an isolated farm, next to Palestinian stand that offered beer from Taybe Ramalla, different kinds of olive oil, and organic fruits from the Palestinian authority.
At the exhibition attended many foreign representatives from United States, Spain, India, China and more. A special hall was dedicated to solar energy developers, which had a small cowshed with two young calves that was very curious to the fuss around them.
"This is the world cup of agriculture", Says CEO of Agro-Mashov, Haim Alush to Diplomacy Publishing, he added that the exhibition allows direct encounter of manufactures and their target audience and during these two days, many deals involving millions of dollars are closing.
Alush points out the large number of foreign exhibitors as he emphasized the Palestinian stand, "Through agriculture we are generating good neighborhood and making peace".
The exhibition opened officially with a conference dedicated to the world hunger crisis. The speakers in the conference were minister of agriculture, Orit Noked, Professor Haim Rabinovich from the agriculture faculty, Dr. Ismail Dayik, Palestinian minister of agriculture, Maria Berenguer, Ambassador of Brazil in Israel, and Moses Adwai, CEO of the national fund for agriculture development and marketing in Nigeria.
"Israel, since its establishment, is working under harsh climate constraints and developed, during the years, a number of technological agriculture means, which can benefit to dealing with the world hunger crisis." Said minister Noked, and called to "All those who are practicing to solve this crisis, to use the knowledge and coordinate and promote and joint action around the world to eliminate the phenomenon of hunger."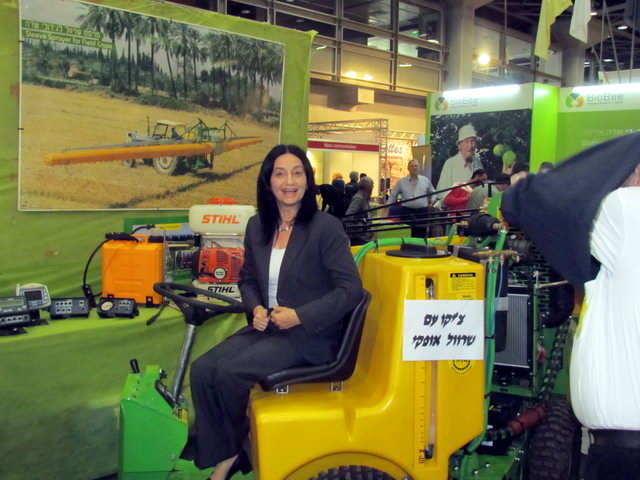 Details

Written by

MFA
Israel's particle physicists see CERN membership process as a 'badge of honor' for past expertise and a vote of confidence in future contributions.
By Rivka Borochov (Via the MFA)
What's matter made of? Is there a God particle? How can physics explain life as we know it? These are some of the big questions theoretical and experimental physicists around the world are asking, and Israel plays no small role in finding answers.
With its Large Hadron Collider, the world's largest and highest-energy particle accelerator built deep underground near Geneva, the European Organization for Nuclear Research (CERN) is helping shed new light on the deepest questions mankind has ever asked.
Israel, relative to its size, has contributed for years in a disproportionate way to ongoing research projects at CERN. Now the CERN board has taken a major step in asking Israel to become a candidate for full membership in the world's most important particle physics research center. Serbia, Slovenia, Turkey and Cyprus were also asked to join the 20-country group.
For Prof. Eliezer Rabinovici, chairman of the Israeli High Energy Committee and a researcher at the Hebrew University in Jerusalem, the move legitimizes decades of research that he and his Israeli colleagues have contributed to CERN, which he calls "the jewel in the crown of European physics."
"First of all, it's recognition for the fact that Israeli high energy physicists, experimental and theoretical, have made significant contributions to the field in general over the years, and at CERN in particular," says Rabinovici. "I think this is a badge of honor, and a recognition of everything [we've] done."
Although the December 16 vote was just the first stage of three until full membership, "Israel has passed the hardest hurdle," says Rabinovici. He goes to CERN's facilities in Geneva about 10 times a year to do theoretical navigation, the "number crunching" that international researchers can put into practice in the collider.
Why CERN's asking now
As CERN changed its rules of membership, member states were asked to decide which significant contributors should be invited to join. While Israel is geographically situated in Asia, and is regarded as part of the Middle East, it is most often classified in research and development as part of Europe - sometimes formally, other times informally. In as little as one hour, an Israeli scientist can fly to Greece and within three or four to Switzerland.

Full membership means full voting rights, and - of particular interest to Israeli businesses - access to tenders above the half-million dollar mark (600,000 Swiss francs).
To see if Israel has the right stuff, a CERN investigative team came last May to determine if Israeli industries could be useful for CERN today and in the future. They were looking for highly specialized welding, fiber optics and high-tech software in particular. "They reported on the scientific capabilities of Israel and its industry and came back with a very good report," says Rabinovici.
Though Israel is not typically into what he calls "big science," mainly due to the financial commitment required, CERN membership will give Israel an instant upgrade in the scientific community. To join the ranks as a full member, Israel will be asked to contribute a sum in proportion to its gross domestic product, which would be roughly $10 million per year.
But given the prospective dividends in tenders, it could very well turn out to be a lucrative deal, Rabinovici says. The same was true when Israel joined the EU research community. Since then, the required investment has paid for itself.
Big step into big science
In addition to Rabinovici, the Israeli "stars" regularly using the CERN facilities are Prof. Giora Mikenberg from the Weizmann Institute of Science and Shlomit Tarem from the Technion-Israel Institute of Technology. Rabinovici, who also is director of theInstitute for Advanced Studies in Jerusalem, concedes that what's been achieved at CERN by international scientists so far hasn't amounted to true breakthroughs, "but I hope there are big discoveries ahead."
His own research is in string theory, a theoretical branch of high-energy physics that asks what he calls a "pretentious question" - what governs the behavior of elements in the material world?
Among the bodies in Israel that have been actively involved in seeking CERN membership are the Ministry of Foreign Affairs, which spearheaded an intense two years of intense diplomatic efforts with CERN; the Israel Academy of Science; the Council for Higher Education; and the Industry, Trade and Labor Ministry.
Israel now has the ball in its court. If the financial details can be worked out, the vote will go back to CERN. What then follows is a two- to five-year process to full membership in the world's biggest and grandest science experiment.
Details

Written by

AgroMashov
On Wednesday 29th December, at 8am, forty journalists from all over the globe, from Taiwan to Belgium set out on an Agro-Mashov tour, in advance of the agro-mashov exposition that will take place in the coming 2nd and 3rd of March at the Tel Aviv exhibition grounds; one of Israel's most renowned events and also its greatest annual, international, agricultural exhibition.



The worldwide and unique event which has an average of 20,000 visitors in past years, from fifty different states, will encompass new innovations in global agriculture, developments in agricultural mechanization, new varieties of fruits, vegetables and flowers and of course a visit of delegations from around the World. The Israeli Agro-Mashav exposition has become the natural meeting point of the modern world's agricultural village because it is a leading pioneer in the industry.
This year is also a particularly special year as it has been reported that the event will host the Palestinian Agricultural Minister, Dr. Ismail Daak and about two hundred Palestinian farmers, a great initiative towards bringing the two peoples closer. A senior official in the Palestinian Authority stated that the two hundred Palestinian farmers: 'promote many projects in agriculture, allowing farmers on both sides to expand their knowledge of work practices and to be updated about innovations in the industry.'
Many international brands are represented at the exhibition: Carmel, Jaffo, Pure Line Seeds, John Deere, to name just a few and the event has attracted people from all over the world, who use the exhibition in order to update themselves on new innovations and to nurture international cooperation. The event has also become the forum for the start of joint venture projects and business deals between different agricultural companies. Of the numerous, renowned, Israeli agricultural companies that are to be represented in this yearly phenomenon is Hishtil, the highly successful plantation business, the market leader in the world of advanced horticulture nurseries. The company is constantly involved in joint venture projects around the world and in 2009, sold over one billion plants. Ecopak is another company to be present at the event, which is the business which produces a new more hygienic, recyclable and flexible form of packaging of fruit and vegetables and replaces cartons. This project is very likely to soon become an international phenomenon.
This unique event provides a golden opportunity for all agricultural representatives and members of the agro-business manufacture to present their products and services and also for buyers to create new commercial contacts. It is one of the biggest international, agricultural events and in its aftermath thousands of new and successful business deals are closed.
This March, come and witness the hub of new agricultural innovations at the Agro-Mashov exhibition in Tel Aviv.
Details

Written by

AgroMashov
Purple, butter-flavored potatoes, purple beans and carrots shaped like tennis balls - The 21st Agro-Mashov Exhibition in Israel is being launched with a variety of innovations and developments.



Purple, butter-flavored potatoes, elongated strawberries in the shape of a finger, yellow, white and purple carrots, purple beans and guavas without a smell. Welcome to the 21st Agro-Mashov international exhibition and conference, which will be held on 2nd-3rd March at the Exhibition Grounds in Tel Aviv, Israel.

Thousands of visitors and participants as well as hundreds of local and international exhibitors are expected at the exhibition. This year the exhibition will focus on the search for technological solutions to the problems of the global food and water shortage.

The 21st Agro-Mashov Exhibition will take place on 2nd and 3rd March 2011, and will gather together the major players in global agriculture including farmers, merchants and entrepreneurs working in the industry, for two days of fascinating meetings.

The thousands of visitors expected to come to the exhibition will be surprised by the scope of the professional innovations that will be presented at the hundreds of booths of the leading companies in the industry. Among the innovations in the exhibition can be seen: modern potatoes in purple hues, while cutting them up will reveal their yellow flesh. The "Retta" Potatoes are considered to be a new "gourmet" agricultural product due to the buttery taste they offer.

Next to them are waiting strawberries of the Malakh strain, long like fingers and narrow like roots, and which have a particularly sweet taste. Even the carrots are no longer orange or long, but come in a variety of colors, yellow, purple and white. For those looking for more changes, they can be found in round form in the shape of a tennis ball.

Along with the innovations in the fruit and vegetable industry, innovative technological solutions in the agricultural sector will be displayed. Hundreds of Israeli and international companies will display global solutions for increasing the harvest and advancing the exploitation of the agricultural land available to the growers. At the same time there will be conferences, international symposiums and summit meetings with the participation of leading and senior professionals in the industry from Israel and abroad.

The 21st Agro-Mashov Exhibition will be held on 2nd – 3rd March 2011 at the Exhibition Grounds in Tel Aviv, Israel.
Details

Written by

Rambam Health Care Campus
For Dr. Rania Elkhatib, the first Israeli Arab woman to become a plastic surgeon in Israel, the job at Rambam Medical Center is a chance to be an emissary for her community.
The first Israeli Arab woman to become a plastic surgeon, Dr RaniaElkhatib works at the Rambam Medical Center, the largest hospital in northern Israel.
After studying medicine at the Technion -- Israel Institute of Technology in Haifa and then specializing in general surgery, the 28-year-old doctor decided to focus on plastic surgery: "... It was important to me because in our community plastic surgery isn't very advanced and it's not well accepted so I feel a bit like an emissary for my community, to go into this field and take it forward," she says.
Situated in Haifa, Rambam is the referral center for 11 district hospitals. Its plastic surgeons treat a number of conditions, ranging from burns, war injuries and cleft palates to breast and facial reconstruction for cancer patients.
Thirty percent of doctors at Rambam are women, and the representation of Arab physicians is proportionate to the numbers in the population.
While the hospital is committed to providing equal opportunities, Prof. Yehuda Ullmann, head of the plastic surgery department, stresses that doctors are chosen purely on merit: "Plastic surgery residency is the most wanted residency in medicine not just in Israel but all over the world, and she was elected not because she's Arab, not because she's a woman, because she is Dr. Elkhatib and she is good and she is a very good doctor over here so we are lucky to have her here."