Art & Culture
Details

Written by

Silvia G. Golan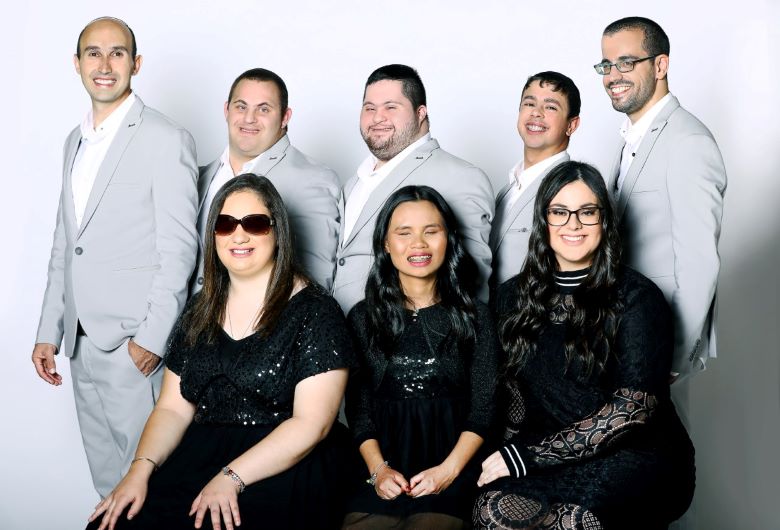 Minister of Aliyah and Integration Pnina Tameno Shete will deliver the keynote address at B'nai B'rith World Center-Jerusalem Award for Journalism Recognizing Excellence in Diaspora Reportage in Memory of Wolf and Hilda Matsdorf for 2020.
The ceremony will take place on Wednesday, Nov. 25, at 10 a.m. (Israel Time) at the Menachem Begin Heritage Center in Jerusalem. Due to Covid-19 regulations the ceremony will be held with a limited participation and streamed live on Facebook and YouTube in Hebrew (a version with English subtitles will be uploaded shortly after).
Winners for 2020 are: Branu Tegene and Danny Kushmaro of Channel 12 News and former Haaretz correspondent Dina Kraft. Tegene, a correspondent, and news anchor Kushmaro will receive the award in the broadcast media category for a 5-part series entitled "Mefotzalim" (Split Up: The Story of the Ethiopian Jewish Community) that follows the lives of Jewish Ethiopians left behind after the community's mass immigration to Israel, members of their family in Israel and their reunion in Ethiopia (link here). Kraft will receive the award for print media in memory of Luis and Trudi Schydlowsky for articles on Jewish communities in the United States and Great Britain (The Pittsburgh Playbook; How a Community Began to Heal; The Status of Anti-Semitism in Contemporary America and Britain.)
A special citation for Fostering Israel-Diaspora Relations through the Arts will be presented to Shalva Band, which rose to fame after entering the finals on the Israeli TV show, "Rising Star." The program determines the act that will represent Israel in the Eurovision song competition, held in Israel in 2019. The band's inspiring guest performance at the Eurovision semi-finals brought the band international acclaim and invitations to perform around the world and in Jewish communities. The citation was established in 2014. Former winners are singers and songwriters Nurit Hirsh, David D'Or, Idan Raichel, David Broza and Yehoram Gaon.
Since its establishment in 1992, the B'nai B'rith World Center Award for Journalism has recognized excellence in reporting on contemporary Diaspora Jewish communities and on the state of Israel-Diaspora relations in the Israeli print, broadcast and online media. The award is widely recognized as the most prestigious prize in the Israeli media industry for Diaspora reportage and was established to help strengthen the relationship between Israel and the Diaspora. The award highlights the important contributions the media can make toward strengthening the relationship between Israel and world Jewry by encouraging quality reporting on Diaspora communities and Israel-Diaspora relations.
The distinguished members of the award jury are: Ya'akov Ahimeir, past editor and anchor, Israel Public Broadcasting Corporation and Lifetime Achievement Award winner for 2016; Professor Yehudith Auerbach, School of Communication, Bar Ilan University; Professor Sergio DellaPergola, The Institute of Contemporary Jewry, Hebrew University; Sallai Meridor, former Israeli ambassador to the United States and former chairman of the Zionist Executive and Jewish Agency for Israel; Professor Gabriela Shalev, Higher Academic Council, Ono Academic College and former Israeli ambassador to the United Nations; journalist Yair Sheleg; Asher Weill, publisher and editor of "Ariel" The Israel Review of Arts and Letters (1981-2003).
The awards are presented in memory of the late Wolf Matsdorf, editor of the World Center-Jerusalem's journal "Leadership Briefing" and a journalist in Israel and Australia, and his wife, Hilda, a pioneer in social work in both Australia and Israel, and in memory of Luis and Trudi Schydlowsky. The award is made possible through donations from the Matsdorf family and B'nai B'rith World Center-Jerusalem board member Daniel Schydlowsky.
Courtesy: Channel 12 news (Branu Tegene and Danny Kushmaro) and Dina Kraft (Dina Kraft), Minister of Aliyah and Integration Pnina Tameno - Shete (Haim Zach – GPO), Shalva Band (Seli Ben Arie).
Details

Written by

Silvia G. Golan
Returning to nature 19.10.20-30.11.20
A new contemporary art exhibition at the University Botanical Garden in Jerusalem
Participating artists (in order A-B): Eitan Ben Moshe, Yaakov Dorchin, Maya Dunietz, Tsibi Geva, Eli Gur Arie,
Menashe Kadishman, Dani Karavan, Sigalit Landau, Ella Littwitz, Saher Miari, Moshe Roas, Yehudit Sasportas, Yaara Zach, Guy Zagursky.
Curator: Hadas Maor
'Returning to Nature' is a new contemporary art exhibition that opened with the approval of the re-opening of the Botanical Garden on 19/10/2020, at the initiative of the University Botanical Garden in Jerusalem and in collaboration with the Outset Fund for Contemporary Art.
In light of the current period and the corona crisis, the possibilities of spending time in open spaces become particularly important. The botanical garden, which covers 120 dunams, is the largest garden in Israel and the only one of its kind in the Middle East. Therefore, the general public can walk around the garden freely and without fear. Spending time in nature allows observation, and provides relaxation, peace and balance for the soul.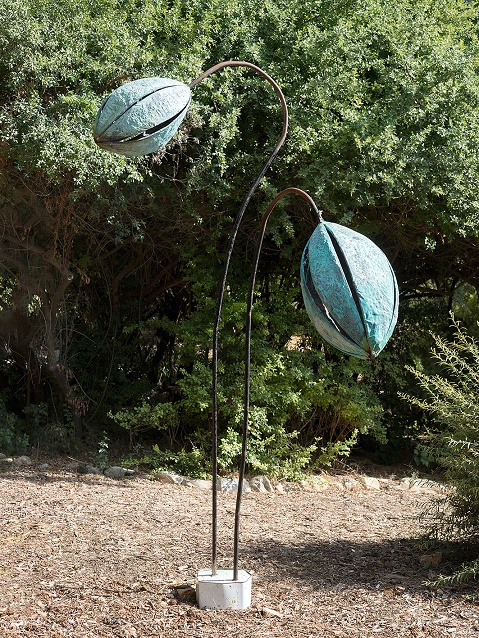 The new exhibition, curated by Hadas Maor, includes about 15 large sculptures by leading contemporary artists that have been specially adapted to the display conditions in the garden. Among the artwork there are iconic works by artists such as Menashe Kadishman and Dani Karavan, works by established artists such as Tsibi Geva, Yehudit Sasports and Sigalit Landau, and works by younger artists such as Ella Littwitz, Yaara Zach, Saher Miari, Moshe Roas and more.
Hadas Maor the curator commented: "Following the eruption of the corona, institutions and cultural centers around the world were forced to stop their activities, and the fact that the exhibition at the Botanical Garden was formed during this period, despite the huge uncertainty about its very existence, is particularly noteworthy to me. This initiative values cultural action and real support for the local art field, both from the botanical garden and from the Outset Fund for Contemporary Art."
Maor also notes "the title of the project indicates a return to the outside after a long period of closure due to the outbreak of the corona virus, but also a dimension of return to nature present in the local sculptural language. In this context, the project reveals constant movement between works that rely on the use of defined outlines and heavy materials like iron or bronze, and works that use synthetic materials like rubber, latex or polyester as well as softened and rounded forms.."
There are also two new works which were produced especially for the exhibition and in accordance with the garden space: one of the works is a new sound work by Maya Dunietz, which responds directly to the sounds of the garden. The other, is the first presentation in Israel of a chapter from the Liquid Desert project by Yehudit Sasportas, the first part of which was shown in Germany in January 2019.
The placement of the various works will be spread throughout the gardens in visible and hidden spaces, and will create a circular walking path where the plants, as well as the sculptures, are discovered by the visitor while in motion. Some of the works have a formal, material and narrative dialogue with the plants around them, and others retain their foreignness. Together the various works will present a rich and layered prism of local sculptural work.
A virtual tour of the exhibition
Taking into account the current COVID-19 crisis and allowing for those in isolation to experience the exhibition, an excellent virtual tour and free educational resources online have been built. This also allows for those outside of Israel to enjoy this collaboration of Israeli artists exhibiting in nature and thus enable an international reach of a universally relevant issue.
Educational programs
In parallel with the exhibition, a detailed program of educational activities for groups and schools has been created. Combining educational content in the exhibition and promoting the discourse around art in the open space, this allows us to strengthen the necessary connection between nature, a healthy and sustainable lifestyle and art. It is important to note that the botanical kindergarten works with over 250 schools and kindergartens from all over Jerusalem guiding the teaching staff in the agricultural as well as the pedagogical aspect. Building educational gardens encourages children and their families to grow food, recognize and preserve extinct species and work the land.
Hannah Randall, Executive Director – Strategic Development: "I am proud and excited to add "outdoor museum" to our repertoire at the Jerusalem Botanical Gardens; this has been a goal of ours for quite some time. During this pandemic it became clearer that there was and is a need to bring artwork and culture outside. Thanks to Outset Contemporary Art Fund, the Jerusalem Municipality, the Jerusalem Foundation and a number of art collectors and supporters, we were able to move fast enough during the lockdown to create a responsive and exceptional experience. This exhibition marks the first of many such collaborations and artistic initiatives that connect art, culture and nature.
Opening hours: Sunday to Saturday 09:00 - 18:00
Admission to the exhibition is included in the price of admission to the garden
Entrance fee 35 NIS for an adult, free Jerusalem children, 28 NIS for Jerusalem card holders
Guided tours and activities in the exhibition will take place later
For more details, Givat Ram Botanical Garden 02-6794012
Exhibition site and catalogue www.jbgculture.com
Photos Elad Sarig
Details

Written by

Spokesperson of the President's Office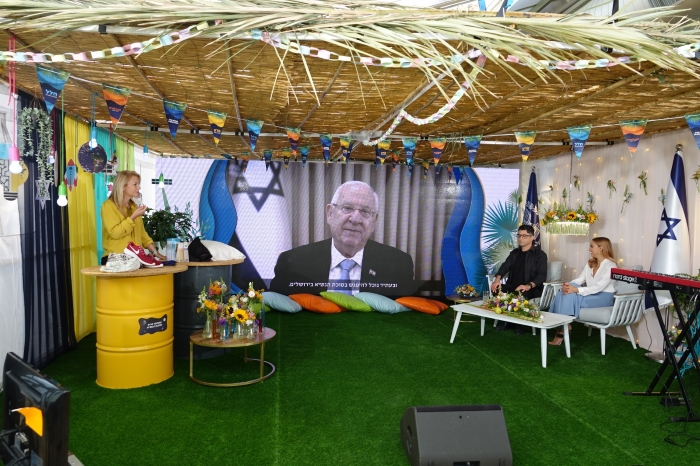 Over 70,000 people took part in the "Science Games at the President's Sukkah" online broadcast on social media and apps
The tradition of the President's Sukkah at Beit HaNasi, open to visitors during the Sukkot holiday, was continued despite the restrictions because of the coronavirus pandemic, when President of Israel Reuven (Ruvi) Rivlin opened his sukkah to visitors this morning for the seventh and last time. This year's sukkah was online, with the title of "Science Games at the President's Sukkah" and held in cooperation with the Ministry of Science and Technology and Minister Yizhar Shai this morning, Tuesday 6 October 2020 / 18 Tishrei.
The broadcast was anchored by Dudu Erez and Shira Levi, with the participation of special guests from the world of science, space and technology, including Nobel Prize laureates, sicentists and researchers, the members of the Israeli National Youth Robotics Team, members of the Horizon community, pupils from TELEM (students build satellites) and singer Agam Buhbut performed during the broadcast. Among the activities, young viewers took part in cracking scientific codes, home experiments in science, space and technology and trivia quizzes during the broadcast via a dedicated website, video calls, Zoom and social media platforms.
"I am so happy that you are my Ushpizim, guests in my Sukkah, despite the fact that you are visiting from afar, in line with the instructions," said the president to the participants during the broadcast.
He added, ""We pray 'and cover us with your sukkah of peace, over all Israel and Jerusalem'. Indeed, at this time, a covering of peace is a particularly important blessing. Only when we are together, supporting each other, can we overcome challenges like the one the virus presents. That is something we are learning as a people in these complex times. But our Sukkah, here at Beit HaNasi is not just a covering of peace, it is one of science. Those who visit our sukkah will enjoy particularly exciting activities and experiences! It is true that at Sukkot, and over the last few weeks in general, you haven't been going to school, but it is always fun to learn new things, to expand your knowledge and perhaps even to give us interesting new ideas about how to build a sukkah or to celebrate this beautiful festival in an scientific and unique way."
Minister of Science and Technology Yizhar Shai thanked the president for his collaboration and said, "We are living through challenging times when we cannot perform the mitzvot of the festival by being hosted in friends' and family's sukkot. The virus may require us to socially distance, but the wonders of technology allow us to continue the tradition and come together for a shared celebration at the house of the people, Beit HaNasi. It is only appropriate that when we are dealing with an invisible, cross-border threat, we make Israeli science and scientists who are at the forefront of fighting the virus, the focus of our festivities. It is a great honor for the Ministry of Science and Technology and for me to be the president's guests and we would be delighted if all Israel joins us on Tuesday for a celebration of scientific and technological inspiration."
For further activities, available until the end of Sukkot, please visit: www.sukkot-president-science.co.il
The broadcast is available on Beit HaNasi's Facebook and YouTube channels.
http://www.silviagolan4.022.co.il/BRPortal/br/P102.jsp?arc=2508520
Photo courtesy of Beit HaNasi
Details

Written by

Pamela Hickman
The Jerusalem Baroque Orchestra's Vocal Fantasy Festival, October 27-31, to be presented on line
Undaunted by the restrictions of the current corona virus situation, the Jerusalem Baroque Orchestra is opening its 2020-2021 concert season with yet another Vocal Fantasy Festival. Traditionally a summer event, this year's festival will be taking place in the Autumn and will be presented online. Taking place from October 27th to 31st, the festival, directed by JBO founder, harpsichordist and conductor David Shemer, will offer five days of concerts, master classes and talks that will be transmitted live from various Jerusalem locations. All the programs will have the human voice as their main focus.
The central work of the festival will be the Israeli premiere of one of Handel's early works (composed before the composer was 20) - the St. John Passion, in a performance directed by David Shemer, with singers Yeela Avital, Liron Givoni, Alon Harari, Hillel Sherman, Doron Florentin and Noam Levenstein. In another program - "Handel's Divas" - Meitar Opera Studio singers Inbal Brill and Karina Radzion will be joined by actor Itzik Cohen-Patilon to deliver the amusing story of the rivalry between Handel and Giovanni Bononcini, as well as that of two Italian prima donnas performing in London in opera productions of both composers.
In "From Johann to Hans", we will hear soprano Yeela Avital, recorder-player Inbar Solomon and other musicians performing chorales and other works of Bach in the unique arrangements by the Jewish-Peruvian composer Hans Lewitus, in addition to works of the Spanish Renaissance and music from South America. The Guy Ben Hinom Choir will join JBO players in "Collection", a program of original music led by JBO 1st 'cellist Orit Messer-Jacobi. This concert will also include instrumental works of the Italian Renaissance. The 2020 Choral Fantasy Festival will sign out with a concert of music of late French Baroque works, in which JBO 1st violinist Noam Schuss will lead her fellow musicians and soprano Daniela Skorka in instrumental- and vocal works of the sophisticated musical repertoire performed at the court of Louis XIV, here represented by François Couperin and Louis-Nicolas Clérambault..
Ticket reservations: https://www.goshow.co.il/pages/minisite/143
http://pamelahickmansblog.blogspot.com
http://pamelahickmansmusicinterviews.blogspot.com
http://pamelahickmansblog.blogspot.com/2020/10/the-jerusalem-baroque-orchestras-2020.html
Details

Written by

Silvia
ECOWEEK ONLINE CHALLENGE : The 15 Year Anniversary Edition October 2 – 4, 2020
NGO ECOWEEK is celebrating its 15-year anniversary
with an online challenge that will inspire, challenge and innovate -
with lectures, design workshops and a virtual exhibition!
With activity in 17 countries, and a network in 56 countries
ECOWEEK brings together young professionals for innovation and sustainable design,
green buildings, Placemaking, Emergency + Social Architecture, and Circular Economy. Join us!
This October ECOWEEK holds its second online event as a response to COVID-19 travel restrictions and the need to intensify environmental awareness and sustainable practices towards the European 2030 targets to avert the climate crisis.
With keynote speaker award-winning French architect Nicola Delon (Encore Heureux Architectes), and 15 experts from 16 countries experts on policy, design, circular economy, biodiversity and more - organized in part with the European network of cultural institutes EUNIC-Tel Aviv. With 48-hour design workshops and a unique virtual exhibition that will inspire with ideas generated in 200 ECOWEEK design workshops in 17 countries.This may be one of the most exciting, engaging and inspiring ECOWEEK events!
ITALIAN ARCHITECT MARIA CARMELA FRATE SPEAKER AT ECOWEEK 2020
WITH THE SUPPORT OF THE ITALIAN INSTITUTE OF CULTURE IN TEL AVIV
ECOWEEK is proud to host architect Maria Carmela Frate focusing her work on planning and managing architectural heritage and performing didactic work at the Workshop of History of Architecture and Urban Planning at the University of Perugia, Italy. Frate is the author of many publications, and is a member in European projects under Horizon 2020 such as BIMMOIS.
Maria Carmela Frate's lecture titled 'The Paradigm of Sustainability in buildings' will take place on Friday 2 October at 16:00 (UTC/GMT+3). The lecture will be livestreamed online. The lecture is free admission. Registration required at http://ecoweek.online/
ABOUT ECOWEEK
ECOWEEK is a non-profit organization, established in 2005 by architect and social entrepreneur Elias Messinas, with the passion to change peoples' habits and the mission to raise environmental awareness and to promote sustainability. Based in Greece and Israel, for 15 years ECOWEEK has been engaging, training and empowering more than 4000 students and professionals from 56 countries with inspiring speakers and challenging design workshops. ECOWEEK has become for many young professionals a unique experience and a turning point to their growth and career.
Whether in virtual or physical platforms, at ECOWEEK students design and implement innovative ideas and develop their thinking in sustainability. Many ideas are implemented in cities around the world. Together we will continue to make an impact! Join us for this special ECOWEEK 15-year anniversary challenge!
ECOWEEK Organizing Team: Elias Messinas, Despoina Kouinoglou, Pavlos Symianakis, Sofia Passia, Vicky Panagiotidou, Eleni Mantika, Nafsica Mouti, Margarita Kyanidou, Ina Patsali, and Theodora Passia.
ECOWEEK 2020 Website & Registration : http://ecoweek.online/
Contact : This email address is being protected from spambots. You need JavaScript enabled to view it.