Diplomatic Events
Details

Written by

Silvia G. Golan & Steven Aiello
Minister of Foreign Affairs Ivan Korčok Inaugurates the Slovak Institute in Jerusalem, Opening a New Chapter in Israel-Slovakia Relations.
The Minister of Foreign Affairs and European Affairs of the Slovak Republic H.E. Ivan Korčok, together with the President of the National Council of the Slovak Republic, H.E. Boris Kollár and Minister of Labor, Social Affairs , H.E. Ambassador of Slovak Republic to the State of Israel Igor Mauks, Director of the Institute Mr. Urik Jakub and Family H.E. Milan Krajniak inaugurated the Slovak Institute in Jerusalem on Wednesday evening.
"The opening of the Slovak Institute in Jerusalem opens a new chapter in relations between Slovakia and Israel. This piece of Slovak land in Jerusalem will be a meeting place not only for artists and representatives of the cultural community but also for all friends of Slovakia and Israel, including thousands of Slovak pilgrims who visit the Holy Land every year," said Minister Korčok. There are currently nine such cultural institutes in the world, with Jerusalem being only the second one located outside the European Union.
"I see cultural diplomacy as one of the best tools for the presentation of Slovakia abroad, which opens the door to new opportunities for artistic cooperation, but also to support Slovakia's interests abroad. That is also why the support of culture and art is one of the priorities of the Ministry of Diplomacy," said Minister I. Korčok.
At the ceremony, Minister Korčok thanked the present mayor of Jerusalem, Moshe Lion, and Israeli Foreign Minister Yair Lapid, for their helpfulness in setting up the Slovak Institute in Jerusalem. The institute has been operating since September 1, 2021, but due to Covid 19 safety measures, the grand opening ceremony had been postponed. The director of the Slovak Institute in Jerusalem is an experienced cultural diplomat, Jakub Urik.
"We can be proud of this piece of Slovakia on the prestigious King David Street in Jerusalem. It is a modern multifunctional space, which currently has the largest exhibition of Slovak contemporary art abroad," said Jakub Urik, director of the Slovak Institute in Jerusalem. According to him, dozens of top Slovak artists who exhibit in the best galleries in the world will be able to exhibit in Israel for the first time through the Slovak Institute.
"Since September 1, 2021, since the Slovak Institute in Jerusalem began to function officially, we have already managed many projects. At the Institute, we currently have the largest exhibition of Slovak contemporary art abroad, EXPEDITION 10, curated by Vladimír Beskid. The most important Israeli cultural institutions are interested in cooperating with Slovak artists, and the city of Jerusalem, which is visited by 4.5 million tourists a year, placed a statue of the leading Slovak sculptor Bohus Kubinsky in one of its parks in the city center. The Slovak Republic will be the main guest of the jubilee 10th year anniversary of the largest photography festival in Israel, Israel Photo, the best private galleries in Tel Aviv are interested in presenting Slovak artists and the recent tour of Slovak jazz performers was sold out in all clubs in February".
Slovak institutes belong to the network of diplomatic institutions of the Slovak Republic, which manages the diplomacy department. They are an integral part of the tools through which the Slovak Republic supports cultural cooperation and develops international relations.
At the opening ceremony, Israel Minister of Foreign Affairs Yair Lapid spoke on behalf of the government of Israel: "We appreciate and cherish this moment, and even more so - the years to come. We will continue to strengthen cooperation and ties between our countries."
www.diplomacy.co.il and DebateforPeace congratulate the government, the Embassy and the Slovak Institute for inaugurating this important new chapter in relations between Slovakia and Israel.
www.facebook.com/Slovak-Institute-in-Jerusalem-
www.instagram.com/slovensky_institut_jeruzalem/
Steven Aiello
Founder--DebateforPeace
Photos credit Silvia G. Golan
More Pics at Facebook Diplomacy Israel / Israel Diplo
Details

Written by

Spokesperson of the President's Office
President Isaac Herzog today received the credentials of the new ambassadors of Tanzania, Armenia, Austria, Singapore, and Kyrgyzstan upon the assumption of their diplomatic duties in Israel. The incoming ambassadors were welcomed by the IDF Band playing their respective national anthems and they inspected an IDF honor guard, after which they presented their letters of credence to the President in the Great Hall of the President's Residence in Jerusalem. The ambassadors held a meeting with the President and then signed the guest book. At the end of each credentials ceremony, the Israeli national anthem was played.
The first ambassador to present his letter of credence was the Ambassador of the United Republic of Tanzania, H.E. Alex Gabriel Kallua. The Tanzanian Ambassador extended President Samia Suluhu Hassan's personal regards to President Herzog and her wishes for enduring cooperation between Israel and Tanzania. President Herzog emphasized his desire to strengthen Israel's relationship with Tanzania in a range of fields, including tourism.
The second ambassador to present his letter of credence was the Ambassador of the Republic of Armenia, H.E. Arman Akopian, who begins his posting in Israel after serving as Armenia's ambassador to Brazil. The Ambassador presented his credentials in fluent Hebrew and signed the guest book in Hebrew. President Herzog and Ambassador Akopian discussed the 1,700-year-old history of the Armenian community in the Holy Land and affinities between Jews and Armenians as peoples with independent states and worldwide diasporas.
President Herzog noted that his father, the late Sixth President of Israel, Chaim Herzog, received the credentials of the first Armenian Ambassador to Israel after the establishment of diplomatic relations. The Ambassador extended President Vahagn Khachaturyan's personal greetings to the President and the people of Israel.
At the end of the ceremony President Herzog invited the Armenian Ambassador to walk down to the reflecting pool with him, to show him the works of ceramic art by Armenian-Jerusalemite artist Marie Balian introduced to the President's Residence by the President's late mother, former First Lady Aura Herzog.
The third ambassador to present his letter of credence was the Ambassador of the Republic of Austria, H.E. Nikolaus Lutterotti. President Herzog welcomed the Ambassador and thanked him for Austria's friendship with Israel, saying: "We have a very unique, important and strong relationship between our nations." President Herzog added that he looks forward to meeting Austria's leadership, and Ambassador Lutterotti conveyed Austrian President Alexander Van der Bellen's personal regards. The Ambassador noted that the Austrian Government has tripled its spending to protect and promote Jewish life in Austria "to make it the vibrant part of our society that it used to be."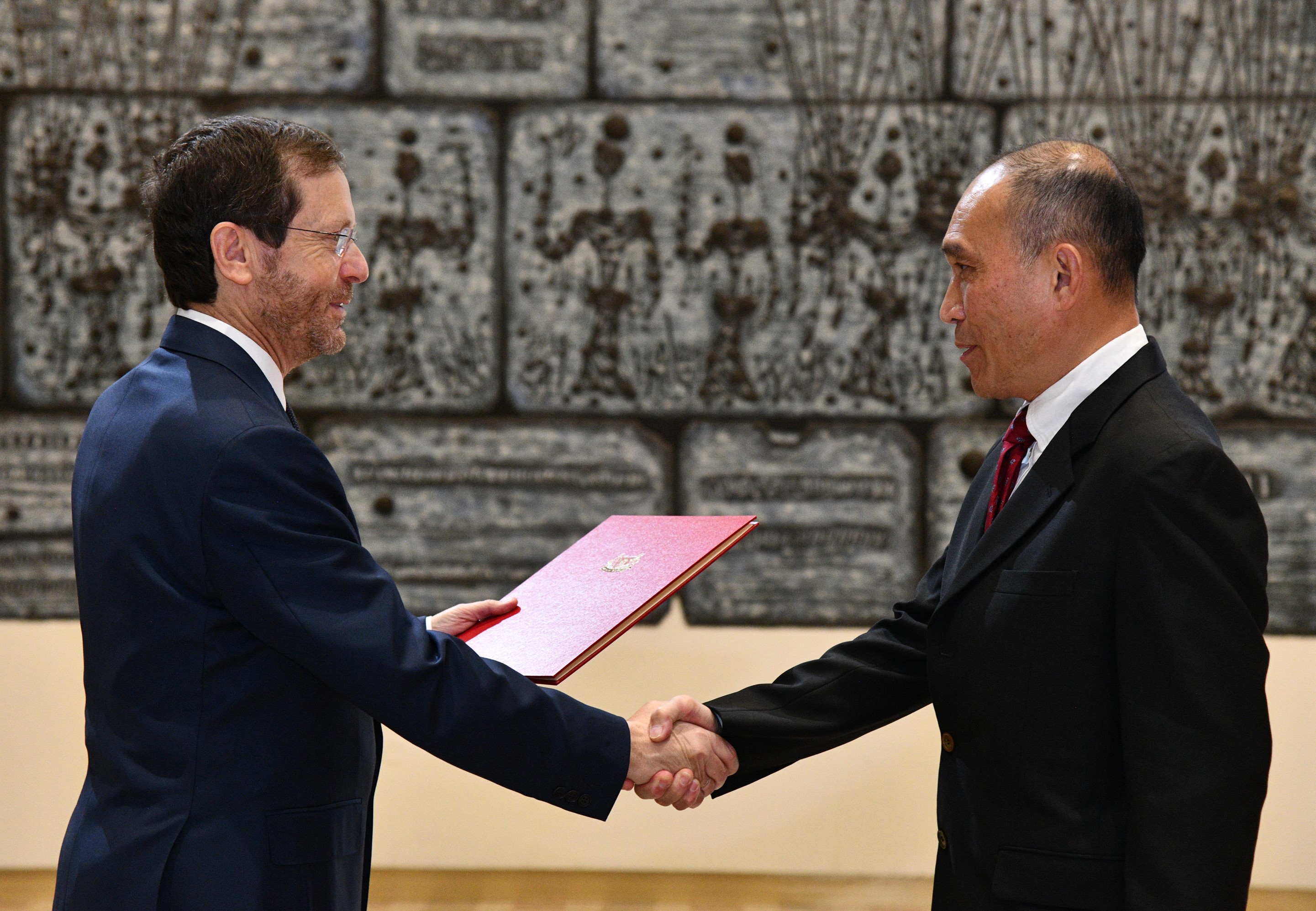 The fourth ambassador to present his letter of credence was the Non-Resident Ambassador of the Republic of Singapore, H.E. Chuan Poh Lim, who has previously served as the head of the Singapore Armed Forces. Ambassador Lim updated President Herzog on the progress toward the establishment of a permanent Singaporean embassy in Israel soon, further to the Singaporean Government's decision last month. President Herzog and Ambassador Lim discussed Israel and Singapore's shared challenges, including urban density and water security, and noted that both nations have learned much from each other.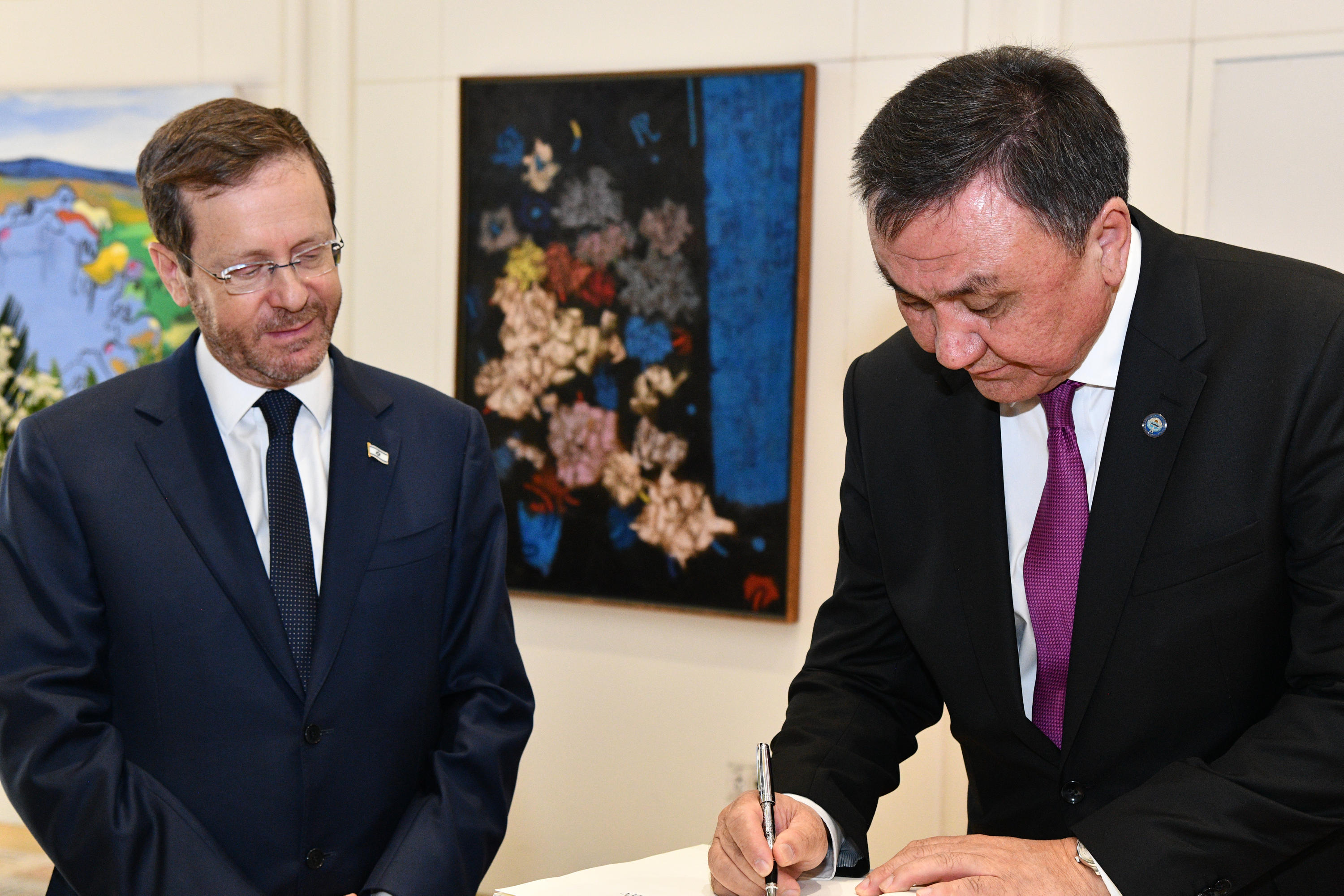 The last ambassador to present his letter of credence was the Non-Resident Ambassador of the Kyrgyz Republic, H.E. Kubanychbek Omuraliev, who also serves as Kyrgyzstan's ambassador to the Republic of Turkey. Ambassador Omuraliev arrives as Kyrgyzstan's first ambassador to the State of Israel in twenty years. President Herzog began by wishing Ambassador Omuraliev a Ramadan Kareem and handed him a personal letter to President Sadyr Japarov of Kyrgyzstan on the occasion of thirty years of diplomatic relations. President Herzog and Ambassador Omuraliev discussed opportunities to expand trade, academic and cultural cooperation, and reciprocal tourism between Israel and Kyrgyzstan.
Photos credit: Haim Zach/GPO.
Details

Written by

Leslie Sachs Aiello
Representatives of many faith communities and various embassies gathered last Tuesday evening, March 22nd, to celebrate Naw-Ruz, the Bahai New Year. The thoughtfulness and care that created the beautiful and world-renowned Bahai Gardens in Haifa were evident in the gorgeous display of bright flowers and lush greenery that were artfully arranged to create a calming mood as guests strolled by on their way into the main ballroom of the David Citadel Hotel. The positive energy continued as attendees, many of them diplomats in colorful national attire, were warmly greeted by the leadership of the Baha'i Community here in Israel, which is home to the World Center of this distinctive group. The joy at being able to finally celebrate together in person after so much pandemic-related isolation was palpable.
The Bahai faith, a recent addition relative to the other major world religions (1844), quickly spread throughout the world, because of its basic appeal to the higher aspirations of human nature. A monotheistic religion, it recognizes all prior prophets as messengers of a Supreme Being who desires humanity to understand and respect His will. The unity of God and the unity of humanity are both primary values and other basic tenets include the search for truth; strengthening the common elements of all religions; faith in fundamental harmony between religion and science; volunteering; equality between men and women; monogamy; denial of prejudices and superstitions; strict obedience to the laws of the local government, non-violence, and international cooperation. According to founder Bahá'u'lláh, these values of global peace, scientific progress and ethical behavior represent successive stages in the spiritual development of mankind.
To emphasize this focus on interrelatedness and a desire for connecting, the program opened with a beautiful song about unity performed by a trio of talented women harmoniously combining the musical contributions of clarinet, bass cello, piano, and voice. The Secretary-General's Dr. David Rutstein opening remarks noted that the main purpose of the evening was to bring joy to all the participants as a show of gratitude to Israel for its abiding acceptance and support of the Bahai World Centre since its inception until today.
There were several references to the power of timing. The first pointed out how appropriate it is to celebrate New Years at the beginning of spring as the earth and its inhabitants wake up from winter and embrace a new cycle of rebirth and renewal. This natural drive for growth fits well with the enhanced hope and confidence in man's ability and commitment to meet the challenges we face expressed so eloquently by the members of the Bahai community. However, as the founder wisely points out, "Every age hath its own problem, and every soul its particular aspiration. The remedy the world needeth in its present-day afflictions can never be the same as that which a subsequent age may require" so those who strive for improvement must be always aware and flexible.
Tjeriya Tjitendero, Head of Programming, then presented an amazing and informative survey of the abundant activities being conducted by the many caring Baha'i communities around the globe who are dedicated to the betterment of their fellow humans. This commitment to leave the world a better place has inspired innumerable projects on several continents from Honduras and Chile to Kenya, the Republic of Congo and Ethiopia to India and Kazakhstan all the way to Papua New Guinea and New Zealand. Bahai leaders have been active participants in international forums addressing women's equality, climate change & ecological stability. Other worthy projects were spearheaded by local Baha'i communities to meet regional needs such as eliminating hate speech, food distribution, promoting peace discourse, encouraging collaborations between leaders of science and faith, and improving educational opportunities.
After being very warmly introduced, Aaron Davidi, the Director-General of the Ministry of Justice, addressed the participants and described the very special and unique relationship that has existed between the Israeli government and the Bahai World Centre and Community since Haifa became their spiritual headquarters. As Head of the Inter-ministerial Committee for relations between the State of Israel and the Bahai Community, he looks forward to further enhancing these close ties. He added that the Ministry of Justice recognizes the Bahai community as integral to Israeli society and is committed to protecting their holy places and their right to continue to practice their religion freely. Minister Davidi concluded by wishing everyone a peaceful and healthy Naw-Ruz.
Since man does not subsist solely on lofty ideals and positive energy alone, the upbeat evening included a sumptuous buffet with many aromatic and flavorful dishes of fish, chicken, beef, and vegetables representing many cuisines from Mexican to Asian to our own Middle-Eastern. Not surprisingly, the dessert table containing a wide variety of cakes, petit fours, and other sweet concoctions and fresh fruits was very popular. After the formal program concluded, guests were invited to stay and linger they did, greeting old friends and initiating new cordial relationships in an atmosphere of warmth and excitement for the possibility of what might develop from these connections
Diplomacy.co.il
congratulates the Bahaim on this wonderful celebration, and wishes a happy Now-Ruz to all the Community
Photos credit Silvia G. Golan
More Pics at Facebook Diplomacy Israel / Israel Diplo
Details

Written by

Silvia G. Golan
Azerbaijan Tourism Board launched its official representation in Tel Aviv & invites Israeli travellers to turn over an eco-friendly leaf with exhilarating and conscious travel experiences
Azerbaijan Tourism Board announced today the opening of its official representation in Tel Aviv. Lead by Jamila Talibzade, the new office reflects the boards strategy to embrace the opportunity for change and inviting travellers to take a new look at what Azerbaijan has to offer in this new era.
Jamila Talibzade said: "At a time when the environment, sustainability and reconnecting with people while maintaining social distancing are hot topics of conversation, Azerbaijan Tourism Board (ATB) is extremely happy to cut the ribbon of its new representative office at Herbert Samuel Dock on the sea front of Tel Aviv". She explained that the main role of the new office will be increasing awareness of Israelis about Azerbaijan, promoting tourism potential of the destination, bring together people of both countries, maintaining day-to-day management and administration related to tourism promotion, along with detailed market research.
The new office will be working with all of the major travel agents, tour operators, and airlines that are currently resuming their direct 3 hours flights to Baku.
Jamila has been working as a civil servant for over 25 years in Azerbaijan. In 2017 she joined the Azerbaijan Tourism Promotion Board as a marketing manager. Since the establishment of the State Tourism Agency of the Republic of Azerbaijan in 2018, she has held the position of head of the International Relations Department.

47,000 Israelis visited Azerbaijan in 2019 (compared to 40,000 in 2018), thus representing a terrific increase of 17.3%. Although this number drastically decreased because of the worldwide pandemic, ATB is working in various direction to make it up through various online tools and webinar, and trade shows. The opening of the Tourism Representative Office in a huge step towards this commitment.
Israeli tourists are eligible for e-visa and visa upon arrival issued at the airport. An e-visa can be obtained via evisa.gov.az/en portal and is sent directly to the applicant's email. The standard e-visa is issued within 3 working days and is valid for a period of 90 days with permission to stay in the country for 30 days on a single-entry basis.
Arriving in Azerbaijan is very comfortable thanks to the state-of-the-art Heydar Aliyev International Airport, which was given a 5-star rating by Skytrax. Currently, through a relatively short 3-hour direct flight from Tel Aviv to Baku via AZAL, IsrAir and Arkia Airlines, Israelis can gain a unique cultural experience at very affordable prices. The majority of Israelis visited Azerbaijan in summer in accordance with vacation in Israel. Israeli travelers spend an average of 4.5 nights in Azerbaijan.
Azerbaijan has been a home for Jewish community since 19th century, which has been cherished and preserved till nowadays. The destination has long been welcoming guests from Israel, attracted by the beauty, culture, traditions, people and hospitality of this country. Azerbaijan's Jewish community consists of around 16,000 people, with 11,000 of them being mountain Jews.
More than 3,000 of them live in Guba region, in a settlement called Red Village – the only community of dense Jewish population outside Israel and the US. Today, the country is home to many Jews, who are divided into three ethnic subgroups: Mountain Jews, Ashkenazi and Ebraelis or Georgian Jews. In the southern regions of Jalilabad and Lankaran you can also find Subbotniks and Gers – groups of ethnic Russians practising Judaism. The museum of mountain Jews opened there just last year to shine a light on this one-of-a-kind community, their traditions and culture, keeping them safe for generations to come.
Jewish heritage in Azerbaijan is also represented by monuments spread across Baku, Guba, Oghuz, Ismayilli and other regions. Many ruins of ancient synagogues have been found in diverse parts of the country and seven synagogues are still currently functioning. Today, it is possible to walk in main streets of Baku and enjoy fascinating Jewish synagogues, learn about well-known Jews of Azerbaijan and their contribution to the socio-economic development of the country. Jewish walking tours offered to tourists will take you through the key sites of Jewish heritage in Baku while uncovering the stories of exceptional people and historic events. During the tour, participants visit the synagogue of Mountain Jews and the new museum, the synagogue of Ashkenazi and Georgian Jews, the memorial board of Nobel prize laureate Lev Landau born in Baku, the State Song Theatre which used to be Baku's first synagogue and Jewish theatre, as well as Chabad-or-Avner Education Complex that offers secondary education to Jewish students.
Straddling two continents where East meets West, Azerbaijan offers a rare and vibrant mix of culture, architecture and culinary heritage. Add in the warm climate and diverse natural landscapes – from mountains, volcanoes and gorges to waterfalls, forests and sandy beaches along the Caspian Sea – Azerbaijan has all the ingredients for socially-distanced tourism that is both accessible and exhilarating.
Whether you have been to Azerbaijan before or are a first-time visitor, the country has something for everyone, and now is the time to explore all its offerings with international borders gradually opening
# A vibrant food scene with a focus on Slow Food
Thanks to the country's geographical location along the ancient Silk Road, every region has its own culinary heritage and unique produce, which together provide the foundation for the rich flavours of Azerbaijani cuisine. By combining travel with first-hand culinary experiences with farmers, shepherds, butchers and bakers, travellers are helping to preserve gastronomic traditions and local ingredients that may otherwise be on the brink of extinction.
One such experience offers travellers keen to discover this side of Azerbaijan the chance to stay overnight at rural guesthouses and help with seasonal activities, such as seeding, planting, cultivating, harvesting, processing and packaging, and be rewarded with the opportunity to cook and taste the fruits of their labour as well.
ATB has also recently introduced the national Ark of Taste menu, which was created as part of an EU-funded project to promote Slow Food. The menu offers a unique celebration of the traditional cuisine by supporting local farmers and food producers to safeguard native ingredients and techniques, such as the production of mountain honey, the Madrasa grape, hazelnuts, rosehip syrup, and dairy products made from buffalo milk.
# Nature at its best
With people seeking to travel more safely and privately than ever, outdoor and eco-friendly activities are increasingly in demand, and Azerbaijan has almost every kind of geography to explore. Highlights include:
Hiking in pristine nature – with around 150 kilometres of marked hiking trails connecting remote mountain villages and passing through lush forests, waterfalls and lakes in the Caucasus mountains, it is now easier than ever to hike, cycle, and camp in these landscapes and travel between them.
Birdwatching – with around 400 recorded species of birds, Azerbaijan has established itself as a leading birdwatching destination. There are magnificent sites in the Caucasus Mountains for birdwatching, and there has been particular focus on preserving and developing the Besh Barmag State Reserve, northwest of Baku, to help protect and keep track of the area's bird population and serve as a birdwatchers' hub.
Winter activities – travellers looking for a fairy-tale destination this festive season, should look no further than Shahdag in Gusar, Tufandag in Gabala and Agbulag in Nakhchivan for a real taste of winter, while adrenalin-seekers will love the choice of activities available on land and in the air, including skiing, snowmobiling, paragliding and quad tours.
# Wonders of the natural world
Along with abundant opportunities for nature-focused activities, travellers also have a chance to develop a deeper appreciation for the country by sampling a variety of wellness experiences that harness the restorative effects of nature itself.
Salt therapy – said to have positive effects on a variety of ailments including asthma and allergies, as well as having benefits for aging skin, one of the most impressive places to experience traditional salt therapy is Duzdag, or 'Salt Mountain' in Nakhchivan. The former salt mine is made up of a complex of tunnels burrowed 300 meters into the mountain which is thought to contain 130 million tons of the purest natural salt in the world.
Now part of the Duzdag Physiotherapy Center, guests can stay overnight in one of the Center's subterranean rooms, enjoying not only the restorative powers of the salt, but solitude and peace of mind.
Thermal baths and springs – since ancient times, locals in Azerbaijan's south-eastern region have turned to thermal water springs for their health. Known as "istisu", bathing in the mineral-rich water — or even drinking it — is a common pastime in Lankaran, Gabala, and the Karabakh region, where it is revered for its rejuvenating qualities and used to treat numerous conditions.
With over 30 hot and cold mineral water springs to be found across the Greater Caucasus Mountains – each one offering health-seekers distinct concentrations of minerals and organic substances – there are plenty of opportunities to bask in soothing formal treatments while enjoying unbeatable views of some of Azerbaijan's great natural attractions.
The oil of Naftalan – used for therapeutic purposes going back as far as the 12th century, the unique composition of Naftalan oil has helped turn the town of Naftalan into one of Azerbaijan's leading health tourism destinations.
According to local folklore, the oil's healing properties were first discovered by a Silk Road merchant who left one of his sickly camels by a pool of Naftalan oil and later returned to find it fully recovered. Today, it is believed to possess natural anaesthetic, anti-inflammatory, antiseptic and antihistamine properties, and can be used to treat more than 70 different ailments from skin conditions and problems related to the nervous system to stress and fatigue.
# Take a walk through history and culture
From World Heritage sites to amazing architecture, there is so much history and culture to explore in Azerbaijan. There is no better way to discover the cultural heart of the capital city Baku than with a specially-curated walking tour to the its medieval core – UNESCO-protected Old City with Maiden Tower and Shirvanshahs' Palace.
The unique history and culture of Azerbaijan, home to some of the earliest civilisations, have also been enriched by the constant stream of travellers passing through along the great Silk Road. One of the locations where their traces can be clearly seen is the Ateshgah Fire Temple, which was built around naturally burning fires previously worshipped by Zoroastrians. Adopted by Hindu merchants trading in nearby Baku, the temple was an important place of pilgrimage for fire worshippers until the 1880s.
Another visible trace of the Silk Road is the city of Sheki, whose historic centre is Azerbaijan's latest UNESCO World Heritage Site. Thanks to its local traditions of craftsmanship, which date back centuries, Sheki is also part of the UNESCO Creative Cities Network.
There is one more route to track in Azerbaijan to explore its cultural heritage. One of the most recent inspiring destinations in Azerbaijan is Shusha - home to many Azerbaijani composers, musicians, and poets, as well as one of the leading schools of mugham, a traditional genre of vocal and instrumental arts. It is also known for its carpet-weaving traditions and was the centre of the renowned Karabakh carpet school.
# Ease of travel
Currently, citizens and permanent residents of 42 countries can travel to Azerbaijan by air, including the United Arab Emirates, Bahrain, Qatar and Saudi Arabia. With restored connection via the Azerbaijani Airlines, Flydubai, Air Arabia and Qatar Airways, passengers aged over 18 can now fly to Azerbaijan, submitting both a COVID passport (an official document issued by the relevant country on complete vaccination or recovery from COVID-19) and a negative PCR test taken within 72 hours before the flight, while for minors only the latter needs to be provided within the indicated period of time.
# Air and on the ground information
Getting from the airport to the city centre is around 20 mins by car or by bus. There are shuttle buses on the route from the airport to the downtown, as well as taxis available at the entrance to the terminal. Arriving visitors can also use Bolt or Uber apps to get a taxi from the airport to their destination. In Baku, it is possible to use the underground metro, public buses and taxis, as well as taxi apps. For interregional travel, it is possible to rent a car or buy a ticket for interregional bus ride.
Azerbaijan's country code is +994. Mobile phones not purchased in Azerbaijan can be used for 30 days but after that you'll need to register the phone's IMEI code.
Accommodation options are available for all types of travellers and budgets. While the majority of hotels and other types of accommodation are located in the capital city Baku, such as global hotel chains like Marriott, Hilton, Four Seasons, Fairmont and soon-to-be-opened IHG and Ritz Carlton, other regions of Azerbaijan offer a good variety of options to make visitors' stay unforgettable. For those wishing to take a rest from the busy city life, large resorts and spas offering numerous health treatments await them in picturesque surroundings. There is also a growing range of hostels and homestays available throughout the country.
Those travelling to Azerbaijan can find plenty of places to get a great taste of the local traditional cuisine, as well as a growing mix of popular international franchises, contemporary cafes, pubs, wine bars and other catering facilities.
The national currency of Azerbaijan is Manat (AZN). For current exchange rates, please check with the Central Bank of Azerbaijan. The exchange rate for USD fluctuates around 1.7 AZN for 1 USD. In Baku, credit cards are accepted almost everywhere - at hotels, stores, cafes and restaurants. The most common credit card types in Baku are VISA, Visa Electron, Master Card but you should have no problem finding ATMs that also accept Maestro and American Express.
Currently citizen of 65 countries are allowed to enter the country. Below is the updated list:
Russia, Turkey, the United States, Bahrain, the UAE, Great Britain, Israel, Hungary, Qatar, Germany, Austria, Belgium, Czech Republic, Denmark, Ireland, Spain, Sweden, Switzerland, Canada, Luxembourg, Malta, Netherlands, Poland, Portugal, Serbia, Singapore, Slovenia, Slovakia, Greece, China, Estonia, Finland, France, Hong Kong, Croatia, Iceland, Italy, Latvia, Lithuania, Malaysia, Saudi Arabia, Japan, Argentina, Australia, Brunei, South Korea, Chile, Ecuador, Cambodia, Costa Rica, Cuba, Kuwait, Kazakhstan, Maldives, Mexico, Morocco, Mongolia, Montenegro, Norway, Oman, Panama, Salvador, Uruguay and New Zealand.
About the Azerbaijan Tourism Board (ATB)
The Azerbaijan Tourism Board (ATB) is the national promotion body established under the State Tourism Agency of the Republic of Azerbaijan. Its main objectives are to support the growth of Azerbaijan's tourism industry and encourage visitors to explore the country's rich cultural offering and experience its ancient heritage.
For more information, visit https://azerbaijan.travel/
and follow on social media at: https://www.instagram.com/experienceazerbaijan/
https://www.facebook.com/ExperienceAZE/, https://twitter.com/ExperienceAZE
Photos credit Silvia G. Golan
More Pics at Facebook Diplomacy Israel / Israel Diplo
Details

Written by

Silvia G. Golan
The Trnava region in Slovakia is happy to introduce in the IMTM tourism fair in Tel Aviv the unique tourist attractions of the Danube Delta, at the foothills of the Little Carpathian Mountain Range
The region is rich in pampering spas and thermal spring waters, superior wineries, golf courses, culture and history, fine cuisine and world-class wines, quality honey, sports facilities, and racetracks amongst the largest in the world, magical castles, shopping centres, sustainable tourism, unique galleries, and museums
On the occasion of the IMTM International Tourism Fair at the Tel Aviv Expo, the Trnava region in Slovakia will hold a special event in Jerusalem, to introduce the unique tourist attractions at the Danube Delta and the region's capital known as "Little Rome of Slovakia". The event will take place at the Slovak Institute, 19 King David St. Jerusalem, and will be attended by the Slovak Ambassador to Israel, Igor Maukš, senior officials from the Trnava region, wholesale tourism, and travel agents from both countries as well as media representatives.
The Trnava region is one of the eight regions of Slovakia, located in the western part of Slovakia and near the borders of Austria, Hungary, and the Czech Republic. The airport in the capital Bratislava is only 45 km from the region and Vienna airport is only 110 km away. Budapest is 215 km away and Prague 400 km. The county is connected to these major cities by a network of highways and express trains. The region is famous for its largest drinking water reservoir in Europe and rivers with clean water and essential minerals for body health. The region's healing springs, spas, and health resorts have become well-known in Europe. The wines produced in the region are excellent and so is the honey production.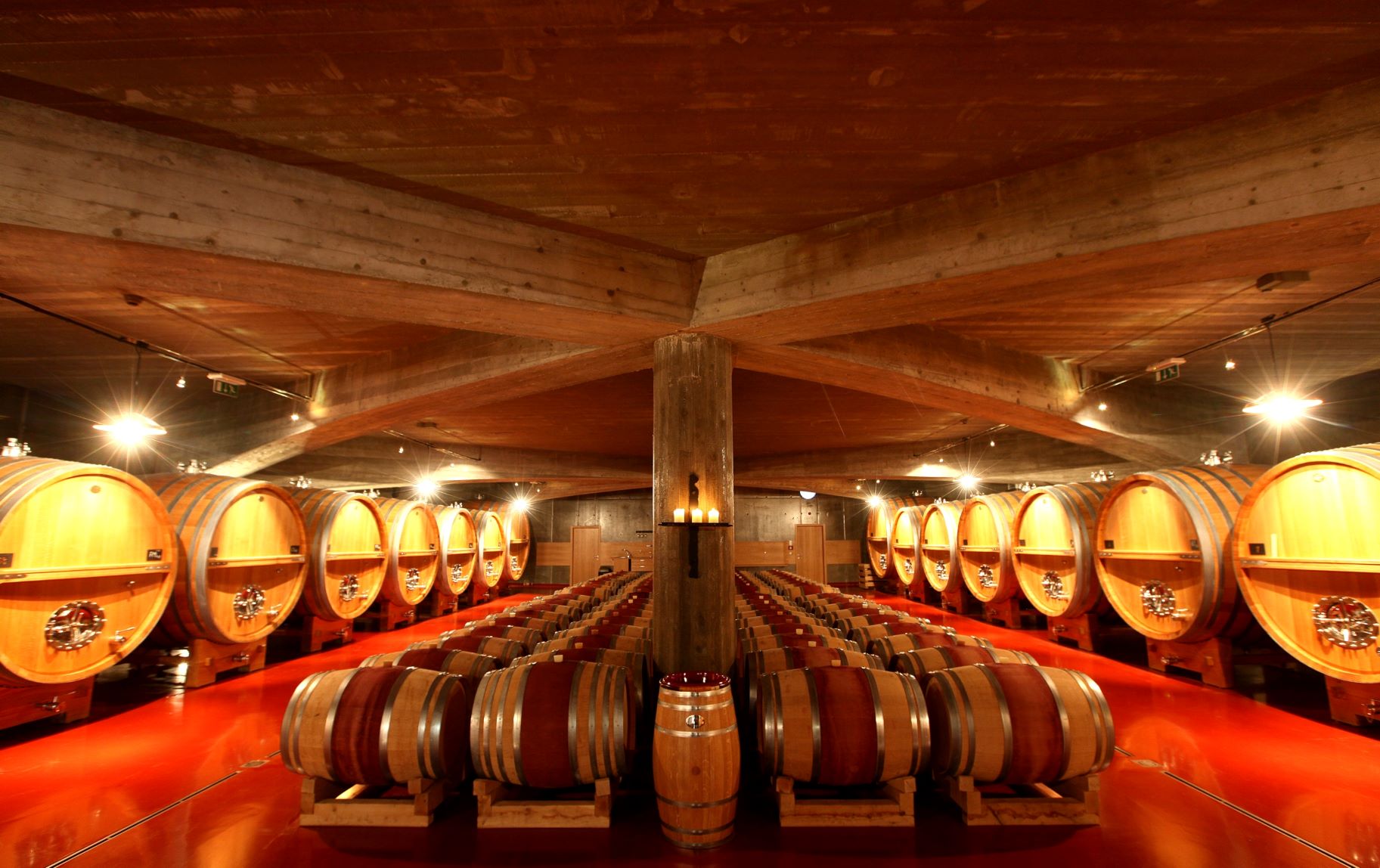 The spa town of Piešťany is known worldwide for its fine spas, its unique sulfur mud, and the waters of the healing springs from geothermal sources. The town became famous for its hot springs and sulfur mud, which were found to have medicinal properties, due to the high concentration of sulfur, hydrogen, bromine, and magnesium. The hot springs and mud water has a positive medical effect on those suffering from inflammatory problems, skeletal problems, joint problems, and nerve problems, and thanks to them the town became famous not only in Europe but throughout the world.
Piešťany houses six spa hotel complexes in the area called the "Spa Island". This is one of the largest and unique spa complexes in Europe. One of the most remarkable hotels on the spa island is the Thermia Palace Hotel, with Art Nouveau architecture style. The city of Trnava serves as the capital of the Trnava region, and it is known as the "Little Rome of Slovakia" famous for its numerous churches. Despite its size, the city used to be an important center of the Hungarian Empire. It has magical historical streets, museums and art galleries, and a great atmosphere for the whole family. The city's famous clock tower dating from the Renaissance period gives the city a special and magical atmosphere.
Trnava University, built in the Baroque style, gives the city a lively and vibrant atmosphere. There are 11 churches and 2 synagogues in the city. The Jewish community in Trnava is one of the oldest in Slovakia and existed as early as the 12th century. Many impressive castles are scattered throughout Slovakia. One of them is Smolenice Castle, built in the 14th century. Near the magical castle, it is recommended to visit the stalactite cave of Driny. For those interested in history and the Habsburg dynasty, it is recommended to visit Holíč Castle.
Wine connoisseurs will love the Trnava district and especially the autumn wine festivals. The wineries in Trnava are famous for their family tradition. The wine industry in this region began as early as 3000 years ago. Many vineyards are spread there as well as wineries that produce quality local wine. The Slovak wines from the Carpathian region were especially popular with members of the royal families of the Austro-Hungarian Empire, and especially by Maria Theresa of Habsburg.
The Trnava region is also known for its fine honey production which strengthens the immune system. The renowned X-bionic® sphere sports complex in Šamorín, includes sports facilities of the highest level. This special resort offers athletes advanced sports facilities for 26 Olympic sports. There is also an Olympic and modern horse-riding facility, which also hosts international competitions. Trnava region is considered a paradise for golf players, with golf courses of the highest standards in the world. One of the world-renowned golf courses is Penati Golf Resort. The motor sport is also popular in Slovakia, thanks to world-class racing tracks, some of the largest in the world. Adrenaline enthusiasts can enjoy a helicopter ride, a paragliding experience or fly a hot air balloon. Several ports for cruise tourism are also located in the Trnava region.
The Piešťany airport has the potential for direct flights from Israel. The Airport is comfortable/tiny offering good services for charter flights, VIP and private flights tailor made for different target groups.
Images courtesy: Trnava Regional Tourism Board.