Diplomatic Events
Details

Written by

Silvia G. Golan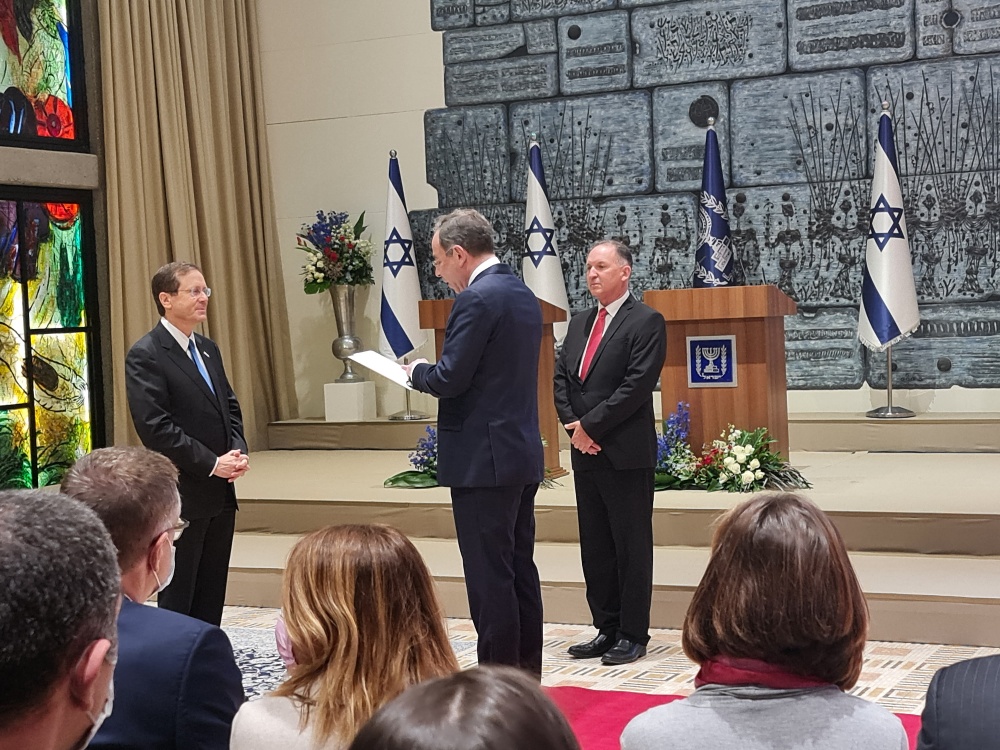 President Isaac Herzog receives the credentials of the Ambassador of the United States of America, Thomas R. Nides
Today, President Isaac Herzog received the credentials of the new Ambassador of the United States of America, H.E. Mr. Thomas R. Nides, at an official ceremony at the President's Residence in Jerusalem. President Herzog and Ambassador Nides delivered statements to the press and then held a working meeting. The President surprised Ambassador Nides by inviting to the ceremony the principal from his old Hebrew school in Duluth, Minnesota, Elizabeth Aloni.
President Isaac Herzog's full remarks:
It is a true privilege and honor for me, as President of the State of Israel, to open my home to you, the newly appointed Ambassador of the United States of America, Ambassador Tom Nides.
The People of Israel welcome you with open arms and an open heart. For us, this is a celebration of a shared vision and common values: liberty and equality, freedom, human rights and friendship with our closest ally.
Personally, my family has been engaged and involved with over fourteen successive American presidents. Growing up in the United States, I was strongly influenced by the spirit of the Constitution, by its social diversity and by the great tradition of your democracy.
This is why it is a special pleasure for me to host you, Mr. Ambassador, here in the President's Residence, to receive your credentials and light the eighth and final Chanukah candle with you.
I have a small surprise for you: in your youth you attended Hebrew and Sunday School in the small Jewish community of Duluth, Minnesota. I have invited the principal of the school, my good friend Elizabeth Elie Aloni, who is sitting right here, to join us today and she remembers you as a young adolescent. You might not remember her, but she remembers you. Tom—this must be where your great Hebrew comes from!
Mr. Ambassador, I must add how touched we were by President Biden's warm remarks at the Chanukah candle lighting ceremony on Thursday at the White House, as he graciously welcomed Israel's new Ambassador to the United States, my dear brother, Mike Herzog.
Far beyond the personal connection, this is heartwarming because it is a consistent display of President Biden's longstanding, genuine friendship with Israel. I take this opportunity to express my deep gratitude to President Biden, for his tireless support and his uncompromising commitment to the ironclad relations between Israel and the United States.
An alliance which should always be above partisan politics, enjoying the support of all administrations.
You should know, Mr. Ambassador, that for the people of Israel, this is meaningful beyond measure. I know how deeply you, Ambassador Nides, care about the US-Israel connection and intend to develop and deepen it throughout your term.
Israel very much looks forward to working together in harmony and in full partnership. You are coming to a more hopeful region. The Abraham Accords are a real strategic and regional gamechanger. It is essential that we realize the potential of these historic accords alongside the United States of America.
I was pleased to discuss this with the Crown Prince of the United Arab Emirates, Sheikh Mohammed bin Zayed, in our warm and friendly phone conversation over the weekend.
Mr. Ambassador, without a doubt the greatest challenge Israel and the Unites States face is the common threat posed by Iran.
We are closely following the international community's recent negotiations with Iran. Israel will welcome a comprehensive,
diplomatic solution which permanently solves the Iranian nuclear threat.
In the case of a failure to achieve such solution, Israel is keeping all options on the table and it must be said that if the international community does not take a vigorous stance on this issue—Israel will do so. Israel will protect itself.
Ambassador Nides, I thank you so much for joining us today with your son, Max, and I wish you a satisfying, enjoyable and successful stay in Israel together with your excellent team.
I look forward to visiting the United States in the near future and meeting with my good friends President Biden, Vice President Harris and the entire administration, in order to further our common goals and strengthen the historic links between our two great democracies and peoples.
Thank you, good luck, and chag sameach!
Photos Silvia Graciela Golan
More Pics at Facebook Diplomacy Israel / Israel Diplo
Details

Written by

Silvia G. Golan & Lior Sattarov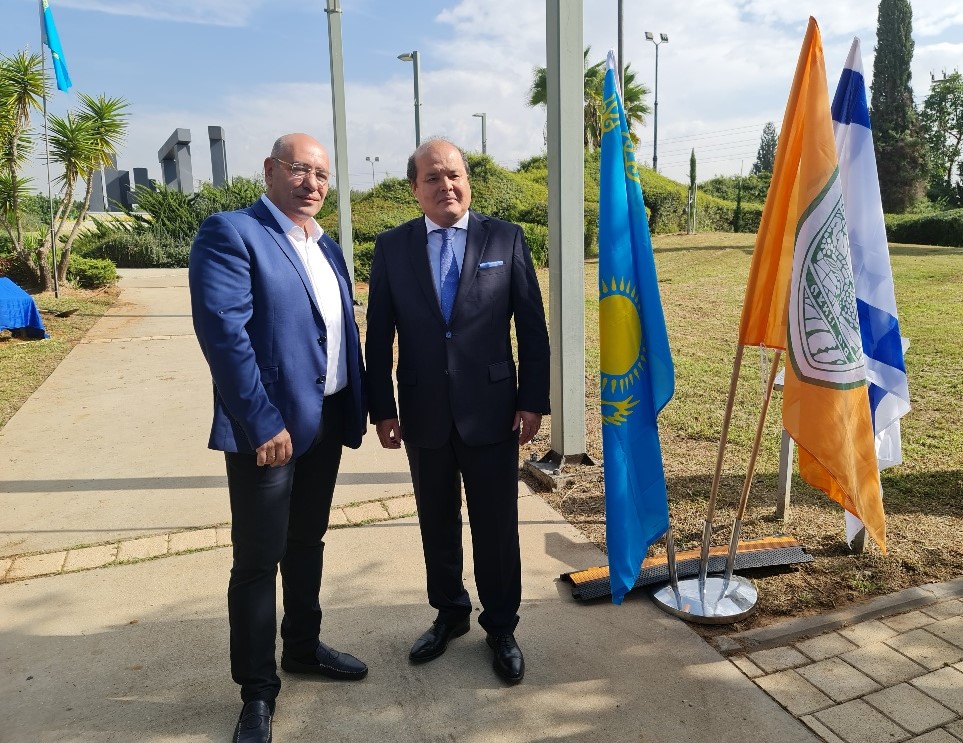 A meeting of Peace, Independence, and Commemoration: 30 Year Celebration Kazakhstan-Israel Ties.
Thirty years passed so fast, and this year marks the 30th anniversary of the independence of Kazakhstan, and with it the Republic's 30th anniversary of diplomatic relations with the state of Israel. The Embassy of Kazakhstan in Israel held a commemorative celebration in Rishon Lezion to mark the occasion.
In addition to marking these important anniversaries, the event also commemorated Kazakhstan providing shelter to thousands of Jews during World War II. This included a symbolic tree planting in a tribute of honor, and uncovering of the memorial plaque in the Memorial Park Hasidei Umot Ha'Olam blvd, Rishon LeZion, Israel.
The Ambassador of the Republic of Kazakhstan, H.E. Satybaldy Burshkov, opened the event with his memorable speech, telling guests that "Over the past 30 years, we have created a constructive, stable model of mutually beneficial interaction between our countries."
The Ambassador underlined that Jewish people were essential to Kazakhstani society. Further, their contribution to Kazakhstan has helped create a strong bridge of friendship between Israel and Kazakhstan.
The Ambassador expanded on the profound significance of the tree planting:
"Today, we planted these trees, as "young" as my country and as diplomatic relations between our countries, but with the strong will to grow and strengthen."
Mr. Panigar Baibekov, the Consul, told Diplomacy that this is a massive event in importance between the countries; the ceremony shows the excellent relationship between the countries. Also, there is extensive tourism between the countries!
Mr. Maxim Babitski, Deputy Mayor of Rishon Lezion, spoke at the ceremony, announcing that:
"In the near future, Rishon LeZion will start a Sister Cities cooperation, thus bringing two cities together, and God willing, we will be able to learn and teach each other our wonderful heritage."
The Deputy Mayor said that he had the honor of paying contributions to the Kazakh people and the government that gave refuge to over 8,200 Jews from August 1941 to January 1942.
In his words, he marks that this live-saving gesture will be remembered.
The new Ambassador of Israel in Kazakhstan, Edwin Yabo Glusman, for two weeks now, has received government approval to be Kazakhstan's designated Ambassador.
The Ambassador stated that from his brief acquaintance with the Ambassador of Kazakhstan to Israel, he understands that this is a highly Israel-friendly nation with thirty years of relations and: "...A very long future of cooperation and development for the two nationalities."
The ceremony itself preserved a strong impression that was sensed through the air by all reputable attendees. Among the distinguished guests were: Mr. David Luxemburg, Honorary Consul of the Republic of Kazakhstan in Israel; Mr. Gary Koren, Deputy director-general of the Ministry of foreign affairs of Israel; Ms. Olga Gelfand, chairman, member of Coordinating Council of the Compatriots of Russia in Israel. Annette Ben-Shahar, Director of Foreign Relations, Municipality of Rishon Lezion, hosted the ceremony professionally and courteously with her secretary Tali Haziza.
Diplomacy.co.il congratulations the embassy of Kazakhstan on this important occasion, and offers best wishes for future decades of Israel-Kazakhstan relations.
Photos credit Silvia G. Golan
More Pics at Facebook Diplomacy Israel / Israel Diplo
Details

Written by

Steven Aiello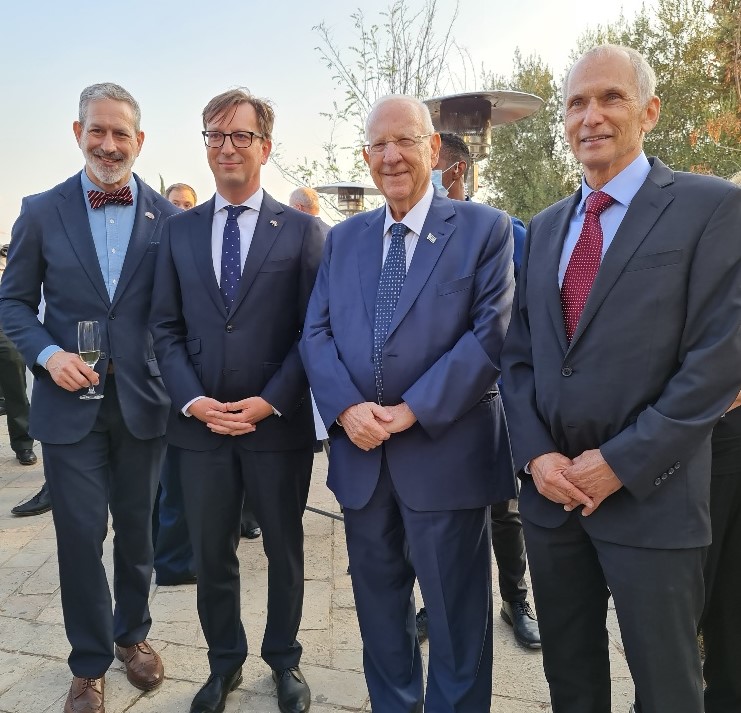 The Hungarian embassy held its annual celebration of the 1956 revolution on Thursday evening, marking 65 years since this important national event. For the first time ever the event was held in Jerusalem. An appropriately historic location was chosen as the venue--the storied Montefiore windmill in the Mishkenot Sha'ananim neighborhood just outside of the old city walls. Diplomats, civil society leaders, and friends of the embassy enjoyed drinks and refreshments to mark the occasion as the sun set in front of the old city of Jerusalem.
Reuven Rivlin, former President of Israel, said "I considered my participation at the reception particularly important on the one hand because it was held in Jerusalem and on the other hand because I attach great importance to the fight against anti-Semitism both in Europe and Hungary. Much has already been done, but there is still work to do.
Levente Benkő, Ambassador of Hungary, also drew attention to the venue of the reception, from where one could see the Old City of Jerusalem, holy place of the three monotheistic religions: Judaism, Christianity and Islam. "It is the first time, but not the last, that we host a reception here" the Ambassador said, recalling that in March 2019, Hungary was the first country in the European Union to open a Trade Office in the city to further develop the already strong business relations.
Due to the coronavirus pandemic, it was also the first time in two years that such a large-scale reception was held. Levente Benkő encouraged Israelis to travel to Hungary, which is a safe European destination, and emphasized the strategic alliance between Hungary and Israel: Budapest is the best friend of Jerusalem in the European Union, and Hungary can count on Israel as the most secure point in the Middle East. "Of the hundreds of thousands who fled oppression after the revolution in 1956, about twenty thousand settled in Israel" – stressed the Ambassador the importance of the revolution in the early days of the Middle Eastern country.
Israel's Minister of Public Security Omer Bar Lev addressed the audience. Congratulating the people of Hungary on this important occasion, the minister noted Hungary's close relationship with Israel, and the strong support Hungary has given Israel in recent years.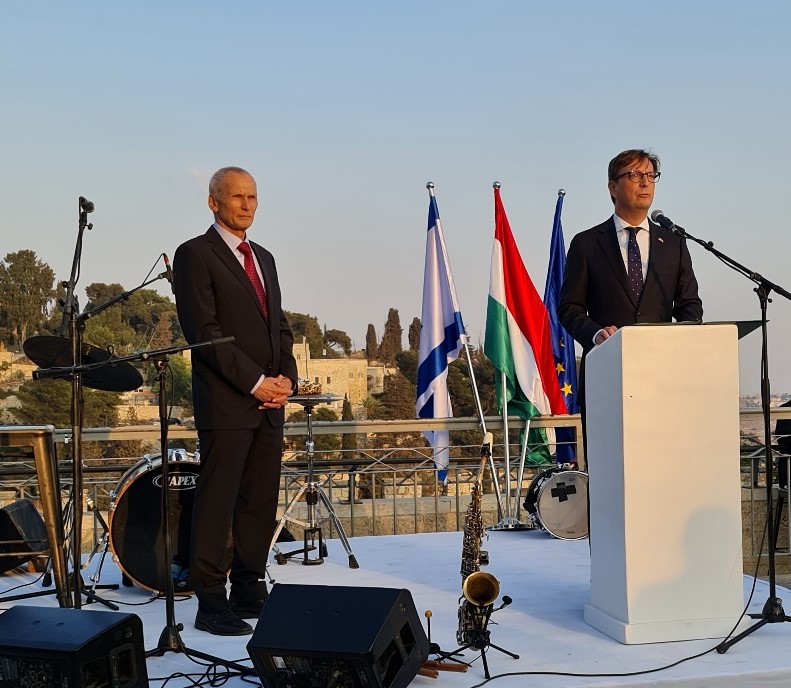 Minister Bar Lev cited specifically the support from Hungary for Israel at the UN, including boycotting the recent Durban anniversary convention, and opposing expanded authority of the International Criminal Court (ICC), along with support within the European Union for an expanded relationship with Israel. The minister noted the visit by Hungary's Minister of Foreign Affairs and Trade, Peter Szijjártó, to Israel during the recent war with Gaza as a show of support for Israel's right to defend its citizens.
The minister also thanked Hungary for staunch support in preserving Jewish heritage within Hungary, including refurbishing synagogues and other historical Jewish structures, and just as importantly, for the physical protection of Jewish communities via combatting anti-semitism and advocating a zero-tolerance approach to anti-semitism.
Ambassador Benkő thanked the embassy staff for their dedication throughout the year, and in arranging the celebration in Jerusalem, and then invited guests to enjoy the live music and kosher catered dinner, including authentic Hungarian cuisine, such as goulash, and Hungarian blintzes. The ambassador then raised a toast with the minister to the success of Israel-Hungarian relations.
Among the many distinguished guests in attendance were former President of Israel Mr. Reuven Rivlin; deputy mayor of Jerusalem Mrs. Fleur Hassan-Nahoum; Ambassador Gil Haskel, head of protocol and former director of Mashav, Ambassador Dore Gold, president of the Jerusalem Center for Public Affairs, CEO of IMUNA Mr. Ari Karp, Fundraising Director of IMUNA; Ms. Autumn Groat; Ephraim Kishon foundation, and members of the Ephraim Kishon foundation for strengthening Hungarian linguistic and cultural heritage in Israel.
Guests were delighted to enjoy live musical performances from Barczas / Besh o Drom Band.
Diplomacy.co.il offers congratulations to the Embassy of Hungary and the Hungarian people on the 65th anniversary of the 1956 revolution.
Steven Aiello
Photos Silvia G. Golan
More Pics at Facebook Diplomacy Israel / Israel Diplo
Details

Written by

Silvia G. Golan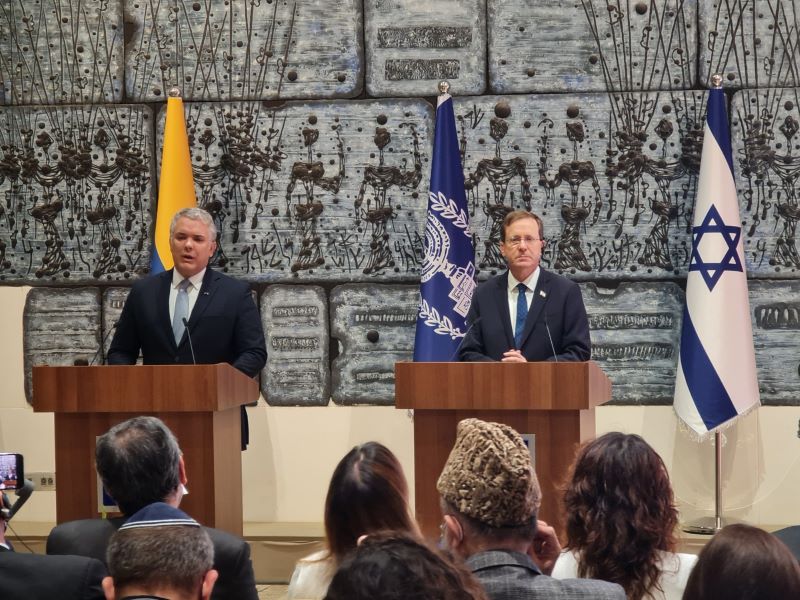 The President of Colombia was received with an official ceremony at the President's Residence in which both nations' anthems were played and the two leaders inspected an IDF honor guard. Afterwards, they holded a diplomatic working meeting and made statements to the press
President Isaac Herzog: "Like Israel, I know that Colombia is concerned about Iran and Hezbollah's terror cells being established on your border with Venezuela. From many years of experience, it is clear that these forces must be stopped swiftly—if not a minute sooner."
Today, President Isaac Herzog hosted an official welcoming ceremony for President Iván Duque Márquez of the Republic of Colombia during his state visit in Israel. President Isaac Herzog and President Duque reviewed an Israeli Navy honor guard at the President's Residence, and the IDF Band played both nations' anthems. The two leaders held a diplomatic working meeting in which they discussed opportunities for Israel and Colombia to collaborate on environmental technologies and investments to promote green energy and sustainability. Afterwards, they delivered statements to the press.
President Isaac Herzog welcomed President Duque's leadership on climate issues and advancement of sustainability and environmental technologies and hailed his desire to promote deeper trade ties: "We both want to increase trade between our countries. Therefore, the free trade agreement that you led and was ratified and went into effect in August 2020 marked a welcome high-point in relations between our countries, and I hope that trade will increase and flourish for the benefit of both peoples. Today our countries are partners in each other's growth: Israeli citizens enjoy Colombian produce, while Colombia enjoys Israeli agricultural technologies."
President Isaac Herzog welcomed the inauguration of the Colombian trade and innovation office in Jerusalem: "I welcome your inauguration of an innovation office in Jerusalem, the first of its kind outside of Colombia."
President Isaac Herzog addressed Israeli-Colombian ties in multilateral forums: "I must say that I greatly appreciate your stand in international organizations, standing by Israel's side in the whole international arena. This is the measure of true friendship. Colombia's recent admission to the IAEA Board of Governors is a welcome development, and I hope that this important position will enable you to advance a meaningful diplomatic battle against the Iranian nuclear program."
Finally, President Isaac Herzog addressed the shared terrorist threat: "Like Israel, I know that Colombia is concerned about Iran and Hezbollah's terror cells being established on your border with Venezuela. From many years of experience, it is clear that these forces must be stopped swiftly—if not a minute sooner."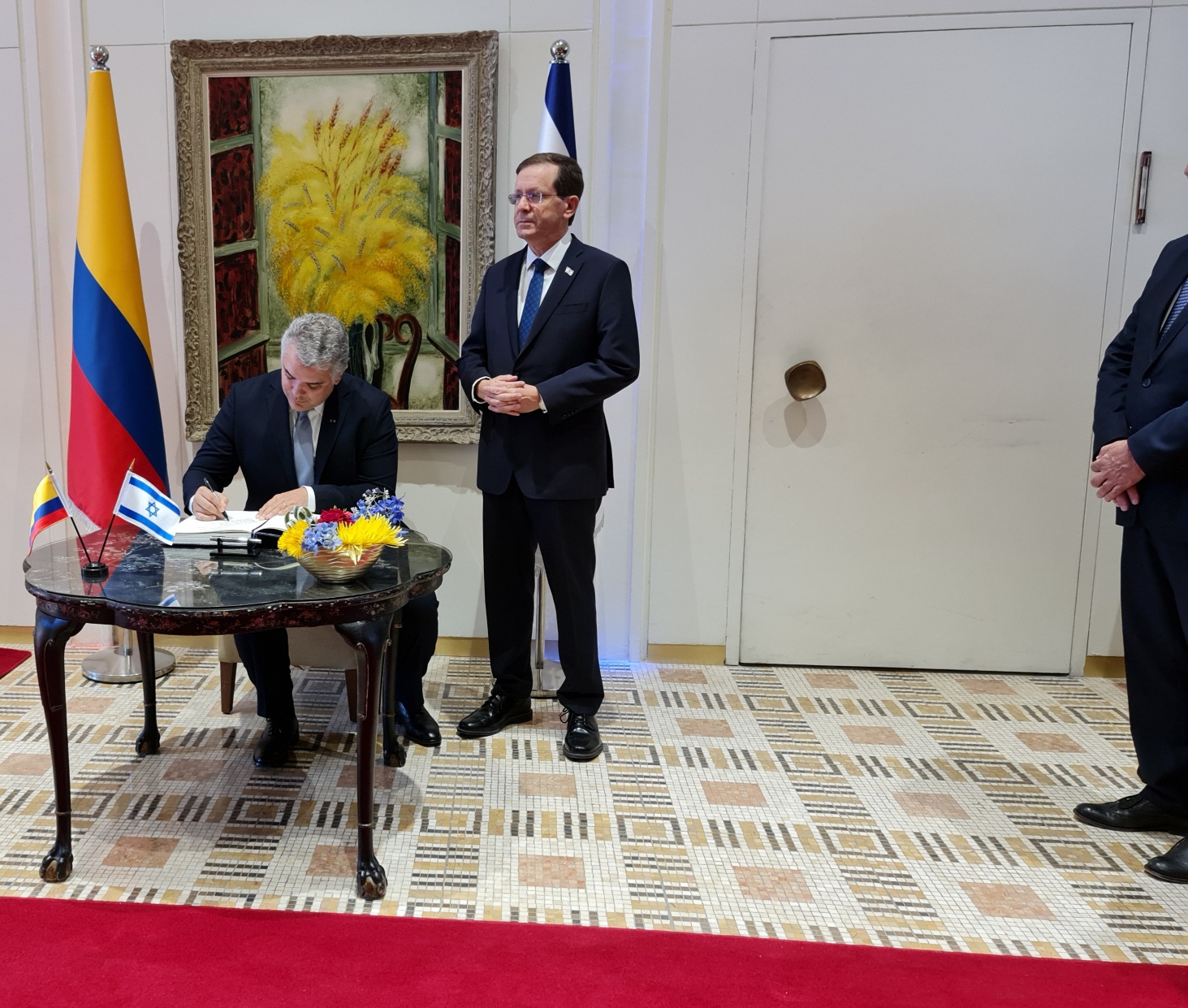 President Iván Duque Márquez: "We are at a high point of bilateral relations, expressed in my government's ratification of a free trade agreement between Israel and Colombia. The importance of this treaty is to attract commerce and investment. We want to triple exports in the next few years. We want to boost connectivity, artificial intelligence, internet of things, agricultural technology and attract more Israeli technology in our country."
President Duque spoke of the potential for green investments in Colombian carbon credits, saying: "Colombia is a leader in the energy transition in Latin America, in a country that is the second most biodiverse on the planet, with 30% of the territory about to be declared protected by 2022." He added that Colombia is investing heavily in innovation, saying: "Colombia is on route to become the Silicon Valley of Latin America."
Joining President Duque's delegation were senior members of the Colombian cabinet, including: Minister of National Defense Diego Andrés Molano Aponte; Minister of Agriculture and Rural Development, Mr. Rodolfo Enrique Zea; Minister of Health and Social Protection, Dr. Fernando Ruiz Gómez; Minister of Commerce, Industry and Tourism María Ximena Lombana Villalba; Minister of Environment and Sustainable Development Carlos Eduardo Correa Escaf, and Vice Minister of Foreign Affairs Francisco Javier Echeverri Lara.
Tonight, President Isaac Herzog and First Lady Michal Herzog will host a state dinner at the President's Residence in honor of President Duque.
Photos credit Silvia G. Golan
More Pics at Facebook Diplomacy Israel / Israel Diplo
Details

Written by

Israel Ministry of Defense Spokesperson's Office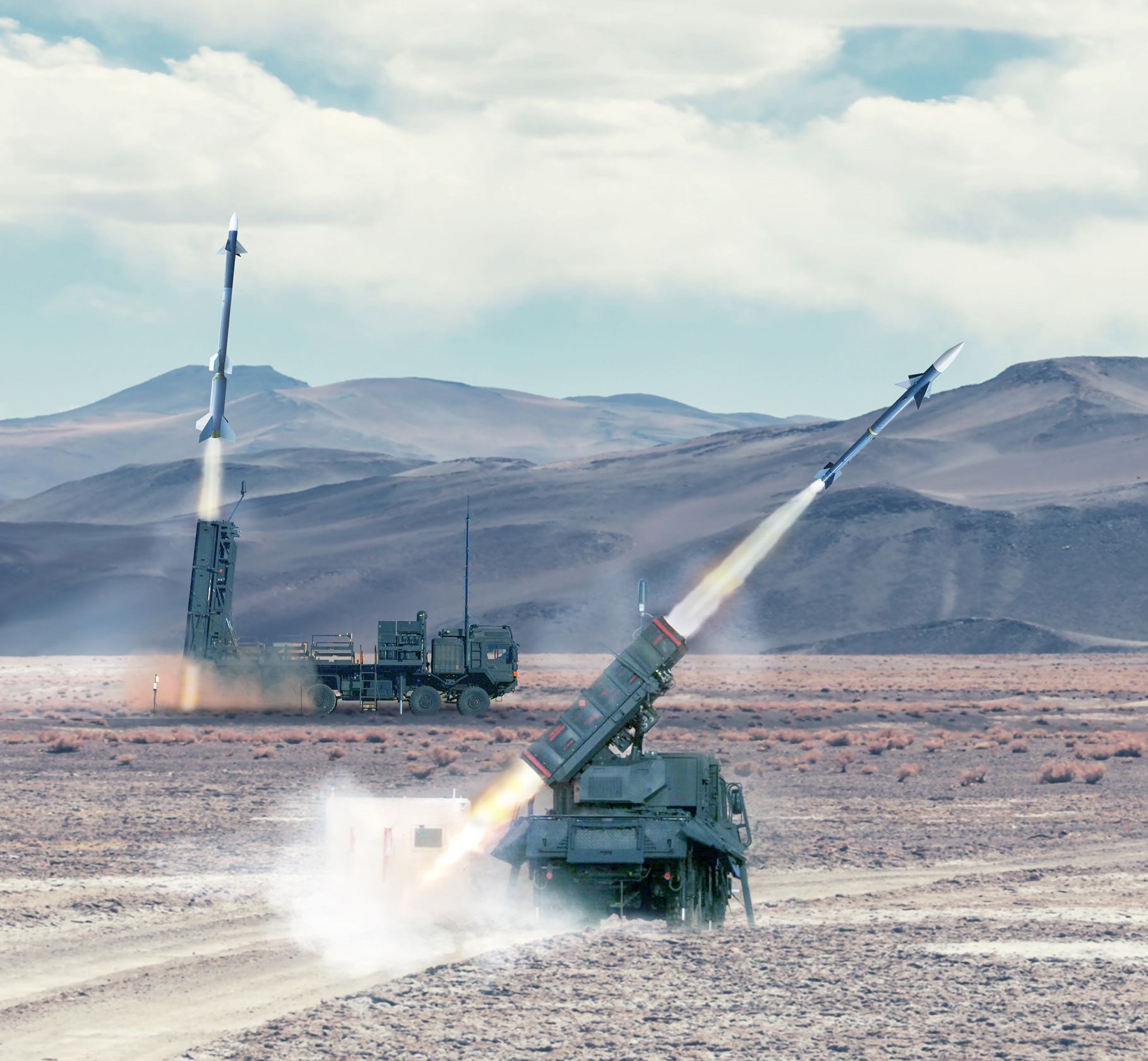 Defense Minister, Benny Gantz: "I would like to thank my friend, Czech Minister of Defense, Lubomir Metnar for sealing this important agreement, which further deepens the excellent defense relations between our countries. It is a strategic agreement with a NATO- member country, which will create job opportunities in both countries. I am proud of Israel's defense industries and their advanced technology which is requested by many of our partner countries. I would like to thank Sibat and RAFAEL for their work on this agreement."
Director General of the Israel Ministry of Defense (ImoD), Maj. Gen. (Res.) Amir Eshel and Czech Deputy Minister for Armaments and Acquisition, Lubor Koudelka, signed a GTG (government-to-government) agreement in the Czech Republic, to deliver 4 RAFAEL-produced air defense systems to the Czech Ministry of Defense. The agreement was signed under the guidance of Sibat, the ImoD's International Defense Cooperation Directorate, and amounts to approximately NIS 2 billion ($520 million).
A celebratory ceremony was held in Prague today, during which the Israeli and Czech Ministries of Defense signed the agreement. It is the biggest agreement signed between the countries to date. As part of the agreement led by SIBAT, the Czech Republic will be equipped with 4 RAFAEL SPYDER batteries, which include MMR radars produced by IAI.
The agreement amounts to approximately NIS 2 billion ($520 million) and includes the involvement of Czech defense industries. SPYDER is an air defense system based on RAFAEL's Python and Derby air-to-air missiles and is designed to intercept a variety of airborne threats including planes, helicopters and UAVs. These will be integrated into the NATO country's infrastructure and will defend Czech skies. Czech industries will also be involved in the process outlined in the agreement.
At the press conference that took place following the signing of the agreement, IMoD Director General Maj. Gen. (Res.) Amir Eshel said: "The Czech Republic has always been an esteemed ally of Israel, and we will always remember the unconditional support that we received from the Czech Republic during the establishment of the state. The agreement that we signed today is yet another milestone in the strategic cooperation between our two countries and also reflects the visions of both Ministers Gantz and Metnar to further develop cooperation between Israeli and Czech industries. This is the first time that Israel will deliver a full air defense system to a NATO country, and we are proud and thrilled that the Czech Republic is the one. RAFAEL's system represents the excellent capabilities of Israeli defense industries, which are leaders in the global defense market."
Czech Minister of Defense, Lubomir Metnar: "I highly appreciate the willingness of the Israeli Government to share one of its most advanced defense systems with us. It will push our armed forces to the 21st century in the air defense domain. I believe that it is a milestone in our long-term strategic partnership that will help to further it."
RAFAEL CEO, Maj. Gen. (Res.) Yoav Har-Even: "RAFAEL is proud to complete its first air defense agreement with a NATO country, following a long and thorough process. We view this agreement as a strategic milestone for RAFAEL's air defense systems in Europe. I thank our partners in the Czech Republic for this important move. The agreement also includes a maintenance contract for the next two decades as well as local production- two trends that RAFAEL has been increasing in recent years."
Photos credit Credit: Israel Ministry of Defense Spokesperson's Office