Diplomatic Events
Details

Written by

Silvia G Golan
The Prime Minister of Bulgaria, Boyko Borissov, visited Israel last week, where he met with Israeli Prime Minister Benjamin Netanyahu and participated in the dedication of a monument in Tel Aviv. The monument commemorates the saving of Bulgaria's Jewish community during World War II, when a public awareness campaign by opposition politicians, church leaders, Bulgaria's Jewish community, and Bulgarian civilians succeeded in thwarting Nazi plans to deport Bulgaria's Jews.
On Wednesday, September 5 the two prime ministers met at the Prime Minister's Office in Jerusalem. Netanyahu spoke of the relationship between the two countries "we are not only personal friends, but there's a special friendship between the people of Bulgaria and the people of Israel." Netanyahu added the intent to increase cooperation in a variety of fields: cyber technology, health, water, etc., along with a general cooperation in promoting a better future for both peoples.
At the culminating event Wednesday evening, a ceremony was held in Tel Aviv's Charles Clore Park. Bulgarian Jews, friends, and supporters of both nations, and journalists filled a tent at the by invitation event, listening to speeches and awaiting the unveiling of a monument of gratitude for the rescue of Bulgaria's Jews.
The evening began with the entrance of both prime ministers, and Tel Aviv mayor Ron Huldai. The Tsadikov Orchestra sang the national anthems of both countries. Mayor Huldai spoke about the twin city relationship between Sofia and Tel Aviv. He then read from personal testimonies of Jews who were saved in Bulgaria about their kind treatment at the hands of neighbors, while acknowledging the Jews who were deported from Thrace and Macedonia and perished in Nazi concentration camps. Huldai finished by noting the contribution of Bulgarian Jews to the development of Tel Aviv and sending warm regards on behalf of all of the residents of Tel Aviv-Jaffa.
Itzhak Lipovetzky and Itzhaq Inov, from the Israel-Bulgaria Friendship association, spoke about the importance of preserving close ties between Bulgaria and Israel, as well as the knowledge of Bulgarian Jewish history. Lipovetzky, who spoke in Bulgarian as well, described the long journey to bring the monument to Tel Aviv, along with a matching one in Sofia, that he began in 2011 while visiting Bulgaria.
In a moving experience, a first generation Israeli-Bulgarian spoke next, followed by two forth generation Israelis of Bulgarian descent. Adel and Emanuelle, students at the Bulgarian school in Jaffa, recited a poem in Bulgarian and received a standing ovation.
Prime Minister Borisov addressed the crowd next, speaking in Bulgarian. After a musical interlude, the two prime ministers, along with mayor Huldai, removed the cover of the monument.
Prime Minister Netanyahu spoke last, stating that the experience during the Holocaust throughout Europe showed how the Jews were unprotected, and the need for a strong state to protect Jews. He quoted the Nazi representative in Sofia during World War II, who said that the Bulgarian people weren't prepared to collaborate with the extermination of Jews, stating that this was the greatest compliment that one could give.
Among the distinguished guests at the event were Bulgarian Ambassador Dimitar Mihaylov and his wife Nora Mihaylov; Israeli ambassador to Bulgaria, Mrs. Irit Lilian; Ambassador Meron Reuben, chief of state protocol in the Israeli Ministry of Foreign Affairs; Professor Todor Chobanov, Deputy Mayor of Sofia; Mr. Moni Bar, Honorary Consul of Bulgaria; Menache Ragiv , aviation industry representative, who works with governments around the world , Shelly Hoshen, who was born in Bulgaria herself, and is President and founder of Yad B'Yad, a non-profit which helps underprivileged youth, and Avner Shalev, chairman of Yad B'Yad; Gueorg Gueorguiev, Deputy Minister of Foreign Affairs and National Coordinator of Combating Anti- Semitism in Bulgaria; Itzhak Lipovetzky, President of the Israel-Bulgaria Friendship association, and Eitan Schwarz, CEO of Tel Aviv Global for the Tel Aviv municipality.
Photos by Silvia G Golan
More Pics at Facebook Israel Diplo
Details

Written by

Buzzy Gordon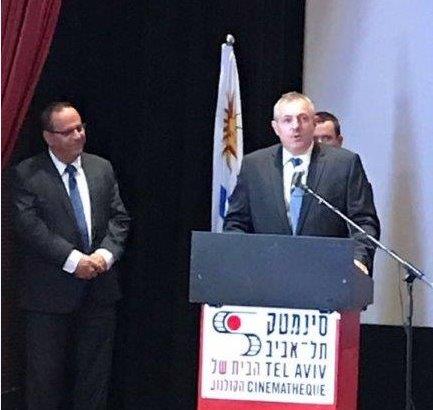 The embassy of Uruguay in Israel held a reception and private movie screening in Tel Aviv on August 28, marking the 193rd anniversary of the country's declaration of independence.
The event, hosted by Ambassador H.E. Bernardo Greiver del Hoyo and his wife Mrs. Karen Burcatovsky was attended by members of the diplomatic community and citizens of Uruguay,
as well as of many other Latin American countries, currently residing in Israel


Representing the state of Israel on the occasion was Minister of Communications Ayoub Kara.
The formal program of the evening began with the playing of the national anthems of Uruguay and Israel, followed by the reading of a message from Uruguay 's Minister of
Foreign affairs Mr. Rodolfo Nin Novoa, by Uruguayan Consul in Israel Giancarlo Ghibaudi.

In this opening remarks to the gathering, Ambassador Greiver welcomed Minister Kara and thanked the Tel Aviv Cinematheque for hosting the evening's event, noting that Uruguay likes to celebrate its independence through the arts.
Ambassador Greiver also observed that Uruguay and Israel have enjoyed 70 years of warm diplomatic relations and extended greetings to Mrs. Sapir Efron, the new consul of Israel in Uruguay.
In his message of greetings, Minister Kara noted that Uruguay has been a friend of the Jewish people since before the founding of the state of Israel, by aiding in the rescue of refugees from Nazi Germany. He also saluted Ambassador Greiver for returning to this country to serve a second term as Uruguay's envoy to Israel.
The evening, which had begun with a buffet reception, concluded with the screening of the award-winning Uruguayan movie Mr. Kaplan, a film by Alvaro Brechner.
The entire team at www.diplomacy.co.il wishes the ambassador and people of Uruguay a happy independence day.
Photos provided by the Embassy of Uruguay
Details

Written by

Steven Aiello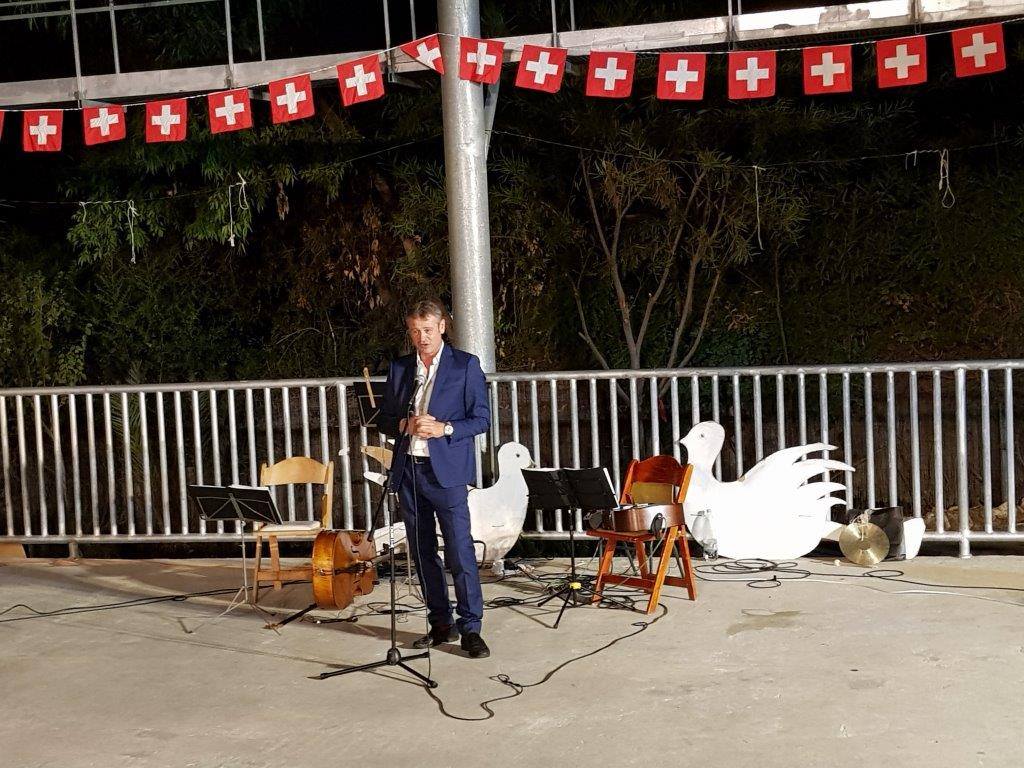 Pluralism and multilingualism took center stage on Wednesday night, at the Swiss national day celebration in Israel. This year the Embassy of Switzerland chose to mark the occasion at Wahat al-Salaam--Neve Shalom, a Jewish-Arab village that lives up to its name: "Oasis of Peace."
Swiss children joined Jewish and Palestinian children in carrying traditional Swiss lamps, as a band performed music together with child musicians from the village.
Minister of Construction and Housing Yoav Galant, opened the evening on behalf of the Israeli government. Galant noted the long-standing historical ties between Jewish Zionist leaders and Switzerland, as well as the current partnerships between Israel and Switzerland. Minister Galant thanked Swiss citizens living and working in Israel for their work in connecting the two countries. In closing, the minister congratulated the people of Switzerland and expressed support for the Swiss-Israel relationship to continue to grow.
May Shbeta, a second-generation resident of Wahat al-Salaam, and the child of Palestinian and Swiss Jewish parents spoke next. Greeting the guests in over half a dozen languages, she epitomized the multiculturalism and multilingualism stressed in both Switzerland and in the village. In addition to being a Swiss citizen, Shbeta is also involved in Israeli-Palestinian initiatives supported by the Embassy of Switzerland. Shbeta explained that the diversity and coexistence in her village reminded her of Switzerland. Shbeta finished her remarks by observing that she couldn't see herself living anywhere else, but that she hoped that in the future there would be many more Jewish-Arab communities because of genuine friendships.
Sameh Saleimah, a feminist activist, and leader from Wahat al-Salaam, also spoke. Speaking on behalf of the community and its leadership, she extended a warm welcome to the Embassy of Switzerland and its guests. Saleimah was chosen as one of the 10 most influential social activists in Israel and had spoken earlier in the week at the "world's largest Arabic lesson" held in Tel Aviv when thousands of Jews and Arabs gathered in a show of solidarity and support for coexistence.
Saleimah told the guests that they were actually sitting in the playground of the first binational bilingual school in the world, with thousands of students now having come through the system. Explaining some of the challenges with such an environment, Saleimah referred to the national holidays and memorial days as the "sensitive" days, as residents and their children struggle to raise a balance between the vastly different sentiments of Jews and Palestinians. These struggles led to success, as Saleimah explained that they created their own curriculum and that today there were at least seven Jewish-Arab schools around Israel. She noted that their alumni were active in virtually every Israeli-Palestinian coexistence initiative.
Ambassador Jean-Daniel Ruch thanked the hosts and expressing his support for pluralism, and the importance of multilingualism. He noted that there is still a very strong Swiss-Israel connection, and that specifically Swiss donors are among the most active supporters of coexistence initiatives in Israel. Ambassador Ruch mentioned Peter Dreyfus, former President of the Swiss Friends of Neve Shalom association, who passed away earlier this year. The ambassador noted that although Switzerland is a pluralistic, multilingual country, often Swiss people remain segregated by native tongue, and that in that sense there was much to be emulated from Neve Shalom-Wahat al-Salaam and Israeli coexistence initiatives. Ambassador Ruch concluded by observing that living together in diverse societies requires respect, tolerance, and compromise and that these should be guiding principles whether in Israel or in Switzerland.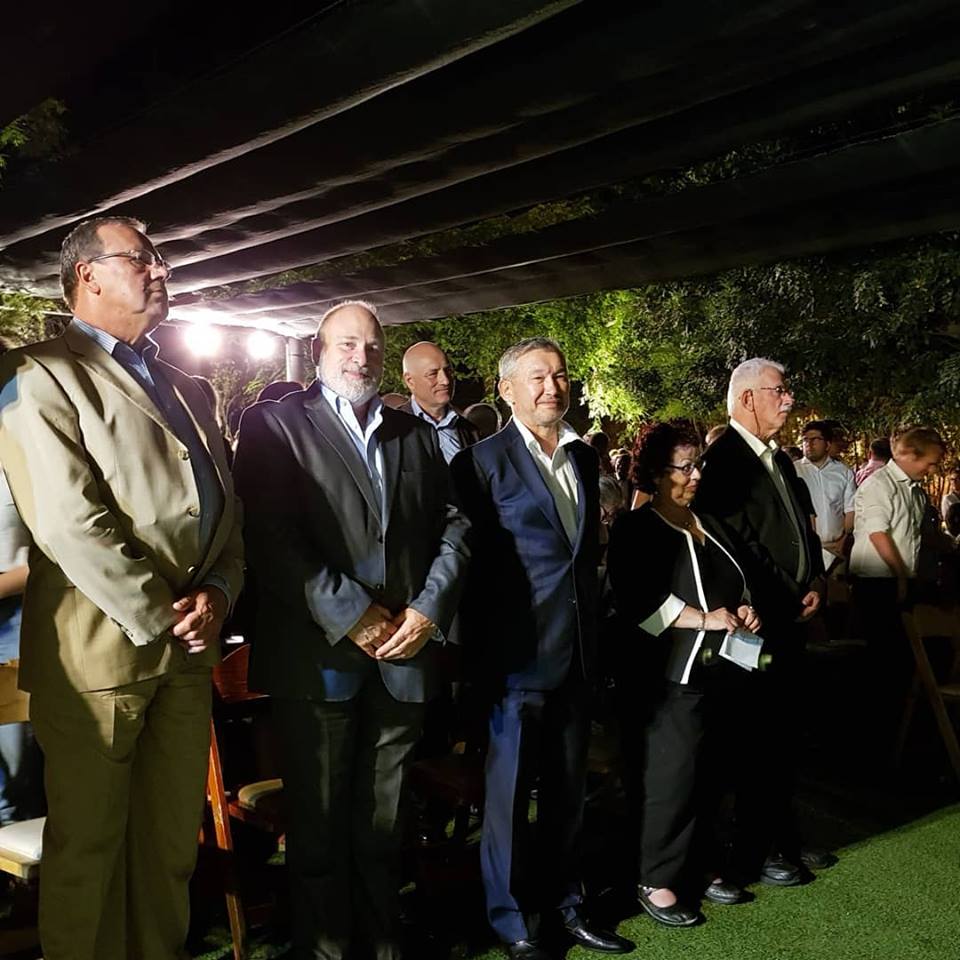 After the performance of the national anthems, the guests enjoyed a catered buffet, as well as imported Swiss cheeses and fine wines. A binational art exhibit at the Wahat al-Salaam art gallery was also open, with the curator providing explanations about the exhibits. The guests at the evening included many diplomats, civil society leaders, and peace activists, including Doubi Schwartz, regional program officer for the Alliance for Middle East Peace (ALL-MEP);Ambassador Meron Reuben, chief of state protocol in the Israeli Ministry of Foreign Affairs; Nitza Raz-Silbiger - Director of the Israel Protocol Department (and several other Ministers and government officials); Dan Catarivas, Director General – Foreign Trade and International Relations at the Manufacturers' Association of Israel head of International Relations at the Federation of Israeli Economic Organizations (FIEO); Uri Ben Assa and Ahmad Helou from Combatants for Peace; and Nadav Tamir, senior advisor at the Peres Center for Peace and Innovation.
Diplomacy.co.il congratulates the Embassy of Switzerland on its national day.
Steven Aiello
Founder--DebateforPeace
https://debateforpeace.wordpress.com/about/
Photos by Silvia G.Golan
Details

Written by

Jonathan Danilowitz
Meeting a group of total strangers, and leaving after three hours with the feeling that I had been with long-time friends was easy - if those "friends" are members of the Accademia Italiana Della Cucina. (The Israel chapter of the Italian Academy of Cuisine.) The Academy is an international body, with branches in over 70 countries (and over 200 "legations" in Italy alone).
My Italian extends to buona sera, grazie e buon appetito but luckily members of the Israeli Academy speak excellent English, Hebrew, French, Italian (of course!), and a range of other languages. My table companions interchanged all the above languages smoothly, plus German, Spanish, Dutch and Polish. How could I not feel comfortable?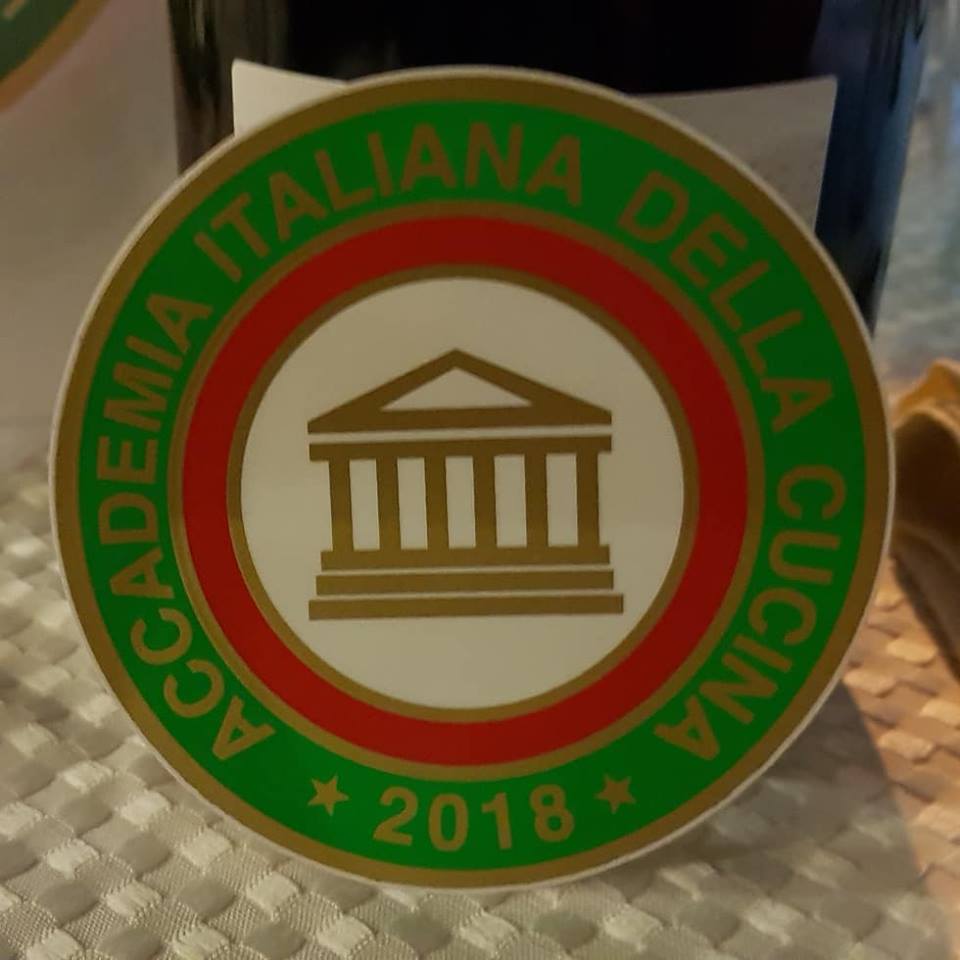 His Excellency Gianluigi Benedetti, Italian Ambassador to the State of Israel, graced the occasion with his presence, together with his wife Sabina D'Antonio (herself a member of the Academy). Other distinguished guest included Dr. Cinzia Klein ( Delegate of the Italian Academy of Cuisine in Israel), General Marco Tuzzolino (Italy's Military Attaché in Israel) with his wife Daniela, the Italian Commercial Chamber Director, Dr. Roberto Della Rocca, the Italian Trade Commissioner at the embassy, Dr. Massimiliano Guido, Gabriella David (Chairperson of Keren Hayesod), Dr. Aliza Radian (wife of Israel's former ambassador to Rome, and active member of the academy in Israel), Justina Rachminov (one of the very first members of the Israeli academy and who used to host the first academy dinners at her home), historian Prof. Ariel Toaff and many more.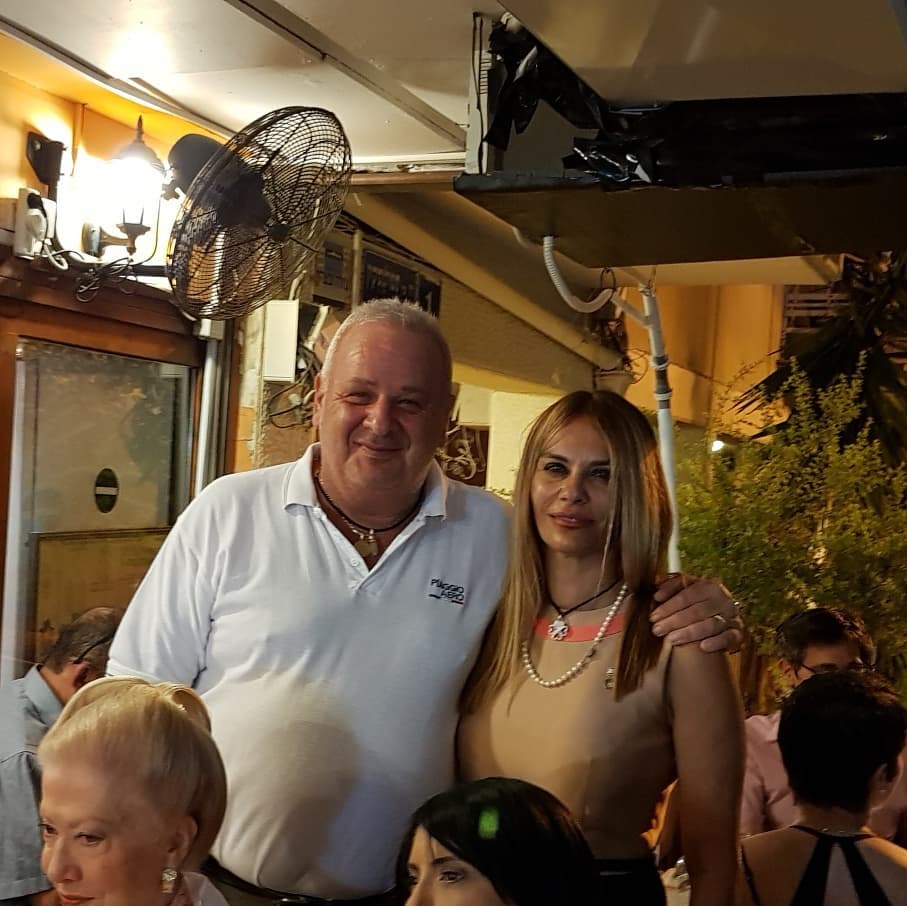 The Academy's dinner to celebrate Rosh Hashanah and to drink a toast to the New Year was held at "Ernesto" Restaurant on Ben Yehuda Street in Tel Aviv. Authentic, real and reliable. Naturally guests drank the toast with Italian prosecco, Italian red and white wines and Italian mineral water. (Did we mention authentic?) Ernesto was awarded the Academy's recognition in 2017 for "Buona Tavola".
The meal began with freshly baked focaccia accompanied by Roman-style antipasti consisting of arancini, fiori di zucca fritti, carciofi alla giudia and carpaccio. (Fiori di zucca fritti are stuffed and fried zucchini flowers. The carciofi are Roman-Jewish style crisp-fried artichokes).
The evening's main course was given star attention. "Cacio e pepe" is based on a 15th century recipe, very Roman and very delicious in its simplicity – only 3 basic ingredients: spaghetti, cheese and pepper. It sounds simple to prepare, but as Dr. Klein explained to the assembled guests (and as per the full-page detailed explanation she distributed) it takes care and experience to get it just right, al dente and perfect. Ernesto got full marks. Dessert (accompanied by hot beverages), was a delicious tiramisù. It doesn't get more Italian than that.
The purpose of the Italian Academy of Cuisine and other Italian cultural and economic entities in Israel is to promote authentic Italian cuisine to introduce Israeli consumers to genuine Italian agricultural and food products. The Academy was founded in Italy in 1953.
We at diplomacy.co.il wish the Academy many more years of success in bringing Italian culture and cuisine to Israel and the world.
Photos by Silvia Golan
Details

Written by

Steven Aiello
On Thursday evening July 26, a farewell reception was held to honor the Ambassador of Japan to Israel, H.E. Koji Tomita and his wife Mrs. Noriko Tomita, who are returning to Tokyo. Hosted at the Ambassador's Residence, the affair offered the opportunity for friends and colleagues to celebrate the Japanese-Israel relationship and Ambassador Tomita's role in promoting those ties.
Ambassador Tomita opened the evening on a lighter note, reassuring guests that although he was leaving, his well-appreciated chef would be staying on. He also stressed that he was leaving the embassy in qualified hands, with the new ambassador set to arrive shortly. Ambassador Tomita stressed that the occasion was a bittersweet one for him, as he would be moving on to a new position in Japan, but would miss his friends in Israel.
Ambassador Tomita has been in the Japanese foreign service for almost 40 years. Prior to being stationed in Israel, he headed the North American Affair Bureau and served as Deputy Chief of Mission at the Embassy of Japan in Washington DC.
Following Ambassador Tomita's remarks, guests were invited to enjoy dinner, with traditional foods such as Shimeji mushrooms, cucumber and seaweed salad, tempura, yakitori, tomatoes in yuzu miso, and of course sushi and other fresh fish.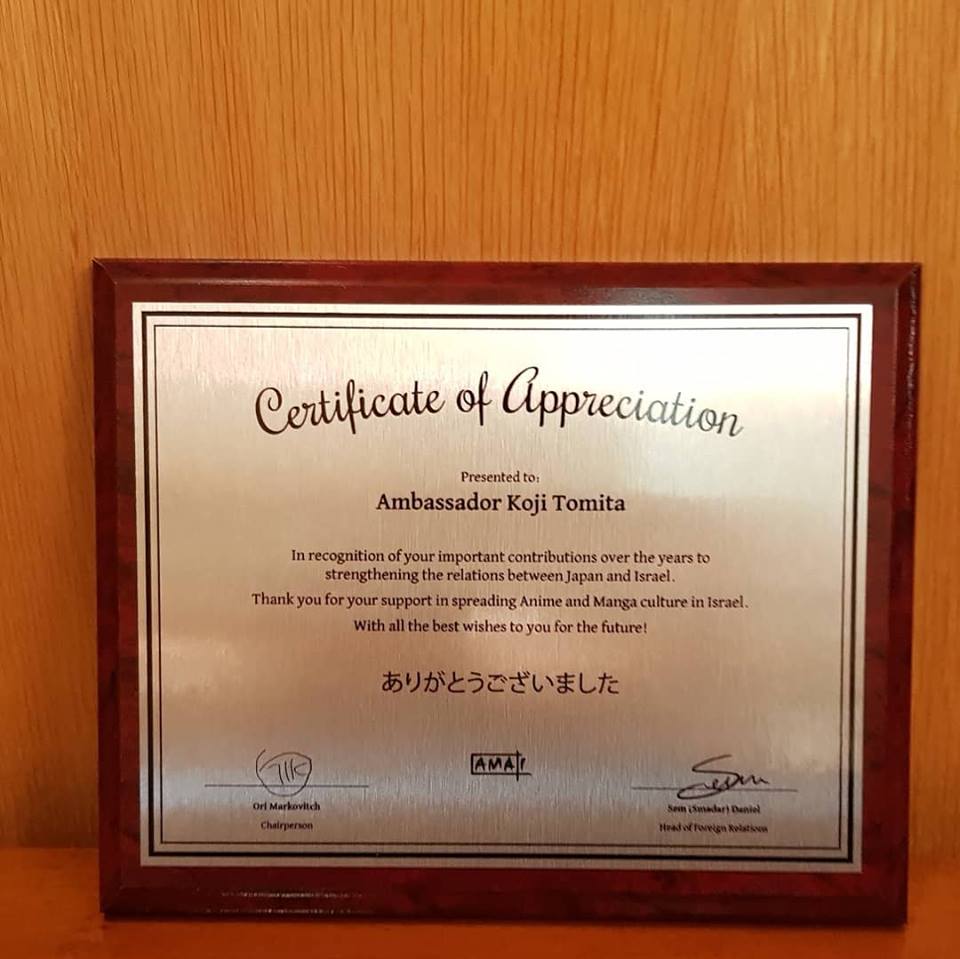 Ambassador Tomita was presented with a plaque thanking him for his efforts to strengthen bilateral diplomacy. Guests also left personal gifts, and signed a guestbook with messages of appreciation and best wishes for the ambassador and his family.
Among the guests were Karnit Flug, Governor of the Bank of Israel; Ambassador Meron Reuben, chief of state protocol in the Israeli Ministry of Foreign Affairs; Dan Catarivas, Director General – Foreign Trade and International Relations at the Manufacturers' Association of Israel head of International Relations at the Federation of Israeli Economic Organizations (FIEO); Adv. Ze'ev Weiss, Chairman of the Israel Japan Chamber of Commerce and Friendship Society; Yossi Katribas, owner and CEO of Yoka Global; Dror Vered, founder of Gateast International Trading, and Nina Admoni, one of the thousands of Jewish refugees saved by Japanese Consul Sempo Sugihara during World War II.
Diplomacy.co.il thanks Ambassador Tomita for his contributions to strengthening ties between Israel and Japan, and wishes him and his family much success in their future endeavors and travels.
Photos by Silvia Golan
Steven Aiello
Founder--DebateforPeace