Diplomatic Events
Details

Written by

Prime Minister's Media Adviser
PM Netanyahu: "We have a longstanding policy to prevent the transfer of game-changing weapons to Hezbollah from Syrian territory. This policy has not changed. We back it up as necessary with action."
Prime Minister Benjamin Netanyahu, today (Tuesday, 9 January 2017), in Jerusalem, attended a lunch with NATO member state ambassadors to Israel, chaired by Greek Ambassador to Israel Bikas Konstantinos and said, "We have a longstanding policy to prevent the transfer of game-changing weapons to Hezbollah from Syrian territory. This policy has not changed. We back it up as necessary with action."
Prime Minister Netanyahu:

"Ambassador, you outlined the great cooperation between NATO and Israel. It's a natural one. NATO was created one year after Israel, it's a unique alliance of democracies that share common values, committed to the preservation of freedom, the protection and advancement of peace. Israel is such a democracy as well. It's the only such democracy in this region and therefore our cooperation is natural. It was somewhat overdue and it received significant acceleration and flourishing following the opening of our office in NATO headquarters in December of 2016. Beyond the many important areas that you outlined, there are two issues that I think I want to spell out for you which I think are important areas where Israel contributes to the security of every single NATO country. And they both have to do with radical Islam.

The world right now is threatened by radical Sunnis, led initially by al-Qaeda, now by Daesh, by ISIS, and radical Shiites led by Iran. When we talk about ISIS it's important to understand that Israel helps Europe in two fundamental ways. The first is that we have, through our intelligence services, have provided information that has stopped several dozen major terrorist attacks, many of them in European countries. Some of these could have been mass attacks, of the worst kind that you have experienced on the soil of Europe and even worse, because they involve civil aviation. Israel has prevented that, and thereby helped save many European lives.

The second assistance that Israel has given to Europe and NATO has been the prevention of the establishment of what I call ISIS West in the Sinai. There is, as ISIS is contracting and is being destroyed in Iraq and Syria, it is trying to establish an alternative territorial base in the Sinai. Israel is contributing to preventing that in myriad ways, and in general I would say that Israel is the most powerful indigenous force in the Middle East that fights radical Islam.

Now to the second stream of radical Islam. That's Iran. Why is Iran so dangerous? Because it is, as Kissinger said, a cause, not a country. And the cause is worldwide domination under their brand of Islamic militancy. We are the small Satan, you're – no offence – the middle sized Satan, America is the great Satan, but they have designs on all of us. Iran is dangerous because this radical ideology seeks to acquire nuclear weapons. The first task is to prevent them from acquiring nuclear weapons.

The second reason they are so dangerous is because they're trying to establish an empire, a territorial empire from Tehran to Tartus in the Mediterranean, enveloping the Middle East also from the south through Yemen, eventually conquering the Middle East. This is what Iran is about.

We are absolutely committed to preventing Iran from forming such a base, a military base in Syria, and we back our words with action. And this is dangerous for you too because the conquest of the Middle East by Iran would eventually effect all of your interests. Here's the third and specific interest that you should be concerned with. As part of Iran's plans of conquest and colonization of Syria, they want to bring in as many as 100,000 Shiites, Shiite fighters, imported into Iran - Non-Iranians under Iranian command.
If you think you had a reactio n to ISIS, that is, to radical Islam, radical Sunni Islam, and this is what really is happening in Syria, this is correct. So half a million were butchered, millions were uprooted from their homes and millions went to Europe. They didn't go anywhere else, they just went to Europe. And that maybe about to end, one hopes, this tragedy I hope ends.

But if Iran realizes its goal of bringing in 100,000 Shiite fighters into Iran, this will reignite the same conflict and you'll have the son of ISIS and the grandson of al-Qaeda that will be fighting this new Shiite force. Where will the spillover happen? In Europe. Where will the human flow go? To Europe. Who's preventing that right now? Israel. Right now Israel alone. But I maintain that this is a common interest that we have with NATO. So my message to you today is, radical Islam, either Shiite or Sunni, threatens all of us. Israel is fighting both. Israel seeks your cooperation. You have a statement and a sl ogan in NATO which I think is particularly apt: "An attack on one is an attack on all". An attack by radical Islam from whichever direction on any of our democracies is an attack on all our democracies. This is not merely a statement of abstract principle, this is simple truth. So I submit to you that what we should do is increase our cooperation for our common interests, our common security and for the quest for peace."
PM Netanyahu with the NATO member state ambassadors to Israel. Photo: GPO/Haim Zach.
Details

Written by

Steven Aiello
The birthday of the emperor of Japan, Emperor Akihito, was celebrated in splendid fashion in Herzliya, in an extravagant celebration held in the home of Ambassador Koji Tomita and his wife Norika. Live music, dance, authentic cuisine, and guest celebrities all enhanced the remarkable party.
The evening featured a variety of Japanese dishes prepared by restaurants in Israel which have been certified by the Japanese embassy as using authentic imported Japanese products. Japanese and Israeli musicians, including the Taiko Life musical group, put on a spectacular performance.
The evening was educational as well--tables provided information about the technological innovations and successes of Japanese industry, in particular companies which cooperate with Israeli companies. Other tables featured information on touring Japan or preparing traditional Japanese dishes. There was also a section devoted to Chiune Sugihara, the Japanese consul based in Lithuania who saved thousands of Jewish lives during World War II by issuing travel visas.
Following the national anthems, Ambassador Tomita welcomed the guests. He mentioned the great suceesses in bilateral cooperation over the last year, position 2017 as a "watershed year" in Israeli-Japanese relations, with six Israeli ministers visiting Japan, and three Japanese ministers visiting Israel. He also cited the business cooperation, punctuated by Mitsubishi's acquisition of Israeli firm NeuroDerm for more than a billion dollars, and a rise in tourism, with Israeli tourism to Japan increasing by 20%, and Japanese tourism to Israel increasing by 45%.
In closing, the ambassador expressed his hope for peace and stability in the region, commending Israel for success in building a strong democracy despite adversity and calling on it to undertake renewed efforts for peace, pledging Japan's support in such endeavors.
The Israeli Minister of Justice, Ayelet Shaked, spoke on behalf of the Israeli government. Offering congratulations on the festive occasion, Minister Shaked recalled her own visit to Japan earlier in the year, and how she had been smitten with the people, food, and culture of Japan. During the trip she went to the port city of Tusruga, where Jews saved by the heroism of consul Suihara were then greated by the compassion and generoisity of the people of Tusruga.
Minister Shaked praised the strong cooperation between Japan and Israel on a number of fronts, with four billion dollars in trade, and agreements on sports, innovation and technological cooperation recently signed. She called for this to increase in the future, including a wish for direct flights between Tel Aviv and Tokyo, and her hope that her Japanese counterpart, Minister of Justice Uriko Kamikawa, would be able to attend a conference in Israel in the beginning of 2018 on "The Struggle Against Slanderous and Antisemitic Speech on the Internet." In closing, Minister Shaked wished the emperor a joyous birthday, and the Japanese people peace, security, prosperity and success.
Following the remarks, guests continued to enjoy the authentic Japanese buffet and live music. Among the many distinguished guests were Olympic athletes Ayumi Nakamura (Japanese volleyball player) and Yarden Gerbi (Israeli judoka), Yehuda Meshi Zahav, the head of the ZAKA emergency response services, Middle East studies professor Dr. Nirit Ofir, and numerous diplomats, business, religious and civil society leaders.
Diplomacy.co.il wishes Emperor Akihito a happy birthday, and a year of success and prosperity to the Japanese people.
Photo Silvia G. Golan
Details

Written by

Jonathan Danilowitz
There could be no doubt that the dress code recommendation on the formal invitation: "Business Attire" or "National Dress" was being taken seriously. Entering the Grand Ballroom at Tel Aviv's Hilton Hotel on Tuesday, walking the red carpet to the reception line headed by her Excellency Penprapa Vongkovit, Ambassador of the Kingdom of Thailand to the State of Israel; this was to be a grand event.
Details

Written by

Buzzy Gordon
The Republic of Kazakhstan held a gala evening on December 5, 2017, to mark the occasion of 26 years of the country's independence at the beautiful residence of the Kazakh Ambassador to Israel, H.E. Mr. Doulat Kuanyeshev and his wife Gulmira. The evening was attended by Minister of Immigrant Absorption Sofa Landver representing the State of Israel.
Details

Written by

President's Spokesperson
President Reuven Rivlin this Wednesday , 29 November 2017 , at a ceremony at the President's Residence in Jerusalem, received the diplomatic credentials of the new Ambassadors to Israel, from Sweden, Portugal, Uruguay, and the Vatican. Each ceremony began with the raising of the flag and the playing of the national anthem of the visiting country, and - after the presentation of the credentials - the signing of the guest book, before the playing of Israel's national anthem 'Hatikva'.
First to present his credentials was Ambassador of Sweden, H.E. Mr. Mangus Hellgren. The President welcomed him to Israel, and said, he appreciated greatly the Ambassador's experience and knowledge of the region. He said, "We in Israel admire the welfare system of Sweden, this is a model of a country's ability to care for its citizens, and to grow and prosper economically. In the relationship between our countries, we have of course experienced ups and downs, but we have always remained strong friends. I very much hope that during your term here we will be able to strengthen this relationship even further – both in the political sphere and in our bilateral trade and other cooperation between our peoples." The President stressed that while Israel was prepared to accept criticism, he warned of the dangers of boycotts and politically motivated unilateral moves.
The President also thanked the Ambassador for his government's commitment to the fight against anti-Semitism, and urged the Swedish Government to adopt the working definition of anti-Semitism of the International Holocaust Remembrance Alliance (IHRA) in its entirety.
Ambassador Hellgren thanked the President for his warm welcome and said, "It is a great honor to be received here by you today. It is an historic day, as we celebrate the 70th anniversary of the UN resolution which set in motion the process that led to the establishment of Israel." He noted, "Sweden was a strong supporter of the idea of creating two states in this region, with a Jewish state for the Jewish people. Our commitment to the two state solution has been steadfast ever since. We have had differences of opinion but that has not stopped us from being a good friend of Israel. We are definitely not supporting any idea of boycotting Israel. We want to see more trade with Israel, not less." The Ambassador stressed that the Swedish Government was committed to Holocaust remembrance and education, especially to ensure that the younger generation understood the dangers of hatred, xenophobia, and anti-Semitism.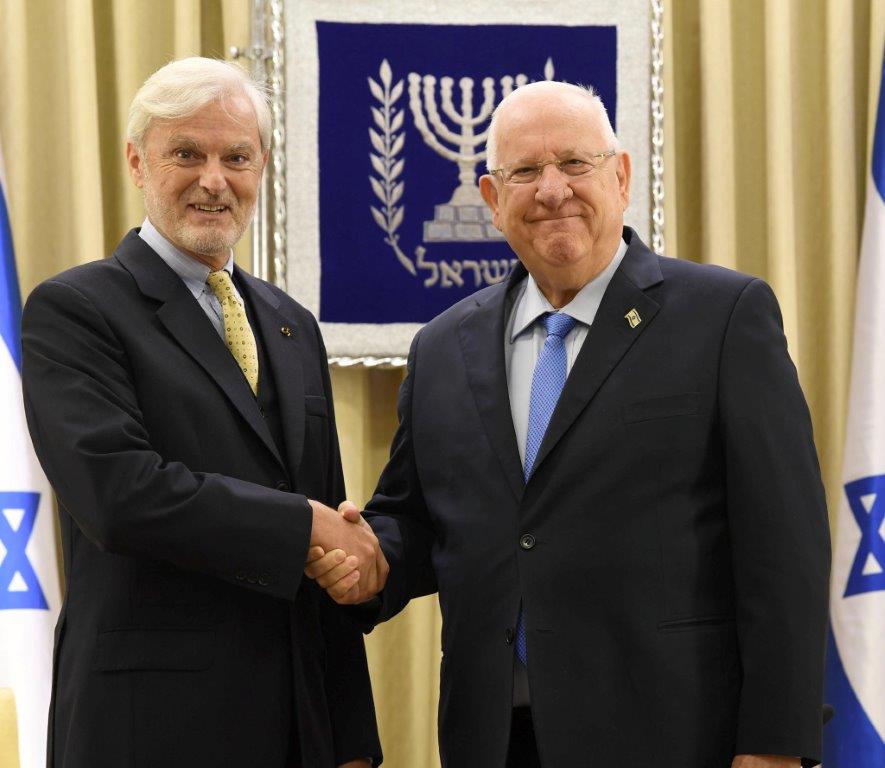 Next to arrive was Ambassador of Portugal H.E. Mr. Joao Bernardo De Oliveira Martins Wienstein. The President welcomed him and said, "For the Jewish people, the Iberian Peninsula is not only a place, it is an idea. It is the wisdom, and the philosophy of the Jewish people, so much of which grew and developed there. We are very proud of being part of the Peninsula for many centuries." The President spoke of the warm relations between the two countries adding that more could be done to strengthen and deepen existing cooperation in many areas between the two countries. The President concluded by saying that he was looking forward to the opportunity to host the President of Portugal, who was due to visit Israel in 2018.
Ambassador Wienstein thanked the President, and said, "We are so delighted that so many Israelis are coming to Portugal, visiting Portugal, and enjoying Portugal." He stressed, "There are lots of alliances between our educational institutions, and I want to increase the number of cooperation activities between our universities, and our students."
The President then received the diplomatic credentials of Ambassador of Uruguay, H.E. Mr. Bernardo Greiver, who was beginning his second term as Ambassador to Israel having previously served in the post 2009-15. The President welcomed him back to Israel and said, "We know all you have done for Israel, and how you have supported Israel over the years, and we are looking forward to your return."
The President added, "You are here on a very special day," and noted the important role played by Uruguay's Ambassador to the UN during the vote on Resolution 181 which had been adopted 70 years earlier. "We cannot forget the unique Uruguayan Ambassador to the UN in 1947, Ambassador Fabregat, and I know that your former President is here today to receive the Jerusalem Prize along with Ambassador Fabregat's son, at a time when we are celebrating the decision of the United Nations to recognize the need and the moral right of the Jewish People to return back to our homeland." The President also spoke of the close relationship between the two peoples and noted that the President of Uruguay held a post-doctorate degree from the Weizmann Institute.
Ambassador Greiver thanked the President and noted, "Today is a symbolic day, seventy years ago Uruguay did not just vote for the resolution, the Uruguayan permanent representative to the UN was the one who drafted the resolution that was approved." He spoke of the long history of diplomatic relations between Israel and Uruguay, and of the current cooperation, in particular the free trade agreement through the Southern Common Market (Mercosur).
The Ambassador expressed his hope that the peace negotiations between Israel and the Palestinians would be renewed. The President replied that the Palestinians still denied Israel's right to exist and that the trust between the sides should be restored.
The President then welcomed the Papal Nuncio, Archbishop Leopoldo Girelli who presented his diplomatic credentials on behalf of the Vatican. He said to him, "This is the land, and this is the city where it all began. We know this city is holy to Jews, Christians, and Muslims - it became a political issue but this is the city of God." The President stressed his appreciation for the Pope's efforts and commitment to build understanding between different faiths. "There is only one God, and everyone worships Him according to their traditions, but we have to respect each other because we are all children of God. I had the honor to visit the Pope in the Vatican. We spoke of the efforts to bring cooperation between the different communities in the Holy Land, and of Israel's efforts to develop the Land of Monasteries on the banks of the Jordan River to allow for more pilgrims to visit from around the world." He added, "We are doing everything in Jerusalem to allow everyone to worship God according to their belief."
The Archbishop thanked the President and said, "I take this opportunity to convey to you Mr. President, the greetings and the blessings of the Holy Father. Pope Francis has the Holy Land in his heart, he is very close to the people." He added, "The Pope wishes to stress the importance of dialogue, of tolerance, of mutual understanding. Through dialogue we really can achieve peace and security."
The President invited the Pope to visit Israel as part of the 70th anniversary of the establishment of the State and said, "The Pope has a message for all people all over the world. He is doing much in the fight against anti-Semitism."
Photo credit: Mark Neiman (GPO)