Diplomatic Events
Details

Written by

George Prajza and David Goland
The Republic of Kazakhstan is celebrating its independence day this week. His Excellency Satybaldy Burshakov, the Ambassador of the Republic of Kazakhstan to the State of Israel and his wife Mrs. Maira Karakeshova held a lavish gala evening in honor of this special day at Dan Hotel in Tel Aviv.
The evening opened with the sound of the national anthems of the two countries filled the air and the crowd stood in silence, respectful of both nations, Kazakhstan and Israel.
Ambassador Burshakov greeted and welcomed his guests to the celebratory evening. In his address to his guests, the Ambassador recounted how Kazakhstan and Israel enjoy excellent bilateral relations, further strengthened following the fruitful official visit by Prime Minister Benjamin Netanyahu to Kazakhstan in 2016 and meeting of the Joint Trade and Economic Commission in Jerusalem in 2017 led by Minister Elkin. H.E. Ambassador Burshakov made a commitment as new Ambassador of Kazakhstan to Israel, to do his utmost to promote a successful agenda. The Ambassador noted that Israel is the tenth largest trading partner of Kazakhstan among Asian partners.
Ambassador Burshakov remarked:

"We invite our Israeli partners to intensify cooperation with Kazakhstan in innovation development, new technologies, medical exchanges, to invest in the agricultural sector, water supplying infrastructure and many other areas.
Today the Israeli citizens enjoy the visa-free regime to travel to Kazakhstan, introduced since 2017 by unilaterally by the Kazakh Government. Our experts now working on a draft agreement which might also allow in the future for Kazakh citizens to visit Israel without visas. To open direct flights between the two countries another important task of our agenda. Thus we have a lot to offer both to tourists and business.
Next year Kazakh capital Nur-Sultan will host 12th Ministerial Conference of the World Trade Organisation and will celebrate, also with the participation of Kazakh Embassies, 175 Anniversary of the great poet and thinker Abai Kunanbayev, as well as 1150 Anniversary of world-known philosopher Al-Farabi. Our Israelian partners are invited to join us in these milestone events;
Other important aspect of our ties include Olim – Jewish community originated from Kazakhstan, who remain our compatriots by their spirit and strong bridge to the bilateral cooperation"... In conclusion the Ambassador added " We are ready for more close coordination with Israeli partners for improving the legal framework of economic cooperation, promoting economic diplomacy, attracting foreign investment, supporting mutual trade, interacting with international institutions of economics and finance, increasing tourist attractiveness, etc.
Israeli Minister of Jerusalem Affairs and Minister of Environmental Protection Zeev Elkin responded in a congenial manner which reflected the good relationship between Israel and Kazakhstan.

He reflected that Israel can never forget the people of Kazakhstan for having provided shelter and salvation to Jews fleeing the horrors of World War II. His remarks spoke to the present-day reputation that Kazakhstan has as a nation of particular religious tolerance. He emphasized that b

oth countries have developed friendly relations with each other and cooperation over many areas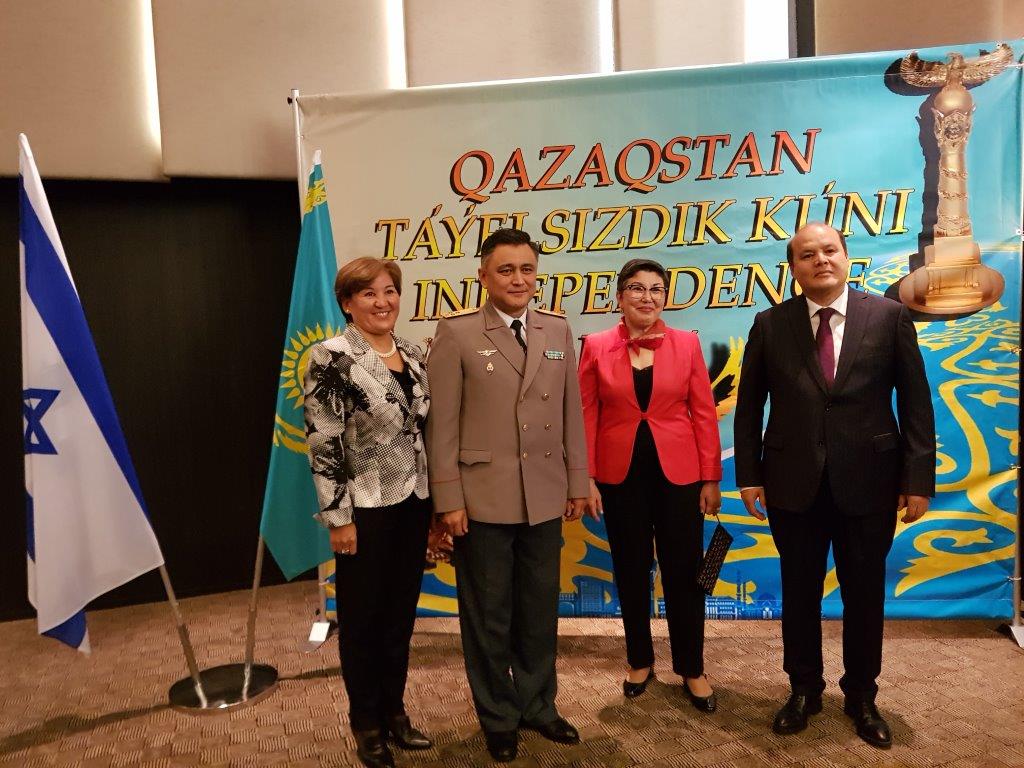 The assembled guests were a cross-section of the diplomatic, political and business communities within Israel. There was a large delegation of ambassadors from many countries from around the world. Israeli Minister Yoav Galant, and Member of Knesset Konstantin (Yoel) Razvozov were distinguished guests. Their Excellencies Ran Ichay, Israel Mey-Ami, Eliyahu Tasman and Mikhail Brodsky who in different years held the office of the Ambassador of Israel to Kazakhstan, honored the occasion with their presence. Dan Catarivas Director-General of foreign trade and international relations for the Manufacturers' Association of Israel, former Prime Minister of Israel Ehud Olmert, Ambassador Yitzhak Eldan, President of the Ambassador's Club; and Yair Stern
Director of the Jerusalem Symphony Orchestra were also among the influential guests, as well as many diplomats, several military attaches and member of the clergy, most notable the Patriarch of Jerusalem
Food and beverages were plentiful with delicious schnitzels and beef served with traditional side dishes and salads. Sumptuous desserts were offered through the conclusion of the evening and were paired with an assortment of coffees and teas. The guests lingered and enjoyed the congenial conversation.
www.diplomacy.co.il extends best wishes to the Embassy of Kazakhstan on the occasion of its National Day
Photos by Silvia G. Golan
Details

Written by

Silvia G. Golan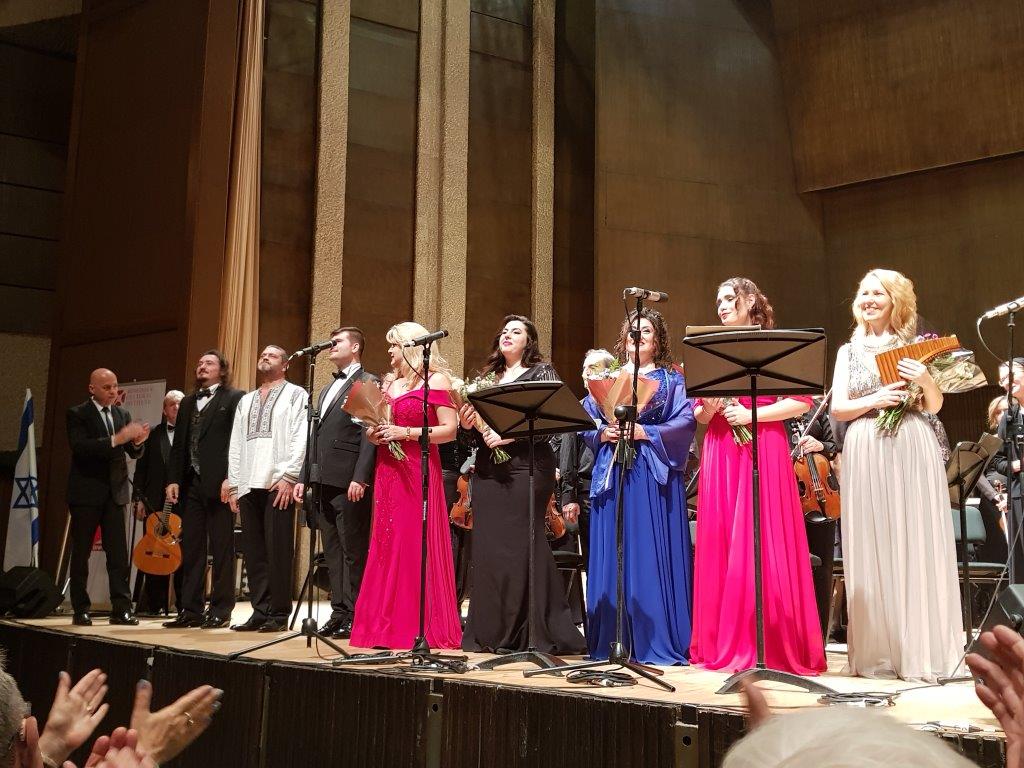 Romanian Extraordinary Gala Concert celebrating the National Day of Romania took place on December 1, at Henry Crown Symphony Hall - Jerusalem Theater.
The concert was organized by the Romanian Cultural Institute in Tel Aviv, in collaboration with the Jerusalem Symphony Orchestra.
On the occasion of the National Day of Romania, the Romanian Cultural Institute held a beautiful concert under the energetic baton of the Ionut Pascu, with a rare collection of famous works and the greatest hits from Romanian and Balkan Music performed by the exceptional Jerusalem Symphony Orchestra and some of the greatest voices and instrumental virtuous from Romania
Yair Stern, Director of the Jerusalem Symphony Orchestra introduced Mr. Martin Salomon, Director, Romanian Cultural Institute, who opened the evening with a warm welcome to the guests, including a few words in Romanian and Hebrew.
He continued in English: " ... this magnificent Gala Concert, celebrating the National Day of Romania ...is offered by the Romanian Cultural Institute, in collaboration with the Jerusalem Symphonic Orchestra...I am also proud to announce that is only the beginning; this concert is the 1st of many cultural projects that they have for the next years".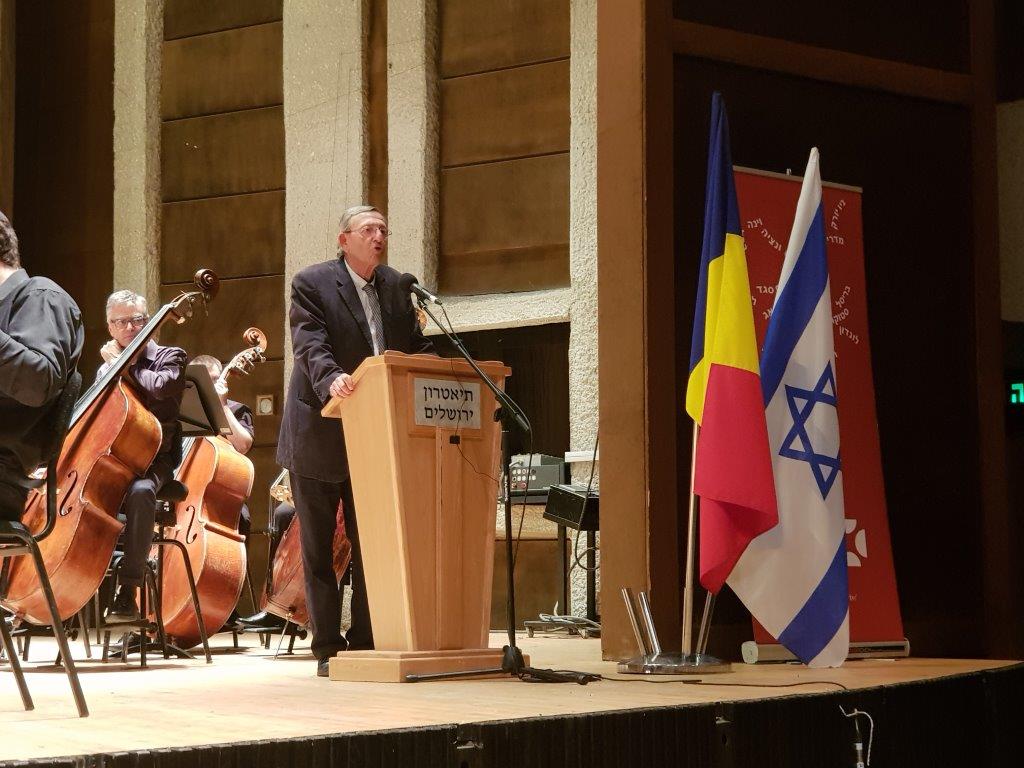 The Jerusalem Symphony Orchestra performed the national anthems of Israel and Romania.
Participating artist were Stefan Ignat,baritone; Mirela Gradinaru, soprano; Madeleine Pascu , soprano; Dalila Cernatescu, Romanian panpipes; Andrei Manea , tenor Alina Dragnea, mezzo-soprano; Aida Pascu , soprano and Bogdan Mihailescu, classical guitar.
The artist and the musicians received a standing ovation from the enthusiastic audience, all from different parts of Israel.
The sponsors of the concert were Tarom Romanian Air Transport and Emir. - an organization of Romanian immigrants in Israel א.מ.י.ר. – ארגון מאוחד של יוצאי רומניה בישראל
The stage was decorated with the flags of Romania and Israel, with the announcement flag of the Romanian Cultural Institute and with a huge bouquet of flowers in the colors of the Romanian flag.
The diplomatic portal in Israel,
www.diplomacy.co.il
, congratulates Mr. Martin Salomon, Director, Romanian Cultural Institute , the Jerusalem Symphony Orchestra and the artists for their excellent work.
Photos Silvia Golan. ( more pics at Facebook Israel Diplo )
Details

Written by

President's Spokesperson's Office
Photo: President Rivlin with Ambassador of Korea H.E. Mr. Suh Dong Gu
President Rivlin received diplomatic credentials from the new ambassadors of Korea, India, Slovakia, Costa Rica and Sri Lanka to Israel, as they begin their terms of office in Israel
President Reuven (Ruvi) Rivlin today, Thursday 21 November / 23 Cheshvan, received diplomatic credentials from the new Ambassadors of Korea, India, Slovakia, Costa Rica and Sri Lanka to Israel, as they begin their terms of office in Israel, in an official ceremony at Beit HaNasi. As they arrived, the national anthem of their country was played by the Israel Police Band and then they reviewed an IDF guard of honor. After presenting their letters of credence to the president and an audience in the Jerusalem Room, each ambassador signed the Beit HaNasi visitors' book and 'Hatikva' was played before the end of each ceremony.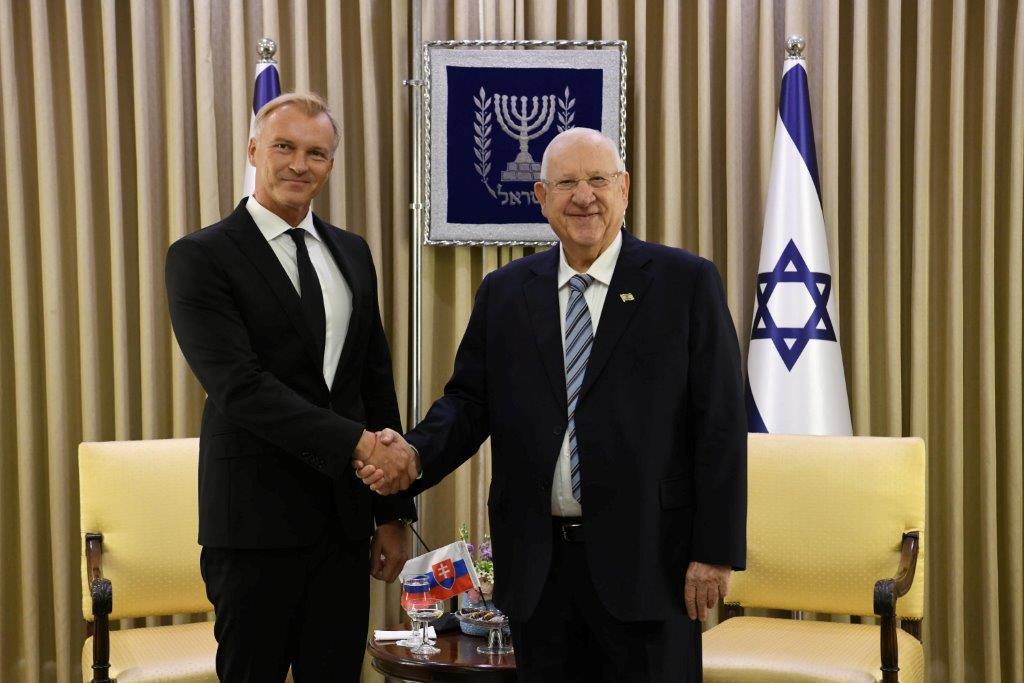 Photo: President Rivlin with Ambassador of Slovakia H.E. Mr. Igor Mauks
The first to present his credentials to the president was Ambassador Igor Mauks of Slovakia. The president welcomed the ambassador to Israel and expressed his appreciation for Slovakia's friendship towards Israel and noted that he was delighted to welcome the former president of Slovakia in Israel two years ago. The president also sent his thanks to the president of Slovakia for confirming her attendance at the central event to mark 75 years since the liberation of Auschwitz-Birkenau, which will take place in Jerusalem in January 2020.
Ambassador Mauks thanked the president for his warm words and invited him to visit Slovakia. He also stressed his country's fight against antisemitism, saying "Slovakia has zero-tolerance for antisemitism."
Photo: President Rivlin with Ambassador of Costa Rica H.E. Mr. Marco V. Vargas Pereira
Next to arrive was Ambassador of Costa Rica Marco Vinicio Vargas Pereira. In their conversation, the president noted the similarities between the two countries, saying, "Israel and Costa Rica gained independence in 1948 as the only democracies in their region. Today, too, we are small countries that invest in human capital, in our young people, and in education." The president also spoke to the ambassador about his hopes that the Costa Rican embassy would return to Jerusalem. "I hope you are able to take meaningful steps to bring the embassy back home to Jerusalem."
The ambassador thanked the president and said that this was his first time in Israel and that he was discovering the beauty of Israel's varied landscape, and that he had seen a desert for the first time. "I am delighted to be representing Costa Rica here in your beautiful country and hope I am able to advance the good relations even further."
Photo: President Rivlin with Ambassador of Sri Lanka H.E. Mr. Saddha Waruna Wilpatha
Ambassador Saddha Waruna Wilpatha of Sri Lanka then presented his credentials. The president conveyed his warmest wishes to the new president of Sri Lanka, wishing him much success. He also expressed his sorrow over the terrorist attack in Sri Lanka in April of this year. "Israel will continue to stand by Sri Lanka in the global struggle against terrorism, which threatens the security of the whole world."
Ambassador Wilpatha thanked the president for his remarks and said that his country would welcome a strengthening of relations between the countries in a range of fields and that he would work to do so during his time here.
The next to arrive at Beit HaNasi was the new Korean ambassador, Suh Dong Gu. The president spoke warmly about his recent visit to Korea last July and thanked President Moon for his warm welcome, inviting him to make a return visit to Israel.
"The free trade agreement is an important achievement for both countries. It is the first time we have signed such an agreement with an East Asian country and I am sure it will help build stronger and deeper relations between us," said the president. "During my visit, I learned that Israel and Korea have much in common: thousands of years of history, few natural resources and security challenges. Israel and Korea became independent states in difficult conditions, but we both overcame challenges." The president spoke about how impressed he was with Korea's advanced technologies, as well as its rich and vibrant culture. He said that his visit strengthened his feeling that there is a strong basis for cooperation between the two countries.
The Korean ambassador thanked the president warmly for his remarks, saying "Your successful visit to Korea gave precious momentum to our bilateral ties. I will use that momentum to advance our relations during my time here." The ambassador also noted the similarities between the two countries, remarking on a shared national character that values family and education. "I was at the opening of the Knesset and thought to myself that Israel is a miracle, just as Korea is a miracle. I think we can bring these miracles together and that technological cooperation between us can help create more miracles."
Photo: President Rivlin with Ambassador of India H.E. Mr. Sanjeev Kumar Singla
The last to present his credentials to the president was the Ambassador of India, Sanjeev Kumar Singla. The president spoke of his particularly warm memories of his visit to India with his late wife Nechama ז"ל. "I had the honor of hosting former president Mukherjee on his historic visit to Israel and we developed a remarkable friendship. Israel and India cooperate in a wide range of fields, civilian and military. We consider our security cooperation as a strategic asset. I hope our cooperation in this field will keep developing. We know that the question of water is at the top of Prime Minister Modi's agenda and it came up in my visit to India and his visit here. I hope we will continue to push forward our cooperation on this. The opening of Air India's flights over the Gulf and Saudi Arabia is an example of how cooperation between Israel and India can advance peace in the Middle East." The president invited the Indian president to visit Israel, saying "I would be so happy to welcome him here to Jerusalem."
The ambassador thanked the president for his welcome and relayed the warm wishes Prime Minister Modi asked to send to the president. He told the president "the three priorities we hope to work on are water, agriculture, and innovation. Your visit to India helped advance the warm relations between our countries and I hope that during my time here they will develop even further." He added, "Mr. President, I am happy to tell you that the sapling you planted during your visit to India is now an 8-foot tall tree."
Photo credit: Amos Ben-Gershom (GPO)
Details

Written by

Hassan Hassan
The Embassy of the Republic of Korea in Israel celebrated its national day in Israel on November 26th, 2019. The joyous occasion was held and hosted in the building of the Korean embassy in Herzliya Pituach, in the Central District of Israel
This momentous event was held by H.E. Mr. Suh Dong Gu, the new Ambassador of Korea to Israel and his wife. Honorable guest was Mr. Rafi Peretz, Israeli Minister of Education.
Among the many distinguished guests or the evening were Mr. Tzachi Braverman, the secretary of the Cabinet of the Prime Minister; Ambassador Yitzhak Eldan, President of the Ambassador's Club; Ambassador Matan Vilnai, President Israel- Asia Chamber of Commerce; Mr. Adi Barough, Senior Advisor PMO; Amir Halevi, Director General of the Ministry of Tourism, Superintendent Mr. Moti Meiry, the representative of the Israeli Police; Mr. Ehud Rassabi Chairman of the Board of Ilan- Israel Foundation for Handicapped Children; Israeli Businessmen ,members of the Korean community in Israel, Korean journalists, and a range of military officials .
The event was accompanied by a talented group of classical musicians led by Shai Siman Tov who added rhythm and wonder to the festive atmosphere.
H.E. Mr. Suh Dong Gu warmly welcomed the guests in the happy celebration of the National Day of Korea 2019 and stated that, "2019 is a landmark year in the bilateral relations between Israel and Korea", highlighting the importance of a mutual trade between the two countries including the purchase of Korean products, the main focus being on technological items.
He added: "We Koreans hold Israel with high esteem. Israel has great people and both nations celebrate the passion for promoting family values, education, and research." The ambassador further addressed the future and cooperation between Israel and Korea, labeling Israel as the "powerhouse of innovation" and as "a nation that is leading the global market in the industrial technology." He demonstrated the role of Korea as a nation that has a similarly powerful role in industrial technology, as well as in manufacturing power.
The Korean ambassador continued to emphasize the significance of taking advantage of this well-timed opportunity for further cooperation, as he envisions a "technological alliance between Israel and Korea". He also reported his enjoyment in the personal exchanges between the two countries in fields such as tourism. Korean tourists, as stated by the ambassador, are "steadily on the rise" and that another flight was added to the number of current flights between Israel and Korea, reaching four per week starting January 2019.
H.E. Suh Dong Gu expressed his wishes to have an educational exchange program in the very near future. Finally, he invited guests to have a taste of Korea and to sample some Korean cuisine such as kimchi, chogye muchim, and bokkeumbap, as well as Korean beverages like soju and makgeolli.
Following the speech of the Korean Ambassador, Mr. Rafi Peretz, the Israeli Minister of Education, gave tribute to the "very long national histories, rich cultures, and shared values" that both countries cherish. Peretz also addressed the magnitude of advanced technology, and that both countries "are on the front-line of the development" in the world. The minister went on to praise the accuracy, high work ethics and integrity of Korea. Mr. Peretz addressed "the very successful visit of President Rivlin to Korea this last July, which is evidence of how our relationship continues to strengthen and deepen" and that "no fewer than 19 agreements were signed in the areas of economics, academic education, and energy". Finally, Mr. Peretz conveyed to Korea, on behalf of the government, his "most sincere congratulations on the occasion of its National Day".
After this, the event continued with a wide range of Korean foods and drinks, paired with local music. The guests were delighted to have a taste of Korean cuisine and culture.
The Staff of
www.diplomacy.co.il
congratulates the government, people, and Embassy of Korea on the occasion of his National Day
Hassan Hassan is a member of Debate for Peace
Photos by Silvia Golan
Details

Written by

George Prajza and David Goland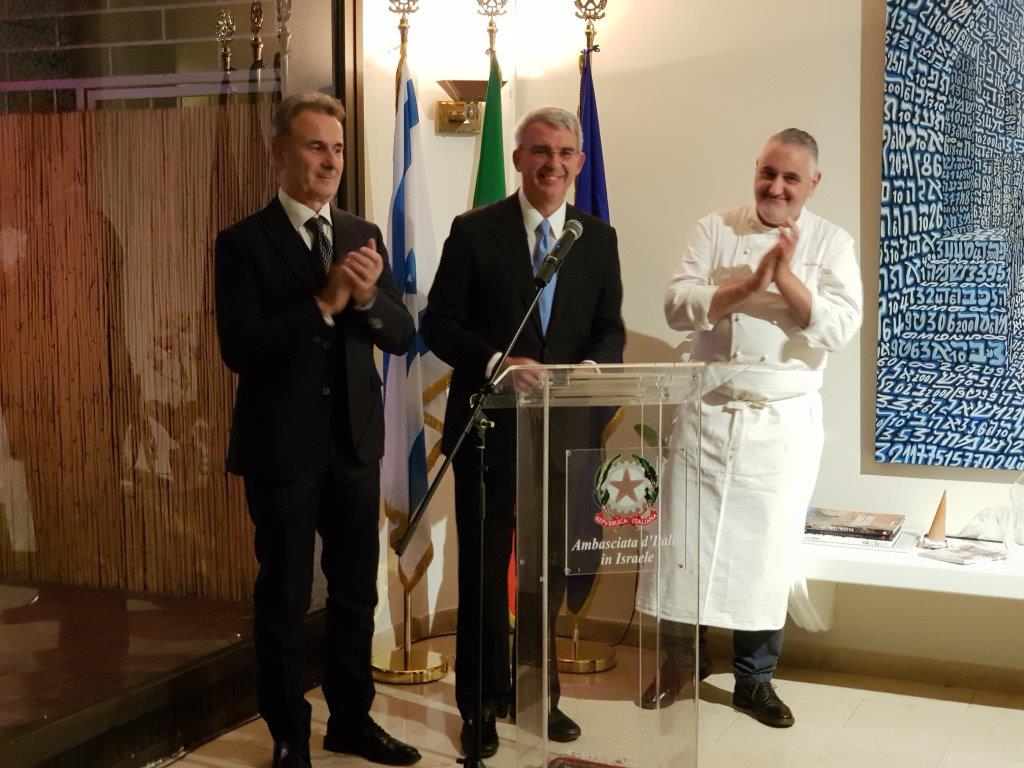 His Excellency, Italian Ambassador to Israel Gianluigi Benedetti and his wife Mrs. Sabina Benedetti D'Antonio hosted an exclusive reception at their very elegant Ramat Gan residence. The evening which included an opening dinner for The Fourth World Week of Italian Cuisine was attended by an array of guests including Italian/Israelis and the whose who of the culinary world in Israel and around the globe.
Italian diplomatic missions in 110 countries around the world and numerous institutions in Italy and worldwide are celebrating this event, which runs from 18 to 24 November 2019. This year's theme is "The Culture of Taste". The event aims to promote quality Italian cuisine and Italian farm produce abroad. It is fast becoming a premier event of global acclaim.
After delicious hors d'oeuvres prepared by Chef Arcangelo Dandini with Emanuela Panke and Michele Bozzetto the guests were invited to hear the Ambassador's speech, as His Excellency introduced Chef Dandini and Wine Expert Mr. Fabio Piccoli Director of Wine Meridian magazine. In his speech, H.E. Ambassador Benedetti greeted chefs from Italy who are in Israel to participate in Italian Israeli workshops for scientists. He thanked several Italian bodies in Israel who have worked on forty related events around Israel: The Italian Cultural Institute, the Italian Trade Agency, The Israeli-Italian Chamber of Commerce and Industry, The Accademia Italiana della Cucina and the Italian Government Tourist Bureau. A poignant moment in the evening's celebrations was when the ambassador passionately reflected on the flooding which has plagued Venice. He sought assistance for this on-going tragedy in Venice.

A delegation of approximately 10 young Italian chefs arrived in Israel, especially for this event. Chef Arcangelo Dandini leads these talented chefs, and he artfully created sumptuous dishes typical of Rome. This taste of Italy began with wines from a variety of regions from Italy. Aperol, Campari and Ferrarelle water were also flown in for the enjoyment of the guests. From the appetizers to the smooth, rich, dark espresso, the meal amazed our palates with exquisite tastes and textures. Guests were feted with an imaginative array of Italian cuisine. The menu consisted of Suppli cacio e pepe, Mozzarella in carrozza. Frittata di bucatini, Mezzi rigatoni burro e alici , Ombrina e garum, Caponata, VOV, and Zuppa Inglese. The evening was a delightful combination of Italian hospitality and extraordinary food and beverages.

Among the guests were H.E. the Ambassador Emanuele Giaufret, Head of the European Union Delegation and his wife , Vice President of the Italian-Israel Chamber of Commerce, Dr. Roberto Della Rocca, Delegate of the Italian Academy of Cuisine (Accademia Italiana Della Cucina) Dr Cinzia Klein , Vice Delegate Sabrina Fadun, businesswoman Mrs. Giordana di Castro, marketing councilor Dr. Joelle Inowlocki ,Letizia Della Rocca representative & owner of Sitam Israel Fashion School , Anat Carlquist and others members of the Accademia, Ofer Sachs , former Israeli Ambassador to Italy, Egyptian Ambassador to Israel H.E. Khaled Amzi, Ronni Benatoff president of Chamber of Commerce Italy -Israel, Russian Ambassador to Israel H.E. Anatoly Viktorov, Ambassador Amos Radian , Honorary Consul of Italy for Haifa and Nord of Israel Carlo Gross, George Athanassiou Area manager for Alitalia and Ran Pollak Sales Manager of Alitalia in Israel, Plastic Surgeon Dr. Dov Klein, the famous chef Master Chef winner Massimiliano Di Matteo, Comites presidents avv. Beniamino Lazar and Rafael Barki, Revital Ben-Asher Peretz ( Tel Aviv Municipality , Unifil General Del Col, RAI journalists Piero Marrazzo and Raffaele Genah, Gelateria Arte owners, Marco Camorali and Sissi Pagani, Moshe Barel owner of Pasta Della Casa.
Diplomacy.co.il congratulates the Italian Embassy and the organizers on a magnificent opening dinner for the Fourth World Week of Italian Cuisine. We wish them great success in their quest to share their passion and love of Italian cuisine with Israel and the world.

Photos by Silvia Golan