Diplomatic Events
Details

Written by

Jonathan Danilowitz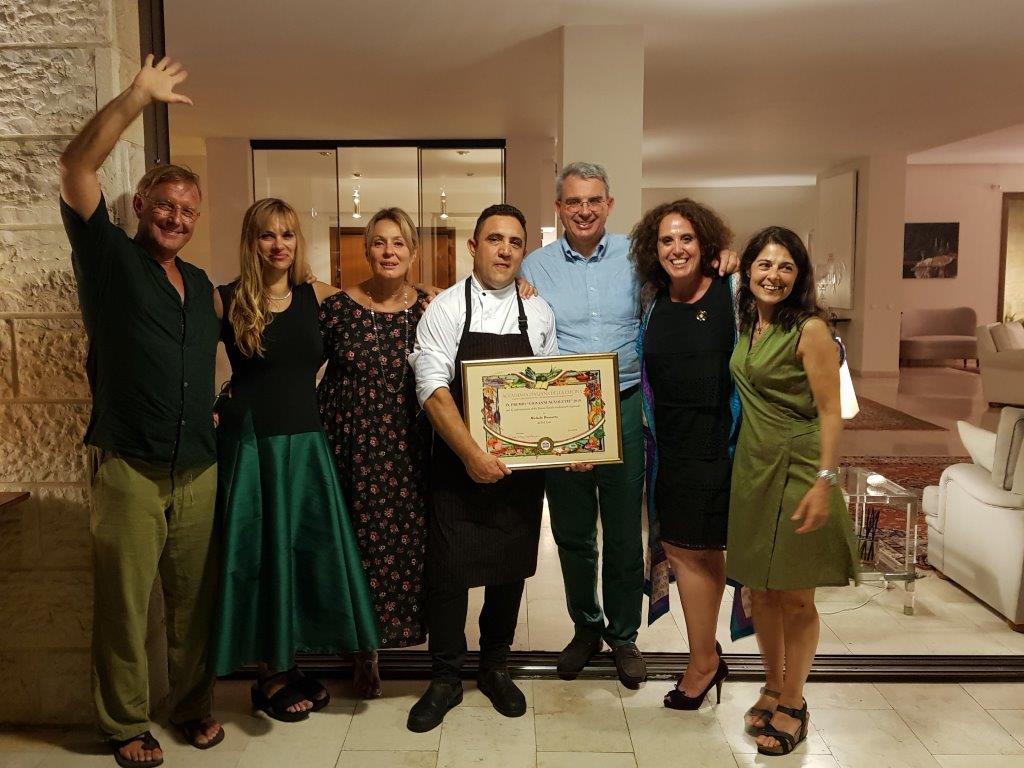 His Excellency, Ambassador Gianluigi Benedetti, and his gracious wife Mrs. Sabina D'Antonio Benedetti hosted a sparkling dinner at the official residence in Ramat Gan last week, a special event to honor the Accademia Italiana Della Cucina – the Italian culinary association. Members of the Accademia gather from time to time, most often in authentic Italian restaurants, to celebrate Italian cuisine. The Academy was established in Milan in 1953 and is now a world-wide institution (with a Tel Aviv chapter as well). The association aims to preserve Italian gastronomic tradition and to promote and improve it in Italy and abroad, through various initiatives, reports, and information. It includes a study center, publishing activities, tastings, and more.
First, a word about the official Italian residence. There are few homes like this one in Israel. Classic, but modern. Large, but graceful. Luxurious, but classy. A house at peace with itself in its beautiful park-like garden, crystal swimming pool, mature trees, green lawns. We dined on the elegant balcony overlooking that serenity. In that setting, simple sandwiches would have sufficed to please us.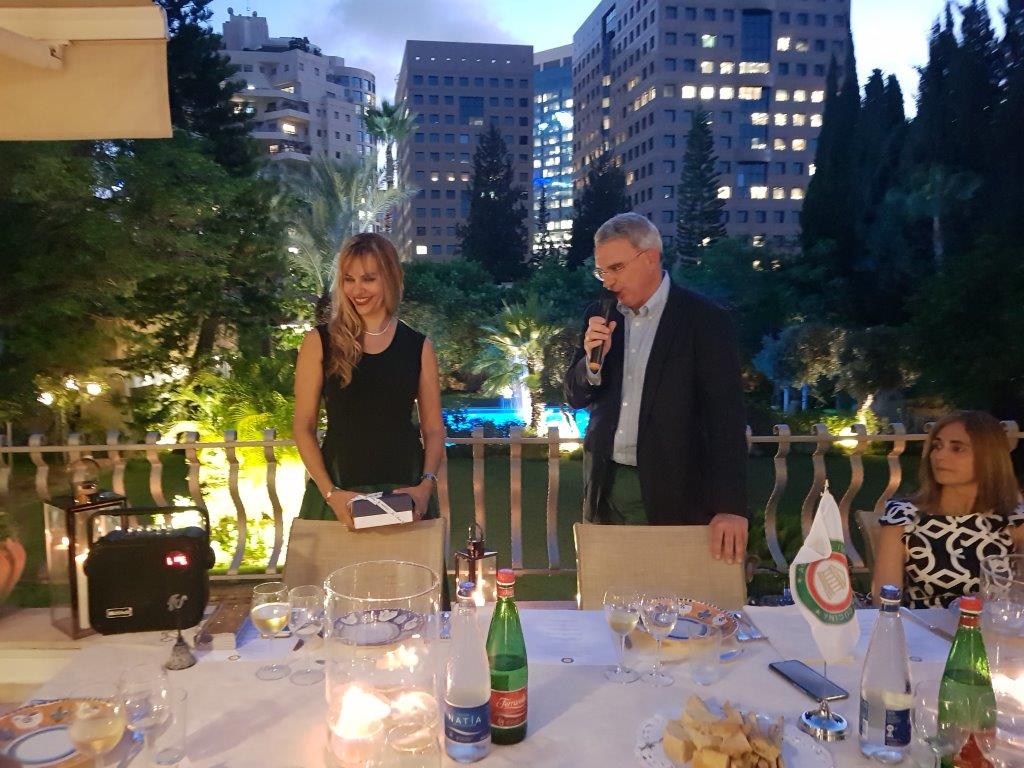 But the meal was anything but simple. A traditional four-course Italian dinner (served by white-coated waitstaff): antipasti, primo, secondo, dolce. Accompanied of course by appropriate Italian vini. Each course actually in two sections, with an elaborate menu (in Italian of course) describing it all, especially since the event was to honor several Italian specialists in the art of good food. Chef Michele Bozzetto outdid himself, demonstrating that his award "Massimo Alberini 2019" was appropriate and in place. Also honored with the " Giovanni Nuvoletti" award to Gelateria Arte partner-owners, Marco Camorali, and Sissi Pagani, for their unique and very special artisanal ice cream (served as part of the dessert course as well).
Stimulating conversation at the intimate tables added to the evening's pleasure. Stimulating and interesting, far from boring. Even the mundane had its moment, like when the discussion "raged" about whether the pasta was truly al dente as it should be. Some thought it had been cooked for 30 seconds too long, while others opined that it needed another minute in the pot. Ah – the finesse of real Italian cuisine.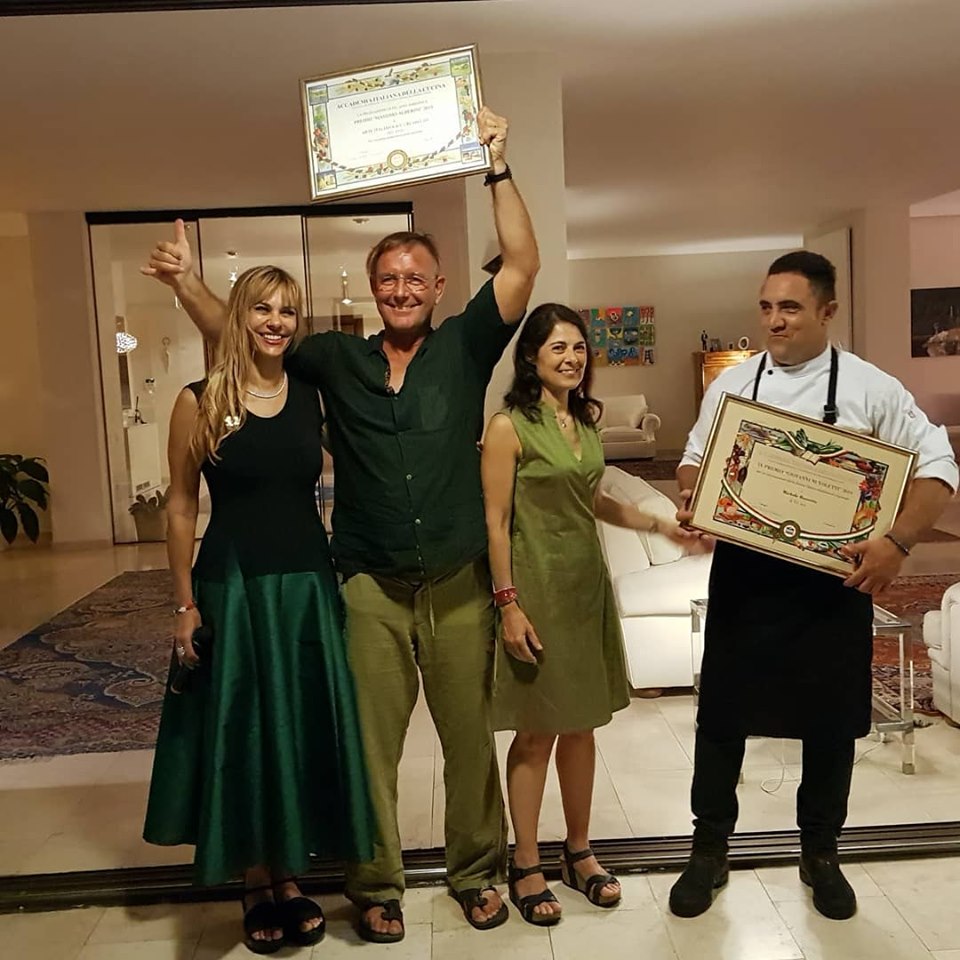 Guests were largely from the Israeli-Italian ex-pat community and included (in no particular order of importance)
ICE (Istituto per il Commercio con l'Estero - Italian Trade Commission) Manager Massimiliano Guido
Architect-artist Maurizio Minerva
World WIZO President Mrs. Esther Mor and Mr. Emanuel Mor
Chief of Italian Foreign Ministry Food Development Office, H.E. Ambassador Raffaele de Luzio
Italian military attaché Colonel Guido Cirioli
Italian Air Force Colonel Vincenzo Sicuso
Vice President, Italy-Israel Chamber of Commerce Roberto Della Rocca
Academic-Plastic Surgeon Dr. Dov Klein
Italian Consul Niccolo' Maniello with his wife Elmina Vincenti
Eitan Esrachi with his wife Ruti
Academic and ANSA journalist Massimo Lomonaco, journalist Fabiana Magrì, journalist-anthropologist Fiammetta Martegani, academic writer and anthropologist Nessia Laniado. And many more.
The entire event was ably orchestrated by Academy Honorary Mrs. Sabina D'Antonio Benedetti in collaboration with Academy Delegate Dr. Cinzia Klein and Vice Delegate Sabrina Fadlun.
Fino Alla prossima volta.
Photo by Silvia G. Golan
More pics at Facebook Israel Diplo https://www.facebook.com/diplomacy.israel
Details

Written by

Adam Kremer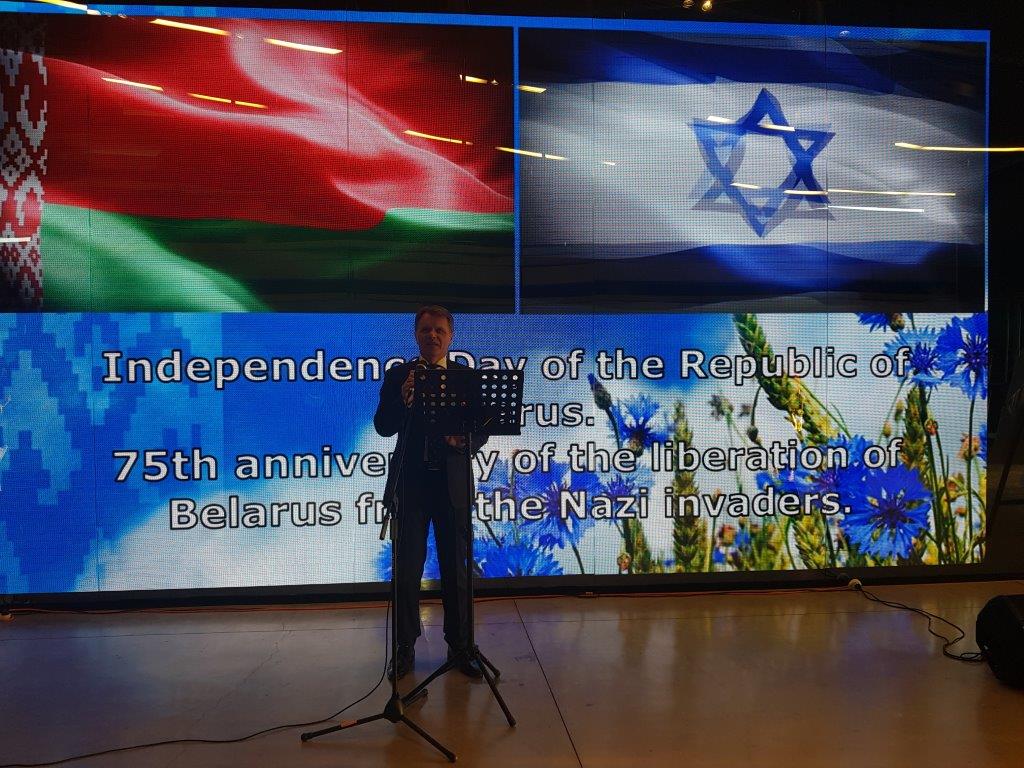 On June 27th the Embassy of the Republic of Belarus to the State of Israel entertained a celebration event on the occasion of the Day of Independence of Belarus. The celebration was held in the Peres Center for Peace and Innovation in Tel Aviv-Yafo. The ambassador of the Republic of Belarus to the state of Israel, H. E. Vladimir Skvortsov, hosted Israeli officials, fellow ambassadors, visitors from Belarus and Israeli-Belarusian citizens.
Among the guests were:Chief of State Protocol in the Israeli Foreign Ministry Meron Reuben, former Defense and Foreign Affairs Minister Avigdor Lieberman,former Prime Minister and Mayor of Jerusalem Ehud Olmert, former Minister of Immigrant Absorption Sofa Landver, Members of the Knesset Yoel Razvozov and Evgeny Sova, Deputy Chairman of the Jewish National Fund and former Member of the Knesset Yigal Yasinov, former Ambassador of the State of Israel to the Republic of Belarus and former Member of the Knesset Yosef Shagal, former Member of the Knesset Leon Litinetsky, Ambassador of the Russian Federation to the State of Israel Anatoly Viktorov, Ambassador of Ukraine to the State of Israel Hennadii Nadolenko, Director of Eurasia department in the Israeli Foreign Ministry Yacov Livne, Senior Advisor for Governmental and International Affairs of the Peres Center Nadav Tamir, and President of the Veteran's Union of WW2 in Israel Avraham-Michael Greenzaid.
Ambassador Skvortsov welcomed and thanked all the guests on the occasion of the National Day of Belarus - marking the liberation of the capital Minsk from Nazi invaders 75 years ago. That symbolic date has been determined as the main holiday of the country - the Independence Day of Belarus. The Ambassador praised the relations between Belarus and Israel: "The history of relations between Belarusian and Jewish people goes back around six centuries. Close interlacing of human destinies and cultures in our past is today a solid foundation of friendly ties between the two countries." Ambassador Skvortsov mentioned the many influential Israelis born in Belarus: Presidents Haim Weizmann, Zalman Shazar and Shimon Peres, Prime Ministers Menahem Begin and Yitzhak Shamir, and a key figure in the revival of Hebrew as a spoken language, Eliezer Ben-Yehuda and thanked Ministers Avigdor Lieberman and Sofa Landver for their contribution to improving relations between the countries, culminating in visa-free travel between the two states.
In his closing remarks, the Ambassador congratulated Israel on achieving 8th place in the medal standings in the European Games hosted in Minsk. Ambassador Skvortsov will return to Belarus after 6 years in Israel, and he summed up his time in Israel: "After the summer vacations, I will complete my term here, and leave Israel where I have lived and worked for almost six impressive and eventful years. It was for me a great honor and pleasure to serve in Israel as Ambassador of my country. I tried to do my best to
strengthen the relationship between our two nations. I could always rely on the support of many Israeli friends of my country - politicians, businessmen, members of NGO's and the Belarusian community, whose representatives are also among us tonight. We value what has been done in many practical areas of mutual Cooperation. I am sincerely grateful for the meetings and events held here with my colleagues from the Diplomatic Corps, as well as for the friendly relations with many people present, which I hope will continue. And last but not least - my thank is addressed to the staff of the embassy. Without your support and professionalism, dear friends, I could never have done what we have managed together during these intense years."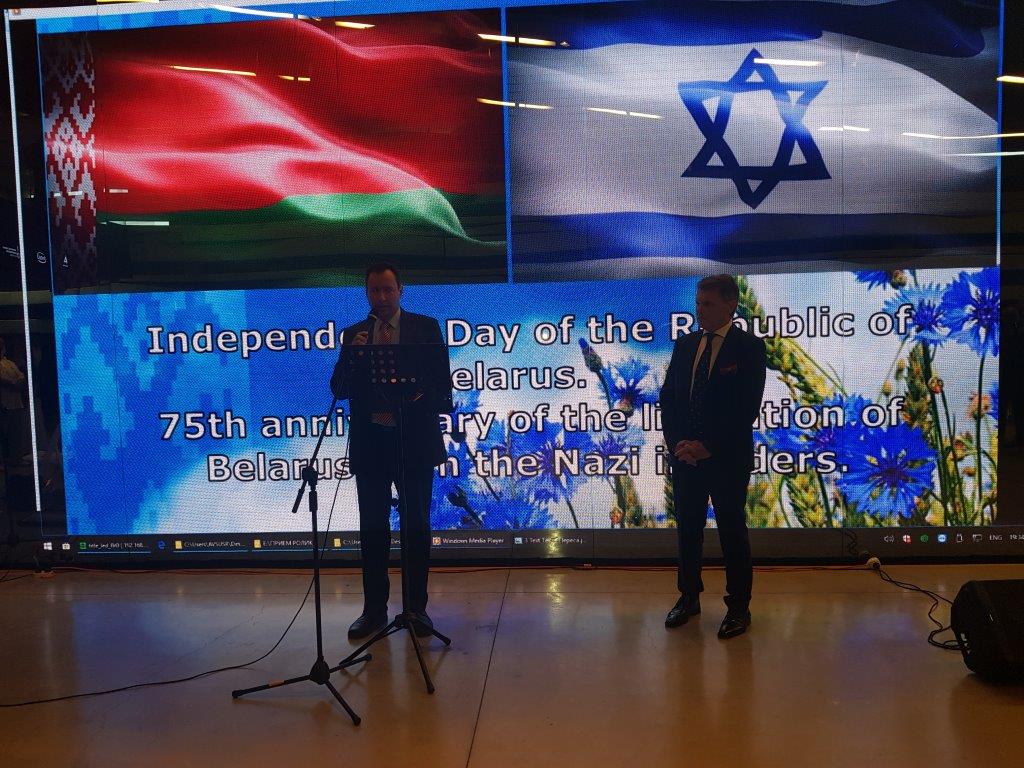 Yacov Livne, Director of the Eurasia department at the Israeli Foreign Ministry thanked Ambassador Skvortsov for his great work in Israel: "Mr. Ambassador, your personality is the best combination of a professional diplomat, a remarkable colleague and a true friend of Israel. We wish your family a lot of happiness and the best of luck in your future endeavors."
Also at the event, the embassy of Belarus and the Peres Center for Peace showed a photo exhibition dedicated to Belarus - "The land under white wings" which presented the history and contemporary Belarus in photos. Traditional Belorussian food was offered to the guests, including local alcohol and ice cream. Classical music was played by the "Kamerans" and "Oriental orchestra" lead by the conductor and violinist Mikhael Zakharin.
Diplomacy.co.il thanks Ambassador Skvortsov for his dedication to strengthening bilateral ties between Belarus and Israel, and wishes his much health, happiness, and success!
Photos Silvia Golan
Adam Kremer is a member of
DebateforPeace
Details

Written by

Steven Aiello
Innovation and cooperation were the main themes as the Embassy of Slovenia in Israel celebrated Slovenia's national day with a reception at the Peres Center for Peace and Innovation in Jaffa. Ambassador of Slovenia H.E. Barbara Sušnik hosted the celebration, which coincided with a business delegation visiting from Slovenia, led by the deputy foreign minister, Mr. Dobran Božič.
The weather and view overlooking the sea in Jaffa set a perfect backdrop, while floral arrangements in the Slovenian colors and live music performed by Israeli and Slovenian musicians added to the ambiance. Deputy Foreign Minister Dobran Božič headed a Slovenian business delegation, who met earlier in the day with Israeli entrepreneurial peers for presentations and networking.
Ambassador Sušnik expressed her pleasure at seeing so many friends from the two countries, and in particular at the presence of the delegation for the first Israel-Slovenia business forum. The ambassador noted also the visit by the president of the Slovenian Parliament two years ago, as further evidence of the growing ties between the two countries.
The ambassador noted that although Slovenia is a young country, it is already playing a leading role in protecting human rights; promoting gender equality, as well as being a hub for innovation, like Israel. She emphasized that Slovenia remains committed to fighting anti-Semitism along with all forms of extremism, racism, and intolerance.
The ambassador closed her remarks by speaking in Hebrew, telling the guests that she was not concluding her term as ambassador to Israel, and would soon be leaving. She thanked her colleagues and the embassy staff, and everyone who helped to forge stronger ties between Israel and Slovenia.
Deputy Foreign Minister Mr. Dobran Božič spoke next, expressing his happiness to be in Israel, and to be representing Slovenia. The deputy minister noted Slovenia's success in the last three decades and the opportunities for further cooperation with Israel. He said that he had heard from Israelis that innovation requires courage and intellectual capacity, and he added market need as an additional key factor. Noting that both countries have each of these factors, he reiterated the hope for continued economic cooperation and wished all the guests well.
Minister of Justice Mr. Amir Ohana spoke on behalf of the Israeli government. The minister noted the many similarities between the two countries, from geographical size, or shared values of freedom, democracy, and the respect for law, order and human rights. He noted, in particular, the Israeli trade entering Europe through Slovenia's Port of Koper, as well as growing Israeli tourism to Slovenia.
Minister Ohana noted that all of the bilateral cooperation comes despite Israel not yet have an embassy in Slovenia due to budgetary limitations, and expressed his hope that the situation would be rectified soon. He concluded his remarks by thanking Ambassador Sušnik for promoting and deepening the friendship between Israel and Slovenia and offering best wishes to the government and people of Slovenia on their national day.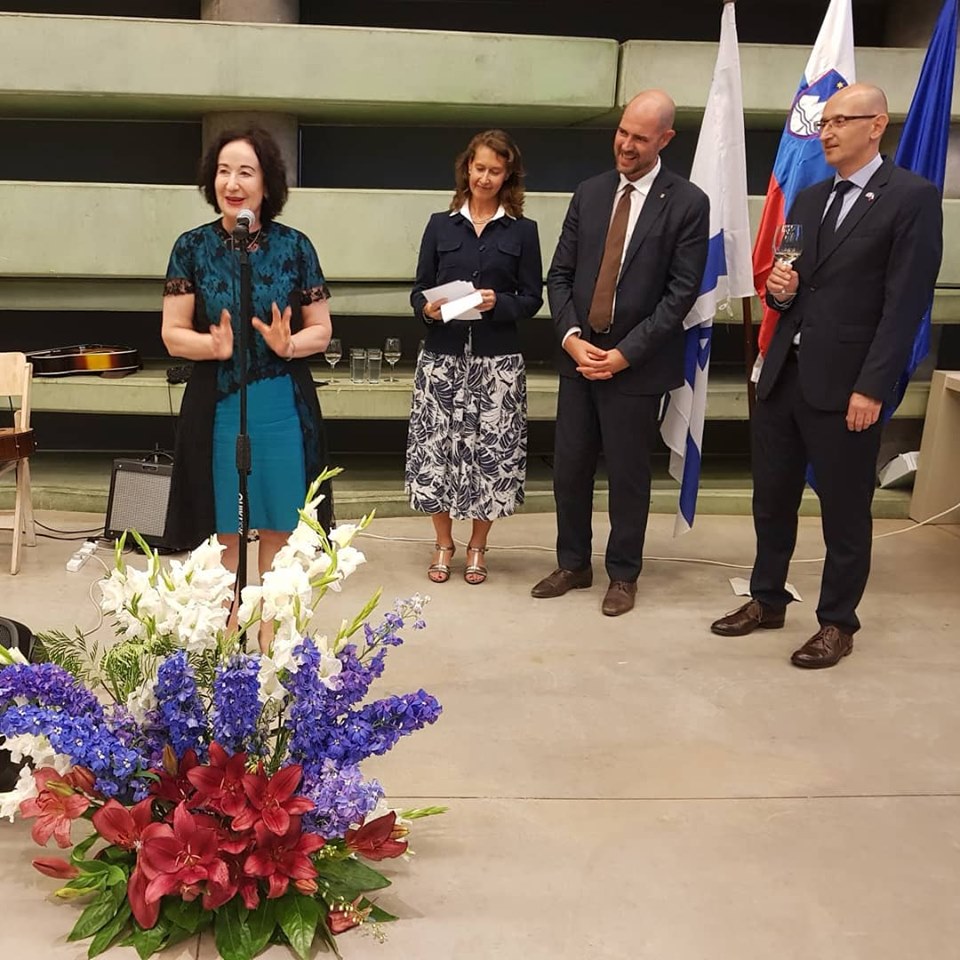 After hearing the national anthems of both countries, a toast was held to continued success and cooperation. Jewish Slovenian actor and singer Polona Vetrih di Stefani then took the stage and sang English and Slovenian renditions of the national anthems for Slovenia and Israel.
Among the many distinguished guests were Adi Rosenfeld and Eival Gilady, Honorary Consuls of Slovenia; Ambassador Yitzhak Eldan, president of the Ambassador's Club; Israeli Ambassador to Slovenia Eyal Sela; Capoeira champion Miki Chayat; Polona Vetrih di Stefani, and members of the diplomatic corps and the Israeli and Slovenian business sectors.
Diplomacy.co.il congratulates the Embassy of Slovenia on its national day and offers best wishes to Ambassador Sušnik and thanks to her for her work promoting diplomacy and cooperation.
Steven Aiello, founder of the Debate for Peace MUN program (debateforpeace.wordpress.com)
Photos by Silvia G Golan

Details

Written by

Steven Aiello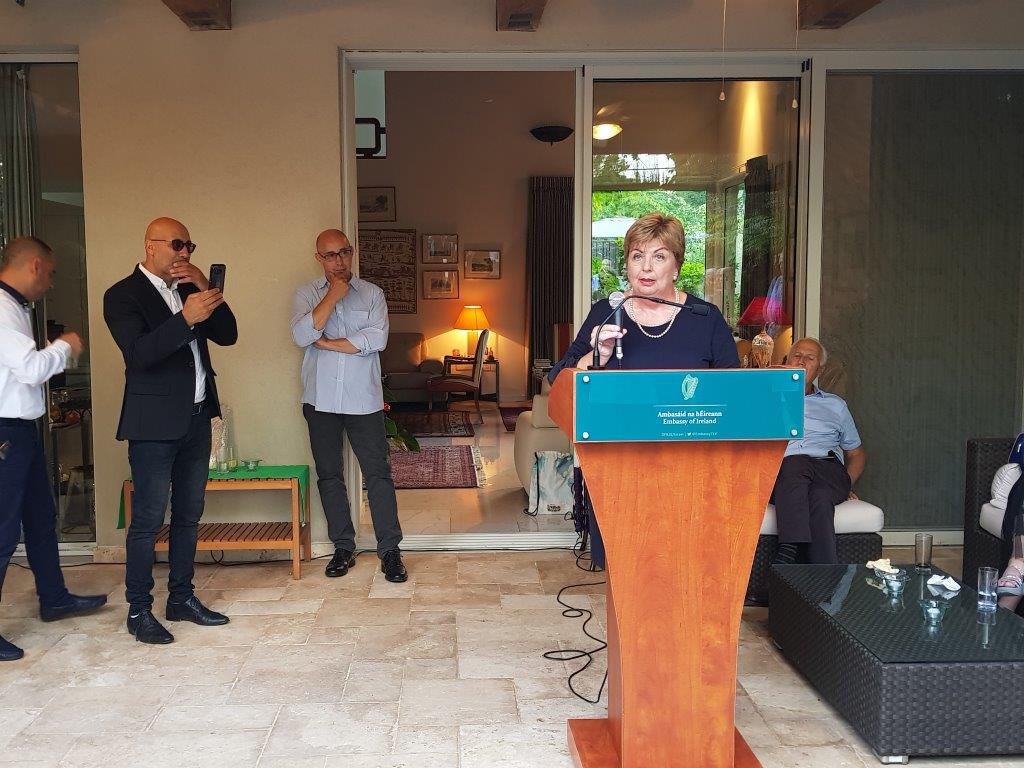 On Monday evening, Ambassador of Ireland H.E. Alison Kelly hosted a farewell dinner reception at the ambassador's residence in Herzliya. Diplomats and other distinguished guests were on hand to thank the ambassador for her service, and wish her well, as she returns to Ireland.
Ambassador Kelly addressed her guests and thanked them for attending, and for their friendship and support. She said that her four years of service in Israel had been "among the most fascinating" of her career. Noting the importance of personal contact in the world of diplomacy, the ambassador emphasized how she had enjoyed working with her colleagues in Israel. She also thanked her embassy staff for their commitment, support, and friendship.
The ambassador noted the commonalities between Irish and Israeli cultures, like informality and a similar sense of humor. She noted that there is still a need for direct Ireland-Israel flights, and expressed hope that the next ambassador could achieve that step in bilateral connections.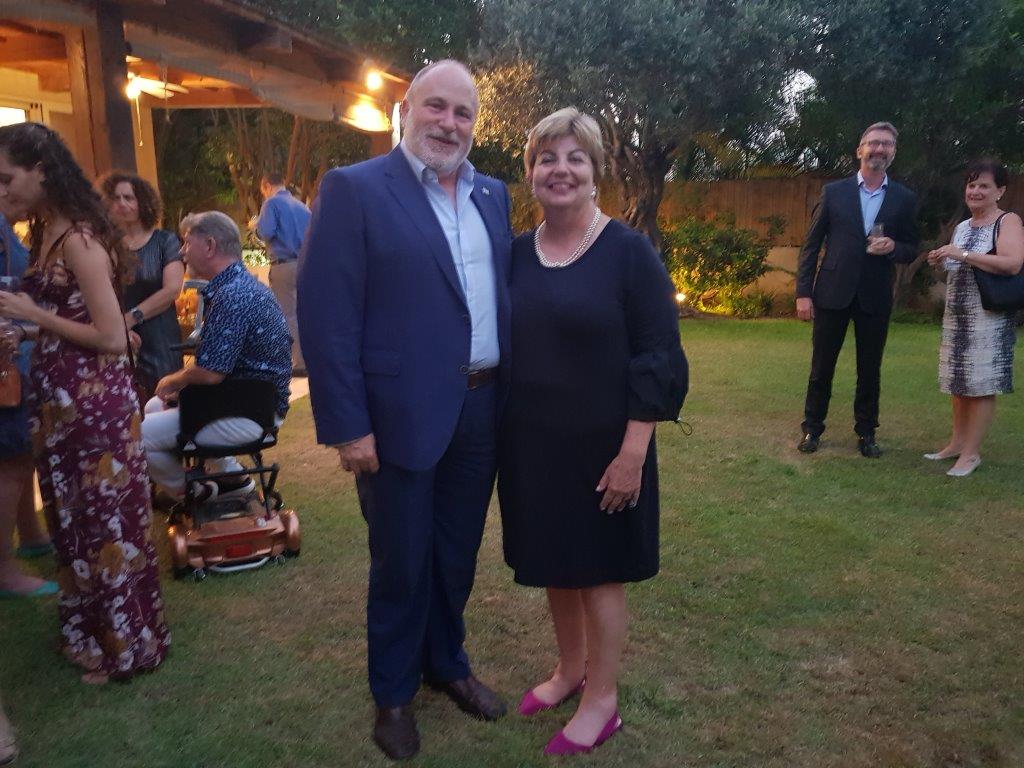 Ambassador Kelly commended the Irish peacekeepers serving in UN missions on Israel's borders. The ambassador stressed the deep commitment of the government of Ireland towards strong bilateral relations with Israel while supporting a just resolution to the Israeli-Palestinian conflict.
Closing her remarks, the ambassador surprised many guests by telling them that she would be retiring. She emphasized that Israel would always be special for her, and welcomed friends to visit her in Dublin as well.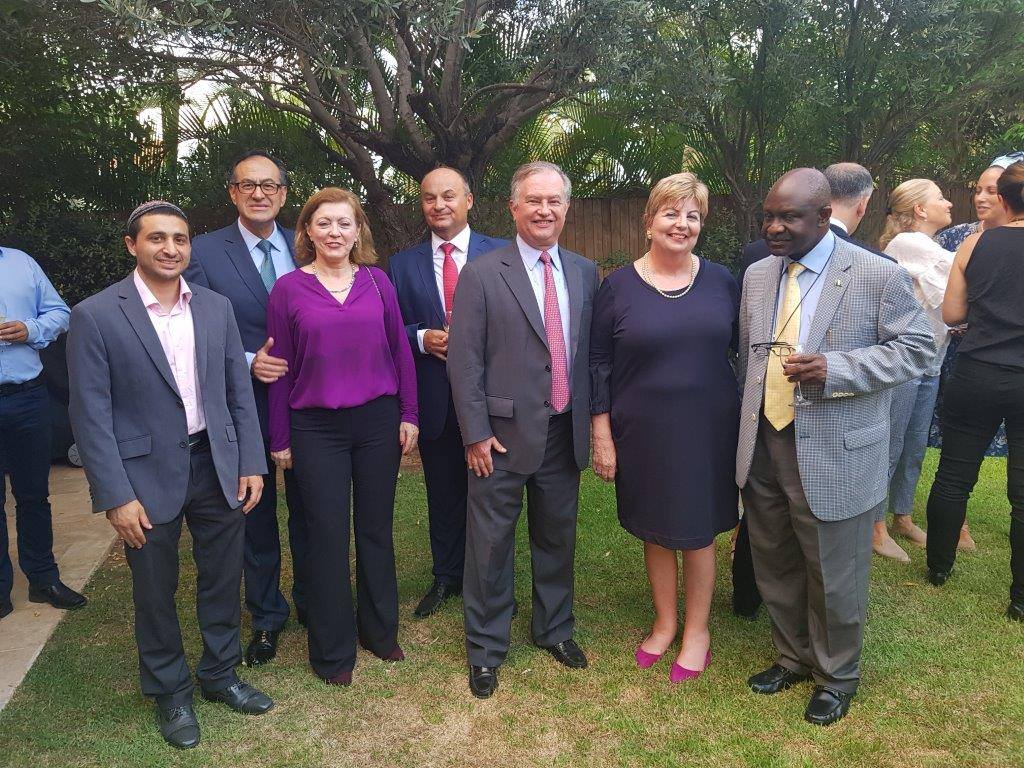 Among the distinguished guests in attendance were numerous members of the diplomatic corps; Ambassador Meron Reuben, chief of state protocol in the Israeli Ministry of Foreign Affairs; Major General Kristin Lund, Head of Mission and Chief of Staff for UNTSO; David Freeman, Jerusalem Representative of the Baha'i international community; Rabbi Eliezer Simcha Weisz, Member of the Chief Rabbinate Council of Israel; Hillel Schenker, Co-Editor of the Palestine-Israel Journal, and Dina Ben Yakir (Women Wage Peace).
Diplomacy.co.il thanks Ambassador Kelly for her dedication to strengthening bilateral ties between Ireland and Israel, and wishes her much health, happiness, and success!
Steven Aiello
Founder--DebateforPeace
Details

Written by

Silvia G Golan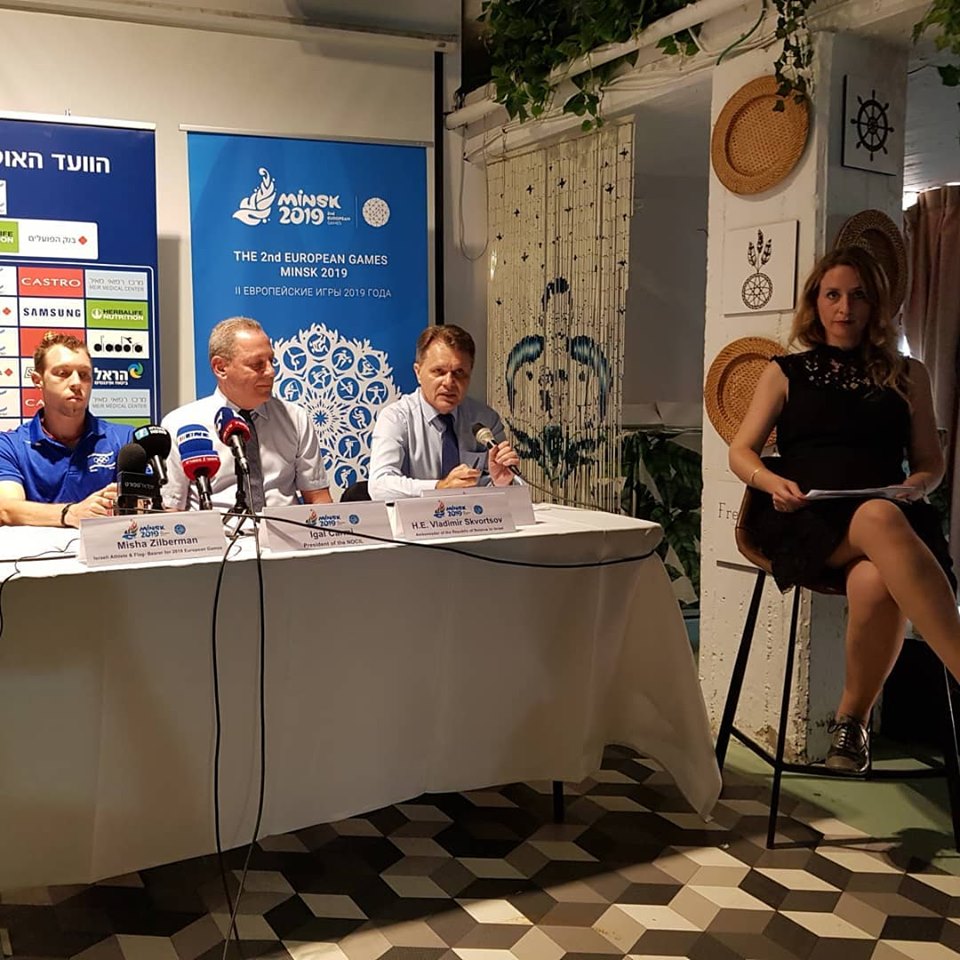 Tens of thousands of tourists from all over Europe, including hundreds and even thousands of Israelis, are expected to arrive in Belarus this week to take part in the biggest sporting event of the year in Europe.
In light of these forecasts, local authorities are preparing electric buses to transport guests from place to place quickly and in an environmentally friendly manner. In addition, the authorities in Minsk have allocated about 2,000 hotel rooms and hostels for tourists and fans who will come to watch the games. In addition, the Ministry of Sports and Tourism announced a special policy aimed at facilitating the entry of tourists into the country. During the European Games, tourists who have a ticket to the Games will be able to enter the country without a visa.
Ambassador of the Republic of Belarus in Israel, H.E. Vladimir Skvortsov: "We expect that hundreds and even thousands of Israelis will visit Minsk as tourists and spectators of the Games." The Belarusian capital, which celebrated its 950th birthday in 2017, is today a modern city that is growing rapidly.
The 2nd edition of the European Games 2019 will take place in the capital of Belarus, Minsk, beginning this coming Friday from 21 to 30 June. This year's biggest pan-European sports forum will see more than 4,000 athletes from 50 countries competing for 200 sets of medals in 15 sports (23 disciplines) and the 2020 Tokyo Olympics berth.
"We welcome the active participation in the European Games of the Israeli delegation, with whom we have deep historical ties," said Ambassador of the Republic of Belarus in Israel, H.E. Vladimir Skvortsov at a press conference in Tel Aviv last night (Sunday, 16 June 2019) co-hosted by the Embassy of the Republic of Belarus in Israel and the Olympic Committee of Israel. He offered an interesting angle between the two countries: "Many in Israel know that a number of prominent figures in Israel were born in Belarus, including politicians, scientists, artists, and Nobel laureates. Suffice to say that Belarus "gave" Israel three presidents and three prime ministers. It is important to remember that in the history of our country there was a time when Yiddish was one of the official languages in the country, and, before World War II, Jewish people made up more than half of the population in several cities in the country."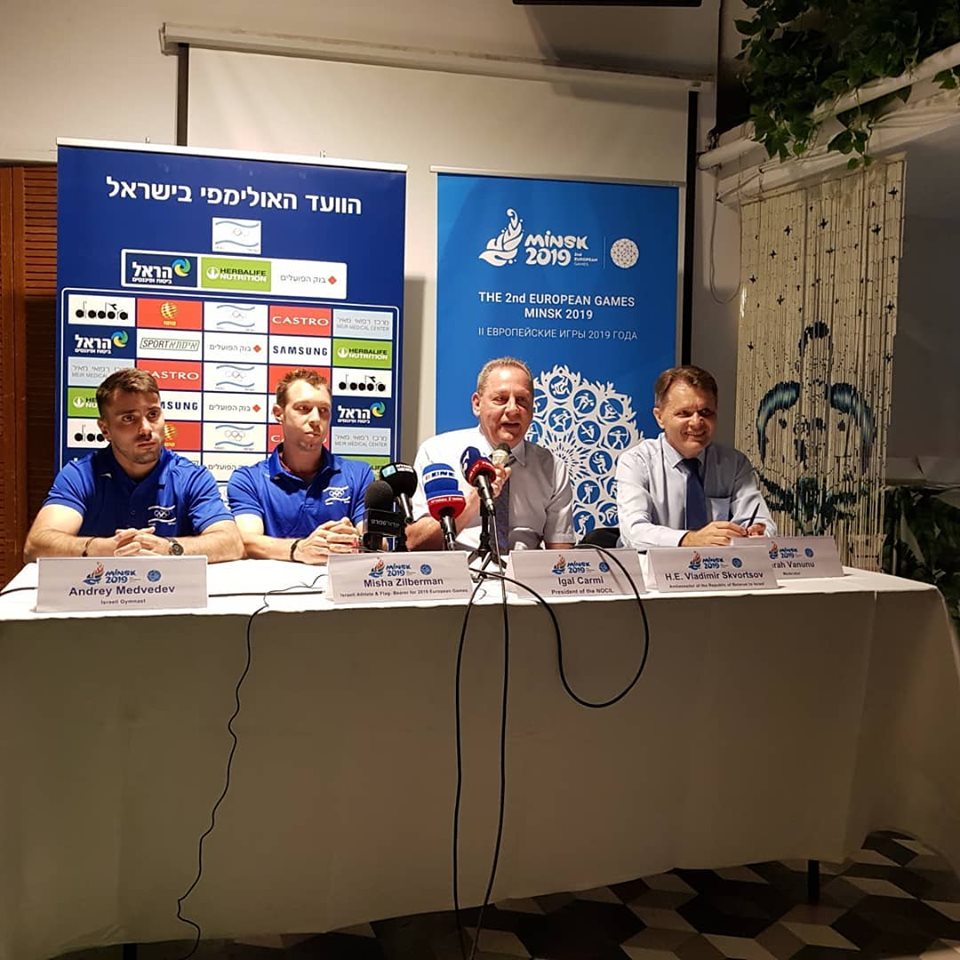 Ambassador Skvortsov addressed the fact that Belarus is also preparing for Israeli tourists during the European Games: "Belarus, located in the center of Europe, is a land of thousands of lakes and rivers, historic forests, ancient castles, and palaces, waiting for tourists from all over Europe, and of course from Israel as well. We anticipate hundreds and even thousands of Israelis to visit Minsk as tourists and spectators of the Games. The capital of Belarus, which marked its 950th anniversary in 2017 is today a modern city that is growing rapidly."
The Ambassador added: "Despite the principle that participation in the Games is what is most important, I wish the delegation to Minsk, first and foremost, to win, to reach new achievements in sports and to achieve new personal records. I hope they meet their hosts, the Belarusian athletes, on the podium, most likely in the sports where the two countries are traditionally strong, as happened last time in the first European Games which took place in Baku, Azerbaijan, four years ago."
Igal Carmi, President of the Olympic Committee of Israel: "I am certain that the games will be a success for Belarus and for us. Europe is very important to us, not just for the Olympic Games. This mission is important to us a year before the Olympic Games in Tokyo 2020. Athletes will see how everything is organized. We expect 3-4 medals and are very excited."
The 2nd European Games
The idea behind the European Games is to keep Europe in the heart of sports. Belarus will welcome athletes, sports enthusiasts and visitors from around Europe with open arms to experience the best of Belarusian sportsmanship, culture, and hospitality. This year, eight of the 23 disciplines will provide athletes with a chance to qualify for the 2020 Olympic Games and pave the way to Tokyo, Japan.
Belarus welcomes guests from all over Europe
The Ministry of Sports and Tourism expects 30,000 visitors to attend the Games. With this in mind, the local authorities are deploying their electro buses for the upcoming Games to transport guests in an eco-friendly and fast manner. In addition, the Minsk authorities have allocated approximately 2,000 hotel and hostel rooms for tourists and fans during the Games. The Minister of Sports and Tourism stated: "From 10 June to 10 July 2019, tourists carrying a valid ticket to the Games can enter Belarus without a visa." This way the procedure of visiting Belarus during the Games will be easier. A total of 74 countries can enter the country visa-free during the European Games.
Belarus is the homeland of three Israeli Presidents: Chaim Weizmann, Zalman Shazar and Shimon Peres, and of two Prime Ministers, Menachem Begin and Yitzhak Shamir. Belarus is also home to important intellectuals and leaders, including Berl Katznelson, Yosef Haim Brenner, Menachem Ussishkin, Abba Ahimeir, Yitzhak Tabenkin, Hanna Rovina, Eliezer Ben Yehuda, the founder of Tel Aviv, Akiva Aryeh Weiss, and many others who have a central place in the canon of contemporary Israeli-Jewish history.
For more information on the Games, visit: https://minsk2019.by/en
Photos by Silvia G. Golan