Diplomatic Events
Details

Written by

Steven Aiello
On Sunday night, the Dan Hotel in Tel Aviv came alive with the sounds of Africa. Sunday evening ushered in Jamhuri (Republic) Day—Kenya's national day celebrating independence. Diplomats, academics, humanitarians, business leaders and Kenyan expatriates enjoyed a lovely and lively evening of food, music and dance which exemplified the uniqueness of Kenya and its relationship with Israel.
The evening opened with the national anthems of Kenya and Israel performed by the dynamic team of Gilad Millo and Wendy Kimani. H.E. Mr. Jon Chessoni, Charge d'Affairs of the Republic of Kenya welcomed all of the guests. Mr. Chessoni spoke about the long-standing and staunch ties linking the two nations of Kenya and Israel. In 1963, just three days before Kenya formally declared its independence, legendary Israeli Prime Minister Golda Meir visited the country to lay the cornerstone for the first Israeli Embassy in Nairobi. Israel and Kenya have enjoyed a strong relationship ever since.
Mr. Chessoni discussed Kenya's important roleas one of the largest and most robust economies in Africa, as well as the East African country's contributions to regional-level peace and stability. Mr. Chessoni became the acting ambassador in Israel when the previous ambassador left for Juba, South Sudan, to oversee efforts to reconcile differences in the difficult civil war facing that country. Kenya has also contributed to the AMISOM African Union Peacekeeping Mission in Somalia, as well as anti-piracy efforts in East Africa.
Mr. Chessoni also mentioned Kenya's efforts to promote international trade and development, including a number of recent conferences and meetings, many of which have involved Israeli cooperation. Mr. Chessoni applauded the strong ties at the governmental and people levels, and encouraged more Israelis to visit "Magical Kenya."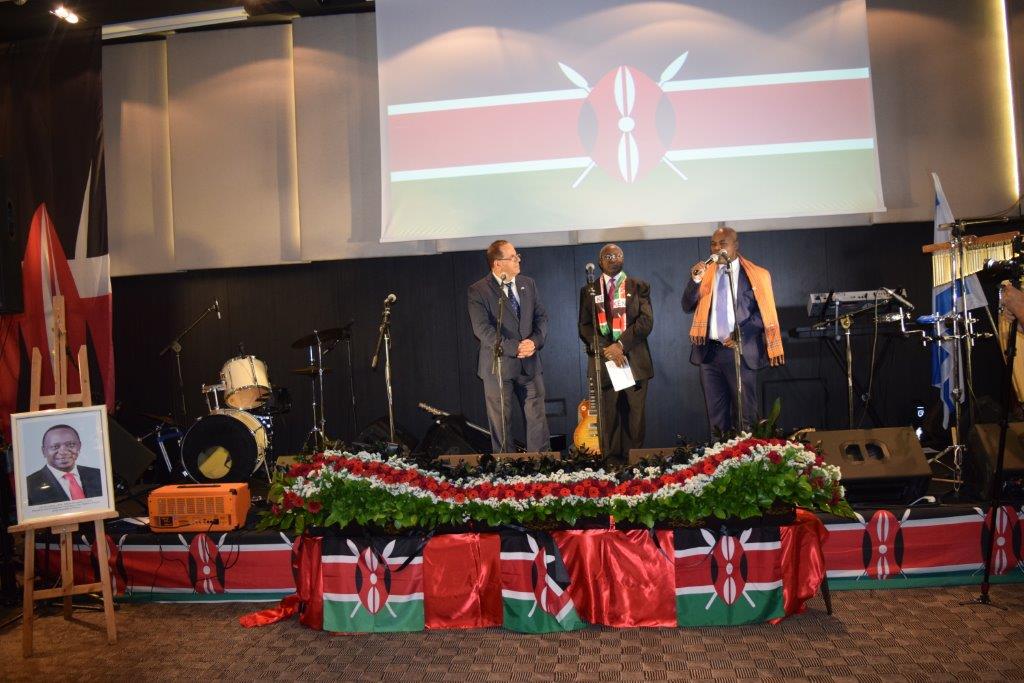 MK Ayoub Kara, Israel's Deputy Minister for Regional Cooperation, reinforced the message of Israeli-Kenyan partnership, specifically citing recent visits by Israeli Prime Minister Benjamin Netanyahu to Kenya in July 2016 and by Kenya's President Uhuru Kenyatta and Deputy President William Roto to Israel several months prior to that. Additionally, Mr. Kara noted, Israel and Kenya opened an important bilateral dialogue in Jerusalem in January 2016, with plans to hold a follow-up session in Nairobi in early 2017.
Mr. Kara discussed common challenges and opportunities for the two nations. He mentioned the threat of extremism and radicalization that challenged stability in the Middle East and East Africa—citing specifically Al-Shabab in Kenya's case, and Hamas, Hezbollah and Da'esh in Israel's case. On a more positive note,
Mr. Kara emphasized Israeli-Kenyan cooperation in initiatives like the MASHAV program, an international development program ranging from irrigation techniques to food security to education, with Kenya sending the highest number of participants to participate in MASHAV training programs in Israel. In closing, Mr. Kara offered his hope that ties between Israel and Kenya continue to blossom.
Following the speeches, guests were treated to a special performance by the eponymous group Gilad and Wendy. Gilad Millo is a the son of an Israeli ambassador, and a former diplomat himself, whose passion for music and travel has drawn him to Kenya over the years. Wendy Kimani is a Kenyan music star. The two were joined on stage by the Groove Ambassadors, an international band featuring influences from all over the world. Within minutes, the room had come alive, and guests were dancing to a combination of English and Swahili.
In an exclusive interview with Diplomacy, Furaha, Mr. Chessoni's daughter, discussed her experiences as a young Kenyan woman living in Israel. The Chessonis have been based in Israel for less than a year, and although the absence of the ambassador has placed additional obligations on Mr. Chessoni, the family loves living in Israel. Furaha studies Communications at the IDC Herzliya, while her younger siblings attend an international high school in Israel. Furaha Chessoni described her appreciation for the diversity of Israel and the way in which Israeli society incorporates religion and modernity, given that religion is a central part of life for so many (Kenya itself is home to numerous religious groups, and as Mr. Chessoni pointed out, had a synagogue in Nairobi as early as 1912). She drew a parallel to Kenya's own diversity, citing the more than 40 languages spoken by various tribes throughout Kenya. Furaha reiterated her father's call for Israelis to come visit Kenya, telling Diplomacy that Kenya's rich cultural and geographical landscape made it an ideal tourist destination spot.
The guest list at the Jamhuri celebration was similarly diverse, including not just diplomats and business leaders, but also musicians, academics and humanitarians. Israeli music superstar Idan Raichel attended with his wife Damaris, as did Ambassador Gil Haskel, former Ambasador to Kenya and current head of MASHAV, and Ambassador Emeritus Shlomo Avital, who served as a diplomat all over Africa, Professor Isaac Dagani (a researcher of African Studies and Islam at Bar Ilan University), Director of Rotary International Gideon Peiper, and numerous military attaches and political liasons. Dr. Rina Attias, who also attended the event, told Diplomacy about her work in Kenya for the Save a Child's Heart initiative, which brings children from all over the world to Israel for life-saving heart surgery by top surgeons.
Israel and Kenya have enjoyed a vibrant relationship ever since Kenyan independence and are positioned to continue with many exciting collaborations already in progress. It was only fitting, then that the Jamhuri celebration in Tel Aviv would commemorate this robust link with a gala, event featuring such energy, diversity and camaraderie.
Steven Aiello is the Director of the Debate for Peace MUN program
https://debateforpeace.wordpress.com
Photo Silvia Golan
More pics at Facebook DIPLOMACY ISRAEL
Details

Written by

President's Spokesperson
President Reuven Rivlin this morning (Monday) at his residence received the diplomatic credentials of new ambassadors to Israel from France, Canada, Guatemala, Turkey, and Cambodia. Each ceremony began with the raising of the flag and the playing of the national anthem of the visiting country, included an honor guard, and - after the presentation of the credentials - the signing of the guest book, before the playing of Israel's national anthem 'Hatikva'.
Photo : President Rivlin welcoming H.E Mrs. Hélène Le Gal, Ambassador of France to Israel.
President Rivlin first welcomed Ambassador of France, H.E Mrs. Hélène Le Gal. He welcomed her and spoke of the good relations between the two countries and stated that he was hopeful that as she took up her post these ties would grow stronger and cooperation would increase. The President added, "We know of the goodwill of the President of France to bring to an end the Israeli-Palestinian conflict, the only way to bring about an understanding with our neighbors is to through direct negotiations. We welcome any initiative to end the tragedy between Israel and the Palestinians, but the Palestinians reject our offer for direct negotiations time and again – we have no war with Islam, but they must accept we are here to stay in our homeland."
The Ambassador thanked the President for his warm welcome, and noted that as this was her second posting to Israel, having served in Israel 20 years ago, she had a sense of returning home. She said, "France was of course very active in the first 20 years of the state to help build the military capacity here, and this is still one of the main domains of our relationship if we think about counter terrorism, and we have a lot to discuss on this matter." She added, "We are a permanent member of the Security Council and we are always keen to propose things, to try and find ideas for the different conflicts of the world. It is always in a very good spirit towards Israel. I would like to say that France and Israel share many values especially democracy, and freedom of speech and I appreciate your messages on these subjects."
Photo : President Rivlin welcoming H.E Ms. Deborah Lyons , Ambassador of Canada to Israel.
The President then received the credentials of new Ambassador of Canada, H.E Ms. Deborah Lyons. He welcomed her and said, "Next year you will celebrate 150 years and I congratulate all Canada on this." He added, "Canada's friendship is of great importance to us, it is a true friendship. Also when you may have criticisms we hear they are out of love – between true friends."
Ambassador Lyons said that, "The reception I have received from all the Government and people of Israel has been fantastic. I have been here for two and a half months, and we have had the prime minister, who of course came for a sad occasion, and then the visit of the Governor General who came with a large business delegation. I don't see it slowing down in the new year and we are looking forward to a very busy time, as it should be between us as close friends. We are natural friends, natural colleagues, but there is much more we can do together. We are looking forward to you being able to visit Canada." She noted that Canadians could learn much from Israel and said, "We have a new expression in the embassy from the more than 350 Canadians we have hosted in Israel since I arrived, and that is 'Wow Israel!'"
Photo : President Rivlin welcoming H.E Ms., Ambassador of Guatemala to Israel.
The President then received the credentials of the Ambassador of Guatemala H.E. Ms. Sara Angelina Solis Castañeda. The President stressed the importance of the recent visit by President Morales of Guatemala to Israel, as a milestone in the relationship between the two countries. He said, "The visit of your President was significant and important, and strengthened the good ties between our countries – ties which are warm and friendly. I welcome you to your new post, and wish you much success in the role."
The Ambassador thanked the President for his words and said, "It is a high honor to be here and a privilege to represent Guatemala to Israel - a country we love so much. It was a great honor to have President Morales visit at the beginning of my term." She noted that in addition to strengthening the bilateral cooperation in the fields of agriculture, technology and health, "I am talking to some of the universities in Israel, and want to help Israelis understand about the history of the civilization in Guatemala, and the history of the Mayan people who lived there thousands of years ago."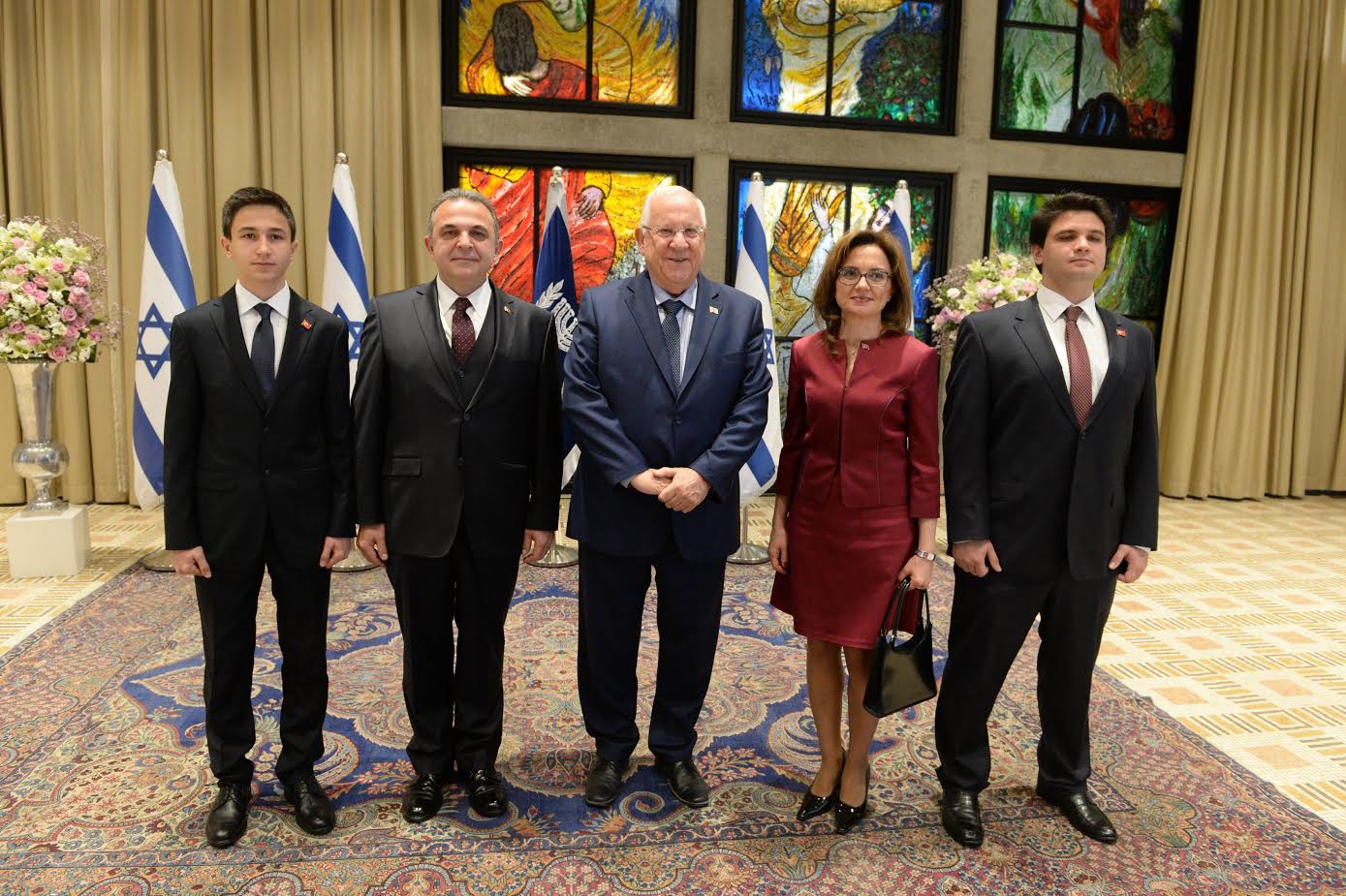 Photo : President Rivlin welcoming H.E Mr. Mekin Mustafa Kemal Okem , Ambassador of Turkia to Israel and family.
The President then received the diplomatic credentials of the new Ambassador of Turkey to Israel, H.E. Mr. Mekin Mustafa Kemal Okem, the first Turkish Ambassador to Israel for more than six years.
President Rivlin began by saying, "I want to start, by expressing my deep condolences to the Turkish people, to the victims of the terror attack in Istanbul, and to the families who have lost their loved ones. Mr. Ambassador, all life is sacred. Terror is terror is terror -whether in Brussels or Paris, Istanbul, Jerusalem, or Cairo. We have a duty to stand together against this terrible threat. "
He continued, "Mr. Ambassador, today is an honor, and a real moment in history. I want to express my appreciation for President Erdogan, and I thank him again for Turkey's help in fighting the fires across Israel last month. Our friendship goes back in history, and I hope that the reconciliation and the appointment of new ambassadors will open a new and promising page in this relationship. We must work together to promote our economic relations, trade and energy cooperation, as a real engine of growth for our friendship."
The President stressed, "Mr. Ambassador, as you know the Middle East is changing. We must find the way to give strength to the voices of peace and stability. We must strengthen our common ground. When I spoke to President Erdogan, we spoke about the situation in Gaza. I want to thank him for his commitment to help return the Israelis and the bodies of our soldiers held by Hamas. Israel like Turkey places great importance in rebuilding the lives of the civilians in Gaza; in infrastructure, economy, energy, water, and more. This must be with the cooperation of the Palestinian Authority. It is also an important way to show that we can live together in this region."
He concluded, "Israel and Turkey share a desire for peace and prosperity for all the peoples of the Middle East, and it is an honor and privilege to welcome you, as Ambassador of Turkey, here in Israel, welcome."
Ambassador Okem thanked the President and said, "I have just had the honour to present my credentials to the President of the State of Israel, His Excellency Reuven Rivlin. It is an honour for me to officially begin my tenure as Turkish Ambassador to the State of Israel as of today, and I would like to thank you for the warm welcome shown to me and my family.
He added, "Indeed, Mr. President this is a new beginning in our bilateral relations and in our joint efforts, in this region in which we have close ties, historical ties. Our region has more than its share of challenges but also of big opportunities. As before, Turkey and Israel will work together to make sure that these opportunities are fully utilized and challenges are met."
He concluded, "As per instructions of my president, His Excellency President Recep Tayyip Erdogan, and my Prime Minister, His Excellency Binali Yıldırım, I will explore all opportunities for cooperation in every field to the mutual benefit of our two nations. And, as an ambassador, I will do my best to enhance our relations in every field - regardless of any difficulties that we may face, we will be able to overcome together with our partners and friends Israel. So I am looking forward to closely working with all of the institutions in this country and do my best to cooperate with them. As you have just said Mr President, our hope is that this cooperation will also work for the benefit of other nations, particularly to the Palestinian Authority as well."
During their meeting, President Rivlin once again reaffirmed his wish to convey Israel's hope that the renewal in relations between Israel and Turkey would lead to the freeing of the Israeli citizens held captive in Gaza, and to the return of the bodies of the fallen Israeli soldiers Oron Shaul and Hadar Goldin being held by Hamas, so they could be brought for proper burial in Israel.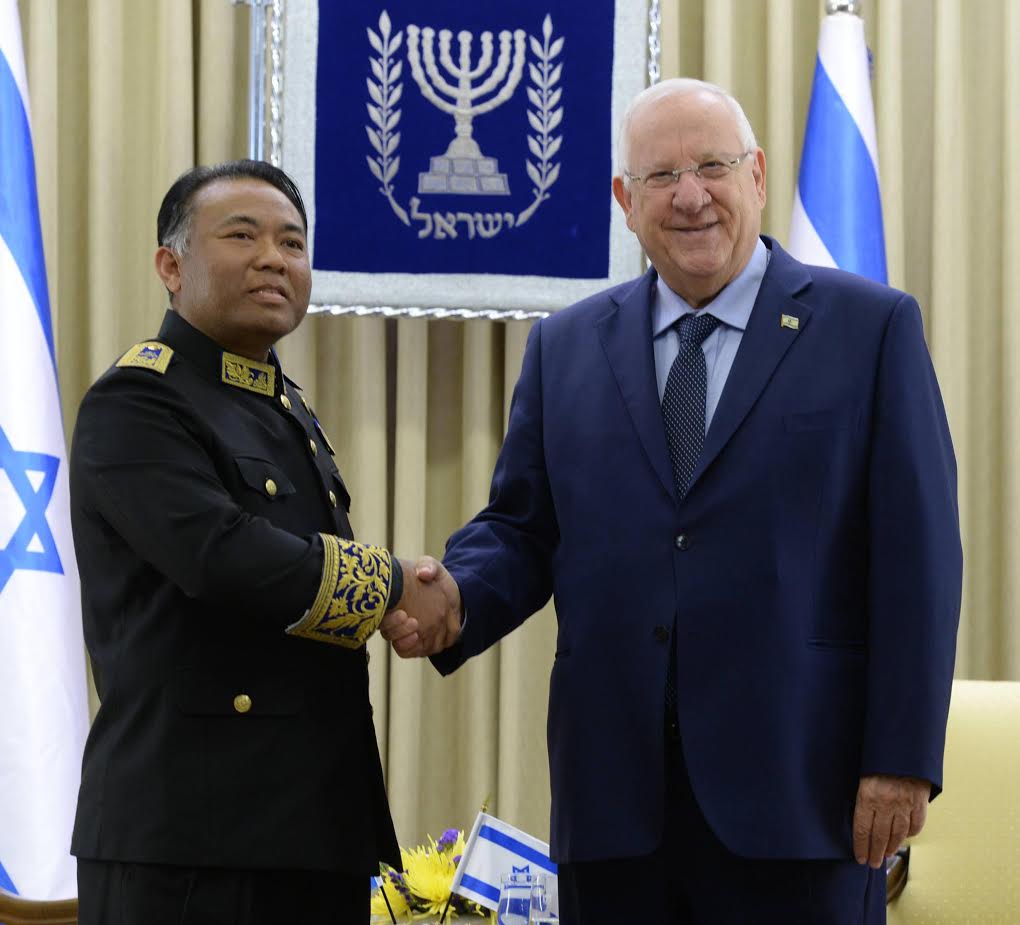 Photo : President Rivlin welcoming H.E Mr. Sman Manan, Ambassador of Cambodia to Israel.
Finally, the President received the new Ambassador of Cambodia, H.E Mr. Sman Manan. The President welcomed him and said, "Only recently your Agriculture Ministry was here and there is much we can do and learn from each other in the fields of water and agriculture. I know that there are more than 300 people this year alone from Cambodia learning in Israel. This number will grow and it is important for strengthening the ties between our people. Working together in medicine, we have brought a lot of hope to people in Cambodia, and our cooperation is for the mutual benefit of both our peoples."
The Ambassador thanked the President and said, "I want to thank the State of Israel for their help in medicine and agriculture, and also for the Israeli volunteers who have come to Cambodia." He noted that, "Seventy percent of Cambodia is agricultural land, but we don't have the technology. As ambassador I am going to work on this and promoting tourism and investment, and will try to promote our cooperation for the benefit of both peoples."
Photo Mark Neumann / GPO
Details

Written by

Steven Aiello
The Republic of Kazakhstan celebrated its 25th birthday on Sunday evening with a festive event in Tel Aviv. Diplomats and business leaders convened with other guests at the Hilton Hotel along the beach, enjoying a lavish buffet, traditional Kazakhstani music and dance, and a speech delivered by the Ambassador.
The celebration commemorated 25 years of Kazakhstani independence. Kazakhstan became an independent nation in 1991, the last and largest of the republics to achieve sovereignty following the breakup of the Soviet Union. Guests were welcomed by a colorful photography display highlighting picturesque landscapes from all over Kazakhstan. In honor of the occasion they were presented with gifts, including a book on Kazakhstan's Jewish community written by a former Israeli Ambassador to Kazakhstan.
H.E. Ambassador Kuanyshev addressed the audience, noting Kazakhstan's many achievements over the last quarter century. The Ambassador discussed Kazakhstan's role in promoting global peace, including its nuclear disarmament initiatives.
The ambassador also mentioned Kazakhstan's efforts to reach a brighter and cleaner future. On that note, Ambassador Kuanyshev announced the 2017 Astana Expo on Future Energy, to be held from June through September of 2017 in Kazakhstan. The Expo will include more than 3,000 events over nearly 100 days, and is dedicated to education and innovation in improving energy efficiency.
The occasion commemorated not just a quarter century of Kazakhstani independence, but also 25 years of Israel-Kazakhstan diplomatic relations and cooperation. Ambassador Kuanyshev noted that Israel is one of Kazakhstan's top 20 trading partners, and mentioned the many commercial ties and joint diplomatic initiatives binding the two nations. He expressed his hope for direct flights between Israel and Kazakhstan in the future. The ambassador also spoke of academic connections, including conferences and exchange student programs. Invoking a mock competitive tone, Ambassador Kuanyshev told the crowd that Kazakhstani secondary school students had recently topped their Israeli peers in standardized math and science testing.
Mr. Ayoub Kara, Israel's Deputy Minister of Regional Cooperation, addressed the crowd after Ambassador Kuanyshev. MK Kara talked about the many joint initiatives that the two countries have run, ranging from energy efficiency to tourism. He congratulated Kazakhstan on its recent appointment to the UN Security Council and pledged support in facilitating any upcoming Kazakhstani diplomatic visits to Israel. Mr. Kara finished by asking Ambassador Kuanyshev to pass a message on to President Nazarbayev and the Kazakhstani nation, offering blessings for the upcoming year and wishing success in their joint initiatives.
The event brought together, diplomats, business owners, military officers, and Kazakhstani citizens living in or visiting Israel. As the evening continued into an elaborate performance of folkloric Kazakhstani music and dance and concluded with warm words spoken between the two nations, all left sure of the importance of this diplomatic friendship.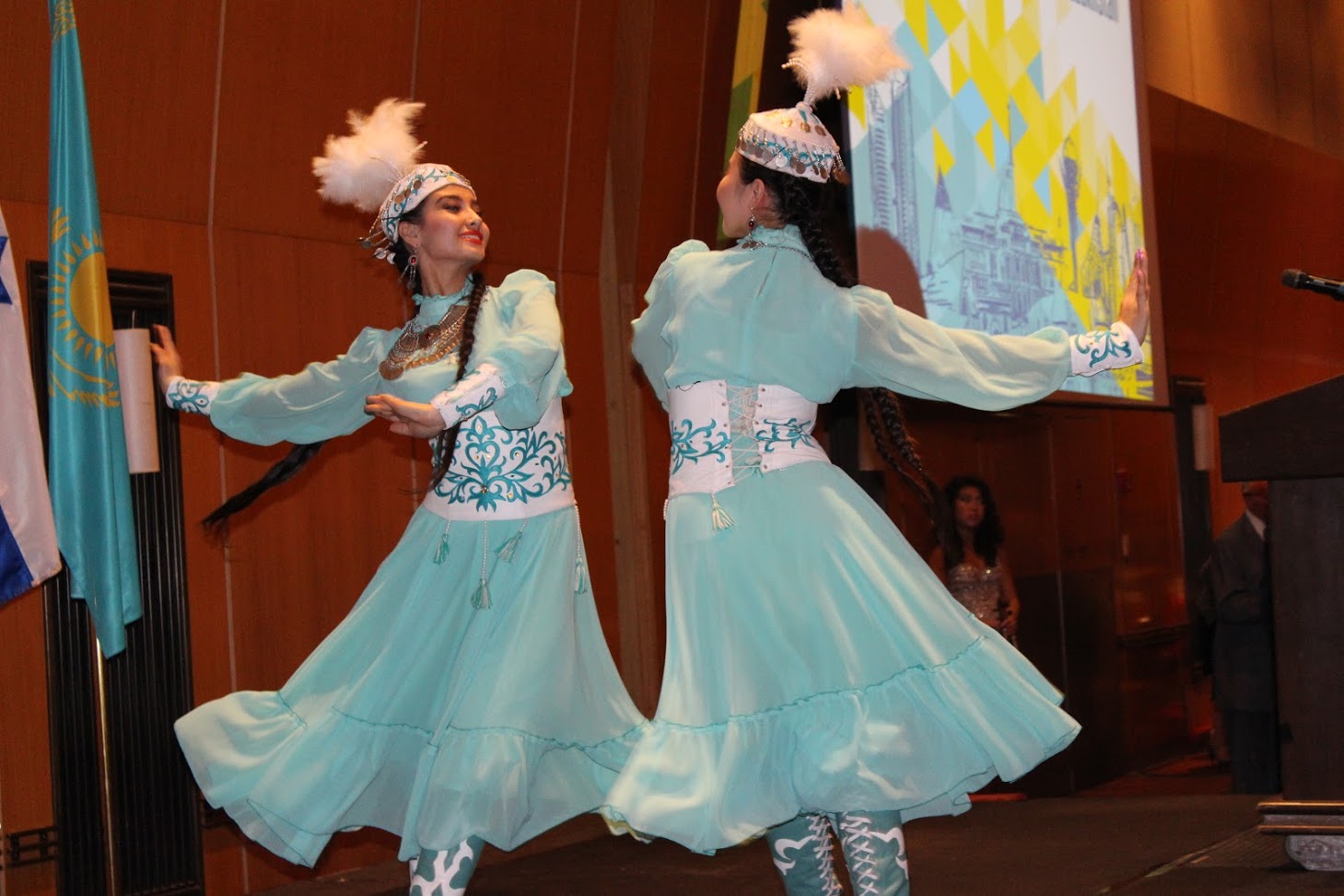 Steven Aiello is the Founder and Director of the Debate for Peace Model UN Program
Details

Written by

Buzzy Gordon
Details

Written by

Steven Aiello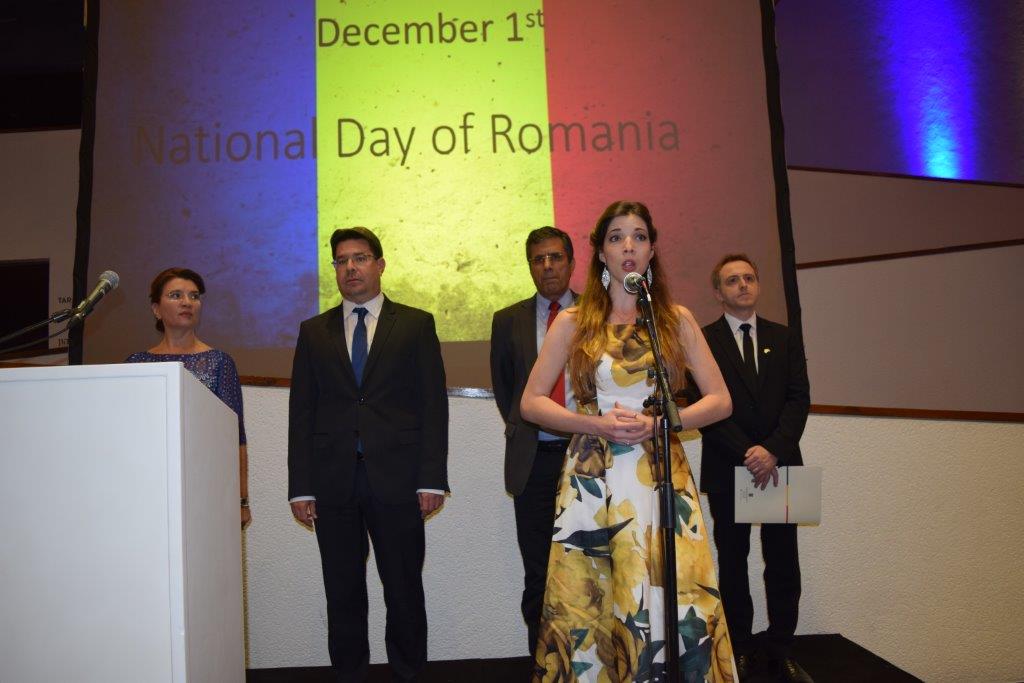 On Wednesday evening, November 30th, a collection of diplomats, politicians, artists and community leaders came together at the Tel Aviv Museum of Art to celebrate the National Day of Romania. The event, held by the Romanian Embassy, celebrated Romania's historical achievements as well as present and future Israeli-Romanian cooperation.
The evening opened with a stirring rendition of the Romanian and Israeli national anthems performed by Monica Schwartz.
Ambassador Andreea Păstârnac, who studied at the Hebrew University in Jerusalem and at Bucharest University, then addressed the crowd in Hebrew.
,
After thanking the event's co-sponsors, Ambassador Păstârnac spoke of the strong Romanian connection with Israel and the historical ties between the nations, citing several early cities (including Zichron Ya'aqov and Rosh Pina) that were founded by Romanian pioneers. He also spoke of more recent diplomatic events, including visits by the Romanian Foreign Minister Lazăr Comănescu and the President, Mr. Klaus Iohannis. The Ambassador declared her country's staunch support for Israel, especially in light of the wildfires which recently ravaged much of the country.
Romania's National Day commemorates the December 1st, 1918 unification of Romania after World War II. Ambassador Păstârnac recalled the many Jews who contributed to Romania society at that time, including Eli Wiesel, artist Iosif Isser, and author Paul Celan, as well as Romanian Jews who have contributed to Israeli art and culture over the years.
The Ambassador chose to highlight specifically the science and technological cooperation that has been the focus of recent diplomatic initiatives between Israel and Romania. She mentioned Israeli-Romanian achievements in a range of scientific and technological areas, including the Extreme Light Infrastructure (ELI) initiative project, based in Romania, which is the largest of its kind in the European Union. The Ambassador also gave credit to many great Romanian scientists and thinkers, noting in particular the Jewish mathematician Solomon Marcus who passed away in March 2016.
Israel's Minister of Science and Technology, MK Ofir Akunis, complimented Ambassador Păstârnac's Hebrew skills before reiterating the Ambassador's message on Israeli-Romanian cooperation in science and technology. He also thanked Romania for its aid during the firefighting efforts of the previous week, and spoke about Romania's key role in prior diplomatic efforts, including the lesser-known fact that the Israeli-Egyptian peace accords signed in 1979 actually began in 1977 in Romania. MK Akunis closed by discussing Israeli tourism in Romania, and expressed his own hope to visit Romania and continue this partnership in science and technology.
MK Yossi Yona followed Mr. Akunis's remarks. MK Yona, himself an Iraqi Jew, spoke of the many great artistic and cultural contributions of Romania, including those brought about by Romanian Jews. As the child of immigrants, he spoke of the ability to build a new life in Israel while maintaining a strong connection to one's place of birth, and how Romanian Jewish immigrants to Israel have done this.
Indeed, among the guests at the celebration were a number of successful Israeli-Romanian authors who continue to publish books in Romanian. Also in attendance was Rabbi Ephraim Gutman, who heads the Yaakov Yosef--Rav Zvi Gutman Synagogue and the Jewish Romanian Heritage Center in Tel Aviv. The center was named after Rav Ephraim's two older brothers, Yaakov and Yosef, who were murdered in 1941 by members of the fascist Iron Guard movement, and after their father Rav Zvi Gutman. Dr. Alex, who accompanied Rav Gutman to the celebration, told Diplomacy about the richness of Romanian Jewish heritage, which included successful Ashkenazi and Sepharadi Jews and was one of the largest Jewish communities in Europe before World War II.
Throughout the celebration guests enjoyed delicious refreshments, including a special collection of the finest Israeli and Romanian wines and traditional Romanian music and dance. This year the celebration featured wine from wineries in Romania that are produced by Israelis of Romanian heritage, in a unique spin on the pioneering spirit and success of the Romanian immigration to Israel and the strong binational ties. Romanian singer Laticia Boroi entertained the crowd with traditional Romanian folk music, and was soon surrounded by an enthusiastic crowd of nostalgic dancers.
Between the venue, the speakers, and the guests and atmosphere, Romana's National Day Celebration in Tel Aviv exemplified the cultural and intellectual achievements of Romania and the strong ties between Israel and Romania.
Photo Silvia Golan