Diplomatic Events
Details

Written by

Prime Minister's Media Adviser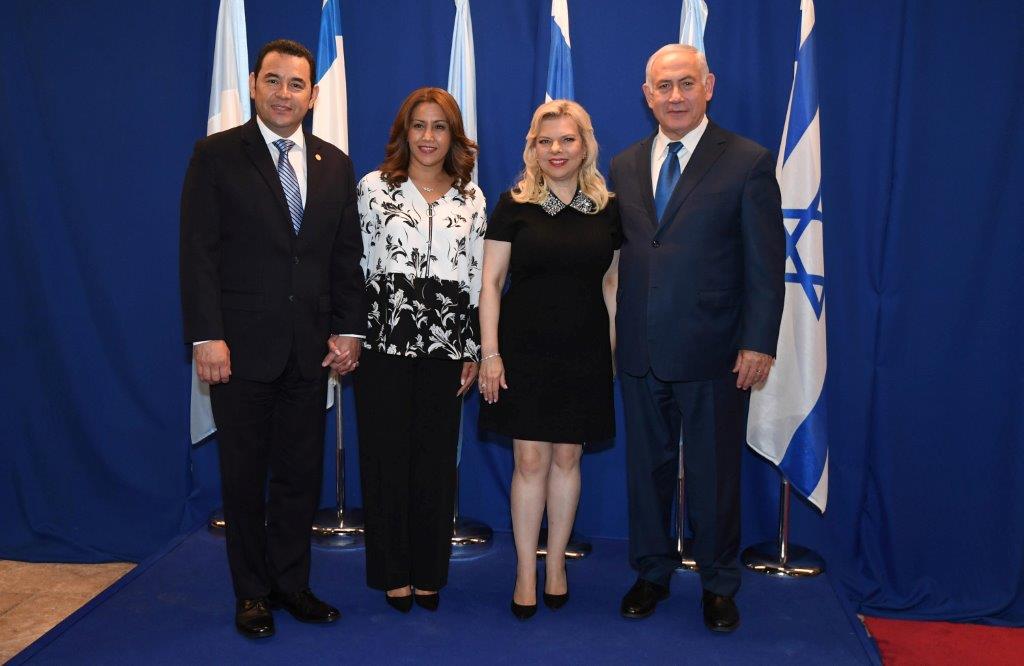 Prime Minister Benjamin Netanyahu and his wife Sara, today (Wednesday, 16 May 2018), at the King David Hotel in Jerusalem, attended a reception for the Guatemalan delegation on the occasion of the opening of the Guatemalan Embassy in Jerusalem.
Prime Minister Netanyahu:
"Toda raba, muchas gracias. Muchas gracias, President Jimmy Morales.
Today you made history, and you feel the friendship, Amistad that goes back 70 years and will continue now into the future. This is what this day is about. It's honoring the past and seizing the future. We honor the pas.
We are now in the King David Hotel. It's called the King David hotel because 3,000 years ago, King David, outside this window, built our capital, our ancient capital. And it's been the capital of the Jewish people ever since.
The kings of Israel, the prophets of Israel, the heroes of Israel fought for this city and preached here the great truths of humanity.
We lost our independence; the city was destroyed; the Temple was destroyed. This happened almost 2,000 years ago. And after it happened, a group of rabbis were looking at the ruins of the Temple. A fox came out. The rabbis wept. A fox, from the ruins. They all wept. But it is said that one rabbi, Rabbi Akiva, he smiled, he laughed. They asked him, Rabbi, why are you smiling, why are you laughing? He said, because salvation will come. Our people will come back. Jerusalem will be rebuilt. This is what we did.
And 70 years ago Jerusalem again became the capital of the independent Jewish state, and what a glorious capital it's become, what a glorious state Israel has become.
The exiles have ingathered in the Land of Israel. We rebuilt our national independence and built one of the most thriving, powerful states, not only in this region, but a global force in the world.
We are seizing the future and we are seizing it together with you, Guatemala.
We talked about what we can do now for the future. We have many plans. We've begun carrying out those plans. I intend to follow your visit here, by coming to Guatemala tomorrow. I invite you all to come with me.
Our plans require many things, they require the mind and they require the heart, but the most important thing they require is first of all to honor the past. And I think we're doing that today. But in order to seize the future, a future of prosperity, a future of progress, a future of peace, we must also confront the enemies of peace, and this is something that Israel is doing from the heart of the whirlwind. We have been forced to defend ourselves again in the last few days.
[Translation from Hebrew]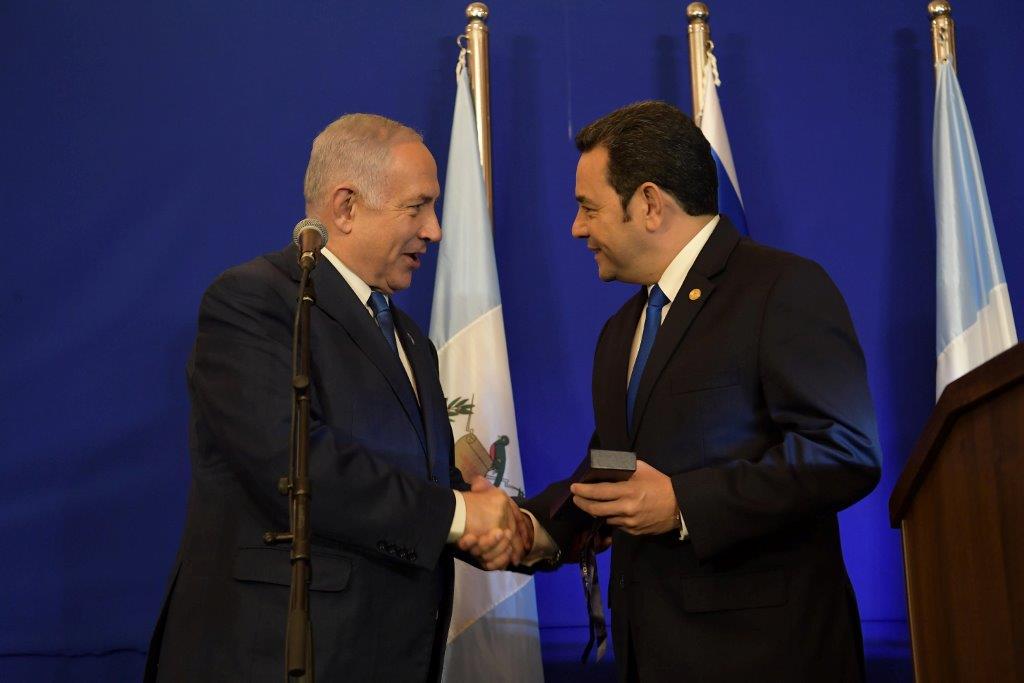 I am happy to say that today, at least, we had a day of relative calm along the Gazan border. That's good. It happened because we were properly organized, and because of the determination of the IDF soldiers who are defending our borders.
They are not defending us from some civilian demonstrations. This is a warlike move by the Hamas. The Hamas spokesperson said today that about 50 of the 60 who were killed are Hamas operatives. We have similar figures. That is why Israel will continue to defend itself for as long as necessary and will not allow those who call for its destruction to storm its borders and threaten our communities.
We will defend the State of Israel.
[End of translation]
Mr. President, this is an opportunity to tell you how deeply we feel about Guatemala, about our friendship. Also about Latin America. You know that last year, I took the visit, the first visit of an Israeli prime minister, can you imagine, south of Texas? Well, what I discovered is enormous reservoirs of goodwill, enormous reservoirs of hope, enormous reservoirs of positive attitudes towards Israel.
So we intend to come to Guatemala, we talked about it in a meeting of the Latin American countries, to see that friendship blossom, first in Guatemala, and then everywhere else in Latin America. You are the bridgehead.
Thank you for coming here. Thank you for your friendship.
This year in Guatemala."
Photos credit: Haim Zach / Amos Ben-Gershom (GPO)
Details

Written by

Silvia Golan & Amalia Cedar Kellner
On the occasion of Europe Day 2018, the Delegation of the European Union to Israel hosted a gala celebration at the home of the EU Ambassador to Israel, H.E. Mr. Emanuele Giaufret, and his wife Min-ja, at his residence in Herzliya Pituach.
Ambassador Giaufret opened his remarks by observing the incredible growth in Israel since he had visited 10 years prior. He noted the dynamic physical and economic progress that Israel has been undergoing as positive signs for the future.
The ambassador listed several challenges that the European Union has faced in recent years--economic, demographic, security, political. But he observed that these challenges have resulted in a more resilient union. Observing the diversity of the populations of the European Union, Ambassador Giaufret said that this called for the EU and its members to display "compromise, trust and goodwill." Looking to the future, the ambassador pointed out that regardless of what uncertainties might be faced, a united Europe will be better positioned to succeed than one divided.
A key point of unity identified by Ambassador Giaufret was unity of values, including a commitment to secure, pluralistic, liberal democracy. He noted that these values were shared with Israel as well, and reiterated the European hope to see an independent Palestinian state succeeding side by side a safe and secure Israel. To get there, the ambassador stressed the importance of diplomacy as the primary tool for communication and mutual success.
In a pre-recorded video message, European Union High Representative and Vice-President Federica Mogherini highlighted the need for European countries to pool their resources to best address global challenges. In her message, Mogherini highlighted the potential for advancing multilateralism, peace, sustainable development, free trade, human rights and democracy if European member states continue to work together.
Israeli Minister of Energy, Infrastructure and Water, Yuval Steinitz, addressed the audience on behalf of the Israeli government. Offering congratulations to Europe and the European Union, Minister Steinitz touched upon recent interactions with Iran and the Iranian nuclear deal. The minister mentioned that that Iran's regional aspirations and actions posed a threat to Israel and many other states in the region, and thus to global peace and stability. He emphasized that Israel appreciated Europe's support for its right to self-defense. He talked about the Iranian pursuit of nuclear weapons, and emphasized that diplomacy was needed to ensure that Iran would never resume that pursuit, for the sake of regional and global peace and stability. In closing, the minister returned to the topic of energy, pledging that in light of the recent finding and development of Mediterranean gas fields, Israel would be a stable future source of energy for Europe.
Following the speeches, the European Union and Israeli anthems were played, and guests enjoyed music and dinner at the ambassador's residence.
The festive atmosphere was enhanced by blue and yellow floral arrangements, matching the EU colors.
Among the distinguished guests were Ambassador Meron Reuven, chief of protocol for the Israeli Ministry of Foreign Affairs, Mrs. Rodica Radian-Gordon, head of the Europe Division at the Israeli Ministry of Foreign Affairs; Chairman of the Israel-EU Chamber of Commerce Gad Proper; Ambassador Yitzhak Eldan, head of the Israeli Center for Young Leaders and the Israel School for Young Ambassadors, and numerous Israeli and foreign diplomats, business leaders, and members of the diplomatic corps.
Diplomacy.co.il wishes congratulations on Europe Day 2018.
Photos Silvia G Golan
Details

Written by

Jonathan Danilowitz
The 26th April brought thunderous and unseasonably heavy rainstorms to Tel Aviv and other locations in Israel. That evening the garden of the official South African ambassadorial residence in Ramat Gan was the scene of that countries 24th Freedom Day celebrations – and the rains stopped for a few hours. What luck!
The event was hosted by His Excellency Ambassador Sisa Ngombane and Mrs. Thatanyana Ngombane. The evening opened with a smart reception with guests mingling happily on the beautiful lawns. Honoring the assembly with their presence where, amongst many others, the ambassadors of the Netherlands, Tanzania, Italy, South Korea, the Philippines, Sri Lanka, Ethiopia and more; senior (and other) members of the diplomatic corps in Israel, captains of industry, art, science, education and culture in Israel; and many other VIP guests from various walks of life that link South Africa and Israel.
Renditions of the national anthems of South Africa and Israel preceded Ambassador Ngombane's address to the guests. The ambassador brought greetings from the President of South Africa to the President of Israel and the Israeli people, on the 70th anniversary of the State of Israel. His warm welcome was tinged with sadness when he diplomatically included a note of sympathy to the Israelis on the just-announced death of ten teenagers who had been swept away in sudden floods while on a tour. His message also included noting that April is a sad month for South Africa, the month when several famous and gallant freedom fighters, politicians and diplomats died. Quoting Nana Addo Dankwa Akufo-Addo, President of Ghana, who eulogized at the funeral of the legendary Hugh Masekela: "[He] is gone, Masekela is no more. All that energy, all that vitality, all that zest for life, (what the French call joie de vivre), all that passion and belief in higher destiny for mankind, especially for African people, all that charisma - they have all been extinguished. That is the way of mortal man." Mortality ….
Ambassador Ngombane added: "We are also gathered here to reaffirm our vision of an African continent, which is prosperous, peaceful, democratic, non-racial, non-sexist and united; and which aspires to a world that is just and equitable. We are also mindful of the long road ahead and the challenges we confront, South Africa's contribution to the African continent is to address the triple challenge of poverty, inequality and unemployment. In this regard, we are determined to build on the achievements we have made and confront the challenges we face to accelerate progress in building a more prosperous and equitable society. South Africa is hard at work and focused on growing the economy in order to be able to address these challenges."
The theme of South Africa's 2018 celebrations is none other than "Nelson Mandela" – a fitting theme indeed. In a memoir, the late revered Nelson Mandela writes: "The truth is that we are not yet free; we have merely achieved the freedom to be free, the right not to be oppressed. We have not taken the final step of our journey, but the first step on a longer and even more difficult road. For to be free is not merely to cast off one's chains, but to live in a way that respects and enhances the freedom of others. The true test of our devotion to freedom is just beginning." The ambassador noted that President Matamela Ramaphosa, conscious of this, has pledged South Africa's solidarity with the struggling people of Western Sahara and Palestine for their self-determination and expressed a wish to see a speedy resolution of these conflicts.
Mr. Meron Reuven, chief of protocol for the Israeli Ministry of Foreign Affairs responded on behalf of the State of Israel. He opened his words with sincere congratulations to the government and people of South Africa on the occasion of Freedom Day. "South Africa, the Rainbow Nation is a mosaic of cultures and languages. It is committed to pluralism, and to its democratic spirit." Mr. Meron also mentioned the deep Jewish historical roots in South Africa: "Many Jews escaping persecution in Europe, found safe haven in South Africa, for which we, the Government of Israel and the Jewish people will always remain grateful." He added: "Today, with the principle of equality and justice for all deeply etched in your national flag, our happiness in celebrating your Freedom Day is especially great."

In addition to the wide range of beverages offered, fine South African wines and unique liqueurs enhanced the pleasant atmosphere. The very generous buffet dinner featured the mouth-watering South African specialty – biltong – strange to the Israelis and other non-South Africans, but a very welcome touch of "home" to SA expats. Many of the guests wore traditional African tribal and other costumes that made the entire evening special and welcoming.
The directors and staff of Diplomacy.co.il join in congratulating Ambassador and Mrs. Ngombane, the government and people of South Africa and the embassy staff on this wonderful day and beautiful event.
© Copyright Jonathan Danilowitz May 2018
Photos Silvia G Golan
Details

Written by

Prime Minister's Media Adviser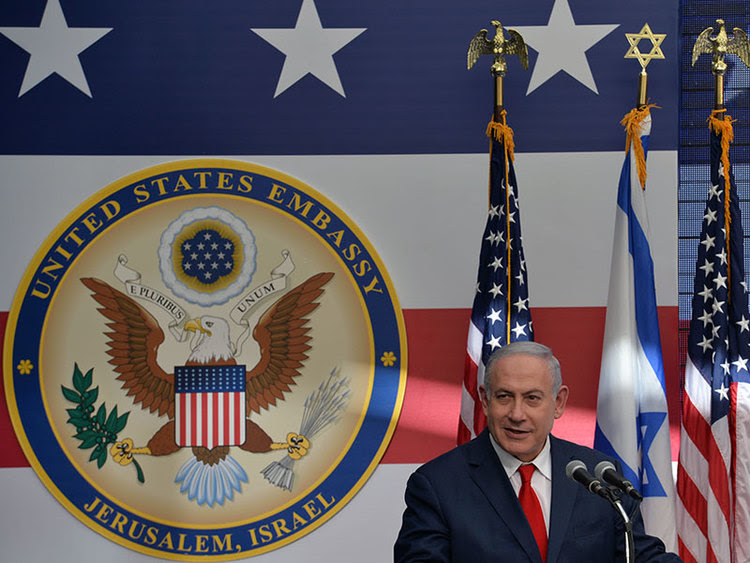 A peace that is built on lies will crash on the rocks of Middle Eastern reality. You can only build peace on truth, and the truth is that Jerusalem has been and will always be the capital of the Jewish people, the capital of the Jewish state.
Prime Minister Benjamin Netanyahu and his wife Sara, today (Monday, 14 May 2018), attended the opening of the US Embassy in Jerusalem.

After the ceremony, the Prime Minister and his wife were invited to US Ambassador to Israel David Friedman's office for a toast with the American delegation.

Prime Minister Netanyahu:

"We have no better friends in the world. You stand for Israel and you stand for Jerusalem. Thank you.

Your presence here today is a testament to the importance of this occasion, not only for the Trump administration but in a very personal way for you. For you, each of you, for the pursuit of peace, and for President Trump himself. Thank you.

Dear friends,

What a glorious day. Remember this moment. This is history. President Trump, by recognizing history, you have made history.

All of us are deeply moved. All of us are deeply grateful.

For me, being here brings back wonderful memories from my childhood. [Hebrew] So, I know some of you didn't follow every word I said in Hebrew, and I'll tell you that I spent the first three years of my life in this neighborhood, in Ein Gedi Street in Talpiot, which is not very far away. There were a few charming houses here, many open fields. I remember ambling in these fields with my brother, Yoni. He was six; I was three. He held my hand very tight. We'd walk to this wondrous house of Professor Joseph Klausner, the renowned Jewish historian who was my father's teacher. I used to peer through the slats of the wooden synagogue where he and the great Israeli writer, Shai Agnon, used to pray on Shabbat. And David, I would approach this place right here, but only so far, because my mother told me, 'You can't go any further.' This was near the border. It was exposed to sniper fire. That was then. This is now, today.

Today, the embassy of the most powerful nation on earth, our greatest ally, the United States of America, today its embassy opened here.

So for me, this spot brings back personal memories, but for our people, it evokes profound collective memories of the greatest moments we have known on this City on a Hill.

In Jerusalem, Abraham passed the greatest test of faith and the right to be the father of our nation.

In Jerusalem, King David established our capital three thousand years ago.

In Jerusalem, King Solomon built our Temple, which stood for many centuries.

In Jerusalem, Jewish exiles from Babylon rebuilt the Temple, which stood for many more centuries.

In Jerusalem, the Maccabees rededicated that Temple and restored Jewish sovereignty in this land.

And it was here in Jerusalem some two thousand years later that the soldiers of Israel spoke three immortal words, 'Har ha'bayit be'yadeinu ,' 'The Temple Mount is in our hands,' words that lifted the spirit of the entire nation.

We are in Jerusalem and we are here to stay.

We are here in Jerusalem, protected by the brave soldiers of the army of Israel, led by our Chief of Staff Gadi Eisenkot, and our brave soldiers, our brave soldiers are protecting the borders of Israel as we speak today. We salute them all, and the members of our security forces, the Shin Bet and the Mossad, whose head is with us today. We salute you all, all of you.

Over a century ago, the Balfour Declaration recognized the right of the Jewish people to a national home in this land. And exactly 70 years ago today, President Truman became the first world leader to recognize the newborn Jewish state. Last December, President Trump became the first world leader to recognize Jerusalem as our capital. And today, the United States of America is opening its embassy right here in Jerusalem.

Thank you. Thank you, President Trump, for having the courage to keep your promises. Thank you, President Trump, and thank you all, for making the alliance between America and Israel stronger than ever. And thank you, a special thank you, to you, Ambassador Friedman. Thank you, David , for everything you do to bring our countries and our peoples closer together. Today, you have a special privilege. You are privileged to become the first American ambassador to serve your country in Jerusalem, and this is a distinct honor that will be yours forever. Nobody can be first again.

My friends, this is a great day for Israel. It's a great day for America. It's a great day for our fantastic partnership. But I believe it's also a great day for peace.

I want to thank Jared, Jason, and David for your tireless efforts to advance peace, and for your tireless efforts to advance the truth. The truth and peace are interconnected. A peace that is built on lies will crash on the rocks of Middle Eastern reality. You can only build peace on truth, and the truth is that Jerusalem has been and will always be the capital of the Jewish people, the capital of the Jewish state. Truth, peace, and justice – as our Supreme Court Justice here. Hanan Melcer can attest – truth, peace and justice, this is what we have and this is what we believe in.

The prophet, Zechariah, declared over 2,500 years ago, 'So said the Lord, 'I will return to Zion and I will dwell in the midst of Jerusalem. And Jerusalem shall be called the City of Truth.'

May the opening of this embassy in this city spread the truth far and wide, and may the truth advance a lasting peace between Israel and all our neighbors.

G-d bless the United States of America and G-d bless Jerusalem, the eternal, undivided capital of Israel.

Baruch atah A-donai Elokeinu melekh ha'olam shehecheyanu vekiymanu vehigi'anu lazman hazeh [Blessed are You, Lord our G-d, King of the Universe, who has granted us life, sustained us and enabled us to reach this occasion.]"
Photo PM Netanyahu at the opening ceremony of the US Embassy in Jerusalem. Photo: GPO/Kobi Gideon.
Details

Written by

Silvia G Golan
The event will be graced jointly by Dr Augustine Mahiga (MP), Minister for Foreign Affairs and East African Cooperation of the United Republic of Tanzania and Ayelet Shaked (MK), Minister of Justice of the State of Israel. It will be Dr. Augustine Mahiga first official visit to Israel

For the first time since the establishment of the state of Israel: an Embassy of the United Republic of Tanzania will be inaugurated.
The Ambassador of the United Republic of Tanzania, Job Masima, invites the Media to a historic occasion of the inauguration of the Embassy to be held on May 8 at 16:00 PM at 12 Abba Hillel Silver, 12th floor, Ramat Gan. The event will be graced jointly by Dr Augustine Mahiga, Minister for Foreign Affairs of Tanzania and Ayelet Shaked, Minister of Justice of the State of Israel. It will be Dr. Augustine Mahiga first official visit to Israel
Ambassador Masima is the first Tanzanian resident ambassador to Israel. He presented his diplomatic credential to President Reuven Rivlin at a moving ceremony on 15 June 2017 in a style ever witness in the diplomatic community. He surprised President Rivlin when he stood up, put his hand in his pocket and withdrew a cream satin skullcap, which he put on his head and proceeded to recite in Hebrew the sheheheyanu prayer of thanks for reaching this day. Rivlin put his hand in his own pocket and took out a black kippa to cover his head. After completing the verse, Masima assured Rivlin of the solidarity with Israel of the government and people of Tanzania.
Until the arrival of Ambassador Masima, the Tanzanian delegation was headed by the Honorary Consul of Tanzania in Israel, Kasbian Nuriel Chirich, who worked intensively to increase cooperation between the two countries in all fields.
The secret of Tanzania's magic lies in the fact that it is a paradise for nature lovers. Located in East Africa, it boasts 16 National Parks, 31 Game Reserves, 44 Game Controlled Areas, 4 Ramsar Sites, 33 Wildlife Management Areas.
The country features a breathtaking array of landscapes, including volcanoes and snow-capped mountains, lakes, savannahs, marshlands, rainforests, and more. Some of the world's largest lakes, including Lake Victoria, Lake Tanganyika, and Lake Nyasa, are located within Tanzania's 945,087 square kilometers. It is not a coincidence that Tanzania has become one of the most popular destinations for Israelis traveling to Africa. It has a unique culture, natural riches, beautiful and exciting nature reserves, and the islands of Zanzibar.
Photo Embassy of Tanzania