Diplomatic Events
Details

Written by

President's Spokesperson
Following : Excerpt from PM Netanyahu's Remarks at the 70th Independence Reception for the Diplomatic Corps
(Communicated by the Prime Minister's Media Adviser)
------------------------------------------------------------------------------------
Israeli Independence Day, Thursday, 19 April 2018 / 4 Iyar 5778
President Rivlin hosts 70th Independence Day reception for foreign ambassadors and diplomats from around the world
President Rivlin: "We may have to build fences to stop terrorists, or to act in different ways to assure the safety of our people, but we will never close the door on peace. I know you all see this as a priority. So do we. And while there are no shortcuts in the Middle East, we can work together to show the Palestinians that we can live together side by side in peace."
"The Iranian regime continues to support terror and hatred and to endanger world's security. This is a challenge for the whole world, and the whole world must face it together. We all must do everything we can to stop these evil regime."
"The heart breaks when we look at the pictures in Syria. We took care of thousands injured that have arrived at our gates. The next generation will ask us all, what did we do to stop the tragedy in Syria? What did we do to stop these crimes; crimes against humanity, crimes against innocent children, women, civilians."
Israel's President and First Lady, Reuven and Nechama Rivlin, today, (Thursday,) welcomed ambassadors, diplomats, and military attachés from around the world to the President's Residence in Jerusalem, in honor of Israel's 70th Independence Day. Also participating in the event were Prime Minister and Minister of Foreign Affairs, Benjamin Netanyahu and his wife, Mrs. Sara Netanyahu.
In his address, President Rivlin noted that the uniqueness of the event marking Israel's 70th anniversary, "Today we are marking history, we are marking 70 years of the State of Israel. We are marking 70 years of Jewish independence. We are marking 70 years of a vibrant democracy, 70 years of strong and independent civil society, 70 years that this nation has held high the torch of freedom and equality in a difficult region."
The President spoke of the country's many achievements in many fields, and said, "For 70 years, Israel has been reaching out around our region, and around the world, to share our knowledge and our experience. From food security, to cyber security, Israel is making a better
tomorrow
for millions of people, today. And over the last 70 years, we have managed to make peace with many who used to be enemies. In all of these achievements, we are never alone. And we have never been alone. Israel was created thanks to a wide international support, and we continue to do good, with the help of all of you, dear friends and allies." He added, "And today more than ever, international cooperation is the key to a better, safer, more peaceful future. Our friendships are not just between governments, not between companies or business, they are between peoples. And I know that all of your peoples, along with us, hope that we won't have to wait another 70 years for peace in this region. We will not stop trying. Yes, we will do everything to defend ourselves. We may have to build fences to stop terrorists, or to act in different ways to assure the safety of our people, but we will never close the door on peace. I know you all see this as a priority. So do we. And while there are no shortcuts in the Middle East, we can work together to show the Palestinians that we can live together side by side in peace."
The President went on to stress, "Of course there are others who do not want peace, and added, "The Iranian regime - not the Iranian people - continues to support terror and hatred and to endanger world's security. This is a challenge for the whole world, and the whole world must face it together. We all must do everything we can to stop these evil regime."
He added, "The heart breaks when we look at the pictures in Syria. We took care of thousands injured that have arrived at our gates, but the atrocities by Assad's regime and by Assad himself are of the worst in the history of the world and of this ancient region. The next generation will ask us all, what did we do to stop the tragedy in Syria? What did we do to stop these crimes; crimes against humanity, crimes against innocent children, women, civilians."
The President concluded by saying, "Thank you for coming to celebrate with us today, in Jerusalem, the capital of the Jewish people for 3,000 years, and today, the capital of the State of Israel."
----------------------------------------------------
Following is an excerpt from Prime Minister Benjamin Netanyahu's remarks today (Thursday, 19 April 2018), Independence Day, at the President's Residence in Jerusalem:
"There are two things that you can do to help Israel celebrate this great Independence Day. The first thing is – speak out against Iran. Iran is the enemy of us all – of Israel, the Arab world, Civilization. It openly speaks today, 2018, the 21st century, it openly speaks about liquidating Israel, openly! It encircles the whole Middle East which it wants to conquer, it fires rockets into Riyadh and Saudi Arabia, it is occupying Lebanon effectively, it's trying to inflame Gaza again, it is in Iraq, and it is trying to establish a military base in Syria, which all peace- loving nations should resist, speak out against Iran. If history has taught us anything, it is that a murderous tyranny must be opposed in the beginning. Stop bad things in the beginning.
The second thing you can do to advance peace is to move your embassy here. We are delighted with President Trump's decision to move the embassy here. It says a simple thing: Peace must be based on truth.
Recognizing reality is the way you build peace. You cannot build peace on a foundation of lies because it crashes on the rocks of reality. It's important to establish those principles that will ultimately guide peace: that Israel has a capital, that the Jewish people have had a capital for 3,000 years and that it's called Jerusalem - is uncontestable. It's time to recognize that fact. I'm delighted to say that there are at least half a dozen countries that are now seriously discussing with us, moving the embassy to Jerusalem, and thank you Guatemala for doing that. There will be others to follow.
So please, there's a simple principle, you're familiar with it: First come, first served. I've decided that the first ten embassies to come here will get preferential treatment. We'll help you! All of you should do that. And I want to say how delighted we are here to see you at the President's house, in our capital Jerusalem on this day, but we want to see you every day. So 'This year in Jerusalem.' Thank you for coming here, thank you for celebrating our independence and our rebirth here in the Jewish state."
Photo credit: Kobi Gideon (GPO)
Details

Written by

Silvia Golan & Steven Aiello
Nawruz -- saying goodbye to Winter and hello to Spring -- Is a Persian Holiday marking the New Year.
On Wednesday evening March 21 the Baha'i community in Israel held its annual Nawruz celebration in the heart of Jerusalem. The Baha'i faith, with its emphasis on unity and equality among people, has millions of followers worldwide, with its global center in Israel. However, its origins are in present-day Iran, and thus Nawruz, the Persian New Year, is celebrated by the Baha'i community as well.
The Baha'i World Centre in Israel includes the shrines of Baha'ullah and the Bab in Acre and Haifa respectively, the renowned Baha'i gardens, and other sites including a new Pilgrim Reception area. The center receives a million visitors a year, including Baha'i religious pilgrims, as well as international tourists.
As is its tradition, the Baha'i community in Israel held a festive celebration to commemorate the Persian New Year, or Nawruz. Painstaking efforts were undertaken to recreate a miniature version of the Baha'i gardens in the David Citadel hotel, bringing a taste of the Baha'i shrines to Jerusalem. The Baha'i leaders stood at the entrance greeting guests warmly. Coming from all over the world, they wore the traditional attire of their respective countries of origin. Live music further added to the relaxing ambience of the evening.
Ms. Sarah Vader, Deputy Secretary of the Bahai International Community Secretariat, opened the evening and welcomed the distinguished guests. Mrs. Vader read greetings from President Rivlin and Prime Minister Netanyahu on behalf of the government and people of Israel. Ms. Tahereh Pourshafie from Australia, then sang a beautiful prayer in Farsi.
The Secretary General of the Baha'i International community, Mr. Joshua Lincoln, talked about the significance of Naw-Rúz. He mentioned that "To the Baha'i, Naw-Rúz is not just the arrival of spring. The renewal in the world of nature is in fact a symbol of spiritual renewal, and an occasion for the individual to explore how to contribute to the material and spiritual welfare of others. Therefore it is an opportunity to reinvigorate the powers of the spirit and to re-examine matters of the heart and conscience." He then spoke about the various events that the Baha'i International Community organized, including:
- The Bicentenary of the Birth of Bahá'u'lláh in October 2017 – and the way it was celebrated and marked around the world including through the arts;
- The upcoming International Bahá'í Convention;
- The 150th anniversary of the arrival of Bahá'u'lláh in the Holy Land
Followed Mr. Lincoln's speech, Ms. Vader introduced a group of colorful artists from the Pacific Island on stage. The guests enjoyed the performers, live music, and a lavish buffet, as they celebrated Nawruz with the Baha'i community.
Diplomacy.co.il wish the global Baha"i community Happy Baha"i New Year
Photos By Silvia G. Golan
Details

Written by

Reut Rivlin, Debate for Peace
Influential women from all walks of life met at an International Women's Day summit at the residence of the Ambassador of Ireland, H.E. Alison Kelly on Monday evening March 19. In addition to networking and exchanging ideas, the group heard from Ambassador Kelly, Major General Kristin Lund, Head of Mission at UNTSO, and representatives from the Women Wage Peace movement.
Ambassador Kelly opened the evening by expressing her support and appreciation for the Women Wage Peace initiative. She also welcomed fellow ambassadors, and the guest of honor, Major General Kristin Lund, the Head of Mission at United Nations Truce Supervision Organization (UNTSO).
Pascal Chen spoke on behalf of Women Wage Peace. She explained the enthusiasm that has come with remarkable growth over the last year, and the movement's rise to over 30,000 registered members, from all walks of life. Chen thanked the diplomats for supporting the initiative and for their empowerment of local women activists. Chen closed by thanking Ambassador Kelly for helping to facilitate training of Women Wage Peace members.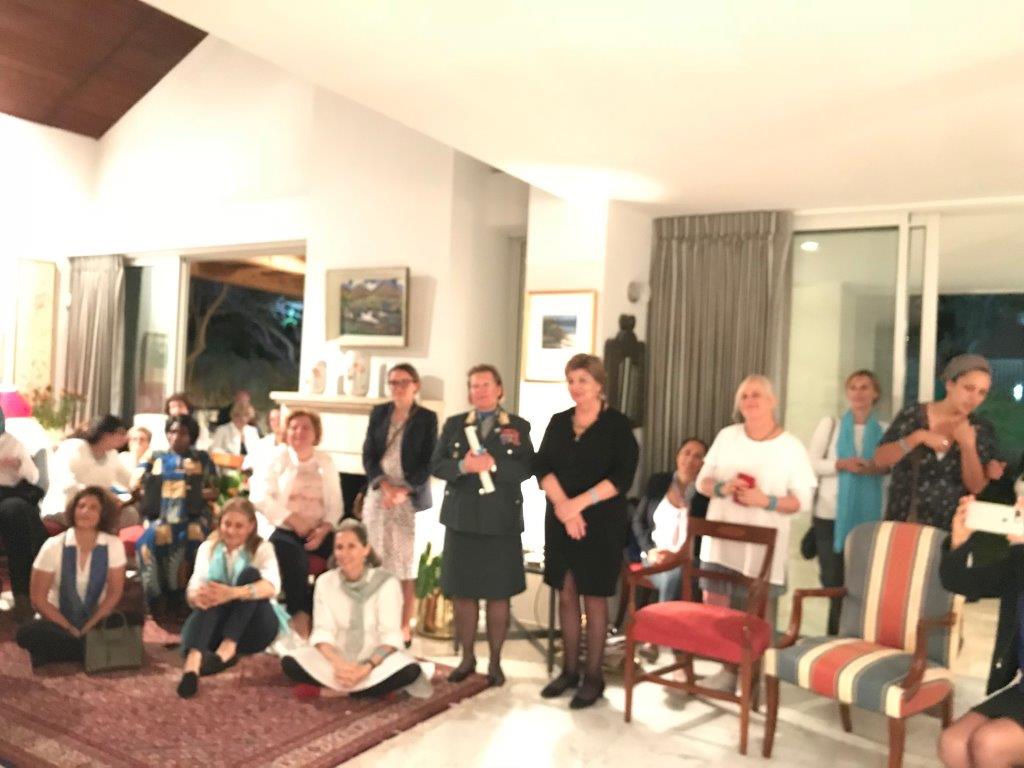 Major General Lund discussed the challenges facing gender equality globally, based on international economic and socio-economic reports, such as more than a billion women worldwide lacking legal protection, and estimates that gender pay gaps will only be fully eradicated in 200 years. She contrasted those challenges with groundbreaking successes in facing and addressing discrimination and oppression, citing the #MeToo movement as one example.
Major General Lund highlighted recent efforts within the UN, led by Secretary General Antonio Guterres, including achieving gender parity of UN senior leadership for the first time in history. Listing various challenges facing women around the world, the general stated that empowerment of women and protection of their rights are part of the UN's mission. Emphasizing that women can play a key role in peacebuilding, Major General Lund called for action, saying that "the time is now."
Following the speeches, there was a poetry reading by a woman writer and activist. The guests then enjoyed a musical performance, with songs sung in Arabic, English and Hebrew. International Women's Day is March 8, but events promoting women's rights and empowerment may be held throughout March.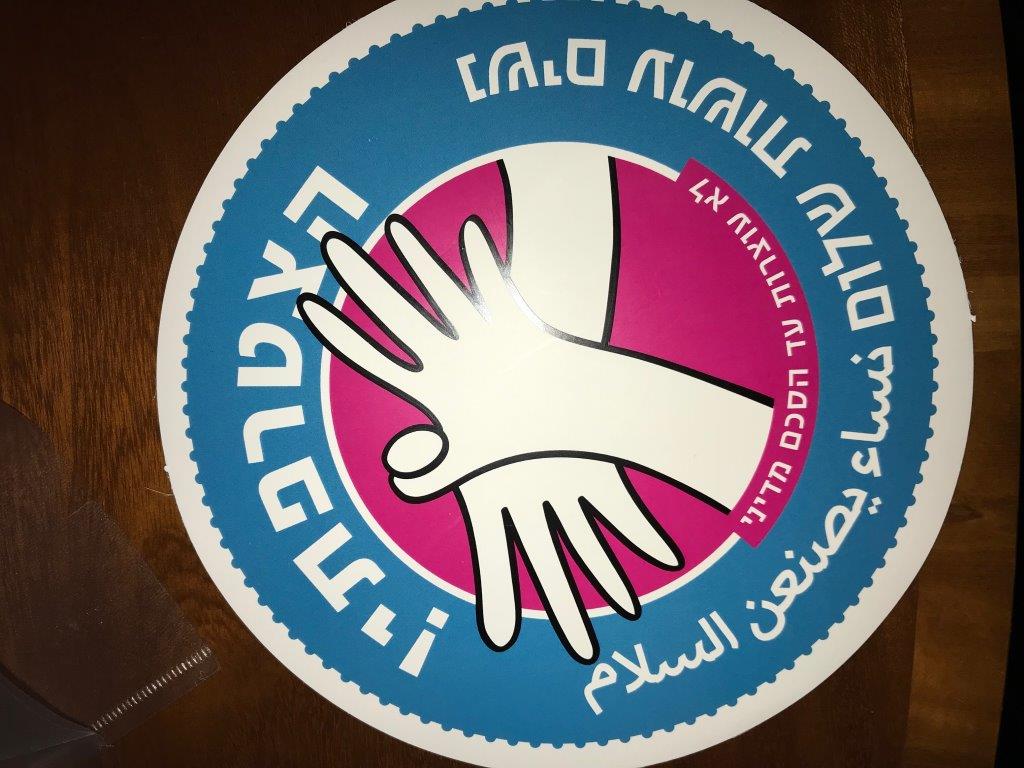 By Reut Rivlin, Debate for Peace
Details

Written by

Nicholas Levy
On Wednesday March 21, Central Asia came to central Israel, with a spectacular Nowruz (New Year) celebration. The Embassy of Kazakhstan in Israel, together with the municipality of Rishon Lezion and the Association of immigrants from Kazakhstan in Israel, hosted a festive celebration which connected Israeli and Kazkhstani culture, and marked both the traditional Persian New Year, as well as the upcoming Jewish holiday of Passover.
Rishon Lezion Park was set up to look like a village from Kazakhstan, with elaborately decorated huts, tapestries, and adorned tables. Guests enjoyed refreshments, and boxes of chocolate with a Kazakhstani label.
The Ambassador of Kazakhstan to Israel H.E. Mr. Doulat Kuanyshe welcomed the guests. He remarked on the similarities between the two holidays of Nowruz and Passover, with both being holidays of the spring, leading to cleaning homes, and of course tables filled with food and family celebrations.
Yossi Nahmani, the deputy mayor of Rishon Lezion spoke on behalf of the municipality. Mr. Nahmani greeted the guests in Russian, before reverting to English. He explained that fittingly, the park was on the site of a former school that had been used to teach Hebrew immigrants. Mr. Nahmani also remarked on the similarities between Passover and Nowruz, and emphasized the friendship between Israel and Kazakhstan. In closing, he invited everyone to attend future events in Rishon Lezion.
Sofa Landver, the Minister of Immigration and Integration and herself an immigrant from the former Soviet Union, spoke on behalf of the government of Israel, wishing the guests a joyous holiday--for both Passover and the Nowruz. Additional speakers addressed the audience in Russian, further highlighting the poly-lingual and multicultural component of Kazakhstan and the celebration.
In closing, guests were reminded of how Nowruz is a holiday which brings people together--uniting Turkic people from Iran, Turkey, and all of Central Asia, led by Kazakhstan.
Following the speeches, four different singers performed in English, Hebrew, French, and Russian. The guests enjoyed a lavish buffet lunch with traditional Kazakhstani cuisine, along with some Israeli dishes.
Diplomacy.co.il wishes a Happy Nowruz and Passover to all those celebrating.
By Nicholas Levy / Photo credit: Lea Sarsour
Details

Written by

Steven Aiello
St. Patrick's Day came early to Israel, with the annual celebration by the Irish Embassy held on Thursday March 15. Dignitaries and guests, many in green-themed outfits, enjoyed live music and Irish beer in a gala celebration in Tel Aviv.
H.E. Ambassador Alison Kelly opened her remarks by thanking the evening's co-sponsors, including well-known Irish brands like Guinness. The Ambassador also noted the presence of Irish UN peacekeepers and thanked them for their contributions to peacekeeping around the world. Ambassador mentioned that the municipality building in Tel Aviv, as well as a soccer stadium in Haifa, were lit up green for the evening, showing Israel's love for Ireland. In closing her remarks, Ambassador Kelly thanked her assistant Alyssa for all her work over the last few years, in anticipation of the latter leaving her post.
Irish Minister of State Mr. Paul Kehoe addressed the audience next, and joined Ambassador Kelly in thanking her assistant, as well as the Irish peacekeepers stationed in Israel. Mr. Kehoe talked about the burgeoning economic and commercial cooperation between Ireland and Israel. The minister expressed his hope that even more areas for business cooperation would open up in coming years. Moving to cultural ties, Mr. Kehoe mentioned Irish authors visiting Israel, and Irish art exhibitions in Israel as examples of the intercultural diplomacy at work bringing the two nations together.
Finally, Mr. Kehoe cited the close cooperation in security and defense matters between Ireland and Israel, as well as the Irish peacekeepers stationed in the Golan Heights. Expressing his satisfaction that the two nations had developed such close and positive ties, he concluded by explaining that on St. Patrick's Day, "everyone is Irish," and wishing all the guests a festive celebration.
Deputy Minister for Diplomacy Dr. Michael Oren addressed the crowd on behalf of the government of Israel. In addition to expressing the satisfaction of his own government and nation with their ties and cooperation with Ireland, the deputy minister also talked about his own personal ties. He mentioned his first visit to Ireland and love of the country, as well as an Irish drum that he still plays today. Deputy Minister Oren concluded by wishing all of the guests a happy St. Patrick's Day.
The national anthems of both countries were then sung, concluding the formal portion of the evening. The band resumed playing Irish music, and many people joined in traditional dancing, including some professional dancers. Throughout the evening photos and information about St. Patrick's Day celebrations around the world were broadcast onto a screen on the wall, while guests also had the opportunity to create an Irish-themed gif at a photo station.
The distinguished guests included ambassadors and various diplomats, business and cultural leaders, and those with a unique Irish connection, including negotiations expert Lior Frankiensztajn, Vered Swid, former
Director of the Authority for Advancing Women's Rights, Liel Maghen, Co-Director of the Israel-Palestine: Creative Regional Initiatives (IPCRI), and Brian Maccaba, an Irish Jew based in Jerusalem who works in the cybersecurity and high-tech field.
Diplomacy.co.il wishes Happy St. Patrick's Day to the Embassy and the people of Ireland.
Steven Aiello
Founder--DebateforPeace
Photos Silvia G. Golan