Diplomatic Events
Details

Written by

President's Spokesperson's Office
Photo: President Rivlin with Ambassador of Korea H.E. Mr. Suh Dong Gu
President Rivlin received diplomatic credentials from the new ambassadors of Korea, India, Slovakia, Costa Rica and Sri Lanka to Israel, as they begin their terms of office in Israel
President Reuven (Ruvi) Rivlin today, Thursday 21 November / 23 Cheshvan, received diplomatic credentials from the new Ambassadors of Korea, India, Slovakia, Costa Rica and Sri Lanka to Israel, as they begin their terms of office in Israel, in an official ceremony at Beit HaNasi. As they arrived, the national anthem of their country was played by the Israel Police Band and then they reviewed an IDF guard of honor. After presenting their letters of credence to the president and an audience in the Jerusalem Room, each ambassador signed the Beit HaNasi visitors' book and 'Hatikva' was played before the end of each ceremony.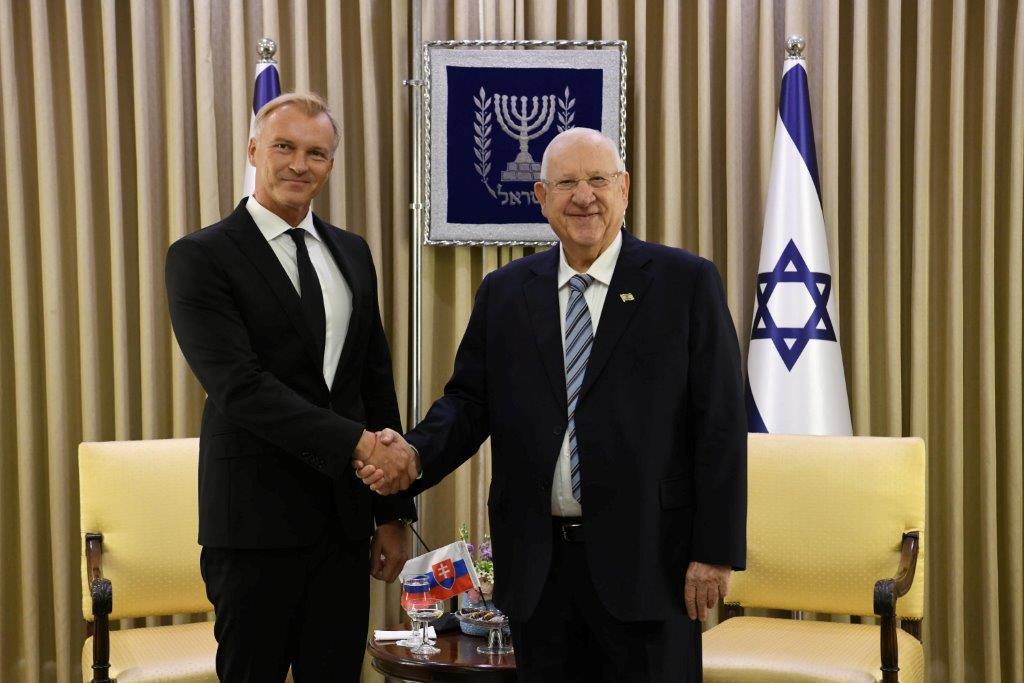 Photo: President Rivlin with Ambassador of Slovakia H.E. Mr. Igor Mauks
The first to present his credentials to the president was Ambassador Igor Mauks of Slovakia. The president welcomed the ambassador to Israel and expressed his appreciation for Slovakia's friendship towards Israel and noted that he was delighted to welcome the former president of Slovakia in Israel two years ago. The president also sent his thanks to the president of Slovakia for confirming her attendance at the central event to mark 75 years since the liberation of Auschwitz-Birkenau, which will take place in Jerusalem in January 2020.
Ambassador Mauks thanked the president for his warm words and invited him to visit Slovakia. He also stressed his country's fight against antisemitism, saying "Slovakia has zero-tolerance for antisemitism."
Photo: President Rivlin with Ambassador of Costa Rica H.E. Mr. Marco V. Vargas Pereira
Next to arrive was Ambassador of Costa Rica Marco Vinicio Vargas Pereira. In their conversation, the president noted the similarities between the two countries, saying, "Israel and Costa Rica gained independence in 1948 as the only democracies in their region. Today, too, we are small countries that invest in human capital, in our young people, and in education." The president also spoke to the ambassador about his hopes that the Costa Rican embassy would return to Jerusalem. "I hope you are able to take meaningful steps to bring the embassy back home to Jerusalem."
The ambassador thanked the president and said that this was his first time in Israel and that he was discovering the beauty of Israel's varied landscape, and that he had seen a desert for the first time. "I am delighted to be representing Costa Rica here in your beautiful country and hope I am able to advance the good relations even further."
Photo: President Rivlin with Ambassador of Sri Lanka H.E. Mr. Saddha Waruna Wilpatha
Ambassador Saddha Waruna Wilpatha of Sri Lanka then presented his credentials. The president conveyed his warmest wishes to the new president of Sri Lanka, wishing him much success. He also expressed his sorrow over the terrorist attack in Sri Lanka in April of this year. "Israel will continue to stand by Sri Lanka in the global struggle against terrorism, which threatens the security of the whole world."
Ambassador Wilpatha thanked the president for his remarks and said that his country would welcome a strengthening of relations between the countries in a range of fields and that he would work to do so during his time here.
The next to arrive at Beit HaNasi was the new Korean ambassador, Suh Dong Gu. The president spoke warmly about his recent visit to Korea last July and thanked President Moon for his warm welcome, inviting him to make a return visit to Israel.
"The free trade agreement is an important achievement for both countries. It is the first time we have signed such an agreement with an East Asian country and I am sure it will help build stronger and deeper relations between us," said the president. "During my visit, I learned that Israel and Korea have much in common: thousands of years of history, few natural resources and security challenges. Israel and Korea became independent states in difficult conditions, but we both overcame challenges." The president spoke about how impressed he was with Korea's advanced technologies, as well as its rich and vibrant culture. He said that his visit strengthened his feeling that there is a strong basis for cooperation between the two countries.
The Korean ambassador thanked the president warmly for his remarks, saying "Your successful visit to Korea gave precious momentum to our bilateral ties. I will use that momentum to advance our relations during my time here." The ambassador also noted the similarities between the two countries, remarking on a shared national character that values family and education. "I was at the opening of the Knesset and thought to myself that Israel is a miracle, just as Korea is a miracle. I think we can bring these miracles together and that technological cooperation between us can help create more miracles."
Photo: President Rivlin with Ambassador of India H.E. Mr. Sanjeev Kumar Singla
The last to present his credentials to the president was the Ambassador of India, Sanjeev Kumar Singla. The president spoke of his particularly warm memories of his visit to India with his late wife Nechama ז"ל. "I had the honor of hosting former president Mukherjee on his historic visit to Israel and we developed a remarkable friendship. Israel and India cooperate in a wide range of fields, civilian and military. We consider our security cooperation as a strategic asset. I hope our cooperation in this field will keep developing. We know that the question of water is at the top of Prime Minister Modi's agenda and it came up in my visit to India and his visit here. I hope we will continue to push forward our cooperation on this. The opening of Air India's flights over the Gulf and Saudi Arabia is an example of how cooperation between Israel and India can advance peace in the Middle East." The president invited the Indian president to visit Israel, saying "I would be so happy to welcome him here to Jerusalem."
The ambassador thanked the president for his welcome and relayed the warm wishes Prime Minister Modi asked to send to the president. He told the president "the three priorities we hope to work on are water, agriculture, and innovation. Your visit to India helped advance the warm relations between our countries and I hope that during my time here they will develop even further." He added, "Mr. President, I am happy to tell you that the sapling you planted during your visit to India is now an 8-foot tall tree."
Photo credit: Amos Ben-Gershom (GPO)
Details

Written by

George Prajza and David Goland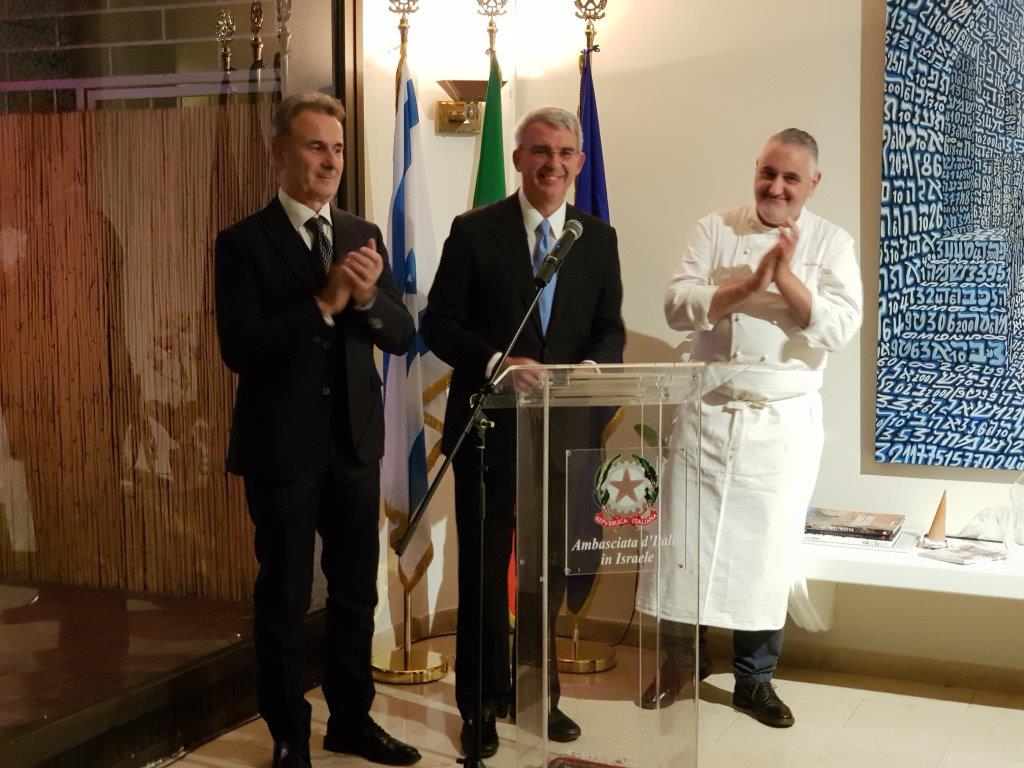 His Excellency, Italian Ambassador to Israel Gianluigi Benedetti and his wife Mrs. Sabina Benedetti D'Antonio hosted an exclusive reception at their very elegant Ramat Gan residence. The evening which included an opening dinner for The Fourth World Week of Italian Cuisine was attended by an array of guests including Italian/Israelis and the whose who of the culinary world in Israel and around the globe.
Italian diplomatic missions in 110 countries around the world and numerous institutions in Italy and worldwide are celebrating this event, which runs from 18 to 24 November 2019. This year's theme is "The Culture of Taste". The event aims to promote quality Italian cuisine and Italian farm produce abroad. It is fast becoming a premier event of global acclaim.
After delicious hors d'oeuvres prepared by Chef Arcangelo Dandini with Emanuela Panke and Michele Bozzetto the guests were invited to hear the Ambassador's speech, as His Excellency introduced Chef Dandini and Wine Expert Mr. Fabio Piccoli Director of Wine Meridian magazine. In his speech, H.E. Ambassador Benedetti greeted chefs from Italy who are in Israel to participate in Italian Israeli workshops for scientists. He thanked several Italian bodies in Israel who have worked on forty related events around Israel: The Italian Cultural Institute, the Italian Trade Agency, The Israeli-Italian Chamber of Commerce and Industry, The Accademia Italiana della Cucina and the Italian Government Tourist Bureau. A poignant moment in the evening's celebrations was when the ambassador passionately reflected on the flooding which has plagued Venice. He sought assistance for this on-going tragedy in Venice.

A delegation of approximately 10 young Italian chefs arrived in Israel, especially for this event. Chef Arcangelo Dandini leads these talented chefs, and he artfully created sumptuous dishes typical of Rome. This taste of Italy began with wines from a variety of regions from Italy. Aperol, Campari and Ferrarelle water were also flown in for the enjoyment of the guests. From the appetizers to the smooth, rich, dark espresso, the meal amazed our palates with exquisite tastes and textures. Guests were feted with an imaginative array of Italian cuisine. The menu consisted of Suppli cacio e pepe, Mozzarella in carrozza. Frittata di bucatini, Mezzi rigatoni burro e alici , Ombrina e garum, Caponata, VOV, and Zuppa Inglese. The evening was a delightful combination of Italian hospitality and extraordinary food and beverages.

Among the guests were H.E. the Ambassador Emanuele Giaufret, Head of the European Union Delegation and his wife , Vice President of the Italian-Israel Chamber of Commerce, Dr. Roberto Della Rocca, Delegate of the Italian Academy of Cuisine (Accademia Italiana Della Cucina) Dr Cinzia Klein , Vice Delegate Sabrina Fadun, businesswoman Mrs. Giordana di Castro, marketing councilor Dr. Joelle Inowlocki ,Letizia Della Rocca representative & owner of Sitam Israel Fashion School , Anat Carlquist and others members of the Accademia, Ofer Sachs , former Israeli Ambassador to Italy, Egyptian Ambassador to Israel H.E. Khaled Amzi, Ronni Benatoff president of Chamber of Commerce Italy -Israel, Russian Ambassador to Israel H.E. Anatoly Viktorov, Ambassador Amos Radian , Honorary Consul of Italy for Haifa and Nord of Israel Carlo Gross, George Athanassiou Area manager for Alitalia and Ran Pollak Sales Manager of Alitalia in Israel, Plastic Surgeon Dr. Dov Klein, the famous chef Master Chef winner Massimiliano Di Matteo, Comites presidents avv. Beniamino Lazar and Rafael Barki, Revital Ben-Asher Peretz ( Tel Aviv Municipality , Unifil General Del Col, RAI journalists Piero Marrazzo and Raffaele Genah, Gelateria Arte owners, Marco Camorali and Sissi Pagani, Moshe Barel owner of Pasta Della Casa.
Diplomacy.co.il congratulates the Italian Embassy and the organizers on a magnificent opening dinner for the Fourth World Week of Italian Cuisine. We wish them great success in their quest to share their passion and love of Italian cuisine with Israel and the world.

Photos by Silvia Golan
Details

Written by

Steven Aiello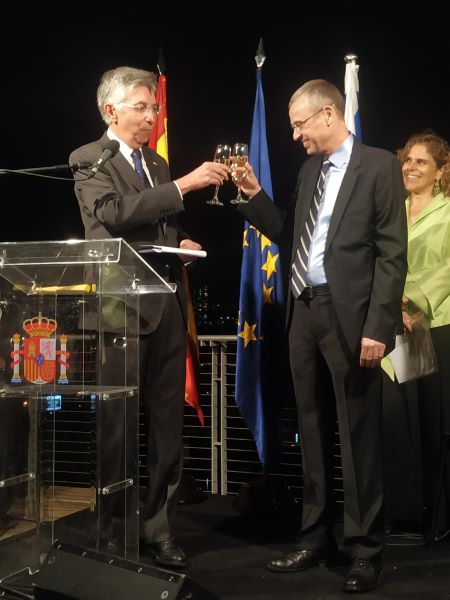 The Embassy of Spain in Israel hosted a celebration in honor of the National Day of Spain, on October 22. Diplomats, expats, and Israelis with commercial or cultural links to Spain joined the celebration, held at the Yitzhak Rabin Center in Tel Aviv.
The formal portion of the evening began with the anthems of Israel and Spain. H.E. Manuel Gómez-Acebo opened his remarks by pledging a significant Spanish presence at Yad Vashem in January for 75th the commemoration of the liberation of Auschwitz. The ambassador noted that Spain takes anti-semitism very seriously, both in legislation, and law enforcement, as well as in promoting education about the Holocaust.
Ambassador Gomez-Acebo highlighted several achievements in Israeli-Spanish relations. First, the Royal Spanish Academy approved unanimously to include the National Academy of Judeo-Spanish (Ladino). Moreover, the international Congress of Researchers of Spanish History was held in Jerusalem for the first time at the Hebrew University, with over 600 participants. The ambassador also noted that an Israeli academic, Professor Ruth Fine, was elected as chairperson of the congress.
This was also the end of the four year program by which Jews of Spanish descent whose families left were expelled in 1492 were eligible to receive Spanish citizenship. The ambassador informed the audience that over 132,000 Sephardic Jews have requested citizenship during this program. To mark this occasion the ambassador called up the oldest recipient of Spanish citizenship, and presented him with his new Spanish passport.
Following the ambassador's speech, Minister of Tourism Yariv Lavin was called to speak on behalf of the Israeli government. The minister stunned the crowd by presenting his speech in fluent Spanish. Minister Levin cited the rich history of Jewish Spanish scholars, artists nad leaders, and their influence on greater Jewish society. He also mentioned contemporary Spanish culture, and the strong ties between Israel and Spain.
Following the speeches, the ambassador and the minister held a toast to the success of Spain and Israel. A flamenco guitarist then took the stage, and guests enjoyed dinner and the live music.
www.diplomacy.co.il salutes Spain on this important day and we wish to continue the close ties of friendship and cooperation with Israel

Photos courtesy of the Spain Embassy in Israel
Details

Written by

Steven Aiello
The Holocaust was one of the darkest periods in human history, but the brave individuals who took bold steps to save the lives of strangers represent beacons of humanity. Last week the Embassy of the Philippines in Israel commemorated the legacy of one such hero, President Manuel Quezon.
At a time when Europe had gone dark, and Jewish refugees were being turned away from many countries, President Quezon opened the doors of the Philippines, offering safe haven to Jews in need. This courageous step came despite vocal opposition from the US State Department (which at the time exercised control over entry to the country). In total, nearly 1,300 Jews were saved in the Philippines, but Quezon was willing to take tens of thousands more and had pressured the US government for more visas, even pledging his own land to house Jewish refugees.
The Embassy of the Philippines held two events this week to continue the important mission of educating about this inspiring story. On October 27, the film Quezon's Game premiered in Tel Aviv, with guests of the embassy enjoying the drama based on the true story of Quezon's efforts. On October 29, Balai Quezon--Quezon House, was inaugurated at the embassy, as an educational center to honor and promote the values of Quezon's "Open Door" policy.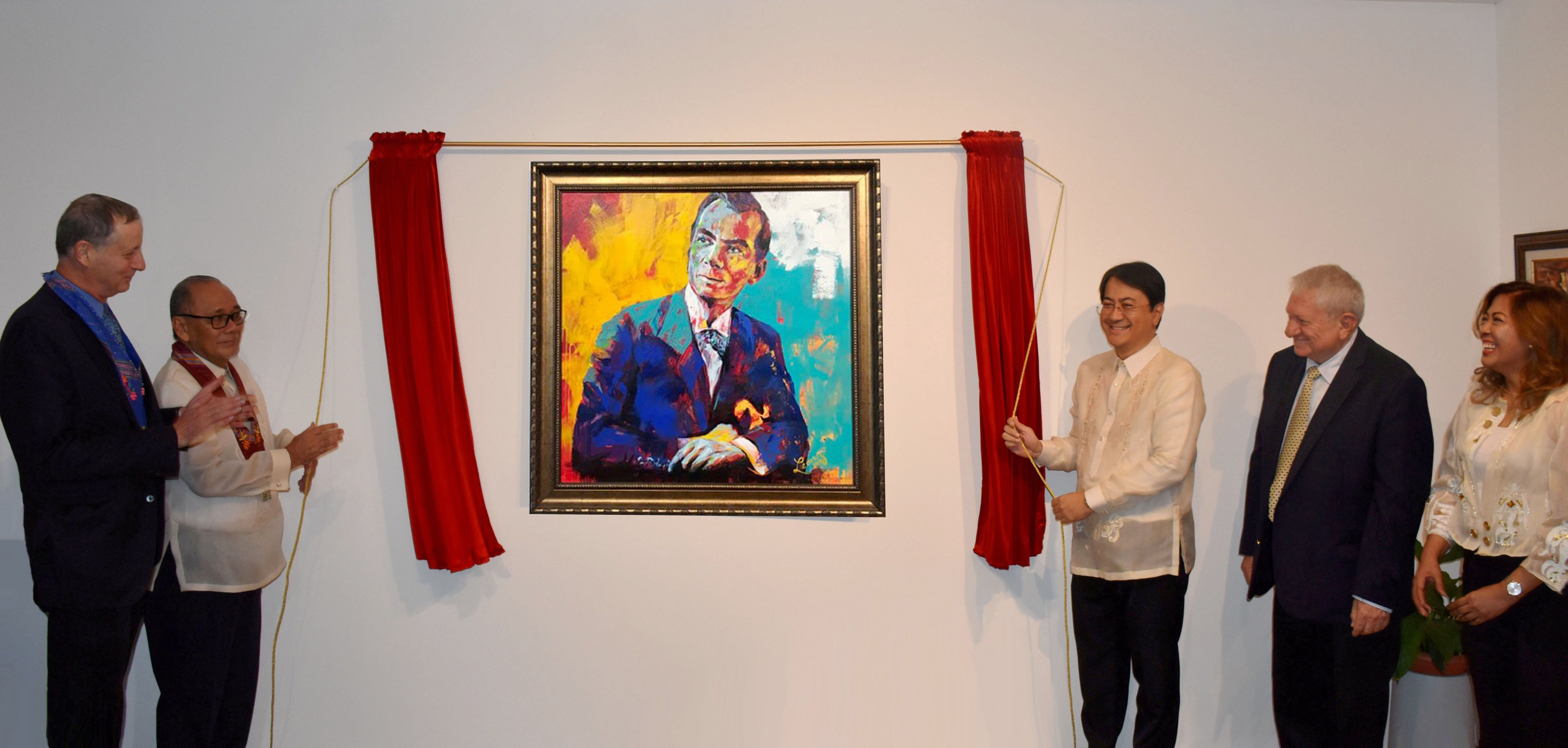 Foreign Affairs Undersecretary for Strategic Communications and Research, Mr. Ernesto C. Abella, was in Israel to join both events. He noted that the efforts of the Philippines to save Jewish lives reflects "the belief in their basic right to exist and pursue a life of freedom and fulfillment," a fundamental sentiment that was unfortunately absent during much of this dark period.
Philippine Ambassador to Israel Mr. Neal Imperial explained that Quezon's Open Door policy "remains the cornerstone of the deep and lasting friendship between the Philippines and Israel and that Balai Quezon was a fulfillment of a half-decade dream "to find a place that would honor this special moment in history between our peoples."
Gilad Cohen, Deputy Director-General for Asia and the Pacific at the
Israeli Ministry of Foreign Affairs
added his own blessings to the efforts of the Embassy of the Philippines in Israel, and the Israeli Embassy in the Philippines, to educate about this important story, and informed the audience that the Israeli Ministry of Foreign Affairs had requested that Yad Vashem, Israel's premier Holocaust museum, give formal recognition to the Open Doors policy.
In addition to diplomatic guests of the embassy and those with ties to both countries, those in attendance included Jews who had survived the war years in the Philippines, such as Mr. Max Weissler and Ms. Margot Pins Kestenbaum, "Manilers" who now live in Israel.
Diplomacy.co.il congratulates the Embassy of the Philippines on these important efforts to promote stronger ties between countries and highlight the fundamental humanity of Quezon's message.
Photo 1-
DFA Undersecretary for Strategic Communications and Research Ernesto C. Abella (center), Philippine Ambassador to Israel Neal Imperial (left), and Mr. Yaron Mayer, Director for Southeast Asia Department of the Israeli Ministry of Foreign Affairs (right) during the Ribbon-Cutting Ceremony to inaugurate the Balai Quezon (Quezon House) and launch the exhibition entitled "The Philippines and Israel: An Enduring Friendship, A Growing Partnership".
Photo 2- (L-R) Unveiling of Quezon portrait. Mr. Yaron Mayer, Director for Southeast Asia of the Israel Ministry of Foreign Affairs; DFA Undersecretary Ernesto C. Abella; Ambassador Neal Imperial, Consul Shimon Weinbaum; and artist Celeste Lecaroz during the unveiling of "Manuel L. Quezon in Spontanrealismus"
Photos provided by the Embassy of the Philippines
Steven Aiello
Founder--DebateforPeace
Details

Written by

Steven Aiello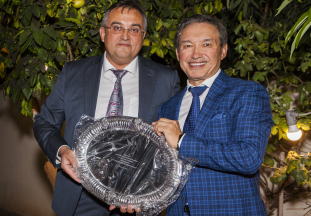 On Thursday October 10, the Embassy of the Republic of Kazakhstan hosted a farewell reception in honor of Ambassador Doulat Kuanyshev and Mrs. Gulmira Mamytbayeva, who are leaving Israel. Members of the diplomatic corps, economic, social and community leaders, and expats gathered to recognize the ties between Israel and Kazakhstan, and the contribution of Ambassador Kuanyshev to strengthening that relationship.
The Ambassador began his remarks by thanking his embassy staff, as well as greeting the guests. He talked about the many relationships he had forged in his five years in Israel, and the progress made in advancing bilateral relations between the countries.
Following Ambassador Kuanyshev's remarks, he was presented with a gift on behalf of the members of the foreign diplomatic corps, in appreciation of the ambassador's lasting contribution to bringing the countries together. Guests then enjoyed dinner and music in the ambassador's garden.
Diplomacy.co.il offers best wishes to Ambassador Doulat Kuanyshev and Mrs. Gulmira Mamytbayeva, and thanks Ambassador Kuanyshev for his efforts to promote bilateral ties between Israel and Kazakhstan.
Photos provided by the Kazakhstan Embassy
Steven Aiello
Founder--DebateforPeace