Diplomatic Events
Details

Written by

Steven Aiello
On Thursday March 1 the Embassy of Bulgaria in Tel Aviv marked its National Day with an especially festive celebration coinciding with the Jewish holiday of Purim. Diplomats and those with personal and commercial ties to Bulgaria convened at the Dan Hotel in Tel Aviv to mark the occasion.
After the singing of both countries' anthems, Honorary Consul Moni Bar opened the formal portion of the event by talking about the success of the Bulgarian aliya, which included Bar himself along with his family. Bar also served as the emcee for the event.
H.E. Ambassador Dimitar Mihaylov then addressed the crowd in his impeccable Hebrew, quoting Theodor Herzl and applying Herzl's words to the diplomatic ties between Bulgaria and Israel today. Ambassador Mihaylov cited upcoming high-level diplomatic visits, including the first by Bulgarian President Radev since becoming president, who is expected to meet the president and prime minister of Israel, as well as visiting Yad Vashem, and delivering a speech at the 6th international conference to combat anti-Semitism.
In June the prime minister of Bulgaria is expected to arrive for a series of meetings with Israeli political leaders regarding cooperation and bilateral ties. Prime Minister Borissov will attend the dedication of a monument to the saving of Bulgarian Jewry during the Holocaust. The monument will be placed in Tel Aviv, and matches one recently installed in Bulgaria. During his visit the prime minister is also expected to meet with 3,000 Israelis of Bulgarian heritage at the Cultural Hall in Tel Aviv. Ambassador Mihaylov also noted that more than 5 Bulgarian ministers have visited or are expected to visit Israel during the year, and he also cited an upcoming Israeli delegation to Bulgaria, led by Knesset member Eitan Broshy, as well as a delegation of Bulgarian Israelis, which will take part in the events planned to celebrate the saving of Bulgarian Jewry during World War II, while also commemorating the murder of more than 11, 300 Jews from Macedonia and Thrace in the Treblinka concentration camp.
Member of Knesset and deputy minister of public diplomacy Dr. Michael Oren addressed the crowd on behalf of the Israeli government, noting Ambassador Mihaylov's fluent Hebrew skills. Dr. Oren spoke of the past, present and future ties between Bulgaria and Israel. Regarding the past, he noted how Bulgarian Jews were saved during the Holocaust, and then the emigration to Israel of approximately 90% of the Jewish community shortly after the founding of the state. Dr. Oren mentioned the present, citing excellent cooperation between the two countries in a range of fields, including economics, trade, and tourism, and the various high-level political and diplomatic visits. Finally Dr. Oren turned to the future, detailing potentials for Bulgarian-Israeli cooperation in the hi-tech industry, and mutual concerns for stability in the face of a rise in far-right neo-Nazi support across Europe, Bulgaria's upcoming role as president of the European Union
Member of Knesset Eitan Broshi spoke next. He talked of the treaty of peace and cooperation between Israel and Bulgaria that Bulgarian emigrants to Israel helped to create. Mr. Broshi talked of the shared interests and cooperation between the two nations, noting that in two years they would mark 70 years of diplomatic ties. Mr. Broshi listed trade and security as some of the areas for strong binational partnerships, and expressed his hope for increased cooperation in the field of agriculture and water conservation. Mr. Broshi explained that as the Knesset member in charge of the parliamentary friendship association between Bulgaria and Israel, he would be traveling to Bulgaria shortly to represent Israel and participate in the commemorative events there.
Following the speeches, guests enjoyed catered dinner at the hotel. The distinguished guests at the celebration included many diplomats and military attaches, as well as former Ambassador of Israel to Bulgaria David Cohen; former Ambassador of Israel to Bulgaria Avraham (Avi) Sharon; Israeli ambassador Yitzhak Eldan, head of the Israeli School for Young Ambassadors; Itzhak Lipovetzky, President of the Israel-Bulgaria Friendship association; Philippe Guillien, French language attache and course director at the Institut Francais; Stephen Abrahams, from the Ministry of National Infrastructures Energy and Water Resources, and Yona Bartal, Representative of The Peres Center for Peace and Innovation.
In the beginning of February, the Bulgarian Minister of Tourism, Nikolina Angelkova, visited Israel to participated in the annual IMTM tourism exhibition. Minister Angelkova's visit also included meeting with the relevant Israeli counterparts and offices.

Diplomacy.co.il wishes congratulations to the Embassy of Bulgaria on its national day celebration and upcoming events.

Photos Silvia G Golan
Steven Aiello
Founder--DebateforPeace

Details

Written by

Philippine Embassy in Israel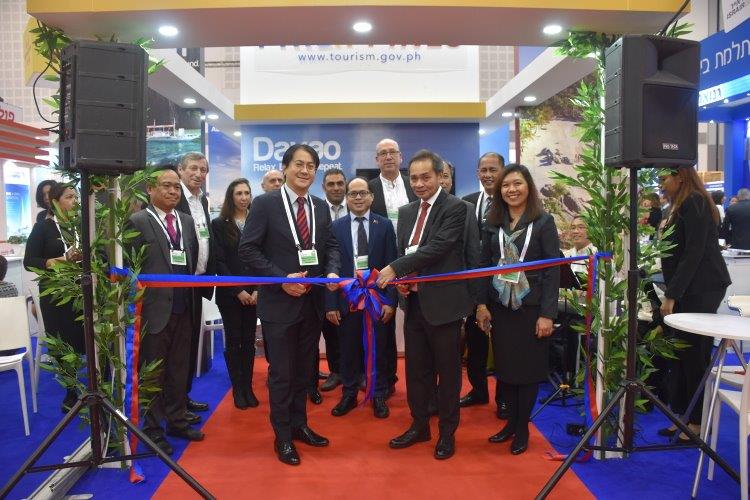 February 2018 – The Philippines once again participated in the 24th International Mediterranean Tourism Market (IMTM) held at the Tel Aviv Convention Center on 06-07 February 2018. This year's delegation from the Department of Tourism was headed by Secretary Wanda Corazon Teo. Twelve Philippine tour operators and hotel representatives joined the DOT delegation in promoting Philippine tourism in Israel.
This year, the Philippines was a silver sponsor of the IMTM with one of the largest and most attractive pavilions in the annual tourism fair, considered the largest in the Eastern Mediterranean.
"Israeli tourist arrivals to the Philippines grew by 98% from a mere figure of 8,776 in 2014 to 17,446 in 2017. Israel continues to be a valued market for Philippine tourism," said Ambassador Imperial.
The DOT has been participating in the IMTM since 2016 and has conducted two Familiarization tours for major Israeli tour operators. "Total tourist arrivals to the Philippines reached 6.6million in 2017, and Israel is a growing tourism market for the Philippines in the Middle East," according to Secretary Teo.
Secretary Teo also met with Israel Minister of Tourism Yariv Levin and discussed ways to further promote two-way tourism.
Secretary Teo hosted a Philippine Tourism Gala Night on 08 February 2018 at the Grand Ballroom of Hilton Tel Aviv which was attended by the diplomatic corps, Israeli travel and tour operators, businessmen, PR/media outfits and the Filipino community.
Guests in the IMTM and Philippine Tourism night were wowed by the performance of multi-awarded Sindaw performers with their rendition of original Filipino music and the traditional dance of the members of the Association of Igorot Migrant Workers in Israel.

Ambassador Neal Imperial and Department of Tourism's Head of Strategic Development Unit, Mr. Francisco Lardizabal, with DOT and Embassy officials, Israeli participants to the Familiarization Tour to the Philippines and tour operators from the Philippines, formally open the Philippine pavilion at the 2018 IMTM.
Department of Tourism Secretary Wanda Corazon Teo with Ambassador Neal Imperial at the Philippine booth during the 24th International Mediterranean Tourism Market.
Philippine Department of Tourism Secretary Wanda Corazon Teo met with Israel's Minister of Tourism Yariv Levin.
Internationally-awarded Sindaw performers impressed the guests in the IMTM and Philippine Tourism Night with their rendition of original Filipino music
The Department of Tourism in coordination with the Philippine Embassy in Tel Aviv hosted a Philippine Tourism Night attended by Israeli tour operators and media, members of the diplomatic corps, businessmen, PR/media outfits and the Filipino community.
Photos provided by Philippine Embassy in Israel
Details

Written by

Prime Minister's Media Adviser
PM Netanyahu: "We have a longstanding policy to prevent the transfer of game-changing weapons to Hezbollah from Syrian territory. This policy has not changed. We back it up as necessary with action."
Prime Minister Benjamin Netanyahu, today (Tuesday, 9 January 2017), in Jerusalem, attended a lunch with NATO member state ambassadors to Israel, chaired by Greek Ambassador to Israel Bikas Konstantinos and said, "We have a longstanding policy to prevent the transfer of game-changing weapons to Hezbollah from Syrian territory. This policy has not changed. We back it up as necessary with action."
Prime Minister Netanyahu:

"Ambassador, you outlined the great cooperation between NATO and Israel. It's a natural one. NATO was created one year after Israel, it's a unique alliance of democracies that share common values, committed to the preservation of freedom, the protection and advancement of peace. Israel is such a democracy as well. It's the only such democracy in this region and therefore our cooperation is natural. It was somewhat overdue and it received significant acceleration and flourishing following the opening of our office in NATO headquarters in December of 2016. Beyond the many important areas that you outlined, there are two issues that I think I want to spell out for you which I think are important areas where Israel contributes to the security of every single NATO country. And they both have to do with radical Islam.

The world right now is threatened by radical Sunnis, led initially by al-Qaeda, now by Daesh, by ISIS, and radical Shiites led by Iran. When we talk about ISIS it's important to understand that Israel helps Europe in two fundamental ways. The first is that we have, through our intelligence services, have provided information that has stopped several dozen major terrorist attacks, many of them in European countries. Some of these could have been mass attacks, of the worst kind that you have experienced on the soil of Europe and even worse, because they involve civil aviation. Israel has prevented that, and thereby helped save many European lives.

The second assistance that Israel has given to Europe and NATO has been the prevention of the establishment of what I call ISIS West in the Sinai. There is, as ISIS is contracting and is being destroyed in Iraq and Syria, it is trying to establish an alternative territorial base in the Sinai. Israel is contributing to preventing that in myriad ways, and in general I would say that Israel is the most powerful indigenous force in the Middle East that fights radical Islam.

Now to the second stream of radical Islam. That's Iran. Why is Iran so dangerous? Because it is, as Kissinger said, a cause, not a country. And the cause is worldwide domination under their brand of Islamic militancy. We are the small Satan, you're – no offence – the middle sized Satan, America is the great Satan, but they have designs on all of us. Iran is dangerous because this radical ideology seeks to acquire nuclear weapons. The first task is to prevent them from acquiring nuclear weapons.

The second reason they are so dangerous is because they're trying to establish an empire, a territorial empire from Tehran to Tartus in the Mediterranean, enveloping the Middle East also from the south through Yemen, eventually conquering the Middle East. This is what Iran is about.

We are absolutely committed to preventing Iran from forming such a base, a military base in Syria, and we back our words with action. And this is dangerous for you too because the conquest of the Middle East by Iran would eventually effect all of your interests. Here's the third and specific interest that you should be concerned with. As part of Iran's plans of conquest and colonization of Syria, they want to bring in as many as 100,000 Shiites, Shiite fighters, imported into Iran - Non-Iranians under Iranian command.
If you think you had a reactio n to ISIS, that is, to radical Islam, radical Sunni Islam, and this is what really is happening in Syria, this is correct. So half a million were butchered, millions were uprooted from their homes and millions went to Europe. They didn't go anywhere else, they just went to Europe. And that maybe about to end, one hopes, this tragedy I hope ends.

But if Iran realizes its goal of bringing in 100,000 Shiite fighters into Iran, this will reignite the same conflict and you'll have the son of ISIS and the grandson of al-Qaeda that will be fighting this new Shiite force. Where will the spillover happen? In Europe. Where will the human flow go? To Europe. Who's preventing that right now? Israel. Right now Israel alone. But I maintain that this is a common interest that we have with NATO. So my message to you today is, radical Islam, either Shiite or Sunni, threatens all of us. Israel is fighting both. Israel seeks your cooperation. You have a statement and a sl ogan in NATO which I think is particularly apt: "An attack on one is an attack on all". An attack by radical Islam from whichever direction on any of our democracies is an attack on all our democracies. This is not merely a statement of abstract principle, this is simple truth. So I submit to you that what we should do is increase our cooperation for our common interests, our common security and for the quest for peace."
PM Netanyahu with the NATO member state ambassadors to Israel. Photo: GPO/Haim Zach.
Details

Written by

Steven Aiello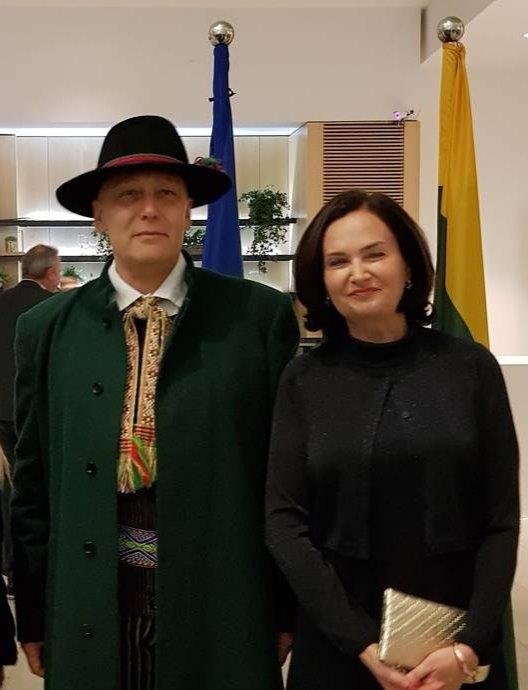 The Lithuanian embassy celebrated 100 years of restored historical Lithuania in style with a concert and reception at the Tel Aviv Museum of Art on Wednesday evening. The evening kicked off a lineup of celebratory events that will last all year and include discussions, art and photo exhibitions, concerts, and dance and theater performances.
The ambassador of Lithuania to Israel, H.E. Mr. Edminas Bagdonas, opened the evening. Ambassador Bagdonas pointed out that although they were celebrating a centennial, historica Lithuania was actually much older, dating to the 13th century. Wearing a traditional Lithuanian outfit himself, the ambassador described national pride in Lithuania, in the form of its national language, clothing and customs, or accomplishments.
Ambassador Bagdonas highlighted the success of Lithuanian Jews, including several prominent statesmen, and courageous Jewish soldiers who fought for Lithuanian independence. He also mentioned the horrors of the Holocaust, and the need to acknowledge the historical injustices committed by individuals and nations during those dark days. In that regard the ambassador mentioned the public apology of the president of Lithuania at the Israeli Knesset in 1995 for Nazi collaboration by Lithuanians during World War II.
Speaking on behalf of the Israeli government, Deputy Foreign Minister Tzipi Hotoveli cited the commonalities between Israel and Lithuania as relatively young democracies who fought for their independence. Minister Hotoveli discussed the rich heritage of the Lithuanian Jewish community, and expressed appreciation for efforts by the Lithuanian government to preserve and rehabilitate Jewish heritage sites, as well as educating about the community, which was largely destroyed during World War II. Hotoveli finished by congratulating Lithuania on its centennial celebration, and offering blessings for a successful and prosperous future.
Singer Nika Zundelovitch performed the national anthems of both Lithuania and Israel. After the anthems, award-winning accordionist Martynas Levickis took the stage. His concert, titled "Woodspirit," included pieces from Sweden, Finland, Italy, Latvia, and of course Lithuania, and ranged from the classical to the contemporary. Levickis also included several of his own compositions, and included explanations of the music and their composers in his performance.
Following the concert, guests enjoyed a delicious reception, including imported Lithuanian specialties. Among the many distinguished at the evening were Ambassador Meron Reuven, chief of protocol for the Israeli Ministry of Foreign Affairs, Vered Swid, Director of the Authority for Advancing Women's Rights, and Stephen Abrahams, from the Ministry of National Infrastructures Energy and Water Resources.
Diplomacy.co.il wishes congratulations to the Embassy of Lithuania in Tel Aviv on the occasion of the centennial of restored Lithuania.
More information about the celebrations is available here: http://www.lietuva.lt/100/en/lithuania-celebrates-100
Photos Silvia Golan
Steven Aiello
Founder--DebateforPeace
Details

Written by

Steven Aiello
The birthday of the emperor of Japan, Emperor Akihito, was celebrated in splendid fashion in Herzliya, in an extravagant celebration held in the home of Ambassador Koji Tomita and his wife Norika. Live music, dance, authentic cuisine, and guest celebrities all enhanced the remarkable party.
The evening featured a variety of Japanese dishes prepared by restaurants in Israel which have been certified by the Japanese embassy as using authentic imported Japanese products. Japanese and Israeli musicians, including the Taiko Life musical group, put on a spectacular performance.
The evening was educational as well--tables provided information about the technological innovations and successes of Japanese industry, in particular companies which cooperate with Israeli companies. Other tables featured information on touring Japan or preparing traditional Japanese dishes. There was also a section devoted to Chiune Sugihara, the Japanese consul based in Lithuania who saved thousands of Jewish lives during World War II by issuing travel visas.
Following the national anthems, Ambassador Tomita welcomed the guests. He mentioned the great suceesses in bilateral cooperation over the last year, position 2017 as a "watershed year" in Israeli-Japanese relations, with six Israeli ministers visiting Japan, and three Japanese ministers visiting Israel. He also cited the business cooperation, punctuated by Mitsubishi's acquisition of Israeli firm NeuroDerm for more than a billion dollars, and a rise in tourism, with Israeli tourism to Japan increasing by 20%, and Japanese tourism to Israel increasing by 45%.
In closing, the ambassador expressed his hope for peace and stability in the region, commending Israel for success in building a strong democracy despite adversity and calling on it to undertake renewed efforts for peace, pledging Japan's support in such endeavors.
The Israeli Minister of Justice, Ayelet Shaked, spoke on behalf of the Israeli government. Offering congratulations on the festive occasion, Minister Shaked recalled her own visit to Japan earlier in the year, and how she had been smitten with the people, food, and culture of Japan. During the trip she went to the port city of Tusruga, where Jews saved by the heroism of consul Suihara were then greated by the compassion and generoisity of the people of Tusruga.
Minister Shaked praised the strong cooperation between Japan and Israel on a number of fronts, with four billion dollars in trade, and agreements on sports, innovation and technological cooperation recently signed. She called for this to increase in the future, including a wish for direct flights between Tel Aviv and Tokyo, and her hope that her Japanese counterpart, Minister of Justice Uriko Kamikawa, would be able to attend a conference in Israel in the beginning of 2018 on "The Struggle Against Slanderous and Antisemitic Speech on the Internet." In closing, Minister Shaked wished the emperor a joyous birthday, and the Japanese people peace, security, prosperity and success.
Following the remarks, guests continued to enjoy the authentic Japanese buffet and live music. Among the many distinguished guests were Olympic athletes Ayumi Nakamura (Japanese volleyball player) and Yarden Gerbi (Israeli judoka), Yehuda Meshi Zahav, the head of the ZAKA emergency response services, Middle East studies professor Dr. Nirit Ofir, and numerous diplomats, business, religious and civil society leaders.
Diplomacy.co.il wishes Emperor Akihito a happy birthday, and a year of success and prosperity to the Japanese people.
Photo Silvia G. Golan