Diplomatic Events
Details

Written by

Steven Aiello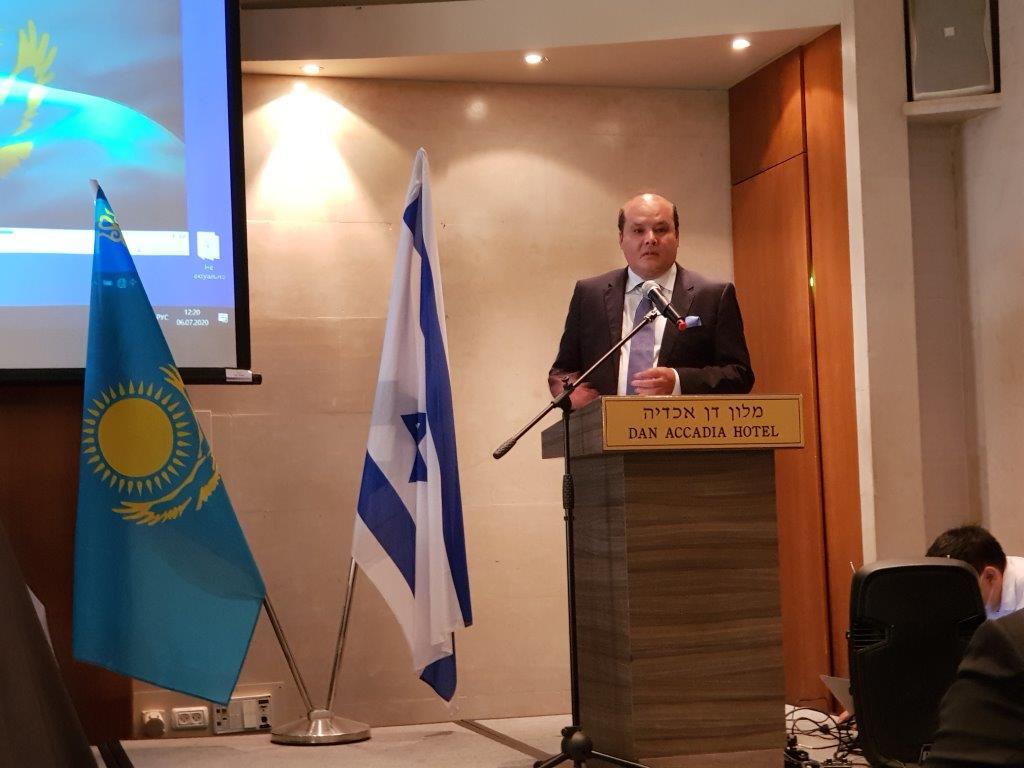 The embassy of the Republic of Kazakhstan celebrated Capital City Day and the 80th anniversary of the founding President of Kazakhstan, H.E. Mr. Nursultan Nazarbayev, with a panel featuring multiple former prime ministers of Israel. Despite the Covid-19 challenges, a limited audience of VIPs joined in marking the momentous occasion of the octocententenial of one of the world's most influential world leaders with a roundtable of panelists, live music, and tasty lunch at the Dan Accadia hotel in Herzliya.
The afternoon opened with a short video highlighting the splendors of Nur-Sultan, the capital city of Kazakhstan, named for H.E. Mr. Nursultan Nazarbayev, one of the world's longest serving presidents, who presided over Kazakhstan's growth and success for nearly 30 years, including the remarkable transfer of Kazakhstan's capital city from Almaty to Astana, then renamed Nursultan.
H.E. Satybaldy Burshakov , the Ambassador of Kazakhstan to Israel, opened his remarks by recalling the fateful decision in 1994 to move the capital of Kazakhstan to then-Astana, which had a mere 300,000 residents at the time. The ambassador noted that while initial reactions within Kazakhstan and abroad were mixed, the decision was both calculated and prescient -- a deliberate effort to bolster Kazakhstan's diplomatic and commercial ties in the new post-Soviet Union Eurasian order, and a bold investment in bringing Kazakhstan into the future with a modern city. Today the undeniable success of Nur-Sultan is a testament to the vision of its namesake
Former Israeli prime minister Mr. Ehud Barak noted that in addition to being a personal friend and a good friend of Israel, President Nazarbayev must be credited for his historic role in shaping the future of his nation. He remarked that with the important position as the first president of Kazakhstan following independence, President Nazarbayev acted with courage as a true leader in making untold decisions critical to the direction of his country. Having visited Kazakhstan himself, Mr. Barak described the success in creating a capital city that is both innovative and quintessentially Kazakhstani. He recalled meeting American students at the molecular biology department of Nazarbayev university who had come to do research in the cutting-edge labs. In closing, the former prime minister described President Nazarbayev as a true friend of Israel and wished him, his family and his nation many years of health and success.
Former Ambassador of Israel to Kazakhstan H.E. Ambassador called President Nazarbayev "one of the most significant and influential political leaders of our times," contributing to the formation of the new world order in Central Asia and Eurasia generally, and laying the ground for Kazakhstan's economic, diplomatic, and political development.
Dr. Haim Ben Yaakov spoke in both Hebrew and Russian. He spoke about the flourishing people to people ties between Kazakhstan and Israel. Dr. Ben Yaakov informed the audience that Kazakhstan, as a Muslim nation and led by President Nazarbayev, played an important role in exemplifying the warm ties possible between Jews and Muslims, as it has throughout the history of the Kazakhi people. Several meetings of Jewish and Muslim religious leaders have been held in Kazakhstan to this effect.
Professor Victor Raditsky, who has met President Nazarbayev numerous times in his role as a translator, seconded this point. Recalling numerous meetings of important Jewish and Muslim leaders to which he had been personally witness, he noted that they were reviving a historical tradition of religious pluralism and Jewish-Muslim dialogue. This includes such illustrious Jewish sages as Maimonides and his son Abraham, who incorporated Islamic philosophical and mystical approaches into Jewish texts and practice, and also reflects the moderate ethos of Kazakhstan and Central Asian heritage.
The final panelist was former Israeli prime minister Ehud Olmert. Mr. Olmert, who also visited Kazakhstan numerous times during his political career, described the broad influence of President Nazerbayev on Kazakhstan and Central Asia. He commended the president for successfully navigating the post-USSR world and establishing good relations with both Russia and the United States and their respective allies. Mr. Olmert said that he considered it a privilege to have signed the first trade cooperation between Israel and Kazakhstan, as a minister back in 2003, and noted that both he and his Kazakhstani counterpart ended up becoming prime ministers of their respective countries. In closing, Mr. Olmert offered his own blessing to President Nazarbayev to enjoy health and happiness "until 120 years of age" as per Jewish tradition.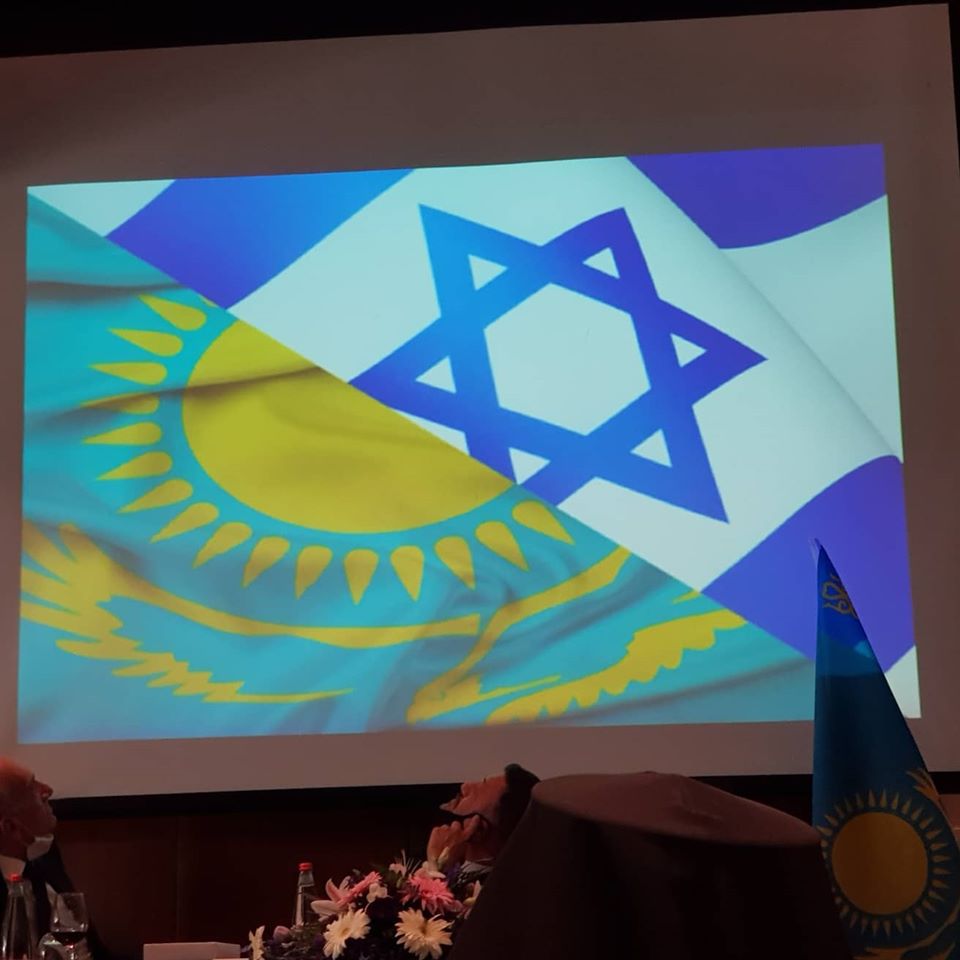 Following the panel, guests were invited to a sumptuous catered lunch in the outdoor garden. There they also enjoyed live music performed by Expessia Show, with electric violins, and a photo montage showcasing vivid images of the city of Nursultan. Numerous books about Kazakhstan and President Nazarbayev were available for guests to take home to read, as well as a special newspaper insert in Hebrew dedicated to Kazakhstan. Kazakhstani handicrafts added to the vibrant atmosphere, and the hotel staff did an excellent job providing a luxurious experience while maintaining Ministry of Health regulations.
The distinguished guests included former prime ministers of Israel Ehud Barak and Ehud Olmert, the Archbishop of the Greek Orthodox church in Jerusalem, Ambassador Michael Brodsky, Minister-Counsellor of the Eurasia and Balkans division of the Israeli Ministry of Foreign Affairs, Dr. Alexander Tsinker, president of the International Center for Electoral Systems, Professor Victor Raditsky, Dr. Haim Ben Yaakov, CEO of the Euro-Asian Jewish Congress, Tony Levy, External Relations, R&D Support - HIT – Holon Institute of Technology and other diplomats and civil society leaders.
Diplomacy.co.il congratulates President Nazarbayev, Ambassador Satybaldy Burshakov and the nation of Kazakhstan on this momentous occasion, and offers best wishes for future success and bilateral cooperation.
Details

Written by

Embassy of Colombia
The Embassies of Colombia in Belgium, Israel, Italy, the Netherlands and the Holy See
invite to the Conversation on the documentary Chiribiquete from the Series Colombia Bio
Guests Patricio Von Hildebrand
Explorer, expert in Chiribiquete
Carlos Arturo Ramírez Director of the documentary Chiribiquete
Juan Lucas Restrepo Director General, Alliance of Bioversity International and CIAT
Sebastian Fajardo Ph D – Researcher at Delft University of Technology
Language: English Date: June 23rd, 2020
Time: 15:00h BE, IT, NL y VA - 16:00h IL
Sign up here https://bit.ly/2U7TslZ
Details

Written by

Philippine Embassy
Philippine Ambassador to Israel Neal Imperial led a special celebration to commemorate the 122nd Anniversary of the Proclamation of Philippine Independence at the Balai Quezon, the Embassy's cultural center, on 11 and 12 June 2020.
In line with the Israeli Ministry of Health's recommendations to practice safety precautions and physical distancing, the Embassy held a scaled-down diplomatic reception, which was streamed live to other guests via the Embassy's official Facebook page. Only three key representatives from the Israeli Ministry of Foreign Affairs were physically present during the reception: Ambassador Meron Reuben, Chief of State Protocol; Ambassador Gilad Cohen, Deputy Director-General for Asia and the Pacific; and Ambassador Gil Haskel, Deputy Director-General for International Cooperation and head of MASHAV.
Friends of the Philippines, led by Knesset Speaker MK Yariv Levin, extended their congratulations through pre-recorded video greetings. The reception featured two performances, also pre-recorded on video: a stirring interpretation of Maalaala Mo Kaya ("Will You Remember?"), a Filipino love song, by award-winning soprano Ms. Francis Anne Virtudazo; and a special cover of "With a Smile", a pop-rock ballad, by Embassy personnel, who dedicated their performance to frontliners in the fight against Covid-19, particularly those caring for the elderly and other vulnerable populations.
During the exchange of toasts, Ambassador Imperial shared that this year's unique celebration had been inspired by the "e-reception" with President Reuven Rivlin for Israel's Independence Day celebration in April. Noting the challenges posed to diplomacy by the pandemic, the ambassador admitted that "it has been difficult at times to see, or even imagine, what the way forward might look like." He concluded, however, that the "shared values and dreams" between the Philippines and Israel will "give us the courage to move forward", thanking Israel for its support of the Embassy's efforts to assist Filipinos in distress and its donation of much-needed personal protective equipment (PPEs) to frontliners in the Philippine Department of National Defense (DND) and the Philippine National Police (PNP).
Ambassador Reuben, Ambassador Cohen, and Ambassador Haskel responded individually to the toast, affirming Israel's commitment to continuing to pursue strengthened relations with the Philippines. Ambassador Cohen noted that this year, Israel plans to expand its diplomatic presence in the Philippines by deploying a military attache to Manila, opening an Israeli honorary consulate in Mindanao, and possibly opening an Israeli trade and economic office in Manila.
The following day, Ambassador Neal Imperial led a flag-raising ceremony to mark the actual date of the anniversary of the proclamation of Philippine independence, accompanied by Consul General Randy Arquiza, Labor Attaché Rodolfo Gabasan, and Defense and Armed Forces Attaché Colonel Raul Villanueva. Joining them were Fr. Carlos Santos, Guardian of Saint Peter's Church in Jaffa, and Mr. Simha "Simi" Salpeter, "Kaanib ng Bayan" Presidential Awardee in 2010.
The ceremony was followed by a short program starting with the reading of messages of President Rodrigo Roa Duterte, Foreign Affairs Secretary Teodoro L. Locsin, Jr., Defense Secretary Delfin N. Lorenzana, and Labor Secretary Silvestre H. Bello III, all of which were also streamed live on the Embassy's official Facebook page. Leaders and representatives of the Filipino community in Israel joined the program via pre-recorded videos, wishing their countrymen a happy Independence Day.
For those who were unable to join in real time, the Embassy has uploaded videos of the events to its official Facebook page, Philippine Embassy in Israel (www.facebook.com/PHInIsrael) and its official YouTube channel, PHinIsrael(https://www.youtube.com/channel/UCg9ZpLDZ4S0CRXy-G_gWe-w).
Philippine Embassy officials led by Ambassador Neal Imperial (center, left) and officials from the Israeli Ministry of Foreign Affairs led by Chief of State Protocol Ambassador Meron Reuben (center, right) practicing social distancing and complying with the Israeli Ministry of Health's recommendation to wear facemasks.
MASHAV Head Ambassador Gil Haskel (left) and Ambassador Neal Imperial (right) greeting each other with an elbow bump.
Photos courtesy Embassy of the Philippines
Details

Written by

Silvia G. Golan
6th International Day of Yoga
June 21, the longest day of the year, was adopted as the International Day of Yoga (IDY) through a UN Resolution that was proposed by India and co-sponsored by 177 nations in 2014. Since then, the International Day of Yoga (IDY) is being celebrated all over the world with great enthusiasm and positive spirit. The Indian diplomatic missions all over the world, take the lead in organizing events to mark the IDY.
The Embassy of India in Israel has been celebrating IDY every year since 2015‪,‬ around this time and we will be celebrating this on the 25 June. This year, given Covid-19 restrictions, the Embassy invites the public to participate in the Yoga Day event by an online event as follows:
Date 25 June (Thursday) 2020
1845 Greetings by Ambassador of India HE Sanjeev Singla
1850 Greetings by Representative of Tel Aviv Municipality
1855 Greetings by Prime Minister of India H.E. Narendra Modi
19:00-20:00 The Common Yoga Protocol led by Maya Gross and Bansuri by Ron Sphatz
*There maybe slight changes in timing
The event will be aired live at this link
The event is free of cost, open to all, and suits all yoga level practitioners. We will be joined online by many people across Israel.
Those who are interested please participate in "My Life My Yoga" Video Blogging Competition. The deadline for submission of entries is 21 June 2020 at 2120
hours (Israel time). Participants from Israel please see details at this link
https://indembassyisrael.gov.in/pdf/whats/My_Life_My_Yoga_Video_Blogging.pdf
On 21 June‪,‬ Jerusalem Municiplaity with cooperation of Embassy will also be marking IDY at the First Station with several Yoga sessions, ending with a Yoga glow party as well as free online Yoga sessions
https://www.facebook.com/events/595238274446006/
https://www.facebook.com/events/305703520434111/
https://www.facebook.com/107129997519929/videos/632187960717993/UzpfSTI2MzIzMTkxMDY5NDUyMDoxMTg1NTM0MTMxNzk3NjIy/
Tel Aviv offers a free Yoga session at the Hilton Bay 7 to 8 AM registration by Instagram and facebook free of cost , HILTON BAY ABSOLUT.
Yoga brings a message of health, harmony, constructive and focused thinking and holistic wellbeing. Moreover, these days owing to the COVID-19 pandemic, while there is no known cure for the coronavirus, we can keep ourselves fit and boost our immunity by practicing yoga. We invite you to celebrate with us this eternal spirit of Yoga for generating and spreading the message of peace for the larger good of humanity.
Photos courtesy Embassy of India in Israel
Details

Written by

Silvia G. Golan
Ahead of Israel's 72nd Independence Day, President Rivlin and Foreign Minister Katz hosted a reception for the diplomatic and consular corps in Israel via videoconference
President Rivlin:
"Although we are apart, we have never needed each other more."
"We hope that Israel's technology and innovation, of which we are so proud, can contribute to the global effort to find solutions to make our world safer and healthier."
Ahead of Israel's 72nd Independence Day, and as he does every year, President Rivlin and Foreign Minister Katz today, Sunday 26 April / 2 Iyyar hosted a reception for the diplomatic and consular corps in Israel via videoconference. The traditional reception at Beit HaNasi was held this year as a virtual gathering in light of the coronavirus pandemic. Minister of Foreign Affairs Yisrael Katz and Dean of the Diplomatic Corps, Ambassador Hennadii Nadolenko of Ukraine, also spoke at the reception.
"This year, we celebrate seventy-two years of the independence of the State of Israel in very different times. We are all facing a global challenge, the coronavirus that makes no distinction between nations, races or religions. It has claimed many lives and many people are suffering. Our thoughts and prayers are with all those, all around the world, who have lost loved ones, and those who are ill," said the president at the beginning of his remarks.
"Overcoming this global challenge demands global cooperation and unity," he added. "Although we are apart, we have never needed each other more. It demands sharing experience and know-how. We hope that Israel's technology and innovation, of which we are so proud, can contribute to the global effort to find solutions to make our world safer and healthier."
The president also stressed the challenge of the fight against antisemitism, racism and discrimination, everywhere and in any form, saying it will continue and grow stronger.
Minister of Foreign Affairs Yisrael Katz thanked the president and the diplomats, saying "I know that being away from your homes and families at this time is not easy, but I am sure that together we will come out of this difficult period even stronger and more united than in the past. Next year in Jerusalem."
Dean of the Diplomatic Corps Ambassador Hennadii Nadolenko of Ukraine thanked the president on behalf of the diplomats and said, "On this day we not only mark the rebirth of the Jewish national state, we also honor the achievements of Israel that brought worldwide admiration. It is not a secret that many of us views Israel as a modern, innovative economy and a prosperous country."
Photo credit: Mark Neyman (GPO)